Every woodworker worth their salt knows that the secret to an excellent finish is the tools. No matter how good you are, you can't apply a pristine coat of poly without a good brush.
But what happens when good isn't good enough? Welcome to our review of the best brush for polyurethane application.
We've spent hours researching polyurethane brush descriptions, expert advice, as well as applying our own insight. Here you'll find the most time-tested and reliable poly brushes vetted by hundreds and sometimes thousands of users.
Let's get to it!
Best Brush for Polyurethane
The Best Brush for Polyurethane Reviews (Updated List)
Wondering what brush to use for polyurethane, worry no more. Based on our research, we've created a comprehensive list of the five best brushes for polyurethane on the current market.
1.
Editor's Pick

–Wooster Brush Silver Tip Angle Sash

Sale
The first brush on our list is from the company that basically invented brushes, or at least reinvented them for the Twentieth and Twenty-First Centuries.
The Wooster Brush Silver Tip is a sturdy brush with a thin and flexible filament designed for a soft application. While this lightweight tool can be used for painting and other products, it feels as if it was created with polyurethane application in mind, mainly water-based polyurethane.
Wooster clearly gave this the premium treatment, using their unique chemically tipped (CT) polyester to deliver smooth leveling. They boast, and many reviewers agree, that the Silver Tip leaves no brush marks. Obviously, this will depend on how well you prepare the brush before and after use.
Another attractive feature is the rust-free stainless-steel ferrule, which does a great job of keeping the bristles intact. As you would expect from a legendary manufacturer, these brushes have been built to last. With proper maintenance, you can expect to use this nifty poly applicator for years to come.
Many of the reviews we saw highlight how well this brush handles edges and the accuracy of the finish. Of course, a few users disapproved of how it shed bristles, but enough contrary reports confirmed that it very likely had to do with how they prepared the brush.
One final noteworthy feature is the smooth, solid wood handle. When you are working for hours, you need to get comfortable with the brush, and this one delivers exceptional comfort.
PROS
Capable of applying thin coats of water-based polyurethane
Comfortable grip and quality wood body
The best paint brush for polyurethane
Rust-free ferrule holds the bristles together
A quality polyurethane paint brush that can last for years with proper maintenance
CON
Few reports of loose hairs
---
2.
Best Brush for Oil Based Polyurethanes

–Purdy 144380425
2-1/2" Purdy 144380425 Sprig Sash Paint Brush, White China...
NATURAL BRISTLE BRUSH - Purdy White Bristle Paint Brushes are made with a soft, natural bristle blend that provide an ultra-smooth finish. These paint applicators will help you get the job done right the first time.
DESIGNED FOR OIL-BASED PROJECTS - These painting brushes are best for oil-based stains, polyurethanes, wood thinners, lacquer thinners and clears.
VERSATILE- Designed with lightweight and moisture-wicking alderwood handles, this painting tool is made to last. Perfect for the DIY-er or the professional painter, this painters brush is versatile for oil-based indoor and outdoor staining.
Next, we have another great product from a famous manufacturer. This 100% natural brush is the perfect brush for oil-based polyurethane.
It has a comfortable beavertail handle that nestles in your palm as you apply thin, streak-free coats of poly on wooden furniture, doors, floors, deck, and antiques.
The white China bristle used to deliver a smooth finish are the highest quality available, as verified by hundreds of users.
Given how unruly oil-based polyurethane can be, it is important to use the best brush for polyurethane. And one that does not splash around.
What's more is that thanks to the quality of the finish, the polyurethane is easier to sand. The Purdy White Bristle Series really does make the job more pleasant.
One feature we particularly like is the keeper. It is coated with wax on the inside to prevent water damage.
The keeper also allows for sufficient airflow, so you don't have to worry about mold growth. The most significant advantage of using the keeper is that it maintains the shape of the brush.
This is another excellent product that will last for years when maintained properly. Just as with all-natural brushes, you will lose a few bristles the first few times you use them, but this maintains its stamina in the long run.
PROS
China bristles make applying oil-based polyurethane easy
Comfortable grip
Quality materials used for the handle, ferrule, and bristles
Comes with a keeper to prolong usability
CONS
A few bristles fall out, even with proper preparation
Quite expensive
---
3.
Best Brush for Water Based Polyurethane

–Minwax Manway

Sale
Minwax 427320008 Polycrylic Wood Stain Brush, 2", White
WOOD STAIN BRUSH – This 2" wood staining brush is a fine craft, blend of nylon and polyester designed for water-based stains and finishes. Using this high-quality synthetic bristle brush provides a beautiful, even finish.
SMOOTH, EVEN FINISH – The soft application design and synthetic bristles promote a smooth finish of wood stain and protective or clear finishes for your wood projects.
USE WITH – This 2" wood stain brush is for use for quart size cans of water-based stains and finishes. Rinse well after use, and clean with soap and water.
When a company makes exceptional polyurethanes (some might argue the best in the business), it is not surprising to discover they also make exceptional brushes.
The Minwax Manway Polycrylic brush is a polyester-nylon blend that delivers a remarkably smooth finish for water-based polyurethane. As a matter of fact, this is the recommended product for use with most Minwax water-based finishes, and with good reason.
This synthetic brush does not try to be a jack of all trades like some other products. Instead, it focuses on the task at hand: applying water-based polyurethane. The stainless-steel ferrule doesn't rust and really keeps the bristles intact.
As you would expect from a top-quality synthetic brush, the bristles hold in place even after vigorous washing. Given the price tag, it is not surprising that these brushes last a long time.
Minwax recommends that you wash the brush with soap and water after every use, and just like the Purdy, it should also be stored in the cardboard keeper after it is dry. Reviewers confirm that the water based polyurethane brush really is easy to clean, which is important for a quality product.
This is the only brush on our list designed explicitly for polyurethane application, and it is worth every cent.
PROS
The best paint brush for water based polyurethane
Easy to clean
Durable and long-lasting
More affordable than high-end competitors
CON
Not as versatile as other brushes
---
4.
Best for Low Budget Projects

–Pro Grade Brush

Sale
Pro Grade - Paint Brushes - 5 Ea - Paint Brush Set
Paint Brush Set Includes 1 Ea of 1" Flat, 1-1/2" Angle, 2" Stubby Angle, 2" Flat & 2-1/2" Angle
Paint Brushes For Interior Or Exterior Projects. Use Angle Sash Paint Brush For Cutting Crisp Lines.
Professional Results On Walls, Trim, Cabinets, Doors, Fences, Decks, Touch Ups, Arts And Crafts.
While most jobs require the type of expert finish you can only get from a high-quality brush, some projects can be left in the reasonably capable hands of cheaper brushes. The Pro-Grade brush set takes the prize in this category.
This 5-piece brush set does everything you would expect from a budget brush, except that it goes one step further.
While most $2 brushes should only be used once and then discarded, the ProGrade has proven to be quite useful for at least a second job, provided you clean it properly after the first one.
Given its low price, you can't expect it to be perfect. As you would imagine, most users buy it knowing full well they won't use it a second time.
However, those who bothered to wash it realized that it can go a little further, thus making it even more economical than most expect.
When it comes to build, this synthetic brush does not offer as fine application as the Wooster, but it does a good enough job for the price.
This brush for trim has a wooden handle, stainless steel ferrule, and it promises to be a long-lasting product. Nobody expects it to last, so its longevity hasn't really been tested.
PROS
Affordable compared to competitors
It can be used more than once
It can be used for both oil-based and water-based polyurethane.
CONS
Has limited usage
The finish is not as smooth as the higher-quality brushes.
---
5.
Best Foam Brush for polyurethane

–Wooster Brush 3103-2

Sale
Wooster Brush 3103-2 Foam King Paintbrush, 2-Inch, White
High-quality made in USA brushes for all paints as well as varnishes and stains
Thick polyurethane foam for the smoothest no-brush marks finish
White plastic handle with built-in stiffener blade for consistent flex and neat results
Finally, we come to the none bristle brush. This isn't technically a brush, even though it is called a brush foam. However, it does a fine job of applying polyurethane for a smooth, streak-free, consistent finish, and it has earned its spot on our list of the best brushes for polyurethane.
Of course, all of these should be expected as it was made by Wooster.
The brush is made of polyurethane foam and has small cells that make for even application of any finish. Other reviewers have attested to the fact it can be used for water-based polyurethane and oil-based polyurethane.
Besides the soft foam that levels evenly and doesn't leave brush marks, the plastic handle maintains a reasonable level of flexibility. As a result, this foam brush outperforms most of the regular brands and is worth buying over the cheap variants.
The Wooster Foam King is also easy to wash, making it a reliable product for the long run. You can always expect neat results when using it, and it can be used with all sorts of products.
The only downside of applying polyurethane with a foam brush is that it can only be used for small projects with small surface areas.
PROS
Long-lasting foam brush
Leaves a streak-free finish
Very affordable
Easy to clean
CON
Best for small surface areas
---
Should I Always Use a Brush to Apply Polyurethane?
Despite how good polyurethane is at protecting wood, there is a reason many people shy away from it. Applying polyurethane takes a lot of time, patience, and experience.
You will notice brush marks or lint residue, bubbles, puddles, runs, streaks, or dust nibs when not done correctly. While some of these errors have to do with human error, most of them can be avoided by using the right tools.
In terms of applicators, nothing delivers a smoother finish on polyurethane than a good quality brush. Brushes tend to minimize bubbles, even when your feathering technique is not as developed. On the other hand, rollers are more likely to introduce bubbles, so more care is needed.
Another advantage of brushes is that it is easier to control how much of the finish the brush picks up and puts down. And because your hand is closer to the surface of whatever you are working on, you have better control than when using a lambswool applicator or a roller.
The third advantage is slightly controversial. It is easier to pick a decent brush for your project than it is to select a roller.
Many of the brushes can be used for both oil-based and water-based polyurethane applications, but this is why I say it is controversial. In an ideal world, you should use a specific type of brush for either of these (and we'll talk about this more later). However, your budget may not always permit, so it is helpful to have a multipurpose tool.
On the flip side, brushes aren't perfect.
From the products we reviewed, you would have noticed that a critical element we mentioned is if the brush loses bristles or not.
Brush hairs will ruin your work if you don't notice them on time and the poly dries up. Unfortunately, this is a pervasive problem when people use cheap brushes. You would need to sand that part of the project to get it out.
Another problem with brushes is you can't use them when applying polyurethane on hardwood floors. Well, not that you can't, but you probably shouldn't. Due to their small size, brushes are not as efficient when working on large areas.
Therefore, it is important to learn the techniques of applying polyurethane with a roller.
Please note:
In conclusion, brushes are best for small projects. They deliver exceptional control, a smooth finish, and fewer mistakes, even for new woodworkers. However, you need to choose the right brush, or you'll be left in a hairy mess.
How to Choose the Best Brush for Polyurethane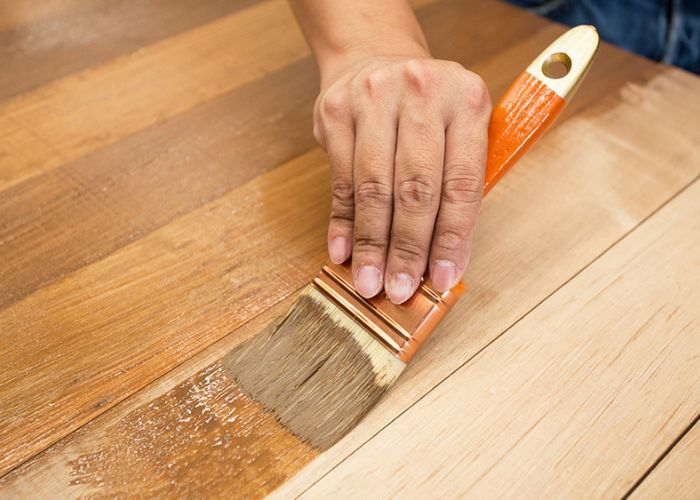 Choosing the best brush for polyurethane depends on a number of factors, ranging from the type of polyurethane you are applying to your budget. And so, we shall deal with them in that order.
1. Bristle
The first thing that should determine the type of brush for polyurethane that you use should be the bristles. The best bristle for water-based polyurethane is synthetic nylon. A synthetic polyester/nylon blend like the Minwax Manway is also perfect.
When working with oil-based polyurethane, your weapon of choice should be a natural bristle, which is typically made from hog hair, like the Purdy White.
Synthetic bristles do not carry as much finish as natural hairs, which is very important as you need a light touch with water-based polyurethane. This will prevent the water-based poly from bubbling over, and you can get a nice, thin, even coat.
Oil-based poly can be applied more generously, and you would still get a level coat. Remember that water-based polyurethane tends to dry quicker, so you need to be gentle and attentive in order to prevent mistakes.
Now, as mentioned earlier, there is a growing case of hybrid brushes. Some manufactures claim that their brushes can be used for both types of polyurethane. These brushes are almost always synthetic because they can indeed be used for both.
However, the quality just won't be as good as a natural bristle. But since synthetic bristles are cheaper and last longer, more users are happy to take the risk. It may require more elbow grease, but you can still get a decent outcome with a synthetic brush with oil finishes.
You will notice that the Minwax Polycrylic brush is made explicitly for water-based polyurethane, and the Purdy white is for oil-based. On the other hand, the Wooster foam brush can be used for both, as can the Pro Grade, but more on this later.
In the case of foam brushes, look for their ability to absorb and spread the polyurethane evenly. The advantage of foam is that it doesn't leave any brush marks. However, it can leave bubbles if the foam doesn't handle poly properly.
2. Width/size
One thing you should aim to avoid when applying polyurethane is fatigue. The more time you spend working the finish, the more likely you are to make mistakes, and this is where brush size comes in.
When you are working on a large project that requires a brush such as a wooden kitchen island or a dining table, a 2 ½ inch brush will suit you better than a 1-inch brush. The reverse is true when you need finesse or trying to coat tight angles.
While you may rarely find yourself using different brush sizes on the same job, it does help to buy brushes of varying widths for both water and oil-based poly. But, of course, you don't have to buy all of them at once.
You will also notice that there are different sizes for each of the brushes we have on Amazon, so you can quickly add a few to your collection.
Instead of buying the best brush for polyurethane, the alternative is to buy a brush set. However, the high-end ones are usually costly and might eat into your profit.
Read: Paint brush for oil based paint
3. Type of handle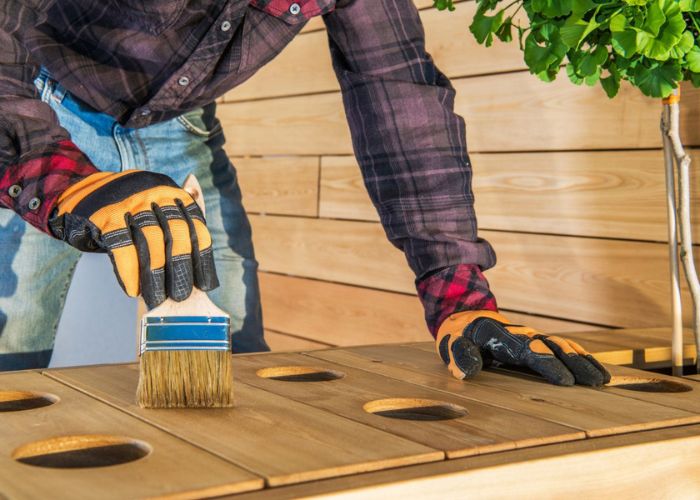 This is something very few people, mainly new users, think about. However, as mentioned in the previous point, the quality of your work relies heavily on your comfort, and the type of handle plays an important part.
When considering the handle, the two things to evaluate are;
The Purdy White has a beavertail handle instead of the long and fluted shape of the Wooster Silver Tip.
In general, bigger handles with nice contours are better suited for large tasks, while long thin handles do a great job for smaller projects.
However, not everybody is the same, so you should choose one that suits you. If you prefer more control and want a firmer grip, look for a handle with curves like the Purdy and the Minwax. If you would prefer a long, symmetrical handle, then the Wooster Silver Sash is perfect.
When it comes to the material used to make the handle, most of them are made out of wood, except the foam brush, which is plastic. But even the wooden handles vary.
Cheap brushes are made out of weaker products, so the handle may not feel as solid, which can affect the balance of the brush and how well you can apply it.
Hardwood handles by the top brands are virtually the same quality and deliver similar comfort, so the only deciding factor with the options on our list should be the shape.
4. Ferrule
The ferrule is the metallic strip that holds the bristles together. This may sound like an obvious point, but choose a ferrule that actually holds the bristles together.
As mentioned in the reviews and in the previous section, bristle retention is essential when choosing a brush. If the ferrule can't prevent the hairs from falling out, don't bother buying it.
The best way to check this in person is to pull the bristles and see if they fall out. Yes, this may damage the product, but the manufacturers guarantee it won't happen so, that shouldn't be a problem, right?
But if you're buying online, read the reviews of the products to see what other people say about them. We have mentioned in our product selections the ones that hold firmly and the ones that let a few loose.
It is important to mention that natural bristles tend to shed the first few times you use them. However, synthetic bristles are more stable in both the short and long term.
The other thing to consider with the ferrule is the material. All of the ones on our list are made from stainless steel, and the manufacturers guarantee that they are rust-proof.
If the ferrule will rust, it means you can't use the brush for a long time. This may not be a problem with the Pro Grade because it is a disposable brush, but you should definitely consider it for more expensive brushes.
4. Maintenance
A good brush should be easy to clean, especially if you plan on making the most out of your investment. But how do you clean polyurethane brushes? Natural bristles are cleaned with mineral spirits, while synthetic bristles can be cleaned with soap and water.
If you see reports of the bristles being challenging to clean or the brush being ruined after cleaning, stay far away. This would mean having to change your brush ahead of every new job.
All of the products on our list are easy to clean, except the Pro Grade.
You should also bear in mind that preparing the brush before use will also make it easier to maintain and prolong its life. Soak synthetic brushes in water before use, and immerse natural bristles in mineral spirits before applying polyurethane.
This process will soften the bristles and will prevent marks and lines from showing in your work. It also prevents the bristles from falling out.
4. Price
Last and least is the price. When buying a brush to use for staining, painting, or polyurethane application, try as much as possible not to base your decision on the price. And this goes both ways.
Just because a brush is very expensive doesn't mean it's the best. There are a few more expensive options than the ones we chose, but they fall short in quality.
However, cheap brushes are always bad. By cheap, we mean they cost a dollar or two. It is impossible to build high-quality brushes – strong, even bristle; hardwood handles; rust-proof ferrule; reusable – and sell them for a dollar.
If you do buy a cheap brush, be prepared to use them once or twice and dump them. But even then, go through the other features on this list before you make your decision.
FAQs
Can you apply polyurethane with a foam brush
Yes, you can use a foam brush to apply polyurethane. But it's not the best the best applicator for polyurethane when working with large projects. The foam brush may cause air bubbles and brush strokes, making the polyurethane drying time unpredictable. Foam brush is ideal for small projects with small surface areas.
Related: The Best Paint Brush for Chalk Paint
What Type of Brush to Use for Polyurethane
The best type of brush for polyurethane is a synthetic bristle brush. Synthetic bristles are better for difficult-to-reach or tight spaces because they hold less poly than natural bristles. Since they don't absorb much water, they'll stay in shape for a long time making them the brush for poly.
Best Tool to Apply Polyurethane
You can use foam or bristle brush for polyurethane. For bristle brush, we have a natural bristle brush and synthetic bristle brush. To get the best results, use a natural bristle brush for oil-based polyurethane and a synthetic bristle brush for water-based. Foam brushes are best suited for small flat surfaces.
Related: Which polyurethane is best for outdoor use?
What is the Best Brush to Apply Polyurethane
Comparing brushes used for oil-based polyurethane and water-based polyurethane can be tricky, so it is hard to pick an overall winner. However, we had to narrow it down for the sake of those who want to start with one high-quality brush.
That being said, the best brush for polyurethane is the Wooster Silver Tip. This synthetic brush is a cut above the rest when it comes to finesse applications and general brushwork.
It is easy to clean, can be preserved for years, and is much cheaper than the Purdy, which is the best for oil-based polyurethane. The runner-up for water-based polyurethane application is the Minwax Manway.
And that's it!