When it comes to professional landscaping and gardening, it's essential to have the right tools for the job. Most of the time, finding the best commercial wood chippers is not a walk in the park.
With so many models on the market, it can be hard to decide which is best for your needs. This article will help you make an informed decision on what to pick.
So take a look and find the perfect chipper for your next landscaping project.
Invalid table id.
Best Commercial Wood Chipper
Best Commercial Wood Chipper – Product Reviews
We've selected the best commercial wood chipper shredders based on capacity, engine type, reduction ratio, and customer feedback.
1.
Top Pick

– Powerhorse 3-in-1 Wood Chipper/Shredder

Do you want to quickly turn all the waste in your garden or yard into fine chips? If that's the case, this 3-in-1 Powerhorse wood chipper machine will give you an impressive performance.

Thanks to the very tough and sturdy construction, you will not have to worry about the unit's durability during operation. The components will handle the entire process with no issues.

The engine is gas-powered with a recoil start. It's great to use for commercial purposes as it can chip larger amounts of materials and deal with hardwood.

This gas-powered chipper has top, side, and rear loading, which adds to the versatility of the unit. To make things even better, it will easily roll on any terrain, thanks to the pneumatic wheels.

What I Liked Most
The motor is very powerful
Very versatile model
Strong construction for increased durability
Can deal with multiple types of materials
What Could Be Improved
---
2.
Runner's Up

– WEN 41121 15-Amp Wood Chipper and Shredder.
Safety is a feature you need to consider, especially when you're looking for a wood chipper. This WEN chipper has lock-out safety keys that ensures no startup will occur when the hopper is still open.
It's a nice feature that ensures your safety. With two 7-inch steel-made shredding blades, the machine does a great job at chipping twigs, lawn clippings, and other materials and turning them into mulch.
If you have larger branches and sticks up to 1.5 inches in diameter, you can trust this product to do a proper job at transforming them into chips.
Using the two large pneumatic tires, you can effortlessly take it to the spot where you plan to operate it and then take it back to the storage place.
What I Liked Most
The operation is smooth
It's not difficult to transport
Safe to use
Powerful enough to chip various materials
What Could Be Improved
May end up clogging quite often
---
3.
Best Budget Chipper

– Sun Joe CJ603E Electric Wood Chipper

Sale
Sun Joe CJ603E 15-Amp 1.7-Inch Cutting Diameter Electric...
[VERSATILE]: Ideal for turning leaves, twigs, brush, and branches into nutrient-rich mulch ; Rated Voltage 120 V - 60 Hz.No Load Speed : . 60 rpm, Decibel Rating : 94 db..Feed Type : Manual
[POWERFUL]: 15-amp motor effectively chips and shreds branches up to 1.73-inches thick
[SAFETY]: Safety hopper with locking knob prevents the motor from operating when opened
A silent wood chipper is always a delight, and if that's what you're going for, you can achieve it by purchasing this Sun Joe commercial electric wood chipper.
You don't have to worry about disturbing your neighbors because the sound will not be that noisy even though it is electric.
The versatility is truly outstanding – not only can you use it for leaves, but you can also use it for twigs and large branches, thanks to its twig breaker paddles.
The powerful engine will deal with all the materials – a 15-amp sturdy and durable motor that will take care of everything.
And no matter where you want to use the machine, you can rest assured that transportation will be a piece of cake 7-inch wheels have been added for portability.
What I Liked Most
Easy to transport
The engine is powerful enough to deal with various materials
You can use it to chip different materials
It's pretty quiet for an electric machine
What Could Be Improved
Performance is limited when it comes to hardwood
---
4.
Best for Multiple Applications

– Landworks Wood Chipper Shredder
Landworks Wood Chipper Shredder Mulcher Super Heavy Duty 7HP...
This 3-in-1 wood chipper shredder mulcher design has a reduction ratio of 15:1 when using the top hopper for 1 by 2 inch max volume chipping or shredding, side chute for 3 inches max branch or limbs, or the attachable leaf vacuum for mulching
The slanted housing design reduces jams, unlike other chippers, hook up your ATV, lawn mower or small tractor, for easy transportation with a tow bar kit and use the vacuum inlet for easy leaf mulching
This Chippers powerful recoil starting 7HP horizontal 4-stroke single cylinder OHV gas powered engine, handles up to 3 inch diameter wood without a problem, fuel with 87 plus unleaded gasoline, 0.7 gallons max capacity
If you want something with multi-function capabilities, then Landworks has just the suitable product for you.
This chipper has a reduction ratio of 15:1 when you use the top hopper for ½" MAX volume chipping, the attachable leaf vacuum inlet for mulching, or the side chute for 3" MAX branch/limbs.
It's incredible how powerful the wood chipper is, and what's even better is that it's also safe. As long as you use proper eye and hand protection, you will not have any issues.
You can use it to help you in fire prevention or to build firebreaks. You can even transport it around by hooking it to your lawnmower or small tractor, as well as your ATV.
What I Liked Most
The unique design can reduce jams
Safe to use if you follow the instructions
Useful for various applications
Easy to transport
What Could Be Improved
The instructions may not be that clear
---
5.
Best Portability

– Powerhorse Chipper/Shredder – 420cc OHV Engine

If you're looking for something with superior portability, this gas-powered chipper is the way to go. It has a gas engine with a cast iron sleeve, as well as a low oil shutdown.

This not only ensures that the engine is powerful enough but also helps protect it overall. To help transport the entire unit, it features 13-inch large wheels, so you can simply take the unit wherever you want.

This gas-powered wood chipper is a dual-feed unit. It has a chipper chute and a drop-in shredding hopper. Additionally, it has a built-in handle and a well-balanced low center of gravity that easily maneuver the unit.

If you experience any issues, Powerhouse offers some incredible customer service, with trained agents to help you no matter the problem.

What I Liked Most
Easy to transport everywhere
Durable construction
Easy to maneuver
The operation is very smooth
What Could Be Improved
Some customers declared it arrived with some missing bolts
---
6.
Best for Easy Assembly

– Earthwise Garden Corded Electric Chipper

Sale
Not only that you need the best chipper that is easy to use and powerful, but you also need something easy to clean and one that comes with assembly instructions, and this Earthwise model is right for this.
You can quickly get rid of the debris accumulated, and there is also a 1.2 Bushel collection bag included. The product has rear wheels that make it easy to bring the chipper wherever you want to transport it.
The wheels are durable, so no matter if you need it in your yard or anywhere else – you can rely on the large wheels. The design is slim and lightweight.
As for accessories, you have a chute and tamper tool, which means you can keep your hands safe from the chipper.
What I Liked Most
It won't harm the environment
Transportation will be a piece of cake
Assembling it is easy
Great for wood chipping
What Could Be Improved
Not so suitable for mulching
---
7.
Best for Small Branches

– SuperHandy Wood Chipper Shredder
SuperHandy Leaf Shredder Mulcher, Corded Electric, 17:1...
SPECIFICATIONS - This Electric Corded Wood Chipper Shredder & Mulcher is designed w/ a durable Polypropylene body & all powerful 15-AMP 1800Watt 120VAC 60Hz Electric Belt Driven motor, capable of 1.57" (39mm) MAX Limb Chipping Capacity to 17:1 Reduction w/ a Speed of 4,100RPMs. Unlike gasoline powered chippers this electric wood chipper produces no smog & is quieter, making it ECO & USER FRIENDLY. Included are a set of Dual Edge Blades that are Reversible, giving longevity for extended use.
ECO and USER FRIENDLY - Unlike gasoline-powered chippers this electric wood chipper produces no smog and is quieter, making it a reliable choice; Included are a set of Dual Edge Blades that provide longevity for extended use; We included a Sturdy Push Paddle, so you can safely feed material into the hopper
EFFICIENT DESIGN and CAPABILITIES - The durable Polypropylene housing will not rust nor dent and protects the rotor assembly which consists of (2) Cutting Blades for maximum chipping capability; Our Leaf Shredder is equipped w/ an easy instant start switch and an Overload Protection switch; Also included is a Supply Cable of 13.7" inch (0.35m/1.1') and transported easily w/ the (2) 6" inch Wheels giving great portability
Beautiful design and a small price – this is what SuperHandy brings with this wood chipper model. As an electric chipper shredder, the machine is suitable to use in your yard to remove chip branches or leaves from the garden.
Being compact, the small commercial wood chipper will work if you break the straight branches into smaller sticks. You can then watch it turn everything into tiny chips in the collection bag.
Since it's pretty small and compact, it will not take too much space. Not to mention that you don't have to worry about pollution since it's an electric model.
The supply cable will power it, and then you can simply transport it using the two wheels.
What ILiked Most
It doesn't take long to start
It can be transported without too much effort
Durable construction
A sturdy push paddle has been included too
What Could Be Improved
Doesn't work properly if the pieces are too big
---
8.
Best for Mulching

– PowerSmart PS10 15-Amp
PowerSmart Wood Chipper Electric, 15-Amp Motor with...
Silence & Long-Life: Powerful 15 Amp brushless motor provides long machine life. The wood shredder can shred branches and sticks up to 1 5/8" inch thick. The ultra silence design enhance your working environment.
Shredder for Composting: PowerSmart electric wood chipper shredder for composting, the ideal for turning lawn clippings, twigs and foliage into high-grade nutrient-rich mulch. Your great home improvement and lawn care partner.
Lightweight and High Manipulable: the compact design with 6-inch wheels for easy portability. You can easily move the shredder to different working locations.
On Amazon, PowerSmart is selling an attention-grabbing wood chipper in a black and red color combination. It uses an electric motor to operate, and it's a great unit if you want to chip or mulch twigs, foliage, and lawn clippings.
Among the chipper features, we should mention the pretty powerful motor despite the size of the machine. It can deal with sticks and branches up to 1 5/8 inches in diameter.
The locking knob of the steel hopper provides the much-desired safety for every wood chipper buyer. It doesn't allow the motor to operate when it's opened. Also, the two wheels increase the portability.
Thus, transporting a chipper across the yard has never been easier.
What I Liked Most
Safe to use
Can provide high-grade nutrient rick mulch
Comes for a small price
Very powerful motor
What Could Be Improved
The blades can get dull pretty quickly
---
9.
Best Maintenance

– Earthwise GS70015 15-Amp Electric Chipper

Sale
You can't go wrong with this Earthwise wood chipper. It has pretty much all you need for a tremendous wood-chipping experience.
First of all, the motor is a powerful 15-amp one that effectively shreds branches up to 1.75" thick. Secondly, the unit is easy to clean and maintain in the long-run, ensuring you can have it for a long time to come.
Thanks to the rear wheels, you'll be able to transport it without requiring help from anyone. Even though it's made from metal, aluminum, and plastic, it's not that heavy.
Being electric models, these units are not too big, making them more lightweight and more suitable when you don't have large quantities to chip.
What I Liked Most
The construction is very sturdy and durable
Cleaning and maintenance are easy
Powerful motor
No transportation difficulties
What Could Be Improved
The top of the feed bin can pop off too easily
---
10.
Best for Quiet Operation

– SuperHandy 15AMP 1800W Wood Chipper
SuperHandy Wood Chipper Silent Ultra Quiet Electric 14.5-Amp...
CHIPPER SPECS - This All Electric Corded Wood Chipper is designed w/ a durable Polypropylene body and all powerful 14.5-AMP 1800Watt 120VAC 60Hz Electric Belt Driven motor, capable of 1.5" for coarse fiber hardwood and 1.7" for fine fiber softwood MAX Branch Chipping Capacity to 17:1 Reduction w/ a Speed of 4,100RPMs. A Safe and Sturdy Push Paddle and LARGE 40 Liter Collection Bin included
UNIQUE DESIGN - Operate this Chipper without waking the neighbors! Our Chipper is Ultra silent, thanks to the innovative electric power motor. The durable Polypropylene housing will not rust nor dent & protects the rotor assembly which consists of (6) Cutting Blades for maximum chipping capability. Our Wood Chipper is equipped w/ an easy instant start switch & Overload Protection switch. Included is a Supply Cable of 13.7" (0.35m/1.1') & transported easily w/ the (2) 6" Wheels
SAFETY FIRST - Our Electric Wood Chippers are cETLus, Intertek GS Listed to approved standards and certified, including quality tested; Our SuperHandy Wood Chippers are best suited for indoor/outdoor environments; Unlike gasoline powered chippers this electric wood chipper produces no smog & is quieter, making it ECO and USER FRIENDLY
SuperHandy designed this commercial wood chipper shredder with an electric start and a powerful engine. What's great is that the housing is made of Polypropylene.
As a result, it will not easily dent or rust; thus, it will protect the rotor assembly. An easy instant start switch allows the user to chip wood immediately and not waste any time.
Since it's an electric wood chipper, it doesn't cause any harmful fumes, unlike units that use gas. Thanks to the wheels, you can transport it across the yard as much as the power cord allows you to.
Additionally, it also has a smooth and quiet operation. A massive 40-liter collection bag has been included so you can direct all the chips in there and have them ready when you need them.
What I Liked Most
It doesn't cause any pollution
Easy to transport with the wheels
It's easy to assemble
It has a nice design
Not too noisy
What Could Be Improved
Many clients complained that the unit isn't professional and doesn't do a great job at chipping
---
Commercial Wood Chipper Comparison Table
Education: How Does a Wood Chipper Work?
If you're planning to get the best commercial wood chipper shredder, then it's essential to know how this tool works. Let's get a little technical here.
Commercial wood chippers have an internal engine that powers the motor. This is either a fossil-fuel engine or an electric motor, depending on the model.
Through the engine, you can turn on the crankshaft within the chipper. The crankshaft can disengage or engage the clutch. So, when a certain number of rotations per minute is reached, the clutch can be engaged.
As a result, the drive belt will be moved. The knives and blades then start operating, as they are attached to the impeller that begins moving with the drive belt.
When the wood material is fed to the chipper shredder, it will be turned into small chips. The impeller's back also has some fins, which will let the unit send the chips out of the chute. This process is enabled by the airflow as well.
Benefits of Wood Chippers
Chipper shredders come with a lot of benefits. You can use the machine for wood or leaves. Here are some of the uses of the best wood chipping unit.
1. Gets Rid of Unwanted Waste
There are situations when you are cutting down a tree, or the limbs are getting trimmed. Waste is being produced in this situation, and you may want to get rid of it as quickly and efficiently as you can.
You can ease the cleaning process with the best wood chipping unit. It will all happen quickly and without much effort.
The garden or just the area you're trying to clean will be rid of wood instantly, and you can use the chips for other things as well.
2. Environmentally Friendly
You may notice that your garden is full of tree branches or leaves at certain points, and you may want to get rid of them. A commercial chipper is one of the useful ways to deal with this.
Although many people burn the leaves or branches that made their way into their garden, this is not beneficial to the environment. If you care about nature, then you would consider using wood chipper shredders instead.
When you burn them, there will be many poisonous fumes released into the environment. This will negatively impact global warming. The commercial units that help you turn wood pieces into small chips will not do that.
It can eliminate both small and large wood pieces by turning them into tiny wood chips while not being harmful to the environment.
3. Less Effort
Besides being harmful, burning the branches and leaves will require you to walk a lot around your garden.
This means you would have to continually drive to the dump to get rid of the branches or pieces of wood you want to dispose of.
With a wood chipper, things can get much more manageable. They are not difficult to use and will make sure you get rid of all the wood by turning it into wood chips. As a result, you can get the job done fast and easily.
4. It Turns Waste into Useful Materials
You may not have any use for the branches in your garden, but you will find a use for the small wood chips produced as a result.
You can utilize the chips in various ways. For instance, use them for pressed wood, which can help create wooden objects like furniture.
Biofuel is another thing you can gain by turning wood into chips. You only need to use more renewable energy sources for this to be possible.
The chips can be easily turned into material using some special enzymes. Other than that, you can get mulching, which you can use in your garden for plants and other things.
The wood chips hold the moisture in the soil, and this can help the growth of plants. Additionally, it can help regulate the temperature of the soil while absorbing water.
5. Can Earn You Money
One fantastic thing about having a wood chipping shredder is that you can also use it to make money. Believe it or not, but many people would want to give you money for what your machine can produce.
Some people will not have access to a commercial wood chipper, so you'll be just the right person to help them out and make a profit in return.
How to Use a Wood Chipper?
As mentioned before, a wood chipper is easy to use. Whether you use the commercial unit at home or for your business, the following instructions should be helpful.
Put the wood chipper on level ground where there aren't any holes or garden debris.
Make sure the deflector and the chute are set to control the speed and direction in which the wood chips are released.
In case you're using another piece of equipment to haul the chipper, properly set the parking brake so that the other part isn't moving either.
Check the power cord to ensure it's plugged and not damaged, or whether the gas-powered engine has enough fuel.
Start the chipper and feed only the recommended size of materials to the machine.
If you add leaves, mix dry ones with green ones so that lubrication occurs, and the job is easier for the device.
Don't stand in front of the machine, but rather on the side.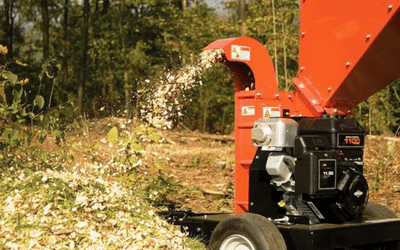 When to Use a Wood Chipper
If you have a large number of branches, twigs, logs, and other debris that need to be cleared from your property.
When trimming trees around power lines or near buildings.
If you're looking for an environmentally friendly way to dispose of yard waste, such as leaves, twigs, and branches.
If you need to reduce the size of large logs or tree stumps.
If you're having a hard time finding space to store firewood.
Types of Wood Chippers
When it comes to wood chippers shredders, there are two types;
1. Electric Chippers
Electric chippers are most suitable when you have a small garden or yard, up to a ½ acre.
This unit will not cause any fumes because it has an electric start, and it's an easy way to chop up any tree branches that are up to three inches in diameter.
One benefit is that these electric wood chippers are very quiet. They can also provide as much power as their gas-powered counterparts.
You should only keep in mind that they are not the best for heavy-duty use, as they can only deal with a small amount of material added inside. And since they feature an extension cord, the chippers are less portable.
2. Gas-Powered Chippers
Gas-powered engine units are more powerful compared to electric chippers. You can deal with bigger tree branches with a gas engine, those up to four inches in diameter.
Besides, if you have a large yard, then this is the unit to consider. You should only know that they are pricier and make a lot of noise. They produce fumes too while consuming a lot of gas.
3. PTO Wood Chipper
PTO Wood Chipper has a powerful engine and can chip up to 4-inch diameter logs with ease. This is ideal if you are a small landowner and you want to manage your wooded property safely and effectively.
PTO Wood Chipper also features a robust flywheel and automatic clutch, allowing for smooth operation with minimal wear and tear on the machine. For added convenience, it comes with a large in feed hopper that allows you to pile up larger pieces of wood to be chipped in one go.
It's also heavy-duty and ensures durability and reliability in even the toughest conditions.
Safety Tips for Using a Wood Chipper
Safety is not to be overlooked, especially since you're using such a heavy-duty machine with blades.
By taking the right safety measures, you can protect yourself and those around you, as well as the commercial chipper itself.
While a wood chipper is easy to use, it doesn't mean you should not do everything in your power to protect yourself.
The first thing you should do once you have your commercial wood chipper is to find a flat surface to place it on.
The surface you end up using should contain no holes, pits, or debris. This could cause the machine to fall accidentally. Stay away from sloped surfaces.
Then, you should make sure that the discharge spout can expel the wood chips away from you. Usually, a wood chipper shredder expels the resulting product at a very high velocity which might injure those loitering around the machine.
Not to mention that they are discharged as a deluge of chips. If you use the chipper outside, you should also make sure that it is placed so that the wind cannot blow the chip towards you.
It's now time to sort out the wood that you're feeding the commercial wood chipper. In case you are using auto blade branch feeding, you can obtain the best results by removing unwanted materials from the wood. This could include plastic, screws, nails, metals, and others. The blades and flails could otherwise end up being damaged if they encounter such rigid material.
Depending on the type of engine, you need to check it out to ensure that everything is going well. For example, a combustion engine needs to have enough fuel in the tank to operate correctly, and the crankcase must contain enough oil.
On the other hand, if you have an electric engine, make sure you check it out for any potential loose wire connections, as they might cause sparks. Ensuring the proper lubrication of the motor is a must too.
Look at whether the chipping chamber has any stuck debris or wood inside. When wood and waste are getting stuck on the unit's flails, it can affect the machine by causing power transmission disruptions from the engine. This could also cause the transference of inertia, and that could end up giving engine knocks, which is again not something you want.
You should not purchase any model of wood chipper shredder that doesn't come with safety features. You want to maintain safety after all, don't you? The unit needs a safety switch and a safety grid. You must pay attention to these parts and make sure to engage them before you turn on the chipper and use it.
If the model you own has an electric engine, then an anti-jamming feature could ensure that no damage is being inflicted upon the motor.
You also have drum chippers and reversible blades, and these accessories allow you to reverse the rotation direction. This will let you remove the cloth piece that got caught when you fed wood to the chipper.
Features to Look for in a Wood Chipper
A buyer's guide is always useful in making sure you buy the best commercial wood chippers. So, here are some things you need to take into account when shopping for a quality wood chipper.
1. Chipper Capacity
This is an important feature to consider. After all, you need to know how much wood you can feed into the chipper shredder. This refers to the size of the particular wood limb you can insert safely.
Usually, this capacity will be measured in inches. Depending on the model, wood chippers can deal with different capacities.
Some only have a 2-inch capacity, others 4-inch, 5-inch, 6-inch, and 13-inch, and can go as far as 160 inches for an industrial wood chipper. The number of blades or flails can also influence capacity.
2. Reduction Ratio
Reduction ratio refers to how much the chipper shredder can break down the pieces of wood into chips. This ratio can be calculated using the following formula:
Reduction ratio = Feed capacity / average chip width (in inches). The higher the unit's ratio is, the better the chipping will be, so pay attention to this.
3. Engine Type
This type of power equipment can be either gas-powered or electric. So, if you're a wood chipper buyer, you need to figure out which system is the better option for you.
An electric wood chipper will be powered through a cord, and you'll need electricity to use it. It is a better option when you have a smaller yard and don't want to chip huge wood pieces.
It has limited portability, though. Commercial wood chippers that run on gas are more heavy-duty and can have more power than electric products.
These are usually the commercial ones that can be used for a business or when you have a larger yard. Unlike an electric unit, a gas-powered one can chip bigger pieces of wood, depending on the model.
4. Engine Capacity
Engine capacity will determine how much power the engine can deliver to the blade shaft. It is measured in cubic centimeters. The power output will be boosted when the engine capacity is higher.
At the same time, you measure the power output in horsepower terms. That's why you can use engine capacity to figure out the power output when you check the chipper engine.
5. Hopper Size
Hopper size also matters because it influences the amount of debris you can add at once into the unit. If you only need to chip some branches once in a while, you can go with a small-sized hopper.
On the other hand, you will need a bigger one if you tend to chip a lot of wood, leaves, or anything else.
6. Power Rating
Power rating is also essential, as you need to choose a unit that can handle the wood limb size and workload necessary. For 35mm feed capacity, you will need a model with a 2000-2200W power rating.
For a feed capacity of 38-45mm, you will need around 2500W of power rating. Lastly, for 50mm feed capacity, you require over 3300 in power rating.
7. Feeding Mechanism
The feeding mechanism is yet another thing to pay attention to. A lot of people experienced with chippers will recommend a self-feeding machine.
This is because they tend to be much safer compared to the units you have to manually feed by pushing wood into the chipping unit.
8. Chipping Mechanism
As you can tell, the product's chipping system is what is used to turn your wood and other materials into small chips.
Three types of wood chippers are available: disk, drum, and screw. The disk ones are using a bladed disc system to chip the wood in a very fine way, but it's pretty noisy.
Drum chippers have a rotor system they use to chip wood, while others contain some toothed wheels that crush wood before feeding it into the impeller.
Lastly, screw chippers can use spinning blade shafts to rotate various bladed drums. This is very useful when you have to chip dried hardwood.
9. Construction & Design
You need a chipper able to withstand the heat and vibration generated when you're using it. At the same time, you can find lightweight units that are pretty small, but you need to be careful.
Make sure that when you buy a wood chipper, it's made from thick, welded, or hardened steel. The recommended one is gauge 10 or gauge 16.
At the same time, the blades need to keep the same sharpness for long periods.
10. Portability
Depending on where you want to use your chipper, you may want some portability from your unit. A model with wheels is required if you will move the machine around the yard a lot.
11. Convenience Features
Convenience wood chipper features can include accessories such as an electric starter, drawbars to help to towards, forward discharge chutes, an optional vacuum kit, and many others.
These make the unit easier to use or maintain, so check the reviews and product descriptions for them.
12. Cost
Price also matters because everyone has a different budget. If something seems too good to be true – a.k.a. it's too cheap, you should stay away from it. Settle for a quality unit within a decent price range that you can afford.
13. Warranty
The best unit needs to come with a good warranty – especially when it comes to a high-quality model. The warranty will be useful if the chipper has any issues that were not caused by the user.
Ensure that the warranty covers as many parts as possible and that you can contact customer service whenever you need help.
FAQs About Commercial Wood Chippers
What is the best commercial wood chipper for people to use?
The best commercial wood chipper for people to use is a gas-powered machine with robust construction and a powerful motor. It must chip various materials and branch sizes, and it should not make too much noise.
Who manufactures the best wood chipper?
The brands with the best wood chippers include Earthquake, GreatCircleUSA, Sun Joe, and PowerHorse. Of course, many brands make high-quality chippers, but these are the most popular and loved ones.
Are DR chippers any good? 
Yes, DR chippers can be very good. They have self-feeding models that are very safe and deal with very thick branches, something very useful in a commercial setting.
Do I need any safety gear when using a wood chipper?
Yes. Wearing safety gear can protect your eyes and hands from getting injured while the unit is operating. Eye and hand protection is necessary, as well as ear protection and some steel-toed boots.
Can you use wood chippers when it's raining?
No, you can't. Adding any wet items into the chipper will prevent it from shredding the items, and you'll only consume power without getting any results. You should not put green wood or any wet items into the chipper.
Do I need to sharpen the blades of my wood chipper?
Once in a while, you need to sharpen wood chipper blades as they will get dull over time. Manufacturers recommend either sharpening the blades or replacing them with new ones. Sharpening should happen at least once a year.
Are license plates needed for a wood chipper?
Wood chippers may require license plates. However, this all depends on the state you live in and the specific laws. You should make sure to check out your state's laws regarding wood chippers and find out what you have to do.
Final thoughts on the Best Wood Chipper Shredder
Finding the best wood chipper shredder may not be easy, but if you've read our best commercial wood chipper shredders guide and review, then you're halfway there. From our list, our top pick is the Powerhorse 3-in-1 Wood Chipper/Shredder.