Wooden kitchen cabinets are magnets for grease and tough stains, and are regularly exposed to dust and cooking oil. Over time, these accumulate and become sticky, dirty grime.
Before these leave me with a dirty kitchen, I regularly clean my kitchen cabinet surface and interior and apply a new coat of paint. Painting dirty or oily kitchen cabinets will make the results disastrous.
This is because the paint will not stick on an oily surface. In cleaning, make sure your wooden cabinets are safe against harsh chemicals. For one, avoid using mineral spirits which can damage the varnish that protects the underlying wood for kitchen cabinets.
So what is the best degreaser for kitchen cabinets before painting? Here is a buying guide of the best cleaning agents, together with tips and tricks against tough stains and sticky grease, in order to have refreshed, beautiful kitchen cabinets.
Our Top Picks
Best Degreaser for Kitchen Cabinets Before Painting
Best Degreaser for Kitchen Cabinets Before Painting Reviews
1.
Best overall cabinet cleaner before painting

– Krud Kutter in spray bottle

Sale
Krud Kutter is the best degreaser for kitchen cabinets as it combines cleaning power, ease of use and being safe to use around people and animals. It stands out for its ability to remove the nastiest grime and cake-on dirt.
Its bottle has a spray nozzle, letting you focus on problem areas, while minimizing drip. Mine is to spray and wait. After some time, heavy grease will latch on this heavy duty cleaner. I just need to wipe off the liquid and grease away.
Plus, it's effective on most surfaces including tiles, certain granites and wooden cabinets. And the non-toxic formula makes it safe to use around people and animals.
Krud Kutter cleaner has a mild scent that quickly fades. However, I keep it away from plants as it can be lethal to them.
One drawback is that it's a bit expensive against other degreasers. But it remains potent on greasy cabinets, even when diluted in water, allowing you more uses.
What I Liked Most
Top notch in removing grime
Ease of use
Effective on most surfaces
Non-toxic
What Could Be Improved
Pricey
Can be harmful to plants
---
2.
Best non-toxic degreaser for cabinets

– Green Gobbler Cold Pressed Orange Oil Concentrate
Green Gobbler All-Natural, Cold Pressed Concentrated Orange...
POWERFUL HOME CLEANER AND DEGREASER. Green Gobbler Cold-Pressed Orange Oil is a practically perfect all-purpose cleaner! Our orange oil contains 80-95% D-Limonene, a naturally occurring solvent and degreaser with thousands of practical uses. Also contains a non-ionic coconut surfactant to make miscible.
THOUSANDS OF PRACTICAL USES. Orange oil is an extremely versatile & powerful solvent. Use Orange oil to remove dirt, grease, oil, food, odors, ink, glue, crayon, soap scum, etc.
COLD-PRESSED TO PRESERVE INTEGRITY. Heat is not used during the extraction process for the D-Limonene present in Green Gobbler Cold-Pressed Orange Oil. The cold-pressed technique preserves the degreasing qualities of the orange oil and ensures you are receiving a powerful product.
The first thing you'll notice is the pleasant smell of Green Gobbler Cold Pressed Orange Oil Concentrate. It is made of an all-natural formula, mainly food-grade orange oil.
Its scent pushes me to clean not just cabinets, but also glass, metal, granite, tiles, brick and concrete. Its ingredients don't scrimp on performance, as it's equally potent against grease spatter, food splatters, and caked-on dirt.
Although not a spray-on, I just need to dissolve a small portion of this heavy duty cleaner in water. I apply the solution with a microfiber cloth on cabinet surfaces and the interior and let it sit for a while. Even most deep cleaning services use this cabinet degreaser to clean kitchen cabinets.
Then, I wipe the grease away with a dry microfiber rag. I can then feel my cabinet's clean and grease-free.
This kitchen degreaser leaves some sticky residue on the surface. Another disadvantage is its scent can be a source of discomfort and headaches.
What I Liked Most
All natural
Fragrant
Removes grease and caked-on dirt easily
Can clean cabinets, glass, metal, tiles, brick concrete
Easy to use
What Could Be Improved
Sometimes leaves residue on surfaces
Orange scent may cause discomfort to some people
---
3.
Best in cleaning and protection

– Parker & Bailey Kitchen Cabinet Cream
PARKER & BAILEY KITCHEN CABINET CREAM - Multisurface Wood...
Kitchen Cabinet Cleaner - Parker & Bailey Kitchen Cabinet Cleaner has a safe, easy to use formula that gently works as a degreaser, spot cleaner and build-up remover. Rejuvenate cabinets to their original beauty and natural loo
Multi-Purpose - Restore, clean, revive, condition & shine painted, laminate, white & natural wood cabinet doors & surfaces. This high quality creme is formulated as a wood cleaner conditioner that can provide lasting protection for cabinets
Easy To Use - Gently clean dirt & grease cabinets, put a small amount on damp cloth & apply to surface. Rinse cloths for dirt removal. Add more furniture polish cleaner as needed. Heavy build-up takes more cleaning. Use dry clean cloth as a buffer
If you want to get your cabinets cleaned and the wood protected from drying and cracking, Parker & Bailey Kitchen Cabinet Cream is an option I highly recommend.
It is not only top-notch on removing dirt and grease, but also an effective solution to make your cabinets shiny for a long time.
The cream is an all-purpose degreaser that will not leave any residue when you wipe it off as it doesn't contain wax, silicon or other harmful solvents.
The cabinet will not only be clean, but the cream brings back the wood's natural color and protects the cabinet from oil splatter. You can be sure that the shine will last for months.
One drawback is that some users notice that this kitchen degreaser makes cabinets a little yellowish. It's also designed for light grease, not for nasty stains that have been stuck on the wood like baked-on, caked-up dirt and grime, mineral deposits or rust stains.
What I Liked Most
Has no harmful chemicals
Good degreaser, effective against residue and even fingerprints
No residues of wax, top notch in removing grime
Prevents cracking or drying
Protects from splatter
Can be bought in 8, 12, 16oz.
What Could Be Improved
May make the cabinet a little yellowish
Not for deep cleaning
---
4.
Best degreaser for wooden cabinet restoration

– Rejuvenate Cabinet & Furniture Restorer

Sale
Rejuvenate Cabinet & Furniture Restorer Fills in Scratches...
Restore kitchen cabinets and bring back shine and brilliance to all finished wood, Formica and laminate surfaces in just a one-coat easy wipe-on application that lasts for months
Water and polymer-based formula fills in scratches, restores shine and protects cabinets, wall paneling, furniture and more with no sanding necessary
Provides ultra-violet (UV) ray protection to shield surfaces from the sun's damaging effects
Not only does Rejuvenate Cabinet and Furniture Restorer with Mitt clean your old cabinets and make them shiny, this kitchen degreaser has a poly-based formula that fills in cracks and scratches.
And it's not just effective on wooden cabinets. It's also great on wall panels, Formica, furniture, and finished wood. Plus, Rejuvenate is easy to apply and a good degreaser that grease goes away with only one wipe.
The packaging also comes with a microfiber cloth. Thus, I know I'll save time and effort. In addition, this powerful cleaner gives UV protection on surfaces.
I am sure the cabinet can fight off discoloration and weakening of the wood. And I can choose to buy depending on my needs. Rejuvenate comes in bottles of 13 and 16 ounces and has a 128-ounce option.
One disadvantage is that it's a little bit pricey compared to other cleaners. Still, you get value for what you pay for. In addition, I noticed that the solution leaves streaks whenever it's not applied properly.
What I Liked Most
Great for filling cracks and scratches
Easy to use
Comes with a mitt
Effective on wood surfaces
Gives UV protection
What Could Be Improved
A tad more pricey
May leave streaks on surface when improperly applied
---
5.
Easiest to use cabinet degreaser

– Stanley Home Products CabinetShine Protector
STANLEY HOME PRODUCTS CabinetShine Protector - Furniture...
Clean, Polish and Protect: A wax-free formula that's free of silicone or harmful solvents, Stanley's CabinetShine Protector removes dust, residue, dirt, grease and grime build-up, while polishing finished wooden cabinets to make future cleaning easier.
Renews Cabinets: This CabinetShine Protector works on light and dark wood – even painted cabinets, leaving a protective finish and restoring the natural beauty of the wood surface to make your kitchen cabinets look shiny and new.
Protects Cabinets: CabinetShine Protector helps protect wood, painted and laminated cabinets from future soils and fingerprints – and conditions wood cabinets to help prevent drying and cracking.
With Stanley CabinetShine Protector, you just need to pour a small amount on a clean, damp cloth and apply the solution.
Not only great for grime and oil, Stanley CabinetShine Protector is a great alternative to mineral spirits in removing dust. This kitchen degreaser does not leave residue as it is wax-free and doesn't include any silicate.
After application, I noticed the wood's natural color emerging from the oil and grime. Further, it formed a thin coating that helped protect wood, painted and laminated cabinets from dirt and even fingerprints.
Unfortunately, I noticed that the shine on the cabinet's don't last as long as I expected.
What I Liked Most
Easy to use
Effective against oil,  grime and dust
Brings back wood's natural color
Protects against dirt, fingerprints
Wax-free, so there's no build-up
What Could Be Improved
---
6.
Best wipes

– Weiman Wood Cleaner and Polish Wood Cleaning Wipes
Weiman Wood Floor and Furniture Wipes - Quickly Cleans...
Restore - Micro-filling technology removes scratches while forming a protective scratch resistant layer
Versatile - Can be used on any finished hardwood surface, rejuvenating a shine with no sticky residue
Safe - Plant based ingredients that's safe for kids and pets to walk on after the solution has dried
Weiman tops other wipes for ticking a lot of boxes. It's easy to use, non-toxic and gives protection from water and the sun. Thus, I had the perfect solution against drying and discoloration.
It does a fantastic job in degreasing and my cabinet smelled great with its lemon scent. In addition, it's a great substitute for mineral spirits against dust, dirt and smoke residue.
I also noticed that the Wipes can remove scratches with its micro-filling technology. My cabinet was smooth to the touch and had a natural shine, making it look like new.
Plus, it's not only effective on cabinets. So wipe your wood chairs, office furniture, cabinets, doors, benches, and wooden clocks.
All these attributes prove that even wipes can contend for best degreaser. Weiman gives good value for money. We just noticed that its container is difficult to open.
What I Liked Most
Easy to use
Non-toxic
Long-lasting protection against water and UV rays
Effective in removing oil, grime, dirt, dust and smoke residue
Removes scratches and prevents them from happening
Gives wood a natural shine
Can be used in other wooden furniture
Value for money
What Could Be Improved
Container is difficult to open
---
7.
Best value for money

– Dawn Dish Soap

Sale
Dawn Ultra Dish Liquid 7Oz Platinum Refreshing Rain Scent
Also works great as a greasy tool & wheel cleaner, stainless steel cleaner, and more!
For heavily soiled dishes allow the suds to sit for a few minutes to allow the Dawn Platinum Powerwash Spray to break down and lift away soils
Skip the dish scrubber and start cleaning dishes with our dynamite degreaser dish spray, your new favorite household cleaning supplies
Dawn Dish Soap proved that I don't need a separate product to remove oil and grime from my kitchen cabinets. Dish liquid soaps are among excellent degreasers because they're effective against grease, whether it's on dishes or cabinets.
Dawn makes suds that can hold grease and burned-on dirt. Thus, a few drops are powerful enough to take away the said impurities.
This is what makes Dawn Dish Soap cost-effective. Plus, it's equally effective in cleaning ovens, grill grates and my outdoor furniture and stainless steel appliances.
To use, I mixed a 1/4 cup of Dawn with one quart of warm water. No need to make the solution bubbly. You can then transfer the contents to a bucket or a spray bottle. Spray and rub the solution to the cabinet using a cloth.
I then rinsed my cabinet thoroughly because there danger that Dawn leaves streak marks. However, I found the 7 oz. bottle expensive for a dish soap.
What I Liked Most
Value for money, no need for a different product
Easily accessible
Effective against grease and burned-on dirt
Easy to use
What Could Be Improved
May leave streak marks on surface
May be too pricey when you limit it to washing dishes
---
Best Degreaser for Kitchen Cabinets Before Painting Comparison Table
Cleaning Solution Options: What to Clean Cabinets with Before Painting
What you need to clean kitchen cabinets may just be in the kitchen. Check which cleaning solution can readily do the job.
Dish soap and water
Great substitute for a regular cleaner; effective against away grease, splatters, and but gentle enough so that it will not damage the cabinet.
Baking soda and water
A strong solution against food splatter left by sauces and ketchup. If possible, dab this solution on the splatter before it settles. This will lift the potential stain after a few minutes.
Citrus-based multipurpose cleaner
Citrus is a natural degreaser. You can spray the cleaning solution and let it do its magic for three minutes. Then, wipe the solution (together with the grease) with a damp sponge.
Check for residue. For this, use a damp cloth. Then dry the cabinet with a microfiber cloth.
Cleaning cabinets with vinegar before painting
Vinegar is effective against grease and fingerprints. Dilute with equal parts of water (50/50) before applying.
You can spray the solution and let the vinegar cut grease. Once it lifts the grease, wipe the liquid with a soft cloth.
All-purpose cleaners
Ideal for keeping cabinets clean. Use these for once-a-week cleaning sessions. Remember to test a small portion on a hidden part of the cabinet.
We don't want the cleaner to damage, cause discoloration or peel the paint. Spray on a microfiber cloth and wipe away fingerprints, spatters and other marks.
Cleaner-degreasers
Cleaner-degreasers hits the spot between cleaners (think, all-purpose cleaners) and degreasers. They can take on more stubborn grease than what cleaners can remove yet have a neutral pH and safer than a degreaser.
Degreasers
The products mentioned above are the prime examples of degreasers. They not only remove oil and grime, but refresh and repair (fill the gaps and scratches) your cabinet.
Ultimately, it depends on the stain
To determine which cleaning solutions you need (cleaner or a degreaser), consider the soil or stain that you need to remove, the surface that needs cleaning, and the type of equipment.
For wooden cabinets, you can start with all-purpose cleaners. But if there's grease build-up, degreasers are the way to go.
Factors to Consider When Buying Cabinet Degreaser
Before buying a cabinet degreaser, these are the factors that I consider:
Surface material: The first factor I consider is the type of material my cabinets are made of. Some degreasers may be too harsh for certain materials. If my cabinets are made of natural wood, I choose a degreaser that's safe for use on wood surfaces.
Degree of grime: I always consider the degree of grime on my cabinets. If they are heavily soiled, I go for a degreaser that is strong enough to cut through the grime and oil buildup. If my cabinets are lightly soiled, I go for a milder degreaser.
Safety: I prefer products that are non-toxic, biodegradable, and environmentally friendly. I read the label carefully to determine if the product requires any special safety precautions.
Application method: I always go for a product that's easy to use and apply.
Drying time: Some products may require a longer drying time, which can delay the painting process. So I go with a degreaser that dries quickly to speed up the process
Price: Consider the cost of the degreaser and make sure it fits your budget. Compare prices and features of different products to find the one that offers the best value for your money.
Size: When cleaning a lot of cabinets, I go with a larger size since it's economical. I go for a degreaser that comes in an appropriate size for the work I have at hand.
Versatility: I also consider the versatility of the degreaser. Some products are designed specifically for kitchen cabinets, while others can be used for multiple surfaces. Choosing a versatile degreaser is more cost-effective and practical.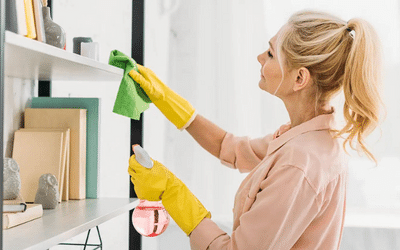 How to Clean Your Kitchen Cabinets Before Painting
Remember that grease and paint don't go together. If you paint over a greasy surface, the paint will eventually crack and peel because it's unable to adhere to the wood.
With this in mind, cleaning grease should be done before painting. Here are the tools and materials you'll need to remove grease before painting kitchen cabinets.
Supplies needed to degrease and clean cabinets
Heavy duty degreaser
Trisodium Phosphate
Gloves
Goggles
Pail
Warm water
Small brush
Scouring pads
Clean water
Clean cloth
Paint brush
Paint stripper
Painter's tape
Wood filler
Putty knife
Plastic cover
Vacuum cleaner
Tack cloth
Cleaning kitchen cabinets before painting (Step by Step procedure)
Step 1: Before you start painting, evaluate the cabinet's condition
Good areas can directly have a new coat. Areas that have paint peeling need to have the paint removed. Bring out and apply the paint stripper.
Then, use a paint scraper to peel old paint. When dried, smoothen with sandpaper.
Step 2: Remove contents and doors
Take away the door and drawers and cabinet hinges. Have the painter's tape ready so you can label each part you dismantle. You may want to paint the door hinges and knobs in case a new color or finish is desired.
Put in plastic bags the small parts so you won't lose them.
Step 3: Scrub off grease and dirt, get on with minor repairs
Scrub from top to bottom. Wear gloves before handling degreasers. Besides the degreasers and liquid soap, Trisodium Phosphate (TSP) cleaning powder is effective against grease and dirt.
Mix a half cup of TSP with two gallons of lukewarm water. For mold and mildew, mix TSP with bleach. If you prefer a natural TSP substitute cleaner, use vinegar instead. Another TSP replacement is acetone.
After the cleaning process, fill dents and holes with wood filler by using a putty knife.
Step 4: Sand the surface and get ready to paint
Cover countertops and other areas that you would not be painting. Tape the cabinet's edges with painter's tape. Wear goggles and sand the cabinet. Alternatively, you can use a liquid sandpaper deglosser.
Step 5: Clean the area when finished
Use a vacuum and its brush attachment and a tack cloth to remove dust.
Benefits of Using Cabinet Degreaser
Here are some benefits of using a cabinet degreaser:
Deep cleaning: Cabinet degreasers penetrate deep into the wood and remove dirt, grease, and grime that accumulate over time. This helps to restore the natural beauty of the wood and extend the life of your cabinets.
Effective stain removal: I use them for removing stubborn stains that other cleaning products might not be able to remove.
Prevents damage: Over time, the buildup of grease and grime can damage cabinets, causing them to warp or crack. So I regularly use a cabinet degreaser to prevent this damage and extend the life of my cabinets.
Improves hygiene: The kitchen is one of the most frequently used areas in a home, and it's important to maintain good hygiene to prevent the spread of germs and bacteria. I use a cabinet degreaser to help keep my cabinets clean and free from harmful bacteria that can cause illness.
Steps to Keep Grease Away
Before cooking, turn on exhaust fan or range hood. The circulating air will keep grease particles away from cabinets.
Clean the hob and cabinet doors every week to prevent grease build-up. A small brush will help you get through crevices. For grease marks, wipe the painted surfaces with a soft cloth and degreaser. Alternatively, you can use a solution with one spoonful of baking soda, one cup vinegar, and two cups of warm water. Vinegar is among the best degreasers.
Frequently wash hands when cooking. Make sure to wash off the oil so that your hands won't drip or transfer oil on cabinets and other kitchenware.
Cook with low to moderate heat. This is to prevent oil splatter or cooking grease from flying onto the cabinet.
Cook with the right size pan. Again, to prevent splatter and oil spills.
Attend to your pot when cooking. It's possible that your pot may boil over and food (and oil) spill out, so better to give it full attention.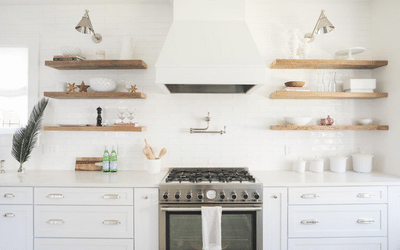 Since the process of degreasing might be overwhelming, you may be interested to question, should I paint the inside of my cabinets? This decision ultimately depends on your aesthetic preferences and how you intend to use the cabinets. Painting the inside can provide a fresh look and added protection, but it's unnecessary if the inside remains relatively clean and functional.
FAQs
How to clean cabinets before painting
The best way to clean cabinets before painting is to use dish soap. Examples of dish soap to use are TSP or liquid deglosser that you'll need to scratch along with a scotch brite pad. This process removes grease, grime, and even dirt before painting the cabinet.
Check our guide on Nuvo paint reviews to see some of the best cabinet paint kits)
How to degrease kitchen cabinets before painting
You can degrease your kitchen cabinets before painting using a heavy-duty degreaser. One of the commonly used powerful degreasers is Trisodium Phosphate, as it can grease cut dirt. TSP is also affordable, plus you'll only spend minutes mixing it up with hot water. You can also use other dish soaps that are grease-cutting.
What is the best cleaner for painted cabinets?
The best cleaner for painted cabinets is warm water and dish soap. In case you have any food-related grime, this combination will help you remove it. Mix the warm water with the dish soap to form a nice bubbly consistency. Then use a soft microfiber cloth to scrub the surface.
Is krud kutter safe on wood?
Yes, krud kutter is safe on wood and other surfaces. Most professionals confirm it is a non-toxic formula great for cleaning and preparing wood furniture for painting. If you are planning to paint, krud kutter will degloss your wood surface, making the paint adhere properly.
Does dish detergent work as a cabinet degreaser?
Yes, dish detergent can be used as a cabinet degreaser. It is effective at cutting through grease and grime on kitchen cabinets, as well as other surfaces like countertops and tile floors. Dish detergent works best when mixed with hot water and applied with a sponge or cloth.
Does vinegar cut grease?
Yes, vinegar is effective at cutting grease because it's acidic. The acids in the vinegar break down greasy substances, making them easier to remove from surfaces. Additionally, vinegar has antibacterial properties that can help kill bacteria and germs on surfaces.
Conclusion
Krud Kutter is our Best Degreaser for Kitchen Cabinets Before Painting. It easily cuts grease, can be used on different surfaces, and all-natural, and is easy to use.
Degreasers are not the only ones that can remove grime and oil from your cabinets. Among the best degreasers are readily available in your kitchen (vinegar, baking soda).
Your choice for the best cleaner for kitchen cabinets before painting depends on the type of stain and for how long the stain or oil has stain on your cabinet.
What's important is you degrease, clean, repair and dry your kitchen cabinets before painting. That way you'll be sure that the paint will stick to the wood, and the cabinet will have a new lease on life. 
Now find out the best sealer for kitchen cabinets in our guide because you will need to seal your cabinets after painting.