When you have conversations with wood carving enthusiasts, you might get the impression that true artists should never use power carving tools.
However, if you're working on large-scale projects with quick delivery windows, you can't do without them. But don't settle for any odd device when you have the best electric wood carving tools.
I have assembled a list of wood carving tools, complete with a buyer's guide, to make your job easier.
Our Top Picks
Best Electric Wood Carving Tools
Best Electric Wood Carving Tools Reviews
Based on our research, here are the best wood carving power tools you can buy this year.
1.
Best Value Electric Tool

– WEN 2305
WEN 2305 Rotary Tool Kit with Flex Shaft
Perfect for cutting, sanding, polishing, shaping, drilling, deburring, grinding and more
Variable speed goes anywhere from 8,000 to 30,000 RPM
Includes an 80-piece accessory set of bits, sanding discs, polishing pads, mandrels and more
When Wen snuck onto the scene a few years ago, the budget brand was first met with skepticism, but their range of rotary tools has been winning the hearts of woodcarvers ever since.
Top of that line is the Wen 2305, a rotary tool kit that handles everything you need. This electric tool is great for cutting, sanding, shaping, drilling, deburring, polishing, and grinding wood.
Most of the bits you need for these tasks come with a set – of 80 accessories, to be specific, to make work easier.
I am particularly excited about the detachable flex shaft, which helps me make more precise cuts and engravings on large projects.
Before purchasing the set, I read some negative reviews about the lack of power. However, I later discovered that the carving machine had an adjustable speed button that could change the RPM from 8,000 to 30,000, which some critics had missed.
One significant advantage of this electric wood carver is that I don't have to throw away my existing Dremel bits since some were compatible with 2305.
However, the downside is that it isn't as sturdy as more popular brands and heats up faster. Nevertheless, considering the price and my beginner status, I feel this was an excellent device.
What I Like Most
Flex shaft extension
It comes with 80 accessories
Very affordable option
It has an adjustable speed control
What Could Be Improved
It can get hot more quickly than some brands.
---
2.
Most Powerful Cordless Rotary Tool

– Dremel 8220-1/28
Dremel 8220-1/28 12-Volt Max Cordless Rotary Tool Kit-...
Compact, portable, & powerful: 12V Lithium-Ion battery provides maximum performance and run time at all speeds (5,000-30,000 RPM).
Versatile rotary tool kit: Includes 8220 cordless rotary tool, 1 attachment, 28 high-quality Dremel accessories, charger, plastic storage case, and accessory case.
Quick accessory changes – Patented EZ twist nose cap makes accessory changes fast and easy without the need of a wrench
This is a brand that needs no introduction. Dremel products are so common that they have become synonymous with electric carving tools for wood.
The Dremel 8220 is a dynamic rotary tool for cutting, engraving, sanding, polishing, and sharpening. Despite being battery-operated, it does a good job of powerfully handling even the most arduous wood carving projects.
This rotary tool can run up to 30,000 RPM as fast as its corded competitors. The 12V lithium-ion battery can be charged in just one hour, which is very convenient.
Using it, I liked this device for its decent weight, which makes it easy to handle. But I may buy a flex shaft attachment for more control.
Even though the rotary tool came with only 28 accessories, it is fully compatible with all Dremel bits. So it allows me to complete even more complex tasks. I particularly love the ease with which I can change the bits using Dremel's patented EZ twist nose cap.
However, I realized it might not be ideal for huge jobs since it runs on battery power and can't compete with corded alternatives. This rotary tool is perfect for remote work or tasks that only last an hour or two.
What I Liked Most
It has a powerful motor
It is compatible with all Dremel accessories
The battery charges in just one hour
It comes with a two-year warranty
What Could Be Improved
The battery won't work for large projects
You need to buy the flex shaft separately
---
3.
Best Power Carving Tool for Professionals

– Foredom K.5240
Foredom K.5240 Woodcarving Kit
C;FCT Speed Control
Series SR Motor
International products have separate terms, are sold from abroad and may differ from local products, including fit, age ratings, and language of product, labeling or instructions
I recently got my hands on the Foredom rotary tool, and I must say, everything about its build quality feels premium. No wonder it comes with a high price tag.
The Foredorm SR series is a beast. It has a 1/16 hp motor, 1.7 amps, and 115 volts, which easily knocks out large projects.
Even though the top speed is only 18,000 RPM, it feels faster and more powerful thanks to its outstanding motor. This rotary tool has a foot-operated speed control to keep your hands free while you work.
The No.44T handpiece is effortless to maneuver; if you need to remove wood even faster, you can attach a ¼" bit.
What's impressive is that you can change the handpiece, which is rare for rotary tools. Regarding large projects, most rotary tools tend to stall or overheat when used continuously for hours.
However, that's not the case with the Foredom rotary tool. You can use it on even the toughest hardwoods without worrying that the motor will burn out.
Another feature I love is that I can alternate between forward and reverse movement. Reverse movement delivers smoother results, especially when polishing, and it's also great for left-handed users.
However, with all that power, one significant downside is the dust this rotary tool produces. Running it in reverse helps reduce the dust flying toward you, but you'll still need a dust collector to keep your workspace clean.
What I Liked Most
It has a very strong motor
Interchangeable handpiece
You can attach larger accessories
It works seamlessly on hardwoods
What Could Be Improved
It kicks up a lot of dust
It is pricey for beginners
---
4.
Best Rotary Tool for Wood Carving

– GOXAWEE rotary tool kit
GOXAWEE Rotary Tool Kit with MultiPro Keyless Chuck and Flex...
★ Quick Change Drill Chuck - Come with 3 Jaw Universal Chuck applying better stability on your projects, allows you to quickly and easily change accessories on Rotary machine tool freely. GOXAWEE Multi Chuck accepts accessories from 1/64" to 1/8" shank, wider compatible than others. Ideal when the application requires numerous accessory changes.
★ 140pcs Attachment & Accessory - Flexible Shaft holds like a pen for your precise projects. Cover Shield provide better protection for cutting and grinding. Drill Locator helps for precision work on wood. Diamond Cutting Wheel is the best tips for glass, ceramic, floor tile etc. Versatile accessories include a pair of extra carbon brush, rescue you from searching new set and saving money.
★ Variable Speed & Compact - Variable speed dial is easy to use. The Variable Speed Adjustment Knob showing 5 Step Speeds from 8,000 to 30,000 RPM. By adjusting the speed you can make delicate engravings on wood, glass, metals, plastics, tile and other materials with control easily. Its ergonomic compact rotary tool design makes it handhold size, lightweight, not make the loud noise.
I'm excited to tell you about the Goxawee rotary tool kit, which I think is perfect for beginners who want to explore different carving styles or use their power tool for various crafts. With this kit, you get 140 accessories for polishing, grinding, engraving, sanding, cutting, deburring, drilling, shaping, and much more.
The flexible shaft in the kit is slim and lightweight yet stable, making it ideal for more precise tasks. The power output of this tool is also impressive, ranging from 8,000 to 30,000 RPM with an adjustable speed knob right on the body.
One standout feature is the universal chuck, which makes it incredibly easy to switch between bits. The Goxawee rotary tool kit also accepts a wider range of accessories than most rotary tools, starting from 1/64″ down to ⅛."
It's important to note that while this tool is versatile, it's not meant for large-scale projects or strong hardwoods. However, it works like a charm for small craftworks or a beginner wood carving project.
You also shouldn't use it for long stretches at a time, or it might overheat, and the bits would wear off. This is a dependable electric wood carving tool for beginners that will save you time and money.
What I Like Most
It comes with a lot of accessories
It has a flexible shaft
It is compatible with a wide range of shanks
They have excellent customer service
What Could Be Improved
It cannot handle strong woods
It may overheat with prolonged use
---
5.
Best Rechargeable Wood Carving Tool

– Dremel Lite 7760

Sale
Dremel Lite 7760 N/10 4V Li-Ion Cordless Rotary Tool...
Multipurpose rotary tool – From woodworking, carpentry, car care to jewelry making and more; Not recommended for cutting, drilling, or routing.
The versatile 7760 Lite is the diyer's go-to solution for light duty DIY and crafting projects. Includes 10 accessories to kick start your projects right out of the box.
Quick accessory changes – With the patented EZ Twist Nose Cap, accessory changes are easy and done without the need of a wrench. Collet size is 1.8".
There is a lot to love about Dremel electric carving tools for wood, but the brand often gives the impression that they aren't meant for beginners. Well, the Dremel Lite 7760 has certainly made amends.
As an electric power carving tool, this is perfect for me as I am just getting into wood carving or only use electric tools sparingly. It is especially great if I work primarily on softwoods like basswood.
Despite its lightweight at only 1.29 pounds, it can deliver up to 25,000 RPM with just a flick of my thumb. This is impressive, considering this is the most power I can find from a tool this light.
As this is mainly for beginners, it only comes with ten accessories. However, I can use all Dremel accessories and many attachments with it.
The shank size of ⅛" may not be as robust as a few others, but it is enough to cover every beginner task like carving, sanding, drilling, polishing, shaping, and engraving.
The Li-ion battery takes under three hours to fully charge, and an LED lights up when the battery is low. While this may not be ideal for wood carving enthusiasts due to the short battery life, it is highly recommended for anybody else.
What I Like Most
Very lightweight
Works with all Dremel accessories
Small but powerful
Very portable
What Could Be Improved
Short battery life
It only comes with 10 accessories
---
6.
Editor's Pick

– Dremel 4300-5/40

Sale
Dremel 4300-5/40 High Performance Rotary Tool Kit with LED...
Premium rotary tool kit - Includes 4300 high performance rotary tool, 5 attachments, 40 high-quality Dremel accessories, and plastic storage case.
High performance motor – Our most powerful motor delivers maximum performance even in the most demanding applications.
Variable speed - 5,000 – 35,000 RPM with electronic feedback for consistent performance and accurate tool control
The final Dremel on my list is a toss-up between the Dremel 4000 and the Dremel 4300. Eventually, I have to give it to the more expensive upgrade because it is worth every penny and has the tools to prove it!
Let me tell you about the attachments of this Dremel 4300 rotary tool. I was impressed with the five included attachments, especially the pivot light, which is helpful in tight spots where visibility is limited.
Another attachment that I found useful was the A550 shield rotary attachment. It kept debris from flying towards my face, even when I accidentally struck metal.
The 565 multipurpose cutting kit for more controlled cuts is perfect for beginners and perfectionists alike. The sanding and grinding guide attachments are also great for various tasks.
The Dremel 4300 is also compatible with all Dremel attachments and accessories, and although the base model comes with 40 accessories, it can easily handle most tasks.
Other great features include the EZ nose cap that makes it effortless to change accessories without a wrench, variable speed up to 35,000 RPM, and an airflow system that reduces heat build-up.
However, I found the tool a bit large, making it difficult to hold comfortably for extended periods.
What I Like Most
It comes with useful attachments
Compatible with all Dremel accessories and attachments
It has replaceable motor brushes
Powerful motor
What Could Be Improved
It is a bit bulky
It comes with some accessories you may not need
---
7.
Best Shaping Disc

– Kutzall Extreme Shaping Disc
Kutzall Extreme Shaping Dish - Medium, 4-1⁄2" (114.3mm)...
Rapid Material Removal: Their hybrid performance removes material at an exceptional rate while maintaining surface quality ready for final finishing.
Easy to Control: The Shaping Wheels can easily cut with or against the grain with incredibly smooth cutting action.
Versatile: Easily shape, contour, relieve, notch flatten, trim, hollow or adjust a wide variety of non-metallic materials including wood, fiberglass, foam, rubber, plastic, drywall, composites and soft-stone.
While rotary tools are great for wood carving, they are not the only electric tools you need. If you need to remove large chunks of wood while shaping the wood simultaneously, the Kutzall Extreme Shaping Dish is what the wood doctor ordered.
This abrasive tungsten carbide attachment is great for trimming, contouring, and flattening even the toughest woods in seconds. Simply attach it to an angle grinder, and you'll be ready to start chucking wood.
An extreme shaping dish is a decent alternative for people interested in chainsaw carving but who want something less risky.
While all the rotary tools on our list give shaping accessories, they cannot compete with the Kutzall in size, speed, or power.
This tool can carve hardwoods with or against the grain. The only disadvantage is that you can't use it on smaller projects as it lacks precision.
This extreme shaping disc is easy to mount, and it's very easy to clean. You can eliminate any wood debris stuck between the teeth with a blow torch or a soft wire brush.
What I Like Most
It gives a smooth finish with or against the grain
Easy to mount
Easy to clean
Works with a range of angle grinders
What Could Be Improved
It can only work on large projects
---
Best Wood Carving Power Tools Comparison Table
How to Choose the Best Power Carving Tools for Wood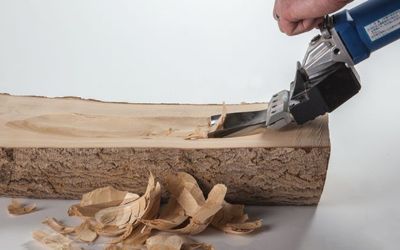 With so many great electric wood carving tools, it can be hard to narrow down the choices. After all, you might not need a power carver for the same purposes as other woodworkers.
When selecting the optimal electric wood carving tool, it's crucial to consider four primary factors, bare in mind the insulating properties of wood. Here are the factors:
Features/Accessories
The first thing to consider is what you need the tool to help you achieve. Are you a newbie trying to learn the basics of wood carving, or are you a consummate professional with a long line of commercial clients?
Will you only perform routine tasks like sanding, shaping, and engraving? Or do you need something to cut a huge lump of timber in half and create masterful designs for river tables?
If you're unsure what you need it for or need a tool that can handle a range of carving techniques, get a tool with many accessories.
If you'll be working on hardwoods, getting a corded device with a powerful motor is best. For softwoods, cordless rotary tools will suffice.
Ease of Use
When looking for the best power carving tools, this is a feature both newbies and pros should not ignore. No matter how wonderful a power carving tool is, it is pointless if you can't use it effectively.
Features that make it easy to use are diverse, and people view them differently. For example, if you do a lot of work in remote areas, you might prefer a cordless rotary tool.
On the other hand, someone else might find it more convenient to use a corded device because it provides uninterrupted work time.
The size of the rotary tool, its weight, and the position of the buttons also impact its maneuverability. Swapping bits should also be easy; you shouldn't need a wrench to make it work.
Motor
You might have noticed that every rotary tool maker emphasized the strength of the motor. Why is that? The motor is the device's engine, much like a car's engine. So, naturally, the best power carving tools should have the best motors.
When considering the motor, you may want to look at its ability to handle a lot of strain and how long it lasts. If the motor brushes are easy to change, it will prolong the life of the device.
Some people measure motor performance by the speed of the device. However, that can be misleading when juxtaposing the Foredom and the Wen.
The Wen is much faster on paper, but the Foredom is more powerful at lower RPMs and can work on wood. In other words, speed doesn't matter if the motor can't handle the heat.
Durability
When you're spending dozens, or in some cases, hundreds of dollars, what helps you sleep at night is knowing you have a durable product. The motor is usually the most expensive part, so you must ensure it will last at least a few years.
Accessories for most rotary tools are not as durable but relatively cheap to replace. So, if you see negative reviews about a Dremel that came with bits that wore out, don't let that sway you.
What you should focus on instead is the length and type of warranty. Most of the tools on our list come with a two-year warranty.
Price
There is a huge difference between buying electric carving tools for a hobby or work. If you're a professional making a decent monthly income, spending hundreds of dollars on a Foredom is worth it.
However, if you need it to carve animals out of basswood for your crafts store, then a lower-end model like the Wen or Goxawee should suffice. This means the best rotary tool kit for a pro might not be the best for you.
Types of Power Wood Carving Tools
There are dozens of power and electric woodcarving tools, but most are only for special use. So first, we will break down the four most common types and explain why only two were featured on our list.
Rotary tools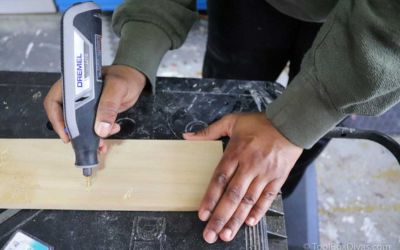 Before deciding on the best rotary tool, we need to understand the two types: the basic rotary tool and the cut-out rotary tool.
The basic rotary tools are what you'll need for engraving, carving, sanding, shaping, polishing, cutting, drilling, and many other things. They are made for DIYers and professionals alike. They are also smaller and easier to control.
On the other hand, cut-out rotary tools have a large motor between 3 to 5 amps. They are made to cut various construction materials but cannot execute detail or precision work like carving, shaping, and sanding.
Router
Routers are large tools that can be used to cut patterns or carve designs on different types of wood. If you also make furniture, this is a great tool, if you don't already.
While routers can be used to carve wood, their size lends them more to large projects. Routers can be maneuvered by hand or fixed to a router table.
Electric wood carving chisel
Here is a great tool that does as it sounds. Sure, you can always chisel the traditional way, but an electric wood carving chisel works faster and often better.
Electric wood carving chisel usually comes with different sizes of chisels and gouges.
Shaping discs
A shaping disc is not technically a power carving tool but is attached to one and very useful for carving. Traditional carving or whittling tends to leave boxy designs that can be slow.
An extreme shaping disc can quickly remove large quantities of wood and carve into wood, similar to what a gouge would do. Shaping discs are used with angle grinders and are just one of several attachments you can use on those tools to carve wood.
What Makes Basic Rotary Tools Perfect?
Many other power carvings tools exist, such as sanding and polishing systems, carving chainsaws, and wood burners.
However, none have the skill or practical appeal of a basic rotary tool. These small machines can handle many tasks and are easy to use.
Basic rotary tools can also handle most of what the other tools do by using the right accessory. For example, you can attach a chisel bit instead of buying an electric chisel or use a combination of bits to do what a shaping disc does.
It might not be as fast, but it will still get the job done, and you won't have wasted money. This is what makes them the best wood carving tools.
When buying a power carving tool, the most important thing to consider is what type of wood carving you would be doing.
Types of Wood Carving Projects
There are many different types of wood carving projects and ideas for beginners. Here are some:
Carving in the round
Carving in the round refers to a completed three-dimensional project that involves carving around a piece of wood to make life-like designs.
This type of wood carving requires a more aesthetic finish that may include staining, painting, or even burning. This type of carving is smoother and more detailed than whittling and does not have a flat back panel like carving in reliefs.
To accomplish this look, carving in the round utilizes more tools and of different sizes than other carving techniques. Every tool you need to carve in the round (besides finishing) can be found in a rotary tool.
If you primarily need a power carving tool, get a basic rotary device with the necessary accessories and attachments.
Whittling
Whittling is the original method of wood carving. It is the art of carving objects out of wood using only wood whittling knives. Traditional whittling involves no other hand tools, a chisel, gouge, or v-tool, and no power tools.
You're also not supposed to use sandpaper when you carve. When you're done carving up the wood, you should be able to see the knife strokes.
However, some people want the whittled look without actually using a knife. You can get that by using the cutting accessories on a rotary tool. Yes, it's cheating, but some rules were meant to be broken.
This post discusses some of the best whittling sets for beginners if you'd like to grab one.
Chip carving
This is another type of wood carving in which the hand tools needed are named after the style. Chip carving involves making several cuts or chips from wood to create a pattern.
These patterns could be free-form but are usually geometric shapes such as triangles, circles, rectangles, and squares. Like whittling, you aren't technically supposed to use electric woodcarving tools.
However, some argue you can get neater, straighter cuts with a rotary tool than chip carving knives.
Relief carving
This wood carving technique involves a design out of a flat back panel so the object seems to hover over the piece of wood. Therefore, instead of carving around the wood, you are carving into it, thus creating a three-dimensional figure.
Relief carving is like chip carving on steroids. Instead of straight lines and gentle chips, you have deep gouges and lots of curves.
Relief carving is classified based on how deep the cut is. This type of wood carving can be done easier, quicker, and better with rotary tools than by freehand. And no, using power carving tools for relief carving is not cheating.
Pyrography
Pyrography is the art of drawing designs or writing on wood with fire. Pyrography means fire writing or writing with fire. It is also known as wood burning.
It is a modern style of wood carving, and some people don't even classify it as such. Pyrography is usually done as the finishing stage of a completed project, so you would probably need power carving tools to bring you up to this point.
Chainsaw carving
This is a modern and dangerous form of wood carving, like pyrography, but it's pretty exciting! Of course, the primary tool you need is a chainsaw. Some people might use a shaping disc to achieve similar results, but nothing beats the original.
This is the only type of wood carving that does not benefit from rotary tools.
Other Types of Wood Carving Tools
As great as power carving tools are, they are not the best for every situation. There will be instances where a traditional wood carving tool might work even better than the best rotary tool.
Here are the four most common types to know and to have.
Wood carving knives
Knives are the primary tool for whittling, chip carving, and carving in the round. There are different types of knives, with the most common ones being:
Chip carving knife
Sloyd knife
Bench knife
Hook knife
Skew Knife
If you're working on a small project, you can remove large chunks of wood faster with the right knife than with a power carving tool. The same can be said for the next type of carving tool.
Wood carving Chisels
Chisels are extremely efficient tools perfect for a large wood carving project. They can lop off large chunks of wood with one hit, thus speeding up what is typically a very long process.
Chisels are also very common with woodworkers, so you likely already have one. The two types of chisels used for wood carving are regular carpenter's chisel (also called #1 sweep chisel) and skew chisel (also called #1S sweep chisel).
It is worth having both chisels, even if you have chisel accessories for your rotary.
Wood carving Gouges
Besides knives, gouges are arguably the second most important group of wood carving tools, especially if you do relief carving.
Gouges have the edge over chisels because you can use them on a flat surface, and some gouges can handle some of the work done by chisels.
Gouges are defined by the depth of their curve or sweep. So, again, it is worth having the full range of sweeps from #2 to #11.
V-tools
In the same bracket of chisels and gouges is a v-tool. As the name implies, it is a v-shaped cutting tool used to make stop cuts, sharp definitions, and add texture. The shape can be at a 45, 60, or 90-degree angle.
V-tools are described as parting tools, and they can complement your work with a power carver.
Rotary vs. Oscillating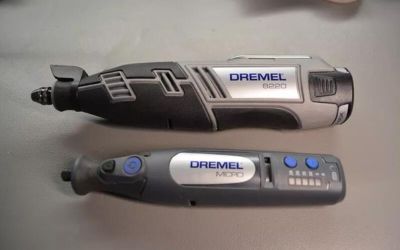 Power carving usually involves the use of rotary and oscillating tools. Rotary tools come with different tips that you can switch out. These tips hold little pieces called bits or burs, which are used to grind or sand things. These tools are great for making detailed carvings in wood because they help you be precise.
On the other hand, oscillating tools are designed to spin rapidly. They are better suited for cutting and sanding larger objects. When working on bigger projects, oscillating power tools may have an advantage over rotary ones.
Power Carving Bits
Power carving bits come in various sizes, shapes, and materials and are known as burs, carvers, stones, cutters, or disks.
Despite their diverse nomenclature, all power carving bits serve the same purpose: eliminating wood material.
Choosing the right size and shape of the bit is important when carving wood. This will help you get the desired result. It is essential to consider the following questions while choosing the best Dremel bits for wood carving:
How quickly do you want to remove the wood?
How much wood do you intend to eliminate?
How smooth do you want the final surface to be?
Which size or shape of the bit is most appropriate for the task?
Safety Tips and Reminders When Using a Power Carving Tool
Many things can go wrong when carving wood, especially when using a rotary tool or something larger. Here are some important things to consider to keep you and passersby safe.
Always use a face shield or goggles when using a shaping disc or any accessory on a rotary tool that causes wood chips to fly.
When sanding, always use a face mask. Wood dust can cause respiratory infections, so you must be careful. It can be worth investing in a dust collector.
Always work in a ventilated area. This will further protect you from wood dust and smoke inhalation if you do pyrography.
If you're drilling or cutting with a rotary tool, wear safety gloves for wood carving. Safety gloves are also recommended when using carving tools like knives and chisels.
Don't wear loose clothing or anything that can get caught in the bits. You can tie it up or cover it for safety if you have long hair.
Neve abuse tools. Only use them for their intended purposes, as stated by the manufacturer. You should also turn on the rotary tool before placing it on the wood piece.
Never leave tools on when they're not in use. Always ensure your tools are off before you leave the workshop.
Don't overload your electrical system. Power tools consume a lot of power, so having a bunch of them connected to the same outlet is an electrical and fire hazard.
Keep a fire extinguisher and a bowl of water handy. Power carving tools generate a lot of heat, and wood is flammable, so mistakes happen occasionally.
FAQs
Are Dremel tools good for wood carving?
Yes, Dremel tools are great for most wood carving techniques. Dremel wood carving tools are considered the gold standard for power carving tools. The Dremel tool's solid build and the range of bits and accessories you can add make wood carving easier.
Related read: How to cut metal with a Dremel.
Which Dremel is best for carving?
The best Dremel for carving will depend on the type of carving and whether you do it for fun or professionally. The Dremel 4000 is a powerful tool ideal for professionals, while the 3000 series are great for newbies and those interested in crafting.
What wood carving tools should a beginner use?
The main wood carving tools for beginners are rotary, carving knives, chisels, and gouges. With these tools, you can perform any wood carving you need as a beginner. For example, use a Sloyd knife for carving in the round or use chip carving knives for chip carving.
How difficult is wood carving?
Wood carving is one of the easiest forms of woodworking, thanks to many online templates and tutorials. You can complete your first project with a decent outcome in just a few hours. The tools for wood carving can also be purchased cheaply.
What are the best power carving tools for wood carving?
The best power carving tool for wood carving is a basic rotary tool. The most popular rotary tool is a Dremel. All rotary tools come with attachments and accessories that enable you to execute many carving techniques. The best power carving tool for professionals might be the Foredom SR.
Nothing Makes Wood Carving Easier
Power carving tools are the best to happen to the modern woodcarver. They make the craft more accessible, particularly to people who don't have hours to spend mastering knife skills.
That being said, some wood carving tools are better than others. And so, the best electric wood carving tool is the Dremel 4300-5/40. It has all the right accessories and attachments, making it great for beginners and experts.
As much as we love Foredom, it is only worth it for professionals.