Epoxy wood fillers are fantastic materials for DIY projects. They are one of the best products for fixing rotting wood. Epoxy fillers are also excellent in restoring wood that would be too costly to replace or too challenging to remove.
But with so many epoxy wood fillers in the market, each claiming to give you an edge over the other, how do you pick the best epoxy wood filler?
We have left no stone unturned in researching the best epoxy wood fillers to create this guide. Below are a couple of the best epoxy fillers you can use to repair your wooden furniture.
Our Top Picks
What Is Epoxy Wood Filler?
Epoxy is a material you use to fill holes, cracks, or gaps in wooden surfaces to maintain their primary structural integrity. Epoxies are available in the form of pourable liquid or epoxy putty.
Epoxy is a durable substance and adaptable. It easily adheres to almost any surface and offers a super long-lasting bond. Most epoxies are water-resistant, sag-resistant, heat-resistant, and are suitable for interior and exterior use.
Epoxies are available in different varieties, including those with extremely low volatile organic compounds (VOCs) levels. Is epoxy resin food safe? Within this range, you'll find epoxy resins designated as safe for food-related applications and those not intended for such use.
When to Use Epoxy Filler for Wood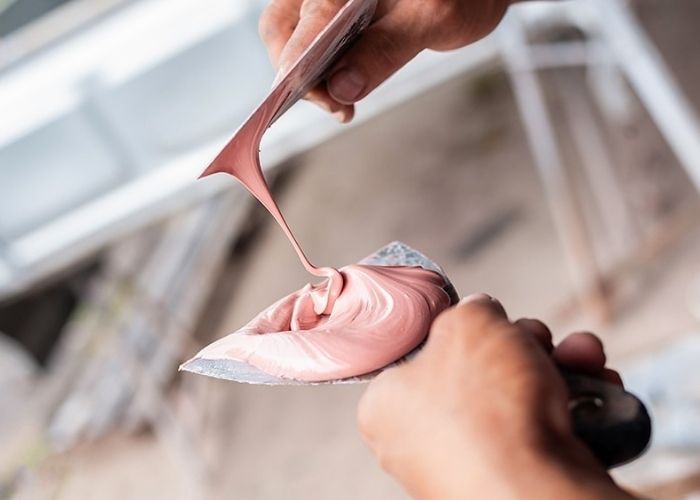 You use an epoxy wood filler when repairing old wood that is either too challenging to remove or too pricey to repair. You use epoxy wood filler to fill gaps and cracks on the wood surface.
You can shape epoxy putty to repair damaged door frame and window frames. Epoxy filler adheres well to create long-lasting wood surfaces.
Use an epoxy filler when the element would be strenuous to clone with new wood, such as molded portions that would need advanced machining or grueling handwork.
You use epoxy fillers when you can't easily remove an element without disassembling other components' for instance, a pegged window sill.
You opt for wood epoxy resin filler when most of the element is still usable because there would be no need for replacing wood.
Epoxy becomes valuable when you require restoration and repair on surfaces already coated with epoxy. This approach provides a solution for addressing imperfections and renewing the appearance by applying epoxy over existing epoxy layers.
9 Best Epoxy Wood Filler Reviews
When picking the best epoxy for wood repair, we considered durability, drying time, usage, size and price to quality ratio.
1.
Best Overall Epoxy Wood Filler

– Abatron WoodEpox 2 Gallon Kit– 2-Part Structural Epoxy Wood Replacement

Sale
Abatron WoodEpox Kit - 2 Gallon - 2-Part Structural Epoxy...
REPAIR DAMAGED WOOD: Fills and rebuilds missing sections to help restore windows, doors, trim, columns, posts, and other elements. Permanently repairs damage caused by weather, moisture, age, and pests.
EASY TO USE: Our wood epoxy has a 20-30 minute pot life (working time) and can be mixed and applied by hand. It can be painted, stained, drilled, carved, sawed, nailed, planed, sanded, and routed, just like natural wood.
GREENGUARD CERTIFIED: This product contains almost no VOCs (volatile organic compounds) and does not have water or solvents. It has a low odor and is a clean, safe wood repair solution for both the user and the environment.
Fixing damaged wood does not have to be a long-drawn-out affair. It should be something you should do while humming to your favorite music.
This two-part epoxy filler makes repairing wood such a breeze. Use this wood epoxy to fill the missing parts of the wood. You can use this wood filler epoxy to repair rotten wood and restore it to its former glory.
It is the perfect wood filler for filling internal holes, as you can use it to fill all the cracks on wood surfaces. Use it to rebuild wood as it excels in restoring wood regardless of the cause of damage.
It is simple to apply and sag resistant. This epoxy filler for wood is lightweight and will bond with the existing wood for good. It will never crack, shrink, or chip.
It has a terrific work time of twenty minutes. It's simple to stain, mold, sculpt, or form. However, wear disposable gloves. Use it to repair rotting wood and missing wood, and you'll be happy with the results.
Once it has hardened, it'll be effortless to drill, sand, stain, and route. If you need to fill both small and large holes, this is your product.
It's ideal for filling irregularly shaped gaps. You'll be pleasantly surprised at its ease of use and effectiveness.
What We Liked Most
It's simple to use 
Delivers the results
It's lightweight
What Could Be Improved
Pricey but worth every coin
---
2.
Best Wood Filler For Large Holes

– DAP 541 Series 00541 1/2pt Natural Plastic Wood-X w/Drydex
As homeworking hobbyists and professional painters, we recommend using this wood filler epoxy for repairing wood. You can use this filler for large holes to fill voids in the wood, and you'll be happy with your choice.
Before applying the filler, ensure the wood surface is free of dirt, grime, and loose material. Use it when the temperature is 40 degrees Fahrenheit. Stain the wood before filling it.
Slightly overfill the sections of wood you need to repair and sand it down to an incredibly flat surface when dry. Apply masking tape around the damaged wood before filling to maintain a clean surface and reduce sanding later.
Apply wood filler in layers for gashes deeper than 1/4″. Allow each layer to dry before adding the next. For shallow fills, give them two to six hours to dry. If you fill deeper holes, give them thirty-six hours to dry.
It's pink when wet and white when dry. If you are filling a small hole, use your finger instead of a putty knife as it leaves very little plastic wood for you to sand.
Leave a tiny amount of Plastic Wood above the small hole so that when you sand it, it will be flush with the nearby wood. Sand the entire wood surface before applying this filler so that you'll only need to sand patched holes afterward.
You can use an orbital sander or hand sanding to sand this stuff. It files well and will not require a lot of grit or hand sanding to be leveled.
What We Liked Most
It's easy to tell when to sand as it changes the color
It's appropriate for indoor and outdoor use
It works as stated
What Could Be Improved
It smears if you wet it after drying 
---
3. Best

Wood Repair Epoxy for Screw Holes

– Elmer's Stainable Epoxy Wood Filler
This item is more than just glue in an orange cup. It is one of the best epoxy wood fillers available in the market today because it contains natural wood fibers for excellent staining and sanding.
It is suitable for indoor and outdoor use and will not crack or shrink after painting. Use it with high-speed sanders. This wood filler holds the screws and nails securely in place.
That's why you can use it for interior repairs. This resealable epoxy filler is ideal for small jobs that do not necessitate the services of a professional, saving you hundreds or thousands of dollars in repair work.
It is the most effective wood sealer for both indoor and outdoor use. If you don't want any places where water can pool, use it to fill holes. The filler can be stained, but it might not be an exact match to the surrounding wood.
That means the patch will be noticeable. Make up for this by using a lighter color filler to make the patch darker than the rest of the wood.
Because it is quite a thick paste, it'll take effort to get the filler out. Overall, if you don't want it to hold loads of weight, the filler is superb for odd repair jobs in random pieces of wood around your home.
What We Liked Most
It performs as expected
It's perfect for small jobs and requires no prior experience to use
It is reusable
What Could Be Improved
It's challenging to get the filler out, but it is for your good.
---
4.
Strongest Wood Filler

– Minwax 21600000 High-Performance Wood Filler, 12-Ounce Can
If you need to repair rotted wood and stop it from further degradation, this could be your product. It's a two-part compound that doubles as a wood filler and a wood adhesive. Use it to repair window and door frames.
You can also use it to anchor screws and secure some loose joints in your furniture. The filler is stronger than natural wood. It is waterproof and also resists heat and rot.
This wood filler epoxy firmly adheres to wood, metal, ceramics, and concrete.
It is a two-part system, just like Bondo home solutions for wood. The epoxy cures and dries grey. It's not available in a ready-to-cut tube, nor can it dry out.
It is such a durable substance intended for structural damage repair to your wood where cosmetics are not that important.
It's excellent for repairing things such as door strike plates that have been destroyed or have fallen out. It is more durable than wood. It dries rock hard quickly, making it the best hardwood floor filler.
The bottom line is that it sands well and bonds excellently to other surfaces and wood. It has a short curing time, and it enhances paint adhesion.
Generally, It's a helpful solution for dings, splits, and other minor imperfections that must be addressed before repairs.
What We Liked Most
It's easy to work with
A very strong wood filler
It works as expected
It has a quick drying time allowing you to complete your project in the shortest time possible
What Could Be Improved
Since it dries pretty fast, you have to work quickly.
It's pricey but worth it
---
5.
Two-Part Epoxy Resin for Wood Repair

– J-B Weld 8257 KwikWood Wood Repair Epoxy Putty Stick- 3.5 inch
J-B Weld Tan KwikWood Wood Repair Epoxy Putty, 1 oz. Stick
J-B WELD KWIKWOOD: A hand mixable two part epoxy putty stick that is formulated to repair and rebuild wood. J-B Weld KwikWood is designed for all wood household DIY repairs!
CURE AND SET TIME: After kneading the two part formula together by hand, KwikWood takes 15-25 minutes to set and cures in 1 hour. J-B Weld KwikWood set and cure color is a light tan.
PRODUCT FEATURES AND STRENGTH: J-B Weld KwikWood has lap shear strength of 900 PSI. KwikWood will not shrink or rot and can be stained, molded, tapped, drilled, sanded and shaped.
This wood filler epoxy is ideal for replacing and restoring wood. This putty is compatible with all types of wood and can be used for different household repairs. Once mixed, the putty binds at 900 psi and will never rot or shrink.
When stained, sanded, or sawed, it will mimic all characteristics. It is appropriate for the majority of DIY projects. You use it to repair holes, cracks, and gouges in the wood.
Also, use it to replace small chunks of missing wood. Along with its fast drying attributes, this epoxy filler for wood is easy to work with. However, you can't pour into cracks or tiny holes because it's not a liquid epoxy.
Due to its thick consistency, it is appropriate for filling surface-level gaps. So, it's a phenomenal option for external wood filling. Remember, this is an epoxy. Get the mixing ratio right.
Do not pinch it, just cut it with the knife. Cut as much as you can use in ten minutes as it becomes less malleable with time.
Mix it thoroughly and ensure you are thorough in two minutes.
There should be no colored streaks, and everything should be the same color.
Apply it right away and avoid touching it once it's in the correct spot and give it one hour before subjecting it to high stress.
Return leftovers to their original container and seal them as tightly as possible. If you're using an old product that has been sitting for some time and feels hard, put it in the oven to warm (around 180°F) for fifteen minutes.
It will loosen and blend well.
What We Liked Most
Provides long-term results
It quickly cures and sets
Once cured, it behaves like wood
It adheres to different surfaces
It's easy to work with 
What Could Be Improved
Only appropriate for small projects
 It's not suitable for internal filling
---
6.
Best exterior wood filler epoxy

– PC Products PC-Woody Wood Repair Epoxy Paste
PC Products PC-Woody Wood Repair Epoxy Paste, Two-Part 96 oz...
Two-part epoxy paste to replace missing or rotted wood is resistant to dry rot, UV light, fresh and salt water
Can be used in indoor and outdoor applications with an application temperature range of 35 to 115 degrees F and a service temperature range of -20 to 200 degrees F
High tack helps reduce drips and sags while hardening
You know that time is of the essence when working with epoxy fillers. If you need an epoxy wood filler that gives you ample time to be creative before it hardens, you could be lucky with this wood filler epoxy.
It gives you a whooping thirty to forty minutes of work time.
So, you have enough time to make all adjustments you need. If that is not enough, you can stain or paint once fully cured to match the nearby wood.
This product's effectiveness is unmatched because it has cemented its place among the best deck wood fillers. This epoxy filler for wood resists dry rot, and fresh or salty water got nothing on it.
The high tack minimizes sags and drips when hardening. For professional results, mix PC woody part A with PC wood part B in equal measure on a clean flat surface with your stiff putty knife. Be sure not to mix with gloves.
This is one of the best exterior epoxy wood fillers you can use to restore wood. Use it to fill knot holes, splits, defects, and other wood imperfections, and it will withstand years of scorching summers, freezing snow, and ice every summer.
This epoxy resin wood filler has a considerable life off the shelf ( 5yrs or more).
What We Liked Most
It's a long life off the shelf
It's easy to work with
It offers durable repairs
It has a suitable work time
What Could Be Improved
You have to wait for some time to sand it
---
7.

Best Wood Epoxy Filler for Simple Quick Repairs

– Bondo Home Solutions
Sale
If you're working on simple and quick repair work, this woodworking epoxy filler is all you need. So, you can even use this wood filler for floor repair or restore decayed wood. It's safe to say that it's a prime epoxy wood filler.
Another beautiful thing about this wood resin filler is that it takes just fifteen minutes to dry, allowing you to sand it in the shortest time possible.
It'll take you twenty-five minutes to prep it for painting after filing.
The Bondo home solutions wood is perfect for any person who values time and effectiveness. It's one of the best home solutions wood filler for most DIY projects.
Mix it before using it to make durable repairs. It's shrink and sag resistant, and since it is water-based, it's suitable for indoor and outdoor repair. Once cured, the wood filler acts like wood.
You can sand and paint it just like ordinary wood. It takes stains and paints so well that you can't even notice the repaired section.
Because it is water-based, it emits no foul smell when used and does not put the environment or your health in jeopardy.
This wood resin filler dries very fast, enabling you to complete your project and focus on other crucial things on your schedule.
What We Liked Most
It offers durable repairs that won't shrink or sag
Ideal for both indoor and outdoor use
It's simple to stain, sand, and paint
It's water-resistant
It dries pretty fast
What Could Be Improved
It isn't easy to mix the filler properly
The work time is limited due to the quick drying time
---
8.

Best Epoxy to Fill Wood Cracks

– System Three 1-Quart SculpWood Moldable Epoxy Putty
Sale
System Three SculpWood Putty Epoxy Filler, 1 Quart Kit
Use to replace rotted or chipped away wood; cracks and other cosmetic defects in window and door sills, frames, railings, furniture, etc.
Features a convenient 1:1 mixing ratio, resin and hardener are easily mixed by hand
Will not shrink or become brittle after curing
The System Three 1600K20 is a general epoxy wood filler used to restore the look and feel of wood by replacing damaged or chipped wood.
You use it to conceal wood imperfections and to fill all the cracks on door sills, railings, pricey furniture, etc. It's the best container best epoxy putty featuring a resin and a hardener.
You mix the resin and a hardener in a 1:1 ratio. You can easily shape it to fit the spaces you need to fill. It will never sag or slump, and once cured. You can sand it.
This epoxy performs far much better than a latex wood filler because it is such a good external sealer. You'll be pleased with how well it works.
It's easy to mix as you only need to combine equal parts. It's malleable and workable for about four to six hours. So, you will have all the time you need to scrape and mold it once you put it in the right spot.
It has the consistency of playdough, soft and flexible but with just enough body to sustain itself. It's very light and cures rock-solid in twenty-four hours. There's no need to wear protective gloves because no chemical reactions are involved.
This filler sticks to everything, even flat surfaces, and cures to a light brown color. The wood filler acts like wood and can be stained like wood.
What We Liked Most
It's effortless to work with and mix
It gives you enough work time
It is sandable and paintable, just like
The best epoxy for filling wood cracks
It adheres to many surfaces
What Could Be Improved
It has a longer cure time- 24hrs
It does not have ordinary chisel-like wood (tends to shatter when chiseled)
---
9.

Best Heavy Duty Wood Filler

– TotalBoat Fixwood | Marine Grade Epoxy Putty
TotalBoat - 512884 Fixwood | Marine Grade Epoxy Putty |...
MAKE REPAIRS THAT LAST: Marine grade 2 part epoxy putty lets you make permanent repairs to rotted, missing, or damaged wood, including soft wood, dry rot & other damage
EASY TO USE: Just mix in equal parts and apply. Can be molded to any shape, and stays in place on vertical surfaces. Will not sag, shrink or crack. For interior & exterior use
WIDE RANGE OF USES: Repair wood stairs, doors, garage door frames, stair posts, exterior walls, fascia boards, rafters, window sills, shutters, door frames, door hinges, wood ladders, split wood, deck boards, and other damage
This wood epoxy putty saves you the agony of replacing wood that's either too expensive to buy, too sophisticated to replicate, or too vintage to throw away. TotalBoat FixWood makes repairing rotted or damaged wood a simple task.
Use it inside or outside, in and around the house, on the lawn, and your beloved boat—repair, missing wood, both dry rot and soft in minutes.
Just knead the two parts together with your bare hands and apply to the injured section. If a piece of wood is missing, curve FixWood by hand or with tools to form the required shape.
Do not worry about sagging since FixWood will stay where you place it. This resin wood sealer dries tough enough to handle fasteners while remaining malleable. It's such as great exterior wood epoxy filler.
This wood epoxy is fantastic for filling internal holes, fixing rotten wood trim, window frames, window sills, door frames, fascia boards, trim boards, shutters, doors, and deck boards.
It won't shrink or snap. Once fully cured, repaired sections can be stained to fit the surrounding wood will be waterproof.
It's straightforward and has a great working time of 30- 37 minutes at 72°F. You can finish it in six hours. This eco-friendly, no-VOC, no- upsetting odor formula will appeal to you.
What We Liked Most
It's simple to use
Has a generous work time
It's a low odor formula
It works as described
What Could Be Improved
---
Best Epoxy Wood Filler Comparison Table
How to Choose An Epoxy Wood Filler – Factors to Consider Before Buying the Best Epoxy Wood Filler
We all want the best in everything. However, what you consider perfect for you may be trash for another person. The same is true when it comes to wood epoxy resin fillers.
There are different types of epoxy resin. Each has a set of properties suitable for various applications. Woodworking epoxy fillers differ in thickness, heat resistance, the time it takes to cure, the sturdiness of the finished project, etc.
Below are factors you should consider when buying epoxy wood fillers to help you pick a wood epoxy deal for your unique project.
Indoor and outdoor use
Before buying an epoxy wood filler, consider whether you need to use it inside or outside the house. Some epoxy wood fillers are suitable for indoor and outdoor use.
Others are formulated uniquely for either exterior or interior use to improve durability due to exposure to the elements such as UV rays, moisture, ice, humidity, etc.
Stain or Painting
Before spending a dime on resin wood filler, check if you can paint or stain it to match the surrounding wood to stop it from being noticeable.
Size
Confirm whether the size of the bottle of epoxy resin you wish to buy will cover your project to cut costs. Suppose you purchase several small-size containers to complete a considerable task.
In that case, It'll cost you more than buying one larger-size bottle. Also, buy the epoxy resin you can use in one go to avoid wastage. Some epoxy resins may harden if you store them for too long after use.
Durability
You need your wood epoxy repair to last as long as possible before showing signs of wear. Consider the following vital specifications when purchasing epoxy resin for wood repair to ensure durability.
Abrasion Scratching – Wood epoxy repair projects should withstand wearing. Do not use epoxy resin-coated surfaces as your cutting board as they get visible scratches. When buying a wood epoxy, opt for one that won't easily show scratches.
UV Damage – Sadly, most woodworking epoxy fillers are extremely sensitive to UV damage. Opt for Non-yellowing formulas for outdoor use as they can significantly hold out the sun rays and last for a long time.
Consider buying a UV-resistant topcoat in addition to your favorite finish. UV rays can damage even UV-blocking epoxy resins after prolonged exposure.
Water – Water makes epoxy wood fillers wear faster than expected. To ensure durability, buy epoxy wood filler waterproof for outdoor use. Also, leave epoxy wood filler to cure before exposing it to any wetness.
Color matching
Buy an epoxy filler that will match the color of the surrounding wood when cured. If you can't find an exact match, purchase a stainable or paintable one and then stain it to fit the nearby wood.
Staining wood filler would help in color matching. You can also opt for a clear epoxy wood filler.
Drying time
Cure/ drying time stipulates how long you should wait before sanding or continuing your epoxy wood project. Epoxy temperature and hardener cure speed determine epoxy resin's cure time.
Every hardener has a specific temperature cure range that works best for it. Select a hardener that will provide you with enough working time for your project at the temperature and conditions you will be working in.
Longer curing times give you more time to work on your project. You'll be able to shape it the way you want, and you'll have enough time to correct errors.
Note that it'll take you longer to complete the project. Quick curing time necessitates quick work. You have little time to get creative or amend errors, but you'll finish your project in record time.
How to Use a Wood Epoxy Resin Filler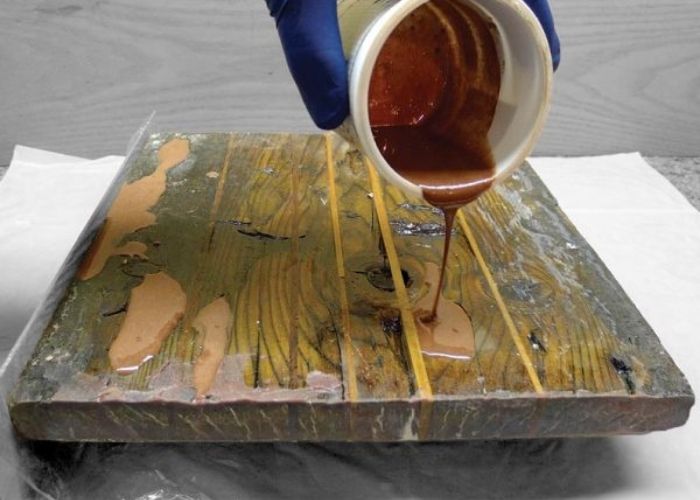 We've already looked at the best epoxy resin fillers for repairing and restoring wood, so let's look at the process of working with epoxy. Follow this step-by-step tutorial to learn how to use epoxy resin filler.
Prepare The wood
Before you begin applying the wood filler, you must first clean the wood. To see how severely the wood is damaged, you must meticulously remove any dirt or paint you may need to sand it or use a paint stripper to clean the surface.
After a gentle sanding process, ensure the wood is free of dirt, grime, algae, and sanding dust.
Apply an Epoxy Consolidant
When you've finished preparing the wood, it's now time to make the epoxy resin wood filler. Apply an epoxy consolidant to the entire surface you'll be working on first.
An epoxy consolidant is a thin covering of epoxy that coats all of the fiberboards together by a resin. Allow the surface to dry completely before proceeding to the next step.
Fill the crack with Epoxy Eternal Wood Filler
Fill in the cracks in the wood with epoxy putty once the consolidant has fully cured. This is because holes in wood tend to broaden much further.
The very worst scenario is that the gap is created by insects, which will form a hole right through the wood. If you pour the liquid wood filler too soon, it may drip through these gaps and run through the insect hole.
So, to avoid this process, apply wood epoxy putty. Make a paste by combining two parts epoxy filler.
Seal all cracks thoroughly, and don't worry about developing an even finish because you will sand down the surface later.
Pour the Liquid Wood Filler into the hole
Allow the wood epoxy filler putty to cure before pouring the liquid wood filler. Mix the resin with wood filler liquid to achieve a pourable consistency.
Pour it all over the wooden surface and let it seep into all the insect holes and cracks. Now apply the liquid filler to the remaining gaps and cracks.
Allow the filler to absorb in for a few minutes after being filled. At this point, the epoxy will have dropped slightly. Then pour some more epoxy filler until it has filled all the cracks and holes or is no longer falling.
Finish the Wood
Before finishing the wood surface, ensure the epoxy filler has wholly cured. The brand and the manufacturer's instructions will determine this.
However, it is recommended that you wait at least 24 hrs before using the wood surface again.
After it has fully cured, sand the surface until it is even and smooth. You can sand by hand or with an electric sander.
Also, be sure to read our article on "Epoxy or polyurethane"
Why Use the Best Epoxy for Wood Repair?
There are several reasons why you should use epoxy for wood repair. Let us look at some of them.
Epoxy Wood Repair For Beauty
Some of the best epoxy wood repairs are compatible with a wide range of pigments, allowing for an excellent array of different tints. These tints add color to epoxy wood repairs and enhance the aesthetics of refurbished wood surfaces.
Epoxy For Durable Wood Repair
Other epoxy wood repair agents are unrivaled by the bond between the resin wood filler and the wood surface. Epoxy bonds exceptionally well on the wood surface, infiltrating it to provide military-grade lifetime durability.
As a result, epoxy wood repairs are scratch and abrasion-resistant, UV resistance, waterproof, and pressure and impact resistant.
Epoxy Wood Repair in 2 Ways
By trying to perform wood repairs in two different ways, you can enjoy the benefits of the methods by which epoxy wood filler works. One method is the consolidation method.
The damaged or deteriorated rotten wood surface is fully saturated with the best epoxy for wood repair. The second method is the filling method.
The damaged part of the wood is eliminated to expose only the fresh and healthy wood surface to which you apply the epoxy primer and epoxy filler.
Tips and Tricks for Using a Wood Epoxy Resin Filler
Make sure you're prepared for the overall process before mixing the two-part epoxy. There is only a limited amount of time before the epoxy dries up. Have everything you need in front of you before mixing the epoxy.
You should also work more quickly after you've mixed it. Mix only the quantity of epoxy wood filler you intend to use. If you have any extra unused epoxy, store it for use later.
When the liquid wood filler has fully cured, some minimal depressions may remain in the wood. This can be remedied by using wood epoxy putty. Apply the epoxy wood filler to the holes and cracks and any other areas of the house that require it.
The temperature determines the time required for the epoxy resin filler to cure fully. For the best outcomes, work in warm temperatures. You can also use heat to speed up the curing process.
Because epoxy is plastic-like, it will take much longer to sand. It necessitates a gentle sanding procedure that may require additional sheets of sandpaper. As a result, you must be patient!
You can either contain the wood with a cover or do the procedure inside while the filler cures. This is because dust and dirt can affect or stick to wet epoxy.
Before you begin this project, remove any decayed or rotted wood. If the wood epoxy putty becomes too wet, it will collapse, widening gaps.
Read more: Wood Filler Vs Spackle
Epoxy Resin Wood Filler FAQs
Is epoxy stronger than wood filler?
Yes, some epoxies are stronger than wood fillers. Epoxy wood filler is a composite material that replaces or strengthens wood fibers.
You use it to fortify a window frame or to fill gaps in a wooden plank, floor, or piece of furniture.
It is a permanent repair that leaves wood stronger than when it was brand new. It's less expensive than replacing worn-out wood.
Is epoxy a good wood filler?
Yes. Epoxy is a fantastic wood filler you can use to restore the wood to its former glory. Some epoxies are water-resistant and heat resistant. They are cheaper than replacing old wood.
What's the strongest wood filler?
It depends on your project. There's no size fit for all wood filler because each wood filler is differently formulated to suit a specific task.
There are many strong fillers out there. Understand your project first, and you'll be good to go.
What is the Best Epoxy Wood Filler?
Using an epoxy wood filler for restoring wood is cheaper than replacing deteriorated wood.
We have highlighted the best options in this guide. A good wood filler should be durable, affordable, easy to use, effective, and versatile.
Our top pick is Abatron WoodEpox Wood Replacement. It checks all the boxes in terms of ease of use, effectiveness, and ease of use.