If you've ever found yourself in the frustrating predicament of applying interior polyurethane to exterior wood, just as I did, then welcome to the club.
I vividly remember the feeling of satisfaction when it looked pristine at first, only to witness it all go south when the rain or snow made their grand entrance. It felt like a cruel joke, and the solution was always the same: strip it all off and start anew.
That's precisely why I can't stress enough how important it is not to settle for just any exterior polyurethane. You see, I've been down that road, and I've learned my lesson. So, let me share my experiences with you and guide you towards finding the best exterior polyurethane, just as I did.
Don't miss our in-depth review and expert guidance below; it's a culmination of the lessons I've learned and the wisdom I've gained, all aimed at sparing you from the same pitfalls I once stumbled into.
Best Exterior Polyurethane
The Best Outdoor Polyurethane Reviews (Updated List)
I've carefully considered polyurethane for outdoors on the market. Using real-world experiences and advice from the other woodworking experts, I've pulled together a list of the best exterior polyurethanes.
Here are my top five exterior polyurethane reviews.
1.
Best Overall Polyurethane

– RUST-OLEUM Ultimate Oil-Based Spar Urethane
Let me tell you about the Varathane Ultimate spar urethane – it's the top pick on our list for a good reason. I've had my fair share of woodworking projects, and this product from Varathane, a brand with a long history of woodworking innovation, truly stands out.
What I love most about the Varathane Ultimate spar urethane is its versatility. I've used it on everything from furniture to fences, railings, and even window frames. It's like a one-stop solution for all your outdoor woodwork needs.
This oil-based polyurethane is built to last. In fact, from what I've seen and read, it might just outlast the water-based alternatives and give you a smoother finish. It's incredibly durable, and Rust-Oleum, the maker, doesn't hold back when they talk about it.
When considering weather protection, this spar urethane is top-notch. It's also UV resistant, which means your wood won't soak up water, turn gray, or break down under the harsh sun. That's something that often happens with clear coats.
What sets this product apart is its unique formula that allows it to expand and contract with the wood. Plus, it offers excellent protection against mold and mildew, which is crucial for outdoor applications.
Now, it's true that being an oil-based product, it doesn't dry as fast as the water-based options. But here's the good part – you can apply the next coat in just 8 hours, which is pretty quick for an oil-based urethane.
I won't sugarcoat it; this product is on the pricier side compared to some others on our list. However, it covers a substantial area – you get 190 sq. ft per quart.
So, in the long run, it's a solid investment for anyone serious about preserving and beautifying their outdoor woodwork.
Pros
Has UV protection
Expands and contracts with wooden surface
Offers mold and mildew protection
The oil-based exterior polyurethane
Fast drying for an oil-based product
Con
---
2.
Best for Small Projects

– Minwax Helmsman Spar Urethane
Minwax Helmsman Indoor/Outdoor Spar Urethane, Quart, Gloss
PROTECTIVE CLEAR FINISH – Minwax Helmsman Spar Urethane is specially formulated as a protective varnish for wood for interior and exterior projects. It contains special UV blockers that reduce the sun's graying and fading effects.
EFFECTIVE YEAR ROUND – This wood varnish forms a protective barrier against rain and moisture to protect your projects and keep them looking their best. Special oils allow the finish to expand & contract with the wood as seasons and temperatures change.
VERSATILE – Ideal for use on doors, windows, trim, bathroom cabinets, bar tops, kitchen countertops, outdoor furniture and more.
Next up is the Minwax Helmsman Spar Urethane. This product is truly exceptional, and it shares some remarkable similarities with the Varathane Ultimate.
As expected from a quality exterior finish, it excels in providing a protective shield against moisture and rain. This makes it an excellent choice for surfaces that frequently come into contact with liquids, such as bathrooms or bars.
What truly impressed me is its UV protection. The Minwax Helmsman Spar Urethane has UV absorbers that effectively prevent your wood from turning gray due to prolonged sun exposure.
Plus, it has these special oils that allow it to expand and contract with the changing seasons, which is crucial for maintaining the wood's integrity.
In terms of application, this product is a real winner in terms of speed. If you're using a natural bristle brush, you can apply another coat in just 4 to 6 hours. And if you opt for a sprayer, you'll be ready for subsequent coats in a mere 1.5 hours.
However, there are a couple of things to keep in mind. While it's suitable for both interior and exterior use, it's not the best choice for larger surfaces like decks, fences, or indoor flooring. And if you're working on white-painted surfaces, I'd recommend looking elsewhere.
One thing I should mention is that some users have reported that the Minwax Helmsman Spar Urethane tends to yellow over time.
Minwax claims it dries clear, but it's important to note that "dries clear" is often the term used for oil-based finishes. Water-based polyurethanes, on the other hand, tend to dry "very clear" and are less likely to yellow unless applied on white paint.
Pros
Suitable for interior and exterior use
Easy to apply
The best polyurethane for outdoor furniture
Fast drying time
Has UV absorbers
Cons
It can't be used on fences and decks
Has a strong odor
---
3.
Best Exterior Water-based Polyurethane

– RUST-OLEUM 250241H

Sale
Rust-Oleum 250241H Ultimate Spar Urethane Water Based,...
Durable, poly for outdoor wood surfaces such as furniture, doors, windows, fences, trim and more
water based formula is easy to apply and cleans up with soap and water
Dries to the touch in 30 minutes and covers up to 87 sq. ft. per quart, recoat after 2 hours
Let me take you back to Rust-Oleum, but this time, we're diving into their water-based spar urethane. I must say, this one left quite an impression on me when I used it.
What truly sets this apart is its ability to offer complete weather resistance. It can stand up to everything from rain to humidity, temperature swings, and even relentless sunlight, just like its oil-based counterpart.
The UV ray blockers in this outdoor water-based polyurethane work wonders in keeping your outdoor woodwork from turning gray, and they even provide protection against mold and mildew.
One of the standout features for me was its non-yellowing quality. If you're looking for a clear coat that won't alter the natural color of your wood, this is it.
Plus, the low odor was a breath of fresh air – you won't need a respirator to apply this, which makes the whole process much more comfortable.
Now, let's talk speed. Among the products I've reviewed so far, this non-yellowing poly wood finish has the fastest drying time.
In just half an hour, your doors, window frames, or fence will be dry to the touch. You can even apply another coat after just two hours, which is lightning-fast.
But here's the catch, to achieve maximum durability, you'll need to put on at least four coats. This does result in a lower coverage area, only 87 sq. ft per quart, which is less than half of what you'd get with the oil-based alternative.
Clean-up was a breeze – just some soap and water for your tools. However, there's one thing to be aware of: this outdoor polyurethane for wood can turn milky when it gets wet.
But here's the silver lining – a quick wipe-down and some time to dry, and it looks as good as new again.
Pros
Fast drying
Protection from UV rays and light
The best water based outdoor polyurethane
Mold and mildew protection
Outdoor clear polyurethane
Non yellowing exterior polyurethane
Cons
It is quite expensive per sq. ft
May turn milky when wet
---
4.
Best Interior/Exterior polyurethane

– Deft Finish Gloss
One of the best ways to save money on woodworking projects is to buy two-in-one products, just like this interior exterior water-based oil-modified polyurethane. Oh my, that's a mouthful.
But is it all words and no action, or does this exterior poly meet expectations? This multipurpose polyurethane from Deft is the real deal! It can adequately protect your furniture, doors, floors, windows, window frames, and outdoor tables, to name a few.
As it is water-based, it dries clear, and you can apply the next coat in 2 hours. Besides being waterproof, it also contains UV rays protection, so no need to worry about your furniture turning gray over time.
Another thing you'll appreciate about this is that it is easy to apply. You can use a brush, a pad, or spray. And unlike many water-based finishes, you also don't need to use a sanding sealer before applying.
Amid all the great reviews we saw, which included favorable comparisons to other brands like Minwax and Varathane we comment on yellowing. When applied on white paint, it will absolutely yellow.
However, this is common with all water-based polyurethanes. Nearly every manufacturer has a disclaimer about using polyurethane on white paint, so this is not a stain against Deft polyurethane.
Pros
Fast drying
Indoor outdoor polyurethane
Dries clear
Easy to apply
Offers UV protection
Cons
It yellows on white paint
Only sold in 1-quart sizes
---
5.
Best Multipurpose Exterior Polyurethane

– ZAR ZAR 34112
Finally, we come to another polyurethane for outdoor use that delivers consistently exceptional results. Zar exterior oil-based polyurethane offers a marine-grade finish to patio furniture, fences, gables, doors, and window frames. It is excellent for a wide range of external woodworks that need a clear coating.
Like the other polyurethanes on our list, this has UV absorbers, but it also throws in antioxidants. So this will not only protect your wood from graying but also keep it from losing its color and strength over time.
Of all the oil-based exterior polyurethanes on our list, this polyurethane for exterior wood has the fastest drying time. You can apply a second coat in just two hours, and it is completely dry in 4-6 hours. Using either a natural bristle brush or a spray, you need to apply at least three coats.
As a bonus, this exterior finish can also be applied to metal and fiberglass.
In terms of coverage, each quart will handle between 125 – 150 sq. ft. Even though it is meant for exterior use, many reviewers have used it for indoor projects with admirable results.
Pros
It dries quickly
It contains UV absorbers and antioxidants
Easy to apply
Con
No protection from mold and mildew
---
6.
Best Fast-drying Polyurethane

– MODERN MASTERS MCS90132 Clear Coat Matte
Modern Masters is a reputable manufacturer of innovative water-based wood finishes and wood care products in the United States. Thus, having this brand among our top recommendations shouldn't surprise you.
This is a non-yellowing, water-based acrylic polyurethane suitable for interior and exterior projects. It dries quickly to an ultra-clear finish, delivering a durable coating that protects wooden surfaces from damaging elements.
Moreover, you can trust this product to protect your exterior from oxidation, bird droppings, and mold. Its unique formula is fortified with UV blockers and absorbers, which help to maintain the integrity of the coating.
Additionally, it incorporates built-in mildewcides that prevent mildew growth, enhancing the durability of wooden surfaces. Use this item to achieve a matte sheen on painted and primed surfaces.
Modern Masters clear coat polyurethane works on various exterior surfaces, from entrance doors and fences to patio furniture.
I also appreciated the fact that it comes in both 1-quart and 1-gallon quantities, which allows you to choose the right size based on the requirements of your project.
From my experience using this product, I guarantee the results will satisfy you, given its durability and versatility.
However, despite being an excellent choice, the only gripe I have against it is the costly price tag. Unfortunately, this price may be beyond the purchasing ability of most DIY paint enthusiasts.
Pros
Highly functional
It is fast-drying
It offers easy application
Works on a wide range of exterior surfaces
Protects against UV rays and prevents molds and mildew growth.
Con
---
7.
Best For Both Indoor and Outdoor use

– Deft DFT20 Clear Defthane Polyurethane Gloss
1 qt Deft DFT20 Clear Defthane Interior/Exterior...
This high solids oil based polyurethane formulated for hard use areas
Excellent for interior and exterior wood surfaces including floors, doors, furniture cabinets and marine applications above the water line
EPA Regulated: No ship to AK, CA, HI, NH
Here is another product from Deft, and honestly, the list would've been incomplete without it. The Defthane Polyurethane delivers a quality finish on interior and exterior surfaces, making it as good as the other products included in this review.
Besides that, the product is specifically formulated for applications on surfaces subject to high traffic use. Moreover, it pleases me that it is a highly versatile option, suitable for a wide range of surfaces, including cabinets, furniture, floors, and doors.
It also features a fast-drying formula that dries within 30 minutes of application. Moreover, the product dries to a rich, professional-look gloss finish that offers resistance to the elements such as water and UV rays.
This property enhances the longevity and durability of your exterior surface to a greater extent.
I recommend this product to DIY-ers and professionals alike since it offers a seamless application process. Furthermore, it allows you to be in charge of the entire process since it delivers an even and eye-catching finish.
Overall, I consider it one of the superior polyurethane qualities on the market that wouldn't fail to meet your expectations.
However, while it dries quickly to the touch within an hour, you'll have to wait 6 hours before applying the second coat. This lengthy curing time can be a pain, especially when working on a large project. Besides this, I wouldn't complain more about this otherwise reputable brand.
Pros
Works on both exterior and interior surfaces
Dries quickly to the touch
Easy to the touch
It offers adequate protection against the elements
Con
It takes 6 hours to cure fully
---
Polyurethane for Outdoors Comparison Table
What is the Difference Between Interior and Exterior Polyurethane?
Suppose you have read our reviews of the best water-based and oil-based polyurethanes for hardwood floors, you may have noticed some terminologies are missing or added.
That is because interior and exterior polyurethanes do the same thing but in different ways. some of the differences are:
1. Texture
Interior polyurethane dries hard and remains that way forever, while exterior polyurethane maintains a bit of rigidity.
Changes in temperature, moisture, and humidity cause outdoor wood to shrink and expand. Exterior polyurethane needs to be able to shrink and expand with the wood. As a result, exterior poly does not dry as hard and may not need as many coats.
2. UV protection
As a clear coat in the sun, polyurethane cannot prevent uv rays from penetrating the wooden surface. When this happens, the wood becomes gray and dull.
To protect outdoor wood, every exterior polyurethane must have UV absorbers, while it is not required and even rare for interior polyurethane.
3. Waterproofing
Does polyurethane make wood waterproof? Indeed, this makes it an excellent choice as a wood finish seting it apart from paint and shellac.
However, interior polyurethane cannot handle heavy rain. After a few weeks of rain, the water will seep through the wood, which will cause mold, mildew, and wood fungi to grow.
Even though it is possible to get rid of mildew on wood, it is a long and draining process and easily preventable by using the correct finish.
Exterior polyurethane has superb waterproofing capabilities, making it great for the outdoors and bathrooms.
4. Other special features
Exterior polyurethane also has other attributes that make it better suited for harsh weather. One such feature on our list is mold and mildew resistance.
If water manages to get through to the surface of the wood, which will happen eventually, at least there will be no mildew. Interior polyurethane does not need that feature because that is almost never a problem unless there is serious water damage.
Please Note: While it may be possible to use exterior polyurethane indoors, you should never use interior polyurethane outdoors.
Should I use Water-Based or Oil-Based Exterior Polyurethane?
Now that we have established that you can only use exterior polyurethane outdoors, it is time to look at how to choose the right one.
There are many factors to consider when looking for the best exterior polyurethane, and we will get to that later, but this one deserves its own space.
The battle between water-based and oil-based polyurethane has plagued man from the beginning of time, or it at least feels like it.
To give you a fair assessment, we have to analyze how each one performs in different categories.
1. Durability
For a very long time, oil-based polyurethane was more impervious than its watery cousin. Nevertheless, things began to change a few years ago, and now, water-based polyurethanes are just as durable, if not more durable.
However, for the best exterior polyurethane, oil-based polyurethane is still the undisputed champion. Exterior oil-based polys offer longer-lasting protection, something Rust-Oleum essentially admitted in their own descriptions.
Even though great strides have been made to improve the durability of water-based poly for floors, the same hasn't happened in exterior polyurethanes yet.
2. Drying Times
The competition isn't even close for this one. Water-based polyurethane will always dry quicker than oil-based polyurethane, just as water dries faster and evaporates quicker than oil.
Of the products listed above, the water-based Varathane and the Deft are dry and ready for a recoat in two hours. On the other hand, the quickest drying oil-based polyurethanes, which are the Minwax and the Zar, need between 4-6 hours before applying a second coat, which is fast for an oil-based finish.
So if you need the best exterior polyurethane that will dry in less time, water-based is the way to go.
Related read: Recommended waiting time between coats of polyurethane on hardwood floors?
3. Odor and Volatile Organic Compounds (VOCs)
This is another slam dunk for water-based polyurethanes for both odors and VOC emissions. Given how harmful VOCs are, manufacturers of household products have gone to extreme lengths to reduce them.
That is one reason why water-based polyurethanes are more common. Given the chemical makeup of this type of polyurethane, they also don't smell as much as oil-based polyurethanes.
Some water-based polys are almost odorless, like the Varathane Ultimate Spar Urethane.
Why is odor a factor? Some people find it repulsive, and if you are working around children and pets, it is much safer to use a water-based finish.
When using oil-based exterior polyurethane, it is important to wear a respirator at all times to protect you from the odor and the VOCs. The good thing is the VOCs are no longer harmful when the poly dries.
Read also: How to eliminate the smell of polyurethane.
4. Color
Oil-based polyurethanes don't dry clear, despite what you might read on the can. Instead, they dry with a bit of an amber hue, though some brands are more amber than others. As the coat gets older, it becomes even more yellow.
Water-based polyurethane dries clear and remains clear for the duration of the product. The only exception is when it is put on white paint. In which case, it immediately turns yellow and not the type of amber glow people appreciate with oil-based finishes.
So, which exterior polyurethane stands out the most in terms of color?
It is entirely up to you. At the end of the day, you get to choose how you want your wood to look, whether you want it to maintain its color or to appear a little darker.
That is why you also get to decide on what type of stain to use. Just me like, you could decide that you will use water-based polyurethane for some finishes, and oil-based for others, depending on how you feel.
So, don't be swayed by reviews that complain about finishes yellowing. Just follow the instructions, don't apply polyurethane over white paint, and you'll be fine.
5. Price
The major knock against water-based polyurethane is the price. Cans of water-based topcoats are typically a few dollars more. The only exception, in this case, is with the water-based Varathane, which is significantly cheaper than the oil-based alternative.
However, when you look at the figures, the oil-based polyurethane ends up cheaper. In this case, the oil-based options cover more than twice the square footage of the water-based exterior polyurethane. So while it costs roughly fifty percent more, it does twice the job.
So, it might be more expensive up front, but not when applied. Some other water-based polys are more expensive and still cover less wood.
That being said, water-based polyurethane makes up for this in other ways. If you choose the best exterior polyurethane that doesn't need sanding, you'll save money here. You also get to finish the task significantly quicker, meaning you can move on to the next task.
So, even though water-based polyurethane is cheaper, it could make you more money when you have a backlog of work to do.
6. Stain Resistance
Water-based polyurethane has exceeded oil-based poly in many ways. Now, it might even be more durable in some settings. But the one thing it can't seem to get right is stain resistance.
When rain pours on water-based polyurethane, it can appear milky, just like how it looks when you first apply it. However, in the case of the Rust-Oleum, you can just wipe this off and let it dry, and it will be back to normal.
You can expect the same thing from superior brands like Minwax or Varathane Finishes. However, cheaper brands might turn milky and remain milky.
7. Number of Coats
In a nutshell, water-based polyurethane needs more coats than oil-based polyurethane because it raises the grain of the wood.
As a result, you often need three or four coats to get a smooth finish. Rust-Oleum recommends at least four coats for the water-based exterior polyurethane and at least three for the oil-based.
How to Choose the Best Exterior Polyurethane
So, how is that tally looking? Which of the two polyurethanes are you leaning toward right now? Actually, hold that thought.
Before you make that decision, here are a few other things to consider before picking the best polyurethane for outdoor wood.
1. The wood you need to apply it on
Not every outdoor poly we've listed is suitable for every type of exterior wood surface. Therefore, it is important to select an exterior polyurethane based on where you want to use it.
All of the options we provided can be used on doors, window frames, and outdoor furniture. However, the Minwax cannot be used on fences or other large surfaces that might be difficult to manage.
So, if you want to use the exterior polyurethane on a fence, it won't matter that the Minwax is oil-based; what matters is where you want to apply it.
2. UV absorption and weather resistance
This is a tricky one to decide because all of them on our list boast protection and superior weather resistance. It is pretty difficult to decide which one does it best, so we can leave this one as a tie.
3. Ease of application
To get a smooth and blemish-free finish, you need to know how to apply polyurethane with a rag. Whichever product you buy will be relatively easy to apply. What sets them apart is if you need to sand between coats, how many coats you need, and the tools you can use.
The water-based Varathane requires at least four coats, and you also need to sand between coats. However, it dries quickly, so you can apply three coats in one day.
The Deft interior/exterior polyurethane is probably the easiest to apply, given that you can use a brush, a pad, or spray. Unfortunately, most of the others only give two application methods.
Not only that, but it is also self-priming, and you don't need a sealer. You can also wash your tools easily with soap and water, which is an important part of the application process.
4. Sheen
Polyurethanes typically come in four sheen or luster options: matte or flat, satin, semi-gloss, and gloss or high-gloss. The glossier it is, the more light it reflects, and sadly, the more scratches and dents it reveals.
Only the is readily available in two different sheens – gloss and satin. The rest are either satin or gloss.
Is that a deal-breaker? Not quite. This is a matter of choice, so there is no right or wrong answer to this. You also need to be mindful that when you don't stir the products during the application, they may appear glossier than what is written on the tin.
5. Other features
Yes, this is a bit vague, but only because manufacturers like to throw in things you never knew you needed until you see them.
For example, the Zar exterior poly has antioxidants. They are the only ones that offer it, and it might make you feel like that gives them an edge, and it does.
However, the Varathane products offer mold and mildew resistance. Now, that's an impressive feature. Not only does mold discolor wood, but it also spreads quickly, and it's hard to remove.
How To Apply Polyurethane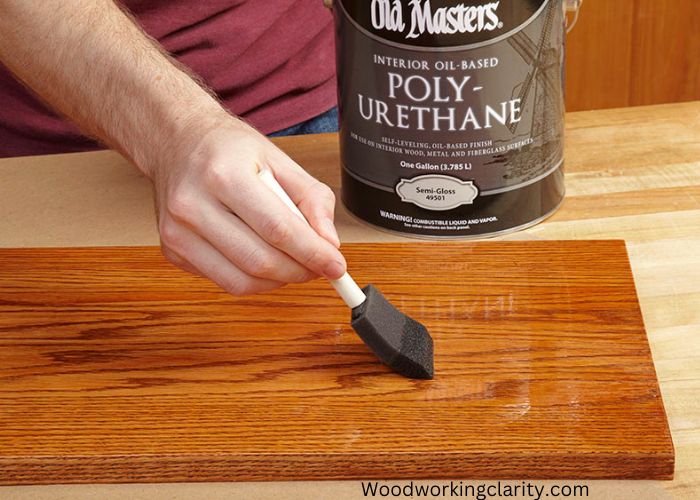 Getting the Wood Ready
Before you put on polyurethane, you need to make sure the wood is set up right. Here's what to do:
Step 1: Sand the Wood: Use sandpaper with numbers like 220. Rub it on the wood to make it smooth. If the wood has holes, use something called wood grain filler to fill them.
Step 2: Get Rid of Dust: After sanding, get rid of all the dust. You can vacuum it or use a special cloth called a tack cloth. If you're using oil-based polyurethane, you can wipe the wood with a cloth soaked in mineral spirits. For water-based polyurethane, use a cloth soaked in something called denatured alcohol.
Putting On Oil-Based Polyurethane
If you're using oil-based polyurethane, follow these steps:
Step 1: Decide If You Need to Dilute It: Usually, you don't need to make oil-based polyurethane thinner, but check what the instructions say. Making it thinner means it won't be as thick on the wood.
Step 2: Choose the Right Brush: You can use a foam brush or a fine-bristle brush. Don't use a cheap brush because it might leave marks on the wood. Foam brushes are good for flat surfaces, and brushes with bristles are better for details.
Step 3: Put It On: Brush the polyurethane on the wood in the direction of the lines in the wood. Make long, straight lines and don't put on too much at once.
Step 4: Sand and Dust: Once the first coat dries, gently sand the wood with 320-grit sandpaper, following the lines in the wood. Be careful not to harm the wood underneath. After sanding, clean up all the dust.
Step 5: Apply More Layers for Protection: Depending on where you live and how much the wood is used, you might want to put on at least three coats. Each coat makes the wood smoother. After the last coat, you can use something called paste wax to make it shiny.
Putting On Water-Based Polyurethane
If you're using water-based polyurethane, do this:
Step 1: Handling Oil Stains: Water-based polyurethane can take in oil stains, but not the other way around. So, use something like synthetic steel wool to roughen up the wood before applying water-based polyurethane over an oil stain.
Step 2: Apply It Right: Put on water-based polyurethane just like you would with the oil-based kind. Use a foam pad, a cloth, or a brush. Always follow the lines in the wood, and don't use too much or it might make the wood uneven.
Step 3: Second Coat: You can put on another coat within two hours of the first one drying. But always read the instructions first.
Step 4: More Coats for Protection: For the best results with water-based polyurethane, put on at least three coats. If it's for a floor, use at least four coats to make it strong. You can add more if needed.
FAQs
Can water based polyurethane be used outside?
Yes, you can use water based polyurethane outside for any outdoor furniture, decks or floors. However, ensure the water based polyurethane can or label has the right ingredients. It MUST contain additives for UV protection for it to be used outside. Besides, it should be labeled "for exterior use" to avoid chipping.
Is polyurethane good for outdoor use?
Yes, Polyurethane is a great material for outdoor use. It's durable and waterproof, making it an excellent choice in harsh conditions like rain or snow. Plus the fact that it will never rot makes polyurethane perfect for outdoor use on decks, and furniture. Besides, it won't fade or crack like other materials can over time.
Best polyurethane for exterior doors
The best polyurethane for finishing an exterior door would be Marine Spar Varnish. Polyurethane is a great way to add protection and durability to exterior doors. Properly applied, it can give your home or business an elegant look without drill-through installations as other methods do!
Can I use interior polyurethane outside?
No, interior polyurethanes should never be used outside. And by interior poly, we mean those specifically meant for interior use only because we also have some interior exterior polyurethane. Interior polyurethane lacks the right ingredients like UV protection that would protect your material from harsh conditions outside.
Can you put exterior polyurethane over interior polyurethane?
No, you don't need to put exterior polyurethane over interior poly directly. This is because exterior poly has resin, a flatting agent that helps reduces gloss, and absorbs Ultraviolent rays. Strip or sand off the interior polyurethane, before applying exterior polyurethane.
Can you use exterior polyurethane inside?
Yes, you can use exterior polyurethane inside. But you should never use interior polyurethane outside. Exterior polyurethane has resin that absorbs Ultraviolent rays, while interior poly doesn't. So, you can safely use exterior polyurethane both indoors and outdoors.
Final Thoughts on the Best Exterior Polyurethane
And so, we come to my least favorite part of the review because these are all so good. However, the best exterior polyurethane is the Rust-Oleum 9341 Ultimate Spar Urethane Oil Based.
Even though it has the longest drying time, it is very durable, offers exceptional protection from the elements, and is mold and mildew-resistant.
The water-based alternative is a worthy contender, but its small coverage area is a problem.
The Deft exterior/interior polyurethane had a chance to take the top spot, but it doesn't have any extra features to push it over the top.
Let us know what you think of our list, or jump straight to our review of the best brush to apply polyurethane.