Adding a finishing touch to your walnut table boosts beauty and durability.
I've tried different finishes to find the best one for each situation. Rubio Monocoat Oil won because it is high-quality and versatile.
But here's the beauty: there's no one-size-fits-all answer. Many situations need different solutions. In this list of top finishes, we will learn about the details of when each one is best.
Whether you want a fancy look, eco-friendly choices, or a specific budget, we can help. Keep reading to find the perfect finish to make your walnut table extraordinary.
Our Top Picks
Best Overall Stain for Walnut Table
Best Non-toxic Finish for Walnut Table
Best Finish For Walnut Table
Best Finishes for Walnut Table Reviews
1.
Best Overall Stain for Walnut Table

– Rubio Monocoat Oil
Rubio Monocoat Oil Plus 2C, 350 Milliliters, Walnut,...
ONE LAYER: Rubio Monocoat's hardwax oil protects and colors interior wood in one single layer. This way you get durable protection, need less time to treat your wood and can easily maintain your wood in case of repairs or renovations.
PROTECTS ALL WOOD TYPES: Oil Plus 2C can be applied to almost all wood types and has great wear, water and heat resistance. It's very user-friendly, has very low consumption and avoids overlaps and marks.
ECOLOGICAL WOOD TREATMENT - 0% VOC: Only a small amount of wood oil is required for the durable protection of your wood, ensuring low consumption, less packaging and less transport. Our wood oil is also sustainable thanks to being linseed oil based.
For good reasons, Rubio Monocoat Oil Plus 2C is rated the Best Overall Stain for Walnut Tables. Its one-layer application is a game-changer, combining protection and color in a single sweep.
This saves time and ensures a durable finish that's easy to maintain, perfect for your cherished walnut table.
After putting Rubio Monocoat to the test, the results were impressive. The application process was a breeze, and the finish produced a lustrous sheen that elevated the beauty of the wood. It was a noticeable step above other quality and ease-of-use stains.
Rubio Monocoat Oil Plus 2C is a revolution in wood finishing. Although they may cost more, remember you are buying easy-to-use, environmentally friendly, and long-lasting items.
Rubio Monocoat offers great value because it only needs one layer, is eco-friendly, and is durable. It's simply the best value for your money.
So, why settle for less when you have the best for your precious walnut table? Your table deserves the Rubio Monocoat treatment.
What We Liked Most
The single-layer application saves time and effort.
Great wear, water, and heat resistance.
Eco-friendly with 0% VOC and linseed oil base.
A wide range of 55 colors for customization.
Certified quality, safe for indoor use and even on wooden toys.
What Could Be Improved
Premium price point.
Limited availability of physical stores (often best purchased online).
---
2.
Best Bang for the Buck

– Varathane 262025 Premium

Sale
Varathane 262025 Premium is the top-budget option for wood stains, providing great value for your money.
It is affordable and enhances indoor wood projects. Though it may not be as prestigious as Rubio Monocoat Oil, it still offers great features.
Varathane 262025 Premium boasts a one-coat coverage feature, a real-time save for DIY enthusiasts. It's perfect for furniture, cabinets, doors, trim, and paneling because you only need one coat.
This oil-based stain dries to the touch in one hour. Say goodbye to the long waiting times associated with traditional stains. Your projects will be ready for use or further treatment much faster.
Varathane's high-performance stain system is enhanced with nano pigment particles. This is a big change because it ensures the color is even and shows off the wood's beauty.
It's not just for wood. Varathane 262025 Premium is versatile and can be used on many surfaces, even plastic. It's great for different projects.
Varathane 262025 Premium is not as easy to apply as Rubio Monocoat Oil, but it is still a good and cheaper option.
This is a great choice if you're on a tight budget because it dries quickly and works on different surfaces.
What We Liked Most
Budget-friendly without compromising quality.
One-coat coverage saves time and money.
Fast drying, reducing project turnaround time.
Versatile application on various surfaces.
Offers a wide range of color options
What Could Be Improved
Not as specialized as the premium product.
May need more coats for specific finishes or effects.
---
3.
Best Non-toxic Finish for Walnut Table

– Odie's Oil Universal Finish
Odie's Oil • Universal Finish for Wood • Leather •...
We all want our finished woodworking projects to look their absolute best when finished. The hard part shouldn't be the application process, nor should it be the choosing what to apply to your project. Introducing Odies Oil, the food safe, solvent free, non-toxic wood finish and wood stabilizer. Odies Oil is easy to us and it waterproofs and leaves a wonderful lustrous sheen in one coat. It is also the perfect finish for leather, concrete, plastic, vinyl and metal.
Odie's Oil is great for interior and exterior applications alike. You can apply Odies to: Boats, Brightwork, Doors, Floors, Decks, Gates, Fine Furniture, Patio Furniture, Bowls, Cutting Boards, Kitchen Implements, Toys, Auto detail, Concrete, Leather, Metal and the list goes on and on!
If you're a wood turner and want to bring out the best in your projects, give Odie's Oil a try. You can use it as a friction polish! Works on most any turning project you can imagine from pens, bottle stoppers, vessels, bowls and a whole bunch more! Odie's Oil does not contain driers or toxic chemicals and is food safe. It's safe for everybody: families, kids, and pets! Super easy to use it requires no sanding or stripping in between coats or for retouching! Wipe on, Wait a while, Buff off!
Choose Odie's Oil Universal Finish for your walnut table if you care about the environment and want the best finish. The non-toxic formula is safe for kids and pets.
One of the standout features of Odie's Oil is its eco-friendliness, boasting 0% VOC. You can have a lovely, durable finish on your walnut table. There's no need to worry about dangerous fumes or leftover substances.
The application process is a breeze – wipe on, wait, and buff off. No need for sanding or stripping between coats. This saves time and makes it accessible for DIY enthusiasts and woodworking novices.
What sets Odie's Oil apart is its versatility. It can also be used on leather, concrete, plastic, vinyl, and metal.
This flexibility ensures you get the most out of your buy, making it a valuable addition to your DIY toolkit.
Odie's Oil differs from the Varathane 262025 Premium and Rubio Monocoat Oil. It is non-toxic and easy to use on many surfaces. To make your walnut table shiny and safe, choose Odie's Oil Universal Finish.
What I Liked Most
Exceptional UV-ray protection, preserving walnut's dark beauty.
Non-toxic and food-safe, perfect for tabletops and food-adjacent surfaces.
Effortless application, even for beginners.
Impressive coverage, cost-effective, with long-lasting results.
Versatile, suitable for various materials beyond wood.
What Could Be Improved
The exact blend of natural oils and waxes is a proprietary secret.
It may not provide complete sun proofing for outdoor use.
---
4.
Best Gel Stain for Finishing Walnut

– General Finishes Oil Based Gel Stain

Sale
General Finishes Oil Based Gel Stain takes a unique approach as a gel stain, offering a distinct option for finishing walnut tables.
While Odie's Oil and Rubio Monocoat focus on versatility and specialized walnut treatment, respectively, this gel stain stands out with its specific suitability for wood kitchen tables.
This gel stain offers a budget-friendly solution. It can save you the expense of replacing your furniture by restoring its appearance.
Following the instructions is crucial, as leaving the stain on for too long can lead to complications.
A high-quality paintbrush and a sock for hard-to-reach areas can yield exceptional results.
Finishing with a polyurethane varnish is recommended to prevent fading or staining issues. This extra step ensures the stain's longevity, preserving your table's appearance.
The gel stain allows for precise control over the color and appearance.
Applying many coats with attention to detail lets you achieve the desired look without visible streaks or blobs.
General Finishes Oil Based Gel Stain is a gel stain tailored for specific furniture types like wood kitchen tables.
While it may not offer the broad material compatibility of Odie's Oil or the specialization of Rubio Monocoat for walnuts, it excels in affordability and ease of application for furniture restoration.
What We Liked Most
Cost-effective solution for restoring old wood furniture, like a dining table.
User-friendly application process.
Protects the stain's longevity with a polyurethane varnish.
Offers precise control over color and appearance through multiple coats.
What Could Be Improved
Limited to wood furniture applications, making it less versatile than the previous products.
Requires careful adherence to instructions to avoid complications during application.
---
5.
Best Fast-Drying Flaxseed Wood Finish

– LinSheen Boiled Linseed Oil
LinSheen Boiled Linseed Oil – Fast Drying Flaxseed Wood...
CLEAR WOOD FINISH - Boiled Linseed wood refinishing oil absorbs into the wood's grain, enhancing the natural color and the texture of the grain
PRESERVE & RESTORE - Boiled Linseed fast-drying wood oil penetrates deep into the grain to help condition the wood, restore the wood and ensures its longevity
DIFFERENCE BETWEEN BOILED & RAW - Boiled Linseed Oil has drying solvents added to the oil to speed up the drying process; whereas raw is in its purest form and is slow to dry
If your walnut dining table lacks significant flaws, boiled linseed oil presents an excellent finishing option.
This clear oil enhances the wood's natural beauty and strengthens its surface, making it ideal for high-traffic areas like tabletops.
One of the standout features of boiled linseed oil finish is its ability to protect untreated wood. While not all formulations offer this, most include waterproofing agents that guard against rot and insect infestations.
Although termite attacks aren't a concern for tabletops, resistance to water spills is essential, making this finish relevant.
However, it's crucial to note that boiled linseed oil contains drying agents, making the finish toxic.
As a result, it's not food-safe during the curing process and should be avoided for walnut dining table tops. Instead, consider it for coffee, side, or drawing room tables.
Raw linseed oil may be a better choice if you require a finish for a food-adjacent surface, despite its longer curing time.
What We Liked Most
Enhances natural wood beauty.
Conditions and restores wood.
Preserve untreated wood indoors and outdoors.
Easy application on large surfaces.
Offers water resistance.
What Could Be Improved
Toxicity during curing.
Longer curing time compared to some finishes.
---
6.
Best Stain for Restoring Walnut Wood

– Howard Products RF6016 RF3016
HOWARD RF6016 Restor-A-Finish, 16 oz, Dark Walnut
Restor-A-Finish is a unique finish-penetrating formula that restores wood finishes while blending out minor scratches, blemishes and abrasions
Available in nine colors to match almost any wood finish tone; Neutral, Maple-Pine, Golden Oak, Cherry, Walnut, Mahogany, Dark Walnut, Dark Oak, and Ebony Brown
With a simple wipe-on, wipe-off process, most finished wood surfaces that seem to need a complete refinishing job can be restored in a few minutes
Restor-A-Finish is a unique oil finish-penetrating formula that repairs walnut wood while removing dents, scrapes, and blemishes. It comes in nine different colors to match almost every wood finish tone.
Neutral, Maple-Pine, Golden Oak, Cherry, Walnut, Mahogany, Dark Walnut, Dark Oak, and Ebony Brown are available colors.
Most walnut wood surfaces that need replacement can be restored in a few minutes wipe-on, wipe-off application method, saving you money and time.
The stain effectively removes unsightly watermarks, smoke damage, sun fading, and other flaws. In addition, it replenishes the wood's original luster without meddling with any previously applied wood finish.
Restore your walnut coffee and dining table with this fantastic finish before you go through the stress of stripping old paint and sanding scratches. 
We give many woodworking tips and have reviewed numerous finishes so far, but Restor A finish has cemented its place among the best for a good reason.
Restore-a-Finish is very simple to use, even without woodworking skills. First, wipe the surface thoroughly to remove surface crud and dust, then apply the RAF as directed.
Finish with 0000 steel wool on all rough places. It should take about 45 minutes or so, depending on the size of your wooden surfaces.
They'll look great by the morning. It's as if magic happens when a polish hardens into a glossy finish! They'll look brand new even if you've used the surfaces for a while.
What We Liked Most
When using this Walnut finish, you do not need to wear gloves
When cleaning the surfaces, you do not need to use mineral oil or spirits
You can use it on multiple surfaces 
What Could Be Improved
Some colors are incorrect
---
7.
Best Dark Walnut Table Stain

– Minwax Wood Finish 70012444
Minwax 70012444 Wood Finish, Dark Walnut, 1 Quart
RICH EVEN COLOR – Minwax Wood Finish is a deep penetrating, oil-based wood stain that provides beautiful color and enhances the natural wood grain in one coat. It's perfect for interior staining projects such as wood furniture, cabinets, doors and more.
QUICK DRYING – Staining interior wood has never been quicker. The special formula allows it to deeply penetrate wood pores within 5 minutes of application, resists lapping, and dries in two hours, making all your wood projects quick, beautiful and easy.
EASY TO APPLY – Use a clean cloth or wood stain brush to apply this wood stain in the direction of the grain. Wait 5-15 minutes and wipe away excess stain. The longer you wait, the darker/richer the color. Reapply coats for deeper color.
This wood stain will be useful if you are looking for a rich, uniform color for a dining table. It gives you a beautiful satin finish while enhancing the natural wood grain in just one coat.
It's ideal for most interior staining projects such as tabletop, coffee table, wood furniture, cabinets, bare walnut, etc. It dries out in record time so that you can focus on other things on your to-do list.
The unique formula enables it to penetrate wood pores in five minutes. In addition, it resists lapping, making all of your projects quick, beautiful, and straightforward.
The unique formula enables it to penetrate walnut wood pores in five minutes. In addition, it resists lapping, making all of your projects quick, beautiful, and straightforward. 
The stain is easy to apply, even if you lack credible woodworking skills. Just follow these woodworking tips, and you'll be good to go.  Apply this stain in the direction of the grain with a clean cloth or a paintbrush.
Wait fifteen minutes before wiping away any excess stains. If you want a richer or darker color, give it more time to dry. Reapply coats as needed to get the hue you're looking for.
What We Liked Most
The colors you get match the ones on the can
It's easy to apply
It gives you an even richer color
You can use it on various projects
What Could Be Improved
It may take a while to dry based on the number of coats applied
---
8. Best Water-Based Walnut Stain – General Finishes Water Based Wood Stain
Sale
General Finishes is famous for manufacturing some of the highest-quality wood finishes on the market. This particular water-based wood stain is one of their fantastic products that can give your walnut woods and furniture another shot at life.
It easily blends and penetrates the walnut wood, reducing imperfections. The dye stain contains high-quality pigments that produce even, dark colors in black walnut.
Apply this water-based wood stain with a brush or a clean rag, or spray it onto your surface to achieve professional results.
General Finishes Water-Based Wood Stain is odorless and has low VOC levels, unlike other wood stains. It does not emit poisonous fumes that can harm your health, so you can use it without wearing protective gear.
The stain is suitable for indoor use only and is designed to have the same functionality as oil-based stains like tung oil. You can create custom colors by combining General Finishes Water Based Wood Stains with any General Finishes Water Based top coat.
It's also non-combustible. So it's entirely safe for use without fear of catching fire. It cures to a thick, natural finish, dries quickly, and provides extensive coverage.
We highly recommend that you first Work on a test board f to see if you like the color and want to use it on your walnut tables, and you'll be comfortable seeing it every day for a while.
What We Liked Most
It deeply penetrates walnut wood, reducing blotches
It is simple to use even if you have no prior experience
Cleaning is simple with soap and water
What Could Be Improved
It's ideal for indoor use only. You can't use it outdoors, no matter how much you like it.
---
9.
Best Waterproofing Stain for Walnut

– Waterlox 5284qt TB5284 Stain

Sale
Waterlox 5284qt TB5284 Stain, 32 Fl Oz
DURABLE WATERPROOFING: Penetrates and waterproofs when used as a finishing system in multiple coats on its own or in conjunction with Waterlox Original Satin Finish or Waterlox Original High Gloss Finish.
MEDIUM SHEEN: Produces a medium sheen appearance (75° gloss level when finished; fades to a 50-55° gloss level in 3-6 months)
LONG-LASTING: Forms a protective yet elastic finish against common household spills, moisture and foot traffic
Are you looking for a durable waterproofing stain penetrating and waterproofing your walnut wood? Look no further.  Waterlox 5284qt TB5284 Stain is easy to use and will provide long-lasting protection for your walnut tables.
Bring the beauty of hardwood floors to your home with Waterlox 5284qt TB5284 Stain. The finish provides maximum protection against everyday household spills, moisture, and foot traffic while giving your floors a beautiful finish that lasts decades. 
The stain is appropriate for interior wood surfaces such as floors, windows, doors, cabinetry, woodwork, tables, furniture, bar tops, picture frames, fly fishing rods, and gunstocks. 
When dry/fully cured, it is non-toxic. So, you do not have to worry about the safety of your kids and pets once you apply it on a surface.
You can use it as a sealer, primer, tie coat, or paint additive to improve adhesion.  It has excellent adhesion to oily, thick, exotic woods such as teak, rosewood, and ipe.
The stain is Superb for sealing and preventing chalking and dusting on porous interior surfaces such as slate, brick, stone, tile, linoleum, and cement.
One gallon has superb coverage of 500 square per coat, and one quart will cover up to 125 S.q. Ft. per coat. The number of coats you need to apply is based on the porosity of your wood.
Once you apply a coat, dry it for twenty-four hours before applying another coat. Remember that cool temperatures, high humidity levels, and poor ventilation might expand dry times, meaning you'll have to wait longer for the stain to dry.
What We Liked Most
It is a multipurpose sealer. You can use it on various wooden surfaces
It offers a long-term service
The drying time between coats is just 24 hours
It is simple to apply and use
What Could Be Improved
The odor lingers for several days
---
10.
Best Varnish Oil Finish for Interior Walnut Furniture

– Tried & True Varnish Oil
Tried and True Varnish Oil, Pint
A superior penetrating linseed oil and natural pine resin finish that is ideal for high-quality, interior furniture, tables and counter tops.
Varnish Oil is a fine furniture finish with a high resin content and will produce a beautiful semi-gloss sheen
Each coat will build up gloss and durability
If you're looking for a food-safe finish to protect turned wood bowls, your search ends with Tried & True Varnish Oil. This premium finish is completely food-safe right out of the beautiful can.
Follow the directions on the can. First, apply two thin coats of original oil finish followed by a varnish oil one day apart.
This natural pine resin and linseed oil blend provides a durable, penetrating finish perfect for interior tables, countertops, and other pieces of furniture.
Settle for nothing other than the best. It is resistant to abrasion and scratches and has a long lifespan. Amateurs and Professional woodworkers use it on bare wood and for finishing walnuts with little effort. 
This will be a bit thicker if you've ever used boiled linseed oil. So use sparingly. It does not dry as quickly as cheaper varieties, but it has the following advantages: It has a vegetal smell and washes off the hands easily with hot water.
Unlike most hand-rubbed oil finish, this stain will not provide a hard, dent-resistant coating. Instead, it will bring out the grain and show depth. It looks and feels organic. 
For professional results, wet sand, apply three coats, and rub each time with a clean cloth. Remember to wet sand between coats.
Lightly sand with 0000 steel wool, add a mixture of mineral oil, and finish with a wax polish.  All dents will become a part of the wood, but the appearance of your wood remains beautiful.
What We Liked Most
It's food-safe
You can use it on multiple surfaces
It's the best traditional varnish oil available
It's easy to apply
What Could Be Improved
It takes longer to dry
The prices keep going up
---
11.
Best Clear Lacquer Finish for Walnut

– Watco 63041 Walnut Lacquer
If you need to give your walnut furniture, doors, cabinets, or paneling a glossy clear finish, Watco 63041 Lacquer Clear Wood Finish could be the product you have been searching for far and wide.
This crystal clear lacquer will give your wood surfaces a beautiful and durable high gloss finish. So whether you're looking to protect and preserve your wood or add a touch of glamour, this lacquer could be a perfect choice!
The finish is designed to give you a higher gloss finish than polyurethane on Walnut. The finish will dry to the touch in one hour, and one can cover up to 290 square feet.
Another advantage of using this product is that it removes wood filler. It protects the surfaces against scratches. You do not have to apply multiple coats for a professional finish. Two or three coats are enough in most cases.
Use on furniture, doors, walnut cabinets, and wall paneling. It dries in thirty minutes and must not be sanded between coats. In addition, it's one of the few affordable lacquers that is not in a spray can available.
Even if you use a heavy hand, there will be no drips or ugly brush marks as it is self-leveling.
Unlike many sprays, you can thin it if you don't want much shine, ideally with lacquer thinner, but if you do not have any and only want to thin it, a little denatured alcohol will suffice.
What We Liked Most
It lays down beautifully
It sprays well and dries quickly
It's the only affordable top-of-the-range lacquer not stocked in a spray can.
What Could Be Improved
You can not use it in high-traffic areas.
---
Walnut Natural Finish: Which Types of Finish Do You Use on Walnut Wood?
Linseed Oil
Because walnut has a deep burnished color, linseed oil produces the best results when applied to walnut wood. In addition, boiled linseed oil gives walnut wood a naturally darker appearance.
The linseed oil finish is simple to maintain, environmentally friendly, and has a gloss finish highlighting the natural color and grain of the wood underneath.
Raw linseed oil is the purest form of linseed oil. Most people find using raw linseed oil on walnut wood challenging due to its long drying time. Even one coat of raw linseed oil can take several weeks to dry.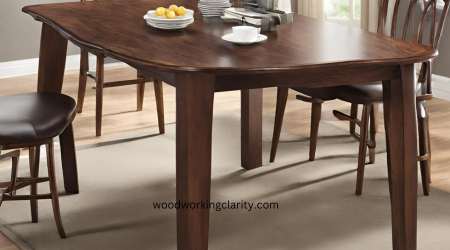 Tung Oil
Tung oil is a plant-based oil that produces an excellent protective wood finish. It dries faster and gives you a natural finish. Besides, the oil has high penetrating properties to enhance and safeguard old furniture and walnut wood countertops.
Since immemorial, hobbyists and carpenters have used this oil on walnut wood. This oil is food-safe, toxic-free, and environmentally friendly.
There are some similarities between tung oil and linseed oil. It is also available in raw, polymerized, and boiled forms. However, some craftsmen rarely use raw tung oil because of its long drying time. Instead, professional woodworkers go for polymerized Tung oil.
Danish oil
This oil finish for wood furniture contains ingredients such as tung oil, thinners, linseed oil, drying agents, thickeners, etc. You can use it on the walnut table, tabletop, and dining table.
Danish oil is commonly a varnish with Tung or linseed oil, but this is not always true. Polymerized linseed oil is frequently sold under the Danish oil brand. To determine the authenticity of Danish oil, read the main menu.
Due to their quick drying time, professional woodworkers and enthusiastic DIYers prefer Lacquer finishes on walnut wood.
Furthermore, one or two coats of lacquer finish are sufficient to protect and seal your walnut wood. You may not need to apply a topcoat. You can use a pressurized and airless spray to apply a lacquer finish on walnut wood.
Rust-Oleum Watco 65851 Danish Oil Wood Finish, Pint, Dark...
Ideal for use on a variety of indoor wood surfaces including bare, stripped or sanded; not recommended for floors
Oil-based formula of blended oil & varnish penetrates deeply into wood pores for ultimate protection
Dries to the touch in as little as 6 hours and covers up to 85 sq ft
Polyurethane on Walnut
The results of polyurethane on walnuts depend on the smoothness of the surface you're working on.
Apply a wood grain filler before the polyurethane to achieve a high gloss finish on open-grain woods (such as oak, ash, or walnut). Polyurethane wood finish is long-lasting and resistant to water. As a result, it is a popular option for traditional coatings such as shellac.
Clean the wood using a rag dampened with mineral spirits (for an oil-based poly) or cheesecloth dampened with denatured alcohol (for a water-based poly).
Burnishing technique
The burnishing technique is suitable for bare, finished, and oil-treated walnuts. This system offers a walnut, smooth, beautiful, and shiny look.
With your hand, you apply wood burnish, also recognized as a hand-rubbed finish.   It dries fast, and you may need to apply multiple coats depending on your needs.
Choosing the Right Finish for Walnut Table Tops
Several factors demand consideration when choosing the ideal finish for your walnut project.
Durability
When choosing a finish, durability should be a top priority. A sturdy finish is essential if your project is frequently used or encounters substantial environmental variations.
In such demanding scenarios, oil-based finishes like tung oil are renowned for their exceptional resistance to the effects of time and daily wear. Alternatively, water-based options like polyurethane offer similar levels of protection and durability.
Sheen preference
Once you've decided how durable you want the walnuts to be, the next step is choosing the sheen level. The sheen level determines how shiny or matte the surface looks when it dries.
High-gloss finishes make things look shiny and may not be natural. They are easier to take care of than matte finishes. High-gloss finishes show fewer scratches and flaws.
It's better to have a less shiny finish when it comes to furniture that gets used often and needs to be cleaned often. That way, small scratches won't be as noticeable, and the furniture will look more elegant and classy.
Simplicity in application
Another crucial factor when picking a finishing product is the ease of application. The ease of different finishes differs based on how you apply them: brushing, spraying, or wiping.
Wax-based finishes are preferable for a fast finish with minimal prep work. If you have enough time, you can choose traditional methods for black walnuts. These methods use oil-based finishes to make them look beautiful and protect them for a long time.
Conversely, if time is limited, polyurethane provides a swift application process.
How Do You Protect A Walnut Table?
Impact Resistance
You can safeguard your walnut table against scratches and impact resistance. One way is to use a wood finish or oil finish.
This will help protect it from moisture and make it more resistant to scratches and dings. You can also purchase a table pad or cover to put over the top of your table.
This will protect it from any accidental bumps or spills. Finally, you could also install a glass top protector over the glass top of your table. This will help prevent breaking if it is ever hit or bumped.
To protect walnuts from rot And decay
To protect your walnut table from rot and decay, keep it dry. If the table is moist, it is more likely to rot.
Avoid using mineral oil, as it does not dry and is better suited for cutting boards, not furniture. Instead, opt for an oil finish that provides a clear, colorless coat or enhances the natural color of walnut wood.
Protect it using a clear varnish, boiled linseed oil, or a coat of polyurethane. Keep it dry, out of direct sunlight, so it does not fade.
Protect it by using felt pads under the legs. This will help prevent water from getting underneath the legs and seeping into the table, which could cause damage.
Protecting A Walnut Table: Before, During, And After Use
Black walnut needs a protective coat to prevent water and humidity from getting into the grain and possibly distorting the wood. Here's how to do it.
Before Use
Give your walnut coffee table protection before using it with polyurethane varnish, oil-based polyurethane finish, or true Danish oil. 
During use
Use coasters and some placemats during meal times.
White rings form when wet glasses, hot plates, or cups are left on the tabletop. Likewise, leaving food or drink on the walnut table for a few hours can result in these ugly white marks.
After use
Dust and clean the black walnut table with a microfiber cloth from time to time. If you opted for a natural oil finish on your walnut wood, you might have to apply a wood finish on the tabletop after every two or three months.
How to Create a Beautiful Walnut Wood Finish
Walnut wood is renowned as a natural finish requiring more effort than simply applying a wood finish to attain a durable finish.
Most walnut furniture finished using linseed oil or Tung oil tends to turn grey, making some walnut items unappealing. So, let's see the best way to achieve a beautiful finish on walnut wood.
How to Finish Walnut Step by Step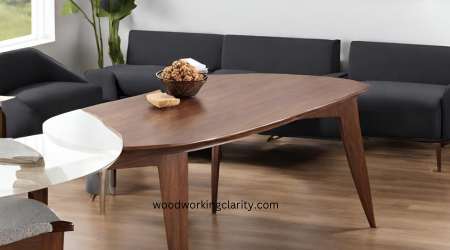 Step 1: Hand Sand the Walnut Wood
Walnut wood has an incredibly dark grain pattern. You'll need to start with hand sanding to bring out these patterns. You may need to use a sanding sealer to make the process easy.
Sand the walnut wood with 320 grit or higher grit paper. After sanding, blow off the wood dust with a vacuum cleaner. Then, using a damp cloth, wipe down the wood.
Allow the wood piece to rest for a while. Finally, lightly sand down the walnut wood to remove any raised grain. Walnut is a beautiful wood, and sanding helps you get a smooth finish.
Step 2: Apply the First Coat of Shellac
The first step in beautifully finishing walnut wood is to apply shellac. The shellac primer is an excellent foundation for subsequent steps like gel stains or glaze.
Furthermore, you can combine shellac with other stains to give the dark walnut slab a semi-gloss sheen.
You can read the Battle of black stain vs black paint to learn a few key differences that you should be aware of before deciding which to use.
Step 3: Apply the Second Coat of Shellac
Allow enough time for the first coat of shellac to dry completely. How long for shellac to dry? Well, shellac dries fast and I'll be dry to the touch in less than 30 minutes.
If spots appear after the shellac has dried, sand them down again. Apply the second coat after blowing off the residue with a vacuum cleaner.
If you require additional coats, apply them after the previous coats have dried.
Walnut Finishes FAQs
What oil do you use on walnut wood?
Tung oil and boiled linseed oil are great for finishing walnut wood. They harden in the wood and seal the end grain against moisture, giving you a muted, appealing sheen. 
Should you stain walnut wood?
You can apply boiled linseed oil or an oil-based varnish directly to the raw wood to darken it or stain it. The stain you use will determine the final color.
What is the recommended stain for natural walnut finish?
Finishing walnuts with lacquer is the best option. It dries quickly and requires only two coats to seal and preserve. Also, it is simple to use.
What is the best for finishing black walnut wood?
Most people prefer lacquer on black walnut. This black walnut finish dries fast; you need just two coats to finish the job. You can use the airless spray to apply it to a surface. Lacquer also has a beautiful glossy finish that will enhance the beauty of the wood. You can also use a black walnut stain if the color is not even.
Walnut Finish Summary
A high-quality finish is essential for giving your walnut table an aesthetic and classy look. That is why we rolled up our sleeves and scoured the web for hours, compiling the best finish for the walnut list. 
Our top pick is  Rubio Monocoat Oil. This product is easy to use even if you have no experience. You can use it on various surfaces, and they have exceptional coverage and durability.