Wood and metal, when united, offer an enchanting blend of rustic charm and contemporary flair. But here's the catch: finding the right adhesive to bond these distinct materials can be a formidable challenge.
You need metal-to-wood glue with very high tensile strength.
After rigorously testing nine different products, I found Gorilla 2 Part Epoxy to be the best glue for wood to metal.
I'll delve into what sets the product apart, exploring its remarkable versatility and strength. Furthermore, I'll unveil the other "best for" various scenarios, so that you find the perfect adhesive companion.
Keep reading for more.
Top Picks
BEST ADHESIVE FOR METAL TO WOOD
Best Glue for Wood to Metal
Best Glue for Wood to Metal Reviews-(Updated List)
1.
Best Overall Glue for Metal to Wood

– Gorilla 2 Part Epoxy

Sale
The Gorilla 2 Part Epoxy is undoubtedly the best overall glue for wood to metal, and it's easy to see why. This adhesive excels in multiple aspects, making it stand out.
First, its strength and permanence are unmatched. Having used this epoxy extensively for various projects, I can confidently attest to its ability to create a rock-solid bond that lasts.
It's ideal for tough repairs that demand durability, and its gap-filling properties ensure that even imperfect surfaces join seamlessly.
Another feature that truly sets Gorilla 2 Part Epoxy apart is its clear drying formula. This means that after application, you're left with a clean, virtually invisible finish that's perfect for projects where aesthetics matter. I've found this to be particularly valuable when working on furniture and decorative pieces.
The 5-minute set time strikes a perfect balance between speed and precision. You have ample repositioning time to achieve the perfect fit.
The most noteworthy aspect is how easy it is to use. Its user-friendly nature simplifies projects, even for beginners. This product has consistently delivered outstanding results in my hands-on experience, making it the ultimate choice for wood-to-metal bonding.
Gorilla 2 Part Epoxy is the go-to adhesive for anyone seeking strength, versatility, and ease of use, making it the undeniable winner.
What I Liked Most
Used for demanding tasks
Dries clear, leaving a spotless appearance
Easy to dispense and use
Has a very strong bond
It is versatile
What Could Be Improved
It has a strong odor
Limited transparency (dries clear, not transparent).
---
2.
Best Bang for the Buck

-Loctite PL Premium Glue for Wood
Loctite PL Premium Max Construction Adhesive, Versatile...
Strong, Versatile Adhesive: PL Premium MAX is strongest, most durable construction adhesive that remains 100% solid after curing for a wide variety of projects for consistently successful results
Solid Durability: Doesn't develop air pockets for better flexibility and a heavy-duty bond that professionals can trust
Unrivaled Bonding: Works reliably on wood, laminate, drywall, concrete, brick, masonry, stone, marble, metal, stainless steel, fiberglass, and more
Loctite PL Premium Max Construction Adhesive secures its place as a solid runner-up in the wood-to-metal adhesive category, offering an impressive budget-friendly alternative to the Gorilla 2 Part Epoxy I reviewed earlier.
What sets Loctite PL Premium Max apart, and why it's my personal second choice, is its affordability without compromising on performance. It's the best budget option for those seeking a strong, versatile adhesive.
This adhesive excels in numerous aspects:
Solid Durability: Having used it extensively, I can vouch for its remarkable strength, ensuring your wood-to-metal bonds stay intact for the long haul.
All-Weather Reliability: Loctite PL Premium Max is formulated to withstand varying weather conditions, making it suitable for both indoor and outdoor applications. This is a key advantage over some competitors.
Invisible Repairs: Like its top-ranked counterpart, Loctite PL Premium Max dries clear, leaving behind invisible repairs that maintain the aesthetics of your projects.
Comparing it to the Gorilla 2 Part Epoxy, I find that Loctite PL Premium Max offers a more budget-friendly alternative while delivering impressive performance. Both products share the advantage of clear drying and strong bonds. However, Loctite's all-weather suitability is a notable benefit for outdoor projects, where Gorilla's epoxy might require additional protection.
If you're looking for a reliable adhesive that won't break the bank, Loctite PL Premium Max Construction Adhesive is an excellent choice, filling the gap for those seeking affordability without compromising durability and versatility.
What I Liked Most
Affordable budget-friendly option
Remarkable strength and durability
All-weather suitability for outdoor use
Dries clear for invisible repairs
What Could Be Improved
Has some odor
Get's a little messy
---
3.
Best Adhesive for Metal to Wood

– Loctite Ultra Gel Control Super Glue
Loctite Super Glue Ultra Gel Control, Clear Superglue,...
Rubber Toughened: Loctite's most durable cyanoacrylate super glue formula resists water, impact, shock, vibration for materials subject to daily use and harsh conditions
No Drip Or Run: No-mess formula is ideal for vertical applications and does not drip or run
Maximum Control: Features a patented easy side-squeeze bottle design for maximum control and pinpoint accuracy and application
Loctite Ultra Gel Control Super Glue has become my go-to adhesive solution for various projects and has exceeded my expectations.
Its rubber-toughened formula sets it apart in the world of adhesives. This unique feature provides exceptional durability and flexibility, making it ideal for various materials and applications. Whether I'm repairing household items, crafting, or working on DIY projects, this glue delivers a strong and reliable bond.
One of its standout qualities is its "no-drip or run" consistency. This ensures the glue stays exactly where I apply it, even on vertical surfaces. The result is maximum control and precision, reducing the chances of messy or uneven bonds.
Loctite Ultra Gel Control Super Glue has proven to be highly versatile. It works wonders on various materials, from plastic and metal to wood and ceramics. This versatility makes it an essential tool for any hobbyist, DIY enthusiast, or homeowner.
One significant property I noticed is its ability to create nearly invisible repairs. The glue dries clear, leaving no unsightly residue or marks behind. This is especially valuable when working on items with visible seams or joints.
What I Liked Most
It has user-friendly packaging
It is flexible and versatile
It is fast-drying
Creates invisible repairs
What Could Be Improved
May bond fingers
Requires Precision Handling
---
4.
Fastest Curing Glue

– J-B WELD KwikWeld
J-B Weld 8276 KwikWeld Quick Setting Steel Reinforced Epoxy...
J-B Weld Kwikweld: A Fast Setting Version Of The Original Cold Weld Two-Part Epoxy System That Provides Strong, Lasting Repairs To Multiple Surfaces. Perfect For Diy Household, Automotive, Marine, Craft Repair And Much More
Cure And Set Time: After Mixing The Tubes At A 1: 1 Ratio, It Takes 6 Minutes To Set And 4-6 Hours To Cure. Once Cured, Kwikweld Can Be Tapped, Filled, Sanded, Molded And Drilled. Kwikweld'S Set And Cure Color Is Dark Grey
Versatile And Dependable: J-B Weld Kwikweld Is Steel Reinforced, Has A Tensile Strength Of 3127 Psi And Can Withstand Temperatures Up To 230 Degrees Fahrenheit (110 Degrees Celsius). When Fully Cured, Kwikweld Is Waterproof And Resistant To Petroleum, Chemical And Acid
J-B Weld 8276 KwikWeld stands out in my review, claiming the second spot due to its remarkable rapid setting and curing time. Serving almost as effectively as our top-ranked product, it offers exceptional performance in wood-to-metal repairs.
This epoxy adhesive is a boon for DIY enthusiasts, homeowners, and crafters, proving its versatility across a broad spectrum of applications, from household fixes to creative projects.
Notably, its standout feature is the lightning-fast setting and curing process, taking only 6 minutes to set and fully curing within 4-6 hours. Once cured, it transforms into a remarkably resilient substance, allowing you to tap, fill, sand, mold, and even drill it, making it the ideal choice for a wide range of tasks.
J-B Weld 8276 KwikWeld does set and cures to a dark grey color, which may be its only downside compared to our top-ranked product. However, its fast curing time, versatility, and dependable strength make it an exceptional value proposition when seeking an epoxy adhesive for various applications.
What I Liked Most
It is long-lasting and waterproof.
It does not run or drip
It is chemical-resistant
It can withstand high heat
What Could Be Improved
Quick setting time (6 minutes) may require precise and rapid application, which can be challenging for beginners.
Dark grey color when set may not be ideal for applications where a lighter or transparent finish is desired.
---
5.
Best for Non-Porus Surfaces

– Original Gorilla Glue
Gorilla Original Gorilla Glue, Waterproof Polyurethane Glue,...
ORIGINAL GORILLA GLUE: The water activated polyurethane formula expands into materials to form an incredibly strong bond to virtually anything
100% WATERPROOF: Doesn't break down when exposed to outdoor elements
VERSATILE: Easily bonds wood, stone, metal, ceramic, foam, glass, concrete and much more
As someone frequently using Gorilla Glue, I can attest to its extraordinary bonding properties and versatility. It's a water-stimulated polyurethane formula that expands to form a strong bond with virtually all materials, making it my go-to solution for various projects and restorations.
To activate Gorilla Glue, I dampen the surface I'm working on after lightly sanding it. I've learned to apply it sparingly because it expands 3 to 4 times in volume.
If I accidentally overapply, I quickly wipe off the excess before it dries or uses a sharp razor to trim it off. It's important to note that Gorilla Glue cures with moisture.
When glueing porous materials like wood, I dampen one surface slightly, while for non-porous surfaces such as metal, ceramic, fibreglass, glass, etc.
I lightly sand both pieces and soak them before applying the glue. I'm careful not to put water in the glue bottle and always wear protective gloves to avoid getting the glue on my hands, as it can be difficult to remove and may ruin my clothes.
I also wear an apron to protect my clothing unless I don't mind discarding what I'm wearing.
One of the things I appreciate about Gorilla Glue is its durability and resistance to harsh weather, making it suitable for outdoor use. After using it, I clean the nozzle with a dry cloth and tightly replace the lid for future use, as it has a long shelf life.
The glue is also reinforced for better impact resistance, making it reliable for handling drops or vibrations in my projects.
What I Liked Most
It is easy to use 
It withstands harsh weather conditions
Ideal for almost all surfaces
It does not have a strong odor
A little goes a long way
What Could Be Improved
The quick setting time needs you to be extra keen.
Not suitable for outdoor use without additional protection.
---
6.
Best Construction Adhesive for Wood to Metal

– Starbond Medium Premium CA
Starbond 2 oz. Medium CA Glue (Premium Cyanoacrylate Super...
✅ PREMIUM SUPER GLUE, SINCE 1988: For over 33 years, Starbond CA glues have been produced in smaller batch productions for product freshness. We take pride in serving industrial-grade cyanoacrylate adhesives with a longer shelf life and more reliable performance.
✅ GLUE LIKE A PRO: Starbond medium cyanoacrylate is the go-to adhesive for woodworking bonding applications, quick glue-ups at home, crack repairs in woodturning, 3D-printed PLA, ABS, PETG, and polycarbonate models, and much more!
✅ ELEVATE YOUR GLUE GAME: With your success in mind, we partnered with industry experts to produce CA glue tips and tricks video tutorials for you — scan the QR code on the backside of the bottle using your phone for pro tips!
As someone who has used Starbond Medium Premium CA, I can vouch for its industrial-grade performance and versatility. This adhesive is perfect for a wide range of repair tasks around the home.
One of the things that sets this product apart is its excellent packaging. It has extra applicators, extension tips for easy flow control, and a built-in needle to prevent clogs, making the application a breeze.
Starbond Medium CA is easy to apply and comes in different consistencies to suit various needs. It also comes with an activator that speeds up the bonding process. However, I've learned that if I use the version with a lighter texture, I need to apply it sparingly, as it can be runny.
One of the standout features of this glue is its super light density, similar to car oil. It easily seeps into my working surface and creates a strong bond, ensuring a reliable repair job.
I've found that this adhesive has a long shelf life of about 30 months when stored under 40 degrees Fahrenheit. I can keep it in the refrigerator until I'm ready to use it again, ensuring its freshness and usability.
It is important to work in a well-ventilated area when using Starbond Medium CA, as it emits strong fumes. However, the value for money is excellent, as a little goes a long way in my repair projects.
While it's great for all-around repair work, I've found it particularly effective for bonding acrylic nails, providing a durable and long-lasting hold.
What I Liked Most
It has a long shelf life
A little goes a long way
It comes in a handy practical package
It is safe for your nail use
It is easy to use
What Could Be Improved
Its runny consistency might make a mess
---
7.
Best Non-Toxic Glue

-Weldbond Multi-Surface Wood Glue

Sale
Weldbond Non-Toxic Multi-Surface Glue That Bonds Most...
✅ BONDS MOST ANYTHING: No need to carry multiple types of glue bottles. This glue has unbelievable strength, is water-resistant, weatherproof, permanent, flexible and quick dry clear.
✅ GREAT FOR CARPENTRY: Bonds stronger than wood! Sandable, paintable & translucent. No run, no drip. Clear glue, easily cleans up with water. Fast setting in only 20 minutes, no clamping required.
✅ PERFECT for MOSAIC & ART PROJECTS: Great for mural & sculpture. Bonds most tiles & hard surfaces such as porcelain, pottery, stone, marble, granite, clay, cork, slate & composite like Corian.
Weldbond Multi-Surface Wood Glue is a remarkable adhesive solution that I've had the pleasure of testing extensively. This versatile glue stands out as a true multi-surface bonding agent, offering a range of features and benefits that cater to a diverse audience.
One of its most impressive qualities is its ability to bond most materials stronger than wood. This makes it a go-to choice for projects with paramount durability and strength. Additionally, it's easy to sand and paintable, ensuring a clean and polished finish for your creations.
The fast-setting nature of Weldbond Multi-Surface Wood Glue is a game-changer, with a quick curing time of just 20 minutes and no clamping required. This not only saves time but also enhances the efficiency of your projects.
Moreover, its clear glue formula bonds well with various hard surfaces, expanding its utility across various applications. It's an excellent choice for school projects, hobbies, and handmade creations, making it a versatile addition to your home, office, workshop, or cottage.
What truly sets this glue apart is its commitment to safety, being suitable for your entire family. It easily cleans up with water, reducing the hassle of post-project cleanup.
What I Liked Most
Bonds stronger than wood.
Fast setting in 20 minutes without clamping.
Clear glue for most hard surfaces.
Suitable for a wide range of projects and hobbies.
What Could Be Improved
Limited suitability for outdoor or high-moisture applications.
Not recommended for load-bearing or structural applications.
---
8.
Best Glue For Professional

-Sika Anchorfix Super Strength Adhesive
Sika Anchorfix-2, super strength anchoring adhesive, Two...
Sika AnchorFix-2 is a two-Component, Solvent- and Styrene-Free, Modified-Acrylic Anchoring Adhesive.
SUPPORTS: It can be used on concrete solid, masonry, steel, hard natural stone, solid rock.
USES: Fast curing anchoring adhesive for rebars / reinforcing steel, threaded rods, bolts and special fastening systems.
Sika AnchorFix-2 is a two-component, solvent- and styrene-free modified-acrylic anchoring adhesive designed for fast curing and high load capacity. It's primarily used for securing rebars, reinforcing steel, threaded rods, bolts, and special fastening systems.
One of its standout features is its ability to anchor without generating expansion forces, ensuring stability and reliability in applications where expansion could be problematic.
However, it's worth noting that the application of Sika AnchorFix-2 is best handled by experienced professionals due to the precise nature of anchoring tasks. While it offers high performance and reliability, it may not be as straightforward for DIY enthusiasts or less experienced users.
What I Liked Most
Fast curing.
High load capacity.
Anchoring without expansion forces.
What Could Be Improved
Limited to only professional use.
---
9.
Best Premium Glue

-Kraken Bond Ultra Grab
Loctite PL Premium Max Construction Adhesive, Versatile...
Strong, Versatile Adhesive: PL Premium MAX is strongest, most durable construction adhesive that remains 100% solid after curing for a wide variety of projects for consistently successful results
Solid Durability: Doesn't develop air pockets for better flexibility and a heavy-duty bond that professionals can trust
Unrivaled Bonding: Works reliably on wood, laminate, drywall, concrete, brick, masonry, stone, marble, metal, stainless steel, fiberglass, and more
Loctite PL Premium Wood Glue is a versatile and powerful adhesive for various applications. Its standout feature is its exceptional strength and durability, making it an ideal choice for interior and exterior projects.
This wood glue offers a bond that can withstand the test of time, ensuring that your woodworking projects remain solid and reliable. Whether you're repairing furniture, crafting wooden items, or tackling outdoor projects, Loctite PL Premium Wood Glue delivers outstanding results.
This adhesive is designed to excel in various environmental conditions, making it a dependable choice for projects exposed to the elements.
Its versatility for both interior and exterior use makes it a go-to adhesive for woodworkers and DIY enthusiasts.
What I Liked Most
Exceptional strength.
Rapid curing.
Outstanding resilience in challenging conditions.
What Could Be Improved
---
Wood to Metal Adhesives
Have you ever questioned if you could repair your vintage furniture by bonding wood with metal? If you are bobbing right now, rest assured that you can! The issue is that the two surfaces differ in density and porosity.
The wood expands and contracts much more than the metal. As a result, establishing a secure bond can be challenging. So you must choose metal-to-wood glue to attach metal to wood and get a durable bond.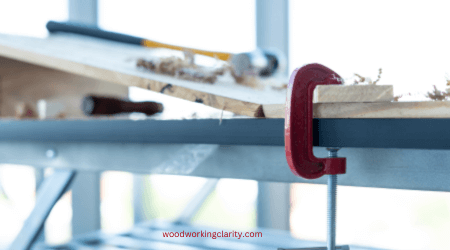 Best Glue for Sticking Metal to Wood
If you are doing household and automotive repairs, here are the glues you could use when bonding wood to metal.
Epoxy for Wood to Metal
Epoxy adhesive conductive glues are moisture-resistant, can withstand temperatures, and can give you a strong bond if you glue metal to wood.
When the two-part epoxy adhesive is applied to surfaces, it securely adheres to them due to resin and hardener as the bonding agent.
Liquid Nails
Liquid nail is an excellent adhesive for small projects and DIY repairs. It bonds quickly to virtually all materials. You use it where nails, screws, and hammers can't.
The product has a resealable cap to keep the product fresh for future use. They can resist hot and cold temperatures. Liquid nails can be a superb option for outdoor equipment.
Related Post: Liquid Nails Vs Wood Glue
E 6000 Adhesive
E6000 adheres well to wood, concrete metal, glass, masonry fibreglass, and ceramics. It also sticks well to leather, rubber, vinyl, and plastics.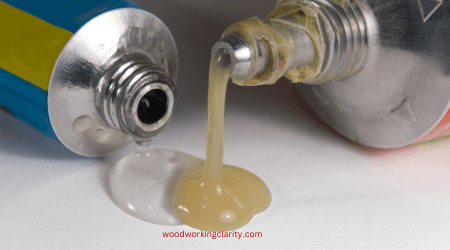 Temperature extremes will not cause it to degrade or become delicate. E6000 joins everything, allowing you to make anything.
It is heat resistant but takes longer to dry. It is non-flammable once cured, and you can paint over it. The adhesive dries clear and is photo safe.
Super Glue
Use superglue for basic household or automotive repairs. It bonds surfaces such as wood, metal, leather, etc. The adhesive cures after a few minutes and sets in sixty seconds. So, you have little time to align your pieces before it dries.
You need to work faster. Use super glue to glue glass to wood or metal to wood. Due to the glue's high tensile strength, the surfaces do not require clamps after application.
Factors to Consider Before Buying an Adhesive for Gluing Wood to Metal
You can not use ordinary wood glue to bond metal to wood. You need a particular glue cut out for the job when glueing metal to wood.
Using regular wood glue will make you run into problems because metal and wood vary in porosity and flexibility. Consider the factors below to help you pick the ideal adhesive for bonding metal to wood.
Water-resistance
Go for the best waterproof glue to ensure your projects stay in place even when using the glue for exterior applications.
Pieces left outside are continually exposed to the elements, such as rain, UV rays, snow, etc. The project will fall apart if you use an adhesive that does not resist the above conditions.
Flexibility
Opt for an adhesive you can use on multiple surfaces to reduce waste and save money, as you can use the glue as the need arises. For example, buy glue that can bond a metal surface, wood surfaces, ceramics, etc.
Temperature
Buy an adhesive that can withstand heat to ensure the durability of the bond. Read the label on the can to know whether the adhesive resists temperature.
Tensile Strength
Purchase glue with extremely high tensile strength to ensure your project will not break down even when under high tension. Read the product's label to determine its tensile strength.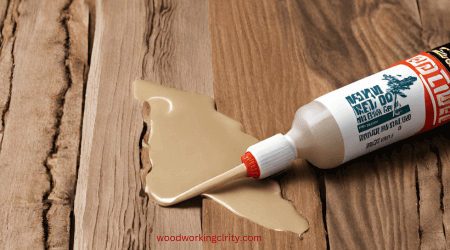 Read: Can e6000 be used on wood?
How to Glue Metal to Wood
Clean the surfaces and ensure they're grime, dirt, dust, or oil-free. Prep your glue, check the solvent and apply the adhesive following the manufacturer's instructions. Here's a step-by-step guide on how to glue metal to wood.
Materials you will need
The piece of metal and wood you need to join
Fine grit sandpaper to clean metal and the wood surface
Tape
Steel wool
Clamp/ fixtures
Safety gear such as aprons, gloves, goggles, etc.
Your favourite epoxy or glue
Step 1: Safety first
Not all adhesives could bond metal to wood. It would help if you had the correct glue for metal surfaces. When using the glue for metal, adhere to the product manufacturer's safety instructions.
Work in a well-ventilated space or workshop with enough space to hold all required supplies. Cover up furniture with protective clothes or paper.
Evaluate and test the fit of the parts you are joining to avoid creating a flexible bond. Remove all the fragments or particles that could obstruct a seal.
Wear goggles and nitrile gloves. Only use glue for non-weight-bearing fixtures. Anything weighty will require extra support.
Step 2: Clean the surfaces
Ensure both surfaces are clean and dry. Remove fingerprints, dust, dirt, wax, oil, or grease with a clean cloth. Slightly roughen smooth surfaces with fine-grit sandpaper. Sand down the Wood glueing if you want to use less glue.
Note that rough wooden surfaces will hold more glue and thus form a very strong bond than finely sanded Wood at Glue Lab. Ensure the wood is stable and has no loose splinters.
Epoxy glue necessitates mixing adhesive and hardener parts and applying the bond with the recommended tools. Open the screw-on cap and scrutinize the product.
Follow the detailed instructions on the package for the appropriate amount to use. Be mindful of the proper glue proportions and application techniques. It'll be challenging to separate the parts after glueing them together.
Read: How to make wooden drawers slide smoothly
Step 3: Apply the glue and join the pieces
Follow the manufacturer's instructions when applying the glue. Apply wood and metal glue in a single continuous movement to ensure uniform coverage. Spread the glue around to get a thin, uniform layer that extends to the edges.
Another approach is to apply a thick layer of glue so that when you apply some pressure to the parts you're bonding, it will disperse between contact gaps naturally.
Using an instant adhesive such as super glue, you may not require a clamp to hold your pieces together. Here's more on glueing wood without clamps.
Nevertheless, the overall procedure necessitates an additional alignment step that stresses the joints of both surfaces with epoxy-based adhesives.
Step 4: Let the glue set and cure
Unless you use a cyanoacrylate adhesive that will dry in ten to thirty seconds, keep things in place until your glue dries. You can achieve this by applying pressure from heavy loads, gravity, or clamps that prevent pieces from moving.
Epoxy resin glue can take twenty-four hours to cure fully, so resist the urge to 'test' the bond. Avoid touching the glue before it dries. To achieve stronger bonds, Let the parts sit undisturbed for twenty fours.
Step 5: Put the final product to the test
Once you're sure that the metal surface has adhered to the wooden piece, prod the joint to check, and make sure not to apply too much pressure, or the pieces will fall apart if the joint is still flexible.
Remove any excess glue from the edges with fine-grit sandpaper. Be careful not to sand the joined pieces. If you opt for superglue to bond wood to metal, here's how to go about it.
Hold the container and squeeze the bottle's sides.
Only use a small amount of glue on one of the surfaces.
Join the wood to the metal and hold it together for about a minute.
Let the project sit for approximately five minutes to secure the bond.
If you choose epoxy adhesive, the general procedure is as follows
Mix the resin and hardener in a 1:1 ratio on a clean, dry, and disposable container.
Apply the product within five minutes. Most adhesives cure in twenty-four hours.
Attach metal to wood. If it needs clamping, do so in the shortest time possible. Leave it undisturbed for thirty minutes and let it cure extensively for one day. Note the procedure may vary slightly. Kindly refer to the instructions on the can for the best results.
FAQs
Will liquid nails glue wood to metal?
Yes. You can use liquid nails to bond wood and metal in household and automotive repairs. They have a powerful formula that works in any weather. You can do simple repair projects with liquid nails without hiring a professional. They withstand temperatures and are, therefore, ideal for outdoor equipment.
Will gorilla glue work on metal?
Polyurethane-based glues (such as Gorilla Glue) and cyanoacrylate-based adhesives such as Gorilla Super Glue) will both metal to wood. Epoxy resin and contact adhesive are also great for glueing wood to metal. The best glue for metal will depend on a few factors.
How to attach metal to wood?
Ensure both surfaces are free of dirt, dust, wax, and grime. The application process differ slightly based on the adhesive you're using. If you use superglue, apply just a little glue on one surface, squeeze the pieces and give them to cure for a day.
Can you glue metal to wood?
Trying to bond anything to metal can be complicated, so you must successfully select the correct glue to glue wood to metal. When choosing an adhesive, carefully read the labels. Although forming a secure bond between wood and metal may appear tricky, using metal-to-wood glue is possible.
How do I remove excess glue?
Use a combination of manual and chemical techniques to remove glue from surfaces. Apply petroleum jelly, nail polish remover, vinegar, or oil to the affected area. You can also use oil-based substances such as mayonnaise or ordinary margarine. Saturate the section entirely and gently remove the glue with a scourer or scouring pad.
How to attach metal to wood without nails?
Using metal glue is the best way to glue metal to wood without nails. The best glue is super glue, polyurethane glue, or epoxy glue. Liquid nails also do a great job of sticking wood to metal.
How to attach wood to metal without screws?
Sticking wood to metal will not be stressful using polyurethane-based glue such as Gorilla Glue or Gorilla Wood Glue. Although glueing wood to metal can be tricky because the surfaces differ in density and porosity, it is possible.
Conclusion
Whether you're a professional carpenter or just someone who enjoys arts or crafts, you will need to glue metal to wood at some point.
Selecting the best glue for wood to metal is critical because not all adhesives on the market can provide a secure bond when attaching these two substrates.
Even if you are a complete newbie, the best metal glue should be easy to use. Also, it should work on multiple surfaces and give you a permanent bond.
Our top pick metal-to-wood adhesive is Gorilla 2 Part Epoxy. It checks all the boxes in user-friendliness, effectiveness, and durability.