Wood lathes have grown a lot in popularity due to their wide range of applications. Of all the things they can be used for, perhaps the most common is bowl turning.
After all, making a bowl with a lathe is fun, fast, and financially rewarding – wooden bowls are always in demand.
That is why buying the best lathe for bowl turning is one of the best investments you can make as a woodworker. So, here are our top picks alongside a buyer's guide to help you find your new favorite tool.
Our Top Picks
Best Lathe For Bowl Turning
Best Lathe For Bowl Turning Reviews
1.
Best Mini Lathe for Bowl Turning

– Jet JWL-1015VS Variable-Speed Wood Lathe

Sale
We start our list with the company that made lathe turning more readily available for the masses. In fact, some people argue they invented the modern lathe machine.
We can say for certain that this mini lathe is a mini marvel. Running on a ½ HP motor, this wood lathe has all the power and precision you need for small bowl turning.
It has a 10″ swing over the bed, and the distance between centers is 15 inches. This makes it perfect for regular-sized bowls and ornamental bowls.
While this device has a 21" bed extension (sold separately), you're not going to need that for bowl turning. Still regarding the bed, Jet has made this version wider than previous models.
This gives you more room to maneuver, and it also makes the machine sturdier, which you'll need for the superb speed. The Jet Mini Lathe has three-speed ranges: 200-1050 RPM, 300-1750 RPM, and 600-3600 RPM.
While it lacks variable speed, you have fairly easy access to the belts. Perhaps my favorite thing bout this lathe is that it comes with an outstanding 5-year warranty.
What We Liked Most
Has the widest RPM range on a mini wood lathe
5-year warranty
Wide bed for better control
It has an optional stand and stand extension
What Could Be Improved
The speed is glitchy on some devices
It does not have a variable speed
---
2.
Best Budget Full-Size Lathe

– Grizzly Industrial Wood Lathe with DRO
Now, we move to the extreme end and introduce our first full-size wood lathe machine from another reliable company. The Grizzly Industrialwood lathe machines can handle any bowl size you can throw at it.
It has a 16″ swing over bed and a distance of 46″ between centers. Considering most bowls are less than 11″, this is more than enough space. Plus, if you want to try your hand at turning logs into bowls, you'll have all you need here.
Keeping this device steady is a 2 HP motor and cast iron bed and cast iron legs to ensure a powerful output with minimum vibrations. Grizzly has gone to great lengths to make this lathe as easy to use as possible.
It has one of the easiest variable speed controls – it uses a shift-on-the-fly handle – to move between the 10 speed options between 600 RPM to 2400 RPM, which is more than enough for bowl turning.
The digital readout (DRO) lets you know the precise speed. To take their ingenuity a step further, the headstock can be rotated 360 degrees, making it perfect for outboard turning.
The major problem with this lathe is that the tool rest is not very strong. However, this should not be a problem for bowl turning as you wouldn't place much pressure on it.
One thing you need to be absolutely careful with is the assembly. You need to follow the manufacturer's instructions precisely, even if you have assembled other lathes before.
What We Liked Most
Easy to use variable speed
It supports outboard turning
Good customer support
It can be used for any size bowl
What Could Be Improved
The rest is a bit flimsy
Assembly is very sensitive
---
3.
Best Midi Lathe for Large Bowls

– Delta Industrial 46-460 12-1/2-Inch Variable

Sale
Delta Industrial 46-460 12-1/2-inch Variable-Speed MIDI...
Powerful 1 hp max, 1,725 rpm motor
Large 12-1/2-inch swing capacity provides the largest capacity in its class. Drive spindle: 1 inch -8 RH TPI thread
Electronic variable Speed with three-pulley speed ranges provide the required speeds needed to turn a project without changing belt position
Next, we move to our first middle-sized lathe. The Delta Industrial Midi Lathe has a powerful 1 HP motor, capable of handling even the most challenging beginner and semi-pro projects.
The extra power comes in handy for larger bowls. The 12 ½ inch swing capacity is slightly more than the 12″ you'll find with the average midi.
You can also use the extension to stretch the bed length to 42″ if you decide to use it for more than bowl turning. This wood lathe is great for beginners ready to develop their skills quickly, given its exceptional size.
To help you along is a variable speed with three pulley positions: 250 – 700 RPM, 600 – 1,800 RPM, and 1,350 – 4,000 RPM. You also get two tool rests, one 6″ and the other 10″.
One of the more spectacular features is that the Delta Industrial has forward and reverse spinning from a simple switch. This makes it easier to sand and polish bowls for a much better finish.
This wood lathe is made out of cast iron, so it reduces vibrations. However, it still needs to be bolted down, or you'd have to buy the cast iron leg extension.
If anything doesn't go according to plan, you have a five-year warranty to help you set it right.
What We Liked Most
Strong motor
Wider swing than average midi lathes
Bed length can stretch to 42 inches
5-year warranty
What Could Be Improved
No digital speed readout
Variable speed is manual
---
4.
Best Midi for Small Bowls

– PSI Woodworking KWL-1018VS
PSI Woodworking KWL-1018VS Turncrafter Commander 10"...
KWL-1018VS replaces TCLC10VS. ETL Listed and certified by Intertek
Powered by 3/4 hp Variable Speed high performance motor(110V) & an SBC microprocessor. Two belt positions: 500-2000 RPM & 1500-3600 RPM
Headstock Thread 1" x 8tpi. Headstock/Tailstock Taper #2MT. Distance between Centers 18". Swing over Bed 10". Cast iron base
Next up is a midi wood lathe with features that will make a full-sized lathe jealous. Finally, the PSI woodworking lathe is a variable speed unit with an impressive range.
It has two belt positions delivering 500 – 2,000 RPM and 1,500 – 3,600 RPM. To enable you to make the most of this speed range, this lathe is equipped with an SBC microprocessor connected to the DRO.
This makes it easy for beginners to use the right speed for each project. In addition, running this impressive machine is a 3/4HP motor, which is rare for such a small lathe.
Perhaps this near-flawless device's own downside is that the swing over bed is only 10 inches. But, of course, this is more than enough for household bowls, small decorative bowls, and other projects.
However, if you wanted to turn bigger logs, you won't be able to without an upgrade, despite a bed extension of up to 42″.
The body of the PSI is cast iron, and it also has rubber feet, so you can operate at even the fastest speed without a lot of noise or vibration.
The manufacturers have done an exceptional job of adding handy extras such as a work light with an 18″ flex cable, safety goggles, and a spare tool rest – it comes with a 6″ and a 12″ tool rest.
Unfortunately, some units have a faulty light bulb, but that doesn't take anything away from a great product.
What We Liked Most
It has a DRO
Wide speed options
It comes with handy extras
It has a decent 3-year warranty
What Could Be Improved
The work light cable can be flimsy
Only works for small bowls
---
5.
Best Lathe for Beginners

– Rikon Power Tools 70-150VSR
RIKON Power Tools VSR MIDI Lathe (RIK-70-150VSR)
Powerful 1HP DC Motor provides ample power for all turning needs
Electronic variable speed controls, wider range of operating speeds, digital RPM readout for forward and reverse rotation speeds.
Pivoting belt cover for easy access when changing belt speeds
When Rikon scrapped the 70-220VSR, I got really upset. After all, it was one of the best beginner wood lathes on the market for years.
But then, they did something interesting with the new 70-150VSR. Interestingly, the new lathe appears to have been made specifically for bowl turning.
Both versions have a 12" swing over bed, but the distance between centers has been shortened from 20 inches to just 16.5 inches, making it the shortest for any midi wood lathe.
The only explanation is that you don't need length for bowl or pen making. Otherwise, Rikon has kept the same great features. The 70-150 has three speed ranges: 250-850 RPM, 430-1,450 RPM and 950-3,200 RPM.
Rikon has provided easy access to move the belts to the preferable position. From there, you have an electronic variable speed button with a digital RPM readout.
A 1HP motor powers this wood lathe, and it has a whopping 5-year warranty. One feature that makes this one of the best wood lathes for bowl turning is the reverse function.
You also get a 6" tool rest, which is all you need for bowl turning. One final exceptional feature is that the control box is magnetic, so you can move it to any suitable position along the cast iron bed.
What We Liked Most
It has a reverse function
It has a DRO
It has a 5-year warranty
It has a magnetic control box
What Could Be Improved
You have to move the belts manually
It can't handle large projects without an extension
---
6.
Editor's Pick

– Jet JWL-1221VS

Sale
Over the years, many midi wood lathes have tried to give Jet a run for its money, but the JWL-1221VS is a cut above the rest. So let's start with the basics – it has the mandatory 12″ swing over the bed and a 21″ distance between centers.
As expected, it also has a cast iron body for a good quality lathe, plus a 1HP motor. From this point, Jet went a bit nuts, in a good way.
This wood lathe has the widest range of any lathe on the market, making it suitable for a wide range of projects. It has three pulleys providing variable speeds between 60 – 900 RPM, 110 – 1,800 RPM, and 220 – 3,600 RPM.
This wood lathe also has a proprietary ratchet-style belt tension system for easy changing. However, the third pulley with a lower limit of 220 RPM is all you need for bowl turning, so you won't need to change it.
To help you pick the right speed is a DRO and a variable speed knob. You also get a removable safety key. Another handy control feature is the forward and reverse switch.
The Jet midi lathe also comes with a 6" and a 10" tool rest and a tool caddy on each side. So it is not surprising that it costs significantly more than others for all you get with this lathe.
However, the quality is impeccable, the manufacturer is a legend, plus you get a 5-year warranty.
What We Liked Most
Variable speed with DRO
It works in two directions
5-year warranty
It has an exceptional range of speeds
What Could Be Improved
Quite heavy for a midi wood lathe
---
7.
Best Midi for Pros

– Grizzly Industrial T25920-12″ x 18″
Grizzly Industrial T25920-12" x 18" Variable-Speed Benchtop...
This Variable-Speed Wood Lathe provides 12" of turning radius and spindles up to 16-1/2"
The three speeds range from 650 to 3800 RPM so you can find just the speed you need to finish whatever job your heart desires
This lathe was also made in an ISO 9001 factory and includes a digital spindle speed indicator
Not to be outdone by Jet, Grizzly Industrial also has another device on our list. The Grizzly midi wood lathe machine comes with the standard 12" swing over bed. However, it also has a fully mobile tool rest that can be positioned across the bed.
The swing over tool rest banjo is 9.5 inches, which is still decent for small bowls and will come in handy for beginners getting used to different turning styles.
You also get an impressive 650 – 3,800 RPM range via three pulleys. As you would expect from a contender, it has variable speed and a digital RPM readout.
While this midi wood lathe hits most of the right notes, it does have a few quirks. It has a ¾ HP motor for starters, which is just a tad smaller than a couple of competitors in the same class.
It also has a slightly smaller tool rest at 5-7/8″. Of course, neither of these features is a deal-breaker, but it does stop this otherwise fantastic device from stealing the crown.
The body of the wood lathe is cast iron, and everything about the construction feels premium. One feature that is lacking is the reverse function, but the price more than makes up for any shortcomings.
What We Liked Most
It has a DRO
Solid construction
It has a free-moving tool rest
It has variable speed
What Could Be Improved
It doesn't work in reverse
It has a smaller motor than its competitors
---
8.
Best for Tiny Bowls

– Shop Fox W1704

Sale
No list is complete without giving you a full range of options, which is what brings us to this remarkable wood lathe. The Shop Fox benchtop lathe is as tiny as a lathe with a decent output can be.
It has an 8-inch swing over bed and a distance between centers of 12″. This unit was actually made for pen turning, which is why it runs on a small ⅓ HP motor. However, you can use it to make exceptional miniature bowls.
The Shop Fox W1704 has variable speed, switching between 700 and 3,200 RPM despite its delicate composition. In addition, there is a safety paddle switch for enhanced control. It also has a cast iron body, which makes it quite sturdy.
Another pleasant feature is that this comes with two tool rests – a 4 ½ inch and a 7-inch tool rest. If you are looking for a starter wood lathe that will allow you to scale, this is not for you.
This lathe is best for people who want to stick with the niche of small projects.
What We Liked Most
It has variable speed
Top speed of 3200 RPM
Fits easily on a workbench
It comes with two tool rests
What Could Be Improved
Very small motor
Short warranty
---
9.
Best Full-Size for Professionals

– Laguna Tools Revo Lathe 110v 1.5HP 18″/36″

Sale
Finally, we come to another large wood lathe, and this is built like a tank. The Laguna Revo has a massive swing over bed of 18″ and a distance between centers of 36″.
It also has a swing over banjo of 13-½", thus making it big enough to handle any bowl turning project, whether it be a small bowl or a cherry log.
When it comes to the motor, you might be disappointed that it is only 1-½HP compared to the large Grizzly's 2HP. However, Laguna is trying to optimize energy efficiency, which is why it also runs on 110 volts (there is a version with 220 volts).
Laguna also decided to go with steel for the bed instead of cast iron. However, the headstock is cast iron, and the control panel is made from anodized aluminum. As expected, you get electronic variable speed with DRO.
Speaking of speed, it has a low-speed range of 50 RPM – 1,300 RPM and a high-speed range of 135 – 3,500 RPM. The drive belt has easy access, so you can easily swap. However, the high-speed range is all you'll need for bowl turning.
Given its intended target, this wood lathe machine is rather expensive. However, this is worth the investment if you're ready for the commitment and don't want to waste money on scaling up over time.
What We Liked Most
It has a DRO
It can handle very large projects
It has an impressive range
Has a reverse function
What Could Be Improved
It could do with a bigger motor
It is pretty expensive
---
Best Lathe For Bowl Turning Comparison Table
Best Lathe for Bowl Turning Buyer's Guide
Different Types of Wood Lathes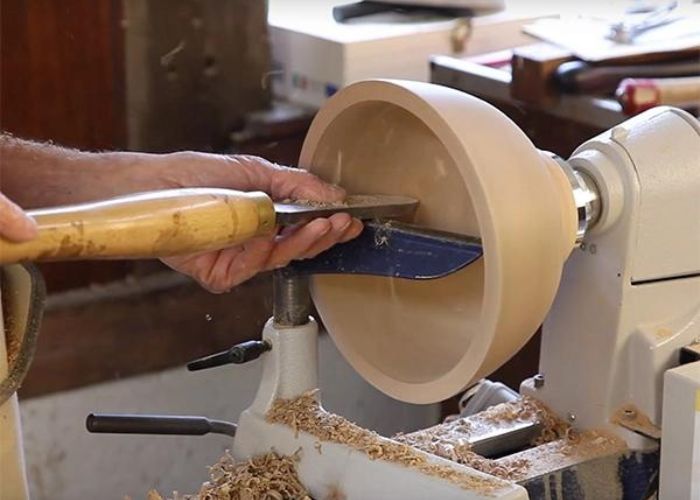 Mini lathes
This is the smallest type of lathe. It has a swing over bed of 8-10 inches and a distance between centers of usually no more than 16 inches.
They also have small motors of usually ½ HP. These wood lathes were designed for pen making, but they can also be used to make small bowls.
Midi lathes
These lathes are significantly bigger, with a swing over bed of 10" – 14" and a typical distance between 18"-21" centers. However, most midi wood lathes have extensions reaching up to 43".
These are the most commonly used and arguably the best wood lathes for bowl turning. However, while you can use other wood lathes, they are rarely as convenient.
Full-size lathes
Full-size wood lathes are the biggest of the lot, with a swing over bed of at least 16″ and distance between centers exceeding 40″ with or without an extension.
This is your best option if you want to make really large bowls and other furniture. This is also the most powerful lathe, with at least 1 ½ HP motor.
Read also: Wood carving tools suitable for beginners.
How to Choose a Wood Lathe for Turning Bowls
Size of bowls you want to turn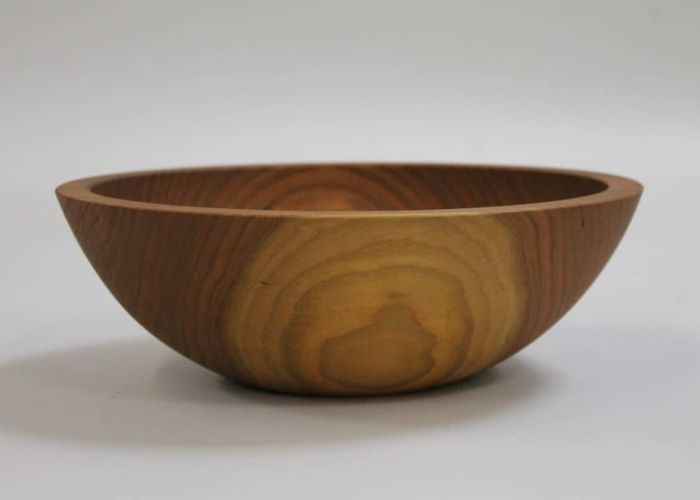 This is by far the most important consideration because you can use a large lathe to make small bowls, but you can't do the reverse.
If you're not sure the size of bowls you want to turn, your safest option is a midi wood lathe. While the other sizes can work, this is the ideal wood lathe for most project sizes.
Size of your woodshop
Most beginners usually have a small woodshop, meaning you shouldn't even consider a full-size lathe.
However, even when it comes to midi wood lathes, you need to think about mobility. For example, does the lathe need its own legs, or can you place it on a workbench to conserve space?
Variable speed
Having to manually adjust the speed for every turn is a nightmare. That is why every midi and full-size lathe on our list has variable speed.
Unless you're a professional, you should also use one with a DRO, as it makes it easier to choose the right speed.
Motor size
A strong motor will deliver more consistent results and will handle larger projects easier. That is why the Grizzly and the PSI midis are a bit of a let-down with their ¾ HP motor instead of a 1HP like the Jet, Delta, and Rikon.
Reverse function
Not every project needs the reverse function, but bowl turning does. It comes in handy, particularly when sanding and finishing the bowl.
This is not to say that you'll get an inferior product if you don't use the reverse function, but it makes your job a lot easier and quicker.
Budget
There is a huge price range for lathes, and it is easy to get lost in the numbers. However, it is important to pick quality over price. A good lathe will last you for years, and unless you move on to larger projects, you won't need to change it.
That is why I recommend you have a decent budget and not settle for cheap options. Cheaper options also tend to have different-sized faceplates and chucks that are harder to find, so you could end up with something you can't use.
Warranty
Nothing screams confidence like a long warranty. Jet, Delta, and Rikon boast five-year warranties, which are absolutely dynamite! Sure, you can also settle for a 3-year warranty, but I think anything less might be a red flag.
All You Need in a Lathe
The amount of fun you'll have using your very own lathe is beyond words. Even if you primarily want to make bowls, chances are you're going to use your lathe for other projects.
While all the lathes on our list are great, we have to pick a winner. So with that in mind, the best lathe for bowl turning is the Jet JWL-1221VS.
This midi wood lathe has everything you need: a variable speed belt that you'll never need to change for bowl turning, a five-year warranty, cast iron body, reverse function, a safety key, DRO, two tool caddies, and two tool rests.