The ability to install crown molding is so rare that even professionals with years of experience are still learning every day. This makes it a highly-profitable woodworking skill.
You need the best nail gun for crown molding to work faster and better. Therefore, I have done the difficult task of compiling a list of the best brand and finish nail guns for crown molding.
I know my favorite tool, but I have written a buyer's guide to help you find yours.
So, let's begin.
Our Top Picks
Best Nail Gun for Crown Molding
Best Nail Gun for Crown Molding Reviews
1.
Best Nail Gun & Stapler

– KIMO 20V 18 Gauge Cordless Brad Nailer
KIMO 18 Gauge Nail Gun Battery Powered w/ 2 X 2.0 Battery &...
📌【𝟐 𝐱 𝟐𝟎𝟎𝟎𝐦𝐀𝐡 𝐁𝐚𝐭𝐭𝐞𝐫𝐢𝐞𝐬】With two batteries, you can alternate their use, when one battery is being used, allowing another battery to be charged, so the user need not worry about running out of power. Moreover, with two batteries, not only the run time will extend by 100%, but also the lifespan of the battery can extend by 150% because by using two batteries interchangeably, each battery can have reduced wear and tear.
📌【𝐕𝐞𝐫𝐬𝐚𝐭𝐢𝐥𝐞 𝟐-𝐈𝐍-𝟏 𝐂𝐨𝐫𝐝𝐥𝐞𝐬𝐬 𝐍𝐚𝐢𝐥 𝐆𝐮𝐧/𝐄𝐥𝐞𝐜𝐭𝐫𝐢𝐜 𝐒𝐭𝐚𝐩𝐥𝐞𝐫】KIMO 2-in-1 electric nail gun/stapler drives a range of 18 gauge brad nails from 3/4"~2", and 1/4" crown staple from 3/4"~1-5/8". A great idea for woodworking, upholstery installation, flooring, roofing, door, and window installation, mending fence slats, molding, trim work, and so on. Moreover, the brad nailer is also perfect for DIY projects, such as building pet houses.
📌【𝐑𝐚𝐩𝐢𝐝 𝐅𝐢𝐫𝐞 𝐰𝐢𝐭𝐡 𝐂𝐨𝐫𝐝𝐥𝐞𝐬𝐬 𝐍𝐚𝐢𝐥 𝐆𝐮𝐧 𝐃𝐞𝐬𝐢𝐠𝐧】KIMO cordless brad nail has no cords, no limits. The nail gun battery-powered can be used in places with no available outlet. Besides, a fully cordless design eliminates the need for air compressors, horses, or costly gas cartridges. Moreover, The motor design of the18 gauge nail gun provides consistent firing power into various materials and climate conditions.
This list starts with a unique cordless Brad nailer. Nailers are the best tools for crown molding, but some prefer staples for light installations.
Whatever you fancy, you can take your pick with this 2-in-1 Kimo cordless brad nailer and stapler. This dual-tool has much to love, but let's begin with the fasteners.
This crown molding nail gun can hold 18-GA size nails between ¾" and 2″ or 18-GA staples of ¾" and 1⅝", which is more than adequate for most installations.
As a pro, I love the dial actuation mode of sequential and contact nailing. The contact actuation allows me to shoot up to 90 nails per minute, which is way more than I ever need for crown molding.
However, you will probably need this nailer for other projects, so it's worth having. Kimo has also provided front-positioned LED lights to ensure you always hit the right spot.
There is also a depth-adjustment feature to ensure the nails only go as deeply as they ought. Finally, a second LED indicator on the side warns you that when the battery is low, you're out of nails, or it is overheating on rare occasions.
My only problem is that this nail gun for crown molding is heavy, so it is best to use it in small spaces.
What I Like Most
It has sequential and contacts actuation
It can fire up to 90 nails per minute
It has LED lights
It can stand on its own
What Could Be Improved
It is a tad heavy
It doesn't come with a carrying case
---
2.
Best Cordless Nailer

– PORTER-CABLE Cordless Brad Nailer Kit
PORTER-CABLE 20V MAX* Cordless Brad Nailer Kit with 1...
100% Battery Power Of The Cordless Brand Nailer Eliminates Need For Compressor, Hose Or Costly Gas Cartridges
Motor Design Of 18 Gauge Brad Nailer Provides Consistent Firing Power Into Various Materials And Climate Conditions
Multiple Tool-Free Settings Of The Battery Brad Nailer Provide Ease Of Use
I have noticed that Porter+Cable has a great reputation for nailers, and their crown molding nail gun is no exception.
The bold color design was one of the first things that stood out to me. It's a refreshing change from the plain colors of other nailers. The motor runs on a standard 20-volt lithium-ion battery.
The 4.0 AH battery is impressive, firing up to 1,300 2-inch brad nails (18 gauge nails) on a single charge. Even with its lightweight design, it is still heavier than a pneumatic nailer. That is to be expected.
The advantage is that it does not require a large, noisy compressor. It has convenient features like a flashlight, a depth-adjustment wheel, and an LED indicator for the battery.
This nailer for crown molding is speedy, discharging nails faster than many pneumatic finish nailers. It is also quieter than most machines, and clearing a jam is simple, although it is not likely to happen frequently.
It would have been even better if it came with a carrying case and a warranty of at least five years instead of a 3-year limited warranty.
What I Liked Most
Lighter than most cordless brads
It has a handy torchlight
Easy to operate
It has a fast trigger
What Could Be Improved
It doesn't come with a case
---
3.
Best Finish Nail Gun for DIY

– NuMax SFN64 Pneumatic Finish Nailer
NuMax SFN64 Pneumatic 16-Gauge 2-1/2" Straight Finish Nailer
Construction Applications: Designed for trim, furniture trim, rail moulding, crown moulding, window casing, door installation, base boards, chair rails, picture frame assembly, and hobbies and crafts
Compatible Nails: 16 gauge glue collated straight finish nails from 1" – 2-1/2"
Built to Last: One piece hardened steel drive blade results in a durable pneumatic tool resistant to damage
Here is a straight-finish nail gun that prioritizes function over beauty. While this nailer won no style awards, it was built for trim work, so I love using it for crown molding.
The NuMax SFN64 is a 16-gauge pneumatic finish is a good nailer for baseboard, crown molding, and many other projects.
I discovered that this nailer has a toolless depth-adjustment wheel and a no-mar tip. This helps to ensure that the mold won't get damaged, no matter the depth setting. This nailer is both lightweight and durable, thanks to its aluminum body.
The quick jam release feature makes it easy to use and efficient on the job. However, one potential drawback is that it may not have enough driving power for tough hardwood frames. In such cases, I may need to crank the compressor to the maximum recommended pressure of 110 psi.
This nailer performs admirably in many situations. It is more suitable for beginners and DIY crown molding projects rather than for professionals.
What I Liked Most
It is lightweight
Fires up to 2 ½ inch nails
It rarely jams
It has a no-mar tip
What Could Be Improved
The firing strength is lower than others
Only a 1-year warranty
---
4.
Best Straight Finish Nail Gun for crown molding

– Makita AF601 Finish Nailer
Now, we get back to gorgeous-looking nailers made by household brands. Makita makes a lot of nailers for professionals, and you would be happy with any of them, but I decided to go with the most popular model.
The 16GA straight finish nailer has a sleek, slender look and is made of magnesium, making it lightweight yet sturdy. At 3.8 pounds, this is one of the lightest nailers on my list, making it perfect for a long day of fixing crown molding.
Using a sequential or contact actuation, I realized I could fire 16″ finish nails as long as 2½". There is also a depth-adjustment dial and a quick jam-release button. One handy feature that I enjoy the most is the built-in air duster.
This handy addition is great for getting rid of debris. In addition, the Makita AF601 has a nail lock-out feature, a great safety option all nailers should have to reduce accidental fires and injuries.
With the no-mar tip, this nail gun lets me get as close to the wood surface as possible. However, this no-mar trip isn't always reliable, so I must check it before use.
Despite the friendly price, Makita provides a tool case, oil, and safety goggles. It has a 3-year warranty, which isn't great but is better than average.
What I Like Most
It has two actuation modes
It is lightweight
It has a nail lock-out
It comes with a 3-year warranty
What Could Be Improved
The no-mar tip may fall off
---
5.
Best 18V Brad Nailer

– Ryobi 320 Airstrike

Sale
I was impressed with the Ryobi Airstrike, which I think has the coolest name of any Brad nailer I have ever seen. But it's not all talk – this device is a phenomenal tool that exceeded my expectations.
This nail gun uses an 18-volt lithium-ion battery instead of the more common 20V used in most cordless models. This surprised me. However, do not let the smaller battery fool you – it can still fire up to 1,700 nails on a single charge.
The Airstrike uses 18GA brad nails up to 2″ long, perfect for crown molding. The no-mar tip ensures a flush look without damaging the work surface. And with the LED flashlight and low-nail indicator light, you'll always be able to see what you're doing.
Ryobi Airstrike provides both sequential and contact actuation. This is the one thing that sets it apart from its competitors. It is a bit heavy, but with the included belt clip, you can take a break and let your arms rest.
With a 3-year warranty, you can have peace of mind knowing that you're making a smart investment in a quality tool.
What I Liked Most
It has an LED light
Dual actuation modes
3-year warranty
Tool-less adjustment dial
What Could Be Improved
---
6.
Best Nail Gun Overall

– BOSTITCH Finish Nailer N62FNK2
BOSTITCH Finish Nailer, Angled, 15GA, 1-1/4-Inch to...
This pneumatic nailer is the world's first 15GA tool with ultra-quiet rear exhaust to direct air away from the user
Integrated air blower of 15 gauge finish nailer allows user to clear away debris from work surface (patent-pending)
LED work-light for working in closets and dark spaces
Bostitch has so many nail guns that it was tough to pick just one to include on this list. But the Bostitch Smart Point Finish Nailer is one of the best nail guns for crown molding, thanks to its unique feature – the smart point.
The smart point feature eliminates the need to push the gun tip into the wood before firing. It is ready to go, making nailing crown molding a breeze.
The slim design of the smart point allows for precision nailing, and the angled tip gets into tight spaces. This is helpful with slightly wider 15GA finish nails.
With the depth adjustment, you can further set the nails for easier surface smoothing with putty. The no-mar tip prevents damage to the work surface.
This finish nail gun uses 1 ¼" to 2 ½" nails and can be fired sequentially or in contact firing. It is an oil-free pneumatic nailer, so you won't have to worry about oiling it before use and risk jamming.
The only downside is that Bostitch removed the LED light from previous versions. While not necessary for crown molding, it was a nice touch.
The Bostitch Smart Point Finish Nailer is an excellent choice for anyone looking for a reliable and efficient nail gun for crown molding.
What I Liked Most
Pin-point accuracy with a smart point
7-year limited warranty
It has an integrated pencil sharpener
Oil-free operation
What Could Be Improved
---
7.
Best Budget Brad Nailer

– WEN 61721 Pneumatic Brad Nailer
WEN 61721 18-Gauge 3/8-Inch to 2-Inch Pneumatic Brad Nailer
Shoot 18-gauge brads ranging from 3/8 to 2 inches in length
Operate at 60 to 115 PSI with the 1/4-inch NPT air inlet fitting
Features a depth adjustment wheel, a nail gauge, a rotatable exhaust, and a quick release 106-nail capacity magazine
As a budget-conscious woodworker, I know how hard it is to find high-quality tools that don't break the bank. That is why I am thrilled to discover the Wen pneumatic brad nailer.
At only 2.7 pounds, this nailer is incredibly lightweight and easy to handle, making it perfect for crown molding and other trim work. Do not let the low price fool you – this nailer packs a punch.
It can run on 115 psi, making it powerful enough to tackle even tough hardwoods. However, I can customize the nail depth to suit my specific needs with the depth adjustment tool.
The nail cartridge can hold up to 106 18GA nails, and the range of nail sizes from ⅜" to 2″ is more than enough for my DIY projects. Of course, this nailer is not designed for professional use, but for my purposes, it's perfect.
While the 2-year warranty is a bit limiting, I am confident that I can upgrade to a more advanced tool by then. The Wen pneumatic Brad nailer is an excellent choice for anyone looking to get started with crown molding or other light trim work.
What I Liked Most
It is very lightweight
It has a depth adjustment dial
You can get it with a case and nails
It rarely jams
What Could Be Improved
You only get a 2-year warranty
---
8.
Best Angled Finisher

– Metabo HPT Finish Nailer Kit
Metabo HPT Finish Nailer Kit | Pro Preferred Brand of...
AWARD: Rated the Pro Preferred Nailer for 7 years running (2014 - 2020) by Builder and Developer Magazine
FASTENERS: 15-gauge nails from 1-1/4-in Up to 2-1/2-in In length
APPLICATIONS: Ideal for installing crown and base moldings, window and door casings, chair rails, cabinets, exterior trim and staircases
Next up, I have a 15GA angles finish nailer with high hopes of competing against the Bostitch, and it comes close. This is an award-winning nail gun from Metabo, one of the easiest and prettiest guns.
First, I like the sharp silver color, but it's lightweight and easy maneuverability. At just 4.2 lbs, you won't get frustrated with this installing crown molding and every other type of trim work.
As mentioned earlier, it uses 15 gauge nails, which are between 1¼ inch to 2½ inches long, the ideal range for your projects.
The acute angle on this nail gun makes it easy to get into very tight corners without obstructing your view or causing you to fire nails in the wrong place. There is also a toolless depth adjustment dial and a no-mar tip.
When firing nails, you can choose between sequential and contact actuation, which makes using this fun. You can also enjoy this for a long time, given the 5-year warranty and the solid build material.
What I Liked Most
Switch between sequential and contact firing
It has a carrying case
It can work on a thick hardwood
You get a 5-year warranty
What Could Be Improved
Slightly heavier than competitors
---
9.
Best nail gun for framing

– Dewalt Finish Nailer 16GA
DEWALT Finish Nailer, 16GA, 1-Inch to 2-1/2-Inch (D51257K)
Sealed lube dual tech: motor works as an oil free and oil lube unit.
Tool-free features: adjustable belt hook, nail depth adjustment, jam clearing, 360 degree exhaust
Uses 1-inch to 2-1/2-inch (25.4 milimeter-65 milimeter) 16 gauge straight collated nails,
This list wouldn't be complete without a Dewalt. I was torn between this straight 16GA finish nailer and the angled 15GA finish nailer, but I gave this the nod at the last minute because this is slightly lighter and uses slightly thinner nails.
I like this Dewalt nail gun for crown molding because it's lightweight at just 3.9 pounds. This means I can work on larger projects without straining my hands. It also has an adjustable belt hook, which conveniently keeps the nail gun within reach.
With this nail gun, I can fire 1-inch to 2 ½" finish nails, and Dewalt includes 1,000 2-inch nails, which is perfect for most crown molding projects. I appreciate that the trigger actuation is sequential firing, and I can easily adjust the depth of nails using a dial near the trigger.
The no-mar pad and carrying case are also nice touches. My favorite thing about this nailer is the sealed lube dual tech, which allows me to use oil-less or oiled. I don't have to worry about oiling it whenever I want to use it, which is a huge time saver.
The only thing I'm not thrilled about is the 3-year warranty, although it's still better than average. This nail gun is excellent for crown molding, and I highly recommend it.
What I Liked Most
It works oil-free or oiled
It is lightweight
It comes with 2,000 2″ nails
Has decent warranty
What Could Be Improved
It does not include safety goggles
---
Best Nail Gun for Crown Molding Comparison Table
Education: How to Choose the Best Nail Gun for Crown Molding
What Type of Nailer Works Best for Crown Molding?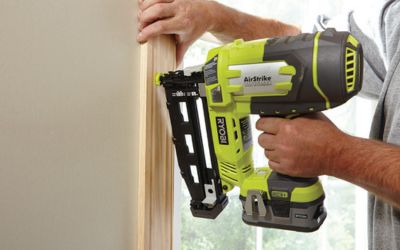 Unlike baseboards, installing crown moldings requires tricky angles. You must install it at angles and intersections instead of flush against the wall. Plus, you also have gravity working against it.
For this reason, you need nails that are strong enough to hold it but not too thick to ruin it. For that reason, you can use only two nailers: a finish nailer or a brad nailer.
Roofing and framing nailers use nails too big for crown molding, so they can't be considered.
Finish Nailer
Finish nail guns are the most commonly used nail guns for crown molding. They fire 15GA or 16GA nails, although they are technically wire gauges.
These nails are usually 1″ to 2 ½" long and strong enough to pierce through the crown mold into a 2×4 frame.
While some models use 14GA nails, these are rare and too thick for trim work, so we have not included any.
Pneumatic finish nailers are also comparatively inexpensive and deliver consistent firing power. However, you also need an air compressor. This can make them a chore to carry to job sites and a bit noisy.
Brad Nailer
A Brad Nailer is so named because it shoots Brad nails, also called 18GA nails. Brad's nails are primarily meant for crafts, but they also work well for crown molding, baseboards, and any trim work on softwood.
18GA nails 2″ in length can easily hold crown molding, provided the frame isn't too strong, but this rarely happens. Usually, adjusting the depth of the nail is enough to drive it through.
Brad nail guns are a popular option for DIY crown molding because they are thin, so you can easily caulk over the hole. Brad nailers typically run on battery, but some prefer a pneumatic Brad nailer.
How Do I Find The Right Nail Gun for Crown Molding?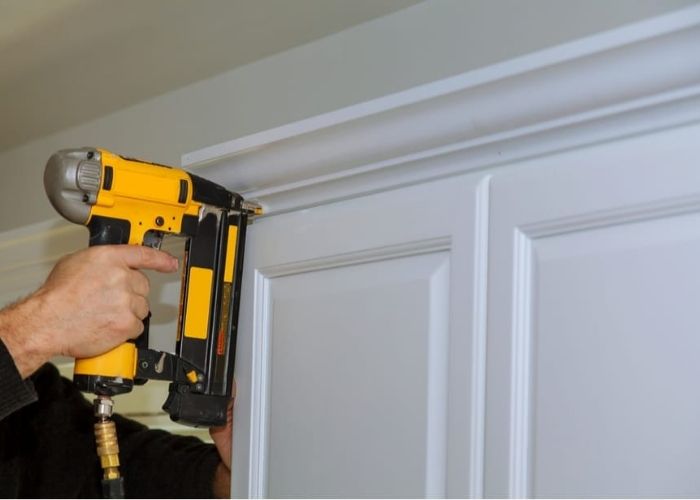 Picking between a finish nail gun and a brad nailer is one thing, but how do you sort between similar-gauge nail guns for crown molding? Here are the most important features to help you make your choice.
Experience level
The type of nailer you'll need for DIY vastly differs from what you need as a professional.
Spending hundreds of dollars on a tool you'll only use once every five years is not particularly worth it, especially as you can hire the tools for a fraction of the cost. On the other hand, if you are a DIYer, you would be happy with the pneumatic Wen.
It is light, cheap, and effective. However, if you work on different materials of different weights and sizes, you need a strong finish nailer like the Metabo, Dewalt, or Bostitch.
Power type
Nailers have a range of power sources, including electric nailers, gas, battery, and air. Pneumatic nailers are the strong, fasters, and lightest. Gas is also quite powerful, but cylinder cartridges are expensive.
Battery-powered nailers are usually brad nailers, and they are heavy, but at least you don't have any cords to entangle when holding up crown mold.
Electric-powered nailers often require a two-hand operation, which isn't ideal when standing on a ladder. I recommend using either a pneumatic nail gun or a battery-powered nailer for crown molding.
Trigger operation
Brad and finish nail guns can be triggered using contact or sequential actuation. Contact actuation means you can squeeze the trigger before you depress the tip so that it fires as soon as it makes contact.
On the other hand, sequential requires you to depress the tip before squeezing the trigger, which is the proper sequence for using a nail gun. This is the standard option for every nailer, for both cordless nail guns and pneumatic ones.
Some nailers allow you to choose between the two. For crown molding, sequential actuation will prevent you from making unnecessary mistakes.
Price
When investing in woodworking tools such as a screw gun for decks or nail guns, people usually choose the price first. As important as the cost is, you must filter more important features before this.
Pitting the Wen against the Metabo by price will cause many problems as they are not in the same class. However, comparing the Bostitch and the Metabo based on price would be a fairer choice.
Warranty
Nailers are tough tools; you can own yours for decades with the right maintenance routine. However, if you get a faulty model, it is helpful to have a long warranty.
The Bostitch offers a remarkable 7-year warranty while on the other hand, the Nu-Max only offers 1.
The Use of Backing Strip in Crown Molding Installation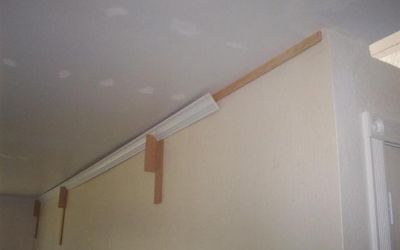 Backing strips are important for installing crown molding. They are thin pieces of wood, usually made from plywood or softwood. They are placed behind the molding before installation.
The backing strip helps hold the crown molding securely in place and allows for using shorter nails without the need to find studs. Depending on the desired appearance of the molding, the thickness of the backing strip can range from 1/16th to 1/2 inch.
It is important to ensure that the backing strip does not touch the back of the crown molding during installation. Otherwise, it will prevent the molding from properly contacting the ceiling and wall.
It is recommended to leave a small gap of about 1/16 to 1/8 inches between the backing surface and the molding. This is to ensure proper installation.
Keep The Crown On
The market for nailers has never been this competitive. Companies keep besting themselves each year, making it hard to choose a favorite.
However, if I had to pick the best nail gun for crown molding, it would have to be the Bostitch. It offers everything you need in a nailer – it is fast, accurate, light has multiple tool-free settings, and doesn't need oiling.