Oil primer is the main choice of professionals when it comes to a paint job. It is glossy, has a beautiful finish, and is durable underneath the paint. Still, with so many products out there, it is quite difficult to find the best oil primer for your project.
Whether interior or Exterior, you need to prepare both surfaces as per their needs.
Having dabbled into numerous painting projects and research, I can recommend some of the best oil based primers.
Therefore, you'll not have to do any of the leg work yourself -at least when it comes to research.
Best Oil Based Primer Reviews (Updated List)
As a professional painter, we have tested and listed the best oil based primer you can trust to perfect your project.
1.
Best Overall Oil Based Primer

–Zinsser 03504 cover stain
Zinsser 03504 oil based primer dry quickly hence is seen as the best oil based primer. The primer adheres efficiently over wood surfaces indoors, at the same time double as an exterior oil based primer.
With its stain blocking formula, this product can hide smoke stains even those caused by water. Once it covers the interior surfaces, it gives extra shine to the oil based paint that follows.
Not only is the Cover Stain primer perfect for bare wood, but it is also a fine choice for previously painted surfaces . Just make sure you prep the area properly before going in with an oil based primer sealer.
For an oil based formula, zinsser 03504 cover stain dries fairly quickly– less than an hour. When it does, you may follow up with an oil based paint. One gallon of this product can easily go over 300 square feet of wood or other exterior surfaces as well.
PROS
Offers the painted area some extra shine
Very efficient at hiding stains
Dries very fast
Can be used on both exterior and interior surfaces
CONS
It has a strong odor
May cause skin irritation
---
2.
Best Budget Primer

–Rust-Oleum Zinsser Bulls Eye

Sale
Zinsser 02004 Bulls Eye 1-2-3 All Surface Primer, Quart, White
Interior/exterior use on new or previously painted drywall, concrete, wood, masonry, metal and glossy or difficult surfaces
Water-based formula seals uniformly and will stick to surface without sanding
Dries to the touch in 35 minutes, ready to topcoat in 1 hour and covers up between 87-112 sq. ft. per quart
Has excellent stain blocking resistance and can be used with any oil or latex topcoat
One coat hide saves time and money by improving hide and coverage of topcoats
The Rust-Oleum Zinsser Bulls Eye 1-2-3 primer comes with the normal performance of an oil based primer, even though it has a slightly different formula.
This rust protection product offers great coverage, a gallon of it having the ability to go over 400 square feet. It is the perfect choice for wood, but can also be applied to painted metals and other different surfaces.
Compared to the Zinsser Cover Stain, this oil based primer comes at a lower price, without compromising quality. It can also clean up nicely using only soap and water. Cover Stain also cleans, but not as easily.
The Bulls Eye 1-2-3 primer from Rust-Oleum is also a great primer-sealer. It prevents mold and mildew on wood, at the same time keeping rust off metal surfaces.
PROS
Affordable price
Resists rust and mildew formation
Excellent stain covering performance
Works on both interior and exterior surfaces
CON
It may require a second coat of primer
---
3.
Fastest Drying Formula

-Rust Oleum Professional Primer
Rust-Oleum 7582838 Professional Primer Spray Paint, 15 oz, Gray Primer
Ideal for use on ferrous, non-ferrous metal, wood, concrete, masonry and other such surfaces to prepare surfaces for painting, provide rust protection and a tough finish that withstands weathering
High quality, durable oil-based formula maintains consistent, corrosion-resistant color despite the elements and provides twice the protection of paint alone
Covers up to 14 sq ft, dries to touch in 15 minutes and ready for immediate topcoat application ; Indoor/outdoor
Commercial, industrial paint formula features a high output tip that can be sprayed at any angle
Primer provides a base for excellent adhesion and withstands demanding, heavy-use environments
Spray painting wood is a fast option to get work done quickly, and the Rust-Oleum professional primer spray paint is proof.
It's much more affordable compared to the Zinsser Cover Stain and the Rust-Oleum Bulls Eye 1-2-3. Moreover, you will not have to go through any bothersome brush painting projects. This will help you get the exterior projects done much faster.
Unlike the products mentioned above, this spray primers covers only about 14 square feet.
However, it's the perfect choice if you have a smaller project or touch-ups to do. It also dries in 15 minutes, making it quick to work with.
Rust-Oleum may be applied in a spray form, but is a great sealer. It protects the surface from weather elements, making it a good interior and exterior primer.
PROS
Perfect for smaller projects or touch-ups
Great coverage
Excellent sealing properties
CON
Covers only 14 square feet
---
4.
Best Primer for Oil based Paint

–Rust-Oleum 272479 Zinsser Bulls Eye
Rust-Oleum 272479 Zinsser Bulls Eye 1-2-3 Plus Spray Primer, White
Interior/exterior use on new or previously painted Drywall, concrete, wood, masonry, metal and glossy or difficult surfaces
Oil-based formula seals uniformly and will Stick to surface without sanding
Dries to the touch in just 30 minutes and covers up to 12 sq ft
Has excellent stain blocking resistance and can be used over any oil or Latex topcoat
Provides a smooth, White finish and; is designed to block imperfections with only one Coat
The Rust-Oleum Zinsser Bulls Eye 1-2-3 that we reviewed above also comes in a spray form. It's smaller, and only covers 12 square feet rather than 300. However, it is the best spray paint for furniture or touch-ups. In short, use it when you do not have a wide surface to cover.
The formula for this Rust-Oleum spray primer can stick to anything, from glossy surfaces to porous wood. You may follow up with any kind of paint, but it is highly recommended that you go for oil based paints instead.
The formula dries up very quickly, only taking about 30 minutes. Plus, you do not require sanding, even if you apply the spray primer over a painted surface. It is a truly versatile interior and exterior primers.
PROS
Interior/exterior use
It does not require sanding
It dries quickly
CONS
---
5.
Best for Glossy Surfaces

-INSL-X Prime Lock Plus Alkyd Primer
INSL-X PS800009A-01 Prime Lock Plus Alkyd Primer, 1 Gallon, White
Fast-drying, multi-purpose Alkyd-based coating that primes and seals a variety of substrates and hard to block stains with excellent adhesion
High hiding Alkyd primer that seals stains from water, smoke damage, and more
Superior adhesion to glossy surfaces
Quick drying; re-coat in as little as 1 hour
300 - 350 square foot coverage per gallon
Glossy surfaces need a specific primer formula for the paint to adhere, which makes this INSL-X product such a suitable choice. While it is slightly pricier compared to the Rust-Oleum Bulls-Eye or even the Zinsser Cover Stain, it makes everything up in quality.
This affordable primer not only adheres swiftly, but it also takes a short time to dry. In just one hour, you should be able to follow up with the paint.
The stain blocking properties are also excellent, and it also leaves a beautiful flat finish. The INSL-X Prime Lock is the perfect choice for those who want to get rid of the glossy finish and go matte.
PROS
Excellent adhesion to glossy surface
It leaves a beautiful matte finish
It dries quickly
CON
You may need to apply more coats
---
6.
Best Stain Blocker

–Kilz Original Multi-Surface Oil Based Primer
Kilz 10902 Original Multi-Surface Stain Blocking Interior Oil-Based Primer/Sealer, White, 1 Quart
A good primer makes paint stick better to surfaces, makes paint color truer, and lets you use less paint. It covers existing stains and odors, and helps block new stains and odors.
KILZ Original oil-based primer blocks most stains including water, smoke, tannin, ink, pencil, felt marker and grease. This primer also effectively seals pet and smoke odors.
Use this versatile primer on interior surfaces including wood, drywall, plaster, paneling, wallpaper, masonry, brick, painted metal and properly prepared glossy surfaces. Not recommended on flooring.
Use for walls or ceilings with medium to severe stains. For a water-base equivalent, look at KILZ Max. Dries to touch in 30 minutes. Recoat or top-coat after one hour.
This is a 1-quart can of KILZ Original Oil-Based Primer, Sealer, and Stainblocker for interior surfaces in white. Covers approximately 300-400 square feet per gallon.
Stains are often very difficult to cover, and this is made even more complicated by the surface at hand. With that in mind, the Kilz Original Multi-Surface stain removing primer can come quite in handy.
Like the Cover Stain and the other products mentioned above, this product can be used on any kind of surface. However, keep in mind that it is an interior oil primer, which means that it cannot withstand very harsh weather.
This can be seen as an advantage as well. Since it is meant for indoor use, it does not have the harsh smell often associated with oil based primers. It's still a bit stronger compared to the water based type, but it is not as nauseating.
PROS
Excellent adhesion
Fast drying time
Impressive stain blocking properties
It can also block smells aside from stains
CON
Interior oil primer that can't be used outdoors
---
7.
Best Oil Based Primer For Exterior Wood

–Rust-Oleum Protective Enamel

Sale
Rust-Oleum 7780502 Protective Enamel Paint, 32 Fl Oz (Pack of 1), Flat Whtie Clean Metal Primer, 32 Ounce
Weather and corrosion resistant primer bonds tightly to exterior/interior surfaces like wood, metal, concrete, masonry and more to provide excellent adhesion for top coat
Oil-based formula provides a durable protective coating with excellent rust prevention
Dries to the touch in 2-4 hours and covers up to 90 sq. ft.
Primer provides a base for excellent adhesion and withstands demanding, heavy-use environments
Creates a flat white finish that can be covered with any topcoat
Rust is very troublesome, and it may appear on every surface that has the smallest metal application. This Rust-Oleum oil based paint primer can protect against that, thanks to its rust prevention properties.
It may be led to believe that the Rust Oleum Stops Rust is only for metal surfaces, but like the Zinsser Bulls Eye, it has excellent adhesion to wood, concrete and masonry as well. Quality-wise, this primer is excellent.
Still, unlike the Bulls Eye or the Kilz Original that take 30 minutes to cure, this one takes about 4 hours for a full cure. It also has just a 90 square feet coverage, making it a good choice only for small projects that you have time for.
PROS
Very high weather and corrosion resistance
Long-lasting protection
Quick application without brush marks
CONS
Small coverage
Slow drying time
---
8.
Best Exterior Oil Based Primer

–True Value Premium Weatherall Primer
Outdoor wood is occasionally challenging to prep. Not only is it very porous in most cases, but it also has to withstand the challenges that Mother Nature brings.
True Value took on this exact problem, and they came up with the Weatherall Ultra Premium quality primer. Featuring interior/exterior this stain blocking primer is waterproof and works very well in humid conditions.
Compared to the Zinsser Bulls Eye, this one is a bit more expensive. However, quality-wise, it is perhaps even stronger than the Zinsser Cover Stain or the Kilz Original Multi-Surface Stain Blocker.
The product is also one of the best oil based primers for basement floors, as it can resist mold and mildew formation, thanks to its excellent stain blocking resistance. It can withstand humid conditions with ease, which makes it the perfect choice if you live in an area where it rains a lot.
PROS
Waterproof formula
It does not peel in damp areas
It is very easy to clean
Excellent adhesion
CON
9.
Best Low Odor Alternative

–Kilz Original Low Odor
KILZ Odorless Interior Oil-Base Primer/Sealer/Stainblocker, White, 1-Quart
This ultra low odor primer, sealer and stainblocker has no lingering odors that occur with oil-based paints, making it ideal to use in areas where higher odor levels are prohibitive.
Any slight odor detected during the application will dissipate soon after drying. This formula blocks water, smoke, tannin, ink, pencil, marker and grease stains while sealing pet and smoke odors.
Use on properly prepared interior surfaces, such as brick, painted metal, properly prepared glossy surfaces, drywall, paneling, wallpaper, masonry, plaster and wood.
KILZ Odorless creates an excellent base coat for latex or oil-based paint. It is not recommended for mold or mildew-prone surfaces or on flooring.
This is a 1-quart can of KILZ Odorless Oil-Base Primer/Sealer for interior spaces such as offices, apartments, and schools. Covers approximately 300 square feet per gallon.
Odor is very often a problem, which is why the Kilz Original series includes this versatile, low-odor primer sealer. It is a perfect choice if you have a room or an office to paint, but you do not have strong ventilation.
It is an interior primer, which means that just like the Kilz Original Multi-Surface, it cannot be used outdoors. The primer is very durable and is the perfect choice to be followed up by oil based paint. That being said, make sure you sand and clean the area properly.
One gallon of this product can cover as much as 300 square feet, and it only takes about 30 minutes to dry. Plus, it has quite a rich formula that might not need a second coat (depending on the base), making it one of the best oil based primers for comfort.
PROS
Very low odor levels
It dries quickly to the touch
Excellent stain blocking properties
CON
It may only be used on interior surfaces
---
Primer for Bare Wood Comparison Table
Education: How To Choose the Best Oil Primer
Oil-based primer sealers come in various shapes and forms, sporting a variety of features. Here is what you may want to keep in mind.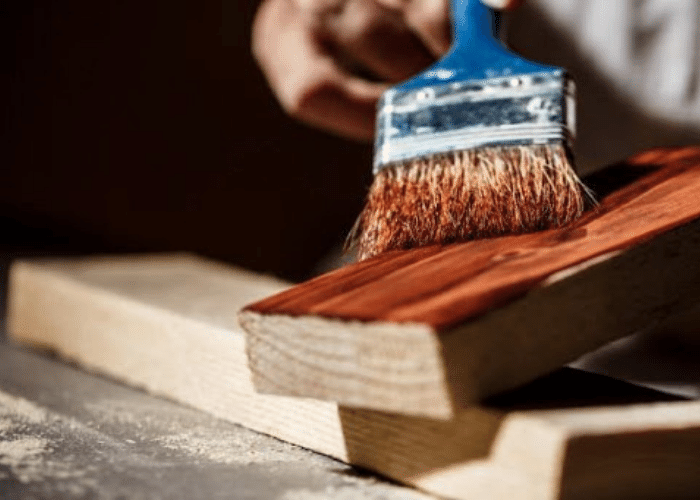 1. Surfaces
What type of surface is this oil-based primer for? Can you use it only on wood, or is it compatible with multiple other surfaces?
Ideally, you should go for a high hiding formula with multi-surface compatibility. This way, you can work on metal surfaces, for example, after you are finished with the wood.
2. Application
How many coats of primer do you need to apply? One or two coats of primer? The more coats you need to apply, the more time and product you will use.
Also, can you use any application method (i.e. a sprayer), or should you only use a brush? What kind of brush should you use? Consider these aspects before buying.
You may also want to consider the area of the application. If you want to paint only indoors, then an interior primer is sufficient. However, if you're priming an outdoor project, opt for an exterior paint primer that will stand harsh weather conditions.
3. Coverage
How much does one gallon of that particular product cover? In most cases, just 1 gallon of primer paint should cover 300 square feet of every surface.
However, make sure that you don't need multiple coats in order to obtain that coverage. A thicker formula might give you more coverage in this case.
4. Drying Time
Each primer has a specific drying time. Unless it completely cures, you may not be able to follow up with the paint.
This is why you may want to consider the drying time of the primer. Some of them may take as little as 30 minutes, whereas others may take hours in order to fully cure.
5. Odor
No one likes strong-smelling primers or paint. These primers make it unbearable for you to apply on a larger surface without a mask. This is why you may want to look for something labeled as "low odor" instead. These are often less toxic and more environmentally friendly.
6. Stain Blocker
If you have watermarks or any visible imperfections on the surface, you might want to get an oil primer with stain blocking properties. Not only will it cover the stain, but it will also thoroughly seal the area so that future existing stains won't show.
7. Rust Prevention
Is the area that you are planning to paint prone to developing rust? If you are priming metal, particularly on exterior surfaces, you might want to get a product that has a rust protection formula.
Why Use Oil Based Primer?
Some people might say oil based primers tend to be difficult to work with, as you need a lot of ventilation in the area. You will also require a mask that prevents you from breathing in the toxins.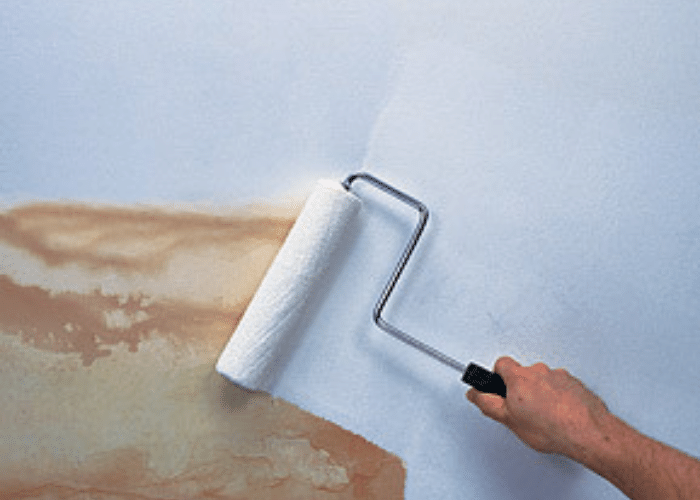 Even with that in mind, an oil primer paint is guaranteed to do a great job. It is why professionals often opt for it in favor of latex based primers or the like.
As long as you prep the surface properly, the oil based primer paint should adhere correctly, sealing any pores and imperfections. It should provide good bonding so that you can follow up safely with the first coat of paint.
Is Oil Based Primer Better than Water Based Primer?
So, oil based or latex primer? Which one is better for your paint project? Well, it depends on various factors.
There are certain circumstances in which you might want to use an oil based primer rather than water based (i.e., latex primer). One thing that you should remember is that oil based paints and primers have a stronger smell and cause more fumes.
Without the proper equipment and good ventilation, this can cause irritation to the skin, nausea, or dizziness. If people are highly sensitive to these smells, then a better choice here would be a water based primer.
Oil based primers are not as fast drying as water based primers, but that is often because they have a thicker formula. If you use high-quality paint, then you may not even have to come back with a second coat of primer-sealer.
Oil based primers are also more efficient when it comes to sealing and covering stains. In comparison to water based primers, they penetrate wood much better, whether it's new or weathered.
In the end, the choice mostly depends on what you need. Still, quality-wise, it is known that oil based paint and primer have a higher durability level.
Different Types of Primers
Depending on your paint project, there are various types of primers that you might want to go for:
1. Oil Based Primers
These primers are mainly used on wood, as they can enter and seal the porous areas. Other formulas are not usually recommended for these projects, which is why they are often referred to as the best primers for wood.
This is because they dry much faster and may provide a smooth working surface. Once you have the base, you may use oil or latex topcoat paint, whichever you prefer.
In terms of drying time, you can check out how long does it take primer to dry post.
3. Latex Primers
Latex primers are primers that are water-based, and they are perfect for using on interior surfaces like drywall. They dry fast and are perfect for projects that you want to finish fast. They are also low in volatile organic compounds (VOC), which means they have a low toxicity level.
4. Shellac Primers
Shellac primers double as bonding primers, and have great stain blocking properties. They can seal odors and can hide smoke or a water based stain. They can adhere to a variety of interior and exterior surfaces, including wood, metal or plastic.
Benefits of Using an Oil-Based Primer
Each primer type has its own benefits, but there are certain perks that come with using an oil based primer.
Oil paint primer are the perfect option for wood surfaces, as it won't be so easily absorbed by the porous surface.
Here is what the oil paints will do for you:
Fill into the small pores and imperfections so that you get a smooth, even finish.
Coat wood surfaces so that you won't have to use as much paint afterward.
Prevents mold or mildew from growing on the wood surfaces.
Helps paint dry faster
Seals the exterior wood effortlessly and protects it against harsh weather.
Oil based primers act as a good base, and they are often more durable as compared to water based primers.
Tips for Applying Oil Based Primers
Applying oil based primer can make every surface look flawless, particularly if you apply it right. To make sure your paint job looks the best, here are some application tips that you might want to consider.
Stir the primer before you use it. If it sat on the shelf for a long time, the oil might have separated from the rest of the formula. You need to mix them completely.
Pour everything into another container. This way, not only will you further stir the formula, but you will also be able to keep the dirt out.
If you feel like the primer is much too thick, don't use water to thin it out. Instead, add some mineral spirits in the mix.
Don't use a low quality brush to apply the primer. Not only do you risk it shedding along the way, but it may also leave brush marks on the painted surfaces.
Don't paint over wet surfaces. Allow them to dry first. If you unsure,
A primer can prove very efficient, but you need to use it correctly. Make sure that you use the right protective gear. If it has high VOC levels, you might want to use a mask as you are painting.
What Kind of Primer Should I Use Over Oil Based Paint?
If you previously painted with a latex paint, you may easily follow with any kind of primer over it. For more info, check out the latex paint over oil primer guide. However, if your previous paint job was an oil based one, then you should only use an oil based primer sealer.
These primers have higher bonding properties, which means the chances of chipping or peeling as they cure are lower. The only instance when you may use a latex bonding primer is if you are self priming paints over a matte surface.
What is the Best Oil Based Primer for Wood
If you are looking for a good oil primer to finish a paint job, then by efficiency and popular opinion, the Zinsser Cover Stain is the best choice. Still, for those on a budget, the Rust Oleum Bulls-Eye 1-2-3 should also prove efficient.
Think about the surfaces that you will have to paint when you are looking for the best oil primer. Once you calculate all the factors, you should be able to choose the best option for your needs.