Let's face it; tools are not only tools. They are toys. A good paint brush makes painting much easier and much more fun. So if you want the best paint brush for your paint project, you're in the right place.
This article explores seven of the best paint brushes for trim and baseboards. Whether you're doing trim work, an exterior door frame, or other small surfaces, these brushes will help you achieve professional-looking results.
Our Top Picks
Best Paint Brush for Trim
Best Trim Brushes Reviews
1.
Best Purdy Brush for Trim

– Purdy Clearcut Series Glide Angular

Sale
Purdy 144152125 Clearcut Series Glide Angular Trim Paint...
PURDY CLEARCUT PAINT BRUSHES - Purdy Clearcut paint brushes are designed for well-defined lines and precise cut-in ability. These paint applicators will help you get the job done right the first time.
DESIGNED FOR ALL PAINTS - The stiff Tynex nylon and Orel polyester-blend filaments in the stiff bristles on this painters brush are great for all latex paints and primers.
STIFF BRISTLE BRUSH - These high-quality painting brushes are lightweight with stainless steel ferrules and moisture-wicking alderwood handles making them easy to control. Perfect for the DIY-er or the professional painter.
This is my #1 choice because it's good for touch-ups, coating, and cutting in. The newer Clearcut Series brushes have fewer bristles than before. Purdy just started doing this around 10 years ago.
I know some people who like the old design better, but it's an improvement in my eyes. The newer models are also designed to hold more paint than most brushes.
The more paint I can get on the brush, the fewer trips I take to the can (the paint can). Although I love natural bristle brushes, I use Purdy synthetic brushes for most projects.
Pros
Wooden handle and stainless steel ferrule
Outstanding control for precise edging
Holds plenty of paint
Easy to clean
Lasts a long time with proper maintenance
Cons
Expensive
Easy to get too much paint on the brush
---
2.
Best Paint Brush to Cut in Paint

– Wooster 2" Shortcut Angle Sash

Sale
The Wooster 2″ Shortcut Angle Sash paint brush is about as good as it gets. The short rubberized grip takes the burden off your hands when you hold the brush by the ferrule.
One issue I run into with the flex-grip is my hand fatigues faster when I use it for over an hour or two. If you have smaller hands, this is less of an issue.
Otherwise, it's perfect for cutting in without tape. This brush gives you the most bang for your buck.
Pros
Easy to clean
Good value
Comfortable flex-grip
Affordable
Con
Flex-grip puts more stress on your hands 
---
3.
Best Paint Brush for Touch Ups

– Zibra Grip-n-Glide 1″ Square

Sale
Zibra PB100LZS Square Paint Brush for Windows, Ledges, and...
Square Brush: Enjoy extremely smooth and easy painting; This square detail brush is suitable for use with all types of paints and stains
Contractor-Grade Construction: Zibra paint brushes are durable and long lasting, constructed with aluminum inserts, epoxy glue, and threaded nails
Smooth Filament Technology: Our smaller filaments on this square brush allow for 25% more pack-out than industry standard brushes, providing incredible paint pick-up, controlled release, unmatched smoothness, and effortless clean-up
We've all been there. You have a nice two-tone color scheme, and your lines look clean. You are proud of yourself. Then, you remove the tape, and all of a sudden, your perfect lines are wavy!
The Zibra Grip-n-Glide 1″ Square is excellent on flat moldings and trims because it helps you push paint to get paint in tiny little gaps. It's my go-to when I need to fill in cracks and crevices.
Especially window sills and quarter-inch round. When I'm hungry and need to finish a fussy little area, this helps me get out of there before I get cranky.
Pros
Squarehead makes cutting in easy
Suitable for joints, corners, and touch-ups
Excellent value
Keeps shape well
Glides for even smooth coating
Cons
Some reviewers say bristles fall out of the ferrule
Bristles could be more flexible
---
4.
Best Paint Brush for Interior Trim

– Bates Trim Brush, 0.75″ Edge

Sale
Bates- Trim Brush, 0.75 Inch, Edge Painting Tool, Trim Paint...
Professional quality: 100% satisfaction guaranteed, trim paintbrush is premium; intended to be long lasting and easy to clean. Exceptional ability to get the job done quickly with a superior finish.
Fit for comfort: Quality plastic handle brushes are lightweight and easy to hold. A comfort that lasts for long tedious jobs. Handle allows for the best quality control with exceptional results.
Thick filaments: These synthetic filaments are designed to hold more paint to save you time and give you the finish you are looking for. Filaments are durable and long-lasting.
The 0.75″ Edge on the Bates Trim Brush makes it easy to maneuver around tight spaces, and the soft bristles spread the paint evenly.
This brush has a comfortable, rugged plastic grip for longer jobs, and the bristles are soft enough to coat uneven surfaces thoroughly.
However, it comes with a couple of drawbacks. You'll have to baby this one a little and keep it off the floor. The only complaints in the reviews are that the head pops off and the round handle rolls when you set it on flat surfaces.
Pros
Durable bristles
Spreads paint evenly
Good value
Easy to clean
Comfortable grip
Cons
The head is prone to popping off
Rolls when you set it down
---
5.
Best Brush for Semi-Gloss Paint

– 1-inch Purdy Dale Angled Sash
1" Purdy 144080310 XL Dale Angled Sash Paint Brush, Tynex...
PURDY XL PAINT BRUSHES - Purdy XL Series brushes are great for all types of environments, both interior and exterior. These paint applicators will help you get the job done right the first time.
VERSATILE - Our most popular brush line, these medium-stiff painting brushes are designed for latex and oil-based paints, primers and stains.
MEDIUM STIFF BRISTLE BRUSH - Designed to be easily cleaned, the DuPont Tynex nylon and Orel polyester-blend bristles offer superior durability and abrasion resistance.
I highly recommend The Purdy Dale Angled Sash because it's so versatile. This brush works with any paint, and its smooth, angled bristles are excellent for precise trim work.
I like this paint brush for trim around exterior windows, eaves, and doors. The moisture-resistant bristles are perfect for painting in humid weather, and the wooden handle is easy to grip when your hands are wet or oily.
I prefer wooden handles because I get more control, and I'm not tired after working for long periods. Overall, this is an excellent choice if you want a straight line on uneven surfaces.
Pros
Wooden handle
Works well in any climate
Perfect for touch-ups
Last for years for light use
Cons
Newer purdy angled have fewer bristles
It doesn't hold much paint
---
6.
Best Paint brush for Baseboards

– Zibra Grip-n-Glide 2" Angle Sash
Zibra PB200LT Contractor-Grade Angled Paint Brush for Walls,...
Angled Sash Trim Brush: Enjoy extremely smooth and easy painting; This angled paint brush for trim work is suitable for use with all types of paints and stains
Contractor-Grade Construction: Zibra paint brushes are durable and long lasting, constructed with aluminum inserts, epoxy glue, and threaded nails
Smooth Filament Technology: Our smaller filaments on this angled trim brush allow for 25% more pack-out than industry standard brushes, providing incredible paint pick-up, controlled release, unmatched smoothness, and effortless clean-up
The Grip-n-Glide Angle Sash paint brush is the choice of many professionals. It's fantastic for molding and trim because the bristles are flexible, and the hourglass handle is comfortable if you use a pencil grip.
The Grip-n-glide works well for me since I hold the brush like a screwdriver whenever I paint baseboards. Moreover, the thin bristles let you load up a lot of paint, and they never flare out too much. Lastly, the hourglass handle gives my hands a break.
Pros
Ergonomic handle good for pencil grip
Durable
Good value
Perfect for semi-gloss paint
The best brush for baseboards
Bristles hold their shape
Cons
Your hands may cramp based on your grip
Could hold paint better
---
7.
Best Paint Brush for Corners

– Wooster Brush ½" Ultra/Pro

Sale
The Wooster Ultra/Pro stands up to abuse and still gives me consistent, clean edges after a full day's work. Besides, the bristles are extra firm, making them my top choice for corners and short crown molding.
Wooster Brushes are known to hold their shape better than most brushes. You can find cheaper alternatives, but Wooster Ultra/Pro brushes are well worth the price.
The Ultra/Pro has a variety of sizes, but the ½" width is an excellent all-purpose size. I use it more for touching up tight spaces than any other size.
Pros
Width perfect for fast touch-ups
Built to last
Speeds up the painting process
Holds its shape 
Razor-thin edges.
Good value
Con
---
8.
Best Disposable Paint Brush For Trim

– Jen Manufacturing Inc. Poly Foam Brush

Sale
This poly foam brush by Jen is a must-have tool around your home. I use it to apply latex, enamel oil paint, and varnish. The product makes a good go-to option for quick projects and touch ups. Moreover, you can use the brush for decoupage and staining furniture.
Besides painting, you can use these brushes to apply stains, varnishes, and body paint, among other mediums. Using this brush creates a smooth finish on various surfaces.
You also won't have to deal with loose bristles or brush marks since the poly brush smoothes out the paint and covers the surface correctly with a few strokes. This allows both experienced and inexperienced users to achieve professional and reliable results.
The next time you paint a project or work on a craft, grab this foam brush, and you will be ready to go. Besides offering a seamless cleanup, the brushes are disposable and thus easy to deal with.
Pros
It delivers professional results even with DIY experience
Disposable for fast, green cleanup
Works with all paint types
Con
It doesn't come with a protective keeper 
---
9.
Best For Use with Latex Paints

– Richard 13415 Elegance Trim Brush

Sale
Trust the Richard Elegance trim brush for projects requiring precision trimming to deliver the best results. The brush features durable polyester bristles that offer high performance and an excellent finish.
In addition to a soft grip handle for easy comfort, the product comes with a brush keeper that allows for proper storage and upkeep.
The trimming brush is ideal for accurate trim and cutting at doors, ceilings, and window corners. It measures ¾ inches, which offers greater accuracy, and features a round ferrule for enhanced control.
The polyester SRT blend works perfectly with latex paint to deliver a smooth and flawless finish. Moreover, the material of the bristles offers excellent paint pick up and release for different surfaces.
Pros
Easy storage since the brush comes with a keeper
Paints trim edges with great accuracy
The ergonomic handle provides a soft-grip
Cons
The bristles are soft and prone to damage
Works preferably with latex paints
---
10.
Best Brush Set For Trim

– Pro Grade Paint Brushes

Sale
Pro Grade - Paint Brushes - 5 Ea - Paint Brush Set
Paint Brush Set Includes 1 Ea of 1" Flat, 1-1/2" Angle, 2" Stubby Angle, 2" Flat & 2-1/2" Angle
Paint Brushes For Interior Or Exterior Projects. Use Angle Sash Paint Brush For Cutting Crisp Lines.
Professional Results On Walls, Trim, Cabinets, Doors, Fences, Decks, Touch Ups, Arts And Crafts.
This brush set includes 1 Ea of 1″ Flat, 1-1/2″ Angle, 2″ Flat & 2-1/2″ Angle, and 2″ Stubby Angle paint brushes for both indoor and outdoor projects. I prefer using the angle sash paint brush for cutting crisp lines.
With the Pro-Grade 5-brush set, you have a variety of paint brushes at your disposal that will help you achieve a superior finish on your trim.
The paint brushes come in different sizes, and the bristles feature different cuts to help you apply paint seamlessly, regardless of your trim design.
Moreover, this set of brushes features uniquely designed bristles to help you paint more efficiently. Besides trim, you can use this cost-effective option to achieve professional results on walls, cabinets, fences, doors, decks, and arts and crafts.
The bristles feature an SRT filament blend that holds more paint and doesn't leave streaks on finished walls and trims.
Pros
Long-lasting and durable
It features easy cleanup
It is an affordable option
Con
---
11.
Best Painting and WaxingTool for Trim

– Professional Chalk and Wax Paint Brush

These high-quality paint brushes are durable and long-lasting. Besides being made to last, you can wash and reuse them without requiring advance maintenance.

This professional chalk and wax paint brush features a thinner tip at the end that facilitates greater precision, perfect for trim, cabinets, walls, and more.

It also features a thick synthetic filament blend that easily picks up and holds paint to save time. Use it to achieve a premium finish on your trim or walls. With its versatility, you can use it to paint trims of different designs without compromising efficiency.

However, compared to other brushes, it features a rough handle, making it unsuitable for larger projects. In addition, besides causing exhaustion easily, the handle is made of inferior material that may limit its functionality.

Pros
Allows for maximum paint pickup
Compatible with all paints
Delivers a smooth finish
Con
---
Best Paint Brush for Trim and Baseboards Comparison Table
Education: How to Choose Paint Brushes for Baseboards and Trims
When shopping for paint brushes, you'll want to choose the right brush for trim or baseboards. No matter your skill level, there are some factors you should always consider when looking for the best paint brushes.
1. Size of the Brush
When choosing a size, consider the width of the trim or baseboard you're painting. You also want to select a brush the right size for the job.
A too-large brush can be hard to control and leave streaks, while a too-small brush may not cover the surface area effectively.
2. Bristle Material
The bristles on a paint brush also make a big difference. Natural bristles are typically made from horsehair and are good with oil-based paints. Synthetic bristles are made with nylon or polyester and work well with water-based paints.
3. Handle Design
The brush's handle is one of the main things you should consider. Choose a brush with a comfortable grip that will give you control while painting.
Professionals often prefer wooden handles, but wood can be expensive, whereas plastic or rubber handles are more affordable and easier to grip.
4. Brand and Where you Buy
Some of the best paint brushes come from Purdy, Wooster, Zibra, and Bates. These brands offer various brushes in different sizes and bristle types to suit any painting project.
You can buy them online at sites like Amazon or Home Depot. You can also buy brushes at brick-and-mortar hardware or home improvement stores.
If you want to go where the pros go, check out Sherwin Williams (they give free t-shirts to repeat customers).
The Best Brush for Painting Trim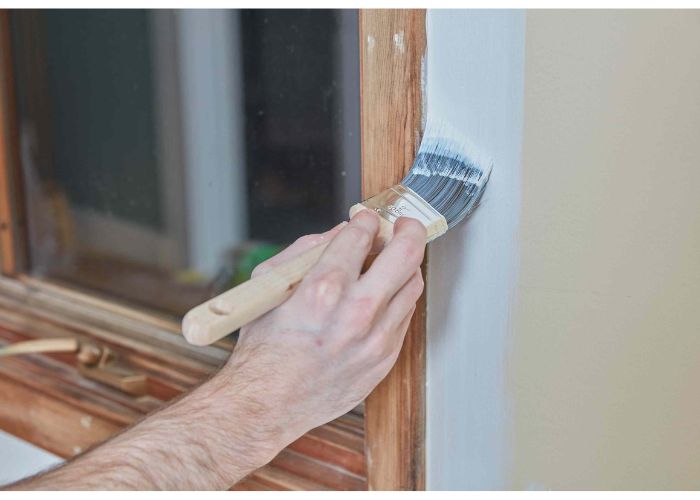 Consider the type of paint brushes you need. Also, think about the quality you need. High-quality brushes may cost more, but they are often more durable and last longer than cheaper brushes from off-brands.
Here are the Trim Paint Brush Types to consider;
Natural bristle brushes
I often use a natural bristle brush with varnishes, oil-based paints, latex paints, shellac, and polyurethane finishes. Natural hair has a few advantages over synthetic brushes. For one, the natural hair holds more paint.
Second, they last longer if you maintain them properly. Additionally, the frizzing at the end of the bristles, called flagging, helps the brush spread paint more evenly and precisely.
Another advantage is high-quality natural bristles shed less, so you won't have to worry about stray bristles messing up the paint job.
Blended nylon/polyester brushes
Nylon/polyester brushes are made from a blend of nylon and polyester, which makes them durable and helps them hold their shape.
They are commonly used for painting trim and baseboards because they are stiff and have a good point. Brushes made from this blend are also easier to clean.
Which One is Better: Painting Trim with Roller vs Brush?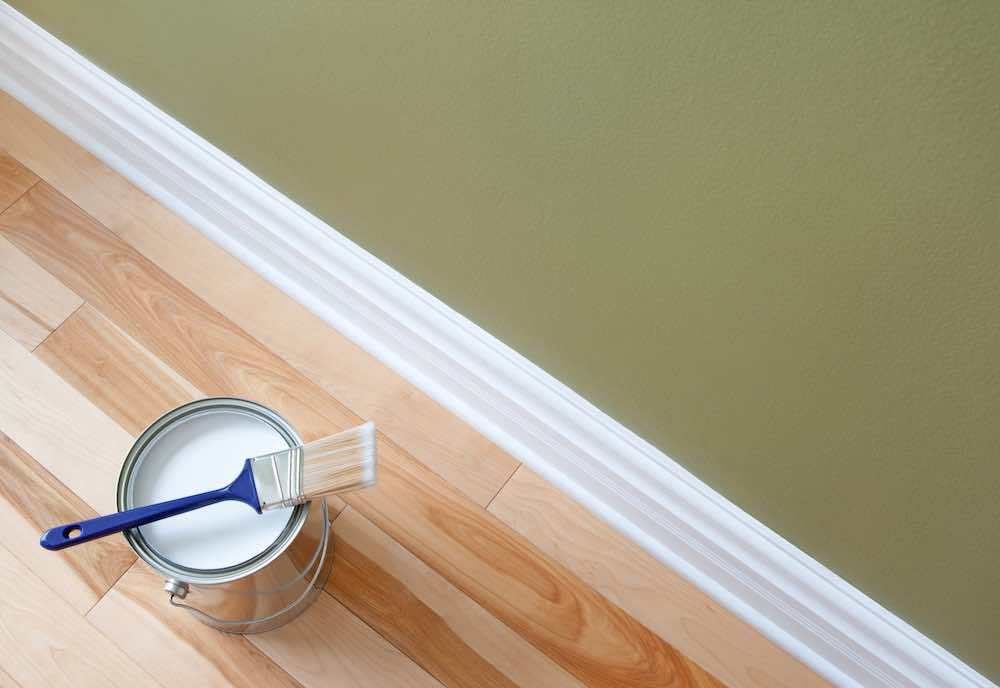 For large areas of wall space, a standard roller is a better option than a brush, as it allows you to cover large areas with less effort. Likewise, if you are painting a small space like a window sill, a small roller can help.
However, a brush is likely the better option for painting trim or other small spaces because you get more control, and you'll be able to get the paint into crevices and tight spaces.
You can combine the two by using the roller to get most of the surface area and grabbing a brush to finish.
How to Paint Trim and Baseboard Without Brush Marks
The key is to use a good-quality brush and avoid going over the same area multiple times, but this may take a little practice.
It takes skills to glide over the surface without leaving brush marks. However, if you take your time, you do not have to be a pro to get pro results.
Tool & Materials
Below is a list of essential tools and materials you may or may not need for your project.
Mask to avoid breathing in fumes.
Dropcloth to catch the paint.
Large 5 or 10-gallon bucket.
Paint scraper or sander to prep surfaces.
Dry cloth to wipe away debris.
Painters plastic or paper to cover the floor, windows, and any other areas you don't want to paint.
Painters tape
Wet cloth to wipe away stray paint.
Bucket of water to soak brushes.
Razor blades and screwdrivers.
Paint thinner.
Three things I can't do without are a radio, a Sherman Williams shirt, and a backward hat.
Step by Step Procedure
Prep the surface to make sure the surface is as smooth as possible, clean, and free of debris.
Start with a clean, dry brush.
Make sure to keep the brush wet enough. If it starts to dry out, dip it back into the paint.
Work in small sections, so the paint doesn't have a chance to dry on the brush.
Use a long, sweeping stroke and work your way outwards towards the edges. Try not to go over the same area more than once or twice.
If you are putting in new trim or baseboard, do your painting before installing it. Then, after it's in place, all you'll need to do is touch it up.
FAQs
Who makes the best paint brushes?
Purdy, Wooster, Bates, and Zibra are all trusted top-notch brands. Purdy brushes have the most comfortable grip and work well with any paint on any surface, and they are more precise and better built than the rest. Next up is WoosterWooster brushes feature flexible handles and hold more paint for a smoother finish on flat areas.
Zibra's brushes release paint much like Wooster's, but they aren't as durable. Bates is a newer brand known for low prices and great trim paint brushes. Most Bates brushes won't last as long as brushes from Purdy, Wooster, or Zibra, yet they are on par with all three.
What size brush should I use to paint trim?
The brush size you use for painting trim depends on the thickness and height of the trim. For thin trim, use a ½ inch or ¾ inch brush. For thicker and taller trim, 1-1 ½ inches is better. 3 or 4-inch brushes are good for standard-sized baseboards.
What is the best brush for painting baseboards?
The best brush for trim and baseboards is Wooster Shortcut Angle Sash because it does everything you need except roll. Typically you will use a few different brushes, but you can get perfect results with a single high-quality angled sash brush.
What paint brush to use for trim?
The Bates Trim brush is the best brush to paint trim. It has thick bristles and a comfortable long plastic handle, making it suitable for painting ceiling trim.
How do I get a smooth finish on my trim?
Prep the surface by making sure it's as smooth as possible. You may need to use a scraper, sand the surface, and wipe away dust and debris before you paint. Other than that, proper technique will be the main factor.
Read also: Best caulk for baseboards.
What Paint brush for baseboards?
The best brush to paint baseboards is a 2 or 2.5-inch angled brush. Typically, this is a perfect brush, although, in most cases, the size of the baseboards determine the paint brush to be used. A nylon or poly-nylon brush is better, specifically if you use latex paint.
What is the Best Trim Paint Brush?
The winner of this showdown is the Purdy Angular because it's a great all-purpose brush. I like an angled brush for everything because I can spread the paint any way I need to.
The Wooster Angled Sash brush is a close second. The handle is shorter, making it easier to cut in with a pencil grip. In real life, most paint projects require a combination of brushes.
When you need to touch up or get in a tight space, go with the Bates Interior Trim brush or the Wooster Ultra/Pro 1/2 inch.
Ultimately, the brush you like best will come down to how it feels in your hand and the desired results. So what are you waiting for? Get out there and start painting!