You've come to the right place if you're looking for the best paint for stairs. Whether in a lavish Colonial home or unsophisticated county cottage, Painted stairs add pizzazz to your living space and speak volumes about your personality and style.
Painting stairs is an excellent way of making a fantastic first impression. If you use antislip floor paints, it helps avoid trip and fall accidents.
We are DIY enthusiasts who spent hundreds of hours researching paint for stairs. We created this guide to help you choose the right paint for wooden stairs.
Our Top Picks
Best Stair Paint Reviews (Updated List)
Based on our research, here are the best stair paint options.
1.
Overall Best Anti-slip Paint

– INSL-X SU031009A-01 Sure Step Acrylic Anti-Slip Coating Paint
INSL-X SU031009A-01 Sure Step Acrylic Anti-Slip Coating...
Durable, skid resistant finish anti slip paint for interior or exterior application, excellent color retention, abrasion resistance, and resistance to ponding water.
High traffic slip resistant paint for concrete that's ideal for stairs, walkways, patios, and more.
Fast drying, durable, easy application that fills and seals cracks.
This is your product if you need to give your wooden stairs a fresh lick of antislip coating paint. This specialist floor paint is simple to apply, and you can use it on metallic stairs as well.
It is available in various colors. You'll be spoilt for choice! It's one of the best paint for stairs you can use on high traffic areas such as exterior stairs and keep accidents at bay.
It doubles as a wood filler as it seals cracks. During application, it dries fast, enabling you to finish your project quickly. Once this high traffic paint for stairs has dried, it'll provide the needed protection for years.
You do not have to be a pro to use this porch paint since it's effortless to apply. Just read the straightforward instructions on the label, follow them keenly, and you are good to go.
It has a rubber grit texture. In other words, the surface is rough when dry to prevent slipping when wet. Use it on old wood and your basement stairs to inject new life into them.
It is safe to say that this is among the best wood floor paint for high traffic areas. It won't peel away after some time as other paints do.
What We Liked Most
It works as advertised
It gives durable results
It is Skid and slip-resistant
It's fantastic for covering cracks
Easy to apply
Quick-drying
Available in multiple shades
What Could Be Improved
You've to mix the contents to ensure uniform dispersion of pigment thoroughly
---
2.
Best For Concrete Floor

– LL Skid Grip Anti-Slip Paint

Sale
FIXALL Skid Grip Anti-Slip Coating, 1 Gallon, Camel, Exceeds...
ANTI-SLIP FLOOR COATING: Provide your surfaces with an extremely durable, skid-resistant finish with FixALL Skid Grip Anti-Slip Coating.
IDEAL FOR SAFETY AREAS: Exceeding ADA standards for anti-slip surfaces, this anti-slip paint is perfect for traffic markings, sidewalks, curbs, crosswalks and other safety areas.
EFFECTIVE ON A VARIETY OF SURFACES: Skid Grip can be applied anywhere you need a non-slip coating. Use it on patios, pool decks, sports courts, driveways, steps and more. Fade-resistant colors remain bright for a long-lasting finish.
It's sad if you get hurt in the confines of your home because that's where you should feel safest.
The safest way to guarantee safety in your home or business premises is to use this antislip outdoor paint on high traffic areas such as stair railing, basement stairs, walkways, etc.
You'll walk around wooden stairs humming to your favorite tunes because you know LL Skip Grip Anti-slip Paint got your back.
Please note that you can not paint this coat over oil-based concrete paint. To ensure optimal adhesion, make sure the surfaces are free of dirt, grease, grime. Lightly sand your floor to achieve a nice dull finish.
Remember that the Skid Grip will adhere to the oil base coating, and the oil-based coating will adhere to the concrete. Ensure that the oil base sealant is in good condition and is appropriately adhered to the concrete floor.
This is a first coat paint, meaning one coat is all you need for professional results. You do not need two coats. Use this paint on exterior stairs and other surfaces, and you'll be satisfied with the results.
Just follow the stipulated instructions. Avoid working with the rain in the forecast to give the finished product a fighting chance if you use it on exterior wood stairs.
What We Liked Most
You can use it in different areas
One coat is all you need for pro results
It's effortless to use
It has excellent texture and uniform coverage
What Could Be Improved
You have to prep the surface extensively to get great results
---
3.

Best paint for stair treads

– RTG Deck, Porch, & Patio Anti-Slip Paint (Quart, Clear/Amber)
RTG Deck, Porch, & Patio Anti-Slip Paint (Quart,...
Fast-drying, textured paint provides an attractive finish & secure footing on exterior surfaces that become slippery when wet. Great for decks, porches, patios, stairs, ramps, and much more. Traction additive is not abrasive like other anti-slip coatings.
Easy to apply by brush or roller (1/4"-3/8" foam or nap roller cover for surfaces with a smoother texture; ½"-3/4" foam or nap roller covers for masonry with deeper texture).
Durable coating withstands heavy foot traffic and harsh weather without fading.
Painted stairs have a unique way of giving your home an edgy appeal, even if your home is a bit old. With RTG Deck, Porch, & Patio Anti-Slip Paint, you can quickly, easily, and affordably upgrade your stairs.
This high traffic paint for stairs revitalizes and safeguards floors, decks, ramps, and stairs made of encased concrete, masonry, or wood.
You only need a few coats to give metal surfaces, and other surfaces a fantastic aesthetic appeal.
It's one of the best poach paint you can use in your home improvement projects. You only need 1-3 coats to transform worn and weathered surfaces into a warm and welcoming glow.
On top of that, it is also nonslip—even when wet. And unlike other antislip paints, its unique traction additive is not abrasive, which is great for bare feet and sensitive paws.
This paint helps you ditch parking rugs and move the chairs and tables whenever you want. You do not have to go through the misery of trying to conceal surface imperfections.
This long-lasting water-based polyurethane coating withstands UV, intense rain, chilly snow, heavy high traffic, kids, pets, and everything thrown to it without peeling, flaking, or fading.
You can use it on your furniture and rearrange it as you wish because it won't scuff. The result will look so lovely and cozy that you'll be tempted to flip the welcome mat.
What We Liked Most
It's easy to use 
Works as marketed
It's ideal for multiple surfaces
What Could Be Improved
---
4.
B

est floor paint for stairs

– KILZ Interior/Exterior Enamel Porch & Patio Latex Floor Paint

Sale
KILZ Low-Lustre Enamel Porch & Patio Latex Floor Paint,...
PORCH & PATIO PAINT: KILZ Porch and Patio Floor Paint is a 100% acrylic latex product providing a durable, long-lasting finish that is ideal for both interior and exterior applications.
ADVANCED FORMULA: This Acrylic paint offers a low-lustre enamel surface that is formulated to endure on deck, porch, and patio siding and floors through variable weather conditions. This product will create a moisture resistant finish that resists scuffing, fading, cracking and peeling.
MULTIPLE USES: Ideal for porches, floors, decks, basements, patios, siding, trim, furniture and trellises. May be applied over properly prepared, previously-painted or primed surfaces. Not for use on areas subject to automotive tires. For residential applications only. CAUTION! Sealed surfaces may become slippery when wet. Use caution when walking on surface when moisture is present.
If you need low-maintenance paint on your basement stairs and other surfaces, this product could be a great match. KILZ Porch and Patio Floor Paint is a 100 percent acrylic latex product.
It offers a durable finish suitable for interior and exterior applications. The paint resists scuffing, mildew, and flaking. It is the best paint for baseboards, trims, porches, floor furniture, decks, patios, siding, trellises, etc.
It's available in silver-gray and slate gray. If you use it on your concrete patio, you will not struggle with slippage even when wet.
It'll go 'on easily on previously stained or painted concrete or a wood deck. Being a waterborne acrylic, it is very user-friendly.
The application is buttery smooth but a little bit sticky. Apply a with a brush or a roller. One coat does the trick, but you may need two coats for perfection. It dries quickly and is virtually odorless.
For superb results, apply at temperatures ranging from 50°F to 90°F. Temperatures above 90°F might cause the paint to dry faster than recommended, therefore significantly affecting the results you get.
Avoid painting under direct sunlight at all costs. Touch the surface to determine if it's time to apply the paint. Do not apply this coating if it feels too hot to the touch. Give the surface ample time to cool off before moving on with your project.
What We Liked Most
It goes on well
Easy to use
Nice colors
What Could Be Improved
You can't use rain in the forecast
---
5.

Best paint for interior wood stairs

– Minwax PolyShades Wood Stain + Polyurethane Finish
Minwax PolyShades Wood Stain + Polyurethane Finish –...
POLYSHADES WOOD STAIN – Minwax PolyShades is an oil-based wood stain and poly in one. It enhances wood grain by combining beautiful, rich color and long-lasting polyurethane protection in one easy step.
REDUCE FINISHING TIME – This one-step wood finish can be used over polyurethane finishes, so you can change the color of your wood surface without removing the existing finish. Use on bare or already-finished wood.
BEAUTIFUL RESULTS – This beautiful wood stain provides a rich finish with a satin sheen. It offers a classic, dark brown color that looks great on a variety of projects. Recommended uses: furniture, woodwork, doors, cabinets & accessories.
You know that time and tides wait for no man. If you are looking for a product that will save you hours of toiling, this is it.
Using this product saves you the agony of removing the old paint before applying the new one, thus allowing you to finish your project in a short time.
Polyshades wood stain is a two-in-one oil-based wood stain and polyurethane – no wonder it's the best paint for indoor stairs.
It brings out the natural beauty of wood grain by blending a gorgeous, rich color with durable polyurethane protection in a single step.
Use this oil-based paint on bare wood or finished wood. This oil-based polyurethane has a satin finish. It comes in a superior dark brown color that works well with various projects, including furniture, woodwork, doors, kitchen cabinets, and accessories.
Applying this paint to stairs is very easy. Just sand the wood lightly with fine-grit sandpaper, clean up the sanding dust, and apply PolyShades.
This wood stain and polyurethane finish combination allow you to transform your wood projects quickly and successfully. Remember that it's a tinted transparent polyurethane coat, not a stain.
Apply thin coats of paint. Allow it to completely dry before applying a second coat, sand lightly between coats. Work quickly and lightly brush the entire surface to even out a coat before allowing it to dry.
It's easy to clean up with mineral spirits. Please note that this product works well when used indoors. It comes in different colors, so it's easy to find the color of your dream.
The best application for this product is to alter the color of the finished wood without completely removing the old finish. It will darken a light color but will not lighten a dark color. Yellow-toned colors can lighten a dark wood finish.
What We Liked Most
Effortless to use
The best paint for interior stairs
It revives and transforms old furniture
It has nice gorgeous dark colors
What Could Be Improved
---
6.
Best Marine Grade Anti-slip Additive

– Rust-Oleum 207009 Marine Anti-Slip Additive 1/2-Pint, 4 Ounce

Sale
Rust-Oleum 207009 Marine Anti-Slip Additive 1/2-Pint, 4...
Creates a skid-resistant coating for wood, metal, fiberglass and concrete surfaces when mixed with latex or oil-based paints
Unique pumice material adds slight texture to any interior or exterior surface with a uniform coat
Maintains coverage of applied paint and remains active for lifetime of the coating
It's always good to be one step ahead and avoid all manner of accidents wherever and whenever you can.
If you mix this product with latex or oil-based paints, it creates a dependable skid-resistant finish that will keep you safe even when you walk on wet surfaces.
It's ideal for making nonslip surfaces on indoor and outdoor floors such as decks, stair runners, ramps, ladders, etc. Mix exhaustively into the paint until you achieve a uniform, consistent mixture for perfect application.
Stir frequently to stop the mixture from settling. The beauty of this antislip paint additive is that it does not change the performance or the color and properties of paint.
If you paint an area with lots of foot traffic and are concerned about slipping on the wet surface, this product will solve the problem. Just mix it with one quart of paint, and you'll be satisfied.
It may be noticeable, but that's a non-issue. Although you can feel it when walking barefoot on it, it is not unpleasant. The product works as advertised. Simply follow the instructions to the latter.
Sprinkle it on the floor of your boat after a new coat of paint, and it'll create an exceptional grit. Because it may be challenging to work with if you use it directly, sprinkle it on the floor with a mason jar that has holes poked in the lid.
What We Liked Most
It's easy to mix
It doesn't affect the performance or color of the paint
It's durable
What Could Be Improved
Pricey but worth every penny
---
7.
Best heavy duty paint for stairs

– Rust-Oleum 365931 Floor Coating Base Coat Navy Quart
Rust-Oleum 365931 Floor Coating Base Coat Navy Quart
Home base coat requires the use of Rust-Oleum home top coat in a semi-gloss or matte finish (Sold separately)
For interior use on any bare, stained, sealed or previously coated surfaces such as ceramic tile, porcelain tile, concrete, hard wood, laminate, vinyl and linoleum
Water-Based formula that requires no stripping, sanding or priming
Nowadays, there are many paint types, so it's easy to feel overwhelmed. However, if you are looking for water-based paint with fantastic colors, this is your product. It's easy to use as you do not have to be an expert to use it effectively.
For best results, thoroughly clean the flat surfaces before applying the paint and let them dry completely. Two coats are all you need to get professional results like other paints.
It's such a tremendous water-based paint suitable for wood stairs and concrete. The paint is durable and rolls on just like a charm. Make sure you buy a base layer ( primer) because it pays to get it right the first time.
Also, have a clear durable clear coat sealant for perfect results. The paint goes on easy, even on a vertical foundation, and dries quickly.
If you feel it's time to breathe a new life to old and unfinished floors, use this product, and you will be delighted with the choice.
It gives the surfaces a durable satin finish that weather and scratching. Nonetheless, if you are looking for the paint you can use on your car park or garage door, look for another option.
What We Liked Most
What Could Be Improved
You've to wait for seven days before using it if it receives heavy traffic
---
8.
Best Commercial Grade Anti-slip Paints

– SlipDoctors Tuff Grip (Medium Gray, Gallon) Commercial-Grade Non-Slip Urethane Coating
Tuff Grip Non-Skid Paint for Ramps, Floors, Decks & Stairs...
Tuff Grip is a high-performance non-skid paint coating specifically designed to provide an aggressive and highly textured non-slip finish on a variety of surface types including concrete, painted concrete, wood, fiberglass, tile floors, aluminum or diamond plate metal
Tuff Grip is ideal for use on slippery loading ramps, walkways, warehouse floors, machine-operating areas, factory floors, truck bed liners, equipment beds and other surfaces where a high-traction non-skid paint coating is needed. Ideal for virtually any indoor or outdoor area
Tuff Grip is a highly textured industrial paint finish that gives the extra traction needed for indoor or outdoor commercial or industrial areas. One gallon covers 75-100 sq ft per coat, depending on porosity of the surface
This paint could be a perfect option if you've searched far and wide for the paint to use around your hot tub and other high-traffic areas to avoid slipping with wet feet.
This product is an anti-skid and non slip coating that prevents you from slipping on wet surfaces or equipment. It's available in ten colors, so it's easy to pick a color that can go with the surrounding areas.
The good news is that you do not have to spend on a roller since each gallon comes with a nine-inch textured roller. The product dries quickly and offers commercial-grade traction.
Use it when the weather is warmer for best results. Follow the provided instructions to the latter, and you'll be happy with the results. It has a subtle sheen to it in the sun.
The product withstands rain and UV rays as claimed. You may have used the same paint for your home improvement projects for a while due to fear of being disappointed with other paints.
We guarantee that this product won't let you down in any way. It's such a magnificent patio floor paint you can afford, even if you are low on cash.
What We Liked Most
Easy to apply
Works as advertised
Great coverage
What Could Be Improved
Because it's affordable, some people may dismiss it
---
Best Paint for Stairs Comparison Table
How to Choose the Best Paint for Wood Steps
Before spending a penny on paint for stairs, Getting a few things right is advisable. It isn't charming to spend money on paint only to discover that you can't use it for various reasons.
Keep an idea out on the following factors to help pick the best paint for stairs.
Color
Don't just settle on any color when selecting floor paints. The colors you use help set the mood for the entire house.
Bright colors such as white paint can put you in happier moods, while dark colors such as black paint for furniture, can darken the mood for some individuals.
You can darken or lighten the existing color on your wood stairs by using water-based polyurethane. Keep in mind that you'll need a polyurethane-based primer for them to work correctly.
Luckily, suppose you can't find the right hue. In that case, some paint manufacturers enable you to create custom shades by blending their existing line of colors.
Antislip & Antiskid
If you need to enhance the grip of wood stairs regardless of the condition, ant-slip or anti-skid paint is the go-to option. Antislip or anti-skid colors are not available in many colors.
If you can't find antislip paint in your favorite color, buy an antislip additive and add it to the paint following the given instructions.
Material
Different paint types exist today, and you pick one based on your need and preferences. Some paints produce fumes and unpleasant smells when used.
To be safe, go for low odor formulas and always wear protective gear such as goggles, gloves, and an apron. Remember to work in well-ventilated environments.
Drying Time
Before purchasing paint, consider its drying time. Drying time determines the speed of your project.
Quick-drying times allow you to complete projects fast and focus on other things. Slow drying time means you'll take a while before finishing your project.
What Kind Of Paint Do You Use On Interior & Exterior Stairs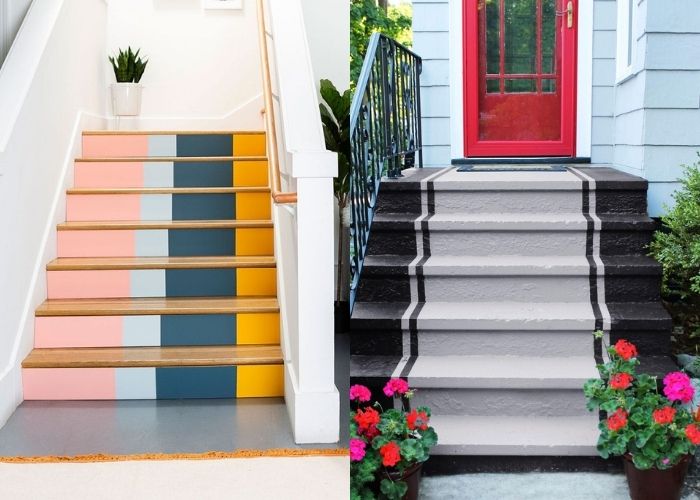 A newly painted staircase makes a big difference, especially in corridors where first impressions are everything.
You will require a fresh coat of paint after every few years, based on how well they are cared for to minimize potential wear and tear. But can you use outdoor paint inside since they are both stairs?
Let us look at some paint types you can use on exterior or interior stairs.
Latex-Based Anti-Slip Coating Paint
Latex paint comes in different colors and is environmentally friendly. When it comes to waterproofing your stairs or furniture, latex-based anti-slip paint is one of the most dependable go-to options.
Oil-based and chemical-based paints are less popular than water-based paints because they are notorious for emitting unpleasant odors and polluting the environment.
The drying time of this particular paint is one of the characteristics that distinguish it from other paints. The sooner your paint dries, the less likely your stairway will be damaged.
Latex-based paint offers excellent resistance to wear and tear as well as water. Because latex paint dries quickly, it can be used on both interior and exterior stairs.
Semi-gloss Paints
Semi-gloss PaintPaint is ideal for rooms where moisture, grease stains, and drips are common, such as in the bathroom or kitchen.
Its high gloss finish is durable paint that can be easily washed clean of any inadequacies, making it an excellent choice for stairs.
It's also a popular finish for home fixings like headboards, stairs, cabinetry, and wood paneling because the sheen makes these architectural features stand out.
Eggshell Paint
An eggshell paint finish is remarkably simple to maintain. Another advantage of using this paint is that it is extremely durable. An eggshell paint finish forms a barrier protection outer surface all over itself as it dries.
Because of its soft sheen and glimmer, an eggshell finish will make your stairs more attractive. It has a bit of sparkle and reflectiveness to it making your stairs have a glamorous finish to them.
The eggshell paint finish is simply a compromise between pigment and strength. It provides durability without making your stairs appear bland and dull.
Porch and Floor Paint
Patio Floor Paint will do the job of repainting the exterior stairs or patio. It comes in two colors (silver and gray). It's a long-lasting paint that does not fade, crack, peel or scuff.
The mildew resistance is responsible for the thin shiny film that appears after it dries. If you can't get liquid from one place to another without leaking, this paint is for you because it does not drip.
The PaintPaint sets firmly, which may shrink slightly as it dries. As a result, you may need to cover it up in some areas, such as over screws and nails, to ensure that everything is even.
Satin Paint
While you may use any wood paint on your stairs, those intended for floor surfaces are the best because they are more long-lasting. Satin paints are more resistant to moisture than eggshell paints.
It can be used on both interior and exterior stairs. It gives off a soft glow that adds a dimension to stairs. It lasts longer than an eggshell finish. It is simple to clean and hides flaws better than a high-gloss paint finish.
How to Paint Stairs
Here's a step-by-step on how to paint wooden stairs.
Supplies for painting stairs
Dust sheets
Painter's tape
Filler knife
Paintbrush
Sandpaper
Wood filler
Primer/undercoat
Floor paint.
Step 1: Keep an Eye out for Nails
Cover any surroundings with dust sheets before you begin painting stairs. If you are going to paint your stairway for the very first time and originally had carpet, look for tiny pins or staples and get them off the stairs.
Use a paint scraper to remove loose paint and sweep the surface. Sweep or vacuum the stairs to remove dust.
Step 2: Sand the Stairs Thoroughly
For best results, sand down the stairway. The stringers are usually already painted. If this is the scenario, depending on the condition of the stairs, you can sand them with moderate to fine sandpaper. A 120 grit sandpaper will do a perfect job.
If the steps, treads, and risers are not painted, sand with eighty grit sandpaper. Use an electric hand sander to speed up and simplify the job.
Clean the surface to remove sanding dust.
Step 3: Fill The Holes
Now, look for any holes or areas that need to be filled, and fill them with a high-quality wood filler. Small holes between the risers and treads are common on old stairs. Fill in the gaps to complete the look.
Once the filler has dried, use fine-grit sandpaper 180-220 to smooth out the stairs. Check the sanded places with your fingers to see if they are smooth enough. If not, lightly sand again.
Step 4: Make Sure the Stairs are Debris are Dust Free
Use warm water, a clean lint-free cloth, and a mild cleaning detergent to clean any debris and dust. Let the stairs dry for twenty-four hours.
Step 5: Apply Primer
Apply a Kilz primer or any ofyour choice to the risers and treads. Using a two-inch paintbrush, begin at the top and work downwards. Paint the front edge of your tread, then the riser's edges, and finally the tread below that.
To finish the tread and riser, use uniform brushstrokes from one side to the other. Continue down to the rest of the stairwell. Once the primer has dried, lightly sand with 320 grit sandpaper.
Next, do you have to paint over Kilz primer?
Step 6: Apply Undercoat
Apply an undercoat. Begin at the top of the stairs, painting the sides first. Apply thin coats to avoid overloading the brush. Begin at the top of the edges and work your way down. Apply two or three steps at a time.
Then, as previously mentioned, return to paint the treads and risers. Repeat this process until you're done. Allow the paint to dry before rubbing it down and cleaning it.
Step 7: Apply the best paint for wood stairs
The ultimate coat will be the floor paint of your choice. Apply it in the same manner as you did the undercoat. To achieve a smoother finish, use a paint roller on the risers and treads.
Ideally, you should leave the paint alone for 24 hours to allow it to dry completely. However, if this is impossible, leave for as long as necessary, or at least for as long as the paint manufacturer recommends.
Related Post: How to paint cracks between deck boards.
FAQs
Do you need special paint to paint stairs?
Yes, you need a unique anti or antislip paint suitable for stairs. Nevertheless, if you intend to use latex paint, coat it with a few coats of water-based polyurethane to enhance its longevity. Consider adding the antislip additive to it to improve grip.
What kind of paint do you use on stairs?
If you want to paint stairs:
Use antislip or anti-skid paint to avoid possible accidents if a person trips and falls when walking on wet surfaces.
For spindles and risers, go for white semi-gloss with a primer.
For painting stair treads, use a porch and floor paint.
Do painted stairs hold up?
Yes. Painted stairs stay beautiful and safe even when wet for a considerable time. It's affordable to paint stairs and you can customize the appearance of the stairs to match your personality and style. paint hold on to surfaces even if they get a lot of foot traffic.
What is the best paint to paint stairs?
Antislip semi-gloss finishes are the top most globally used type of stair paint. Semi-gloss paints have a more tougher finish and are easier to wash than a glossy finish or matte finish.
Do you need to prime stairs before painting?
Yes, you need to do so because stairs are a high traffic surface. Primers help smooth out wood flaws and prevent stains. Primer also enhances paint adhesion, and you can tint the primer to match the final product's appearance.
What is the best paint to use on wooden stairs?
Durable antislip floor paint is best for wood steps and flat surfaces. There are a couple of affordable but effective floor paints you can use on wooden stairs to avoid slip and fall accidents.
Read Also: Best paint for outdoor bench.
How do you protect painted wooden stairs?
Water-based or oil-based polyurethane is the best way to protect painted stairs or stained surfaces. Polyurethane makes cleaning the painted surfaces such a breeze, helping you keep the stairs clean all the time.
How long stay off painted stairs?
It largely depends on the floor paint you're using, but the rule of thumb is to wait for the stairs to dry completely. Wait for twenty hours before stepping on them.
How do you paint old wooden stairs?
Remove nails and staples, scrape off old paint and sweep the stairs. Sand and fill holes with a wood filler. Remove dust and debris, apply a primer, then an undercoat of your choice, and finally apply a clear top coat.
What is the best type of paint for stairs risers?
The best type of paint for stairs risers is semi-gloss or satin paints. These finishes are more durable than matte or flat finishes, so they'll be able to withstand the wear and tear of foot traffic better However, they can be dangerous if you use them on stair treads. If you can, go for floor paint because they don't slip and are also durable.
Can you paint stair treads?
Yes, you can definitely paint stair treads! In fact, it's a great way to add some personality and color to your home. Make sure that you use paint specifically designed for stair treads, as regular paint could leave you with slippery wooden stairs. Also, be sure to avoid getting paint on the risers as it can be dangerous.
Read also: How to make wooden stairs less slippery.
Can you paint wood stairs?
Yes, you can paint wood stairs. The main thing to remember is to get good paint that is designed for use on staircases to achieve the best result. Another element to keep in mind when painting stairs is that, they tend to be high traffic areas, so you'll need paint that can withstand wear and tear.
What is the average cost to remodel a staircase?
The stair remodel cost can vary quite a bit, depending on the size and style of staircase you have, but expect to spend somewhere between $1,000 and $2,000 on average. Of course, if you want to go all out with a custom design or materials, the costs could be significantly higher. But even making just a few simple changes can really give your staircase an updated look.
Best Stair Paint Summary
Painting stairs is one of the best ways to create a great first impression on anyone who visits your home. Use antislip paint on your wooden stairs and flat surfaces to avoid trip and fall accidents.
The best color for stairs should enhance grip on wet surfaces and protect surfaces from deterioration. Our top-pick paint for stairs is INSL-X SU031009A-01 Acrylic Anti-Slip Paint.
It performs as expected, is durable, works as claimed, is excellent for filling cracks, is Simple to use, quick-drying, and is available in different colors.
Now that you know the best floor paint for painting stairs grab it and give the wooden stairs a new lick of paint. Also, take a moment to explore our informative article on the best polyurethane finish for staircases for further insights into enhancing their durability and appearance.