When you think you know all the ways to make beautiful projects out of wood, a new one comes along.
Wood painting has been around for ages, but it was a skill that only a select few could master until recently, thanks to paint pens.
Now, you can create amazing artwork for your kitchen, restaurant, office, or anywhere else, really, using the best paint pens for wood. And yes, we only recommend the best because not all pens work great on nature's canvas.
Before we get to our list, it is worth understanding how paint pens work.
Our Top Picks
What Are Paint Pens for Wood?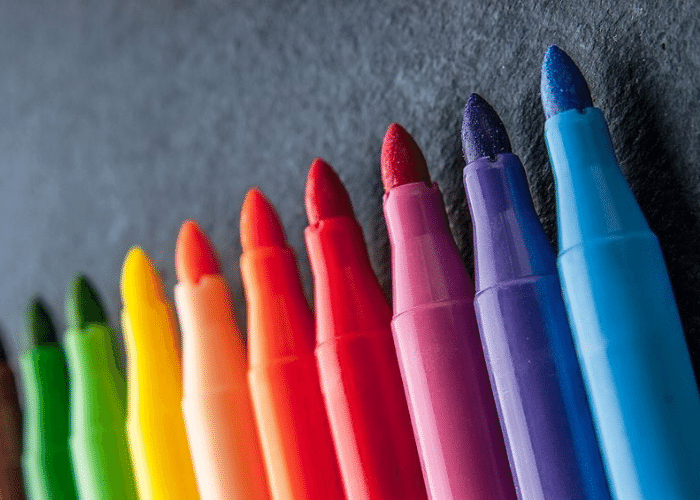 Paint pens or paint markers for wood are exactly as they sound – they are instruments for writing on wood.
Before this, if you wanted to paint on wood, you had to use a fine-tip brush, and this was a very demanding skill.
Now, with a paint pen, you can write or draw effortlessly on wood just as you can on its byproduct: paper.
They work like markers but are filled with a similar type of paint you would find in a can. You activate or release the paint by pushing down the tip of the paint marker.
As the paint drips out, you can begin to write, draw or paint as you would with any other writing tool, but this is way cooler.
It is worth noting that paint pens were not made solely for wood. Instead, paint markers are available for people to draw on glass, rocks, walls, and, just by the way, wood.
As such, only some paint pens will work on wood.
That is why we have narrowed down the list to just a dozen of the best paint markers for wood. These will work great on almost any wooden surfaces that don't have a topcoat.
Why Do You Need a Special Pen for Wood?
Wood is one of the most dynamic materials in nature, which is why it is a popular option for arts and crafts as well as construction.
While cutting, gluing, or carving wood into gorgeous designs is relatively easy, using it as a canvas isn't.
Even when sanded, wood isn't perfectly smooth. The wood grain makes it difficult to achieve clear details with a pencil or crayon. If you're trying to add color to wood, your best bet is to use paint.
However, a paintbrush is not a precise tool, and it can take a lot of effort to master. Fortunately, you don't have that problem with paint markers for wood.
Even children that are familiar with markers, pens, or pencils can create stunning wood signs using a paint pen marker.
12 Best Paint Pens for Wood Reviews
1.
Best Premium Paint Markers

– Posca Full Set of 29 Acrylic Paint Pens
29 Posca Paint Markers, 5M Medium Posca Markers with...
Reversible Tips – Reversible bullet tips allow Posca markers to last twice as long as other markers; To reveal the other side of the tips, simply pull the bullet nib out to reveal one of two sides, from 1.8mm to 2.5mm
Safety First – Posca markers are non-toxic, which means our pigment formula does NOT contain alcohol like other markers, each Posca marker is water-based which means it's alcohol-free, waterproof, and still lightfast.
Crazy Versatile – Posca paint markers have been professionally tested and used on over 50 different surface types, which means you're covered whether you're using a canvas, fabric, acrylic, metal, surfboard, rocks, windshields, or anything else
We start this list with a brand that is renowned for its paint consistency, quality, and versatility. Uni Posca acrylic paint pens are beautiful markers that set the bar for others to follow.
These paint pens are made for drawing, coloring, calligraphy, painting, and sketching. There are different packs of this Japanese brand of markers, but this set of 29 is perfect for both craft enthusiasts and professionals.
What we love about the Uni Posca paint markers, besides the wide range of colors, is that they are environmentally friendly and kid-safe. Unlike many other options, these pens are alcohol-free, waterproof, and non-toxic.
These water-based paint pens deliver vivid colors on up to 50 different surfaces, making them one of the most versatile on the market.
Not only that, but they have reversible tips – one is 1.8mm while the other is 2.5mm. This gives you greater range and control when drawing.
While there is a lot to rave about, there are a few things to be mindful of. There have been a few quality control issues, so some people have noticed that a few markers didn't work as they should have.
You can use these paint pens on fabric, so be careful to not let them touch your clothes as you work. An apron will work just fine.
Pros
It works on many surfaces
It is non-toxic and child-safe
Great range of colors
It has a reversible tip
Cons
Some markers may not work as they should
You need to work fast because it dries quickly
---
2.
Best for Children's Crafts

– Trandpter Acrylic Paint Markers

If you do a lot of arts and crafts with children, you're going to love this. Beyond rock painting, Trandpter Paint Pens are some of the most gorgeous paint markers for wood projects.

This set has 24 colors, and it can be used on various surfaces from rock to wood, and it is built to last.

As the name says, these are water-based acrylic paints, so they have low odor and are safe for kids. However, this is highly-pigmented ink, so it will stay on clothes and other materials and stay on, which is technically what it's supposed to do.

After application, you'll be pleased with the color. Even more so, the paint pen is waterproof and sunproof.

One thing that stands out is you rarely have a situation where the paint runs, which, ironically, is common with more expensive paint pens.

This product was made with kids in mind, so it has a fine tip and may be smaller than you'd expect if you're used to adult sizes.

Another great feature is you can apply a sealer on this paint to ensure your artwork stays preserved forever.

Pros
Easy to use
Child-friendly
It comes in 24 colors
Very versatile
Cons
The marker is a bit smaller than adult sizes
The color isn't very deep
---
3.
Best Premium Oil-based Paint Pens

– Sharpie Oil-Based Paint Markers

Sale
SHARPIE Oil-Based Paint Markers, Medium Point, Assorted...
Colorful ink is perfect for rock painting, creating scrapbooks, posters and window art
Quick drying oil based ink resists fading, smearing and water
High contrast colors create opaque and glossy marks that stand out on dark, light and reflective surfaces
No list would be complete without a Sharpie because, after all, they are the most famous marker brand for a reason.
Unlike many of its competitors, this is an oil-based paint pen, but it dries almost as quickly as water-based pens.
The advantage of oil-based pens is evident in these paint markers for wood in that the color is opaque and glossy on almost any surface. This makes it perfect for drawing, painting, and writing lines on wood.
What's even more remarkable is that you can even write on some wooden surfaces that have a topcoat! Unlike most water-based paint pens, you can use this to write on plastic, including plastic topcoats.
But of course, it is better to paint on wood first and then apply the topcoat. Nevertheless, the paint in these pens is fade-resistant, abrasion-resistant, and water-resistant, so they'll last even without a seal.
The only downside about this set of paint pens is that you only get eight colors. However, you can mix colors together to create an almost unlimited range of hues.
You can use the combinations on dark, light, and reflective surfaces and it will still appear glossy.
Even though this has a mild odor, it is still safe for children under supervision.
Pros
Fade and abrasion resistant
It works on any surface
It applies glossy on dark, light, and reflective surfaces
It dries quickly
Cons
It has a mild odor
Limited color options
---
4.
Best Value Oil-Based Paint markers

– PaintMark Quick-Dry Paint Pens
PaintMark Quick-Dry Paint Pens - Write On Anything! Rock,...
SUPER VERSATILE PAINT MARKERS for a wide range of uses. Perfect for arts and craft projects, industrial use or marking tools, parts and other industrial applications.
WORKS ON ANY SURFACE! Our permanent paint brush markers work on ANY SURFACE, allowing you to effortlessly write on ceramics, wood, canvas, stone, glass and more!
PREMIUM NO-FADE PAINT PENS: PaintMark's premium-quality, oil-based permanent marker ink resists fading, smearing, physical wear, and water.
The next product is another reason why you should never judge a book by its cover. PaintMark Paint Markers for wood have a very basic design that, frankly, looks a little lackluster.
But then, many people buy them because they are budget-friendly and are blown away by their performance.
This is an oil-based paint pen, and it ticks all of the right boxes. You can use this on wood and many other surfaces, and it appears opaque, so you don't have to keep going over the lines to make them darker.
It also dries quickly, and once it does, it is smear-proof, weather resistant, and does not fade, just like a regular marker.
In the box, you'll find fifteen paint colors, including four metallic paint pens. This makes this set perfect for a wide range of uses, from professional artistry to DIY crafts.
One of the things you'll also enjoy about this paint marker is that it is easy to get the paint out, and it doesn't dry quickly, unlike more expensive brands.
If you're unfamiliar with paint pens, you may be slightly put off by the fact that you need to paint on the tip and not the side like a regular marker. Nevertheless, it will take a minor adjustment to get used to it.
Pros
Fade-resistant
Weatherproof
It also has metallic colors
Looks great on different surfaces
Cons
Only one tip size
Metallic colors aren't waterproof
---
5.
Best for Detail Work

– Artistro Multi Surface Paint Pens
ARTISTRO Paint Pens for Rock Painting, Stone, Ceramic,...
HIGH QUALITY: Artistro acrylic paint pens are made with water-based Italian ink. These paint markers flow without flooding or jamming. The paint pens are super long-lasting, and the fabric paint pens come in 12 colors.
EXTRA FINE TIP: The 0.7mm tip on each paint pen is perfect for adding labels and highlighting. The acrylic paint markers are equipped with Japanese nylon nibs. Use your Japanese paint markers for drawing, fine line work, and detailed DIY projects.
MULTI-PURPOSE: Use paint markers for canvas, paint pens for wood, or paint markers for plastic. Even use the acrylic marker as a tire tread paint marker! These paint pens for canvas are good on almost any surface! Draw on rocks, metal, pottery, card stock, clay, vinyl, and more!
In a crowded paint pens market, Artistro Paint Pens has been able to carve out a niche for itself. Their gamble has led them to be the best-selling brand on amazon, and that says a lot, given the competition from Posca and Sharpie.
We could say that the Artistro paint pens are popular because they contain water-based ink, but that isn't unique.
They also have a wide range of colors that look glossy and great on light and dark surfaces, but that still isn't the reason.
What they have done is make pens with two distinct tips. The first is the extra fine tip that looks like a cross between a traditional marker and a pen. As a result, these are the best pens for detail work.
The second tip they offer is a brush tip. This works almost like a traditional paintbrush but is smaller, finer, and easy to use, even for beginners.
To top it off, these acrylic paint pens have no odor and are non-toxic. They conform to ASTM d-4236 and EN-71 safety standards, which makes them very safe for children.
If we had to nitpick, the only limit to these fabulous paint markers for wood is that you can't blend colors as well as you can with regular paint.
Pros
Non-toxic and no odor
Paints glossy on light and dark surfaces
Perfect for different styles of painting, including calligraphy
Excellent value for money
Con
You may need more color options
---
6.
Best Metallic Paint Markers

– Morfone Metallic Marker Pens

The problem with most paint markers for wood is that the color can look a bit dull and listless. That is why you often need to add glitter or rhinestones to arts and crafts to make them look shiny.

But when you use Morfone metallic marker pens, you don't have to do any of that.

These medium-tip paint pens come in a beautiful array, including gold, black, silver, and white, creating the perfect blend for your next project.

The water-based ink dries opaque and looks stunning on signposts, blackboards, and paper.

You will enjoy using these with kids because they are non-toxic, acid-free, and have no odor. One of the best things about the metallic marker pens is that they come with a 12-month product guarantee.

If during that time you are displeased with the quality of the paint marker pens, you can get a free replacement.

While there is plenty to love about metallic marker pens, they do not always work as they should on wood, particularly the lighter shades. The white paint pen might require a bit of patience before you get the desired look.

That said, the paint pens are easy to use and are excellent value for money.

Pros
Dry quickly and glossy
No odor and acid-free
Works on different surfaces
Excellent value
Con
Lighter colors don't show as well on wood
---
7.
Best for Art Students/Semi-Pros

– Tooli Art Essential Acrylic Paint Markers
Acrylic Paint Pens Assorted Vibrant Markers for Rock...
✅IMPROVED FEATURES – We've improved this set in many ways! The caps are numbered according to their colors and there is a window that tells you the level of the ink so you know how much you have left. The fade-resistant ink dries quickly and works great on dark and light surfaces. The paint is also lightfast so that you can leave it outdoors in the sun without worrying about them fading.
✅FABULOUS COLORS – You get premium acrylic markers that are beautiful and vibrant. Included are extra nibs for your convenience. We've selected the absolute best colors ranging from the vivid primary and secondary colors to several mid tones, metallics, along with some lighter pastel colors that are sure to work wonderfully on almost any art projects!
✅INSPIRING CREATIVITY – The creative possibilities are endless because the pens work on most surfaces such as stone, glass, wood, metal, fabric, porcelain, canvas, plastic, paper, cardboard, pottery, etc. The highly pigmented paint gives you superb coverage on almost any surface. You'll especially love how opaque the white is compared to other name brands! Ideal for artists, students, professionals, teenagers, adults.
The most fascinating thing about this next paint marker set is that the makers have thought about everything. Tooli Art Essential Acrylic Paint Pens have covered everything you would want and more.
Let's begin with the colors. You get 30 vivid colors that include white, dark, metallic pens, mid-tones, primary, tertiary, and secondary colors.
You can use these on most surfaces, and the color remains opaque, including white. Plus, you can paint on light and dark surfaces.
The next thing to admire about these paint pens is the design. Each one has an ink-level window, so you know when it's time to replace it. The covers are also numbered, so you don't mix them up, and the nibs are replaceable.
Tooli paint markers for wood are lightfast and fade-resistant, which makes them perfect for outdoor use just as well as indoor.
As for the users, anyone from kindergarteners to professionals will enjoy these because they are non-toxic and comply with safety standards. But is it safe to put acrylic paint on your face, as is expected of the kids? Find out for clarity purposes.
Even though these paint pens are incredible, mistakes can happen in production. If that occurs, the seller will replace any faulty paint pen free of charge.
These paint pens are so good we couldn't find anything meaningful to complain about.
Pros
Great range of colors
Lightfast and fade-resistant
Acid-free, non-toxic and kid-safe
The white is very opaque
Cons
---
8.
Best White Paint Pens

– Tzarrot White Paint Pen
White Paint Pen, 8 Pack 0.7mm Acrylic Paint Pens with 2...
【4 Classic Colors with Premium Quality】8 pack a set with 2 white, 2 black, 2 gold, 2 silver acrylic paint pens marker. Made with high quality Japanese acrylic paint pigment: ● Bright Color ● Well Coverage ● Waterproof and Permanent ● Water Based ● Quickly Dry ● No Mess. Ideal for artists, students, teachers, professionals, teenagers, adults.
【Extra Fine Point Tip, Great for Details】0.7mm extra fine tip can be precise controlled, the fine & smooth and durable tip is great for your detail DIY projects.
【Multi-Surface Using】 TZARROT water based acrylic paint markers are suit for a variety of surfaces, such as rock, fabric, wood, stone, leather, metal, ceramics, paper, glass, plastic and more.
If you have used paint pen sets before, you know how frustrating it is when the white isn't really white, applies transparent, or doesn't dry opaque. That is why Tzarrot came up with the game-changing White Paint Pen set.
It comes in only four colors – white, silver, black, and gold. The water-based ink is made from high-quality Japanese pigment, similar to what you'll find in Posca, and it creates great designs on a wide range of materials, including wood, metal, rock, and fabric.
This acrylic paint marker is waterproof, quick-drying, non-toxic, and safe for children. Professionals will enjoy using the fine tip for simple and complex designs, and yes, you can layer the colors to create more dynamic designs.
The design of the marker makes it easy to hold when doing detail work. The ink is fast-drying and looks great on light and dark surfaces.
One thing buyers will love is their exceptional customer service. The makers will replace or refund you if you're not happy with the paint pen. Given the thousands of positive reviews, you probably won't need it.
While the paint pens are impressive, we would have preferred it if the second paint marker had a different tip.
Pros
The white is glossy
No odor, non-toxic
Permanent paint marker
Great customer service
Con
It only comes with extra fine tips
---
9.
Best for Artists

– PINTAR Oil Based Paint Pens
PINTAR Oil Based Paint Pens - Oil Paint Markers - Paint Pens...
The Smoothest Oil Based Paint Markers You'll Own: Enjoy high quality ink flow with our set of 24 oil paint pens. Pintar's oil paint marker set includes a wide variety of richly colored permanent markers loved by pros!
Designed for Completion: Outline, fill, and more with our premium pen set. Each quick dry markers set includes 20 x 5 mm medium tip Japanese ink pens and 4 x 1 mm fine tip waterproof pens. Have clear colors in just one coat with this paint marker's fine tip.
Design Just About Anything: Our oil based permanent marker works as porcelain paint marker pens, rock painting markers for kids, fabric paint pens, ceramic permanent markers, and wood markers for crafts. Make DIY coasters, scrapbooks, and custom mugs with our fade resistant pens!
While most paint markers are made with a wide audience in mind, very few companies risk it all by having a narrower focus. In the case of Pintar paint marker collection, their gamble paid off.
These oil-based markers are designed by artists for artists. Sure, anyone can use them, including children, as these are free of toxins, but they were made for people looking for the highest quality paint pens.
As a result, the paint is highly pigmented, which gives striking color on a host of surfaces. The body of the markers also has an ergonomic design, which allows the user to hold them for hours without feeling uncomfortable.
Another indicator that these paint pens are for artists is in the tip selection. The pack of 24 pens has 20 with medium tips and 4 with fine tips. This will allow you to draw outlines and paint with incredible precision.
As you would expect from Japanese ink, these paint markers are fade resistant and dry fairly quickly for oil-based pens. It is also waterproof, so you can use them for outdoor work.
While most buyers are pleased with these pens, there have been a few quality control issues regarding dried pens and colors not looking as advertised. However, these are common with all paint pen brands.
Pros
The paint is permanent
It has two tip options
Decent range of colors
Made for artists
Cons
Quality control problems
The metallic colors have a strong smell
---
10.
Best Acrylic Paint Markers for DIY

– Nawod Premium Acrylic Paint Marker Pens

Sale
35 Premium Acrylic Paint Marker Pens, Double Pack of Both...
DOUBLE PACK -- Each package includes both 20 extra fine tip acrylic paint pens and 15 medium tip acrylic paint pens for both detailing and filling large areas. Double boxed for long lasting pen durability. Great Christmas gift idea for kids to express their imagination. Bring color into your life and create decorative products for birthdays, Easter Day, Christmas Day, Valentine's Day, Thanksgiving Day or special holidays.
Multi-Purpose -- Enjoy creating art projects on a variety of surfaces like Rock painting, ceramic and mug painting, glass and wine glass painting, wood, fabric, stone, metal, plastic, canvas, Easter plastic eggs, Christmas ornament, Halloween pumpkin painting, custom mugs, and much more for both smooth and porous surfaces.
FEATURES OF OUR ACRYLIC MARKERS -- 2 types of nibs to meet various need, bright and long-lasting colors; quick dry, non-toxic, non-odor; water-based and opaque ink; result in waterproof and sunproof permanent look when dry yet clean up easily while still wet. Nawod paint markers conform to ASTM D-4236 and EN-71 safety standard. Safe for use by children and adults.
The Nawod premium acrylic painter pens are a sight for sore eyes. Unlike other brands that try to get too creative with the packaging, these paint markers come in transparent cases, which lets the beauty of the colors stand out.
Besides the simple yet gorgeous exterior, the other thing that excited you about this set is the range of colors.
You get 35 colors covering all of the basics, including white, silver, and gold. What's even cooler is that 20 of these have extra fine tips for detail work, while 15 have medium tips for filling.
As you would expect from acrylic paint pens, the ink dries quickly and is waterproof, permanent, and non-toxic.
The pens are also sunproof, and because they conform to safety standards, they are perfectly safe for children.
What makes this even better for kids is you can use this on almost any surface. Of course, adults can use this for DIY crafts, but probably not for professional work. The colors are a bit brighter than you would expect.
One final exceptional note is the customer service. If you get a faulty set, Nawod will replace it promptly.
Pros
Great range of colors
Two different tips
Waterproof and sunproof
Excellent customer service
Cons
The colors are brighter than typical pens
Some of the colors can get watery
---
11.
Best All-in-One

– Alerie Acrylic Paint Pens
Acrylic Paint Pens - 24 Pcs Acrylic Paint Markers for Rock...
🎨3 DIFFERENT TIP PRECISION - The acrylic paint set comes with 12 pcs 0.7mm fine tip and 12 pcs 2-6mm reversible tip. The plastic nib is strong and wear-resistant. Can meet a variety of different creative needs.
🎨12 VIBRANT COLOR and 24 PENS - Comes with 12 vibrant colors, including Metallic Gold, Metallic Silver, Black, White, Brown, Green, Orange, Red, Yellow, Blue, Purple, Pink. Various colors allow you to decorate the surface with an excellent look.
🎨PREMIUM ACRYLIC PAINT PEN - These markers are made of opaque ink that is chemically stable, lightfast, quick-dry. Water-based ink is odorless, xylene-free, acid-free, and environmentally. Designed for kids, adults, students, artists, and professional designers alike.
It is always a good sign when thousands of people leave great feedback on a product, and the Alerie acrylic paint pens truly deserve them.
Like a standard acrylic paint pen, you can expect a waterproof and sunproof finish. The ink is lightfast, dries in minutes, and is chemically stable, so you'll get the same color output every time.
Of course, it is also acid-free, xylene-free, and safe for all users, including kids.
That's the regular stuff.
What makes this paint pen really stand out is the presentation. This pack of 24 really has just 12 colors. However, each color has a fine tip option and a medium tip alternative.
What's more, is that the medium tip is reversible to use either a bullet tip or a chisel tip.
This attention to detail shows that Alerie pays attention to users, especially professional craftspeople that don't want to buy three different sets of markers just to complete one task.
You can use any of the tips on any surface; whether a smooth surface like plastic or rough surfaces like wood and rock.
Given the design of the paint pens, it is not that easy to tell when ink is running low, but that's a common problem with most brands, so no real issue.
Pros
Three different tips
Lightfast, waterproof, and sunproof
Safe for children
Appears opaque on almost any surface
Cons
You can't tell when ink is low
Limited color options
---
12.
Best for Beginners

– Asani All-Surface Marker
Paint Pens Acrylic Markers Set (12-Color) | For Painting...
MULTI-SURFACE GOODNESS: Experience creativity without limitations. These acrylic paint markers work on everything from porcelain, ceramic, glass, treated wood, leather, canvas, fabric, metal, to plastic. They're perfect for creating kindness rocks, scrapbooking, or customizing mugs.
QUALITY YOU'LL LOVE: Unlike other paint pens with ink that easily fades or colors that quickly get washed out, we've filled each one of ours with 3ml of premium Italian ink. Vivid, water-resistant, fade-resistant and quick-drying, the premium ink ensure your beautiful creations get to last for longer.
RAINBOW OF COLOR: Whatever the project, this rock painting markers kit has the color to bring it to life. Every set of 12 includes a black, white, yellow, blue, green, red, pink, gold, silver, brown, orange, and violet paint pen. Looking for a great gift for that arts and crafts loving someone? You've found it.
When you've got a great product on your hands, it is easy to give it a bold name like an All-Surface Marker.
While not technically true, the Asani acrylic paint markers will draw on any reasonable surface you have in mind. You can paint on glass window, metal, wood, plastic, canvas, paper, fabric, and much more.
The reason this acrylic paint pen performs better than other acrylic paint markers is that it uses Italian ink, which has a very rich and quality pigment.
As a result, these are not only water and sunproof, they can be sealed to become fade resistant.
You can choose a set of 12 extra fine markers, perfect for calligraphy, details, and outlines. Or go for the medium tip that is perfect for larger products that require a lot more painting than drawing.
These paint pens conform to ASTM D-4236 safety standards, so they are safe for kids. They don't contain any toxins and have no odor.
One thing to be conscious of when using these paint markers is that they can be reactivated with water.
This is great because it allows you to enhance your work, but it also means it can wash off if you're not careful. For best results, seal in an oven or as required for your project.
Pros
Great value for money
Works on nearly every surface
Waterproof, sunproof, and fade-resistant when sealed
Safe for children
Cons
The colors wash
Some colors are more resistant than others
---
Best Paint Pens For Wood Comparison Table
Buyer's Guide
Should You Use Water-based Paint Markers or Oil-based Paint Markers?
Depending on who you speak to, this is either a very big deal or nothing at all. In either case, the debate on water vs. oil rages on, and even paint pens haven't been spared.
Before we give our verdict on which one is the right paint pen for your project, let's break them down.
1. Water-based markers
This is the most common type of paint pen on the market. If you are familiar with water-based furniture paint, then you have a good idea of what to expect from these pens. However, there are slight differences.
Typical water-based paint comes in chalk paint, milk paint, or latex paint, which is the most popular choice. They also come in different sheens, from flat to high gloss.
For paint markers, the only option is acrylic paint, and they are almost always gloss, so they can work on as many surfaces as possible.
Acrylic paint is made with pigments (coloring) suspended in acrylic polymer emulsion. While it isn't technically water, acrylic polymer is closer in similarity to water than it is to oil.
Acrylic paints were created as an easier alternative to use than oil-based markers.
On that note, let's look at the other option.
2. Oil-based paint pen
The first ever paints known to mankind were made with an oil base. This has continued until the present day.
However, their popularity has waned a bit, which is why most paint pens for wood are acrylic. Despite the fall in usage, some people still prefer oil-based paint markers, but we'll get to that in a moment.
Just like water-based markers, you don't have a lot of variety compared to furniture or wall paint.
While you can choose either alkyd-based or plant-based oil paints with furniture, paint pens don't usually specify. Sheen selection is also limited to gloss.
Now, let's put them head to head to see which one is better.
Pros and Cons of Water-based Vs Oil-based Paint Pens
1. Opacity
What makes a color stand out is its opacity. When it is not opaque, you need to apply more paint before the pattern emerges. Given that wood can absorb a bit of liquid, it helps to have opaque paint pens.
Oil-based paint pens are more opaque due to the richness of the oil and their ability to sit on top of the wood instead of being absorbed into it.
Verdict: oil-based paint is better
2. Vivid colors
When you buy paint markers for wood, you want the colors to really pop. While part of it has to do with opacity, there is also the richness of the pigments themselves.
Again, oil-based paint pens have more dazzling colors, especially on the lighter end of the spectrum.
White water-based paint pens, for example, are notorious for disappointing users. You have to choose the brand carefully to get whites that truly glisten. We recommend you buy from Walmart, lowes or home depot, whose policies let you return the paint if you are unsatisfied. (You can check our guide on Walmart paint return policy).
Verdict: oil-based paints
3. Smooth ink flow
Using a paint pen is meant to be as easy as using a regular pen. You don't want to have to press it down to get the paint to come out.
Water-based markers flow better because the paint is thinner. This allows you to achieve a wider range of painting styles than with oil. Another advantage of it being thinner is that water-based paints are less likely to clump.
Verdict: water-based paint
4. Odor
Paint has a strong smell, which is why you need a face mask and a well-ventilated area before applying.
So when you're painting on a piece of wood directly under your nose, you don't want a smell that is overpowering, especially for children.
Oil-based paints don't smell great. Sure, some of them are not as odorous as others, but they can't compete with acrylic paint markers. Most of these do not have any discernible smell whatsoever.
While some people like the smell of paint, we have to base our verdict on the majority.
Verdict: water-based paint
5. Drying time
This is another landslide for water-based paints. Acrylic paint became popular because painters got frustrated with the long drying time of oil paint markers.
While an acrylic paint pen for wood can dry in minutes, it often takes oil paint markers anywhere from a half hour to an hour. If you apply multiple layers, it can take several hours for oil to dry on wood.
Verdict: water-based paint markers
6. Durability and reliability
Here is probably the ultimate test of a paint pen marker. No matter how vibrant and opaque the color is, if it doesn't last long enough to appreciate it, it's not worth it.
Water-based paint pens are watery and very susceptible to smudging. In most cases, the paint will fade or can be cleaned completely if it comes in contact with water. In order to lock the paint in, you need to seal it by baking.
The problem is not every surface can be baked without ruining the project. That is a problem you won't have with oil-based paints.
Once the paint dries, it is permanent. No amount of water will wash it off, even without baking. You can only take it off using acetone nail polish remover.
Verdict: oil-based paint pens
Final Verdict on Water-based Vs. Oil-based Paint Pens
As you can see from the detailed breakdown, each type of paint pen for wood has a huge advantage over the other in some categories.
At the end of the day, what matters most is how you plan to use the paint. As such, it doesn't matter which one you use. What is more important is that whatever you choose, you use it the right way.
If you don't follow the instructions, you won't enjoy the vivid colors of oil paint pens or the ease of use of water-based paint markers.
Tips on How to Use a Paint Pen for Wood Projects
The first we need to emphasize about paint pens is that they are not the same as markers. To use a marker, all you have to do is take the cap off and start writing.
Paint pens require a few steps before you get to crafts. We often hear people complain that a paint pen is dry and not following, but in reality, they ignored the steps.
Step 1: Activate the paint
With a paint pen, your first need to activate the paint, meaning you need to get it ready to flow. The most common way to do this is to shake the paint marker for about a minute.
Step 2: Make the paint flow
There are two ways to do this, depending on the brand. The first is to hold the paint marker upright and push the nib down with your finger. You'll hear or feel a slight click.
The other method is to press the nib down on a piece of paper until the paint begins to flow. Once the paint comes out, you're ready to start painting.
Step 3: Paint, cap, and reactivate
When you begin to use the paint pen, remember to constantly cover it when you are not using it, or it will dry up.
When you are ready to use the paint pen again, you might need to reactivate it again. For most brands, you just need to shake the paint pen and start working; you usually don't need to push the nib again.
How to Choose the Best Paint Markers for Wood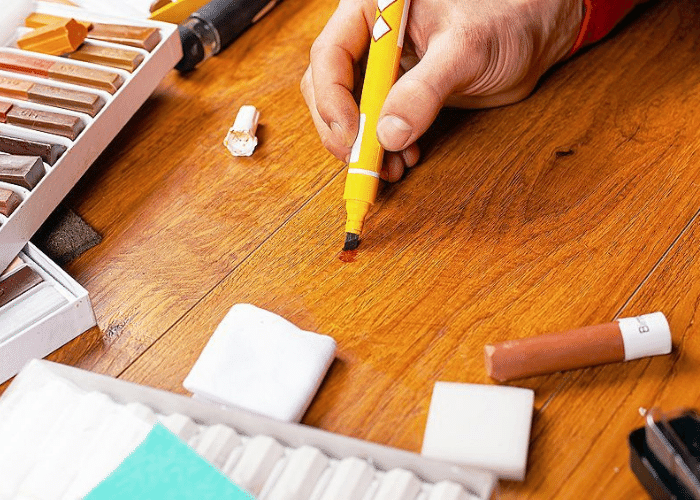 1. Versatility
The first thing you need to consider when buying paint pens for wood surfaces is how you plan to use them. Will you only be writing on wood, or will you want to work on multiple surfaces like metal, glass, and plastic?
Even when it comes to wood, is it going to be bare wood, or will it have a finish on it like polyurethane or teak oil? It is also worth considering what you plan to do with the completed projects – are they for your personal collection, or will you sell them?
If you are going to be working with limited surfaces for personal use, then your average water-based marker will suffice.
However, if the projects are more complex, like working on finished wood, the best pens are oil markers like Sharpie and Paint Mark.
2. Paint type
We have discussed this in the previous section, but it is worth emphasizing that while the paint type is important, it isn't the most important factor.
You should make paint type a priority if you are buying the pens for children or if you are concerned about the environment.
In terms of the quality of the work, it doesn't really matter. For example, Posca is the industry standard for paint pen markers, and it is acrylic. What we personally believe is more important is the next feature.
Besides the two main categories, you might want something specific like metallic markers. In that case, the Morfone Metallic Marker Pens are the best choice.
3. Type of tips
Beyond the paint type, the tip you use has more of an impact on how quickly you can work, the type of work you can do, and how fantastic it will look. There are two main things to look for in tips and a bonus consideration.
Tip size
There are three different tip sizes: extra fine tip (0.6 mm – 0.7 mm), fine (1mm), and medium (2mm – 3mm).
Extra fine tips are great for detail work and will give you very thin lines, while a medium tip paint pen is ideal for filling in. Fine tips sit in the middle and are the least popular option.
While most paint pens for wood come with one tip, some brands offer options like a few markers with a different tip or a reversible tip.
Alerie offers not only two different tip sizes, but one of them has a different tip shape, making three tips in total.
Tip shape
There are three main shapes available for paint pens: bullet tip, chisel tip, and brush tip. The bullet tip is shaped like a normal marker, while the chisel tip is angular, and the brush tip is meant to mimic a paintbrush.
The bullet tip is the most common option because it is more versatile and is best for DIY wood crafts. However, if you're a professional painter, you would care just as much about the shape of the tip as you would the size.
Each shape has its pros and cons, but some are more advantageous than others. Bullet tips deliver thick lines that can be used for drawing, calligraphy, detailing, and so much more.
Chisel tips are best for lettering or calligraphy. Brush tip can be used for any of these, but it requires a lot more skill.
However, a brush tip isn't a great choice on wood because it is not as precise as a chisel tip or an extra fine bullet tip.
Tip material
Unless you're a pro with very particular requirements, you probably won't care so much about the tip material.
Tips can be made from acrylic, felt, or nylon. Felt is the easiest type to use, but nylon is more resistant to wear and tear, and is best for rough surfaces like wood.
However, not every brand gives you tip material options, so you're stuck with whatever they have available.
Nawod acrylic paint markers for wood come with nylon tips, 20 of which have an extra fine tip, while 15 have a medium tip.
4. Color options
The common assumption is that the more colors you have, the merrier. However, there are instances where an abundance of colors might be a distraction or unnecessary.
For example, if you use paint pen markers to write notes on a wooden board for your business, you probably don't need anything beyond the basics.
That is why the Tzarrot set is popular amongst business owners. It has black, white, and gold, which are great for minimalist designs.
If you're working on projects in an art class, you might want to go the other way and purchase the Nawod acrylic paint markers instead. If you're a professional looking for a nice variety, Posca's 29 colors will be more than sufficient.
It is worth adding that as long as you have twelve colors, you can create an endless range by mixing the paints.
5. Longevity
Nearly any paint pen for wood surfaces will give you a great design immediately, but how long will it last?
When searching for the best paint pens for wood art projects, you should look for the following descriptions: permanent, fade-resistant, waterproof, and sunproof/lightfast.
All the pens on our list fit that description, unless you're looking for something extra.
By default, oil paint markers are fade resistant and last longer than water-based paint pens. However, you can seal most acrylic paint markers.
You can use also use varnish to seal water-based markers like the Uni Posca paint marker.
If you're concerned a topcoat might affect the outcome of your work, and you don't want to dry the wood in an oven, stick with oil-based paint markers.
6. Price
Paint markers are one of those tools that can sneak up on you price-wise. Prices start at under $10 for a small pack, so it is easy to underestimate how much it can cost.
By the time you want to get paint markers with different tips, more color ranges, and different paint types, you can end up spending hundreds of dollars.
Some pens like Sharpie and Uni Posca markers are on the premium side of things, but the value is worth it.
However, if you're looking for something to experiment with or for kids to use, opt for cheaper alternatives.
Nawod and Pintar brands offer a range of colors, at least two tips, and excellent value for money.
Sell Me This Paint Pen
Paint pens for wood are a game changer, and we expect to see even more brands come up in the future. With so many great options already, it is a bit tough choosing the best paint pens for wood.
Since there can be only one, that honor goes to Uni Posca Paint Markers. There is a reason every brand uses them as a yardstick. Their acrylic pens are one of the easiest to seal, and it delivers vivid colors on multiple surfaces.
Our runner-up is Nawod. This set has everything you need and more for children's crafts, DIY, and starting professionals.
If you're planning to buy paint markers for kids, you might also be interested in the Best Woodworking Kits for Kids.