The best polyurethane for stair treads and railings is a difficult question to answer. You need to consider plenty of factors to find the perfect non-slip polyurethane for wood stairs.
And if you're not careful, it's easy to choose a product that will either flake or peel off. Fortunately, we have done extensive research into the best sealer for wood stairs to offer you various stair finishing options.
In this article, we cover everything you need to know about using polyurethane for your stairs, including the best polyurethane for stairs, the steps for applying it, and tips to guide you when buying, so keep reading to learn more.
Our Top Picks
Best Polyurethane for Stair Treads
Best Polyurethane for Stair Treads – Product Reviews
1.
Best Finish for Stairs

– Minwax 63010444 Polyurethane
Minwax Fast Drying Polyurethane Protective Wood Finish, Warm...
PROTECT WOOD SURFACES – Minwax Polyurethane Wood Finish protects interior projects like woodwork, furniture, floors and cabinets. The oil-based, clear top coat is one of the most durable coatings for wood protection against scratches, spills and more.
OIL-BASED DURABLE FINISH – Clear finish provides long-lasting protection and warm beauty to both finished and unfinished wood projects. Protective coating is ideal for woodwork, furniture, doors, cabinets & floors, and is available in a variety of sheens.
SATIN SHEEN – Give your wood projects a sleek finish with this satin clear varnish. It not only protects the natural beauty of the wood, but offers a soft, unique sheen for a modern, cozy and on-trend look.
As a premium Minwax polyurethane for stairs, the Minwax 63010444 is a fast-drying polyurethane that provides a long-lasting, protective coating for all wood surfaces.
It is a highly durable coating for wood protection and is ideal for floors, furniture, doors, and cabinets. It can be used on both finished and unfinished wood.
To avoid lap marks when applying on wooden floors, you could use a lambswool or synthetic pad applicator or a natural bristle brush.
Additionally, this product works best after three coats are applied to ensure maximum durability. You will have to avoid heavy traffic or replace furniture for 72 hours after the final coat.
Do not slide furniture when replacing it. Also, do not install rugs or clean the floors for seven days after finishing the final coat.
Occasionally, slight ambering may appear when polyurethane is applied over light-colored wood surface finishes.
Always spot-test in an inconspicuous area to ensure a successful application.
What We Liked Most
It can be used on both finished and Unfinished wood
Its superior durability makes it ideal for use on all your wood surfaces
Inexpensive
Shorter than average dry times for oil-based polyurethanes
Perfect for interior surfaces 
What Could Be Improved
It's oil base polyurethane and emits strong fumes
It's thinner than other Polyurethane  
---
2.
Best Wipe on Poly for Stairs

– Minwax Wipe-on Polyurethane
The Minwax wipe-on is an excellent water-based wipe on Poly and probably the best polyurethane for stair railings.
This polyurethane finish provides a durable layer of topcoat protection that is thinner than regular poly, making it an excellent choice for touching up small worn or scratched areas.
A unique perk of this product is that it can be applied with a lint-free cloth, so this keeps your surface free from cost drips and brush marks.
Before applying wipe on poly to any surface, ensure it is dry and free from old furnishing. This will guarantee a hard, clear finish protecting the wood against water, household chemicals, and food stains.
What We Liked Most
Excellent durability
It comes in oil and water-based two finishes 
Ultra-fast drying
Reduced odor
Easy water clean-up
What Could Be Improved
It can turn lighter colors yellow
It requires more coats than brush-on polyurethanes
---
3.
Best Water Based Polyurethane for Stairs

– General Finishes High Performance Polyurethane

Sale
General Finishes High Performance Water Based Topcoat, 1...
Do not apply clear topcoats over bright white paint, as yellowing may occur due to a reaction to the substrate. Light color paints may also experience yellowing due to topcoat application, but it will less noticeable.
The hardest, most durable consumer polyurethane top coat on the market today
Dry Time Between Coats is only 1 to 2 Hours
The General Finishes polyurethane finish exhibits all of the consumer-friendly characteristics of a blend, making it an excellent choice for stair treads.
Its exceptional durability, versatility, and superior water resistance make it the go-to choice for many consumers.
On top of that, being a water-based poly, it dries quickly in about 1-2 hours thanks to its water-based characteristic and is super easy to use.
As a bonus, it contains UV stabilizers, which help keep surfaces from breaking down in sunlight and prevent underlying stains from fading.
So, if you are looking for polyurethane with superior toughness, you should opt for General Finishes High-Performance Polyurethane which comes with four different surface finishes.
What We Liked Most
The hard finish provides super protection
It can be applied using multiple methods
It has a low VOC formula
It dries quickly
It comes in 4 different finishes 
It's for interior use only
What Could Be Improved
It's quite expensive
Don't use on white paint; it yellows
---
4.
Best Non Slip Polyurethane for Wood Stairs

– Varathane 200041h Water Based Polyurethane
The Varathane Poly is a top choice on our list because it is the best non-slip polyurethane in the market designed to let the natural beauty of your wooden stairs shine through.
This product is easy to use and can be cleaned simply with water and some soap, thus giving you great value for your money.
In addition to this, its durable water based formula provides your stairs with excellent protection from stain, scratch, and other forms of damage, thereby preserving its color and quality.
Another plus for this product is that it needs fewer coats and it dries up quickly after application and gives a glossy finish and polished look to your stair treads.
What We Liked Most
Cleans with soap and water
Fast-drying
What Could Be Improved
Not suitable for white surfaces 
---
5.
Best Premium Finish for Stairs

– RUST-OLEUM 130031 Varathane

Sale
This oil-based polyurethane is made with patented Aluminum Oxide Nano Technology that makes it scuff and scratch-resistant. It also resists stains and household chemicals, so you don't have to worry about the color changing beyond what is expected from an oil-based finish.
Another feature you would appreciate is the relatively quick drying time for oil-based polyurethane. Within two hours, the stairs will be dry to touch. You can then apply a second coat in another ten hours for same-day application.
While this may seem like a lifetime compared to some of the other products on our list, it is still decent performance. But of course, the drying time is just a small part of the equation.
Varathane Premium Floor Finish offers exceptional durability, making it perfect for high-traffic stairs. You also get four choices of sheen – matte, satin, semi-gloss, and gloss.
This polyurethane for stair treads and railing can be applied on bare and stained wood. It can also be used on previously finished surfaces, as long as you follow the instructions.
As you would expect, the manufacturer recommends that you use the product as it is without diluting. Even without thinning, you will get an even surface without brush marks.
The one major limitation of this is you can't apply it with a roller, or you may get bubbles. Instead, Rust-Oleum recommends you use a brush or a wool applicator.
What We Liked Most
Scuff and scratch-resistant
It can be applied without thinning
Come in four sheen options
Much cheaper than the competitor
What Could Be Improved
It should be applied with a roller
Slower drying time than competitors
---
6.
Best Semi Gloss Polyurethane for Stairs

– Bona Mega Semi-Gloss Finish
Bona Mega Semi-Gloss,1 gallon
Price For: Each Coverage per Gallon: 500 to 600 sq. ft. Solids Content: 0.325 Size: 1 gal.
Green Certification or Other Recognition: GREENGUARD Certified Green Environmental Attribute: VOC Levels Meet SCAQMD Requirements Dry Time: 2 to 3 hr. Item: Floor Finish
Semi-Gloss Country of Origin (subject to change): Sweden
This product by top brand 'Bona' is a water-based floor finish perfect for use on heavy traffic interior residential and commercial floors, making it one of the best polyurethane for stairs.
It creates a harder finish, similar to the one you might find on oil-based polyurethanes but without the high VOCs, long drying times, and messy clean up associated with oil-based finishes.
It's practically odorless and cleans up with water. It's also important to note that this product is a lot thinner than some other polyurethane. So plan on using several coats for stair treads that require more protection than lower traffic areas.
Bona Mega comes in gloss, semi-gloss, satin, or extra matte, giving lots of options to choose from when it comes to finishing.
What We Liked Most
It dries fast and quick
One of the best eco-friendly products
Oxygen cross-linking creates a more heavy-duty finish
It comes in four finishes 
Due to its thin consistency, you can use it in a sprayer
---
7.
Best Oil-Based Polyurethane for Stairs

– Deft Defthane Polyurethane

Sale
Deft Defthane Interior Exterior Clear Polyurethane Satin...
This product adds a great value
Excellent for interior and exterior wood surfaces including floors, doors, furniture cabinets and marine applications above the water line
A high-solids oil-based polyurethane formulated for hard use areas
Deft is a high-solids oil-based poly specially formulated for hard use areas. It is an excellent choice for interior and exterior wood surfaces such as floors, doors, desks, furniture cabinets, etc., which makes it an excellent option for stairs.
This oil based paint is available in two surface finishes, satin finishes and 13-ounce aerosol sprays with adjustable spray valves. As for application, you can use this on painted, varnished, lacquered, stained wood surfaces to give them a clear and tough finish.
Like some other penetrating finishes, Deft resists wear and staining from water, alcohol, food, household chemicals, salt spray, exterior weathering and protects metal surfaces from rust.
What We Liked Most
It offers 450 VOC compliant formula
Superior durability
It's available in a satin finish and 13-ounce aerosol spray
with an adjustable spray valve
It's suitable for interior and exterior wood surfaces
It's a natural color oil-based 
Higher viscosity requires a fewer coat
It won't tint lighter woods
What Could Be Improved
It's harder to work with than thinner polyurethanes.
---
8.
Best One Coat Finish

-Varathane 284473 Triple Thick Polyurethane

Sale
Varathane 284473 Triple Thick Polyurethane is a true standout in the world of wood finishes, and my hands-on testing has revealed its exceptional qualities. Whether you're refinishing furniture, doors, trim, or any other interior wood surfaces, this product is a top-tier choice.
One of its most remarkable features is its ability to provide one-coat coverage. This not only simplifies the finishing process but also saves valuable time. It ensures that your wood surfaces are efficiently protected, reducing the need for multiple applications.
The water-based formula of Varathane 284473 offers impressive scratch and stain resistance, a feature I observed during testing. It provides dependable protection, ensuring that your wood remains pristine, even in high-traffic areas.
The quick drying time of just 2 hours is another convenience factor. It minimizes downtime, allowing you to complete your projects swiftly and efficiently.
What truly enhances the appeal of this polyurethane is its satin finish. It brings out the natural beauty of the wood, providing an elegant and subtly glossy appearance. This not only protects your wood surfaces but also elevates their aesthetic appeal.
What We Liked Most
One-coat coverage for efficient finishing.
Impressive scratch and stain resistance.
Quick drying time of just 2 hours.
Satin finish enhances wood's natural beauty.
What Could Be Improved
Got bubbles if you don't use them on a self-leveling surface.
---
9.
Best Finish for Pine Stairs

– Insl- X Suo31009a-01 Poly
INSL-X Cabinet Coat - Urethane Acrylic Semi-Gloss Enamel...
The ultimate "factory-like" finish for refurbishing kitchen and bathroom cabinets, shelving, furniture, trim, and crown molding
Delivers an ultra smooth, durable urethane acrylic cabinet and trim paint finish
Super adhesion to hard-to-coat surfaces without primer
Insl is one of the best anti slip finishes for stairs due to its durability and skip resistance. With its acrylic anti-slip coating and abrasion resistance, it is suitable for and can be applied to stairways and walkways and recreation areas with high traffic levels.
It is also relatively easy to use and fills up all seals and cracks. The fast-drying nature of this product makes it suitable for various surfaces, such as wood, concrete, and metal.
You can expose it to light foot traffic 24 hours after the final coat is applied, but you will need to wait 4-5 days for areas that receive heavier or continuous foot traffic.
The product is available in seven colors, Tile red, pine green, desert sand, white saddle brown, gray pearl, light gray, white, and it is designed with a color retention formula to help maintain the color.
What We Liked Most
Easy application
It's fast-drying and durable
It's available in 5 ready mixed colors and white
It's perfect for interior and exterior use
Anti-slip paint
What Could Be Improved
It's quite pricey 
It's only available in matte finish
---
10.
Best Anti Slip Varnish for Stairs

– Bona Traffic Anti-Slip Polyurethane
Bona Traffic Anti Slip Satin
NEW VERSION TRAFFIC HD ANTI SLIP SATIN
Unsurpassed scuff, scratch and chemical resistance at full cure
No sealer needed over a stained floor
Bona Traffic Anti-slip is a waterborne, commercial, and residential hardwood floor finish explicitly designed for the unique demands of heavy-traffic commercial and residential hardwood floors.
This clear and colorless floor finish highlights the natural wood tone of stained or natural wood floors. It is the industry's premier finish for durability and beauty, covering over 350 to 400 square feet per gallon.
As a result of its higher friction quality, it makes an excellent choice for stairs, nurseries, kitchens, and similar places.
The material will not change color over time, allowing for easy touch-ups. It is designed mainly for areas more likely to be wet, like commercial kitchens or living spaces for people with compromised balance.
This can be the perfect solution for people looking to make wooden stairs less slippery.
What We Liked Most
Easy application
Its fast-drying and durable
It's available in 5 ready mixed colors and white
It's perfect for interior and exterior use
Anti-slip paint
What Could Be Improved
It's quite pricey 
It's only available in matte finish
---
11.
Best Polyurethane Varnish for Stairs

– Fixall Skid Grip Polyurethane

Sale
FixALL Skid Grip Anti-Slip Coating, 1 Gallon, Cobalt,...
ANTI-SLIP FLOOR COATING: Provide your surfaces with an extremely durable, skid-resistant finish with FixALL Skid Grip Anti-Slip Coating.
IDEAL FOR SAFETY AREAS: Exceeding ADA standards for anti-slip surfaces, this anti-slip paint is perfect for traffic markings, sidewalks, curbs, crosswalks and other safety areas.
EFFECTIVE ON A VARIETY OF SURFACES: Skid Grip can be applied anywhere you need a non-slip coating. Use it on patios, pool decks, sports courts, driveways, steps and more. Fade-resistant colors remain bright for a long-lasting finish.
The Fixall Skid Grid rightfully takes its place on our list as one of the best non-slip polyurethane for wooden stairs. This is a 100% acrylic textured coating that can turn any surface skid-resistant.
Moreso, this product can be used to create beautiful walkways or patios.
Due to its durable coating, you can use it in high-traffic areas such as walkways, parks, sports fields, basketball courts, and pool decks.
Its superior adhesion and fade resistance allow it to be used on almost any surface, and it adheres easily to cement, wood, stone, asphalt, and more.
Another unique perk of this product is that it gives your wooden surfaces an extra layer of protection from Ultraviolet exposure, which will prevent peeling and flaking of your wood.
This product comes in multiple fade-resistant colors, which help beautify your surface. All in all, it is a durable product suitable for residential or commercial applications.
What We Liked Most
Easy application
Slip Resistant Surface
Perfect for interior or exterior
Color Fade Resistant
It comes in 7 different colors 
It exceeds ADA Standards for Slip
What Could Be Improved
It doesn't adhere to all surfaces
---
12.
Best Protective Matte Finish

-Rust-Oleum 260165 Ultimate Polyurethane
Rust-Oleum 260165 Ultimate Polyurethane, 1 Quart, Matte
Protects interior wood surfaces such as cabinets, doors, trim and more
Water based acrylic formula dries fast and cleans up with soap and water
Dries to the touch in 1 hour and covers up to 150 sq. ft. per quart; recoat after 2 hours
Rust-Oleum 260165 Ultimate Polyurethane has truly left me impressed with its performance and features. This product is a must-have if you're working with interior wood surfaces like stairs.
One of its standout qualities is the water-based acrylic formula, which offers both speed and convenience. The product dries rapidly and also cleans up easily with just soap and water. This alone streamlines the finishing process and keeps things hassle-free.
The quick drying time of just 1 hour is a plus for Rust-Oleum 260165. It minimizes waiting time and enables you to proceed with your project efficiently. Even more, up to 150 sq. ft. per quart coverage is impressive and ensures that a little goes a long way.
What truly sets Rust-Oleum 260165 apart is its durability. It provides excellent scratch and stain resistance, which is vital for preserving the quality of wood surfaces. The soft and smooth finish it delivers adds an extra touch of elegance to your projects.
But perhaps the most notable feature is its protective matte finish. This enhances the wood's appearance and effectively reduces the visibility of fingerprints and smudges, ensuring your surfaces always look their best.
What We Liked Most
Quick drying time of 1 hour.
Excellent scratch and stain resistance.
Water-based acrylic formula for easy cleanup.
Protective matte finish reduces fingerprints and smudges.
What Could Be Improved
The quick drying time of 1 hour is advantageous for efficiency, but it may leave less time for application and levelling.
It is not as stain-resistant as a glossy finish.
---
13.
Best Glossy Polyurethane Finish

-Watco 68041 Polyurethane Finish
Rust-Oleum Watco 68041 Wipe-On Polyurethane Finish, Quart,...
Ideal for use on a variety of wood surfaces including furniture, cabinets, doors, countertops, paneling and more
Oil-based protection for elaborately detailed pieces or for corners and crevices difficult to reach with a brush
Dries to the touch in as little as 2 hours and covers up to 100 sq ft
Watco 68041 Polyurethane Finish offers a versatile solution for various wood surfaces, making it an excellent choice for projects ranging from countertops to stairs.
One standout feature is its oil-based protection, which proves invaluable for elaborately detailed pieces. It brings out the richness of the wood and provides a level of depth that's hard to achieve with other finishes.
The quick drying time significantly reduces the waiting period and allows you to proceed with your project efficiently. Plus, it covers up to 100 sq ft, ensuring you get ample use from a single application.
What truly sets Watco 68041 apart is its application method. You can apply it by hand with a clear dry rag or cloth, offering unparalleled control over the process. This allows for even coverage and minimizes the risk of drips or streaks.
The gloss finish enhances the wood's appearance and offers robust protection against water, household chemicals, and more. This ensures that your wood surfaces look stunning and remain in top-notch condition.
What We Liked Most
Versatile use on various wood surfaces.
Oil-based protection for intricate details.
Quick drying time of 2 hours.
Hand application for precise control.
What Could Be Improved
Highlights surface imperfections.
Requires careful application to avoid streaks.
---
Best Poly for Stairs Comparison Table
What is Polyurethane?
Polyurethane is a flexible, resilient, and highly durable material that serves various purposes. When applied to wood, it creates a sturdy and clear plastic protective cover making it an ideal finish for a heavily traveled area like stairs.
Stairs often have to accommodate a lot of human traffic daily, and quick wear and tear would be inevitable unless there is a hard, durable layer of protection.
So, using a polyurethane finish will not only add to the appearance of the stairs but will also help to protect the wood from damage such as stains, water, scuffs, and scratches.
Essentially, if your wood is covered in polyurethane, nothing can penetrate it as it offers a durable, hard coat.
Types of Polyurethane
Polyurethane is regarded as the most practical yet easily-available hardwood finish. Polyurethane surface finishes have two main types: water-based and oil based polyurethanes.
Both protect hardwood floors from damage, and you should choose the one you prefer based on your preferences and the job at hand.
Oil-based Polyurethane
Oil-based or oil-modified polyurethane is created by reacting common finishing oils with a chemical that makes the oil molecules larger.
These polyurethane finishes are often chosen because they are more economical and easier to apply on wooden surfaces. It also offers more color, depth, and shine to wooden surfaces.
Furthermore, just like oil based stain, oil modified poly offers high chemical scratch resistance making it well-suited for use on tables, countertops, floors, and furniture that will see a lot of traffic.
Related read: Best poly for kitchen table.
Oil-based poly is popular since it enhances the natural color of hardwood floors, is water-resistant, and is versatile. In addition to that, oil-based poly is more durable because it contains a significant amount of Volatile Organic Compounds (VOCs).
It immediately gives the surface a darker shade or an amber hue when applied to the hardwood floor. This can bring out the beauty of the grain and make any dull wood color come alive.
On the flip side, as the oil-based finish ages, it continues to grow slightly darker every year, and this may make it less suitable for certain stairs types.
In addition, oil-based polyurethane fumes are hazardous. You should therefore be keen when choosing oil based polyurethane brands to get the best product.
Water-based Polyurethane
As the name implies, water-based polyurethane uses water as its base or primary agent instead of oil (solvents) to carry the polyurethane solids. In the past, water-based polyurethane was considered less durable than oil-based polyurethane.
However, its manufacture has improved recently, so flooring professionals now prefer water-based polyurethane over almost any other finish. In fact, good quality water-based poly will last just as long if it is well taken care of.
Apart from this, a water-based polyurethane is a non-yellowing clear coat thus preserving the natural color of your wood compared to the oil based ones.
This is especially useful for certain types of wood which you don't want to alter their color like gray, white & lighter wood.
Overall, water-based polyurethanes have become popular because of their low odor, rapid drying time, and easy application.
Factors to Consider when Buying Poly for Stairs
Before choosing the best polyurethane for stairs, there are some essential factors to consider to help you make the right buying decisions. Some of them include:
Quantity
If you're already considering applying polyurethane to your stairs, you're probably wondering, how many tins of poly should I buy?
The short answer to that is, it depends on the type of polyurethane finishing you'll be using and the level of traffic on your stairs.
Stairs with heavy traffic will require a lot more coating to adequately protect the wood from damage which may mean purchasing more tins.
Furthermore, if you decide to use a water-based finish, your wood stairs will require a lot more coating than oil-based ones, and that is something to keep in mind.
Both oil and water-based polyurethane have their strengths and weaknesses, which we discuss in more detail below.
Color
When it comes to highlighting the figure and color of your wooden stairs, oil-based products will generally achieve more color and definition. Oil-based poly has an amber hue, whereas water-based poly is clear.
An oil-based polyurethane will continue to amber and darken over time, while water-based poly will remain clear for the lifetime of the hardwood floor.
Drying time
If you plan to finish your hardwood stairs without staying away from your house for a long time, you should be leaning towards water-based poly.
Water-based poly takes about 6-24 hours after coating for the stairs to dry enough for use, unlike its oil-based counterpart.
Sheen
When choosing a fresh finish for your stairs, appearance is also something you must consider. Likewise, it is crucial in the flooring process because you need to be comfortable with how much light your floors absorb and diffuse.
Remember that glossier floors would show more dirt and imperfections than matte floors. However, if you prefer a shinier look on your floors, a semi-gloss coat is a good option since it has nearly 55% luster.
Size
Most polyurethane products cover between 300 and 600 square feet per gallon. For much larger staircases or hardwood floors, then you may have to purchase more than one tin to coat the entire surface properly.
Satin or Semi-Gloss Polyurethane for Stairs?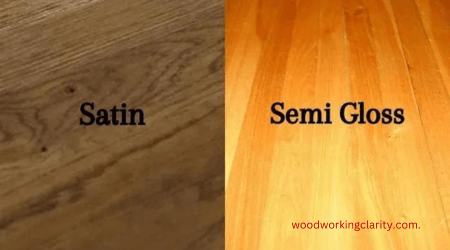 Satin polyurethane keeps wood looking new for longer periods and hides normal wear and tear of regular use; that is why it's the best polyurethane for stairs.
When choosing between a Satin finish or Semi-Gloss finish for your stairs, consider your color preference, wood transparency and the degree of durability your stairs require.
You must first realize that the glossier your floors are, the more they show off dirt and imperfections. Therefore, if you want a subtler and more formal look for your space, satin will make a better option.
Satin reflects less light, giving your wood a duller, low sheen appearance. This quality makes it relatively easy to hide all the imperfections and dirt, which makes it a plus for homes with pets and kids because it is easier to keep clean and smudge-free.
In addition, satin isn't as smooth as Semi-Gloss, so it's less slippery, making it a bit safer to use on stairs. On the other hand, Semi-Gloss finishes are perfect if you prefer a shinier glossier look for your floors.
Since it reflects more light, debris on the surface will be more visible. Ultimately, you can choose any of the two but remember, the glossier the finish, the more it will show any imperfections and wear and tear.
Editor's recommendation: Flat paint vs satin paint
How to Apply Polyurethane on Stairs
Material/Tools needed:
Polyurethane in a can
Sandpaper
Painter's Tape
Paint Brush
Tack cloth
Lint-free rags
Lamb's wool applicator
Step-by-step process
Using 120-grit sandpaper, sand the steps so the surface is flat and smooth. Then, gently brush the steps with a brush attachment to remove sanding dust and use a tack cloth to smooth the steps further.
Apply painter's tape along the trim of the stairs to protect the walls from polyurethane. Cover the bottoms of any spindles or other objects on the stairs that you don't wish to get the finish on.
Invert the polyurethane can gently about ten times before use, and repeat this regularly as you work. Do not shake the can as this will cause bubbles in your finish.
Take your polyfoam brush, and dip it halfway into the poly. Hold it there for a few seconds, so it really soaks in and fills up the brush. Let some excess drip off back into the can, and then bring it to the wood surface.
Apply a thin coat of polyurethane onto the wood stairs. Start at the top stair and work your way toward the bottom. Run the brush along the stair using long, uniform strokes. Move the brush in one direction only, i.e. in the direction of the wood grain. Back brush over any drips or pools of polyurethane.
Leave the stairs to dry for two to 12 hours, or the time recommended on the manufacturer's label.
Allow the first coat of finish to dry overnight. Sand the stairs smooth with 200-grit sandpaper. Vacuum the stairs, then clean with ph neutral cleaner and tack cloth.
Apply a second coat the next day in the same manner using a clean brush. Do not thin the polyurethane when applying the subsequent coats. Let the second coat dry overnight. Sand, clean, and apply a third coat, if necessary. A fourth or fifth coat may be required to achieve the desired appearance, but first confirm the number of polyurethane coats you will need. Be sure to sand and clean the wood in between each coat. Do not sand after polyurethane.
Read: Can I apply polyurethane with a rug?
Is Polyurethane Slippery?
Although polyurethane serves a good purpose by helping to keep surfaces protected, some types of polyurethane may cause people to slip and fall.
Already, the smooth polished surface of hardwoods makes them quite slippery on stairs and using the more shiny and glossy variety of polyurethane will make your floors even more slippery.
Therefore, to prevent accidents and injuries, you could go for anti-slip or anti-skid polyurethane products like the Varathane 200041h, Fixall Skid Grip, or Bona Traffic Anti Slip that are specially formulated to turn any surface skid resistant.
Alternatively, you could opt for transparent adhesive slip strips, anti-slip sprays, and floor finishes. They will add some grip to your stairs without detracting from their appearance.
Stair carpet strips, anti-slip tape, and stair runners are other options but these will take away from the beauty of your stairs by covering part of them.
Ultimately, hardwood floors are beautiful, but they can also cause accidents. However, using some of the tips above, you can have a beautiful, shiny floor without putting your life in danger.
Interesting read: Ideal polyurethane for countertops.
FAQs
What is the best finish for an oak staircase?
A simple way to finish oak stairs is with two coats of clear polyurethane, which brings out both the grain and the reddish tinge of the wood. You can further enhance the warmth by staining the treads before applying polyurethane. For this, we recommend you use the Minwax 63010444 Polyurethane.
Can you polyurethane over painted stairs?
Yes, you can. By applying polyurethane to already-painted stairs, you can provide them with extra protection against heavy foot traffic that can cause the paint to chip and crack over time. It will also give the hardwood a glossy sheen that makes it easy to clean. Here is the best finish for painting stair treads to use in case you'd like to go that route.
How many coats of polyurethane do I need on stairs?
In general, two to three coats of oil-based polyurethane are enough to cover a set of wood stairs. However, water-based polyurethane does not coat as thickly as oil-based polyurethane, so you might need four or multiple coats for maximum protection.
Are polyurethane side effects free?
Unfortunately, they aren't. Uncured polyurethane can irritate people with respiratory problems. However, that does not mean you are putting anybody at risk. As long as you apply polyurethane correctly, whether it is oil-based or water-based, you and everybody around the product will be safe. It is also important to note that these side effects are more likely during production, not application.
What is the best varnish for stairs?
If you wish to maintain the quality of the appearance of your stairs, a clear water-based polyurethane varnish is the best option. Apply it with a brush to coat your wood and then apply a second cag coat within 24 hours and let it dry to create a hard and durable surface finish.
Brands of polyurethane that I highly recommend. – Minwax, Bona, and Varathene.
Is polyurethane good for outdoor use?
Yes, polyurethane is good for outdoor use. It provides a protective and water-resistant finish, making it suitable for wooden furniture, decks, and outdoor trim. However, use water-based polyurethane, as it tends to resist yellowing better than oil-based versions.
What is the Best Finish for Stair Treads
Though elegant and durable, wooden stairs would lose their attractiveness and appear dull if not properly maintained. Using the best polyurethane for stair treads can give your wooden statues the protection it needs to remain beautiful and durable.
Now that you're done reading this, you can go on to get the right products you need to keep your stairs free from water or sunlight damage. Also, read our review on the best oil polyurethane for wood floors.