Is there anything more frustrating than taking the time to refinish a piece of wood and realizing that you used the wrong sandpaper? Ugh. It feels like it's just not worth it.
But don't worry – I'm here to help you make sure that doesn't happen again. In this blog post, I'll be sharing my top picks for the best sandpaper for wood.
While there are several excellent sandpapers on the market, finding the right balance between cost and performance is still a difficult task.
So whether you're tackling a new DIY project or just trying to refinish an old one, you'll know exactly what type of sandpaper to use. Let's get started!
Our Top Picks
What is Sandpaper?
It is a rough paper with sand, or other abrasive material glued to it and is for smoothing or polishing wooden surfaces or other surfaces.
Why do you need sandpaper?
You use sandpaper to sand surfaces to get an excellent smooth finish. The sanding process removes imperfections in raw wood and other surfaces by creating tiny rough ridges for the paint to adhere to.
Sandpaper sheets are classified numerically based on grit sizes. The lower the number, the lower the coarse grits, and the higher the grit number is, the more delicate or smoother the sandpaper.
Because coarse sandpaper leaves visible scratches, begin with medium-grit sandpaper to avoid leaving deep sanding marks on the wood surface and work your way up to finer coarse grits.
The best grit sandpaper can be a deal-breaker in getting a smoother surface in your sanding projects.
Best Wood Sandpaper Reviews
To come up with the best sandpaper for woodworking, we considered the grit, wood type, price to quality ratio, sandpaper type and skill level.
We also researched real customer sandpaper reviews to make sure the products we recommend are well-loved.
1.
Best woodworking sandpaper

– 5-Inch 8-Hole Hook and Loop Sanding Discs 70PCS

Sale
Miady 5-Inch 8-Hole Hook and Loop Sanding Discs 70PCS,...
MEETS ALL YOUR NEEDS - Including 10pcs of each grit: 40, 80, 120, 240, 320, 600, 800, total 70pcs.
HOOK & LOOP - Easy installation and removal, also will not fall off when installed in use.
GREAT DURABILITY - Made from premium aluminum oxide, delivering fast and long lasting sanding.
If you are looking for sanding discs that meet all your requirements, this package could be a great choice. It contains seventy pieces of great sandpaper discs with a grit range of 24- 800.
It has a hook and loop feature for simple installation and removal and won't fall off when using them. The package has coarse grits and fine sandpapers to meet all your sanding needs.
Since these sandpapers are made of premium Aluminum oxide, they are durable and allow you to sand fast. Another beauty of these sandpapers is that they have eight pre-punched holes so that they can pick dust as you sand.
So, you don't have to worry about managing the dust when filing your project. You can quickly tell the sandpaper grits you are using since the grit numbers are printed on the backside.
So you can flip the disc and see the number you are using so that you can move on to the next grit number hassle-free.
You'll like the variation of grit, that they don't clog up, and their hole pattern matches Ryobi corded random orbital sander perfectly. They last at least twice as long as Diablo pads, which are the gold standard many.
Once you mount them to your power sander, punch the holes in with your bare finger to stop the fringes of the holes from marking your masterpiece. This is particularly crucial with the finer grits.
What We Liked Most
You get value for your money
They do not clog up
They give a good finishing
What Could Be Improved
They're not very durable, but you can't complain given the price
---
2.
Best grit sandpaper for wood

– 3M General Purpose Sandpaper Sheets
If you are looking for sandpaper for sanding wood, metal, or paint, your search could end here. This package contains six assorted Alo sandpaper that's easy to use and ideal for different surfaces.
These sandpapers are superb for general use. It's just the appropriate fit, so do not be disappointed if you use half of one sheet and store the other half for future use.
Follow the wood grain and avoid skipping one grit when sanding for professional results. In short, sand in a sequence, starting with the lowest grit and ending with the highest grit number.
With these sandpaper sheets, sand in the direction of the wood grain. Begin by removing extra layers from a wood carving with the hardest sandpaper paper, 60 grit.
Then, using the 100 grit paper, level out the flat surfaces before polishing everything with the gentler 150 grit paper. You can use these sandpapers for final sanding to give your project a desirable appearance.
Use these papers in all your projects as they have varying coarseness to give you the results you deserve. The various grit package is ideal for metal, painted surfaces, and bare surfaces.
The 3-2/3-inch by 9-inch cut sheets can be sanded by hand with a sanding block or a power tool sander. You know that sanding is essential in preparing a flat surface for coating.
Always sand with the grain of the wood and work through a series of grits, from coarse to very fine, for the perfect sanding results.
What We Liked Most
Ideal for a small project
Gives excellent results
It's a high-quality product
What Could Be Improved
It's thin but works wonders
---
3.
Best sandpaper for furniture

– Sandpaper Grit 120 to 3000 Sand Paper
Sandpaper Sheets, 42 Pcs Sand Paper Assortment Pack, 120 to...
【PREMIUM SANDPAPERS】The sandpaper sheets are premium silicon carbide that provides abrasion resistance, high efficiency and good effect. Featured with electro coated technology, the abrasives are homogeneously distributed on sand paper. The abrasives attach firmly on the sandpaper and won't fall off while sanding. Backing paper is tear-resistant and flexible. The hand sander is made of ABS, with foam for sanding cushion, screw clamp for holding abrasive sheets firmly.
【VARIOUS GRITS, IDENTIFIABLE NUMBERS】LANNEY sandpaper assortment contains 42 sheets of wet dry sandpaper in 120/150/180/240/320/400/600/800/1000/1200/1500/2000/2500/3000 grit, 3 sheets of each, providing you with a wide selection from coarse to fine grits. You don't have to buy a full pack of each grit. With these sand paper assortment pack, you have right grade for various projects. Grits numbers are printed on the back of sandpapers, which help you to easily identify the grits.
【WATERPROOF SANDPAPERS PERFECT FOR DRY AND WET SANDING】Made of waterproof silicone carbide, the sandpapers are great for both dry and wet sanding. No matter you want to dry sand for wood furniture or wet sand for scratched glasses, fine sandpaper won't let you down. Owing to tensile resistant technology, sandpaper sheets are extremely sturdy and flexible. The wet dry sandpaper will not fall apart, tear or crumble off during use.
If you need sandpaper for buffing, finishing, sanding, grinding, and polishing surfaces, this product is all you need. If you have a sanding project, you feel you will never finish due to one reason or the other.
This sandpaper for woodworking could give you the friendly nudge you need to finish the project. This is a high-quality product ideal for do-it-yourselfers who struggle to finish their projects. It gives value to your hard-earned cash, so you do not feel cheated.
You can use products stone, wood, metal, plastic, glass, painting, painting, leather, porcelain, walls, furniture, cars, woodcarving, art, crafts, woodworking, automotive sanding, finishing, jewelry, headlight refurbishment, etc.
Lanney wet dry sandpaper is superb for general uses as it has all the goodness of premium silicon carbide. It resists abrasion and performs exceptionally well. The grits are uniformly distributed and won't come off when working.
The backing paper is of high quality and tear-resistant. It has 14 different grits to meet different sanding needs. Sandpaper grits are printed on the back for ease of identification.
You can use it for dry and wet sanding. The Sandpapers fit perfectly in this suitably sized sanding block sander.
What We Liked Most
Has different grits for various sanding needs
Works as marketed
It's lightweight and straightforward to use
What Could Be Improved
The sandpaper is phenomenal, but the block's quality is wanting
---
4.
Best Budget sandpaper brand for wood

– 24PCS Sand Paper Variety Pack Sandpaper 12 Grits
HSYMQ 24PCS Sand Paper Variety Pack Sandpaper 12 Grits...
12 Grits Assortment:120/150/180/240/320/400/600/800/1000/1500/2500/3000 Grit, each grit got 2 sheets
Convenient size and easy to identify: all sandpapers are 9 x 3.6 inch, also can be cut into any size you need. Soft-backed sandpaper ensures good hand grip and can be used to polish objects smoothly with only moderate effort, with high resistance to slipping or loose during use. Grit specifications are printed on the back of the sanding papers for easy identification.
Wet or dry sanding: waterproof and tensile resistant technology allows these abrasive paper sheets to be tough and last long on your projects, and can be used for both wet and dry purposes.
Suppose you've been looking for a fantastic sandpaper assortment that can make your tabletop as smooth as butter. In that case, you could be lucky with this product.
It has a low grit that you could use for the most challenging spots and high grit (3000) that can make your bench seat, bar top, table, etc., as smooth as butter.
The sandpapers are 9 x 3.6 inches in size, but you can cut them to whatever size you need. It has a soft but sturdy back to provide a good grip and allows you to polish the surfaces smoothly without breaking your back.
The sandpapers are resistant to slipping so that they do not keep slipping from your hands during use. The sandpapers have a perfect size of 9×36, and you can cut them to whichever size you want and still work effectively.
Each grit has two sizes so that if one sheet wears out before you are done, you just toss it away, grab the other one and move on with your work as nothing happened.
For simple identification, the grits specification is printed on the backside. The papers are excellent for dry and wet sanding. The papers are waterproof and durable.
Use them for minor jobs such as smoothing wood, removing abrasions and scuff, refinishing baseboards, etc.
What We Liked Most
It's easy to use 
Affordable
You can use it for different purposes
What Could Be Improved
They're thin but effective
---
5.
Finest grit sandpaper for wood

– 3M Aluminum Oxide Sandpaper
Whatever you're working on – projects, woodworking, experimenting, or toying – this finest grit sandpaper by 3M could be a good fit. It's made with different coarseness grades.
So, it's appropriate for varying levels of sanding. It's a general-purpose aluminum oxide sandpaper that you can use on painted surfaces, metal, and bare wood. It can be used by hand on a sanding block.
You can also customize it for a power tool sander. When using this tool, a good rule of thumb is to always sand with the grain of the wood and go through a series of grits, starting from coarse and ending with very fine.
Adjustable sanding sponges are also available for flat and curved surfaces such as raised panel doors, cabinets, or windows. Pick a block sanding sponge or an angled sanding sponge for difficult-to-reach areas such as corners.
This sandpaper for woodworking package contains sixteen new 1/4 sheets at a reasonable price. You can also use spent sheets on projects that need 80-100 grit abrasion.
It's such great quality sandpaper that lasts remarkably for hand sanding and quarter sheet power sander. The surface remains intact and does not disintegrate like other products you may have tried.
Please understand that this is not a mixed pack. You choose between fine grits, coarse, and medium. The grits are 60 grit- coarse, Medium – 100 grit, and Fine- 150 grit.
What We Liked Most
It's a good quality product
You can reuse the use sandpapers on projects that need rough sanding
It's very affordable
What Could Be Improved
You've to choose between coarse, fine, or medium grit
---
6.
Highest grit sandpaper

– Bates- Sand Paper with 1 Handle, 36 Pack, Sandpaper
Bates- Sand Paper with Handle, 36 Pack, Sand Paper Set,...
Package Includes: 1 Sand Paper Handle, And 36 Sheets Of Sand Paper In 12 Grits: 120/220/320/400/600/800/1000/1200/1500/2500/3000, 3 Sheets Per Grit
Premium Quality Waterproof Sand Paper Made From The Most Durable Of All Synthetic Abrasives, Silicon Carbide, Great For Wet And Dry Sanding
Each Sand Paper Sheet Is 9 X 3.6 Inches, Perfect Size To Fit Any Standard Sand Paper Holder
Suppose all you need is a premium quality waterproof sandpaper manufactured from the most sturdy material globally. In that case, this could be the product for you.
It's made from silicon carbide, so it'll last as long as you need it to. The sandpaper is suitable for wet and dry sanding. The package contains thirty-six sheets of sandpaper with twelve grits.
So, you can easily sand in the perfect sequence for superb results. Each sandpaper sheet measures 9 x 3.6 inches, making it ideal for any standard sandpaper holder.
The sandpapers are suitable for any sanding job, including drywall sanding, wood polishing, metal sanding, etc. This works well for various types of sanding, and the diverse selection pack of sandpaper will cover all your needs.
It is ideal for woodworkers, contractors, handypersons, and small DIY projects. It's friendly and easy, with a foam grip that won't upset your hands while you're working.
This wood sander is fantastic as it comes with all the requirements for different types of sanding. For maximum performance, attach the paper must tightly so that the grip can hold as firmly as you want.
What We Liked Most
It gives you great results
It's affordable
It's ideal for professionals and DIY enthusiasts
What Could Be Improved
It can be challenging to place your paper on the block
---
7.
Longest lasting sandpaper

– Fandel 36025 100 Grit Multipurpose Sandpaper Sheets
Fandeli | Multi-Purpose Sandpaper | 100 Grit | 25 Sheets of...
🔶 PRODUCT SIZE AND CONTENTS: The package includes 25 pieces of 100 grit and can be used more than once. Size: 9'' x 11''. Can also be easily cut to fit any smaller size needed.
🔧 POSSIBLE USES: Offers fast cutting ideal for working with wood, paint, metal work and plastics. The abrasive material of the paper works well for soft and hard wood. The same paper can be used several times (creating less waste) and the rough grade provides exceptional sanding performance, allowing you to go faster. You can use this sandpaper manually or with an electric sander.
🕑 GREAT DURABILITY AND MORE ADVANTAGES: Our wood sandpaper is exceptionally durable and allows you to achieve a consistent and smooth finish. The medium grade of this sandpaper makes it ideal for all types of surfaces and projects of varying levels of sanding (woodworking, experimental or tinting). Made from aluminium oxide mineral, this sandpaper can be used on paint, wood, metal and other materials.
Fan deli 36025 Multifunctional 100 Grit Sandpaper, nine by 11-Inch Sheets are manufactured from sturdy paper that can be used on any surface. High-quality aluminum oxide mineral ensures longer sheet life, little clogging, and minimal waste.
This item is sold in a package of 25 sheets. Irrespective of your finishing assignment, Fan deli's solid range of top-quality coated abrasives can get the job done effortlessly.
You may have tried several sandpaper brands, but this one could become your favorite. It's sturdy and does the job every time. It is also reasonably adaptable. The clean-cut and the thickness of the backing paper will blow you away.
It'll last longer and retain the majority of the grit even after several sandings. However, If you need a more aggressive paper, purchase the 100 grit, and it will do an incredible job.
I can bet you had bought sandpaper that cracked when you bent it onto your sanding block. That will not be the case with this one.
You'll admire its performance. It'll bend nicely around the block and won't crack. It'll also hold on to palm sanders very well, just like its more expensive counterparts. You can even order more different grits to stock up.
What We Liked Most
It's durable
The grits last for considerable time based on your project
It's very affordable
What Could Be Improved
It has an upsetting odor but disappears after some time
---
8.
Best For Smoothing Wood To Perfection

– 120 To 3000 Assorted Grit Sandpaper for Wood
120 to 3000 Assorted Grit Sandpaper for Wood Furniture...
MEETS ALL YOUR NEED - Including 3 sheets of each grit: 120/220/320/400/600/800/1000/1200/1500/2000/2500/3000, total 36 sheets.
PREMIUM QUALITY - Made of waterproof silicon carbide, electro coated ensures the grit distributed homogeneously, good for wet and dry sanding.
MULTIFUNCTIONAL - Suitable for use in art and craft, wood work, automotive, metal, and plastic applications for buffing and polishing.
This assorted-grit package contains 12 different types of grit. The grits range from 120 to 3000- 3 pieces each. You can use it to finish your entire project, ranging from woodwork to art and work, metal, and automotive. You can also use it for polishing and buffing plastic applications.
This silicon carbide sandpaper is waterproofed and electro-coated to ensure a homogeneous grit distribution. This material works well for hardwood and softwood and hardwood.
The sandpaper's grits are on the back to allow easy identification. Being a general-purpose abrasive, you can use it for dry and wet sanding. While each sheet measures 3.6 inches, you can cut it into smaller pieces if needed.
When using each sandpaper sheet, consider sanding along the wood grain. Start with the hardest 120-220 grit paper to remove the extra layer on your wood project. You can then use the 320-400 grit to level the surface before finally buffing with the gentler 2000-30000 grit sandpaper.
I recommend the 1000-1500 grit range for sanding between coats of finish.
What We Liked Most
High-quality abrasive material
Waterproof
Good for professional carvers
Wide grit- range to suit different projects
What Could Be Improved
They wear out faster than most silicon carbide sandpaper
The highest grit sandpaper is not so useful, especially for professional wood carvers.
---
9.
Best Sandpaper For Hard-To-Reach Areas

– SandPaper, 45 Pack 120 to 5000 Grit
Sand Paper, 45 Pack 120 to 5000 Grit Sandpaper Wood Wet Dry...
【SUPERIOR QUALITY GREAT FOR WET & DRY SANDING】Remiawy sandpaper for wood is composed of silicon carbide which is sharper and harder than other standard forms of sandpaper. It is electro-coated for even grit distribution and to ensure backside paper does not come off or tear apart when folded over or used. You can use sand paper in both dry and wet conditions. That means you can move a lot of material when using it dry, or work carefully and with precision to remove small amounts when wet.
【SANDIING YOUR HOME PROJECTS LIKE A PRO】Car headlights looking foggy? Don't have the time to take your car to an auto shop? Now, you can restore them with Remiawy sandpaper sheets at home, make the headlights shiny and clear with ease in a few steps! It's suitable for general-purpose use and is also work like a charm on wood, metal, plastic, painted surfaces,dash, pillars and kick panels. With Remiawy sandpaper assortment, you can smooth wood easily and quickly with first-class results.
【AVAILABLE IN A GRIT RANGE WITHIN 120 TO 5000】Remiawy sandpaper variety pack include 45pcs of sand papers and a block sander. There are 15 grit levels available in this variety pack: 120, 150, 180, 240, 320, 400, 600, 800, 1000, 1200, 1500, 2000, 2500, 3000, 5000 grit, with 3 pieces under each grit. With such a variety of options in hand, it is possible to work on any kind of materials for any kind of finishing works, you don't have to look for any other variations out of this package.
Look no further if you are looking for sharper and harder sandpaper than the standard paper. This is an electro-coated silicon carbide sandpaper with even grit distribution.
Unlike other sandpaper for wood, the backside paper doesn't tear apart or come off when folded over. You can use it for sanding both dry and wet applications.
Besides wood projects, this general-purpose sandpaper also works on metal, plastic, kick panels, pillars, and painted surfaces. Easily achieve first-class wood finish using the Remiawy sandpaper assortment.
This variety pack includes 45 sheets within the 120-5000 grit range to suit different sanding needs. The 15 grit levels in the assortment pack include; 120, 150, 180, 240, 320, 400, 600, 800, 1000, 1200, 1500, 2000, 2500, 3000, 5000 grit, and comes with a block sander.
This eliminates the need to search for other variations since there is sandpaper to finish any material. Moreover, it rolls up easily, allowing you to work on critical or hard-to-reach areas
Each sheet measures 9×3.6 inches, which allows you to use it either with a sanding block or by hand. You can also cut it into smaller sizes, with each sheet having the grit printed on the backside for easier identification.
What We Liked Most
Good deal for a 45 pack of sandpaper sheets
15 different grits to choose from
The abrasive material is of superior quality
What Could Be Improved
The highest grit is not of so much use
---
Best Sandpaper for Wood Comparison Table
How to Choose the Best Sandpaper for Woodworking
There is no one-size-fits-all answer to this question, as a good sandpaper for wood depends on the specific project you are working on. However, there are a few general tips that can help you choose the best sandpaper for your needs.
Grit
When purchasing sandpaper, an essential factor to consider is grit. Grit refers to abrasive material and how fine or coarse the fabric is. The higher the grit number is, the finer or smoother the sandpaper is, which is excellent if you want smoother surfaces.
Lower grit numbers indicate rougher sandpapers are ideal if you need aggressive sanding on abrasive surfaces. Rough sanding papers are suitable if you are working on painted wood.
You need to scrape off old paint and remove imperfections fast. coarse paper always do a great job on rough surfaces. Low grit values range from 120- to 200. higher grit value can go up to 3000.
This ensures that you have sandpaper sheets for any wood carving project. You can use different grit sandpapers for the same sanding task.
Starting with a low grit will help you get rid of the existing material faster, while a high grit will help you smooth out the sharp edges for a nice, smooth finish.
Read: What sandpaper to use on wood before painting
Number of Sheets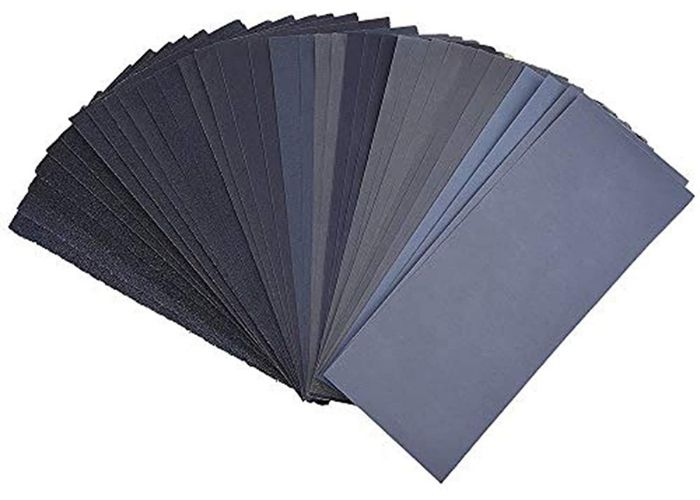 The number of sheets is a critical factor when investing in sandpaper. A single sheet of sandpaper, for a while, but it'll eventually wear off needing replacement.
By multiple sheets so that if one wears off, you can easily replace it and move on with your sanding project unabated.
Types of Sandpaper for Wood
Whether you're working with bare wood, metal, drywall, or painting wood, the best finishes come from proper sanding.
One method of determining the best sandpaper for your unique project is to know the abrasive particles and their properties. Some sandpapers use synthetic abrasives, while others use natural abrasives.
Here are different types of sandpaper for wood you can use for various projects.
Coarse sandpaper
The task at hand determines the grit size of sandpaper to use. For heavy material removal use coarser sandpaper.
For aggressive sanding, you'll require coarse sandpaper with a 40- to 60-grit. An 80- to 120-grit sandpaper is great for smoothing surfaces and removing minor imperfections.
Use fine sandpaper with a grit of 360 to 600 to finish multiple surfaces smoothly. Several jobs demand that you "sift through the various grits.
So, you'll start with a coarser grit and work your way up to fine-grit sandpaper as the project progresses. As you proceed to higher grit sandpaper, the scratch marks from the preceding stage are removed.
Extra coarse sandpaper
It's hard stuff in the 24- to the 36-grit range. It's used for removing stubborn paint and varnish or lacquers that you don't think will come off.
You also use it for Sanding old due to its abrasiveness. Don't consider using this on anything but the most challenging jobs to avoid ruining your project.
Medium sandpaper
You use medium sandpaper or final shaping. The medium sandpaper grit range is 60- 100. It's ideal for rough sanding and removing planning marks from bare wood.
Fine sandpapers
The grit of fine sandpaper ranges from 120 to 220-grit. This wood sandpaper will be sufficient for final sanding in most DIY projects. If you need to sand between coats, go for fine-grit sandpaper.
Fine sandpaper eliminates less material and leaves a smoother surface than coarse sandpaper.
Extra fine sandpaper
Extra fine sandpaper is suitable for sanding between coats to improve paint adhesion to a surface. It is slightly coarser and abrasive than Super Fine sandpaper. Its grit range is 320-360.
Extra fine grits are excellent for wet sanding the final paint coat. Sanding removes massive defects such as drips, dust, and sags. It also roughs the surface to improve adhesion.
The latter effect is especially critical with hard, high-gloss paints such as enamel. It is essential to use a suitable sandpaper grade. Too fine sanding will take ages if the preceding coat has several significant flaws.
At the same time, too coarse sanding will leave visible marks that will necessitate additional sanding with finer sandpaper.
You may also need additional coats of paint, which could be time-consuming and expensive. You only need to scuff different surfaces just enough to remove the shine.
Different Types of Sanding Abrasives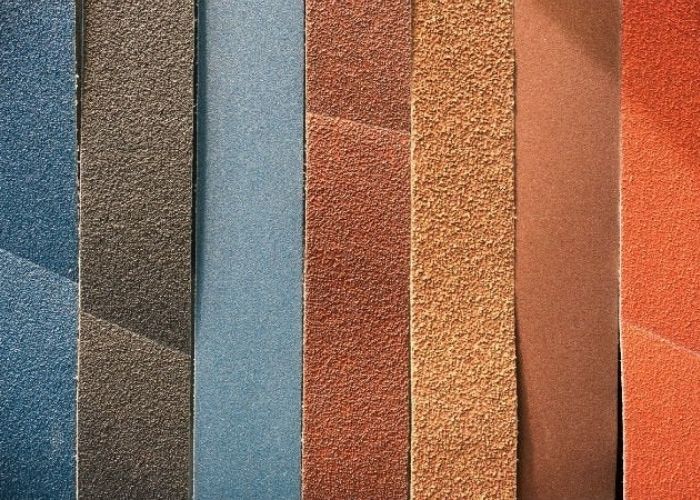 You can use sandpaper with power tools or with your hands. Power sanders are great because they quickly and successfully remove all the unwanted material. They are a superb choice for removing surface flaws and wood polishing.
Power sanding is another effective method for preparing different surfaces for painting. Power sandpaper comes in sheets, discs, and belts formulated to fit unique power tools.
Some power tools also accept sheets that have been cut to size. Here are other types of sanding abrasives. Sandpaper used to be available in two colors: black and tan.
Nowadays, manufacturers have tinted their priced abrasives with teal, lilac, or umber dyes to stay ahead of the competition. Only two natural abrasives are readily available.
Emery and garnet. Here are the most common types of abrasives.
Natural Abrasives
Garnet Sandpaper- This wood sandpaper is ideal for sanding bare wood. When compared to artificial abrasives, it dulls pretty fast. Flint sandpapers are also made of organic materials.
Emery sandpaper is appropriate for sanding or polishing metal. You can't use it for other applications because it is too soft. It has a flexible cloth backing. To remove old paint or rust, use coarse grits and finer grits to polish.
Artificial/ Synthetic Abrasives
Silicon cardine
Silicon carbide removes material faster than aluminum oxide sandpaper but wears off very quickly. It's valid on rough sanding on wood, plastic, and metal.
You can also use it for removing paint and rust, lightly sanding between coats when finishing wood. Try it on drywall to make the joints smooth.
Silicon carbide products have a waterproof backing. It is ideal for wet-sanding, a practical approach for reducing scratches when lubricating the work surface with liquid.
Wet-sanding also prevents dust from clogging the sandpaper, removes loose abrasive particles, and reduces airborne dust.
Aluminum oxide sandpaper
Aluminum oxide is a common type of sandpaper used on raw wood, plastic, metal, and drywall. During the sanding process, the particles break, exposing sharp edges.
Aluminum oxide sandpaper is durable. So it is a top choice for power sanding. It's also appropriate for hand sanding.
Ceramic sandpaper
Ceramic sandpaper is tougher, longer-lasting, and more expensive than other abrasives. It's chemically bonded with aluminum oxide, used predominantly for power sanding. It is also used on belts and discs.
Zirconia alumina
Zirconia alumina is appropriate for wood, fiberglass, metal, and most painted surfaces. It comes in the form of power-sanding belts, pads, and discs.
Its particles, just like garnet and aluminum oxide abrasives, break down during use, retaining sharp edges that remove the unwanted material quickly. Zirconia alumina is more durable than aluminum oxide.
Sandpaper Grit Progression
A sandpaper grit number shows the exact size of its abrasive particles. The smaller the number, the bigger the abrasive particles. These sandpapers remove more material but leave visible scratches.
A higher number implies smaller particles, removing less material yet leaving a more refined, more polished finish. Sanding projects employ various grit sizes, beginning with coarser, lower-number grits and progressing to smoother, higher-number grits.
Every sandpaper grit higher eliminates scratches from the preceding grit, resulting in a smoother surface.
Grit #1: Wood Removal (Belt sander and Random Orbital Sander)
Only use 24 sandpaper grit for removing aggressive stock. Use a grit 40 to remove huge scratches and dents. Belt sander and orbital sander come into play here.
60 grit is a good starting point for removing planer marks with different sander types. You can also use a drum sander to get the job done.
A drum sander is characterized by a large cylinder that can take in a wide sanding belt. When the machine is turned on, the drum rotates and sands in the same manner as a belt sander.
Grit #2: Scratch and Blemish Removal (Orbital sander and Palm Sanders)
If you began with any grit before, 80 grit would be your next grit to remove deep noticeable scratches.
If you began with any grit before, 80 grit would be your next grit to remove deep noticeable scratches. 100/120 grit removes 60 and 80 grit deep scratches.
Finish Sanding with Grit #3 (Palm and Detail Sanders)
150/180 removes visible scratches from any type of wood. 220 grit is the final grit you can use on most woods.
The sanding sealer and transparent finish will accomplish the smooth finish process. You can pair 150/ 180 grit while undertaking final sanding.
Types of Sanders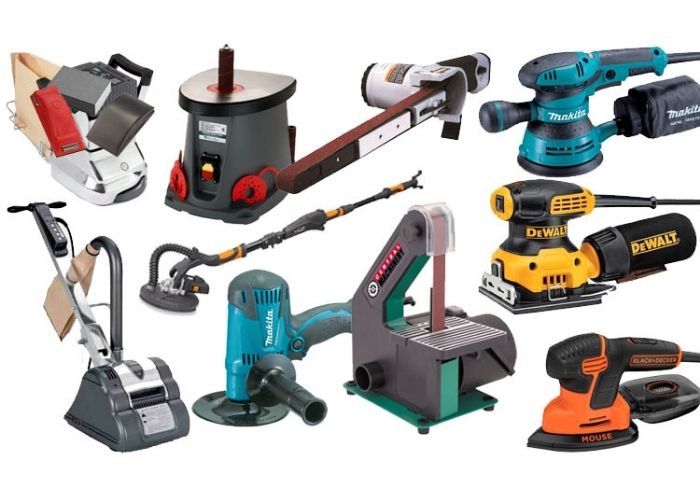 Four types of wood sanders exist. They are Belt sanders, Disc Sanders random orbital sanders, and finishing sanders. Use a right sandpaper for the right job.
Each sander type serves a specific purpose. However, these functions coincide, and one sander category can perform a similar wood finishing project as another. The expertise of the hand holding the sander is what makes the difference.
If you are a serious woodworker, you can't go wrong by purchasing all four types of sanders. When armed with the four sander designs and the appropriate abrasive combination, you'll be capable of tackling any sanding task you can think of.
Here's a closer look at the four different types of wood sanders.
Orbital Sanders
Also referred to as finishing sanders, these handheld sanding tools use tiny sheets of sandpaper glued to a rectangular base.
Orbital sander base usually vibrates in tiny circles repeatedly. Although this motion produces a smooth finish, it does not remove as much material as other power sanders.
It is critical to belt-sand with the wood grain instead of across it. Else the lateral action of the belt sander could ruin the work. It is vital to size your belt sander to your specific needs.
Belt Sanders
A sandpaper band that rotates aggressively removes particles or shapes wood. They perform excellently on large surfaces but are inappropriate for more sensitive finishing projects.
Poor technique with belt sanders can result in workpiece gashes. They need two hands to operate and require more effort to manage than other types of sanders.
Hand Sanders and Sanding Blocks:
These tools use cut-to-size sandpaper sheets and provide more comfort, control, and influence than sanding sheets alone. They can yield results on flat surfaces. Sand wood in the wood grain direction.
Pole Sanders
A pole sander is a manual sander with a long, thin handle. The device is used for sanding large, flat surfaces such as drywalls, ceilings, and floors.
Detail Sanders
These have a teardrop-shaped sanding base to penetrate hard-to-reach areas and tight spaces for custom-fit sandpaper. It works the same as orbital sanders. Detail sanders are ideal for sanding small areas fast and efficiently.
Disc Sanders
Disc sanders are tabletop sanders that use a circular sanding disc glued to a circular plate to shape wood. They are frequently used for delicate finishes, smoothing end grain, and straight cuts.
You can also use them for sanding miter cuts, sanding curved edges, and other surfaces that need fine-tuning sanding.
Finishing Sanders
You need a finishing sander for superfinishing work on almost all wood projects you work on. You use it to do those tasks that disc, random, orbital sanders have challenges doing.
When it comes time to put on a high-polished appearance, you must ensure that your sanding is as smooth as it can.
Read also: Can you sandblast wood?
FAQs
What is the best type of sandpaper for wood?
It depends on your budget, project, and the sanding technique. For aggressive, fast wood removal, use 60- or 80-grit sandpaper. Use 100-grit sandpaper for general-purpose sanding and 120 -180 grit for the most refined finish. Follow power-tool sanding mostly with hand sanding.
What is 120 grit sandpaper used for?
For heavy sanding and stripping, use 40- to 60-grit sandpaper. Use 80- 120 grit for smoothing contoured surfaces and removing paint and minor surface imperfections. Get super fine sandpaper with a grit range of 360 to 600 for butter-like smooth surfaces.
What is 80 grit sandpaper used for?
80 grit sandpaper is used for rough sanding and to remove scratches or deformations. While being abrasive is acceptable, be cautious when using low-grit sandpaper as it may reveal visible scratches or swirls in your wood.
What is the roughest grit?
The roughest grit range is 40 – 50. You can do final shaping with medium sandpaper, with a grit range of 100- 120. Medium-grit sandpaper is often recommended for mild sanding and removing planning marks from wood.
What grit of sandpaper should be used for wood before painting?
Sanding is essential for achieving a smooth surface. Use 120-grit sandpaper followed by 150-grit sandpaper on wood that will be painted. Use 150-grit sandpaper followed by 180-grit for all closed-grain woods such as Cherry, Pine, Maple, Birch, or Alder if you need to stain them with water-based products.
What is the best sandpaper for wood?
The two best sandpapers for wood are garnet and flint because they're made of natural materials. The best sandpaper for hand-sanding wood is garnet. Flint sandpaper is cheap but it isn't especially long-lasting. Flint is ideal for small projects with irregular surfaces and is less popular than other sandpapers.
Related Posts: What Grit Sandpaper for Deck?
Where to buy sandpaper
The best place to buy sandpaper is at any hardware store or an online store like Amazon. Just make sure to get the right grit for the job you're doing. If you're sanding down a rough surface, you'll want a higher grit. For a smooth finish, you'll want a lower grit. And always sand with the grain of the wood, not against it!
What is the best sandpaper brand for wood?
The best brand of sandpaper for wood is Miady and 3M. These manufacturers produce high-quality products that will last longer and give you a better finish. There are other brands out there, but none can match the quality of Miady and 3M.
Final Thoughts on the Best Woodworking Sandpaper
Sanding is crucial to give smooth surfaces. The tools you use and the method you employ play a significant role in your results.
For professional results, start with coarse sandpaper and proceed to finer grits. Avoid skipping two grits at a time. It may seem like you're wasting time, but patience and attention to detail are essential.
The best sandpaper for wood should sand the wood without bending. The grits should remain intact when you're rubbing.
Also, grit numbers should be written on the back to help know which grit you are using. Our top pick is 5-Inch 8-Hole Hook and Loop Sanding Discs 70PCS.
They are simple to use, don't clog up, are available in different grit sizes. You can easily install and remove them from sanding tools.
Further read: How to Use Liquid Sandpaper.