Cedar is the go-to wood for fences and decks for many homeowners because of its natural insect resistance and the wood's natural beauty.
Cedar also looks excellent with a stain or paint job, in case you ever doubted, can cedar be painted? However, over time it will deteriorate due to exposure to the elements. The best way to protect a cedar surface is to penetrate the surface pores with a sealant.
A wood sealer protects against the moisture damage that could lead to mould and mildew growth on your deck or fence boards. But with so many options, how can you pick the best sealer for cedar? Read on to find out.
Our Top Picks
Best Sealer for Cedar Wood
Best Cedar Sealer Reviews
1.
Best Overall Cedar Sealer

– 100% Pure Tung Oil Finish Wood Stain & Sealer
100% Pure Tung Oil Finish Wood Stain & Natural Sealer for...
GET A WARM, RICH FINISH. 100% Pure Tung Oil Finisher adds depth for an antique-style finish. Creates a hand-rubbed look on wood surfaces.
NO ADDITIVES, SOLVENTS OR VARNISHES. Pure tung oil adds depth without using solvents or additives. Gives the surface a rich, almost wet look.
DRIES FASTER THAN OTHER OILS. Compared to linseed, soy, and walnut oils, tung oil finish dries fast for remarkable turn-around time.
Pure Tung Oil Finish is all you need if you're looking for the best cedar protection to create a beautiful, natural finish on delicate wood surfaces.
This waterproofing stain stands out from other brands because it enhances the natural beauty of cedar surfaces without requiring an additional coat of sealant. As a result, it comes in smaller packaging compared to others.
I love how the Pure Tung Oil Finish works its magic in just one application, making my decor sparkle while protecting it from moisture. Rain or snow droplets float on the surface or drain away.
The sealant gives my cedar decks a rich, glossy look and a pleasant feel. It's perfect for applying to wooden items or cedar railings to improve grip and water resistance.
Applying the Pure Tung Oil Finish with a brush makes the process easy and fast, and no special skills are required. The oil penetrates the wood fibres without leaving any white residue, which can be found in other products that use additives to speed up drying time.
Even better, this cedar sealant is 100% natural and organic, containing no harmful ingredients like silicone, paraffin, or petroleum distillates. It even produces a sweet-smelling odor when applied, and I can use my hands to apply it.
I store the Pure Tung Oil Finish away from direct sunlight to avoid any damage to its quality. Although it's flammable or combustible, I store it away from heat sources as a precaution.
What I Liked Most About this Cedar Sealant
It's durable
You can use it on different surfaces
It significantly resists water, sun, and stain
It's non-toxic
What Could Be Improved
It takes longer to dry
The remaining product expires fast
---
2.
Best Semitransparent Wood Sealer

– #1 Deck Premium Semi-Transparent
If you suffer from allergies or dislike the smell of oil-based products, use a water-based cedar wood sealer instead.
I recently tried the waterproofing stain from SaverSystems, a reputable producer, and I found it easy to apply with a long shelf life. One of the best things about it is that it doesn't contain linseed oil, making cleaning after use a breeze.
Since I have outdoor cedar surfaces exposed to sunlight, I know how harmful UV rays can be to wood. That's why I chose this stain and sealer, specifically designed to protect cedar from water damage and UV rays.
Compared to other oil-based stains, it has performed exceptionally well, ensuring that my assets retain their value for years.
Another great feature of this product is its semi-transparent nature, which makes it perfect for achieving a mildew-resistant surface without altering the natural beauty of the wood. Plus, it smooths out any discrepancies, pleasing my cedar surfaces.
One of the reasons I prefer this water-based stain is that it's easy to apply with just a brush, and it doesn't leave behind any white residue like some other products that contain additives to speed up drying time.
Moreover, I appreciate that this stain is environmentally friendly, as it doesn't contain harmful ingredients like silicone, paraffin, or petroleum distillates.
It's 100% natural and organic and even produces a sweet-smelling odor when applied. I also like using my hands to apply it for a more tactile experience.
Just a word of caution, though – I've learned that storing this stain away from direct sunlight is important, as prolonged exposure can damage its quality.
It's also flammable, so I store it away from heat sources for safety reasons. Overall, I've been thrilled with the performance of this water-based cedar wood sealer, and I highly recommend it to anyone looking for a reliable and eco-friendly option.
This semi-transparent stain is ideal for sealing decks, gazebos, outdoor furniture, and cedar siding. It's one of the best pressure-treated wood sealers, and you can also use it on other weathered softwood surfaces.
What I Liked Most About This Sealant for cedarwood
After drying, it gives off a more natural appearance
It comes in four different color options
It produces a slight odor when applying
Its high waterproofing capability makes it ideal for using the outdoors
What Could Be Improved
It works well on softwoods
When applied with a small spray tip, it dries evenly with no runs
Even if you have no prior experience, it is simple to use
---
3.
Best wood preservative for cedar

– THOMPSONS WATERSEAL TH.042851-16
I've been using this product to protect my cedar surfaces from water damage, and I must say it's excellent. It provides a protective barrier against moisture and enhances the natural beauty of the wood and prevents fading caused by exposure to the elements.
Using this sealant for outdoor furniture, you don't have to worry about its longevity when it rains or snows. It's better than many other solid stains on the market. Also, I use Thompson's water seal before or after stain which is a plus for me.
It also does excellent at resisting mildew. You can semitransparent freshly painted surfaces and still produce outstanding results. Since it is a semi-transparent stain, you'll still be able to see the wood grains.
Thompson's waterproofing capabilities exceed industry standards. It is made from advanced polymers uniquely formulated to resist the elements exponentially.
You could try this solid stain every spring to keep your deck in great shape. Applying Thompson's water seal with a sprayer is also a pretty easy task.
What I Liked Most
It is simple to apply and leaves no runs or drips
Two coats are sufficient to achieve excellent results
It provides excellent coverage and repels all types of water
It applies smoothly and produces vibrant colors
What Could Be Improved
You can't spray the Product. If you do, you have to brush or backroll
Every year, you must reapply
---
4.
Best sealer for cedar posts

– Ready Seal 512 5-Gall43on Pail Natural

Sale
Ready Seal 512 5-Gallon Pail Natural Cedar Exterior Stain...
Requires no primer. Ready Seal is darkest when first applied. It reaches its true color in approximately 14 days. Do not apply Ready Seal over painted or newly stained surfaces. Sealed surfaces inhibit penetration.
May be applied using sprayer, roller or brush onto the woods surface.
Requires no back brushing and will nerver leave runs, laps, or streaks.
As someone with experience with exterior woodwork, I can confidently say that Ready Seal 512 is one of the best brands in the market. Its unmatched protective qualities make it a top choice for cedar surfaces.
One of the things I love about Ready Seal is its UV protection capabilities. It helps to prevent fading and mildew, keeping my cedar fence looking beautiful even when exposed to moisture. I don't have to worry about my wood furniture deteriorating due to weather damage.
Another great feature of Ready Seal is its mildew resistance. The high-quality resins in the sealer deeply penetrate the cedar surface, creating a strong barrier against the elements.
Knowing that my wood is protected from damage caused by moisture and other environmental damage gives me peace of mind.
When it comes to application, Ready Seal offers versatility. I can choose between a paint sprayer, roller, or brush, depending on my project size and preference.
This makes it easy for me to apply the stain and sealer myself without hiring a professional painter. Plus, since it doesn't contain linseed oil, I don't have to worry about streaking my hands during the application process, which makes it more convenient and less messy.
I also appreciate that a professional finish typically requires just one or two coats, depending on my preference. This saves me time and effort, as I can complete the application process faster than other products.
Plus, the drying time between coats is only forty-five minutes, which is impressive, even when the weather isn't cooperating.
I can attest to the effectiveness of Ready Seal 512 in protecting my cedar wood surfaces and enhancing their natural beauty. It's a reliable and easy-to-use option that many have trusted for its long-lasting results.
I recommend it for anyone who wants to maintain and protect their exterior woodwork.
What I Liked Most About this Sealant for Cedar wood
Simple to use with multiple tools, including a paint sprayer
Appropriate for exterior cedar projects
A primer is not required for the stain
The absence of linseed means that there will be no stains on the hands
It works on freshly cleaned, damp wood surface
No wet line application is required when applying
No back brushing required 
What Could Be Improved
You have to apply it under a shade  
---
5.
Best sealer for cedar furniture

– NANO GUARD
Seal-Once Nano Penetrating Wood Sealer - Premium Waterproof...
CLEAR SEALANT: Our water-based sealer provides top-notch protection against wear and tear in high traffic areas. It's odorless and ideal for use on wood siding, log homes, swing sets, outdoor furniture, wooden decks and fences, and more.
WOOD SEALANT: Unlike many sealers that only form a topcoat, our protector penetrates below the surface to create a long-lasting, water-resistant shield around the wood.
FLOOR SEALER APPLICATOR: Our premium gloss is ultra-low VOC and great for enhancing the extended life of your exterior flooring.
I am excited to share my experience with Nano Guard, an eco-friendly wood furniture sealer that surpasses expectations in every way. It is odorless and non-flammable, making it safe to use without any unpleasant smells or combustion risks.
What truly sets Nano Guard apart is its durability. Thanks to its innovative use of nanoparticles, water beads off my deck protect it from moisture damage.
This feature not only helps prevent mold and mildew growth but also makes cleaning up a breeze. I no longer have to worry about spending hours scrubbing my deck to maintain its appearance.
In addition to its performance, I appreciate that Nano Guard is a water-based sealer, which means it does not create hazardous or toxic fumes during application or removal.
It has a low VOC (volatile organic compounds) content and low odor, making it a safer option for me and the environment. I can confidently apply it without worrying about harming the air quality or contributing to the depletion of the ozone layer.
Another noteworthy feature of Nano Guard is that it does not contain harsh chemicals such as peroxide or other heavy metals. It is free from nitrates and phosphorous products, making it better for the environment compared to some oil-based sealers and stains available in the market. I appreciate using an eco-friendly product that does not hurt our planet.
Furthermore, Nano Guard is easy to clean and paintable, making it a convenient choice for my exterior wood surfaces. Its natural protection lasts a long time, ensuring that my wood furniture remains in great condition.
I am impressed with its performance and the fact that it protects without compromising my family's or the environment's health.
You can use this exterior wood stain in the moldiest areas of your kitchen and other high-moisture sites. You could try it even on already stained teak wood. The product will absorb into the wood, and you won't struggle with mold for years.
What I Liked Most
It completely repels mold
It's safe for the environment and won't harm people or pets
It is easy to apply with no mess and lap marks using a paint roller and other tools
It's durable
It does not change the natural texture of a cedar wood surface
What Could Be Improved
It's a bit slippery when wet
---
6.
Best sealer for cedar pergola

– Star Brite Premium Golden Teak Oil – Preserver

If you own a wooden boat or have a beautiful deck constantly exposed to water, I recommend using Star Brite Golden Teak Oil Cedar Deck Stain and Sealer.

This product protects cedar wood from saltwater and adverse weather conditions, ensuring that your wood surface stays in great condition for as long as possible.

One of the best features of this teak oil is its ability to prevent rotting. The oil coating creates a protective barrier that keeps moisture from seeping into the wood, reducing the risk of rot caused by prolonged exposure to water.

This is especially important for wooden boats or decks constantly exposed to saltwater or harsh weather.

Another great feature of the Star Brite Golden Teak Oil is that it contains additives that prevent the wood from turning gray or fading due to sun exposure.

This helps maintain the natural beauty of the cedar wood, keeping it fresh and vibrant even after prolonged sun exposure.

Applying this wood stain and sealer is a breeze. I love using a cloth or sponge to apply it along the wood grains easily; it absorbs quickly into the wood, leaving no brush marks behind.

The fast absorption ensures that the wood is effectively protected from adverse weather conditions and replenishes the natural cedar oil that may have leached out over time.

One quart of this teak oil is typically enough to provide two coats on a single chair, with some left over for a headstart on another one.

However, to achieve professional results, it's important to thoroughly clean the wood surface to remove any previous coating before applying this stain and sealer.

Its protective properties, ease of application, and ability to replenish natural cedar oil make it an excellent option for maintaining the beauty and durability of my wood surfaces.

What I Liked Most
It increases resistance to salty water.
It protects against fading caused by UV sun rays
It's simple to use and dries very quickly
What Could Be Improved
Before applying, you must prepare the surface thoroughly, which is time-consuming.
It's a high-quality product, so it's pricey
---
7.
Best clear sealer for cedar

– DEFY Crystal Clear Composite Deck

Sale
DEFY Crystal Clear Composite Deck Waterproofing Sealer, 1...
WATER-BASED, CLEAR COMPOSITE DECK SEALER – This water based, clear wood and deck sealer protects composite wood from the harmful effects of the sun, while adding little to no change to the natural look of your composite deck.
FORTIFIED WITH ZINC NANO-PARTICLE TECHNOLOGY– It's like sunscreen for your wood. Tiny zinc particles dispersed throughout the stain reflect damaging UV rays, preventing premature graying and color loss.
EXTREMELY DURABLE, HIGH QUALITY RESINS – DEFY Composite Deck Sealer is made with the highest quality resins available that have better resistance to fading and darkening. The result is a quality sealer that typically lasts a season or two longer than competitive products.
I love using Defy Crystal Clear, a water-based clear wood and deck sealer, to protect all the brands of composite decking wood from the damaging effects of the sun without altering its natural appearance.
One of the best features of this sealer is its ability to prevent black stains that often occur when natural cedar comes into contact with water.
Defy Crystal Clear is specifically formulated with Zinc Nano-particle technology, which combines the sealer with UV-resistant zinc particles.
This unique feature makes my cedar siding constantly exposed to UV rays, and highly resistant to color fade and unsightly fungal growths.
I appreciate that this composite deck sealer is made from the highest quality resins available, making it highly resistant to fading and blackening.
As a result, it lasts a season or two longer than other stains, making it the best cedar sealer finish for outdoors.
Application is easy with this sealer, as it's made from advanced polymers that offer fade-resistant color. I prefer using a regular paint roller and applying it along the wood grain for the best results.
Ensuring enough sealer on the cedar fence allows it to penetrate into the crevices and grooves, providing thorough protection.
Defy Crystal Clear is my go-to sealer for protecting my composite wood, particularly my cedar siding and deck. Its long-lasting formula, UV-resistant properties, and ease of application make it a top choice for maintaining my cedar surfaces' natural beauty and durability.
What I Liked Most
It's easy to apply
Provide a high level of resistance to adverse elements
It's fortified with Nano-particle technology for maximum protection
It's easy to clean up after use
What Could Be Improved
You can only use it on composite decks
---
8.
Best Waterproofing Sealer

– SEAL-ONCE MARINE
Seal-Once Marine Premium Wood Sealer - Waterproof Sealant -...
MARINE SEALANT: Our liquid formula creates a UV-stable coating for protection against the elements, saltwater spray, and water damage. Marine is a great protector for outdoor furniture, thermally modified wood, and boat docks. Marine is safe for use over open water and is non-hazardous to aquatic life.
DECK STAIN: It's water-based, ultra-low VOC, great for enhancing the extended life of your flooring, siding, and porch. The paint forms a water-resistant shield around wood fibers at the cellular level to help preserve the natural color.
WATERPROOF WOOD SEALER: The wood used on boat docks, decks, and retaining walls near rivers, lakes, oceans, and ponds is subjected to constant moisture. We crafted a sealer, remove stain, and finish all in one, specifically for these installations.
I recommend Seal-Once as one of the best sealers for cedar. This sealer comes with a high-quality waterproofing wood finish that deeply penetrates into the wood, providing excellent protection against water and sun rays.
One of the standout features of Seal-Once is its high penetration standards, which help to safeguard the timber from water damage and UV rays. Despite being a water-based sealer, its improved penetrating nanotechnology performs on par with oil-based sealers.
Using this formula is a great way to enhance and prolong the natural life of your cedar surfaces. It offers water damage protection for up to ten years on vertical surfaces and six years on horizontal surfaces, thanks to its proprietary nanotechnology that coats the wood fibers at a cellular level, creating a pliable and porous material.
Seal-Once is available in eleven different semi-transparent color tints, giving you plenty of options. These colors include Light Brown, Clear, Mahogany, Natural, Black, Bronze Cedar, Battleship Gray, Cape Cod Gray, Shale Gray, Redwood, Cedar, and Brown.
In addition to its excellent waterproofing properties, this sealer inhibits warping, cupping, rot, mold, and other common problems associated with wood surfaces. It also has a UV rays barrier to prevent fading of the wood.
One of the best things about Seal-Once is that it contains Ultra Low-VOC, making it safe for humans, pets, and plant life. It's also easy to use and can be cleaned with regular soap and water, making maintenance a breeze.
Related Post: Best Sealer for Redwood
What I Liked Most
It comes in various colors for versatility
It Dries to the touch in two hours
Low VOC content
It's a simple formula to clean
What Could Be Improved
Not suitable for use on surfaces with temperatures below 45°F/7.22°C or above 95°F/35°C
---
9.
Bes deck sealer for cedar

– Olympic Stain Maximum Deck Stain
Olympic Maximum Wood Stain And Sealer For Decks, Fences,...
Weather-ready application allows you to clean and stain on the same day in temperatures down to 35 degrees fahrenheight, deck is ready for rain in 8 hours
Durable formula features advanced SunBlock UV defense and enhanced water proofing protection
Exclusive Scuff Guard technology and cleans easily with soap and water, eliminating the need for harsh chemicals
I can confidently say that the Olympic brand has repeatedly been rated as the best cedar deck sealer, and there are good reasons why.
One product that stands out is the Olympic Stain No. 56500-04 Maximum sealant, considered the best sealant the company has ever produced in several years. The high ratings it receives are not coincidental.
Reading through testimonials from verified customers, it's clear that this brand has exceptional waterproofing abilities, making it suitable for interior and exterior furniture.
One key feature of the Olympic stain is its UV protection abilities, which provide maximum defence against the harmful effects of UV rays on outdoor wooden surfaces. This is particularly important as I want to protect my deck from sun damage.
Another great feature of the Olympic Maximum is its weather-resistant formulation. This technology allows me to work with the stain regardless of the weather conditions, ensuring flawless results.
This gives me flexibility in planning when I need to remodel my home. For example, if the weather is hot and the wooden surface is dry and warm to the touch, I can lightly mist it before applying the stain, which is convenient.
Furthermore, when I apply this sealant to my wood, I am confident it will maintain its natural beauty for years. The Olympic Maximum is designed to condition and protect the wood from external elements, ensuring that my wood surfaces stay beautiful and well-maintained.
What I Liked Most about this Sealant for Cedar Decks
During severe weather, it protects cedar from UV rays
Appropriate for both indoor and outdoor use
It's a high-quality stain that's also highly waterproof
It can be used in any weather condition
What Could Be Improved
Its high quality comes at a higher cost
---
Best Sealant for Cedar Comparison Table
How to Protect Cedar Wood Outdoors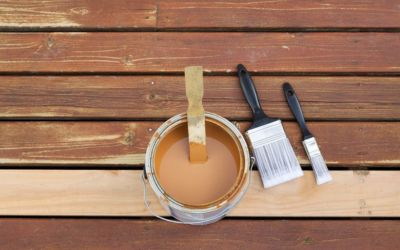 An excellent wood sealer for cedar should, at the very least, safeguard the wood from water penetration and moisture without tainting its appearance.
However, you should also consider the sealer's base ingredient, how safe or environmentally friendly it is, and whether it has any extra safety abilities.
You will need to know what to look for in a cedar wood sealer before you buy one. Also, you must understand why you should pick it over oil-based and natural stains. Keep an eye out for the following things.
Type of Sealers
Cedar wood sealers can either be water-based or oil-based sealers. Both types have pros and cons.
Water-based
Pros
It dries faster, allowing for various recoats each day. 
It dries faster, allowing for various recoats each day. 
It keeps the wood's appearance clear.
Cons
More costly
This can give the wood a dull look.
Oil-based
Pros
Cost-effective
Thicker composition results in fewer recoats.
It can give the wood more vivid colors
Cons
It has a strong odor.
It can end up causing the wood to be yellow  with time
It takes more time to dry.
Protection
Cedar Wood sealer's purpose is to waterproof the surface. However, numerous types of wood sealers are available nowadays, each with unique protective properties and intended use.
Nonetheless, a few things to look for in a wood sealer, mainly if the wood you are applying will stay outside. The cedar wood sealer should have superb protection abilities below:
Waterproofing- Waterproofing prevents moisture from seeping in and rotting, which helps keep a home livable throughout even harsh winters.
Prevention for Dark Stains- Fungi and mildew, for example, can cause unsightly dark spots on wood over a period. Dark stain prevention products will keep the wood secure from these materials, ensuring a terrific appearance in the long term.
Uv Protection– UV protection is essential for many reasons, but one of the most significant things to keep in mind is that it will help protect your wood from fading and splitting. The sun's UV radiation can cause these issues when left unchecked. Most stains and sealers contain linseed oil to help protect surfaces more effectively.
Color $ Aesthetics
You can buy sealers that work as a stain. Find a cedar color ideal for your project. Oil-based sealers make wood darker, while water-based ones have less effect on the color of the cedar wood.
Application
Spraying:
Spray-on finishes are the preferred method for a quality finish. They require less time and money than other types of applications, giving you more options regarding how much spray coverage your project needs to achieve an even result that lasts longer.
Most systems have several similarities, making them easy to use with minimal instruction on location setups.
Brushing
Brushing has been a reliable way to apply sealers to various surfaces. Brushing is used for minor repairs and in areas where spray painting is not feasible. You should thin the material you need to spray to the appropriate consistency for brushing.
You can also use a lint-free cloth or a sponge to apply a wood sealer on smaller surfaces.
Longevity/ Durability
Wood sealer is an excellent investment for your home. When buying a cedar sealer, consider its durability. Most wood-sealer formulas can last anywhere from one to three years before you re-apply another coat.
Maintenance
Different wood sealer has different maintenance needs. Buy a cedar wood sealer that's easy to maintain.
Eco-friendly components
If you prioritize environmental factors when choosing a sealer or stain, opt for products that have minimal environmental and health impact.
High-quality eco-friendly sealers should be safe to apply without causing skin irritation. Additionally, if your budget allows, you may consider purchasing organic sealers, despite their higher cost.
Opacity
When choosing a sealant for cedar, know that sealant pigment quality will impact the transparency of wood fibres and the natural cedar color after drying up.
Think about the color of your cedar wood to certify that the sealant you want to buy suits the cedar surface, or if you need it to stay unaffected, buy a clear wood sealant.
The sealer's opacity is classified as Toner, Semi-transparent, Semi-opaque, or Opaque-solid.
What Is a Wood Sealer, and How Does it Work?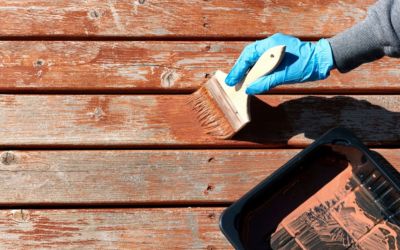 A sealer is a product you apply to a wood surface to protect it from harm. Stain, shellac, paint, and oil are examples of sealers. Sealers effectively prevent moisture or chemical reactions from altering the wood's pores.
Wood sealers penetrate the pores in your wood and prevent rot caused by water and other substances.
Nonetheless, outdoor furniture and wood decks exposed to the sun or staying dumped for an extended period can cause the sealer to deteriorate.
That's why you need to do maintenance coats after some time. Note: A simple cleaning with a mild detergent solution will usually regularly bring back the surface finish.
The sealer will not penetrate if the wood is muddy or has algae and mold growth, the sealer will not penetrate. It is pointless to apply a cedar sealer to a scummy surface. That's why you must clean the wood and allow it to dry before applying.
Read also: Olympic Waterguard versus Thompson water seal.
Sealing to Paint
Although cedar can be painted, it is important to apply primer before painting to prevent issues with natural oils bleeding through oil and latex paints, resulting in dark areas around sap lines and knots.
A high-solid primer, such as an alkyd oil-based primer, can protect against discoloration. It is crucial to select a primer with a high pigment percentage to avoid bleeding, and it also offers additional benefits, such as improving topcoat coverage and reducing application time.
Sealed Cedar: How to Seal Cedar Wood
Though cedar can withstand the elements of semitransparency, applying a sealant or a coat of paint will improve the color and safeguard the surface from UV light and the elements.
If left untreated, cedar's red color can fade to gray one year. That's why you should invest in a fade-resistant color to keep cedar surfaces naturally beautiful as long as possible.
You'll preserve the integrity of the wood unless it is exposed to high moisture, which may cause curling, cracking, and wood decay.
Seal before applying the siding to the wall for professional results. This lets you seal your cedar wood from front to back, top to bottom, and all crevices and edges.
A complete seal is essential because any gaps in the seal are more vulnerable to moisture damage and chemical bleeding. Always invest in the best stain to avoid frustrations.
When sealing cedar wood, it is critical to clean the cedar wood surface rigorously. Pressure washing can cause cedar to degrade, so wash by hand.
A semitransparent stain comprising cedar-colored pigments is a suitable option. To keep the natural colors, renew them as needed.
Use a water-sealing finish if weather resistance is your primary concern and you don't care about color. Most of these items contain paraffin, which forms a light coating inside the grain and hides water.
Here's a step-by-step guide on how to seal cedar surfaces
Sealing Cedar Step by Step
Step 1: Prepare the Surface
Begin by preparing the surface. If the wood has previously been stained, use a wood stripper to remove it. Apply appropriate wood cleaner if the cedar has no coating or stain.
Step 2: Scrub
Use the lowest pressure achievable to clean the wood. When you use strippers or cleaners, you won't have to scrub as hard because the cleaners will do most of the work. Avoid using masking tape to seal off areas you don't have to seal. Use painter's tape instead.
Step 3: Brighten the Surface
Use a neutralizer that also serves as a wood brightener. To ensure the stains conform to the wood, defuse it to a base of seven.
Allow it to dry. Based on the weather, the process could take twenty-four to forty-eight hours.
Step 4: Check to see if the Cedar is completely dry
Use an advanced moisture meter to see if the wood is dry. If not, let the wood dry completely before sealing.
Step 5: Using an airless sprayer or a brush, seal the Cedar
Apply the sealer consistently and liberally to ensure a thick, even coat of paint on the cedar. Try an oil-based stain to protect the wood from rain and snow without flaking or peeling.
Sealing the wood is the only effective way to protect it from the damaging effects of the sun and rain. Also, the only way to extend the life of cedar for many years is to keep it sealed and clean.
To seal interior projects.
Try penetrating oils to seal interior cedar. Penetrating oils are particularly efficient at sealing the wood grain while leaving the wood appearing organic and raw.
Interior sealing projects should begin with clean cedar, like exterior sealing projects. To help oxygenate the room, open a window or door.
Brush or roll the sealant of choice onto your interior cedar piece. Allow the coating to dry before applying another coat fully.
It's advisable to coat your cedar wood products with stains, sealers, and paint, as most contain linseed oil for superb protection from the elements.
Tips to Apply Sealers Correctly
The recommended temperature for applying the finish is typically above 50 degrees Fahrenheit, and it's best to choose a dry weather day. When applying a sealer, remember to take the following precautions:
Wear eye protection, as well as long sleeves and pants. Rubber gloves are recommended, especially when using a stripper.
Cover surrounding vegetation with plastic tarps to protect it from the finish.
When finishing new decks, start with the bottom of the boards. For other decks, finish all exposed sides and the top.
FAQs
What is the best preservative for cedar?
Most finishes, including penetrating oils such as tung and linseed, work well to protect cedar. Penetrating oils are ideal for sealing the wood grain while still leaving the wood appearing raw and natural.
Can cedar be stained and sealed?
Yes, you can stain and seal cedar. However, if you need to enjoy the incense cedar and Western Red Cedar scents, let the surface stay unsealed. If you use cedar for an outdoor project, apply a light seal coat to protect it from moisture and sunlight.
What can I put on my cedar to keep the color and wood grain?
Apply a primer before a stain to provide an additional barrier against discoloration. You can try alkyd oil-based primers as they protect your cedar wood.  
How do you weatherproof cedar wood surfaces?
Cedar tends to lose some of its natural oils as it ages, making it susceptible to water damage and insect infestation. So, you need to seal it regularly to fortify its defence against elements. 
Does cedar need to be sealed?
Cedar is a long-lasting choice for indoor and outdoor building projects due to its natural resistance against rot and decay, so a protective finish is unnecessary.
Is Thompson's water seal good for cedar?
Yes. Apart from protecting your cedar from damage, it also adds a gorgeous color. It comes in five incredible colors, including Sequoia Red, Woodland Cedar, Acorn Brown, Harvest Gold,  and Maple Brown, 
How long will cedar last outside?
A cedar deck might last for fifteen-twenty years, based on maintenance routine and the environment. Cedar is a tough wood and naturally resists insect attacks and rot. It also repels moisture exceptionally, so it requires little maintenance and does not split easily. 
Can you use polyurethane on cedar?
Cedarwood, just like other smooth woods, can and must be protected with polyurethane. Polyurethane prevents dirt, dust, and oil from adhering to the cedar, which dampens and harms it.
How Often Should I Apply Seal on Cedar Deck?
You should reseal and stain your cedar deck after two or three years. Some deck sealants double up as a stain, allowing you to complete both tasks with a single product. 
See Also: Will Outdoor Carpet Rot my Deck?
What is used to apply a sealer?
Apply the sealer with a clean, synthetic Bristle brush. You can also use a paint sprayer for massive surfaces, which is economical and effective. A paint roller can also help when working on vertical surfaces where a paint sprayer can't reach.
What are the advantages of exterior wood stains over other stains?
In contrast to film-forming finishes such as paint and sealants, stains penetrate a wood surface and infuse color without establishing a layer that might crack and peel over time. Although stains might not be as durable as some exterior wood finishes, they are notable for their ease of application and low maintenance needs.
What is the Best Cedar Deck Sealer?
Compared to other finishing options, such as paint, wood sealers on cedar has numerous advantages. The best sealer for cedar does not change the appearance of your deck or furniture's appearance but enhances its natural beauty.
It's also more cost-effective and easier to use while extending the wood's life.
Our top pick for the best wood sealer for the cedar is 100% Pure Tung Oil Finish Wood Stain & Natural Sealer.
It's durable and non-toxic, you can use it on different surfaces, and it repels sun, water, and stains exceptionally.