Most surfaces require priming when painting them. Attempting to paint without priming may lead to premature aging of the paint job, chipping, or peeling.
You could go for roll-on or brush-on primers, but spray primers have many advantages that could be highly beneficial depending on your project. Not all spray primers are created equal, so you want to ensure you go for the best spray primer for wood.
I have prepared this write-up to present the five best spray paint primers in the market today, along with guidelines on choosing and using them.
Our Top Picks
Best Spray Primer for Wood
What is a Spray Paint Primer?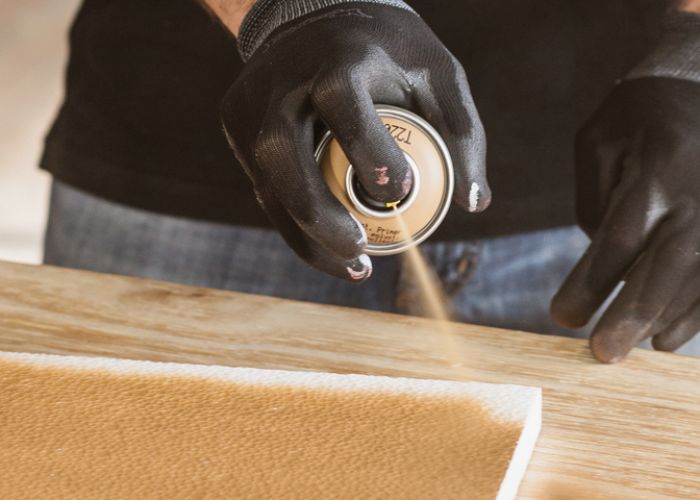 A primer is a substance used to prepare substrates such as wood for painting or staining with a solid color. The primer helps make the paint or stain adhere to the wooden surface.
They are essential for unfinished surfaces or difficult substrates that do not accept paint well. As the name suggests, spray primers come in the form of aerosols.
They are available in spray cans designed to apply on wood or virtually any surface you want to paint. Spray primers penetrate the nooks and crannies in wood, allowing the paint to stick better and become durable.
Primers are available in different types across a wide range of colors.
Types of Spray Paint Primers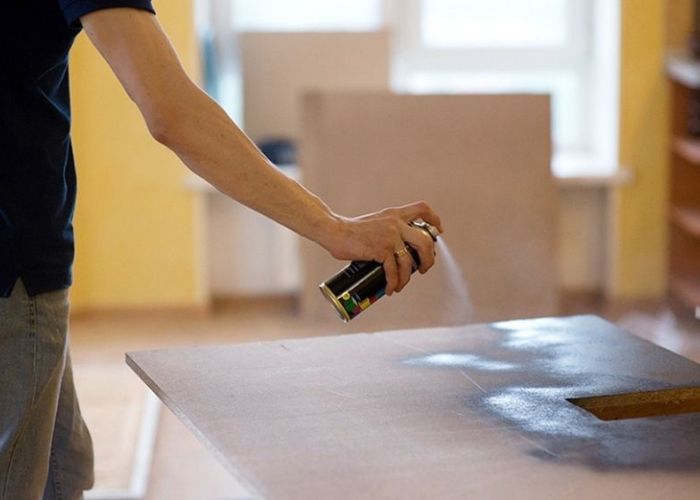 The primer must be compatible with the intended paint to work. This way, you must understand the different types of primers available to choose correctly.
Latex primers
These are water-based spray paint primers compatible with acrylic latex and other water-based paints. This group of spray paints works well across multiple wood surfaces due to their water-based formulation.
Latex primers have quick drying times, allowing you to complete the project quickly. Being water-based also makes them highly eco-friendly and excellent stain-blocking resistance.
Oil-based spray primers
These spray primers work on surfaces compatible with oil-based and latex paints for interior and exterior surfaces.
An oil-based paint primer offers good coverage and can effectively stop wood tannins from bleeding into the paint layer. They are also durable, with high resistance to peeling and blistering.
However, oil-based primers for wood tend to contain high levels of volatile organic compounds, or VOCs, making them relatively toxic and less eco-friendly. They also take longer to dry than latex primers.
Shellac primers
These primers dry extremely fast due to the shellac in their formula. They offer good coverage and can be highly effective in blocking stains. Regarding compatibility, you can use shellac primer with oil- and water-based paints.
The only major downside of these primers is their high toxicity. Shellac primers emit strong, toxic fumes that can be very harmful, so you need to wear proper eye and nose protection when using them.
7 Best Spray Primers for Wood Reviews
Spray paint primers offer greater convenience and ease of use, which can translate into a smoother and better finish. Still, there are multiple brands with varying levels of effectiveness, so you need to know what to look for in the best spray paint primer.
If you want the best spray paint primer for wood, this section provides a complete guide to point you in the right direction. Read along to determine which wood primer spray best suits your next project.
1.
Best spray paint primer overall

– Rust-Oleum Zinsser Bulls Eye Spray Primer
Zinsser 272479 Bulls Eye 1-2-3 Plus Spray Primer, 13 oz,...
Interior/exterior use on new or previously painted Drywall, concrete, wood, masonry, metal and glossy or difficult surfaces
Oil-based formula seals uniformly and will Stick to surface without sanding
Dries to the touch in just 30 minutes and covers up to 12 sq ft
The Rust-Oleum Zinsser Bulls Eye Spray Primer checks all the right boxes, making it to my list. It features a powerful oil-based formula that bonds to most surface types and will do the magic for your wood painting project. But can you use rustoleum paint on wood? The short answer is yes.
This oil-based primer is formulated to work without sanding the wood surface. It creates a uniform seal covering every inch of the surface and requires no special skills.
I like this primer spray because it is designed for outdoor and indoor projects and is highly durable, making it my best spray paint primer overall.
I love how the Zinsser Bulls Eye 1-2-3 spray paint primer blocks stains and prevents them from bleeding into the paint. Its stain-blocking property remains effective regardless of the paint color used.
A single Zinsser Bulls Eye 1-2-3 wood primer spray can cover up to 12 square feet. Given its superior coverage, you do not need to apply more than one coat of primer. This can save time and money as you finish priming in one step.
What I Liked Most
The spray paint primer has excellent stain-blocking resistance
It is compatible with many different surfaces; you can use it over oil or latex topcoats
It provides superior coverage with just one coat application
It dries to the touch in just 30 minutes, which is relatively fast
It is highly effective in blocking stains 
What Could Be Improved
It is oil-based, therefore, not suitable to use with water-based paints
---
2.
Quickest drying

– Krylon ColorMaster Primer
Krylon is a household name in the spray paint industry. That's why you should not be surprised to see one of their products cut as one of the best spray paint primers on the market today.
I would pick Krylon Colormaster Paint primer spray to finish a project quickly. The product dries into an ultra-flat white coat in just ten minutes.
So, if you prefer a second coat, you can complete it in minutes and complete your paint project in just a few hours. And it can work on wood, metal, and plastic—indoors and outdoors.
Its flat white color effectively reveals the true color of any paint you choose. The spray paint primer is designed to seal and smoothen unfinished and difficult surfaces while improving the paint adhesion.
What I Liked Most
Krylon ColorMaster spray primer is ideal for use on indoor and outdoor projects.
It is high coverage and brings out the paint's true color
The primer dries in just ten minutes, allowing you to finish the project in less time
What Could Be Improved
The spray primer is pricey 
It is only available in one color: white  
---
3.
Best value for money

– Rust-Oleum Painter's Touch 2X Ultra Cover

Sale
Rust-Oleum 249088 Painter's Touch 2X Ultra Cover, 12 Fl Oz...
Ideal for use on interior/exterior surfaces including wood, plastic, plaster, metal, masonry and unglazed ceramic
Oil-based formula is low odor, resist chips and provides long-lasting protection
Dries to touch in 20 minutes and covers up to 12 sq. ft. per can
If you wish to save money on your purchase, Rust-Oleum oil-based primers can help you. However, despite providing the best coverage, these primers are quite reasonably priced.
You can find it at just four dollars, yet it covers up to 12 square feet of your wood surface. Most users consider this primer spray the best due to its excellent adhesion.
I find it easy to apply, which makes it ideal for beginners like me. It sticks to various surfaces and dries to form a durable foundation for both interior and exterior use.
This Rust-Oleum Painters only takes 20 minutes to dry, so it can help you finish your project in less time. Just one coat provides the equivalent of double coverage so that you will need only one coat for your project.
The high coverage means the product will hide any unsightly marks on your wood, preventing them from bleeding into the topcoat.
You can rely on the primer spray to hide imperfections on your wood and offer a smooth finish. Grey is also a neutral choice that will work with any paint color.
What I Liked Most
The spray paint primer is reasonably priced and offers great value for money.
It has a comfort spray tip that makes it a breeze to use
It dries to form a durable coat leading to a smooth finish
It dries pretty fast, in just 20 minutes 
It works with many different surfaces
What Could Be Improved
Some customers report clogged spray nozzle
---
4.
Best premium

– Tamiya Surface Primer

Sale
Tamiya TAM87042 87042 Surface Primer L Gray, 180ml Spray...
Made from high quality materials and designed for long lasting performance
Use Tamiya stock and hop-up Replacement parts, accessories, and more to get the most out of your models
This is for use on RC and model products, consult your user's manual for exact parts listings
If you are willing to pay a little extra money for premium quality, I recommend this unique option from Tamiya.
While this spray primer comes in a small bottle, just a single coat is enough for your wood due to its high coverage. The primer dries into a light gray coat that works with practically any paint color.
The bottle features an expertly designed-spray nozzle that is resistant to sputtering and clogging. As such, you can be sure you will use every ounce of the product in the container without unwanted wastage.
Tamiya's surface primer is comprised of high-quality ingredients that guarantee a lasting performance. It creates a solid foundation that leads to a durable finish.
What I Liked Most
It adheres to multiple surfaces, including wood, metal, cardboard, Styrofoam, and plastic
The product is made from high-quality materials 
It produces high quality, durable finish 
The product enjoys global recognition as one that meets standards of excellence achieved by only a select few brands worldwide
What Could Be Improved
The product comes in tiny spray bottles with a high price tag
---
5.
Best durable

– Rust-Oleum American Accents Spray Paint Primer
Rust-Oleum 327918-6 PK American Accents Spray Paint, 12...
Ideal for interior/exterior use on virtually any surface including wood, plastic, metal, wicker, plaster, unglazed ceramic and more
Provides long lasting protection with any-angle spray comfort tip that reduces finger fatigue and makes it easy to reach hard to paint places
Dries to the touch in 20 min and covers up to 12 sq. ft. for quick project completion
I recently used Rust-Oleum's American Accents spray primer, which is one of Rust-Oleum's highly-priced products, and it was worth the price.
If you have any difficult surfaces, this wood primer will cover them and produce an even finish.
It sticks to metal surfaces, wood, wicker, plaster, and glossy surfaces. And it offers the same level of durability whether you use it on indoor or outdoor projects.
Since this wood primer dries quickly, you can apply multiple coats without worrying about spending too much time on the project. One bottle is typically enough to cover up to 12 square feet.
Since the Rust-Oleum American Accents primer comes in flat white color, you can use it with any paint color. It goes a long way in helping preserve the actual color of your chosen paint.
What I Liked Most
The primer offers great coverage and superior durability 
It dries quickly to allow for multiple thin coats without prolonging the project time
It is highly suitable for most difficult or glossy surfaces
It is designed to bring out the paint's true color 
What Could Be Improved
---
6.
Best for larger projects

– Rust-Oleum Professional Primer

Sale
Rust-Oleum 7582838 Professional Primer Spray Paint, 15 oz,...
Ideal for use on ferrous, non-ferrous metal, wood, concrete, masonry and other such surfaces to prepare surfaces for painting, provide rust protection and a tough finish that withstands weathering
High quality, durable oil-based formula maintains consistent, corrosion-resistant color despite the elements and provides twice the protection of paint alone
Covers up to 14 sq ft, dries to touch in 15 minutes and ready for immediate topcoat application ; Indoor/outdoor
If you have a fairly large project that you wish to complete in less time, the Rust-Oleum professional primer is a strong contender. It features a high-output tip designed to project the primer onto your substrate at a quick rate.
This primer's oil-based formula ensures excellent durability whether you use it on an indoor or outdoor project. It will keep the primed item safe from corrosion and other forms of deterioration for ages.
If you use this primer on metallic objects, it will go a long way in protecting the item from corrosion due to its anti-rust property. So if you have a piece of furniture with wooden and metallic parts, this primer will do the job.
Consider using this primer if you are painting an item for heavy use. It is specially designed for commercial-grade applications, making it the ideal primer for objects exposed to heavy usage.
What I Liked Most
The primer dries quickly, so you can complete your project in less time
It is commercial-grade, hence durable enough to withstand heavy use
The primer is resistant to chipping, abrasion, fading
It is reasonably priced despite being of premium quality
It comes in a bottle designed to allow for 360-degree application
What Could Be Improved
Some users experience problems with the nozzle, which can sometimes splatter the paint
---
7.
Best spray paint and primer combo

– Krylon 'Dual' Superbond Paint and Primer
I discovered the Dual Superbond formula to tackle even the toughest surfaces, like wood, metal, plastic, laminate, and more. It's perfect for all of your adhesive needs!
If you prefer a bit of silver sparkle to your wood, this paint and primer combo is likely your best bet. While it dries slower than some primers, it will be worth the wait. The product dries hard to offer great protection to the surface.
The oil-based formula is highly durable and will keep your wood protected for ages.
Because you have two products in the same bottle, it allows you to complete your entire project in a single application. Saving time could never be easier.
What I Liked Most
The product is highly versatile and can work on wood, metal, and several other hard-to-adhere surfaces
It allows for quick application as it combines primer and paint in one product
The Superbond primer offers great value for money since it is low-cost, making it ideal for anyone on a budget
The product is highly durable, offering lasting protection to your wood
What Could Be Improved
Some users do not like the sparkly finish associated with this product
---
Spray Primer for Wood Comparison Table
Education: When Should I Use Spray Paint Primer?
You may use a spray paint primer to ensure your paint job is durable whenever you want to paint. Ideally, you want to increase your paint adhesion, and there is no better way to do it than with a spray paint primer.
Even for the most challenging surfaces, such as plastic, plastic primer spray paint tend to reach all the nooks and crannies, ensuring the best possible coverage.
You could opt to paint without priming your substrate, but this would be akin to reducing the paint's longevity. Without a primer, the paint can soon start chipping and peeling, forcing you to redo the entire work.
Benefits of Wood Primer Spray
You likely already know that wood primers are necessary for ensuring the paint sticks better. But that's just one of their benefits. Read along to get a more comprehensive knowledge of the benefits of paint primers.
Primers help improve adhesion
Adhesion is hands down an essential benefit of primers. Painting a surface without priming can lead to premature aging and peeling of the layer.
If you are working on a smooth surface that does not accept paint too well, a primer can help the paint stick better.
Primers help enhance paint colors
Some painted surfaces may have stains or colors that could bleed into the paint coat. This can make it challenging for the actual paint color to show. When you apply a stain-blocking primer before painting, it can seal the substrate and hide the stains.
For instance, some woods are prone to releasing tannins as they age. Tannins can bleed through your paint and damage the overall look. However, a paint primer will block the stains and prevent them from damaging the topcoat.
Since most primers are neutral-colored, they do an excellent job bringing out the actual color of your chosen paint.
Regardless of the surface, a good primer can better protect the paint's color, allowing it to appear boldly, vividly, and clearly. This is especially important if you do not want the underlying colors to dilute the overall look.
Primers make the paint job more durable
Since the primer forms a bond between the surface and the paint layer, it makes the paint more long-lasting. This explains why you need to select a durable primer.
The wood's super smooth surface becomes stronger and able to preserve and protect the paint. As a result, the chances of chipping and peeling are significantly reduced.
With increased durability, you can enjoy having your painted wood for longer without worrying about repainting. Such increased longevity also translates into saving on the cost of possible repairs.
Primers make painting easier
After priming your surface, you will often notice that the painting process requires less work to achieve the desired coverage.
In addition, the enhanced adhesion helps to ensure there are fewer problems during painting, so you can work faster and complete the project sooner.
Why Should You Use Spray Paint Primers?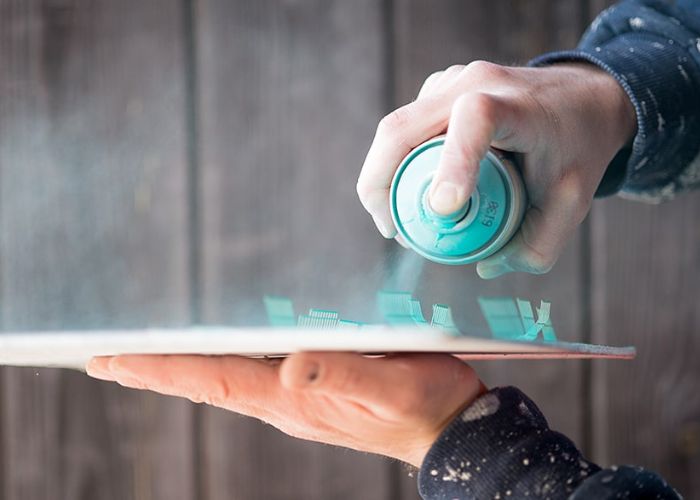 While any primer will enhance the quality of your paintwork, the best spray primers go a long way in simplifying the entire process.
Usually, you can choose a roll-on primer or a brush-on option. However, we find the spray versions to make life much easier in the different ways listed below.
They lead to fast drying
When you roll or brush on your primer, you often create a thick primer layer that can take a while to dry. Eventually, your entire project is slowed down.
Spray primers typically dry to the touch in less than thirty minutes. This means you can finish your entire painting process in just a few hours.
Notice that the primer creates an essential paint foundation that directly influences its overall drying time.
So, a primer that dries quicker can be extremely helpful in ensuring you do not take forever working on a single project.
Spray-on primers ensure a smooth finish
Spraying allows for more control over the amount of the product that goes onto the surface. With this kind of control, you can keep the same amount of primer on every inch of the wood surface, ensuring the final coat is even and smooth.
Spray primers are easy to use
The aerosol mechanism of a spray primer means you can achieve an even coat pretty quickly and effortlessly. Some brands go the extra step to design a special nozzle to simplify the application process.
If you were to use a paint roller or brush, you would have to deal with brush marks, drips, and runs to achieve the desired finish. So, spray paint primers simply help you bid farewell to a lot of problems—making your life easier.
How to Use a Spray Paint Primer
Spray paint primers are designed to simplify the work for you. They require less surface preparation and give the desired results with minimal input from you.
Nonetheless, the application processes will vary based on the primer or surface. For example, some surfaces will require light sanding before priming, while others, such as metal surfaces, require only cleaning and no sanding.
Depending on its adhesion, the primer you are working with will also determine whether you should sand the surface or not. Always read the label to know what the manufacturer recommends for the best results.
In any case, here is a summary of the key steps you are likely to follow when using any primer. But first, a possible checklist:
Tack cloth or clean rag
Dish soap and water
Sandpaper
Disposable hand gloves
Spray primer
Step 1: Preparing the surface
Surface preparation can involve sanding the wood or simply cleaning it, often with soap and water to remove dirt and grease. Consider reading the product labels to know how to prepare the surface before using the primer on it.
Step 2: Clean the surface
If you sanded the wood or any surface you want to paint, consider wiping the wood dust with a tack cloth or damp rag.
You do not want to have any debris trapped beneath your coat of primer. Such debris can leave unsightly marks on the primed surface.
If you did not sand the surface, you might want to wipe it dry with a clean rag before taking the primer. The amount of cleaning will depend on how dirty the surface is.
Step 3: Spray it up
The next thing after cleaning and drying the wood is to spray the primer on it. Be sure to hold the aerosol can at the recommended distance from the surface to achieve the desired finish.
You may want to test spray on some sheets of paper or scrap wood to ensure it is working correctly.
Once you have determined the distance from the surface, ensure you maintain it steadily throughout the spraying process to avoid having some sections thicker than others.
Step 4: Let it dry
The final part is the easiest because it involves doing nothing. Once you finish spraying, you need to leave the primer to dry for the recommended time-whether ten or thirty minutes-before panting it.
How to Choose the Right Primer for Spray Painting
We have noted that your choice of primer can directly influence the quality of your painting project. This underscores how important it is to work with a suitable primer.
For instance, the best plastic primer spray paint may not be the best for wood. But how do you find that kind of primer? Here are a few pointers to start you off on the right foot.
Consider the paint type
Generally, oil and water do not mix. This theory should guide you when approaching your primer selection.
If you have chosen an oil-based formula seal, do you use oil or water based primer? Use an oil-based primer. And if you plan to use water-based paint, your options may be limited to a water-based primer. 
However, don't forget that you can also use a shellac primer regardless of the paint type you intend to use. This group of spray paint primers is compatible with both oil-based and water-based paints, making it the equivalent of a universal primer.
Weigh the benefits of spray vs. roll-on primer
Much as spray paint primers offer convenience and ease of application, they may not be the most viable option for large projects. Instead, the spray cans are more suited to smaller projects, about 12 square feet or slightly larger.
If the size of your project is so large that you have to buy multiple spray bottles to be adequate, it can be too costly. In such cases, a large can be more economical. Unfortunately, the large cans mean you forego the convenience of spraying.
For such large projects, your options may be limited to using paint rollers or brushes for application. You may also want to opt for paint rollers or brushes if you want a thick coat covering a large surface area.
Both options require some level of expertise because it is challenging to get an even, smooth finish with a paintbrush or roller. You will also likely spend more time on the project.
Compatibility with the substrate
The best spray paint primers in the market today are compatible with multiple surfaces such as wood, metal, plastic, and more.
You want to check this detail before deciding on a primer. If you are painting wood, check the product information to ensure it works on wood.
If you are painting plastic, not all primers will be compatible. So ask the manufacturer or read the label to ensure you have the right product for the job.
Think about coverage
You may require a primer that offers high coverage if you are working on a surface with stains or dark marks. You do not want the colorings visible through your paint.
A good primer will go a long way in covering any stains and ensuring the paint color remains unaffected on the surface.
Primer color
Most primers are available in neutral colors such as white and grey for a reason: to help bring out the paint's true color.
When choosing your primer, ensure its color is compatible with the paint color you plan to use. You can always look up the product information to determine if it affects your chosen paint color.
FAQs
Can I use spray primer on wood?
Absolutely. Using a spray primer is generally the easiest way to prime your wood for painting. However, in some instances, it may need you to use several coats of primer to get good coverage.
Recommended Reading: The best best primer for plywood.
How many coats of primer do I need on the wood?
You typically need two coats of primer when working on unfinished or bare wood. While you should primarily consider an oil-based spray primer, two coats of latex primer will also achieve similar results. Since unfinished woods have porous surfaces, the second coat helps you achieve smooth surfaces.
Should I sand between coats of primer?
Sanding between coats of primer is pointless. However, consider sanding the final coat of primer once it is dry before applying the base coat color. Wet sanding and polishing the final layer of the clear coat will also yield better results than doing so between each clear coat.
Read also: Do you sand the last coat of polyurethane?
What kind of primer should I use on wood?
The ideal option for bare or unfinished wood is an oil-based spray primer. These primers are highly effective in sealing porous surfaces, enabling the paint to cover the surface better. Oil-based spray primers do an excellent job stopping tannins from bleeding through the paint surface.
Should I prime the wood before spray painting?
Yes. Wood or wooden furniture requires one to two coats of primer before painting. Apply thin coats of the primer to the wood surface, covering every inch of it, and let it dry completely before spray painting it. The primer will help create a smooth, even finish.
How long after priming can you paint?
Most spray or latex primers dry to the touch within 30 minutes to one hour. However, do not paint the wood or wall until the primer is completely dry, often about 3 hours from priming. This drying time can be longer in high-humidity or low-temperature conditions.
Can I use Rustoleum spray primer on wood?
Yes, Rustoleum spray primers, and oil-based primers are some of the best to use on wood as long as you do proper wood surface preparation. Ensure you use an oil-based primer with an oil-based paint for proper adhesion. Besides you need to thin your paint .it can be applied smoothly and evenly on the wood surface. (Here is a guide on thinning rustoleum with acetone).
Which is better Zinsser or Kilz primer?
Zinsser and Kilz offer good coverage, but Zinsser is the better of the two contenders as it offers much better coverage. Kilz, on the other hand, tends to allow some bleed-through, depending on the surface. It may require a thicker coat for Kilz to cover better. Painting over Kilz primer could mitigate its bleed-through tendency.
(Read more on Kilz vs Zinsser comparison here).
How do I get a smooth finish with spray paint on wood?
To get a smooth finish with wood spray paint, ensure you sand your wood furniture to create a smooth surface and vacuum all the wood dust. Once that is done, use a tack cloth to wipe off any remaining dust from the surface before spraying the paint onto your wood.
To apply a second coat, allow the first coat to dry and lightly sand the entire wood surface with an ultra-fine grit sanding block before recoating.
How do I make my spray paint surface smooth?
To smoothen and even out a spray-painted surface, wait for the paint to dry completely and then sand it lightly with a fine-grit sanding block. If necessary, add a light coat of paint over the sanded surface to achieve the desired finish.
What grit sandpaper do you use on primer?
Sanding primers require an ultra-fine sanding block of 600 to 800 grit. Sandpapers this fine do an excellent job removing surface imperfections in the primer before applying the coat of paint. Ideally, you should start at a lower grit—about 600 grit—and work your way up to 800 grit.
What is the best furniture paint sprayer?
The best paint sprayers for furniture depend on the type of furniture you are painting. For instance, if you're working on small furniture, I recommend the handheld HVLP paint sprayer from HomeRight or Wagner Spraytech. For larger furniture, you need HVLP paint sprayers with turbines like the Fuji Semi-Pro or an airless paint spray gun like the Graco 360 VSP.
How to get oil-based primer off the skin
To remove oil-based primer from your skin, use a mixture of dish soap and warm water or rubbing alcohol. Apply the solution to the affected area and gently scrub with a cloth or brush. Rinse thoroughly with water and repeat if necessary. Use gloves and protective clothing when using oil-based products in the future.
Wood Primer Spray Summary
If you are working on a new spray paint project, you will require the best spray paint primer for that surface. Getting such a primer is more straightforward if you know what to look for and where to look.
We hope this tutorial helps point you in the right direction. Additionally, you can always refer to this guide anytime you have a new spray paint installation to complete.
If you have any thoughts or comments, please leave them in the comments section below.