As spring moves into summer, many homeowners are looking to upgrade their decks, fences, and other outdoor structures.
If you need a new paint job, use top-rated waterproof paint for wooden surfaces to protect your investment from the elements.
Lucky for you, I've compiled a list of the best water-sealing paint for wood available today. I'll also provide tips on applying the paint and keeping it looking its best.
Read on to learn more.
Our Top Picks
Waterproof Paint Types
There are several types of waterproof paints available, including:
Acrylic Paint: This water-based paint is quick-drying and easy to clean. It can be used on various surfaces, including wood, concrete, and metal. If you notice dark color and wonder, why does paint dry darker? This darkening shade is often temporary and should lighten as the paint fully cures.
Oil-based Paint: This type of paint is more durable than acrylic paint and is resistant to water and other elements. It is suitable for use on wood, metal, and masonry surfaces.
Epoxy Paint: Epoxy paint is a two-part system that creates a durable, waterproof surface. It is commonly used on floors, countertops, and other surfaces that need to withstand heavy use.
Rubber Paint: Rubber paint is a flexible, waterproof coating used on various surfaces, including roofs, decks, and concrete surfaces.
Polyurethane Paint: This is a durable, waterproof paint resistant to chemicals and abrasion. It is commonly used on metal surfaces, but can also be used on wood and concrete.
The Best Paint for Waterproofing Wood (Updated Reviews)
When putting together this list of the best weatherproof paint for wood, I only considered high-quality products that can withstand harsh weather conditions.
I sampled paints with UV protection, mold and mildew resistance, and long-lasting durability.
1.
Best Overall for Outdoor Wood Furniture

– Wolman 360349 Outdoor Furniture Paint
Wolman 360349-2PK Outdoor Furniture Paint, Quart, Navy Blue,...
Perfect for refinishing and protecting exterior wood such as picnic tables, chairs, swing sets and more
Water-based formula is 4X thicker than other outdoor furniture paint to provide deeper color and solid hide
Dries to the touch in 2-4 hours and covers approximately 20 sq. ft. per quart - two coats recommended
I have been using Wolman Outdoor Furniture Paint, which is a water-based finish that works wonders on exterior wood.
I particularly love how it provides excellent coverage for swings, picnic tables, and wooden playsets. And keeping them safe from harsh elements like rain and snow.
This exterior paint has the added benefit of protecting my outdoor furniture and decks from mold growth and rot.
What's more, it's four times thicker than other products and offers solid coverage.
Despite being quite viscous, it dries to the touch in just 2 to 4 hours.
I've found that one quart covers about 20 square feet. But for the best results, I recommend applying two coats.
Before applying the second coat, wait for 24 hours to ensure that the first coat is completely dry.
This paint is ideal for use on any hardwood since it resists weathering and scuffing.
However, avoid applying it on concrete, composite decking, metal, or fiberglass surfaces.
What I Liked Most
Provides excellent coverage
Protects against sun, water and UltraViolet damage
Easy to use and spread
Features a deep, rich color
What Could Be Improved
Doesn't offer enough protection for high traffic surfaces
 Limited color choice
---
2.

Best Eco-friendly waterproof outdoor paint for wood

– RTG Deck, Porch, & Patio Anti-Slip Paint
RTG Deck, Porch, & Patio Anti-Slip Paint (Quart, White)
Fast-drying, textured paint provides an attractive finish & secure footing on exterior surfaces that become slippery when wet. Great for decks, porches, patios, stairs, ramps, and much more. Traction additive is not abrasive like other anti-slip coatings.
Easy to apply by brush or roller (1/4"-3/8" foam or nap roller cover for surfaces with a smoother texture; ½"-3/4" foam or nap roller covers for masonry with deeper texture).
Durable coating withstands heavy foot traffic and harsh weather without fading.
The RTG Deck, Porch, and Patio paint is great for areas experiencing high foot traffic.
This durable water-based paint is formulated to protect decks, porch, and patios from the elements while maintaining their appearance.
It offers unparalleled resistance against harsh weather such as rain, sun and snow.
Not only that, but this waterproof paint also features anti-slip properties that secure footing on slippery surfaces, safe for bare feet and paws.
I can attest to its durability as it doesn't fade, flake, or peel when dry. Applying 1-3 coats of the RTG Deck, Porch, and Patio guarantees the best paint for wooden stairs, decks, and ramps.
Furthermore, it dries fast enough, leaving a beautiful finish on your outdoor space.
Besides its durability, the product is low-odor with low Volatile Organic Compounds (VOC).
Moreover, its water-based formula allows you to apply it on properly prepared surfaces without priming. The product is also easy to clean with soap and water.
It comes in four neutral colors: Sand, White, Light Grey, and Clear/ Amber.
This wide range of colors allows you to select a shade that complements the exterior of your home.
What I Liked Most
Waterproof
Offers protection from physical wear
Available in several colors
Easy application
Eco-friendly
What Could Be Improved
---
3.
Best Multi-Surface Paint

– FolkArt Outdoor Paint
It's water-based and non-toxic, making it perfect for painting porous surfaces like wood.
This ultra-tough and durable formula can withstand rain, sun, and snow. Plus, I didn't need to use a sealer.
The fade-resistant finish dried and cured quickly, giving me a beautiful gloss finish.
Although it's not recommended for high foot traffic areas, I used the paint on wood, plaster, ceramic, and metal surfaces.
Cleaning up was easy with soap and water.
Before applying the paint, I sanded down the surface and applied a degreaser.
Then I waited for at least two hours for the wood to dry before painting. Although it took some time, the final result was worth the effort.
Plus, this waterproof paint dried quickly – one coat would take about 2-3 hours to be completely dry to touch.
Despite costing less than other outdoor furniture paints, this product did not disappoint.
What I Liked Most
Easy to wipe when wet
Offers protection against water
Fair price
It is fade-resistant
What Could Be Improved
Doesn't offer enough physical protection
Not recommended for high traffic surfaces
---
4.
Best Fast Drying Paint

– Majic Paints 8-0048-1 Latex Flat Barn & Fence Paint

Sale
Magic Paints provides top-notch protection against rain, sun, and snow.
What I particularly love about this barn paint is its fade-resistant qualities and superb coverage of up to 250 sq ft per Gallon.
And with a short dry time of just 30 minutes, I can complete my projects quickly and efficiently.
If you're a DIY enthusiast like me, I recommend starting your project early in the day to ensure you complete it four hours before dusk.
This will give your project enough time to dry without any pesky bugs getting in the way.
While this product is weather and fade-resistant, it's best to avoid using it on floors and roofs.
Instead, it's perfectly suited for fences, barns, silos, and sheds.
And because it can be used on new or primed surfaces, it's an incredibly versatile paint that I always keep in my toolkit.
What I Liked Most
Waterproof
Quite durable
Vibrant color
Great coverage
Easy to spread
Fast dry-time
What Could Be Improved
The paint is thin
 Expensive
 Does not offer the best protection from physical damage
---
5.
Best Value for Money

– KILZ 10211 Exterior Siding, Fence, and Barn Paint
KILZ Siding, Fence, and Barn Paint, Exterior, White, 1...
EXTERIOR PAINT: KILZ Siding, Fence and Barn Paint offers coverage and protection against the elements, while adding beauty to outdoor structures. This product provides excellent adhesion for all vertical wood surfaces as well as a variety of other outdoor surfaces.
ADVANCED FORMULA: This paint features a unique water/oil base formula for exceptional adhesion, versatility, and longevity in varied conditions. This formula resists cracking, peeling and blistering.
MULTIPLE USES: Use on properly prepared vertical exterior wood surfaces, masonry, stucco, and sanded glossy surfaces. Remove peeling paint, mill glaze, loose wood fibers, dirt and debris before painting.
For over 20 years, I have been using Killz products to paint my home. Their waterproof and microbial paints are the best for most home applications.
The oil and water-based formula with medium viscosity makes applying a roller or paintbrush easy.
Moreover, its unique formula offers excellent adhesion, longevity, and versatility.
The Kilz Exterior Siding, Fence and Barn paint is resistant to cracking, blistering and peeling caused by the sun's UV rays.
It also protects against the elements while adding beauty to exterior structures.
You can use it on weathered and vertical wood surfaces such as fences, plywood, laminates, shakes, siding and shingles. It also prevents wear and tear as well as mold and mildew.
Applying the paint is quite simple; you just clean and sand down the surface before starting.
The waterproof formula dries within 2-3 hours, but it's best to wait 6-8 hours before adding a second coat. When the paint is still wet, I can easily clean it with soap and water.
I highly recommend this product for barns and sheds as it is livestock-safe and affordable. It's the perfect waterproof paint for any budget.
What I Liked Most
Affordable price
Extremely long-lasting
Self-priming formula
Offers protection from the sun, rain, and snow
Provides excellent coverage
What Could Be Improved
Lengthy application process
Requires several coats
Paint shrinks when dry 
---
6.
Best Fade-Resistant Paint

– KILZ Low-Lustre Enamel Porch & Patio Latex Floor Paint
KILZ Low-Lustre Enamel Porch & Patio Latex Floor Paint,...
PORCH & PATIO PAINT: KILZ Porch and Patio Floor Paint is a 100% acrylic latex product providing a durable, long-lasting finish that is ideal for both interior and exterior applications.
ADVANCED FORMULA: This Acrylic paint offers a low-lustre enamel surface that is formulated to endure on deck, porch, and patio siding and floors through variable weather conditions. This product will create a moisture resistant finish that resists scuffing, fading, cracking and peeling.
MULTIPLE USES: Ideal for porches, floors, decks, basements, patios, siding, trim, furniture and trellises. May be applied over properly prepared, previously-painted or primed surfaces. Not for use on areas subject to automotive tires. For residential applications only. CAUTION! Sealed surfaces may become slippery when wet. Use caution when walking on surface when moisture is present.
This latex-based paint is specially formulated to resist scuffing, peeling, cracking, and fading.
It can also be applied on painted or primed surfaces like trim, trellises, and siding. Plus, it's thick and easy to spread with either a roller or a brush.
I love that this 100% acrylic latex paint creates a mildew and waterproof finish to protect against UV rays, rain, and snow.
However, use the paint for residential applications as it might not work well on surfaces subject to automotive tires. Also, know how to prep wood for acrylic paint to ensure the best results.
The one downside is that it comes in gray color only, so I can't be as creative and customizable with my paint job.
But, given its low cost and great protection, this product offers excellent value for the price.
To ensure optimal results, I wait at least six hours before recoating and up to 24 hours before exposing the surface to physical use.
What I Liked Most
Resists water damage
Provides adequate protection from physical damage
Fade-resistant
Affordable price
What Could Be Improved
Takes a long to completely dry
 Forms drip easily 
 Exists in a single color
---
7. Best Best Waterproof Paint with a Range Of Colors – Diamond Brite Paint
Sale
Diamond Brite is the best way to go if you want waterproofing spray paint for wood that offers the best range of colors.
I love this oil-based paint because it delivers professional quality and an alkyd finish on various surfaces.
It forms a durable gloss that protects against abrasion and water damage, which is perfect for my patio's high-traffic use.
I'm also impressed with its exceptional stain removal capabilities. The best part is that it comes in 12 colors, allowing me to customize each project according to my taste.
Before using the paint, mix it with a paddle or stir stick for best results.
It takes about 10-12 hours for the first coat of paint to dry completely and 24 hours before applying a second coat.
For that reason, I make sure to clean and prepare the surface beforehand so that the finish adheres well.
That way, I don't have to worry about recoating until it's completely dry.
All in all, this American-made waterproof paint is a great product that has served me well.
What I Liked Most
Waterproof
Protects surfaces against physical wear 
Provides great coverage
 Comes in a wide range of colors
What Could Be Improved
Easily fades compared to competitor brands
Long drying time
 Easily forms drips
---
8.
Best Non-skid Paint for Wood

– TotalBoat-409322 TotalTread Non-Skid Deck Paint
TotalBoat-409322 TotalTread Non-Skid Deck Paint,...
NON-SKID DECK PAINT: Durable, textured, low-glare high-traction surface for secure footing, with a comfortable rubberized texture that's less abrasive than traditional silica additives
LONG-LASTING POLYURETHANE FINISH: Durable coating won't fade or peel; easy to clean - scrubbing won't wear away the finish; affordable way to bring your old boat flooring back to life
NON-SLIP PAINT WITH MANY APPLICATIONS: Boat decks, docks, cabin soles, hatches, stairs, steps, gunwales, swim platforms, concrete, patios, floors, and anywhere else you need sure footing
I have found that TotalBoat TotalTread Non-Skid Deck Paint offers a high level of versatility.
From refreshing exterior furniture to enhancing my boat's flooring, this paint is suitable for all kinds of projects.
Its durable polyurethane finish works on more than just wood. It can be used on primed aluminum, fiberglass, ceramic, and metal surfaces, just to name a few.
With its double-cover technology, this paint provides adequate coverage of up to 300 square feet per gallon. Use this as a rule thump to determine how many square feet does 5 gallons of paint cover, assuming you buy more.
I'm also impressed with the less abrasive rubberized texture that it has compared to other waterproof paints.
Plus, it's low-odor and eco-friendly, so I can feel good about using it without compromising the environment.
Cleaning up is a breeze as well – soap and water are all that's needed. This finish offers easy clean-up with soap and water.
Besides being a food safe wood paint, it's also available in various colors to match existing topsides and non-skid patterns, such as Kingston Gray, Sand Beige, White and Light Gray.
What I Liked Most
Waterproof
Extensive coverage
Eco-friendly
Good traction
Easy clean-up
Durable
What Could Be Improved
Requires sanding when applied on wood surfaces
Lengthy dry time
---
9.
Best for Mold and Mildew Protection

– Eco Advance Wood Siloxane Waterproofer
Eco Advance Exterior Wood Siloxane Odorless Spray-On...
Ready to use commercial grade formula can be applied using a standard garden pump sprayer
Ideal for use on wood decking, wood fences, plywood, wood shingles, wood siding and much more
Protects against water damage, oil, stains, mold, mildew, de-icing salts, and pool/spa chemicals
I'm not surprised that Eco Advance's waterproof paint made this list. Eco has a reputation for producing excellent quality products that go beyond traditional paints.
This finish is a great choice for anyone looking for an even and quick application.
Just by using a garden pump sprayer, I can cover large surfaces or items with ease. But before painting, be sure to shake the contents of the can well – this will help to prevent an uneven spray.
I can use this water-based formula on all outdoor pieces since it sticks easily onto a range of materials including wood, plastic, metal and ceramic.
Not only does it give a smooth finish, but it also protects against water damage, stains, oil, mildew and mold.
Plus, it dries quickly, so I'm able to spot any areas that need touch-ups and easily fix them up. Plus, with a single coat, I can get the level of coverage I need.
On top of all that, this waterproofer is non-toxic and non-flammable, and it emits a low odor.
I can use it to get a professional painter's look on new wood – perfect for decking, plywood, fences, siding and shingles.
What I Liked Most
Waterproof
Works on multiple surfaces
Fast dry time
Easy application
What Could Be Improved
Requires several coats
Not durable on high traffic surfaces
---
10.

Best outdoor wood waterproof paint

– Rust-Oleum Marine Topside Paint, Gloss White
I recently discovered the Rust-Oleum Marine Topside Paint, and it's quickly become my go-to option for all my painting needs.
This oil-based paint offers a UV-resistant gloss finish that doesn't chip easily. And superior protection against the elements—especially for surfaces exposed to seawater.
Plus, I can use this finish on a variety of surfaces, from wood and metal to fiberglass and ceramics.
The low-odor paint offers easy application and clean-up; all I need is mild soap and a washrag for any messes before the paint dries.
I'm also pleased with its superior gloss retention and smooth finish, which is perfect for both beginner and professional painters.
What's more, this waterproof paint provides fantastic value. Not only does it have an affordable cost, but also offers extensive coverage of up to 100 square feet per coat.
Plus, I can recoat the surface after just 1-2 hours of drying time.
Overall, I'm truly impressed with the Rust-Oleum Marine Topside Paint and all its benefits. It's great for projects above the waterline and offers a stunning, long-lasting finish every time.
What I Liked Most
Great waterproof paint for exterior wood
Great value for the cost
Fast dry time
What Could Be Improved
Requires prior priming
Easily chips and peels
---
11.
Both Exterior Paint and Primer in One

– Zinsser & Co Watertite Paint

Sale
Mold and Mildew Paint, 1 gal., White
Price For: Each Dry Time: 7 to14 days Dry Time Recoat: 2 to 3 hr. Surface: Concrete Exposure Conditions: Mild to Moderate
Features: Latex-Base Mold and Mildew-Proof Waterproofing, Guaranteed to Stop Water, Resists Up to 20 lb. of Water Pressure, Very Smooth, Bright White, Non-Gritty Finish, Applies Easily to Dry Walls with Brush or Roller, Ultra Low Odor, Easy Soap and Water Cleanup, Backed By Two Guarantees: 15 Yr. Waterproof and 5 Yr. Mold and Mildew-Proof Paint Film, Ideal for Basements and Other Interior and Exterior Surfaces, Contains a Mildewcide to Prevent the Growth of Mold and Mildew On The Paint Film Only
Item: Mold and Mildew Paint VOC Content: 99g/L Size: 1 gal. Color: White Finish: Smooth Coverage: 100 sq. ft./gal. Dry Time Tack Free: 2 hr. Application Temperature: 50 to 90 Degrees F Application Method: Brush, Roller, Spray Dry Time - Light Traffic: Not Specified Resin Type: Acrylic Copolymer Base Type: Solvent Country of Origin (subject to change): United States
I recently used Zinsser & Co 270267 Watertite paint for a wood project.
Manufactured in the US, this premium exterior wood paint offers a quick and seamless application.
The latex-based formula delivers a matte finish with even coverage that hides blemishes that dominate newbie paint jobs.
I found it incredibly easy to use, and can be applied to wood, metal, stone works, cement, masonry and vinyl siding.
To achieve the best look, I used two to three coats of this exterior wood paint which dried in about 2-3 hours each.
Sanding down any glossy surfaces beforehand also helped to get a better finish.
This waterproof exterior paint can resist up to 20 PSI of water pressure. And comes with a 15-year waterproofing guarantee, making it perfect for outdoor applications.
It even has self-priming abilities but I chose to apply a primer beforehand, especially when working with raw wood.
I definitely recommend this product for great, long-lasting results. It's a great way to touch up and give new life to old projects without removing the old paint.
Waterproof
Doesn't require prior priming
High-quality coverage
Easy to work with
What Could Be Improved
Lengthy dry time
Doesn't offer the best protection
---
Best Waterproofing Paint for Wood Comparison Table
Buyers Guide: How to Choose the Best Waterproof Wood Paint
Finding the best one for your project can be hectic, with many waterproof paint brands flooding the market. When choosing the perfect exterior wood paint, consider the following aspects.
1. Durability
Durability determines how well the finish protects your exterior without wearing off. This includes protecting against the following;
Water damage
Outdoor wood is usually exposed to snow and rain, which results in rot, mold, and mildew. As a result, when picking paint, ensure it features high waterproofing capabilities.
I recommend KILZ Low-Lustre Enamel Porch & Patio Latex Floor Paint since it is 100% acrylic latex and creates a durable waterproof layer.
UV radiation
Extended exposure to sunlight can rapidly fade the colors of outdoor projects due to UV radiation. To cut the need to reapply paint frequently, choose a product that maintains its color even after extended exposure to sunlight.
Physical wear
Outdoor woodwork projects such as decks and patios are prone to scratching, scuffing, and fading. So. you need a strong latex paint that creates a protective layer to withstand high traffic.
For example, a gallon of waterproof paint may only cover around 200 square feet of a rough, porous decking surface, but could cover up to 400 square feet of a smooth, non-porous surface.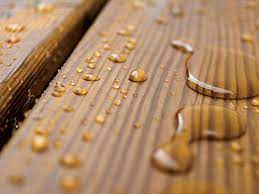 2. Intended use
When deciding the best paint for you, keep in mind the material you wish to work on. For example, while most woodworkers prefer wood paint, you may want one that works on different surfaces.
The type of paint needed for a roof, for example, may differ from what is required for a concrete floor or wooden deck. Decks are high traffic areas and require good floor paint to stand up to foot traffic.
The level of exposure to the elements, the frequency of use, and the expected wear and tear all need to be taken into account. Selecting the right waterproof paint for the intended use will ensure optimal protection and longevity.
FolkArt Outdoor Paint comes highly recommended since it adheres well to wood, plastic, metal, and concrete surfaces.
3. Dry time
Spare some time between coats for complete drying before exposure to water or physical wear. Yet, some paints cure and dry more rapidly than others.
If your project is in an area with unpredictable weather patterns, FolkArt Outdoor Paint is perfect for you since it dries in less than an hour. So, it is less likely to dinge, scuff, or damage while drying.
If you plan to use the same paint for interior purposes, will outdoor paint work inside? Find out!
4. Coverage
The size of a surface can affect the amount of waterproof paint needed and the type of paint to use.
To determine how much paint is needed, the square footage of the surface should be measured.
Most waterproof paints provide an estimated coverage per gallon. This can help determine how many gallons will be needed to cover the entire surface.
The color coverage of the paint can also affect the amount needed. Darker colors or black wood furniture paint may require more coats of paint than lighter colors to achieve the desired coverage.
It's important to note that different types of paint have varying levels of coverage. For example, epoxy and polyurethane paints may have a higher coverage rate than acrylic or oil-based paints.
Color and Appearance
Darker colors tend to absorb more heat and can cause the wood to expand and contract, potentially leading to cracking and peeling.
Lighter colors, on the other hand, may not be as durable and may fade more quickly in the sun.
Additionally, vibrant colors may require more coats of paint to achieve the desired color saturation and coverage.
When selecting a color, consider the wood species, the surrounding environment, and the intended. For example, a bold, bright color may work well for a children's playset, while a more natural wood-tone color may be preferred for a deck or pergola.
Finish Sheen
The finish sheen of waterproof wood paint can affect the appearance, durability, and maintenance. Here are the common types of finish sheen and their use cases:
High Gloss: This type of finish sheen is highly reflective and provides a smooth, shiny surface. It is durable and easy to clean, making it popular for outdoor surfaces exposed to harsh elements. However, high gloss finish may not be suitable for all surfaces as it can show imperfections and scratches more prominently.
Semi-Gloss: This finish sheen is slightly less shiny than high gloss and offers a more subdued appearance. Semi-gloss finish is a good choice for surfaces that need shine but not as much as high gloss, such as exterior doors, window trim, and shutters.
Satin: Satin finish sheen is less shiny than high gloss and semi-gloss. It provides a subtle sheen that is softer and more muted, making it a good choice for decks, and fences. Satin finish is also less likely to show imperfections and scratches compared to high gloss.
Read Also: Can You Use Rustoleum Protective Enamel on Wood
VOCs
VOCs (volatile organic compounds) are chemicals that evaporate into the air and can have negative effects on the environment and human health. The level of VOCs in waterproof paint can affect the type of paint chosen for wood in several ways.
Depending on local or national regulations, choosing a low-VOC or zero-VOC waterproof paint may be required.
However, higher VOC paints may offer better adhesion and longer-lasting protection. Low-VOC paints may be less durable but provide a safer and more eco-friendly option.
Recommended Painting Process
I guarantee a smooth painting process and appealing coverage with the steps below. Here's how to waterproof wood.
Clean the wood
Before everything else, remove all debris, such as dirt and old paint. Use a power washer or wire brush to achieve the best results.
Sand the wood
Use sandpaper to sand bare wood to achieve a smooth surface. Proceed to clean the dust using a rag and add a stain-blocking primer before applying your paint.
For painted wood, use a non-residue cleaner and sand the surface for the primer to adhere better.
Prime the wood
Unless yours is a self-priming paint, such as the KILZ 10211 Exterior Siding, Fence, and Barn Paint, apply one or two coats of a primer. Prior priming enables the paint to adhere readily, reducing the number of coats needed.
Paint and seal the wood
Finally, apply your exterior paint over the primed surface using a brush or roller. Aim for an even coat while avoiding drips.
Depending on your paint type, a spare time before re-coating. Afterward, seal the wood using polyurethane, lacquer, or varnish.
Read: What paint is good for wood?
What are the Benefits of Using Waterproof Furniture Paint
Besides preventing rot and water damage, waterproof paints offer many benefits you should look out for when buying paint. They include;
Breathable– Waterproof paint should have a breathable membrane to prevent dampness and water pressure build-up within a substrate.
Versatile- Most waterproof paints for wood are suitable for various surfaces such as masonry, metal, brick, and cement.
Works in both directions– They prevent humidity and steam from the room from penetrating and damaging the painted surface.
Pro tip: Buy paint from reputable sources like Home depot, Lowes and Walmart in case you may be interested, can you return paint once bought.
FAQs
What is the ultimate waterproof wood paint?
Look no further than Wolman 360349 Outdoor Furniture Paint! This high-quality paint is perfect for any outdoor furniture, providing long-lasting protection against the elements. It's also easy to apply, so you'll be able to get your furniture looking great in no time. Plus, the beautiful finish will last for years without fading or chipping. Don't wait – order your paint today!
How long does it take for waterproof wood paint to dry?
Different waterproof paints dry at different rates. Similarly, weather, humidity, and outdoor temperature can impact drying. Typically, thinner paints dry faster than thicker ones.
Why should you waterproof your wood exterior?
Protecting your wood exterior against water damage helps preserve its strength and natural beauty. Waterproofing wood helps prevent the absorption of water, which can cause rot and decay.
Is waterproof paint for wood furniture long-lasting?
Waterproof paint should protect wood even in extreme conditions. A good rule of thumb is to recoat after every couple of years. Even so, this will depend on the wood, paint, and environmental conditions.
5 Types of Paints to Avoid When Waterproofing Wood
Chalk-based paints: While chalk-based paints are great for giving a shabby chic look to furniture and other wooden surfaces, they are not a good choice for waterproofing. These paints can easily absorb moisture, which can cause the wood to warp or rot over time. (Here's the best brush for chalk paint on wood and tips to clean chalk paint brush).
Matte or flat paints: Matte or flat paints have a smooth, non-reflective finish that can look great on walls, but they are not recommended for waterproofing wood. These paints can absorb moisture, leading to mold, mildew growth, and warping or rotting of the wood.
Watercolor paints: Watercolor paints are made with pigments suspended in water and are not designed to be water-resistant. They are often used for art and design projects and can easily be washed away or smudged with water.
Tempera paints: Tempera paints are a type of water-based paint that is made with a combination of pigment, binder, and water. While they can be water-resistant when dry, they are not ideal for long-term exposure to water.
Poster paints: Poster paints are similar to tempera paints but are usually thicker and more vibrant. However, they are also not water-resistant and can easily be washed away with water.
Final Thoughts
Besides having excellent waterproofing capability, you need paint that can protect against regular wear and tear. Wolman 360349 Outdoor Furniture Paint by Rust-Oleum is the great for outdoor wood furniture, such as the best paint for picnic tables.
This eco-friendly, toxin-free paint is specially formulated to provide a durable UV and water-resistant coating. Use this option to preserve your outdoor wood furniture for several years.