When it comes to carving, there are a few different kinds of wood you can use.
But, what wood is good for carving? Well, that all depends on your desired carving project, skills, wood quality, and the tools at your disposal.
In this blog post, we'll take a look at the best wood for carving and what makes each option unique.
So whether you're looking for the easiest wood to carve or the most durable carving woods, we've got you covered.
Let's get started!
What is the Best Wood for Carving?
Best Wood for Hand Carving – Basswood
​​Best Wood for Power Carving – Cherry Wood
Best Wood for Relief Carving – Butternwood
The Softest Wood for Carving – Pine
Best Hardwood for Carving – Yellow Cedar
What Makes Wood Easy to Curve?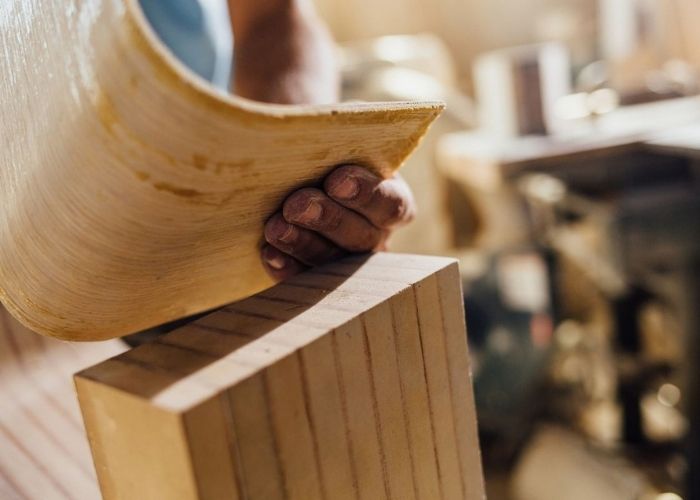 There are several factors to consider when choosing wood for carving. First off, you want a wood type with a dense wood grain pattern for aesthetic value. Otherwise, your carved items may not look very beautiful.
Additionally, you don't want the carved products to absorb too much moisture once dried, as this increased the risk of warping and loss of shape. This is especially important when carving functional items such as a spoon or bowl.
Three other qualities to consider when selecting wood for carving projects include;
Ease of carving: Carving isn't very easy. It takes a lot of manual work and typically a lot of time too. Even a small item, such as a spoon, can take the better part of the day to curve. So, it's in your best interests to work with a softer wood that's easy to carve.
Fresher is better: Wood has the highest moisture content, thus easiest to work when it's green and fresh. However, don't forget to store it away and protect the carved items from rain and direct sunshine. Otherwise, it may crack badly. Alternatively, get kiln-dried wood and chop it into boards for carving.
Clean and straight: When you're carving wood, you're working with fibers. So, the process is a lot more enjoyable when the fibers aren't broken by knots or other wood damages. To this end, it's important to work with straight, knot-free branches or logs.
Top 11 Best Wood for Carving
There are many excellent wood types for carving. So, which ones are the best? The following are the best choices for different wood carving projects;
1.
Best Wood for Hand Carving

– Basswood

Sale
BeaverCraft BW16 pcs Basswood Carving Blocks Carving Wood Carving Wood Whittling Wood Bass to Carve Wood Carving Kit for Beginners Basswood Blocks Whittle Kit Unfinished Wood Blocks Craft Widdling Kit
Basswood carving blocks 16 Piece Set: this whittling kit has 16 basswood blocks. A great opportunity to get creative as much as you like and create new projects freely!
Wood for Carving Super Soft: basswood is a common wood for carving because of how soft it is. Easy to use for all levels of skill - get your basswood carving blocks and carve!
Basswood for Carving for Creativity: a variety of creative ideas presents itself with our basswood for carving - we offer wood carving blocks in a big amount per one set to inspire our fellow carvers.
Basswood Carving Blocks Easy to Use and Paint: basswood is a very multipurpose material that you can leave with a natural wooden look or paint over if you like your projects to be bright.
Wood Blocks for Carving Even Surface: our wood carving blocks are designed for you to start carving out of the box immediately if you want to. The basswood is smooth and prepared for further carving.
Considered one of the best woods for wood carving, in general, basswood, also popular as limewood, is also the best wood for hand carving. The main reason is that basswood is extremely soft. It's one of the softest softwoods.
Better still, basswood has a nice interior wood art and absorbs stains well. So, you can easily change the color of your carvings.
The fine, even texture is another major selling point. It makes basswood quite forgiving in case of accidents. Above all, basswood is one of the most affordable woods.
---
2.
Best Wood for Power Carving

– Cherry

It isn't easy to pick the best woods for power carving because most wood carvers use power tools anyway. So, the list would comprise anything from basswood to walnut.

However, if you're looking for just one wood type that gives the best results when using power tools instead of hand tools, it's hard to look past cherry, particularly the American Cherry.

American Cherry has a light pink to rich reddish-brown heartwood coveted by experienced wood carvers and furniture makers worldwide. Meanwhile, the sapwood is cream with straight grain patterns.

The only downside is that cherrywood is hard and thus difficult to work with standard tools. However, the experience and final product are magnificent if you use power tools.
---
3.
Best Wood Relief Carving

– Butternut
Butternut is almost as easy to carve as basswood. It also has a wonderful wood grain pattern and a very attractive color. The coarse texture with large straight wood grains makes it easy to work, while the heartwood is light brown, a color admired by most woodcarvers.
However, if you're not a fan of butternut, consider pine. It's another wood type that works easily, allowing you to carve intricate figures on flat wood panels.
---
4.
The Softest Wood for Carving

– Pine
10 Pieces 10cm Natural Pine Wood Rectangle Board Fit fot Arts Craft DIY
The face veneer has a smooth surface with a light uniform color.
Size or shape you want to be sawn according to your needs.
Ideal for crafting products and improving the quality of the work.
Natural pine wood board,can be used for wedding,party,home or decoration.
Also great for modeling DIY craft,ideal material for creative projects.
Pine starts yellow or reddish-white and darkens over time to a reddish-brown tone. It's almost similar to basswood when carving in that it's soft and carves easily, even with hand tools.
The only exception is that the grains can be a little stubborn. This means you should be alert to prevent splitting and chipping. However, it makes up for the poor wood grain pattern with greater durability.
White pine is particularly enticing. Everything from the color to the texture makes it a great choice for wood carving. Above all, it's very easily available throughout the US. Balsa is another excellent option.
---
5.
The Best Hardwood for Carving

– Yellow cedar
Premium 12 Pack Cedar Grilling Planks with Larger Size: 6"x12"x0.4. Add Extra Flavor and Smoke - BBQ Aromatic Wood Cedar Planks for Grilling Salmon, Fish, Steak and Veggies(Gift Pack).
✅Nature Carrier do not actually produce cedar planks for grilling, we are the nature cedar grilling planks carrier, nature and safe.
✅Nature Carrier Cedar Grilling Planks are thicker(4/10"), not burned easily; Longer(12") to fits the whole fish and wider to hold more Salmon.
✅Each of Nature Carrier Cedar Grilling Plank is sanded to a smooth, grilling-ready finish, not rough on surface and no splinters.
✅Using presoaked Nature Carrier Ceder Planks for Grilling will add extra smoke and flavor to your salmon, fish and all the other food.
✅100% nature and safe. An idea choice for Grilling Salmon,Fish, Steak, veggies and more. Also an idea product to incense the chests,rooms, house. Also an idea gift for family and friends.
Cedar gives some of the best timber pieces for furniture and cabinet making. Woodworkers particularly love it for its weather resistance.
It easily withstands damp climates and isn't affected much by exposure to strong sunshine. Cedar is also naturally insect-repellant and has a pleasant aroma that customers love.
For carving projects, we recommend yellow cedar. Yellow cedar has a nice straight wood grains density and good interior wood art. It also comes in a medium to fine texture and matures with age into stunning wood pieces. Above all, it takes hand and power tools equally well.
---
6.
The Best Cheap Wood for Carving

– Aspen

Aspens are medium-sized deciduous trees that grow taller than 80 feet, remaining fairly thin with trunk diameters around a foot and a half. Interestingly, the trees can grow for 150 years before reaching the end of their lifespans.

Many woodcarvers love aspen wood because it's one of the easiest woods to work. It is relatively soft, with straight grains that offer little resistance or interference to carving tools.

Moreover, aspen is non-resinous thus lacks the knots that often make options such as pine difficult to carve. Even better, aspen wood is very affordable.
---
7.
The best Wood for Dremel Carving

– Maple

Sale
Maple is one of the most popular hardwoods on the planet and is regularly used in furniture making, cabinetry, and even building and construction. However, that's not all. Maple is also one of the best woods for carving, especially for Dremel carving.
Why? Because maple wood has a fine texture with straight grains that form beautiful carvings with different patterns but requires reliable machining to produce the best outcome.
Additionally, who doesn't know about the durability of maple wood? Maple excellently resists environmental elements like insect attacks, moisture, and direct sunshine.
---
8.
The Best Wood for CNC Carving

– Beech
Although not a carver's choice for working with hand tools, beech can be easily shaped with power tools to create elegant items. It is a fairly cheap strong wood that easily bends to form legs of chairs and tables.
Beech also doesn't splinter easily, making it ideal for making goblets and turned products. Above all, beechwood is odorless, hence a good candidate for carving wooden kitchenware, including spoons, plates, and cutting boards.
The only downside is that its hardness can cause occasional chipping during carving. However, you don't have to worry too much if using CNC carving tools.
---
9.
The Best Wood for Bowl Carving

– Buckeye

Cottonwood, soft maple, butternut, river bitch, and buckeye are good candidates for bowl carving. However, if you can only pick one, consider buckeye.

Buckeye is a lightweight but firm-textured hardwood. In fact, the yellow buckeye is one of the softest and lightest hardwoods native to the United States. Unfortunately, it also ranks very poorly in workability.

However, the same qualities make it one of the best for low-cost carving projects, such as bowl carving. It has a "rubbery" and not stiff or crisp feel, making it the perfect wood for carving bowls.
---
10.
The Best Carving Wood for Beginners

– American White Ash
American white ash is not as widely used in carving as the other options on this list. However, it ranks top for selected wood carving project, especially beginner projects.
For one, the American white ash boasts a wonderful texture that makes it easy to work. The coarse straight grain pattern with a coarse uniform texture makes it easy to curve for newbies.
Additionally, it has a beautiful heartwood that ranges from faded brown to a crisp light brown and similarly striking whiting sapwood. These two colors are excellent for wood carving project.
---
11.
The Best Wood for Luxury Carving

– Black Walnut

Sale
Black walnut is reserved for the most luxurious woodworking applications. Two qualities that make it the perfect wood for luxury carving are appearance and durability.
First, it has a naturally rich, dark, chocolate-brown color that instantly screams – luxury! The dense wavy grains pattern complements the wood's natural color, giving walnut a deep, lustrous look.
Additionally, walnut is extremely durable. It doesn't warp even in high-humidity or hot conditions and is highly resistant to rotting.
So, walnut carvings, and even furniture, easily last a lifetime. The only downside is that walnut wood comes with a steep price tag.
---
Hardwoods vs Softwoods for Carving
Hardwoods and softwoods are used almost equally in wood carving. However, both options also present carvers with various challenges. The following section summarizes the pros and cons of working with each wood type, so you're aware.
Hardwoods for Carving Pros
High density
Great fire resistance
Extremely decay-resistant
Easy to maintain
Hardwood carving Cons
Grow slowly
Difficult to cut
Expensive
Softwoods for Carving Pros
Easy to cut
Grow fast
Affordable
Resistant to insects
Softwood for Carving Cons
Low density
Not resistant to fire
Advantages
Drawbacks
How to Soften Wood for Carving
If you insist on using hardwood or one of the harder softwoods for carving, you should at least know how to soften the wood for carving. There are four ways to do so;
Spray it with an alcohol-water solution
Spray it with WD-40
Dip the wood in cold or boiling water
Treat the wood with denatured alcohol
Carving Tips for the Best Results
Selecting the best wood for carving and softening the lumber are the first (and easy) steps in wood carving. Hard work begins when actual carving starts. The following are several tips to help you along;
Understand the strengths and weaknesses of the chosen wood type
Keep your tool sharp, including power tools
Learn proportions
Learn wood burning at the same time
Make sure you have enough space
Understand that perfection only comes with practice
FAQs
Is oak good for carving?
Yes, oakwood is an excellent choice for wood carving project. It is strong and sturdy wood with fine, well-defined grains. All these features are critical when selecting wood for carving.
What is the best hardwood for carving?
Basswood, aspen, butternut, and black walnut are, by far, the best hardwoods for carving. Just keep in mind that not all these hardwoods are the same. For instance, some only carve wood well with power tools.
What is the easiest wood to carve?
Balsa and pine are considered the softest woods to carve. Balsa, for instance, only has a resistance of 400 Newtons, making it very easy to shape into intricate patterns.
What's the best wood to whittle?
Silver birch, willow, sycamore, alder, and lime are considered easiest to whittle. However, if you must pick just one, silver wattle takes the cake. It whittles effortlessly.
Is basswood good for carving?
Yes. In fact, basswood is one of the most popular woods for carving universally. It's a softwood that makes carving easy while allowing the wood carvers to emphasize the fine details.
Where can I get wood for carving?
You can easily purchase carving wood from hardware stores both online and offline. Amazon, Lowe's, and Home Depot all sell wood blocks in various sizes that you can use for carving.
Is pine good for carving?
Yes. Like most softwoods, pine carves with minimal effort. In fact, it's one of the few wood types that you can easily carve with hand tools. It's best suited for carving in the round, relief carving, and whittling.
Is poplar good for carving?
Yes, poplar, especially yellow poplar, is an excellent choice for carving. First, it is among the softest hardwoods, making carving easy. Additionally, it has a uniform, straight grain pattern that makes the wood easy to cut.
Is balsa good for carving?
Yes, balsa wood is excellent for carving, especially for beginners who want to start whittling. It is soft enough to carve with most basic tools. Balsa wood is also very lightweight, which makes carving even easier.
Is limewood good for carving?
Yes, lime is a good choice for wood carving. It's one of the easiest hardwoods to work on as it easily takes details. Lime also has straight grains that make carving easy.
Summary
There you go! Now you know the best wood for carving. Generally, basswood, butternut, and yellow pine are the best wood types for carving.
However, maple, oak, ash, and walnut can prove excellent choices for specific wood carving projects. In case you are a beginner and want to learn about carving, here's how to start wood carving.