A wooden door looks and feels great. Solid wood doors exude sophistication and class that other entries do not. You can paint or stain them any color you wish.
They're durable, insulative, and have a natural beauty that other materials can only dream about. The best wood for doors should be attractive, weather well, and integrate effortlessly with any architectural design.
I am a professional woodworker who spends most of my time installing and fixing doors. I curated this detailed list of the best wood species ideal for a door. Take a look.
Best Wood for Doors
Alder
Poplar
White Oak
Cherry
Hickory
Western Red Cedar
Birch
Beech
Types of Wood for Doors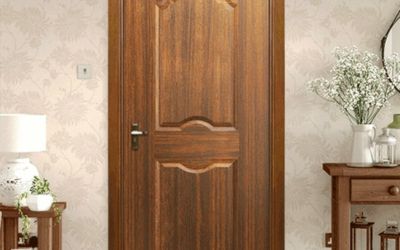 Understanding the various types of wood and their applications can help you choose the best wood for your project.
Whether you're constructing custom exterior doors or selecting wood furniture for your homes, it helps to know the different types of wood to help you make the right choice.
Softwoods
Softwoods are wood and lumber derived from conifer trees. Conifer trees, also known as Gymnosperms, have needles and produce cones. They make the best wood for shou sugi ban wood burning
Pine, Cedar, Fir, Spruce, and Redwood are excellent examples of softwood trees used in woodworking, construction, and furniture.
Cedar is considered the best wood for saunas due to its natural resistance to moisture, heat, and decay, making it an ideal choice for a durable and enjoyable sauna experience.
Some softwoods, such as cedar and Redwood, resist insects and rot excellently and are ideal for exterior projects such as outdoor furniture, exterior door, wood birdhouses, and decking.
Softwoods are easier to work with, affordable, and sustainable because softwoods grow faster.
Hardwood
Hardwoods come from trees referred to as deciduous trees or angiosperms. Oak, maple wood, cherry wood, Bamboo, Palm, mahogany, and walnut are common hardwood species.
Although hardwoods are not always more potent than softwoods, many species are well known for their gorgeous and unique wood grain patterns.
Hardwoods are durable, easy to maintain, fire-resistant, and have good dimensional stability. However, they're pricey and can be challenging to work with. Hardwoods are great for building boats, furniture, flooring, etc.
Read also: best wood for making signs
14 Best Wood for Doors
1. Alder
A knotty alder door is an excellent addition to nearly any home. The most common wood used for interior doors is Alder. The beautiful knots in the grain pattern are one of the main traits distinguishing Alder from other hardwoods.
These knots give your door a rustic feel, making it a superb option for barn doors. The clear-cut wood grain makes Alder an excellent wood for a stain finish.
The wood has a natural light brown color with a peachy or amber undertone. You can change this color with a stain to achieve any desired effect. The stain also emphasizes the wood grain, giving you a rustic, log-cabin appearance.
Though you can paint Alder, it is time-consuming if you do not need the knots and wood grain to shine through. You'll have to roll up your sleeves and sweat it out, filling the cracks and sanding down the wood before painting for pro results.
Alder is also famous for solid wood, just like hard maple, but with the allure and characteristics of pine. It is also one of the cheapest types of wood for doors in general.
Pros
Easy to work with
It is easily available
It's very affordable
Cons
Not as durable as white oak doors
Very soft
---
2. Poplar Wood
Although poplar is hardwood, it is one of the lightest commercially available woods. It's effortless to nail, and the grain patterns are consistent.
However, it does not accept finishes well and is seldom used for cabinet-grade woodworking or where you need a natural wood appearance.
The uniformity of Poplar's smooth to medium grain makes it a superb option for doors in more advanced and less rustic settings. If you want a painted door at an affordable price, we highly recommend a poplar wood door.
Poplar is ideal for painting because it lacks wood knots and an extreme grain pattern. You can avoid the filling and sanding and start painting it in whichever color you want.
The wood is unsuitable for staining as it is very smooth with few knots and straight grain. If you need a natural feel of the wood in your wood, go for alder wood.
Pros
Easy to work with
Lightweight
It can be used outdoors only if it keeps dry
Cons
Tear up easily
Require light sanding
---
3. White Oak
Because of its formidable strength and resistance to decay, American white oak is used in various applications, such as boat building, flooring, architectural joinery, custom door, exterior joinery, railway sleepers, and timber bridges. It is also the perfect wood for a raised bed.
White Oak is famous in the Northern Hemisphere and is an excellent choice for high-end furniture, interior woodwork, and panelling. Due to its impermeability, the wood is ideal for casks that hold liquids such as wine and spirits.
Because of its hardness and weight, plus low stiffness and strength, white oak is becoming incredibly popular as a structural timber. It also has excellent steam-bending characteristics.
White oak works well in the mill and is simple to glue, nail, and screw. You can easily stain white oak doors and polish them to a high shine.
Many homeowners prefer white oak doors as they help to keep them by stopping drafts and conserving heat inside. This aspect adds comfort and cost-effectiveness that other wood types do not have.
Pros
Ideal for the front entry door since it is a durable wood
It's easy to stain
Resistant to dents and scratches
Cons
It's challenging to work with
It's super expensive
---
4. Cherry Wood
Cherry wood is a high-quality wood preferred for antique furniture and pricey items. Its most distinguishing feature is its reddish-brown color.
Other hardwoods have a lumpy or clear-cut wood grain, but cherry wood has a fairly straight grain that gives it a smooth texture. Because its natural beauty stems from its color, a transparent or light stain is the perfect finish for this wood type.
Cherry wood, whether used liberally or sparingly, will inject life into any room. Unlike cheaper woods such as pine, you won't worry about wood rot, which will last for decades.
Cherry wood is easy to machine. It glues and nails satisfactorily. When sanded and stained, it produces a super smooth texture, the perfect wood for making shelves and cabinets.
Like that of other species, Cherry's color changes over time, but how it changes is determined by several factors. Cherry might fade in some instances, while its reddish hue may darken in others.
Pros
Even without staining, it's stunning.
It's easy to work with.
It is long-lasting since it is highly resistant to rot and decay.
Cons
It's costly.
It reveals dust and dirt on the wood surface, so you must clean it regularly.
---
5. Hickory
Hickory is solid wood with lovely deep reddish-brown tones that add an esteemed feel to your room.
Many homeowners who pick hickory for their interior doors use a transparent or light-coloured stain to highlight the natural beauty of the wood's color and grain.
Like other woods, this axe handle wood has knots that add character and depth to each door. If you want to paint wood with medium grain and knots, the grain will be visible except if you fill the knots and sand the wood smoothly.
Which won't make sense in picking Hickory. That's why most people prefer to stain hickory wood.
Pros
It is a durable option
Outstanding aesthetic appeal
It increases the resale value of your home.
Cons
It is not DIY friendly
To avoid warping, it must be acclimatized to your space a few days before installation.
---
6. Western Red Cedar
Because it is highly resistant to insect damage, Western Red Cedar is a preferred wood for the front entry door and other outdoor structures.
It is the best wood for the exterior door since it contains natural oils that help repel most insects. It has breathtaking natural beauty. It has a magnificent reddish-brown color; if left untreated, it will turn grey over time.
Another undeniable feature of this wood is how well it takes stains and paints. As a result, you can use paints or stains to keep the original color or make it any color you wish.
If you adore rustic looks, this is the best. Due to its non-shattering nature, Western Red Cedar is also suitable for outdoor decking, outdoor furniture, and playground equipment.
Pros
It is resistant to cupping, warping, and shrinkage.
It is fireproof.
It is long-lasting and beautiful even without being stained.
One of the best Shou sugi ban wood types
Cons
It is pricier than other types of wood.
It fades to a weathered gray, which some people may find unpleasant.
---
7. Birch
There are nine birch trees: yellow birch(workbench wood type), white, and sweet birch. Most birch products in the United States are called birch hardwood or plywood.
Birch is distinguished by its yellow-to-white color with broad brown figures. It is used to construct cabinets, furniture, exterior doors, and panels.
Birch is a significant source of wood veneer. A wood veneer is a thin layer used to inlay other products such as plywood, particleboard, or fiberboard.
Compared to maple, birch wood has a rougher texture and does not produce a smooth, shiny appearance like maple wood.
It is lighter, and stain application might give mixed results. Darker stains don't absorb evenly into birch wood, and blotching may occur. Therefore, if you intend to stain birch wood, it's advisable to perform a test on a small, inconspicuous area first to ensure the desired finish
Pros
It is solid wood, therefore durable
it has a good dimensional stability
Lightweight
Cons
It does not highly resist rot and wear
When it is too dry, it cracks
Expensive than other hardwoods
---
8. Beech Wood
Beech tree hardwoods produce beech wood which is heavy wood. Beech Wood Doors are ideal for modern designs. Beech doors are long-lasting and sturdy, with excellent abrasion resistance.
Beechwood has a beautiful grain and is white to pinkish-brown in color, making it the perfect choice for interior doors. The timber is hard and heavy yet pliable and seamlessly split with a straight grain, making it challenging to work with hand tools.
It's commonly used in joinery and carpentry engineering applications such as carcass construction and furniture framing. Please remember that beechwood is excellent for structural woodwork and holds up well.
However, this does not imply that it is long-lasting: once cut, beech cannot withstand outdoor elements or variations in moisture. As a result, it is inappropriate for exterior use.
Pros
It's versatile and more affordable than other hardwoods
It's eco friendly
It's readily available
Cons
Unsuitable for an exterior door and other exterior applications
---
9. Walnut Wood
Solid wood doors made of walnut wood are designed to impress, and it never fails. Walnut wood is a fantasy in custom exterior doors because it is seamless to work with and finishes gorgeously.
Walnut wood is prized for its deep, rich color. There are numerous varieties of walnut trees, but only a few are indigenous to North America. Walnut is a type of dark wood with shades ranging from light to dark brown.
Walnut wood is more expensive than other hardwoods because it is high-quality. You can't find walnut lumber in long lengths.
The lumber has more knots and sapwood than other hardwood woods, necessitating the purchase of additional lumber to build furniture, increasing the cost.
Cherry wood darkens with age. Right? Walnut wood can lighten with age! You'll see a rich honey color. The color shift is less noticeable than the patina that evolves in cherry wood.
Walnut wood is a good choice for musical instruments. It is used in steam bending, guitars, and violins.
Pros
Resists water and mold
Easy to install
Ecofriendly
Cons
More expensive than other woods
It is easily scratched
---
10. Ashwood Doors
Ash is a fine-grained, light-colored hardwood. It's good to understand that ash is a generic term for forty-five tree species. These species have nearly identical properties.
The most common species are green ashwood, white ashwood, black ashwood, etc. Ashwood belongs to the olive tree family. Ashwood has a beautiful straight grain and a light brown tint.
It's lovely and has a uniform appearance. Ash is a fairly dense material with excellent working and finishing qualities. It has a medium Janka hardness.
As a result, it holds the nail, screw, paint, and polish excellently. It bends seamlessly through the steam process. Ashwood is customizable and can be used for various applications.
It is used to build furniture, toys, and sports equipment. However, white and black ash is furniture construction's most commonly used species.
Pros
Easy to work with
Durable and affordable
Easy to maintain
Cons
Poor stability as it bends when exposed to moisture
Unsuitable for exterior use
---
11. Maple
Maple has a consistent, smooth grain pattern and is pale or cream-colored. It is an attractive hardwood best suited for interior use.
However, you can use it for exterior doors if you install it in a protected environment, such as an overhanging roof over your front entry door.
Despite its low cost, maple is a long-lasting wood. It is not as tough as tropical hardwood, but if properly cared for, it will last as long as any other pricey wood.
If you are looking for affordable wood that will not detract from existing focal points, maple wood could be the wood for you.
Pros
Maple is cost-effective, can be used for years, and still looks great.
It is an environmentally friendly option.
Easy to clean and maintain
Because it takes stains well, you can stain it to look like expensive wood such as mahogany doors or cherry.
Cons
It may yellow if constantly exposed to sunlight.
---
12. Redwood
Redwood is a high-quality building material. It contains a chemical inside the pores, making it highly resistant to weather, insects, and rot.
Redwood will last longer than any other type of wood when exposed to unforgiving elements. It's ideal for almost all outdoor applications, but you can also use it for interior doors.
If you're a DIY fan looking for a soft wood that you can work with efficiently to build an interior door like an expert, your search stops with Redwood.
Redwood is beautiful, long-lasting, and simple to work with. Because the wood is solid and light, you won't need special equipment.
You'll use your essential woodworking tools. You'll adore the look of your door because it will be so inviting and full of life!
Pros
Simple to work with
It has a fantastic color that pops
Cons
High upkeep costs
It is costly.
---
13. Spanish Cedar
The color of Spanish cedar ranges from light pinkish-brown to reddish-brown, with minimal knots, gum pockets, and supernatural oils. It originated in South America.
It is exceptionally durable, light, and highly resists termites and decay. It has a unique, pleasant odor. Although softer than red oak or mahogany, Spanish cedar weathers ideally and takes paints and stains excellently.
Spanish cedar is commonly used to construct light racing boat hulls, furniture, clothing chests, cabinetry, doors and windows, and interior trim.
It was previously exported to Europe and the United States for cigar boxes. The Indians used the trunks to build dugout canoes. Spanish Cedar is simple to work with by hand and machine tools.
Spanish Cedar leaves blurry surfaces due to its softness and low density. You may need additional sanding with finer grits to achieve a smooth surface when not machined with razor-sharp cutters.
Pros
Durable 
Seamless to work with
Resists insects and decay
Cons
Challenging to stain due to gum presence
---
14. Teak
Are you looking for a new look for your tired home? Installing a teak front entry door could do the trick. Teak wood is perfect for exterior doors in termite- or harsh-weather-prone areas.
Teak's natural strength, density, and workability allow for various durable custom door styles and sizes. Teak wood doors are durable, weathers beautifully, and are resistant to termites and splintering.
Whatever design or style you select for your custom doors, you will enjoy teak doors for years. Teak wood doors are visually appealing: Your interior doors will retain the rich golden color of newly harvested teak wood.
You can use teak wood for your entry door, which will take on a sophisticated, silver-golden hue. Use Teak oil to protect your wooden doors and give them a rich finish.
Pros
It requires little maintenance
It resists acids, termites, and rot
It's naturally beautiful
Cons
It's challenging to find
It's costly
---
Interior vs. Exterior Woods
Exterior
The front entry door to your home is an important feature, as it is the gateway for visitors. It should be made of durable wood species that can withstand weather conditions and keep your home secure. Additionally, it should create a friendly and inviting first impression.
Interior
For interior doors, it's important to choose a durable type of wood (although it won't be exposed to as much wear and tear as exterior doors) that has good insulation properties for both heat and sound.
The appearance of the wood is also important, especially if the doors will be visible and finished in a certain way.
See Also: How to Make Wood Waterproof for Bathroom
Advantages of the Wooden Door Material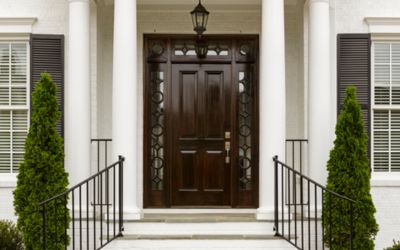 Soundproof
Wooden doors significantly reduce travelling sound. Interior wood doors are an excellent choice if boisterous teenagers enjoy blasting music.
Wood doors give residents a sense of privacy in apartments, dorms, and senior living facilities.
Durability
Wood doors retain their beauty over time since they're strong and can withstand decades of constant use. They are long-term assets that make an impression on everyone who sees and uses them.
Energy conservation
Wood doors offer more insulation, keeping your rooms cool or hot as needed — mainly when properly framed and hung. It is advisable to keep closed doors to seldom used rooms to allow air to circulate more freely around high-traffic sections.
Rust free
If your home or offices are situated near the beach or other rust-prone areas, a wooden door or frame is the best option since they won't rust. We bet the last thing you need is a worn and tired frame or front door.
Simple installation
Wooden doors are popular because they are simple to cut and shape with hand tools. So you can install them without hiring a professional if you have the right tools and a keen eye for details.
Read also: what is the best material for bathroom vanity?
Factors to Consider When Buying Wood for Doors
Wood species
When selecting a wood species for exterior doors, remember that some are better suited for external applications than others.
White oak, mahogany, cypress, teak, and Spanish cedar are among the perfect wood choices for a house with wood shutters, fences or outdoor furniture. These fantastic woods naturally resist rot, water, insects, and decay.
Furthermore, when exposed to moisture, these species expand much slower. Softer woods, such as Alder, pine wood, and poplar, have a minimal expansion rate but are imperfect exterior options due to their faulty resistance to the elements.
Size of the door
Knowing the exact size of your wood doors is critical before buying the wood. Before choosing the wood for your doors, measure the door frames' heights, widths, and thicknesses.
Another vital factor to consider when determining door size is jamb width. Jamb width refers to the measurements of the horizontal and vertical frame parts where you secure the doors.
Most jamb widths are four and a half inches, but check the width requirements before purchasing the wood for your door. You can hire a professional to evaluate your needs to ensure a great match.
Knowing the right side of the door will help you buy the exact size of wood you need to avoid wastage. Before buying wood for the door, consider the sunlight and weather the door will be exposed to.
Wood is a substance that is far more susceptible to the elements than metal and fibreglass. A solid wood door requires weather protection, appropriate finishing, and a sufficient overhang.
If you buy wood to buy exterior doors, opt for one that will withstand the elements, such as insect damage, mold, mildew, sunshine, and rain.
Go for a sturdy wood that can take a beating and still look great for years. Also, know if the door needs special treatment before and after installation for maximum durability.
Interesting Post: Make Wood Paneling Look Like Drywall
Climate
Consider the weather conditions of your locality before buying wood for doors. If you live in a wet climate, go for woods that withstand rain, wind, heat, and humidity.
Although all woods react to water, some species thrive in damp conditions better than others. Hardwoods have improved water resiliency than softwood since the fibres are solidly packed, resulting in minimal absorption.
However, it does not mean that all hardwoods are waterproof. If you want to install an entry door, use the most moisture-resistant wood you can get.
Teak, Ipe wood, Cumaru, and Larch are the best woods to withstand these weather conditions. You can use waterproofing stains and sealers to fortify the wood's defence against the elements.
Most waterproofing stains integrate a sealing agent and a color dye, so both are applied simultaneously. Once dried, the wood will repel water for an extended period.
Stains, sealers, and finishes will wear out with time. You'll have to reapply protective coats to enhance the wood's durability.
Here's the best spar varnish for sealing exterior doors against weather and climate.
Cost
How much money do you need to spend on the wood for the doors? You get what you pay for most of the time. Never sacrifice quality for the price.
It's advisable to buy high-quality wood for your entries. The wood may be pricey, but it'll pay off in the long run. Buy wood from credible sources to ensure authenticity.
How to Identify Types of Wood
Most people are unfamiliar with various wood types, making it challenging to identify them. It is critical to recognize wood to determine project costs and feasibility.
Each type of wood is unique and has unique attributes that make it more valuable. Identifying the wood type you use for remodels or projects will help you know its lifespan and the best way to use it. Here's how to tell if the wood is natural.
Read also: types of Wood for Countertops
Confirm the Wood is Authentic
To tell if the wood is genuine, examine the annual growth rings. The end of the wood should go with the grain direction. If you see the yearly grow curls, know that the wood is genuine.
Examine the grain pattern
The grain texture determines the type of wood. Natural woods have open porous surfaces. Softwoods are smooth and have no grain pattern, whereas hardwoods have a rough, sticky open pore structure.
Check the color
Look at the color to see if it's natural or stained. Natural woods such as cedar darken over time. Some woods turn gray and develop dark streaks as they age, while others become redder.
But since some wood types stain as they age, color identification can be challenging.
Recommended Post: Best Wood for Window Sill Replacement
FAQs
What is the best wood for outdoor furniture?
Cedar, redwood, teak, and ipe are among the best types of wood for outdoor furniture. They offer natural resistance to decay and insects, making them suitable for various weather conditions. They are also common pergola wood types due to their durability and aesthetic appeal.
What next? Check out our article "Can you put wood in recycling bin? "
Conclusion
wooden doors can improve your home's appearance. A wooden door brings a traditional vibe and feels to your home. Wooden doors come in various designs, and you can customize the wood to match the style and layout of your home decor.
Whether you adore light woods, dark woods, painted surfaces, simplicity, or intricate designs, there's something for everyone, regardless of your budget.
The best wood for doors should be durable, affordable based on your budget, and easy to work with.