Wood is one of the best materials for exterior columns. Not only are exterior wood columns strong and functional, but also practical and beautiful. Above all, it's much easier to install porch columns than stone or concrete.
The caveat – not all types of wood are good for porch posts. Indeed, some wood types aren't good enough for exterior wood posts at all. Moreover, wooden exterior columns may rot without proper selection, installation and maintenance.
This guide discusses the following;
The benefits of wooden porch columns
Exterior wood types for front porch columns
Tips to choose the best wood for exterior columns
Maintenance hacks for wooden exterior columns.
9 Best Wood for Exterior Columns & Porch Posts
Birch
Red or white oak
Mahogany
Douglas Fir
Cedar Column
Maple
Cherry
Redwood
Yellow pine
First things first: What are Exterior Columns?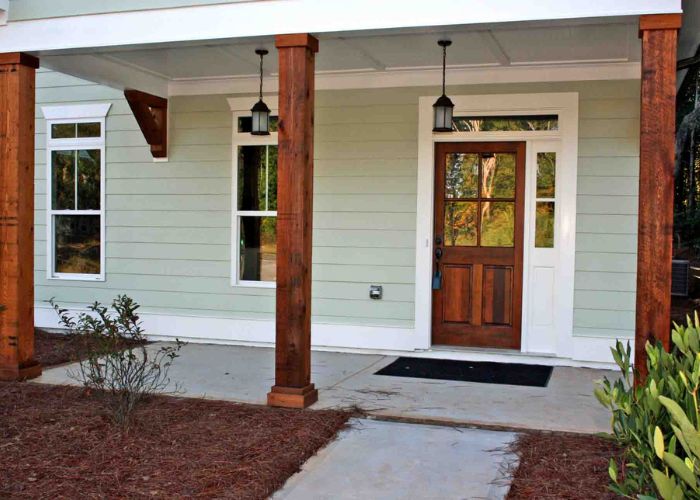 Columns, also popular as pillars in architecture and structural engineering, are structural elements that transmit, via compression, the weight of the structure above to other structural elements below.
For example, a standard exterior column supports beams or arches on which upper parts of the wall or ceiling rest.
Benefits of Exterior Wood Columns Porch?
Exterior columns are beneficial for many reasons. For example, although they primarily support structures, they also serve decorative purposes. However, standard exterior pillars serve four main purposes as follows;
Excellent supporting structures: The main purpose of exterior columns is to support porch and deck roofs. The right column structures can handle a decent amount of weight, thus supporting porch and deck roofs for many years without faltering.
Aesthetic appeal: Many people like exterior columns, pillars, and exterior wood shutters because they elevate exterior aesthetics. Decorated columns, such as capitals that feature flourishes and accents, significantly improve the property's outlook.
Different designs: One of the main reasons structural columns make excellent decorative features is that they come in varied styles and designs. For instance, you can opt for a stone or wooden pillar system. Alternatively, you can choose fiberglass. Additionally, you have a wide range of shapes and styles from which to pick.
Durable: Finally, homeowners also love structural columns because they are durable. This is especially true for homeowners looking for both style and function. Modern pillars can complement or replace walls without weakening the home's overall structure. Like walls, they can also last many decades.
Tips to Choose the Best Exterior Wood Posts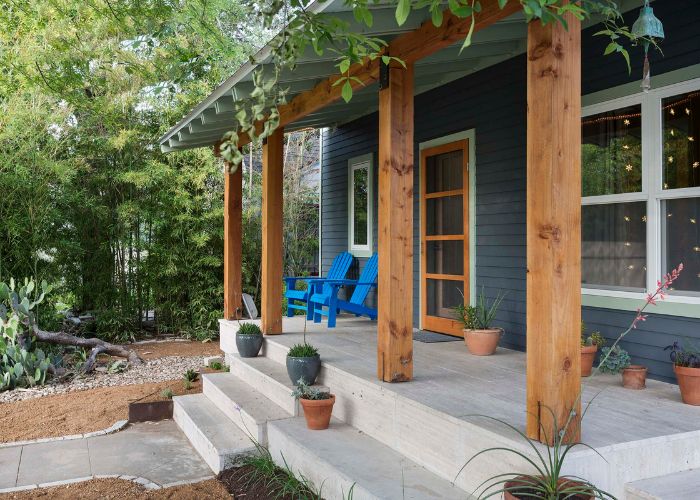 1. Pressure-treated wood
2. Shape (round, octagon, square, rectangular)
3. Weather resistance
4. Weight-bearing capacity
5. Column style
Basic vertical beams: Conservative or classic porch columns provide clean lines that blend well with matching banisters, railing, and soffit features. We recommend them for homes that already boast plenty of ornamentation.
Porch column wraps: You can also opt for porch column wraps to change the style or look of an existing porch column. Column wraps are ornamental rather than load-bearing structures.
Buttress-style porch posts: They offer a great way to extend design elements to the exterior wood posts. Additionally, the posts create a powerful visual effect while adding a layer of structural support to the home.
Multi-level exterior wood posts: For double-decker porches, multi-level porch posts create quite a visual impact. Elongating the beams makes the building appear slightly taller and cleaner.
Others: Other exterior column styles to consider are twin column porch posts, stately design exterior wood posts, Victorian porch posts, and colonial wood post front porch style.
9 Best Wood for Exterior Columns
1. Birch
Now, let's discuss some of the best wood for exterior columns. We've only picked the best nine. However, always feel free to explore other options.
Birch is considered one of the best choices when shopping for stable exterior wood columns. It is a high-density hardwood perfect for round, square, or even rectangular porch columns. Birchwood is also durable.
The straight grains are another reason birch makes an excellent wood for exterior columns. Together with the natural pores and waves, the fine grains add a unique look to wooden columns.
Remember that you can also stain or paint birch wood as you wish. This means you can decorate your birch columns to complement the rest of the porch.
PROS
Hard and durable (1260 Janka)
The beautiful straight, fine grain pattern
Highly workable
Resistant to natural decay
CONS
Poor water/weather resistance
Poor pest resistance
---
2. Red or white oak
Oak is another excellent wood type for exterior porch columns. Indeed, it's one of the most popular woods for exterior columns. Homeowners and contractors love its dimensional stability and durability.
If you're wondering what dimensional stability means, it's the quality of structures to retain their shape and size even under harsh conditions such as extreme weather.
Red and white oak are the best choices. White oak has a Janka rating of 1260, while red oak is even harder at 1360 Janka. Both also boast high aesthetic value and are easily workable.
You can paint the columns in the color you want and easily drive screws and nails into them. If you want to enhance the overall appearance of your porch, protect the floor from weathering and wear, and ensure easy maintenance, use the best porch floor paint available.
PROS
Extreme strength (1260-1360 Janka)
High dimensional stability
Easily workable
Fire and wear-resistant
CONS
Heavy thus difficult to move
Tend to darken over time
---
3. Mahogany
You've likely heard a few things about mahogany. It's one of the most in-demand hardwoods, even for making epoxy tables and exterior columns.
Although it's commonly used in round columns, mahogany also works excellently for octagonal, rectangular, and square columns. Besides its extreme strength (800 Janka), mahogany stands out for excellent water resistance.
It repels moisture and water than most wood types on this list, allowing it to perform well in wet climates.
Above all, the reddish-brown tone adds a classical look to any exterior. However, you can paint it if you wish.
PROS
Highly durable
Highly water and rot-resistant
Rich reddish-brown tone
Holds paint and staining well
CONS
Difficult to work
Not readily available, thus expensive
---
4. Douglas Fir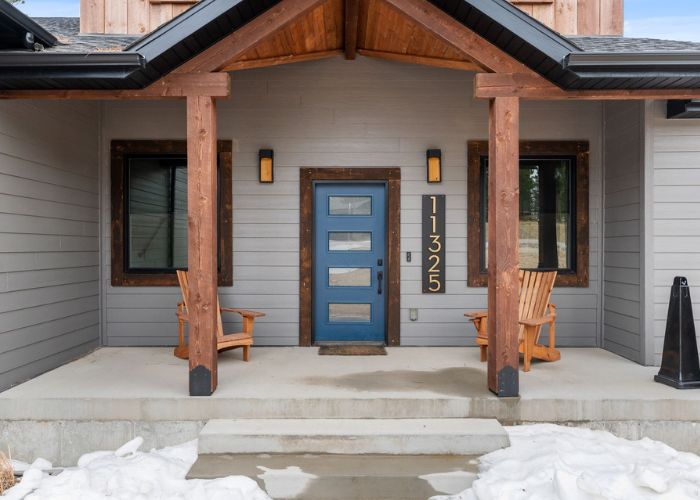 The Douglas Fir is an evergreen conifer species in the pine family. It's native to western North America, where it's also common as Douglas spruce or the Oregon pine.
It makes many "best wood type" lists because it's fairly strong (660 Janka) while being highly affordable. Additionally, Douglas fir has a notable low shrinkage and warp rate.
This means it can withstand harsh weather conditions with little strain. Moreover, it's highly resistant to insect attacks as well as fungus. The only downside is that it is not as reliable as the stronger hardwoods for holding significant weight for years.
PROS
Lightweight, thus easy to move
Low shrinkage and warping
Great for front porch wood columns
Highly resistant to fungus and insect attacks
Highly affordable
CONS
Discolors over time
Difficult to work with hand tools
---
5. Cedar Column
Cedar, also common as the Western Red Cedar, is a beautiful, durable, versatile, and easy-to-maintain wood with plenty of qualities that make it excellent for exterior columns or even cedar-wrapped posts. The latter involves wrapping posts in cedar.
For one, it's one of America's most durable woods. It can last many decades or even centuries with proper maintenance. However, the open-cell structure of cedar makes it less dense thus lightweight than most softwoods.
The low density also makes it easy to work (cut, saw, nail, etc.). The even grain and relatively consistent density make cedar columns less likely to swell, warp, cup, or twist even in extreme weather conditions.
PROS
Exceptional dimensional stability
Extremely resistant to decay
Has thermal and insulating properties
Good finishing and workability characteristics
CONS
Relatively low strength (900)
Requires significant maintenance
---
6. Maple
Maple wood comes in many species and it's one of the best wood for porch columns. However, the hard maple, aka sugar maple, is the best choice for exterior porch columns.
It's white wood with reddish-brown hues, though the color tends to deepen with age.
Meanwhile, the heartwood is brownish-red and sometimes quite dark. The two standout advantages of maple over other wood types are cost and strength.
Maple is rated 1450 on the Janka hardness scale, making it one of the strongest woods. Interestingly, it's also one of the cheapest hardwoods and the best wood for indoor furniture such as wooden tabletops.
These two qualities have endeared many woodworkers to maple.
PROS
One of the hardest hardwoods
The cheapest wood to buy
Extremely durable and strong
Highly moisture-resistant
Resists shrinking and warping
CONS
Poor weather resistance
Prone to insect damage
---
7. Cherry
Cherry can be the best wood for porch posts depending on your needs. Many people avoid it because it's too expensive for lumber that scratches so easily.
However, cherry boasts unique characteristics that can drastically transform your front porch and home in general.
For one, cherry is a deciduous wood with a fine, straight grain ranging from reddish brown to blond.
This gives it a striking sight from afar. The heartwood is also reddish-brown but has a golden hue that transforms into a popular rich-brown over time.
More importantly, it's highly flexible and easy to work due to its straight-grained qualities. It also possesses good bending qualities and low stiffness. Cherry is rated 950 Janka.
PROS
Good finishing properties
Highly workable making them a good fit for front porch wood columns.
Beautiful fine, straight grains
Highly flexible, thus customizable
CONS
Relatively expensive
Scratches and dents easily
---
8. Redwood
Redwood is a premium building wood characterized by a chemical inside the pores that makes it weather, insect, and rot-resistant.
Therefore, it lasts far longer when exposed to the open air than many other wood types.
This makes it perfect for making exterior porch columns, though it can also be used inside the house. However, the main advantage of redwood is strength.
At 3190 Janka, it's the hardest wood you can go for when shopping for exterior columns for your front porch. The high strength means it resists warping and splitting with ease.
Surprisingly, it's much lighter than its peers, making it easy to saw, cut, and drill.
PROS
Rated excellent for building and outdoor structures
Exceptional strength and durability
Highly weather and rot-resistant
Wide range of applications
CONS
Scratches easily
Very expensive
---
9. Yellow pine
Finally, yellow pine is another excellent choice, especially if you're more interested in style than strength. It's one of the most readily available lumbers. So, you can pick up the pine of your choice at the local lumber yard.
Moreover, pine is easy to work with and has a pleasant yellow tone that instantly adds warmth to the house. However, many woodworking experts don't recommend pine for exterior applications due to its durability.
Pine also requires regular maintenance, especially when exposed to the open air. Nevertheless, it's an affordable option with excellent workability and finishing qualities.
PROS
Reasonably strong at 1570 Janka
Highly workable and excellent finishing
Highly available
Very affordable
CONS
Not very durable
Requires regular maintenance
---
Why Choose Wooden Porch Columns?
Natural beauty
Little deterioration from heat
Help with sound absorption
Other practical advantages
How to Prevent Wood Porch Columns from Rotting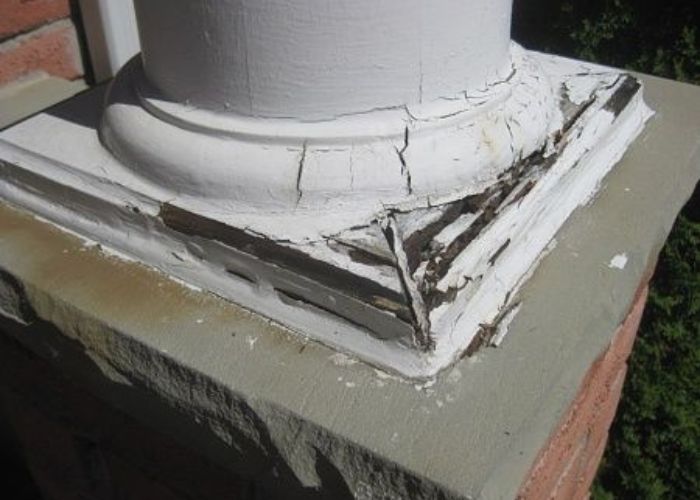 A common challenge you may experience after installing wooden columns is rotting. This happens even in treated wood columns.
How does this happen? It mostly has to do with weather and the natural tendency for lumber to behave like a live tree. Wood naturally absorbs water from the ground and, through osmosis, transfers the moisture upward, cell by cell, to the top.
This goes on throughout the life of the shaft, often resulting in rotting. Different types of wood rot at different rates.
Signs of Rotting in Wooden Columns
The following are the main warning signs of rotting in wooden columns to keep an eye out for during regular inspections;
Mold and algae growth
Cracks in the wood
A sunken column base
Separation of staves
Tips for Longer Lasting Exterior Wooden Columns
Fortunately, you can take steps to slow down or prevent wooden columns for porch from rotting in the first place. Consider the following tips;
Choose rot-resistant woods: The first step is to find rot-resistant wood columns for porch that naturally repel water and moisture. Maple, Mahogany, and Redwood are some of the best options. They also make the best wood axe handles.
Prime and paint the shafts: Painted columns are highly moisture resistant. Begin with a coat of primer, then add three coats of paint. Alternatively, you can stain your columns.
Don't drill holes at the bottom of the shafts: Holes at the bottom of the column tend to provide a conduit for water to migrate up the shaft. Instead, use a solid base with ventilation slots and install the column upon the base.
Select the right base: Aluminum plinths do a great job, as do synthetic bases. The idea is to ensure free airflow under the column to slow down moisture uptake.
Best Wood for Porch Columns FAQs
What kind of wood is used for modern front porch columns?
Selecting the best wood for porch pillars depends on various factors like home style, curb appeal, trim pieces, tools, and roof type. Birch, oak, and cedar are generally recommended choices. Match the wood type with your exterior décor for a cohesive look. Cedar's toughness and antimicrobial properties make it the best lumber for fence posts too.
How much does a wood column cost?
A basic ornamental wood column costs approximately $225 each. However, premium wood posts, such as redwood shafts, can cost as much as $500 per piece. Installation costs typically begin around $50 per post.
What is the best material for porch columns?
Wood is the best material for porch columns and constructing a subwoofer box. Rectangular or square columns can be made from various woods. Yellow Pine and Douglas Fir are ideal for economical porch columns, while hardwoods like Mahogany, Birch, or Oak suit high-end projects. Properly sealing the wood ensures longevity.
How do you keep wood columns from rotting?
The first step to preventing exterior wood columns from rotting is to choose rot-resistant wood types. Fortunately, you have many options to choose from, depending on your style preference. Additionally, make sure to prime or paint your columns and set them on a "breathable" base.
What wood lasts the longest outdoors?
The short answer is hardwoods. Hardwoods are resistant to rotting and can last very long. Teak and mahogany and excellent examples. However, a few softwoods can also last ages. For instance, cypress can last many decades with good care. Fir is pretty good too. Hardwoods are the best wood to make adirondack chairs and other outdoor structures.
What wood is most rot-resistant?
Cedar. Cedar is highly moisture resistant. Its posts rarely warp, even when installed outside. This is also why cedar is the best wood for window sills. Mahogany and white oak is also extremely resistant to rotting. A piece of advice, though – consider applying stain to make your posts even more rotting-resistant. Stain repels moisture. Painted columns also resist rotting fairly well.
The best paint for exterior wood columns
When painting wood pillars for porch, use oil-based paints because they will last longer and provide the best protection. Another good choice is top-quality acrylic paint for exterior wood. Modern acrylic paints have improved greatly and won't crack easily like latex paints.
The best material to wrap porch posts
Vinyl is the best material to wrap porch posts because it's strong, cheap, durable, and moisture resistant. Its abrasion and water-resistant property make it ideal for outdoor use. Besides, it has excellent fire performance properties. Besides being the best wood to use for raised garden beds, Cedar wrapped porch columns are also becoming common.
Are vinyl columns good?
Yes, vinyl columns are very good. Indeed, more contractors and homeowners are installing vinyl columns to support porch roofs because vinyl requires little maintenance and doesn't rust. And, if you're wondering, vinyl columns are strong, durable, and have the same load-bearing capabilities as wood.
Read: Can you refinish engineered wood floors?
Final Thoughts on Outdoor Wood Columns
Wood columns have become a popular alternative to brick pillars, especially in modern homes. It's a durable material that's naturally beautiful but more affordable and easier to maintain.
The best options to consider for porch pillars include birch, oak, mahogany, and fir. However, take proper care of the wood columns, lest they begin rotting.