Wood is one of the most popular shutter materials. It makes stunning beautiful board-and-batten shutters.
Other advantages of natural wood shutters include UV protection, increased privacy, and low maintenance. But, which type of wood?
In this article, I will be looking at several excellent options for the best wood for exterior shutters, with their respective pros and cons. My aim is to provide you with the information you need to make an informed choice when it comes to shutters.
What's the Best Wood for Exterior Shutters?
Cedar is the most commonly used wood species in exterior wood applications, including exterior shutters. It's a highly dimensionally stable wood species that doesn't warp or twist easily. Therefore, cedar shutters don't succumb to weather or seasonal changes. Moreover, cedarwood is hard, strong, and very durable.
History of Wooden Shutters
Wooden shutters have been used for centuries, but their origin remains unclear. They were discovered in the ruins of Greek and Roman buildings.
The use of wooden shutters was primarily for security and privacy during the medieval period in Europe. Later on, during the Renaissance, wooden shutters were an essential element of decoration.
These shutters have continued to capture the attention of homeowners, and they are still widely used today. They are perfect for keeping the harsh sunlight out while adding an elegant and classic look to any home.
Factors to Consider When Choosing the Best Wood for Shutters
As you'd expect, not all wood types make good wooden exterior shutters. Therefore, you must consider specific qualities. I recommend prioritizing the following;
Durability
Do you want durable wood shutters that can last many years? If so, find durable wood with a long lifespan. Otherwise, you will need to replace the shutter within a few years. This is why softwoods are not a great choice for exterior shutters.
Customization options
Different people desire different shutter styles. For instance, some people like their shutters stained while others prefer painted shutters.
Similarly, some want decorative carvings, while others prefer plain shutters. So, find wood that meets your customization needs.
Insect and bug resistance
Termites and wood borers are a major challenge in exterior wood applications. They quickly locate edible timber and constantly chew on it, weakening the structure and degrading it.
Therefore, the best wood types for exterior shutters are resistant to insects and bugs.
Lightweight wood
I do not like to use two arms to pull my window shutters closed. Also, heavy wooden window shutters lose shape quickly due to gravity and put extra pressure on the hinge. So, it's best to find strong but lightweight wood.
Weather-resistant and dimensionally stable
The material's weather resistance and dimensional stability are critical when choosing wood for shutters.
You want wood that doesn't change shape with the changing weather conditions. Moreover, it should resist warping, swelling, or other weather-occasioned damages.
Aesthetics
Finally, homeowners love wooden exterior shutters because of their natural beauty. So, don't overlook aesthetics.
For instance, find wood in a color you love, with grain patterns that get you smiling. Fortunately, there's no shortage of naturally beautiful wood species.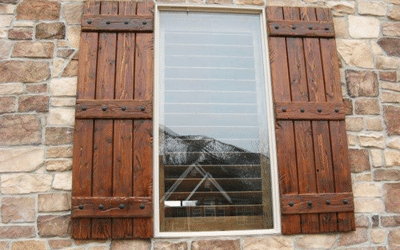 11 Best Wood for Exterior Shutters
The following are the eleven best kinds of wood for shutters going by the criteria outlined above;
1. Basswood
I consider basswood the best material for wooden exterior shutters because it's lightweight, readily available, and cost-effective.
Basswood has a density of approximately 20 pounds per cubic foot, making it more lightweight than many hardwoods. It's also easy to find.
You will rarely miss basswood planks at your local lumber yard. Basswood shutters cost between $15 and $30 in the US. However, beware that basswood isn't very durable.
It can last more than a decade with good maintenance. But it's not the best pick if you're prioritizing durability. Additionally, basswood shutters are not naturally bug resistant. Therefore, you must treat the shutters.
Pros
Authentic wood appearance
Timeless beauty
Easy to customize
It dries fast
Cons
It's not very durable
It's not naturally bug resistant
---
2. Redwood
Redwood is another great material for wooden exterior shutters and making wooden signs. Its natural beauty is unmatched, and it's more durable than basswood.
The average life expectancy of redwood in outdoor applications is 30 years. That's why it is considered the best wood for garden furniture.
Moreover, redwood is highly weather-resistant, resistant to warping, and contains natural chemicals that repel bugs. It's also naturally resistant to decay.
The two main downsides of redwood lumber are availability and price. Unfortunately, redwood is rare and expensive if you can find it. For example, redwood shutters cost 450 to $70 in the US.
Pros
Redwood is highly durable
It's naturally beautiful
It's naturally bug resistant
It's highly weather-resistant
Cons
It's hard to find
It's expensive
---
3. Poplar wood
Poplar is a divisive wood species. It boasts many qualities that make it a great choice for many woodworking applications, including exterior projects.
However, its lack of natural beauty renders poplar items unappealing and therefore undesirable. Nevertheless, it's a great low-budget option for exterior shutters.
It's readily available, weather-resistant, and resistant to rot and insect damage. Above all, poplar shutters rarely cost more than $15.
However, beware that poplar wooden shutters are almost always painted – staining isn't an option. Additionally, poplar is heavier than most wood types on this list.
Pros
Poplar is readily available
It's cost-effective
It's weather-resistant
It's insect-resistant
Cons
It lacks natural beauty
It's heavy
---
4. Oakwood
Oak is a popular wood in the woodworking industry. Its strength, durability, and natural beauty make it an automatic candidate in many indoor and outdoor woodworking applications.
Moreover, oak wood is highly resistant to weather. It rarely warps and is one of the most dimensionally stable wood species. These qualities make it a worthy option when making exterior wood shutters.
However, be warned about a few things. For instance, oak's incredible strength makes it difficult to work with (cut, saw, etc.) or customize. Additionally, it's heavy and expensive. A pair of oak exterior shutters cost $350+.
Pros
Oak is naturally beautiful
It's extremely strong and durable
Naturally weather-resistant
It's naturally pest-resistant
Cons
It's very expensive
It's difficult to customize
---
5. Cedarwood
Every woodworker knows about cedar, and many have used cedar wood. It's a very popular wood species, thanks to its natural properties.
For instance, cedar is strong, hard, and very durable. Cedar items can last 50+ years with good maintenance. Additionally, cedar is highly resistant to weather elements.
It effortlessly withstands rainy and sunny seasons without shrinking or warping. It also doesn't fade easily and is rot-resistant and decay-resistant.
The two main downsides of cedar wood are availability and price. It's not an easy wood to find and costs an arm and a leg if you find it. Cedar shutters typically cost north of $200.
Pros
It's hard, strong, and very durable
Cedar shutters are extremely weather-resistant
Very suitable for finishing and painting
It's rot and decay-resistant
Cons
Cedar wood is hard to find
It's very expensive
---
6. Cypress wood
Cypress is another interesting choice for wooden shutters. It's a low-density wood species that makes lightweight shutters, cheap wooden birdhouses, and floating shelves.
Moreover, cypress is weatherproof and resistant to fungal and insect attacks. Woods classified as "weatherproof" can live outside for decades without signs of weather damage.
On the other hand, though, cypress is toxic and has respiratory irritation properties. Therefore, many people think twice before using it for shutters. Additionally, cypress has a characteristic repellant odor that not everyone likes.
Nevertheless, it's a great choice if you can deal with the two problems. Strangely, cypress shutters are very expensive, priced from $400.
Pros
It's a strong, durable softwood
It's weatherproof
Cypress is naturally rot and decay-resistant
It is a lightweight wood species
Cons
It's toxic and has a strong odor
Cypress shutters are expensive
---
7. Mahogany
Mahogany shutters aren't very common for obvious reasons – it's a rare wood that costs an arm and a leg. However, if you can find it, the wood makes high-performance shutters that can remain in place for ages.
Moreover, mahogany is rot resistant and extremely dense, thus naturally repels insects and pests. It boasts beautiful natural grains, making it also the best wood for bathroom furniture and fixtures.
The main downside is affordability. Mahogany wood is hard to come by and thus very expensive. Of course, its extreme hardness also makes customization difficult.
Pros
Mahogany wood is naturally beautiful
It's hard and durable
Its pest-resistant
It's weather-resistant
Cons
It's difficult to customize
It's expensive
---
8. Pinewood
Pine is another excellent softwood when making shutters. It's highly available and therefore inexpensive. Additionally, pinewood has a smooth texture that makes it easy to finish. You can stain or paint it; the choice is yours.
I also love pine because it's highly rot-resistant, though it doesn't resist weather elements to the level of cedar or redwood. Pine wood's natural oils also resist pests and insects.
However, beware that pine is heavily knotted. Therefore, it doesn't fit some exterior decor styles well. Additionally, pine shutters are susceptible to scratching and denting.
Pros
Pine is strong and durable
It's naturally resistant to rot
It resists insects
It's inexpensive
Cons
It's prone to scratches and dents
It's heavily knotted
---
9. Douglas Fir
Douglas fir belongs in the same class as pinewood. It's a popular softwood with endless applications in the woodworking industry. It's a strong wood, thus common in home building and general construction applications.
For instance, douglas fir withstands more impact and can hold more weight than many hardwoods. It's knotted like pine.
However, it has a much tighter grain structure, therefore structurally stronger. Fir is also less prone to warping and twisting than pine.
The only downside of douglas fir is that it's not as durable as hardwoods such as redwood and mahogany.
Pros
It's strong and durable
It naturally resists pests
Douglas fir is affordable
It's readily available
Cons
It requires significant care
---
10. Black locust
Black locust is a highly valuable hardwood that many woodworkers cherish. It's the hardest wood on this list at 1700 lbf on the Janka scale.
It's also highly resistant to rotting and decay and naturally repels insects and pests. It also withstands weather and damp conditions.
Above all, black locust lumber is very beautiful. It has a beautiful golden color that darkens over time and can be sanded and finished multiple times without losing its luster.
The main downside of black locust shutters is their susceptibility to pests and insects. It constantly attracts borers and wood miners.
Pros
It's extremely hard and strong
It doesn't require special maintenance
Black locust is beautiful
It's surprisingly affordable
Cons
It is prone to pest attacks
---
11. Ipe wood
Finally, you should also consider ipe wood for your exterior shutters. First, besides black locust, ipe is the only other wood species on this list that can last 50+ years outdoors; thus, it is also the best wood for a fence.
It is weatherproof and easily withstands other outdoor elements, such as winds and UV radiation. Ipe wood is also beautiful. It displays a spectrum of colors ranging from tans to olives.
Some are also reddish-brown, while others are dark brown. The main downside of ipe wood shutters is weight.
Unfortunately, ipe shutters are dense and heavy, thus may sag quickly. Additionally, ipe wood occasionally experiences black oxidation and rusting.
Pros
Ipe wood is beautiful
It's extremely durable
It's naturally pest-resistant
It's resistant to rot and decay
Cons
Ipe wood is dense and heavy
Dark staining is common in ipe
---
Related Post: Best Wood for Exterior Columns & Porch Posts
What to Avoid
When choosing wood for exterior shutters, you should avoid wood that is not naturally resistant to rot, decay, and insect damage. Some types of wood to avoid for exterior shutters include:
Spruce: Spruce is a softwood that is not ideal for outdoor use. It is susceptible to warping, rotting, and insect damage.
Maple: While maple is a strong hardwood, it is not the best option for exterior shutters due to its lack of natural resistance to decay and insects.
Instead, opt for wood naturally resistant to rot, decay, and insects, such as cedar, redwood, mahogany, or teak. These woods will generally perform better and last longer in exterior applications.
Read also: good wood for walking sticks
FAQs
What kind of wood should you use for exterior shutters?
The most commonly used wood for exterior shutters is cedar. It's also the most commonly used wood for exterior applications because of its exceptional dimensional stability. Cedarwood doesnt warp or twist due to temperature changes and retains its shape and size throughout the year. This is why it's the most widely wood used for sauna wall building.
How thick should wood be for shutters?
The default standard thickness for exterior wood shutters is 1 5/6 inches. However, it's not a fixed requirement. Instead, many experts accept thicknesses between 7/8 and 2 1/4 inches, depending on the type of shutters. Meanwhile, the length and height are often rounded to 1/16th of an inch.
Can you use pressure-treated wood for shutters?
Yes, you can pressure treat wood for shutters. Pressure-treated wood is cheaper and more weather resistant than no-treated wood. It's also more resistant to insects. However, remember that pressure-treated lumber loses some durability and weather resistance during cutting and customization.
Can I use pine for shutters?
Yes, pinewood is suitable for exterior shutters, particularly in mild climates with minimal temperature fluctuations. However, it is not the best wood for workbench tops, as it may not offer the durability and stability required for heavy-duty work. Hardwoods like oak or maple are preferable for workbench tops and modern wooden countertops.
What is the best material for exterior shutters?
Generally, aluminum is the best material for exterior shutters. It withstands extreme weather conditions, including scorching hot temperatures and freezing winters. Additionally, aluminum shutters can withstand hurricanes. They won't rot, crack, or warp. As a result, it's the most popular outdoor shutter material.
Is basswood suitable for making a bed frame?
Yes, basswood is suitable for making a bed frame. It is a popular choice among types of wood for bed frames due to its strength, light weight, and ease of working with. However, it is essential to ensure proper construction and support to ensure the bed's longevity and stability.
Summary
In conclusion, choosing the best wood for your exterior shutters can be a daunting task. Each type of wood has its own unique pros and cons, so it is important to consider your specific needs and preferences when making your selection.
From the classic look of cedar to the affordability of pine, there is a wood type for every budget and style. Whichever wood you choose, be sure to properly maintain your shutters to ensure their longevity and beauty.