Raised garden beds are very popular – and for a good reason. They create fertile gardening spaces for people with limited yard space. Indeed, you can even build a raised garden bed on the balcony or roof.
Of course, it's also the perfect solution for farming enthusiasts with mobility challenges. You can customize the planter boxes to meet your unique needs.
Unfortunately, building a strong, durable, and safe raised garden bed is a fairly complex process with many challenges. Below, we discuss the most important step; how to pick the best wood for raised garden beds.
Many people consider cedar the best wood for raised garden beds because it's strong, durable, and naturally rot-resistant. The western red cedar is the fan-favorite.
However, white cedar and yellow cedar are also highly sought-after for outdoor constructions, including building raised beds.
Our Top Picks
What's the Best Wood for Raised Garden Beds?
Cedar – Best Overal
Chestnut – Best Wood for Garden Boxes
Juniper – Best Wood for Planter Boxes
Catalpa – Best Rot-Resistant Wood for Raised Beds
Douglas fir for raised bed – Best Wood for Flower Beds
Hemlock – Best Wood for Vegetable Garden
Black locust – Best Wood for Outdoor Planters
White oak – Best Wood for Raised Planter Beds
Cypress – Best Wood for Raised Planter Beds
Best Wood for Raised Garden Beds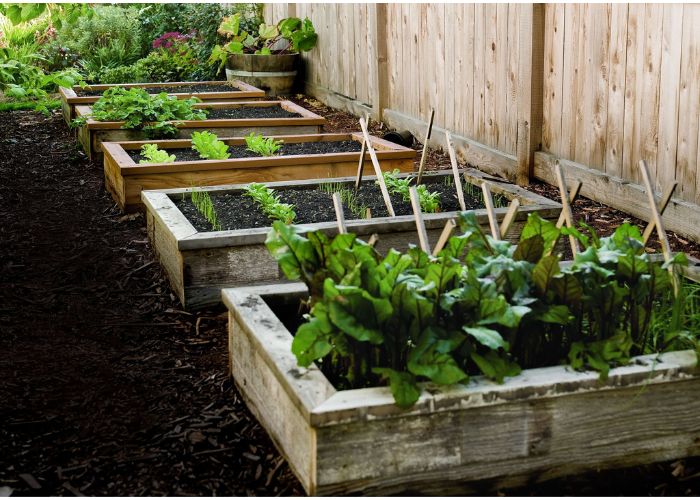 Let's begin by looking at some of the top wood choices for planter boxes before discussing how to choose the perfect option for your raised garden bed project.
1.
Best overall

– Cedar

Many people consider cedar the best wood for raised garden beds. The western red cedar and Alaskan yellow cedar are especially favorites for this type of project as they are strong, durable, and naturally rot-resistant.

Indeed, wooden cedar beds can easily last a decade. Aditya of Agriculture Review noted that the Polyoxyphenols present in cedar not only give a pleasant aroma but they also responsible for natural resistance to moisture, decay, and pest infestation.

Additionally, cedar also resists fading from prolonged exposure to the sun's UV rays.

Instead, the pinkish-red color transforms into a striking silver or grey hue as the wood fades, leaving you with a beautiful garden bed.

The west coast cedar is the one you're most likely to find at a lumber retailer. It's pinkish or reddish-brown to dark chocolate, though the color becomes more uniform after exposure to sunlight.

However, the eastern red cedar is even more durable and rot-resistant. These qualities also make red cedar the best wood for building a sauna wall and bench.

Pros
Extremely durable
Highly rot and decay-resistant
Naturally beautiful
Dimensionally stable
Cons
It's flammable
It's expensive
---
2.
Best wood for garden boxes

– Chestnut

Garden boxes are an excellent alternative to raised garden beds as they offer greater portability. So, you can bring the plants inside or move them to a shade if conditions in the garden deteriorate.

Chestnut is the best wood for garden boxes. Chestnut is a durable wood that's highly resistant to decay and rot. The high-density wood withstands weather elements and easily stands up to high moisture conditions.

Natural tannins further protect the wood from insect attacks. Another key benefit of chestnut wood is its beauty. Chestnut is an attractive light or dark brown wood with an attractive rustic appearance.

So, it's a natural choice for outdoor woodworking projects. In addition, its unique appearance and texture add a new dimension to outdoor decor.

Pros
It's highly durable
Highly workable
safe for humans and the environment
Rot and weather resistant
Cons
It splits readily
It's not readily available
---
3.
Best wood for planter boxes

– Juniper

Planter boxes make gardening easy. They conserve water, protect delicate plants, retain garden soil nutrients, and protect the roots. Moreover, you can customize the boxes to compliment your lifestyle.

So, we believe the best wood for a planter box is juniper. Why juniper? There are many reasons. First, juniper is very durable. Although it's softwood, it's one of the densest softwood at 0.55kg/cubic meter.

For comparison, cypress weighs 0.51 kg/cubic meter, and Douglas fir weighs 0.53 kg/cubic meter. Additionally, the juniper has a beautiful rustic appearance that easily complements modern and traditional decors.

It has a deep reddish-brown color with swirling grain patterns that stand out. Above all, juniper is naturally rot-resistant (no need for chemical treatment) and environmentally friendly.

Pros
It's very beautiful
Rot-resistant
Environmentally friendly
It's very affordable
Cons
Less durable than hardwoods
It's tough to cut
---
4.
Best rot-resistant wood for raised beds

– Catalpa
Catalpa is underrated hardwood lumber with exceptional qualities that make it a great choice for building raised beds. It is hard, strong, and dimensionally stable.
Catalpa is also a beautiful wood that will add to your outdoor decor. However, the biggest advantage of catalpa for outdoor projects is that it's extremely rot-resistant.
Indeed, it was once the go-to wood for railway tracks as it's strong, rot-resistant, and withstands weather elements. We also love that catalpa is highly workable.
It takes nailing, screwing, and sawing very well and stains and paints with ease.
Pros
It's hard and strong
Highly dimensionally stable
Highly workable
Very rot resistant
Cons
Blotches easily
It's not readily available
---
5.
Best wood for flower beds

– Douglas fir

Douglas fir is a popular softwood, often mentioned alongside pine and spruce. So, the first thing you need to know about is that it's highly workable.

Nailing, screwing, and sawing are painless processes when using Douglas fir for raised gardens and even making wooden pergolas. More importantly, Douglas fir is durable, fairly weather-resistant, and safe for humans and plants.

So you don't have to worry about disease-causing toxins. It is also readily available and very affordable. Finally, although firewood holds water, it doesn't easily absorb new water. This makes it fairly rot-resistant and great for flower bed borders as well.

Pros
Very affordable
Highly available
safe for humans and plants
Sufficient moisture resistance
Cons
Requires high maintenance
Not as durable as hardwoods
---
6.
Best wood for vegetable garden

– Hemlock

Hemlock is a popular hardwood known for its strength and hardness. It's also highly resistant to denting and scratches. So, it's common in high-end furniture and finishings, though a few people also use it in woodcarving.

These qualities make it just as good for making raised gardens. A hemlock vegetable garden is a long-term investment that can last a few decades.

Moreover, you can easily paint it to decorate your garden. The only downside is that hemlock is not very easy to cut. It's so hard that you need power tools to drill pilot holes and saw the word pieces.

Pros
It's very hard and durable
It takes paint and you can also use any eco-friendly stain for garden beds
Boasts an attractive reddish-brown appearance
Perfect for high-end projects
Cons
Difficult to cut
Not readily available
---
7.
Best wood for outdoor planters

– Black locust

Another option you should consider when shopping for building materials for a raised garden bed is black locust. It's not a very common wood. So, you may need to make your order early. Moreover, the black locust can be expensive.

However, it's the perfect choice for outdoor planters if you can lay your hands on it. First, the black locust contains high quantities of calcium oxalate, making it highly resistant to rotting.

The same compounds also make it decay-resistant. Additionally, black locust has natural anti-fungal properties and is one of the most insect-resistant woods.

Pros
Very hard and strong
Rot and decay-resistant
Insect-resistant
Very durable
Cons
It's expensive
It's not readily available
---
8.
Best wood for raised planter beds

– White oak

Oak is a woodworker's favorite. It boasts beautiful grains that often define furniture. Additionally, oak is strong and durable. As a result, oak furniture often lasts a lifetime with good maintenance.

Above all, it's widely considered a premium hardwood. Therefore, the choice of white oak for raised planter beds would be very wise.

You'd get a strong and durable garden bed that can withstand weather elements and common stressors. Moreover, white oak is naturally resistant to water and moisture that's why it is also a preferred wood for outdoor furniture.

White oak garden beds often last several decades with good maintenance and easily fend off pests and insects. Of course, it also boasts a striking appearance.

Pros
It has an attractive texture
White oak is very beautiful
It's strong and durable
It's highly water-resistant
Cons
It's expensive
It's heavy difficult to work
---
9.
Best wood for raised planter beds

– Cypress

We all know cypress. It's one of the most popular trees and the best source of woodworking timber. Cypress stands out for being strong, durable, and highly weather resistant.

Indeed, it's one of a few softwoods that can live outdoors for decades without significant deterioration. At the same time, cypress possesses natural oils that slow down rotting.

This allows cypress wood products to live many years outdoors. However, two qualities that make it an excellent choice for making raised beds are high workability and affordability.

Cypress is easy to cut, nail, paint, and stain. It's also readily available and very cheap.

Pros
Attractive appearance
Readily available
Very affordable
Very rot resistant
Cons
It's toxic
It has a sour odor
---
10. Black walnut
Black walnut wood is a staple in most lumberyards. It's a valuable hardwood with excellent qualities. For instance, black walnut is very hard and strong but not as difficult to work with as other hardwoods.
Moreover, walnut is non-toxic and commonly used to make cutting boards, wood walking sticks, and other kitchenware. The same qualities make it a wonderful choice for wooden planter boxes.
Black walnut wood makes beautiful, durable planter boxes resistant to insects and weather elements. The wood is also highly dimensionally stable and thus doesn't lose shape following extreme weather changes.
Above all, walnut wood is resistant to fungal attacks. It possesses natural anti-fungal properties that enable it to repel mold, mildew, and other fungi.
Pros
Walnut wood is beautiful
It's strong and fairly durable
High dimensional stability
Highly workable
Cons
---
11. Spruce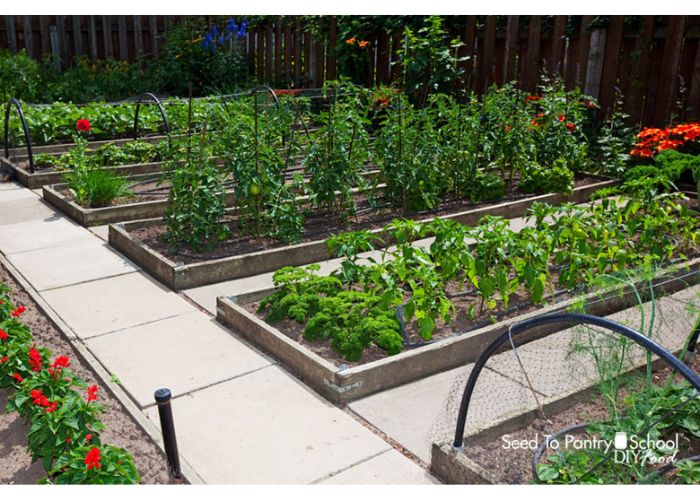 Spruce is a close cousin of fir and pine. The three form the spruce-pine-fir trilogy, the most common set of lumber options in American lumber yards. All three are native softwoods, easy to work, and readily available in the US and Europe.
Spruce is bright in color but turns yellowish-brown after exposure to the sun. It's characterized by straight grains with multiple knots. It's soft, though, and very easy to cut.
Spruce also stains with ease and readily takes paint. Cutting or sawing it is a breeze. But, like Douglas fir, spruce's main attractions are availability and affordability.
Unlike rarer woods, such as the black locust, you can walk into your local lumber yard today and walk out with enough spruce timber to build a raised garden bed.
Pros
It's affordable
It's very attractive
Spruce is lightweight
It's readily available
Cons
Not highly decay-resistant
Not naturally weather-resistant
---
12. Yew
Yew is a species of evergreen plant native to western, central, and southern Europe. So, it mostly arrives in the US via the sea, though a few people grow it locally.
It's another very cheap wood that's highly sustainable. Moreover, yew is highly workable and takes finishes exceptionally.
However, we recommend the English yew for building a raised garden bed. The English yew ranges from durable to very durable regarding decay resistance.
It is also highly resistant to most insect attacks. Better still, it resists stress, tear, and wear. This allows yew wooden gardens to last up to 20 years.
Beware, though, that yew plants are toxic. In fact, scientific studies classify it as one of the most poisonous woody plants in the world. The wood contains lethal amounts of taxine, a toxic alkaloid that can cause human poisoning.
Pros
Softwood and easy to work with
Very affordable
Impressively rot resistant
Highly decay-resistant
Cons
Yew is lethally toxic
The oily surface can impact the finishing quality
---
13. Pine
We've already mentioned pine a couple of times. It's another popular softwood native to the US and Europe. Therefore, it's very common in local lumber yards and affordable too.
Moreover, pine is easy to cut, shape, stain, and paint. So, you don't need power tools when making a pine garden box. Pine is also highly dimensionally stable. Pine wood is also known as the best wood for sign making as it is easy to cut and shape.
Dimensionally stable wood types don't change shape even when exposed to extreme cold and hot conditions. This makes it the perfect choice for outdoor planter boxes.
Above all, pine is a beautiful wood. The light reddish-brown or yellowish-brown color complements many outdoor decors. Pine also boasts beautiful grain patterns that become pronounced when stained.
Pros
Pine is readily available
Beautiful grain and color
It's affordable
Lightweight and highly stable
Cons
It's not very rot resistant
It's not highly moisture resistant
---
14. Redwood
Redwood should have been much higher up the list if it wasn't expensive. Unfortunately, it's costly and difficult to find too. So, you may have to check multiple yards to find enough redwood lumber to make your garden beds.
Nevertheless, it's a highly valuable wood with applications in multiple industries. For one, redwood is very beautiful. It comes in a gorgeous shade of red that catches the eye from afar.
The straight grains, occasionally figured, wavy, or irregular, are also very enticing. Thanks to the plant's natural oils, redwood garden beds are also highly rot-resistant. Indeed, redwood garden beds can last 20 years or more.
Pros
Beautiful color and grain pattern
Highly durable wood
Redwood is rot resistant
It is moisture resistant
Cons
It's not readily available
Redwood is expensive
---
15. Oak (Red)
Finally, although we've already mentioned white oak, the red oak is just as good for making raised garden beds.
Red oak is very hard at 1,290 Janka. So, you're guaranteed that your garden bed will last at least a decade.
Another key advantage of red oak is that it's more readily available than white oak. It's also more affordable. Of course, red oak is also more beautiful than white oak, making it a better choice if you want to improve the outdoor decor.
"Oak is a sturdy and long-lasting wood, which is perfect for raised garden beds that will be used for heavier gardening tasks, like planting flowers or vegetables," says Dale Steven, lead researcher at Mowers and Yard Tools.
Unfortunately, red oak has a few downsides that you should consider, especially before using it for outdoor applications. First, it rots much faster than white oak.
So, it requires treatment and greater care. Additionally, it's prone to insect attacks. So, again, you need to treat it to put off insects and other pests.
Pros
It's gorgeous
Hard and durable
Readily available
Cheaper than white oak
Cons
It's only moderately rot-resistant
It's prone to pest attacks
---
Top 5 Wood Types to Avoid for Garden Beds
The following five wood types make extremely poor choices for outdoor applications, especially garden beds, as they are either too weak to withstand the tough outdoor conditions or too rot-/decay prone to withstand extreme weather.
Recycled wood
Reclaimed wood
Pressure-treated wood
Old wood
Railroad ties and utility poles
Education
Now we know some of the best woods for building a raised garden bed. So, how do you choose the perfect one for your project? Let's find out.
Advantages of Raised Garden Beds
Raised garden beds are a staple in the modern home. The following are a few reasons homeowners love them so much;
They give you more growing space.
Raised garden beds harbor fewer weeds.
They provide the perfect environment to grow food crops.
Avoid soil compaction from human traffic.
Offer better drainage in areas with poor soil.
Advantages of Wooden Raised Garden Beds
There are many ways to make raised garden beds. For instance, you can build your beds with brick or concrete blocks. Alternatively, you can make them from metallic materials.
Of course, we've also seen plastic raised beds come to the market recently. However, wooden garden beds are the better choice for several reasons;
Cost: Wooden beds are much cheaper than metallic and concrete beds. Only plastics are cheaper than wooden beds.
Ease of construction: Wooden beds are easier to build than concrete raised beds. They are also easier to construct than DIY metallic garden beds.
Customizability: You can easily customize your wooden garden beds to reflect your unique needs and lifestyle.
Thermal insulation: Wooden beds offer excellent thermal insulation, important for root development and general plant growth.
Wood vs Metal Raised Beds
Metallic raised beds, typically made from galvanized metal, such as galvanized steel, are highly durable and easy to set up. They also offer many customization benefits and should easily last 20+ years.
However, they are a lot more expensive than wooden beds, typically costing three times more. Moreover, metal beds offer poor thermal insulation.
Wood vs brick/concrete
Brick and concrete blocks are also very durable. A concrete raised bed can last 30+ years with good maintenance. Moreover, concrete garden beds are environmentally friendly and thermally sound.
Unfortunately, they are very expensive and require significant maintenance. Worse still, concrete raised garden boxes are the least portable.
Factors to Consider When Choosing Wood for a Raised Garden Beds
Durability & strength
Durable wood makes the best wood for raised garden beds because it gives you a bed you can use for many years. Indeed, black locust is a naturally rot-resistant wood that can last 20+ years without rotting. It's also highly pest resistant.
Moisture and weather resistance
One of the primary factors that affect the durability of wood is moisture resistance. Therefore, you want a raised bed that can last many years without rotting or decaying.
Additionally, the raised bed must not permanently shrink or expand due to weather conditions.
Safety
A raised bed must not pose any safety or health risks to your family, guests, or pests. For this reason, you should only consider non-toxic wood types.
For instance, though it's a strong wood, alder produces toxic sap and dust that can cause poisoning. So, you should avoid it.
Cost
Finally, you should also consider your budget. Timber is expensive, and some are so expensive that it might be better to consider metal and concrete-built garden beds.
Our advice is to spend more on long-term gardens that you expect to use for 20+ years. Otherwise, find ways to keep the budget down. Pine and spruce, for instance, are high-quality wood types but also very affordable.
Other Top Considerations When Choosing Wood for Making Raised Garden Beds
The following are other important considerations when choosing wood for making a raised garden bed;
Treated lumber vs untreated wood
A common question many DIYers ask is whether pressure-treated wood is safe for raised garden beds? The short answer is – YES. We strongly recommend natural wood, free of chemical treatments.
However, modern treatments, such as CA and ACQ, are safe for humans are pets. That said, though, avoid wood CCA-treated wood.
Can you use recycled or reclaimed wood for a garden bed?
Generally, you should avoid recycled or reclaimed woods whose origin you don't know. It's fine if you know the history of that wood piece.
However, remember that recycled woods often contain chemicals that might leech into the soil and affect the health of your crops. So it's important to know whether the wood is safe.
Can you use railroad ties for a raised garden bed?
Unfortunately, no. Although railroad ties and utility poles are attractive because they are sturdy and available, they are creosote-treated wood.
Creosote is a tar-like chemical preservative that protects the wood against fungi. Unfortunately, some chemicals can leech into your garden soil and get uptaken by the plants.
Should you seal a wooden garden bed?
Yes, you can seal wood for garden beds. Applying a sealer protects the wood from moisture intrusion, mold, and decay. Therefore, sealers can prolong the life of your garden bed.
However, you must use a non-toxic sealer to prevent unwanted consequences.
Read also: wood for vanity making
How to Build Raised Garden Beds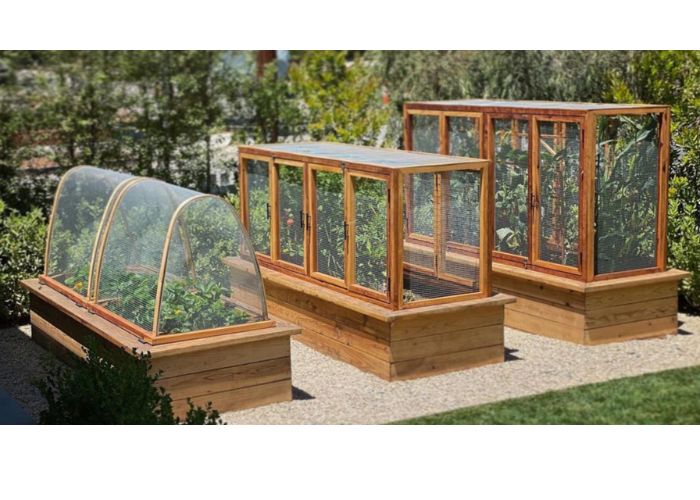 Now you know how to choose the right wood for your raised garden bed and the materials to avoid. So, let's discuss how to create raised garden beds.
General Guidelines
Choose a sunny spot.
Situate the bed away from trees and hedges.
Make sure the beds are 4 feet (1.2m) wide or less.
Leave space between beds to walk/mow.
Tools and Materials
Lumber (use 2×6, 2×4, or 2×8 lumber).
Fastenings (use 3.5" #10 coated deck screws and a few 1" screws).
Cross supports (get several 1/2 inch aluminum flat stock).
Tools (you need a handsaw, hacksaw, screwdriver, drill, mallet, and level).
Building Raised Beds: Step-by-Step Guide
This guide will help you build a wooden garden bed "in place." An in-place garden is permanent/immobile.
Assemble the basic frame
Clear the area. Then use a square to mark the lumber and the handsaw to cut the wood pieces to size. Then assemble the four wood pieces and drive screws into each corner to hold the basic structure.
Set the structure in place and use the level to make sure it's straight.
Attach the corner posts
Cut the corner posts a little longer than you need. Then, one after another, position them at the corners of the wooden frame, driving them into the soil a few inches. Then drive two screws through the frame into each post at the corners.
Fill the frame to the ground and saw flush the posts
Pull the frame out of the ground and screw the next row of wood to complete the structure. Then, using a handsaw, cut the visible ends of the corner posts, so they're flush with the horizontal structure.
Add cross bracing
We recommend cross-bracings for beds taller than eight feet or wide than 18 inches to prevent the bed from bowing outwards.
Cut the aluminum stock to the width of the bed using the hacksaw, drill a hole into each end of the stock, and screw it to the wooden frame using one-inch screws.
Top up the bed with soil and start gardening
We recommend using rich topsoil. More importantly, consider sieving the soil using 1/2-inch mesh to remove rocks. Then, add peat, lime, rock phosphate, and organic fertilizer to amend the soil. Then spray it and start planting.
Raised Bed Gardens Maintenance Tips
Want your wooden raised garden bed to last many years? The following are a few maintenance tips to consider;
Install a non-permeable liner between the garden and the ground below.
Use safely treated wood or treat the wood before use.
Install a barrier between the wooden frame and soil.
Place the wooden frame on a foundation made from a different material.
FAQs
Do raised garden beds have a bottom?
No, they do not have bottoms. Raised garden beds are open to the ground so that you can put them on any surface. The plants' roots can also reach down and get nutrients. This is a great way to garden if you don't have enough space or the soil in your yard is poor.
Cypress vs cedar for raised beds?
Cedar and cypress wood share natural resistance to insects and rot, making them good for raised beds and other outdoor buildings. Cypress is slightly more resistant to cracking, warping, and splintering. However, cedar's lightweight makes it less durable under a load than cypress.
Is cedar good for raised beds?
Cedar is used in constructing raised beds because it is a rot-resistant wood. Cedar also has good insect-resistant properties, protecting your plants from pests. However, cedar can be a bit expensive, so you may want to compare prices with other types of wood before deciding. It is also considered the best wood for fence construction due to its natural resistance to rot.
Is pine good for raised beds?
Yes, pine can be good for raised beds. For one, pine is very rot-resistant, meaning it can last a long time in your garden. Pine is also relatively easy to work with. It cuts and drills easily, building your bed quickly and without hassle. These qualities also make it the best wood for shelves and constructing birdhouses.
Why use raised garden beds?
Many gardeners love raised garden beds because they warm up more quickly in the spring. Meaning they get their plants in the ground earlier. Raised garden beds also drain better than traditional in-ground gardens, with a little worry about water pooling around the plants.
What is the best size for raised garden beds?
The preferred size for raised garden beds is 4 feet wide. This size is a popular choice among gardeners, as it allows for ample space to grow a variety of plants while still being manageable in terms of upkeep. Additionally, most yards can easily accommodate four-foot-wide beds, taking little space.
Can you use pressure-treated wood for raised garden beds?
Yes, you can use pressure-treated wood for raised garden beds. The 'new' pressure-treated wood is safe for use in contact with the soil. It's important to use a sealant on the wood to protect it from rain and snow, which will help keep the wood from rotting.
Alternatives to pressure-treated lumber for raised beds?
Other different options for materials for raised beds include raw untreated wood (pine, douglas fir), composite timber, recycled plastics, logs, and rock. Each option has its own benefits and drawbacks. For instance, untreated wood is the cheapest option, but it's also the most susceptible to rot and decay.
Next read: can you use treated wood for bird houses?
Summary
Raised garden beds can be a source of valuable fresh farm produce. Alternatively, you can use it to grow flowers and shrubs to elevate your outdoor decor.
Now you know the best wood types to use for wooden garden beds and how to build a sturdy raised bed yourself! Give us a call if you have any queries.