Whether you are a part-time craftsman or bunching a project for sale, a wood glue dispenser is essential in your weaponry.
The best wood Glue dispenser helps you uniformly and efficiently spread glue even in hard-to-reach areas such as tight spaces without creating a mess.
But with so many glue dispensers in the market, fighting hard to outwit each other, How do you pick the best wood glue applicator?
I have used different glue bottles. I created a detailed list of the best glue dispensers to help you pick glue bottles suitable for your project.
Our Top Picks
Best Glue Dispenser Bottles Reviews
1.
Best Wood Glue Applicator

– Fastcap Glu-bot Glue Bottle
Grab this product if you need a glue bottle that leaves a clog-free tip. It is the go-to wood glue dispenser for professional woodworkers and DIY enthusiasts.
It features an extensive, two-chamber reservoir, a customizable plastic tip for error-free application, and a rubber cover to prevent clogging.
A two-chamber system pushes glue from the bottom through the second side chamber, ensuring no dripping or spilling. Glue-bot sucks adhesive back inside when you stop squeezing.
This makes sure you do not waste any product. Even if you have moderate arthritis, you'll find it much easier to squeeze than the conventional wood glue bottle.
Please avoid overfilling the bottle. You will have a fantastic experience when the bottle is 1/3 full. It won't crust after a few uses. It makes gluing an enjoyable experience.
What I Liked Most
Ease of use
Clog free tip, so no cleanup
No drips
What Could Be Improved
The glue dries if you fail to seal tightly
---
2.

Best Wood Glue Bottle Dispenser with Quality Mousetrap

– Wood Glue Dispenser, 16 Oz Btl, Dripless
Sale
This wood glue dispenser is essential in your shop if you loathe wrestling with thick glues and their clogged caps and other messes. It needs only a gentle squeeze to apply a uniform stripe of glue.
There's no dripping or spilling when using this woodworking glue applicator. It has an innovative two-chamber system that pushes glue from the bottom through the second side chamber. It enabled me to apply glue without breaking a sweat.
Despite being pricey for a plastic bottle, it is instrumental! It is superior to any bottle that comes pre-filled with glue.
The drip tip on this bottle is retractable, so if you leave it open by accident, you can remove it and clear the blockage with toothpicks. It lets you save money because you can purchase the glue in bigger bottles that don't come with drip tips.
What I Liked Most
Clog free tip
Works as advertised
User-friendly
Durable
What Could Be Improved
 You need to be gentle with the seal around the cap
---
3.
Best Wood Glue Applicator Kit

– Rockler Wood Glue Applicator Roller Set
Rockler Wood Glue Applicator Set – Wood Working Glue...
Wood Glue Applicator Bottle Set: All your gluing needs in one versatile, easy-to-clean wood glue for woodworking kit! Our glue dispenser kit lets you deposit glue precisely where you want it, with minimal squeeze-out.
Evenly Apply Glue: Use the glue for wood working 8 oz ounce bottle, roller applicator, dowel hole nozzle, biscuit slot tip to apply even coats of glue on any surface. This wood glue dispenser kit is a lifesaver.
Centering Attachment: The glue brushes woodworking centering attachment fits onto the Standard Spout to keep your glue bead locked on center when edge gluing, while the funnel makes transferring glue from jug to bottle a mess-free experience.
Rockler Wood Glue Applicator Set contained everything I needed for gluing in a single kit. With this fantastic dispenser kit, you can place glue right where you need it.
It continually delivers a consistent amount of glue without requiring a lot of squeezing pressure. It is a low-cost way to improve your shop's operations.
The Rockler Glue Applicator Set is an excellent addition to any woodworker's toolkit. This kit's variety of bottle caps enables woodworkers to tackle various glue-up tasks. The eight-ounce glue bottle can hold enough glue for most projects.
The kit has a slotted roller ideal for laying on enough glue for edge gluing and does it fairly quickly. It makes spreading glue and cleaning up much more straightforward. It is beneficial and saves a lot of time.
What I Liked Most
Saves time
All the parts work as marketed
Suitable for the edge-gluing
What Could Be Improved
Pricey but worth every penny
---
4.

Best Woodworking Glue Bottle for Small Jobs

– FastCap 4 Oz BabeBot Glue Bottle
If you have not added this glue bottle to your woodworking toolbox, you miss out. It is one of the best wood glue bottles as it is made of solid plastic, enabling it to stand firmly on any tabletop without tipping over.
The solid material protects the glue from temperature changes so the leftover glue will not dry, and you can use it in the future.
You may be surprised at first by how small the bottle is, but after using it several times, you'll find it super easy to use and change your opinion. It is the ideal size for most projects.
It's simple to control the amount of glue you need. The squeezes glue out upside down and right side up, and it is very comfortable to hold.
What I Liked Most
Very useful and no mess
Ideal for most projects
Provides the most straightforward controlled glue delivery system
What Could Be Improved
---
5.

Best Budget Wood Glue Applicator Bottle

– DCT Wood Glue Roller Applicator
Sale
DCT Wood Glue Spreading Woodworking Kit – 8 oz Ounce...
EVENLY APPLY GLUE: Use the DCT Wood Glue Spreading Woodworking Kit – 8 oz ounce Bottle, Roller Applicator, Dowel Hole Nozzle, Biscuit Slot Tip to apply even coats of glue on any surface; It is a lifesaver for extensive glue ups such as building cabinets and more; This glue bottle applicator set will cover more surface area which means better glue joints on your application
RELIABLE ROLLER: Non-stick glue roller applicator has an approximate 2.5-inch (6.4cm) width and provides quick, even, and mess-free coating of glue
DOWEL & BISCUIT APPLICATORS: Dowel hole nozzle applicator can be used for convenient application of glue in hard-to-reach areas such as dowel holes; Biscuit slot half-moon applicator has a half-moon shape that allows the glue to cover the biscuit slot properly and keep other areas glue-free
With the DCT woodworking kit, you do not have to think about dried glue clogging the applicators, making them ineffective. All of the included applicators are innovatively designed to prevent clogging.
You can effortlessly clean the applicators with a damp cloth and let them air dry. The kit contains an 8 oz Glue bottle, standard cap, roller applicator with attached cap for flat surfaces, hole nozzle applicator tip with cover, and a biscuit slot half-moon applicator tip.
Even though you may never use other attachments, the roller is worth every penny as it is the best wood glue roller. You will never have to use the stick or fingers anymore.
However, the glue will dry hard on the roller, and it may be challenging to peel off. So it's advisable to clean the roller after use. The kit performs as expected. Close it up after use, allow it to dry, and peel off the glue.
They also have better edge retention. The handles don't have a super smooth finish but it doesn't matter too much with safety gloves. I recommend this set if you don't mind spending a little extra.
What I Liked Most
It works like a champ
Offers the best value for money
It's durable with the best care
What Could Be Improved
The small opening may cause difficulty in filling the bottle
---
6.

Best Wood Glue Container for Dispensing At Any Angle

– Milescraft 5223 Glue Mate 450-15oz
Sale
A product from Milescraft, the Glue Mate 450 glue dispenser is the perfect accessory for everyone, regardless of your experience. With this wood glue bottle, you can make quick and accurate applications anywhere and at any angle.
It features a capacity of 15oz, which is enough for your everyday gluing projects. The glue dispenser features a precision two-chamber design and caps to help keep the glue fresh.
Once you apply pressure to the bottle, the glue rises from the bottom of the storage chamber and passes through the smaller application chamber. This feature lets you control the flow and deliver the right amount of glue required, even for vertical applications.
Glue Mate 450 glue dispenser features two different application tips. These tips include the precision doweling tip and the flat biscuit applicator tip.
The precision dowelling tip- also known as the fine point applicator- allows you to apply fine glue beads in dowel holes and narrow boards. The flat biscuit applicator features a wide tip that makes it suitable for biscuit joints or when spreading a wider glue bead on bigger boards.
What I Liked Most
It features a large capacity 
It can dispense glue at any angle
It features an anti-drip tip
What Could Be Improved
Glue may dry if you don't use the included caps
---
7.

Best Durable Glue Bottle Applicator

-BigHorn 19408 High-Pressure Glue Injector
This is a must-have product if you wish to repair your furniture without the need for disassembly. Moreover, the glue injector is easy to use without requiring thorough maintenance. It features a high-impact plastic body, solid brass nozzle, and removable plunger.
Use the Big Horn high-pressure glue injector to repair furniture joints, cabinetry, veneers, and more. The first step during application involves drilling a 1/32-inch hole that opens into the cavity where you'd wish to reglue the joint.
Next, place the tip of the nozzle into the drilled hole and inject as much glue until you notice the excess glue that appears around the joints.
Besides the durable body and brass tip, the product offers easy cleanup and storage. When cleaning, use warm water and a soft-bristled brush. Consider removing the brass nozzle during a thorough cleaning. Take caution to prevent the glue from drying in the injector.
What I Liked Most
It features a durable body
It is easy to clean and store
What Could Be Improved
The glue tends to dry in the injector 
---
Best Wood Glue Dispenser Comparison Table
Do You Need Wood Glue Bottles
Whether you are an expert woodworker or a weekend craftsman DIYer, you need a wood glue dispenser to dispense glue. Wood glue bottles with multiple chambers dispense glue in any alignment.
If you're used to using glue straight from the bottle, you might not think you would need this feature. However, you'll change your mind quickly if you need to apply glue without holding the bottle upside down.
Two-chamber dispensers help apply glue into narrow spaces and at odd angles. Also, you can buy the adhesive in larger containers that do not come with drips, saving you money and time.
How to Pick Wood Glue Applicators
You do not walk into a store and buy any wood glue dispenser you can find. If you do that, you may become frustrated when you realize that you purchased the wrong woodworking glue applicator. Glue dispensers differ in functionality and price.
What they have in common is that they make gluing surfaces faster and more effective, allowing you to complete projects more quickly than when using the bottle that comes with the glue.
Consider the following factors to help you pick a suitable glue dispenser and save money.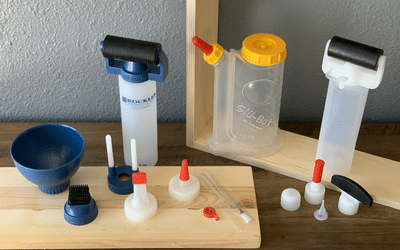 Ease Of use
Go for a glue dispenser you can squeeze gently to get the glue out without sweating too much. The material should be soft but firm to let the bottle sit on the table without falling.
The glue bottle tip should push the glue quickly, even in nooks and crannies, without creating messes. The best glue bottle should have a nice lid to enable you to seal the glue tightly after use.
Capacity
Consider the amount of glue the bottle can hold before investing in it. If you buy a small-size glue dispenser and are gluing a massive project, you'll keep filling up the bottle, which is time-consuming.
Buy a standard size dispenser as it is suitable for all projects.
The size of the opening/ mouth
Buy a dispenser with a reasonable opening so that you can fill up the bottle without challenges. If you buy a bottle with a small mouth, it'll be messy filling the glue.
Buy a good quality bottle to stop the glue from drying when the temperature changes.
DIY Projects Using Wood Glue
Wood glue is the strongest method of joining pieces of wood. It holds better than nails and screws, and sometimes the glue is stronger than the wood itself.
Many novice DIYers construct their projects without using wood glue, assuming that the joints will hold the pieces on their own. That is not correct.
Other strong jointing methods exist that do not require wood glue, but most advanced techniques for joining two pieces of wood necessitate the use of wood glue.
The only time I don't use wood glue is when doing prototypes – or when designing something unique and trying to figure out how to make the best version possible.
You do not need wood glue for these projects because you may need to separate the pieces and switch to something different. You would never be able to disassemble these projects if you used wood glue.
Recommend Reading: What is the Best Glue for Wood?
Tips When Using Wood Glue
Use painter's tape along the joints to protect the glue from oozing out and ruining the finish.
Wipe away any excess glue right away. Otherwise, the wood won't stain appropriately.
To remove partially dried glue, use a sharp chisel or utility knife.
To ensure a quick cleanup, use sufficient glue for the task and wipe excess glue with a dry cloth.
Always use fasteners or painter's tape to ensure that joins are tightly bonded together.
What is the Best Glue Bottle Applicator?
The best wood glue dispenser should make gluing fun and enjoyable. It should have a clog-free tip to relieve the stress of wrestling with dried-up glue.
It should not drip or spill the glue even when working on a vertical surface. It should ensure that you do not have to turn the bottle upside down to get too tight spaces.
Our top pick is the Fastcap Glu-bot glue bottle—it checks all the boxes in ease of use, affordability, effectiveness, and innovative design.