Wooden signs are a creative and unique way of conveying amazing messages. These signs can either be for your home or business premises.
Yet, whether it's for a wood sign business or personal use, you need to consider before selecting any wooden material.
To create good wooden signs, you will need to identify the wood species. Most sign makers prefer solid wood or engineered wood. Still, various types of woods are ideal for a wood sign.
Their different properties make them ideal for different signage purposes. This article will guide you in choosing the best wooden sign material for your sign projects.
We have put into consideration price, longevity, and aesthetic value. So let's jump into the details for the best wood to use for wooden signs.
Best Wood to Use for Wooden Signs
Avid woodworkers and most sign-making companies use different woods for signage. Yet the following are common and give the best result.
Redwood
Cedarwood
MDF (natural wood substitute)
Purpose of Wood Signs
First, you need to ask yourself what type of wood sign you want to craft? This personal inquiry is important in determining the best wood to choose. Instead of rushing to wood selection first, determine the purpose of your wood sign.
Is it for branding, service advertisement, or home decoration? Due to the different purposes, where you display the sign is also relevant.
Indoor display
Wooden signs for home interior are usually selected for decoration purposes. Although, since these signs are less exposed to outdoor elements, a simple wood choice like Plywood or pine would do great.
Outdoor display
Wood signs exposed to the environment need more weather resilient wood, thus, limiting your options. Besides, outdoor wood signs are often associated with commercial use.
As a result, the popularity of exterior home signage has risen in recent years. MDO (medium density coating) material has proved to be the most reliable option for outdoor signs.
That being the case, it's a top choice for street signs. Additionally, this material will also need to be well maintained for longevity.
Commercial display
Commercial signs are mainly outdoor advertising signs and will need premium material. To resist weather damage and maintain their aesthetic value.
Additionally, to cater to more specific detailing. Commercial signs will need specific wood which is easy to work with, like cedar(sauna wood) or redwood.
Custom display
As for custom sign making, a variety of woods are usually preferred. Wood which is easy to carve, resistant to scratches, and less likely to shrink, is ideal for a custom display.
Exotic woods such as cherry, walnut, or cypress are the best choices. Although a bit costly, their signs are quite stunning when done.
Best Wood Type for Sign Making
Your selection for carving wood is important in sign-making with different available options. Your choice of wood depends on certain factors.
Such as the board's size, where you'll display the sign, and the intricacy of letters you intend to carve. Read more here on how to carve letters in wood.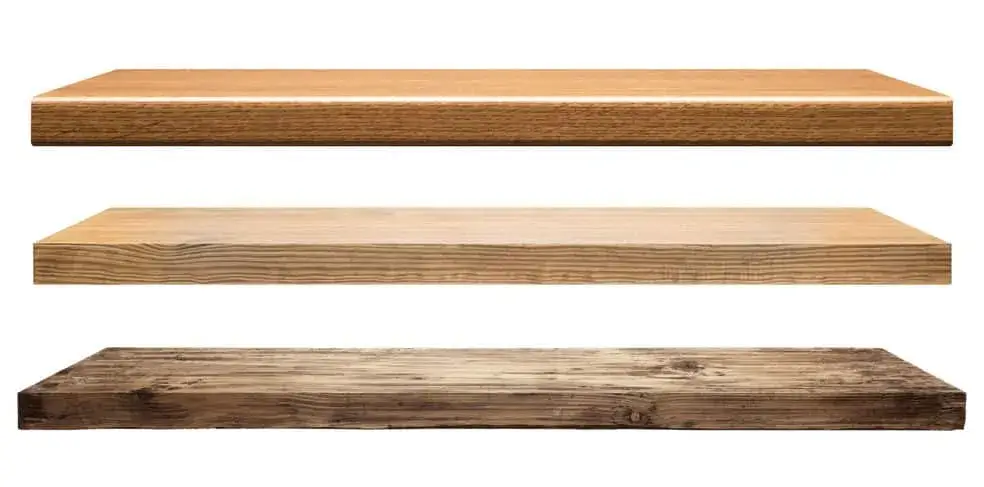 1. Maple
Maple wood comes in various options ranging from red maple to sycamore maple and sugar maple. Thus, you have a wide range of selections based on price and quality.
Sugar maple is a strong and durable hardwood with a Janka scale hardness of 1450lbj. Generally, maple has a straight grain pattern. This pattern will need to be smoothly sanded before staining this wood.
Maple wood is easy to carve and enjoys great workability. But, you will have to use a mallet or power carving tools because of their hardness and high density.
Maple is best preferred because of its fair price and ultra-durability. Additionally, it takes dark stains well. Besides, you can stain to mimic other expensive types of wood for sign making.
---
2. Acacia
Acacia is ideal for sign-making if cost is not a bother due to its long-term durability.
This wood is hard with a Janka rating of 2300lbf, making it harder than most hardwoods.
Acacia comes in either a straight grain or wavy grain pattern. It also has a beautiful dark brown color ideal for decorative features.
This wood is best for making different wood articles such as furniture, musical instruments, sign making, and sign bases despite acacia's shortcomings.
One acacia wood disadvantage is the material's difficulty in carving with hand tools, although it is more accommodating when using cutting machines. This can be a concern for those interested in DIY projects or custom modifications
This hardness can make it challenging for DIY projects or custom modifications.
Additionally, to stain acacia wood, you first need to prime the wood properly. Then follow up with your preferred stain.
---
3. Poplar
Poplar is an excellent choice for wood carving, and it's the softest hardwood with a Janka hardness of 540lbj. Thus, poplar is easy to carve and has less intricate and interwoven patterns. This feature makes it ideal for tool manipulation.
This wood has a light reddish-brown color and can mimic the appearance of any wood when stained. Besides, signs made of this wood can look more attractive and durable by finishing with a stain.
Moreover, poplar is readily available and cheap; carving it with hand tools is easy.
---
4. Pinewood
White Pinewood is an easy option if looking for unsophisticated wood for sign making. With a Janka hardness rating of 420lbj, this pine is soft and easily carves.
A straight delicate grain pattern and light hue create a beautiful impression when finished. Furthermore, its random knots also add a rustic look to the sign.
But, expect a drawback in carving pine wood signs since it forms hairy burrs which will need further cleaning.
Make your pinewood sign durable; by always ensuring it is properly primed, sealed, painted, or varnished. Moreover, pine is ideal for indoor signs compared to outdoor.
---
5. Cedar
Cedarwood, primarily the western red cedar, is a resilient and versatile wood species. With a Janka hardness of 320lbj, it's soft and fairly easy to carve by hand or by cutting machine.
Cedar tends to have a reddish-pink hue, although some are purplish. Its wavy tight-grained pattern makes a wood sign from this material strong.
You may opt for different variations also, like white cedarwood, aromatic cedarwood, chest cedarwood, or cedar Shou sugi ban. So, all these variations are easy to carve, paint well, and fare well outdoors.
---
6. Redwood
Redwood is a softwood with a Janka hardness rating of 460lbj, with high mechanical properties and weather resistance. Redwood has great ease in working with and enjoys medium weight and low shrinkage. Redwood is highly suitable for outdoor projects like signs and lumber for pergolas.
A pinkish or reddish-brown is the color of redwood, and a tight grain pattern makes it suitable for crafting intricate signs. Although staining redwood is hard, sealing is a fairly easy process.
But, its second growth lumber tends to be difficult for freehand crafting since it develops burr; it's still not as hard as working on pinewood.
Yet another challenge is redwood counts among the endangered wood species. Hence it's not readily available, making it a bit costly. But this does not hinder this wood from being the best choice for carving wood signs.
---
7. Cypress
Cypress is a wood species historically renowned and preferred for carving. With a Janka hardness of 510lbj, it's a softwood admired for its ease to work with, minimal shrinkage, and resistance to decay and moisture.
Cypress is light-colored with a scattered, straight wood grain pattern and medium texture, perfect for a rustic look on signs. Additionally, this wood species stains well because it enjoys few knots.
Cypress is undisputedly the best wood for outdoor sign making since it's easy to carve and has weather resistance properties.
---
8. Plywood
Plywood is engineered wood made of layers of wood veneer glued together by adhesive, with grain patterns at ninety degrees of each other.
Ply comes in various qualities based on the wood used and varying thicknesses. For example, you may make Plywood using softwood like pine, Douglas fir, and cedar. Hardwoods like oak, mahogany, and beech are also ideal for Plywood.
Plywood is great for sign making since it's easy to cut and carve using hand or rotary tools. Crezon plywood and MDO pine are the different types of Plywood suitable for sign-making wood signs.
MDO (Medium-density overlay)- pine MDO pine is Plywood with a weather-resistant bonded overlay made with pressure and heat. Medium-density overlay has thin wood bonded with resin overlay. This type of wood is a great choice for outdoor signs since it's resistant to extreme weather conditions. Thus is a leading choice for many street signs. Moreover, pine MDO is pocket-friendly, easy to work with, durable, moisture resistant, and a long-lasting option.
Crezon Plywood– Crezon has an underlayer surface which is easy to stain or apply vinyl graphics with high durability. Besides, Crezon plywood enjoys a smooth surface, suitable for making wood signs. Especially outdoor signs, due to their water prevention properties.
---
9. MDF
MDF (Medium-density fiberboard) is made from recycled wood fibers and resin. Luckily, this material is also a wonderful choice for sign-making. Although some woodworkers claim it's only suitable for indoor signs.
Yet, if well treated and sealed correctly, MDF can also do well outdoors. MDF boards are cut and carved quite neatly, especially when using a machine-cut router.
Unlike natural types of wood, MDF is less strong and durable, and it's also difficult to repair. So always seal your MDF sign to make sure it's more durable.
Furthermore, this wood is resistant to rot due to its high-quality fiber and phenolic resin solids.
---
10. Chipboard
Chipboard is also an engineered wood, yet unlike MDF, this material is not from wood fibers. Instead, chipboards are made from sawdust and waste chips of different wood species.
Sawmills' waste products get heated and compressed into boards. This compression gives this material more resilience against damage.
In addition, ensure it's treated with fireproof, water-resistant, and insect-proof chemicals. Yet regardless of being heavy, this cost-effective option is durable, rigid, and a great option for sign making.
You may also be interested in: Best paint pens for wood signs.
---
Best Wood for Sign Frames
In selecting the best type of wood with lumber aspect ideal for signage framing, go for solid wood or manufactured wood.
Hardwoods such as walnut and cherry are best preferred for sign frames because of their durability and strength.
As for a budget-friendly option, you can go for birch plywood.
1. Birch plywood
Birch plywood is an engineered material recognized for its panel strength and moderate durability. It has a straight close-grained pattern. Birch also has an attractive pale white to reddish-brown or yellow color.
Yet, birch plywood is quite hard to carve using hand tools. Thus it would help to use a power tool to dig or drill into this wood species. On the other hand, this wood is easy to apply stencil designs; although a bit hard to stain, it accepts paint alright.
Birch plywood is recommended for indoor application, and if properly sealed, it may fit outdoor sign framing. At most home improvement stores, you can buy birch plywood in 2'x2′ and 2'x4′ sheets.
---
2. Walnut
Walnut is a highly preferred wood for cutting boards and most wooden sign framing. With a Janka hardness rating of 1010lbj, this wood is strong enough and highly durable.
But, walnut wood has a straight, fine grain pattern which is somehow coarse in texture, and it has random knots and some curls or waves.
This wood has a dark brown color, limiting the range of paint colors to only darker hues. Walnut wood is hard to carve using hand tools but is much easier with power tools.
Moreover, walnut wood does accept stains and dyes well. So it will not need pre-stain conditioners, nor is it affected by blotchiness. Additionally, you can also apply stencils to this wood sign frame.
With the right stain, your wood sign will have a pleasant appearance. Finally, this solid wood is the best for wooden sign frames.
---
3. Cherry
Cherry wood is a popular wood for furniture projects and other carving endeavors. This species has a Janka hardness rating of 950lbj; thus is durable and strong.
Cherry wood is also water-resistant. Thus when enhanced with a suitable sealant is best for sign framing outdoor. Cherry wood mainly has a smooth, closed grain pattern. Yet a cherry board may have several contrary grain patterns.
The tree's growth determines these patterns. Cherry has a classy look with a reddish-brown hue with dark markings. These markings beautifully darken as your signboard ages.
This wood is also moderately easy to carve with hand tools, but you may use a cutting machine to reveal all the details best.
---
FAQs
What wood should I use to make a sign?
You may opt for different wood species for your signs. Yet most sign makers recommend Crezon plywood, cedarwood, and redwood for outdoor wood signs. As for indoor wood signs, you may opt for Plywood or pine wood.
How to maintain a wooden exterior sign?
Sealing a wooden sign will protect your wooden material from extreme weather damage and prevent water penetration. For oil-based stained signs, you should seal them using polyurethane. On the other hand, use polycrylic for water base stained signs or any other kind of paint.
How thick should your wooden sign be?
Thickness may differ depending on the project; as for hand lettering sign projects, we propose choosing between 1/4 and 3/4 inch thickness. This width is preferred because it ensures a lightweight and easier wood carving. Furthermore, this thickness will give a much easier sign to mount.
What wood should you use for an exterior sign?
It would be best to go for hardwood such as cypress wood or cedarwood for an exterior wood sign. Yet, you can also go for engineered wood such as properly primed birch plywood.
Read: The best wood for hatchet handle
Is MDF okay for making signs?
YES. Although MDF lacks a visible grain pattern and has a soft, fibrous texture, its smooth surface makes it suitable for painted signs. However, it may not be the best wood for a workbench, as hardwoods like oak or maple offer better durability and strength. Additionally, we could also make an MDF bathroom vanity.
Read: Best wood for wood burning art
Can plywood be used to build a birdhouse?
Yes, plywood can be the best wood for a birdhouse. It is a versatile and affordable material for DIY projects, including birdhouses. However, remember that plywood is not as durable as other types of wood, so using a protective finish or paint can help increase its longevity and weather resistance.
Is birchwood suitable wood for making countertops?
Birchwood is suitable for making countertops as it is a durable and sturdy wood. While it may not be the best wood for countertops, it can be used properly without breaking or altering its structure. Consider factors like moisture and sealing to maintain its integrity.
Here is a guide on the best wood to build a bedframe.
Conclusion
Making signs is an incredibly fun project if you work with the right materials. Whether you are an avid woodworker or an amateur, the wood selection is key.
If you want to create good wooden signs, this article has demonstrated the different wood species and their unique features.
We have highlighted the best options, whether you want a wood species for intricate details, wooden sign framing, or commercial purposes.
Beyond the shadow of a doubt, selecting the best wood for your wooden signs is now easier for you. Go for wood capable of adding aesthetics to your business or home with amazing hanging wood signs.