If you often wonder, "can I put wood flooring on walls?" the answer is yes! Definitely! If you want a natural and relatively distinctive wood-clad design for your space, installing wood flooring on the walls could be perfect.
Moreover, the appearance of wooden flooring on walls may be quite stunning. You can make a trendy feature wall in no time if you have the necessary equipment and know-how.
This guide includes helpful hints and suggestions for getting started, as well as step-by-step directions to assist you through the overall procedure.
Let's get to work!
Can I Put Wood Flooring on Walls?
Yes, absolutely! While hardwood accents are more popularly used on floors, you may utilize any form of wood on walls and other stable surfaces. Wood flooring on walls has the same advantages as on the floor: it is resilient and may be painted, polished, and protected with preventative coatings as per your preferred style.
Factors to Focus On Before Using Wood Flooring on Walls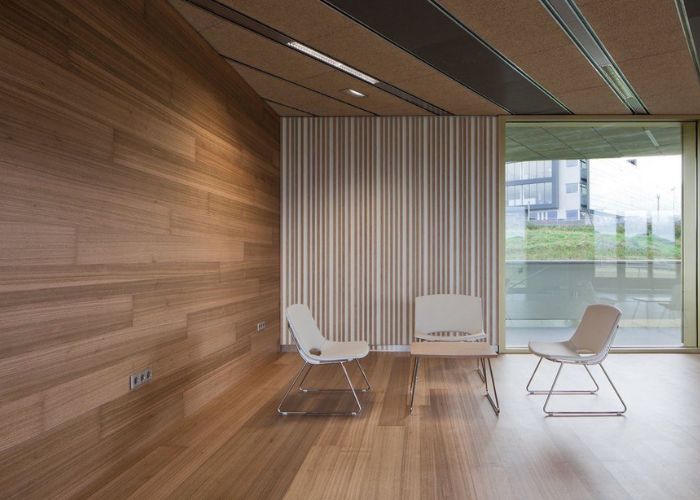 You can produce a wide range of colors, designs, and finishes using wood. However, there are a few things to think about before installing wood flooring in your room.
1. Height
To best define the design of a wall, decide how high you want to lay the wood ahead of time. Running the panels from floor to roof is one possibility.
Conversely, you may pile the hardwood on top of existing baseboards and extend it towards the roof or any crown molding trim near the roof. (Also check out our article on best nailer for crown molding.)
Another alternative is to install wood flooring around the bottom half of the space or to use distinct materials as panels and extend the hardwood on the upper half of the wall.
2. Placement
The wall structure is crucial to avoid wasting a lot of material. This is particularly true when dealing with recycled wood planks and having a limited quantity available.
You can opt for horizontal, diagonal, or vertical installations. As you deem fit, stagger the joints. One popular design is to offset each following row by 10%.
Such that, in the second row, slice off 10% of the entire length of the first board, and in the next row, chop off another 10% of the length of the first board; keep going and replicate the sequence as needed.
3. Mounting
Mounting is determined by individual taste and the kind of wood used. Any wood flooring may be attached straight to the drywall as a rule of thumb. Otherwise, nail or screw them straight into the wall studs via the drywall.
Install thicker woods straight on the wall studs or atop a stack of plywood, where they are fitted or glued in place, depending on desire. The setup is the same as for flooring, with the distinction that padding as a support material is optional.
4. Planks vs Tongue-and-Groove
The floating arrangement, in which tongue-and-groove woods are fitted together and laid floating atop the subfloor, is a recent development in the flooring world.
This is to imply that they aren't fastened or screwed down in nail holes but instead are connected. Although a floating style cannot be used on a wall, the tongue-and-groove method may.
Make sure to leave at least 1/8th of an inch of space around apparent edges to allow movement and caulk the connections.
Provide at least 1/3rd of an inch of expansion leeway when running wood to the floor and roof, where baseboard trim will conceal the margins.
Moreover, allow for small gaps between the wooden or laminate planks in plank designs to allow movement while still providing for expansion at the corners.
Keep in mind that if you position the wood blocks too close together, the wood will bend, distort, and possibly fall off the wall due to force during the hotter, more humid periods.
To achieve an impeccable outcome and enhanced natural beauty, use the best finish for your tongue and groove.
How to Install Wood Flooring on Walls?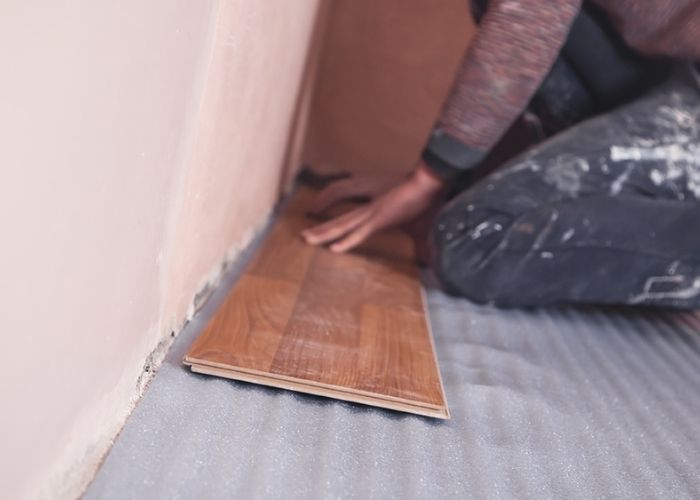 It is not difficult to master the art of installing high-quality wooden flooring on walls, but it does require some practice. Within a few hours, you can progress from a newbie to a skilled professional.
Remember to pick a high-quality wood flooring as it will help you minimize nail holes and the use of a wood filler. We'll begin from the initial stage, toe my line and follow my directions!
Tools and Materials to Install Laminate Walls
Step 1: Ceiling Installation
Begin with the ceiling, which is the most labor-intensive component of the endeavor in several ways. Trying to work above your head is often more demanding, especially when you have to cut around some light fittings and ducts.
Install the boards with a significant spacing between them. This provides it with a genuine "shiplap" appearance. As a result, leave the space at around a quarter breadth. You can do this by eye and measure it occasionally to make sure it's still square.
Since the planks are positioned at right angles to the trusses, you'll have plenty of sturdy places to fasten them. Remember that tongue and groove wood flooring allows the screws to be buried in the grooves. They fit together perfectly.
Step 2: Ceiling Lubrication
You must complete the ceiling before moving on to the wall mounting. It makes achieving a smooth, stable surface much simpler.
Rather than painting everything, you can use pure tung oil to add some contrast to the ceiling. The oil protects the surface while also bringing out the natural beauty of the wood.
Apply two coats of tung oil to the ceiling for complete coverage. The oil, unlike poly, permeates the wood. It also draws attention to the wood's colors and crevices. It also darkens slightly over time.
Step 3: Prime the Wall's Top Boards
You may paint the room white to highlight the lovely wood-tone ceiling. It'll provide a strong background for the room's large windows and other elements.
However, you can begin by painting before wall installation. Paint the uppermost boards white initially, rather than bothering about sawing in along the ceiling. That means you can roll all the walls rather than cut in near the ceiling, saving time.
You must apply a layer of primer and semi-gloss white paint to each board. One layer of paint will provide even coverage while still revealing the fissures and wood beneath.
There's no need to fret about pre-painting each board. Everything will be rolled at some point. However, adding a 9-inch cushion to the ceiling will give you an excellent start and save you time down the line.
Step 4: Mounting the Walls
Finally, start putting up the shiplap walls. The installation technique is similar to that of wood flooring or ceiling. The finish nailer is, without a doubt, the best tool for the job. It's impossible without an air compressor-free tool. It's well worth the money.
Benefits of Installing a Wooden Wall
Yes, erecting wood flooring might give off a hippie feel, but the correct components can also give a more classic vibe. This gentle, welcoming approach to interior design will add appeal and delicate charm to your accent wall.
Take a look at the following advantages of installing wood flooring on walls to transform your home with less effort.
1. Minimal Impact, Optimum Technology
Wood flooring employs a solid top layer for the planks, strengthened by a base layer comparable to a laminate floor panel, to optimize the yield of environmental assets used.
Moreover, these boards are made from solid woods like maple, oak, and birch and are lightweight, workable, and organic. This type of flooring board is well-made, but it's also a lovely way to bring the finest of nature inside your house.
Although these wall alternatives are created from a range of hardwoods, the distinctive grain textures in all engineered laminate planks stand apart. This gives the impression of visual warmth.
2. Quick and Easy Installation
Installing engineered boards on walls may appear to be a difficult task, but it is generally much easier than it appears.
The beauty of manufactured wood flooring is that it is technically sophisticated, allowing you to lay planks on surfaces even in places where traditional plywood is not advised.
The greatest of these flooring have glueless instant-click fastening technologies, making installation as easy and quick as possible.
Find out: Is Manufactured Wood Durable?
3. Exquisite Appearance of Wooden Walls
You understand that you feel comfortable and delightful with the richness of timber encircling your house when you're sitting in a friendly group, sipping coffee around a fireplace, sharing conversations with your loved ones.
A wooden plank will provide you with multiple design possibilities, and you can be as imaginative as you want with how you use them in your home. They have a trendy and sophisticated appearance that will make your living spaces look polished and harmonized.
Moreover, you may employ them as a focal point in your house, accenting a modern aesthetic with a natural or distressed finish or adding emphasis to a more classic home with the sharp lines of natural oak.
Where to Install Laminate Walls?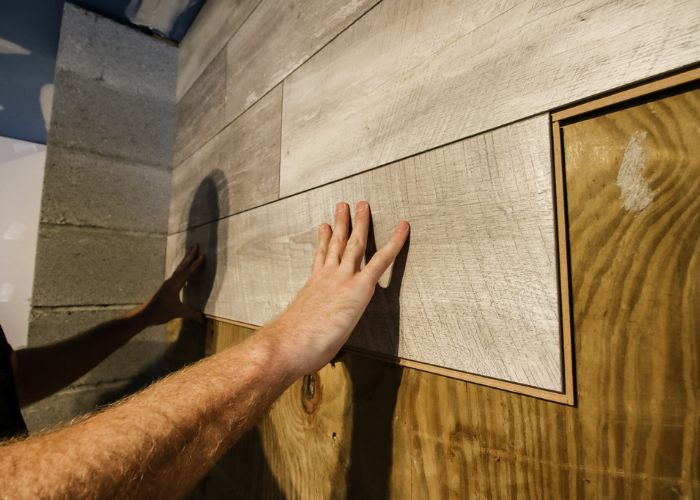 Employing wooden flooring as an accent wall is an excellent idea for a variety of justifications: it's very vogue right now, and it can assist you in creating the notion of more room in your house based on the position of the panels.
Opt for horizontal installations if you're seeking to make a modest room seem more significant and vertical installations for drawing the gaze upward. Moreover, it's also an excellent insulating material.
The brilliance of this concept is that it works in any room of the house, and the final result can be as modern or as earthy as you want based on the boards you choose. It also immediately gives your décor a realistic vibe that you can't get with paper.
Maybe you'd want to try it in your bedroom, pairing it with plenty of textured pillows and blankets to create a warm, cozy space?
Alternatively, you may wish to add intrigue to your bathrooms, living area, or dining room — this style is incredibly eye-catching and undoubtedly a one-of-a-kind complement to your space.
Instead, create a lovely little reading hideaway with a rustic flooring wall if you'd want to take small steps with this style and see what you'll get.
Related guide: Can I use white base paint without tint?
FAQs
Can you put plank flooring on walls?
Yes, plank flooring may be used on walls to create distinctive highlights in your room. This is a new, creative trend in town. Any room can benefit from the richness, personality, and contrast provided by a wooden panel or tile flooring. Due to how simple it is to set up, it might also be enticing to DIY enthusiasts. It is very water-resistant and, in some cases, impermeable and easy to maintain.
Read More: Can You Stain Wood Panel Walls?
Can you use flooring on walls?
Yes, you can put flooring up on the walls. Putting flooring on the walls has proven a prevalent trend in both households and workplaces. Besides, it's not only a unique method to add a brilliant aesthetic to any area, but it's also quite economical, making it a win-win situation. Plus, it will provide you with a greater variety of styles and possibilities and increased durability. You can also utilize flooring in the kitchen or bathroom backsplash if humidity and heat are taken into account.
Can engineered hardwood flooring be used on walls?
The panels of engineered hardwood flooring can be mounted on any wall due to their revolutionary design. You won't be complaining about humidity levels or heat in your house if you install these engineered flooring planks on the walls. Besides, engineered hardwood or laminate flooring on the walls has the same advantages as engineered hardwood flooring on the floors.
For instance, you can refinish engineered hardwood using paint, lacquer, sealer, and protect it with defensive coatings.
How do you install laminate wood flooring on a wall?
Any laminate flooring may be attached straight to the drywall as a rough rule of thumb. Otherwise, nail or screw them straight into the studs via the drywall. On the face of the laminate flooring that will be attached to the wall, apply adhesive glue. Please make sure the plank is aligned with the beginning line you defined earlier before attaching it to the wall.
Editor's recommendation: How to make paneling look like drywall?
Conclusion
Irrespective of whether you're a seasoned professional or a novice DIYer, "can I put wood flooring on walls?" is a common question you may have.
While using wooden or laminate flooring to cover a decorative wall or an entire room is rare, it isn't an outlandish or crazy idea. One may consider its unusualness to be a design element.
Unsurprisingly, real-life house renovations often do not go as smoothly as on television. How do they even complete tasks so quickly? Oh, of course. Professionals who are paid well and a lot of cash!
Your preferred style will determine how you mount wooden flooring on walls. The most significant upside is that putting wood flooring on the walls will not harm them.
It may probably take longer and require a bit more care and dedication, but the outcome justifies the extra time and effort.