When it comes to applying polyurethane, nothing beats the precision of a fine brush. But when you've got a large project like hardwood floors in front of you, it's understandable to wonder if there is a quicker and better way to do it.
The good news is there is a quicker way (using polyurethane roller) but is it better?
You'll have to read the article to find out. We're going to cover the following topics;
Can you roll on polyurethane?
What type of paint roller for polyurethane
Best roller for polyurethane
Applying polyurethane with a roller
The best applicator for polyurethane
Let's dive right in…
Can You Apply Polyurethane With a roller?
Yes! When working on floors and large furniture, you can use a roller to apply polyurethane (and definitely should). Applying polyurethane using a roller is easier, and the drying time is short. The roller also removes brush marks and prevents over-application on the surface.
The first thing you must know is the importance of choosing the best polyurethane roller.
What is the Best Roller for Polyurethane?
One thing you'll love about using a roller to apply polyurethane is the speed. You can apply the first coat in your living room in minutes instead of hours with a foam brush. However, you must be cautious of lint and dust attaching to the wet poly.
In order to avoid this and other catastrophic results, you need to use the right roller frame.
When doing our research on the absolute best roller to use, we came across many varying responses from seasoned professionals. As a result, there is no general consensus. However, we strongly recommend (and others do too) using a lambswool roller.
Our Top Picks
Why Use Lambswool Roller
Yes, some professionals swear by foam rollers, microfiber, and mohair for finishes using polyurethane, but lambswool absorbs oil-based finish properly, and it doesn't shed when you prepare it well.
Lambswool applicators are arguably the best choice for applying oil-based finish on the hardwood floor, so it tracks that lambswool rollers are also dependable.
That also points out an essential aspect of choosing the right roller: select one according to the type of poly.
For example, while you might get away with using a lambswool roller with water-based poly, you should not try it with a foam roller.
Of course, I won't be surprised if someone has a technique that makes it work. But, despite the different styles and devices being used, the only thing everybody agrees on is that you should never use a cheap roller to apply polyurethane.
Related: Can you apply stain with a roller?
The Best Polyurethane Roller Reviews
Based on our research, here are the best rollers for polyurethane.
Editor's Choice

– Mister Rui-Paint Roller 6 Inch High-density Mini Foam Paint Roller

Sale
When choosing a paint roller for your polyurethane, the first thing that comes to mind, especially if you are a DIY fan, is, how do I get the best roller? What do I look out for? What if I don't get the desired result? The Mister Rui high-density roller answers these questions.
The first dip gives a perfect and smooth finishing. The roller holds a lot of paints, lays the paint down nicely with little or no lines, so you don't have to bother about coating a second time.
Also, the spring rolls faster to give a quick and easy application of the paints.
Apart from being a foam paint roller, you do not have to worry about shredding. To be candid, for the price, I wasn't expecting much. But it's worth every buck
PROS
It can hold a lot of paint
It provides a nice surface finish free of brush strokes
One end of the roller is flat instead of rounded, so it allows it to work on edges and hard-to-reach place
It can be used for oil and water-based paint
It comes in a set of 10, so you can easily change the rollers
CONS
It cannot be easily washed because of the high density
---
Best value for money

– Purdy white dove roller
If you are looking for value for your money, Purdy white dove roller is your call. Excluding the fact that purdy is a household name when it comes to tools, the manufacturers have made it a point of duty to live up to the standard.
Created with high-quality materials, this roller feels both smooth and responsive.
The free-spin movement of the roller minimizes splatter during painting, and it ensures quick application. The Purdy also has the capacity to cover large areas in less time. It also works best in flat surfaces.
Although it might be considered pricey, this purdy roller gives you value for your money. If you want to focus on the task at hand without having to worry about anything, consider Purdy.
PROS
It performs well on both flat and rough surfaces.
Good for all paint types.
It can be easily washed and reused.
Leaves no streak or lint on the finish.
CONS
It is more expensive than other painting tools
---
Best Foam Roller for Polyurethane

– FoamPRO 176-5 Paint Roller
FoamPro might not be the best of rollers, but it gives you a fine and smooth finishing. The sleeves can retain more urethane and deliver a smooth, spotless finish in each stroke.
The free-spin movement of the roller minimizes splatter during painting. It ensures quick application but also in a cleaner way.
These roller sleeves are perfect for masonry jobs, increase the stability of the finish, and make maintenance easy.
This is the best roller for water-based polyurethane paints because the roller tends to get stuck and shred if the paint texture is too thick.
Besides being cheap, a lot of people love it because it gets the work done. Cleaning the roller is also easy, just store it in mineral spirits.
PROS
Easy cleaning and application
It gives a lint-free spray-like finish, smooth and clear
Good for painting of doors, cabinets, furniture, and molding
CONS
These polyurethane brushes are not built to handle thick textured paint.
Getting used to the handle of this roller takes a bit of time.
---
Best Kit Roller

– Kupoo Paint Rollers
Paint Rollers 4 inch, KUPOO Home Decorator DIY Painting...
High quality mini roller sets and small paint rollers are great for achieving a smooth and even finish when painting smaller and detailed areas
The grip roller frame has an ergonomically designed plastic handle for comfort grip allowing you to paint for longer without your hand getting tired.
The compact size of these foam mini rollers makes it easy to cut-in, paint trim and do detail work
This is one of my favorite paint rollers for urethane; it comes as a kit and works precisely as intended. Besides, the foam can retain finish for a longer time.
Both the roller and brush give an even finish without leaving any lint on it. So it's perfect for doing small touch-up work around the house like painting doors, cabinets, and other small furniture.
Also, it can cover a large space in a short time without leaving any streak. The quality of this set is off the chart. Plus, there's not just one tool but a full kit – they complement each other
If you want to spice things up and paint with the kids, this Kupoo 2-inch roller is the best bet. Also, the size of the roller allows it to work on edges and hard-to-reach places
PROS
Quick and easy result with a smooth finish.
Doesn't leave unsightly fuzz, lint, or seam marks.
For doors, molding, trim, and cabinets
Cleans quickly and easily
CONS
Trays were a little stouter and short
---
Best roller for polyurethane floors

– RollingDog 3pc Paint Roller
ROLLINGDOG 3pc Paint Roller kit with 3" Paint Roller Frame...
PAINT ROLLER SET 3PCS: Come with 3 inch roller frame, 2 pc Smooth-Pro fabric roller covers with 3/8"(10mm) nap for smooth to semi smooth surfaces.
DETAIL PAINTING: Made of blended and lint-free fabric thermally bonded to a poly core for maximum strength and repeated use. Small paint roller is designed to paint into tight areas for walls, ceilings, furniture, cabinets and edge painting.
ERGONOMIC RUBBER HANDLE: 3" Roller frame is comfortable to hold, and easy to control with standard 1.5" cage diameter.
Rolling dog roller paint is an all-round paint roller. It is cost-effective and gets the work done. It does not shed or leave marks on the surface, and it gives you a perfect finishing.
It glides over the rough surfaces just as you want it, giving you total control of the painting and providing outstanding control and balance for smooth application.
In addition, the high paint retention capability gives a beautiful solid coating which normally helps to improve the resistance capability of the walls, wood floor, furniture, and so on.
It's the best roller to apply polyurethane on art and craftworks. More so, it is the people's favorite because it is easy to apply and gives you the best satisfaction needed. The Rolling dog roller is moderately cheap,
PROS
It's best for interior paintwork on drywall.
Heavy-duty steel roller frame with wire cage has an ergonomic handle with rubber grip
Roller frame can be attached to a threaded end extension pole
Works with all paints
---
Multichoice Roller

– Shurline 4-Inch Mini Paint Roller
Shur-Line 2006698 4-Inch Mini Paint Roller Cover Refills...
4" WIDE: These mini paint roller covers measure 4" in width, so they can fit directly in a 4-gallon paint can for easy application.
FOAM-COVERED ENDS: With foam covers that extend right to the end of the brush, this paint roller cover easily disperses paint right to the corner of your walls.
EASY REPLACEMENT: Swap out paint-filled foam cover for a fresh cover whenever you switch paint colors or find that your paint streaks are no longer smooth and consistent.
Value-wise, Shurline is good for many applications but might not do a flawless job when you really need it to be perfect.
These paint rollers are basic rollers, which means good enough to apply primer and maybe a first coat. They also work well on areas of drywall where a small-width roller is needed.
The Shurline leaves a subtle but visible textured surface. Hence, they might not be the best choice for furniture and cabinets.
PROS
This paint roller cover easily disperses paint right to the corner of your walls.
It comes in 10 pieces, so you can easily swap out the foam cover.
CONS
They tend to melt on some occasions, depending on the paint product
---
Best microfiber roller for polyurethane

– Microfiber Paint Roller
Microfiber Paint Roller Kit (1 Roller Handle + 2 Microfiber...
INCLUDED IN THIS KIT: 1 Roller Frame Handle (6 ½") + 2 Microfiber Nap Roller Sleeves (6.5" x 1.4")
SAVE A TRIP TO THE HARDWARE STORE – Microfiber Roller Kits are designed for the professional painter, carpenter, woodworker, epoxy artist, or DIY enthusiast who expects the best results! This countertop paint kit is everything you need to get the job done quickly with a superior finish!
USE ON A VARIETY OF PROJECTS – Paint roller kit is usable with all paint, primer, urethane, epoxy, undercoat, and enamels! Recommended for use with Ultimate Top Coat epoxy from Stone Coat Countertops!
Microfiber Roller Kits are designed for the professional painter, carpenter, woodworker, epoxy artist, who expects the best results! It is a multi-functional roller that can do everything from painting to vanishing.
Also, this countertop paint kit is everything you need to get the job done quickly with a superior finish – the microfibers of foam cover restrain solvent from sticking in, and the foam covers are perfect for applying finish in small or tight areas.
This roller frame comes with a comfortable handle for easy usability, even around tough to reach areas. The arm is durable enough to last through multiple projects while providing a solid, even finish. It's advisable not to use excessive pressure to apply paint; light pressure is advised.
PROS
Roller frame handle is for easy attachment to extension poles.
Microfiber roller kits covers have no shed, making it easy to use on trims and edges
It's perfect for dry rolling or wet rolling
It comes in two sets, so you can use it on multiple projects and jobs.
CONS
It leaves traces of odd dots after the finishing.
There are lots of bits of lint
It's not suitable for all epoxy resins
It's hard to clean and not easily reusable
---
What kind of roller should I use for polyurethane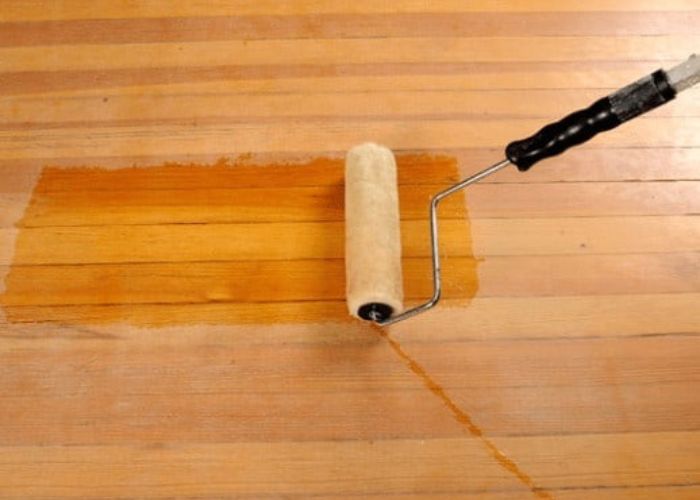 If you use a $1 roller, you're going to see a lot of lint on your hardwood floor no matter how well you prepare it. If you make this mistake, the money you spent on polyurethane and the time you took to sand, clean, and apply the finish would have been for nothing.
Ouch!
When you use a good-quality roller, lint won't be a problem, and the final coat would most likely take care of any issues with bubbles. Remember always to clean the roller with mineral spirits.
But if applying with a roller is risky, should you still use it? Absolutely, and here is why.
Read: 1/2 inch nap vs 3/8
Advantages of Applying Polyurethane With a Roller
– Cover a large surface area quickly
Instead of spending days or weeks trying to brush a floor, you can wrap it up swiftly with a roller. Every swipe of the roller makes sure a few feet are completely covered, plus your nostrils won't be as close to the fumes.
This comes in very handy when you are using fast-drying poly which we sometimes advise against using because they're more prone to bubbles and it may be the only option you have.
– Yields an even finish
Rollers are the preferred tools for painting, so it makes sense that they apply polyurethane smoother and more evenly than a brush.
Rollers also deliver a pristine finish on floors that were not even or adequately prepared. However, that is not an excuse to not prepare the wooden surfaces correctly.
– No brush marks
It takes a while to master applying polyurethane finish on floors or stairs without leaving brush strokes. Fortunately, rollers don't leave smears and brush strokes. As long as you follow the grain and prepare the roller right, you won't notice any apparent marks.
– Used with different types of polyurethane.
Unlike when using a brush, some rollers can be used for both water-based and oil-based polyurethane. Of course, some rollers will perform better, and oil-based poly is best for floors, but at least you have the option.
Disadvantages of Using a Roller for Polyurethane
– Relatively expensive
A good quality roller costs more than a brush. Given that rollers also don't last as long as brushes, it makes them even more expensive on a per-project basis.
– They can't handle joints and edges
At the end of the day, or rather at the beginning of the project, you will still need a brush. But, of course, you might be able to get away with it on smaller planks you haven't installed yet.
– Much harder to prevent bubbles
Polyurethane is bubbly by nature. When you use a brush, it is easier to prevent bubbles. Rollers, on the other hand, create bubbles as they lift the polyurethane during the finishing process.
What then tends to happen is you might still need a brush to smooth over your work after using the roller. However, you only need to do this with the final coat.
Can You Put Too Many Coats of Polyurethane?
When it comes to the number of coats, it doesn't matter whether you are using a brush or a roller. While some professionals will tell you that you can't put in too many coats of poly, I am not one of them.
At some point, you would need to factor in if the additional coats are making a difference or if you are just wasting money.
What we typically recommend is using three coats of polyurethane. If your polyurethane is not adhering in three coats, you either didn't sand the wood properly or are using the wrong type of poly.
It is also worth remembering that manufacturers tell you how many square feet the quantity you purchased can cover. This usually maxes out at the second coat.
Just in case you are curious, this is what applying 40 coats of polyurethane look like.
Do I Need to Sand Between Coats?
No matter what you use to apply polyurethane, whether a brush, lambswool applicator, or a roller, you should never apply a second coat of polyurethane without sanding.
The only exception is when you are using a water-based polyurethane that does not need sanding – you can apply two or three coats of these with minimal wait time.
You need to lightly sand between the first coat and the next coat so that the following coat will stick to the previous one easily. Unlike lacquer, coats of polyurethane finish do not 'melt' into each other. You also need to sand to get rid of dust nibbles and bubbles.
The worst thing you want is to spend days on a project, only to notice you have dust stuck in the lower coats of poly.
Read also: Top finish for walnut table tops.
What Happens When Lint and Dust Get Trapped in my Coat of Polyurethane?
Unfortunately, no matter how hard you try to sand and clean the wooden surfaces properly, dust can still end up in your wet polyurethane.
When dust gets trapped in polyurethane, it makes it look dirty, and so it will remain until you do something about it. For example, you need to know what to do when polyurethane doesn't dry and cure as expected.
Now, to get rid of the dust nibbles, pencil marks, or to make your roller lint-free, use mineral spirits or you sand that part of the wood and reapply the finish. If you don't trust the roller, you can use a bristle brush or apply wipe-on poly.
It can be a hassle walking around your floor searching for lint and dust, so you must take every precaution to be lint free.
Related read: Wipe-on polyurethane vs brush-on.
Can You Apply Polyurethane with a Rug?
Yes, you can apply polyurethane with a rag. But, there are some important considerations to keep in mind.
When using a rag, make sure not to saturate it with too much polyurethane. Leave some polyurethane on the surface to allow for better control and to prevent excessive buildup.
Apply thin coats to avoid drips and uneven application. Wait at least 2 minutes between each coat allowing the polyurethane to bond before adding more layers.
Continue adding coats as needed until you achieve the desired coverage and a smooth finish.
Can you Roll on Polyurethane FAQs
What is the Best Polyurethane Roller Applicator?
The best applicator for polyurethane on a small project is a brush. It gives you more control, and the application method reduces the number of bubbles that come up. However, for a large project, a lambswool applicator or a microfibre roller will work quicker and better. That's why it's advisable to store them in mineral spirits.
Can I get a Smooth Finish of Polyurethane with a Roller?
Yes, you can get a smooth finish with polyurethane even when using a roller. The key is to apply multiple coats. The general rule is to use three coats. Also, ensure you are using a good quality polyurethane roller, or you'll end up with lint on your floor.
Can I Apply Water-Based Polyurethane with a Roller?
Some manufacturers of water-based polyurethane recommend using a roller with their products. These types are specifically designed to be used on large projects where a brush is not an option. Always read the instructions before buying polyurethane finish to ensure it suits your needs.
Can you apply oil based polyurethane with a roller
Yes, you can apply oil based polyurethane with a roller or a brush. Applying oil based polyurethane with a roller helps to avoid brush marks and strokes. Besides, with a roller, you won't have to worry about overapplying oil-based polyurethane for floors.
Can you apply polyurethane with a foam roller
Yes, you can apply more polyurethane with a foam roller, microfiber, and mohair. The foam works well with oil-based poly. However, don't use a foam roller when applying water-based polyurethane to floors.
What is the Best Roller for Polyurethane on Floors?
The best roller for applying polyurethane on hardwood floors is the Lambswool roller. It is a high-quality product that rarely disappoints. The short fibers absorb the finish adequately, and it won't shed if you prepare the Lambswool roller correctly.
Ready to Roll on Polyurethane?
Back to our question – Can You Apply Polyurethane With a roller?
I am sure you are relieved to find out that you can apply polyurethane finish with a roller and are probably anxious to try it. However, remember that it is important to use a high-quality roller, preferably lambswool or a microfibre roller.