Can you put acrylic paint on your face or skin? It's a question that has been debated in art circles for years. Some artists claim it's toxic and can cause irritation or even severe injury, while others say it's safe. So, is acrylic paint safe for skin?
This would be an easy question to answer, but the truth about whether you should use acrylic paint on your face isn't so simple.
To determine if using acrylic paints on your skin is a good idea, we must first look at the properties of these paints.
Let's dive right in;
Can You Put Acrylic Paint On Your Face
No. Acrylic paint isn't meant to be used on your face or skin. Though it may not be toxic, it has acrylic paint pigments that cause serious skin irritation and damage. If you want to use paint on your face, we recommend using a product specifically meant for face painting.
Can Acrylic Paint Be Used on Skin?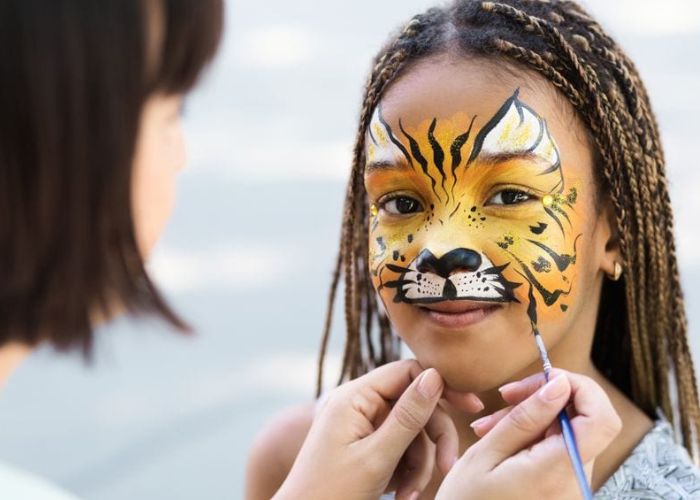 There's a lot of debate surrounding this topic, as some artists claim acrylic paints can be used safely on skin, while others say it's not a good idea. The truth is, acrylic paint shouldn't be used on the skin, as it can cause serious skin irritations and damage.
If you want to use paint on your face, we recommend using a product made specifically for that purpose. If you want to use acrylic paint on your skin, make sure only to use the water-based kind and always wear a respirator or mask.
You should also wear safety goggles while applying acrylic paint with a brush. Ensure to clean off immediately after using the paint, as it can damage the skin over time.
The toxicity level of paint varies based on your age, gender, and how you use the paint. Non-toxic acrylic paints aren't safe for everyone's skin or wearing the paint long-term.
If you get some paint on your arm or hand while painting, it's safe as long as you wash it off soon. But you don't want the paint to absorb into your skin.
Is It Safe to Use Acrylic Paint on Skin?
Acrylic paints aren't nearly as harmful to your skin as oil-based paints. However, each person's skin has its characteristics. Those with sensitive skin or young children should avoid working with acrylics. If they have to, they need to use nitrile-coated gloves.
Other illnesses may also raise your risk of paint-related problems, such as eczema. Unfortunately, many individuals are unaware of the potential ramifications of their skin condition.
According to studies, skin diseases are the fourth most prevalent human disorders, yet most people don't visit a physician or even realize they have one.
Acrylic paint manufacturers may also use harsh chemicals that irritate. However, if the paint only touches your skin for a brief amount of time, it's usually safe. On the other hand, the paint doesn't include the chemicals required to make it safe for skin application.
Most acrylic paints aren't meant for the human body. So over time, the flexible skin hardens and becomes rigid, failing to breathe because the paint has no flexibility.
What Paint is Safe for Skin?
There're a lot of paints suitable for your skin. Here's the face paint I'd recommend for you:
Water-based paint
Water-based paints are the safest option for face and body makeup because they are highly regulated and adhere to strict standards. In addition, VOCs are released in lower amounts by water-based paints. The problem is, they easily flake off, making them unsuitable for face painting.
Metallic body paint
This is non-toxic acrylic paint, made from natural ingredients, and safe to use on the skin. It has a metallic finish and can be applied using a brush or sponge. It dries quickly and lasts for hours without smudging.
Alcohol-based
Alcohol-based body paint, frequently utilized in special effects, is waterproof and ideal for hot, sunny areas. The paint may rub off as you sweat, but it doesn't crack. The disadvantage is, these paints can only be removed using rubbing alcohol which is toxic for the human skin.
Latex body paint
Body paint made from liquid latex is popular among costume designers and cosplayers. Latex leaves no residues as compared to other body paints. Before you use it, ensure you aren't allergic to latex.
Also, don't use latex paint in excess heat to avoid damaging the skin and getting a heat stroke.
Henna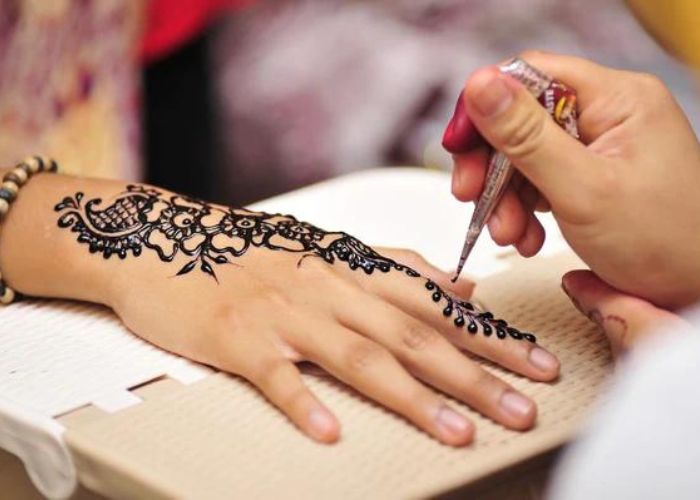 Henna is one of the safest and most popular types of skin paint. It's made from a natural plant dye that comes from a plant and is safe for use on the skin.
Henna is used to decorate the skin in various designs and lasts for weeks. It's also non-toxic and doesn't cause any allergic reactions.
Commercial body paint
Some companies produce body paints in spray bottles or jars. They are made from non-latex body paints, making them the safest in the market.
You will need to test a few to ensure they don't react with your skin.
Body painting markers
These markers are non-toxic and designed explicitly for body painting. They are available in various colors and easily removed with soap and water. Not all brands are suitable for every part of the body.
Can You Put Acrylic Paint on Your Hands?
Acrylic paints shouldn't be used on any part of your body, including your hands. Avoid painting your hands with acrylic paint for craft activities, and don't apply acrylic paint to your children's hands. If your hands contact paint, wash it off right away.
The U.S Consumer Product Safety Commission says the skin can absorb chemicals in paint. So ensure you wash your hands thoroughly after handling acrylic paint.
Acrylic Paint on Body
Painting on skin has been done for ages. The painting would be used in both warfare and ritual. Bodypaint is now being utilized in various events, including birthday parties, cosplay gatherings, concerts, and theater performances.
There're many ways to paint the body, and it's good the effects aren't long-lasting.
Unfortunately, most face paints aren't skin-safe paints. Choosing the proper settings to not irritate or harm your skin is critical. For body art, acrylic paint isn't the most excellent choice.
Removing acrylic paint takes a lot of effort and also cracks the skin.
Related post: How to remove acrylic paint from hardwood floors.
How to Paint Face and Body
After you've purchased hypoallergenic, water-resistant paint meant for the body or face, you may begin. Here's a brief guide to this process.
Step 1: Compile your tools
Before you start, make sure you assemble all your tools. This includes the following:
Body paint and face paint
Sponge or brush
Mirror
Water
Towel or wet wipes
Stencils
Spray bottle
Step 2: Prep your skin
Cleanse your skin and make sure it's free of any oils or residues. Apply a light moisturizer if needed; this will help the paint adhere to your skin better.
Step 3: Apply the paint
Apply a thin layer of paint to your skin. Start with light colors and slowly add darker shades. Be careful not to put on too much paint at once, or it will dry before you have a chance to blend it in.
Step 4: Add details
Use a fine brush or sponge to add details and highlights. You can also use stencils to create specific designs.
Step 5: Finish up
Once you're done painting, wash your face and hands with soap and water. Ensure the paint is completely removed, especially around your nails and cuticles. Moisturize
How to Remove Acrylic Paint off Skin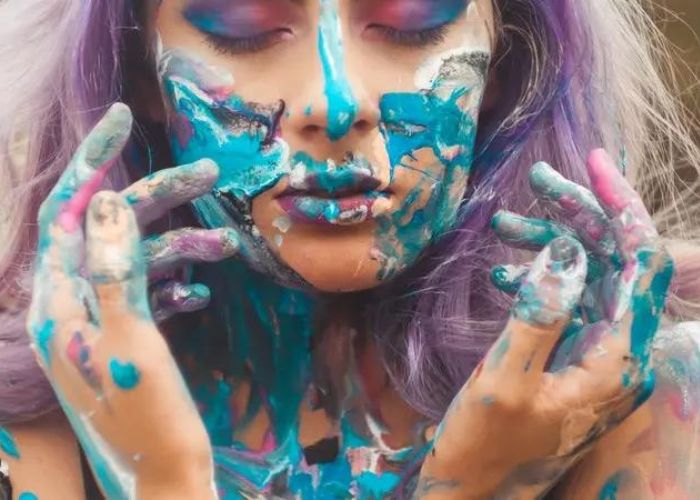 Acrylic paint, unlike water-based body paints, is harder to remove than other types of paint because it can be more challenging to wash off. It's challenging to remove washable paints.
Follow this process to get rid of paint from your hands or skin:
Using soap and warm water, wash gently. Lather the soap well.
Use your fingernails to lightly scrape off the paint.
Rinse thoroughly
If soapy water isn't effective, you may need to scrape or peel the paint using baby oil, vegetable oil, mayonnaise, olive oil, or canola oil.
You can read about how do I get spray paint off skin to avoid any blunders if any of the above methods don't work.
Can You Use Acrylic Paint on Face?
Your face skin is delicate, so you shouldn't paint on it.
Acrylic paint might cause rashes or allergies in some individuals. The paint may also be difficult to wash even though it's water-based. When peeling off the paint, tiny hairs may be pulled from the face causing irritation.
How To Turn Acrylic Paint Into Face Paint
You can purchase face paint that's specifically made for skin. You can also turn acrylic paint to face paint. Ensure you use non-toxic acrylic paint to not affect your skin.
You need to know the ingredients of your paint before using it on the face. Some acrylic paints may contain latex particles which can cause skin irritation and prevent it from breathing since pores get clogged.
Best Face Paint
Here are some of the best face paint I would recommend.
Ben Nye MagicCakes
Ben Nye MagicCakes is a face paint activated using lukewarm water. To apply it, you only need to dip a sponge in the mixture, wring out excess and wipe the sponge on your face.
This face paint is ideal for stage makeup and Halloween costumes. This face paint doesn't run or drip even in extreme weather conditions. Also, it has many hues to choose from and works perfectly on dark skin tones.
Even though they are packed in small containers, this paint may last for months.
TAG Face Paint
Sale
This face paint has all the colors of the rainbow. It has all seven colors and is made from skin-friendly substances. Like other face paints, water-based paint has a touch of water. This makes them easy to remove.
Although TAG face paint doesn't include any extras like stencils or glitters, the seven hues can be used as a foundation or create amazing patterns.
These bright colors are easy to apply with a sponge. The small paints may also last for up to 200 applications.
Create A face Painting Kit
Face Painting Kit for Kids - 32 Stencils, 8 Water Based Face...
PLEASE CHOOSE "Ship in Amazon packaging" at checkout for the best buying experience. OUR FACE PAINT FOR KIDS COMES with 8 VIVID colors that blend very easily with each other our 36 BEST-SELLING FACE PAINT KIDS STENCILS so you & your kids can create super fun face art for boys and girls . Great for BIRTHDAYS, HOLIDAYS, SPECIAL EVENTS, COSPLAY makeup, HALLOWEEN makeup, BABY SHOWER GAMES, or just when you need a FUN, SIMPLE ACTIVITY AT HOME
OUR WATER-BASED FACE PAINTING KITS FOR KIDS PARTY is TO APPLY & REMOVE. Add just a TOUCH OF WATER to make your face paint kits COME TO LIFE. Then simply use SOAP & WARM WATER TO REMOVE our washable paint. No need for vigorous scrubbing or harsh cleansers, making our paints GREAT FOR YOUNG KIDS or for quickly changing looks. This COSMETIC GRADE face paint kit for kids is HYPOALLERGENIC, PARABEN-FREE, & NON-TOXIC, making our washable facepaint kit for kids PERFECT FOR SENSITIVE SKIN.
DRIES FAST AND STAYS ON FOR HOURS: Our face painting kits for kids professional dries very quickly and the child can begin having fun immediately. Our kids face painting kit can be removed quickly and easily with a damp cloth, baby wipes... or in extreme cases with make up remover. Our face painting stencils for kids designs are perfect for Halloween, Christmas, sports fans, & more.
This face paint kit works as both body paint and face paint. Its size, however, is meant for face applications. The paints dry quickly, are hypoallergenic, and are approved by FDA, making them an excellent choice for kid's parties.
Create A face lasts for hours before feeling either dry or sticky. The kit includes sponges, stencils, brushes, glitter, eight colors, and video tutorials.
After that, use a damp cloth or baby wipes to wipe away the paint when required.
Best Body Paint
When buying body paints, ensure you have your skin in mind. These are the body paints most makeup artists will recommend:
Snazaroo Classic Face and Body Paint
Snazaroo Classic Face and Body Paint, 18.8g (0.66-oz) Pot,...
HIGHEST QUALITY - Snazaroo face and body paints are manufactured using cosmetic grade ingredients. They contain strong pigments to deliver you total coverage and vibrant colors that will last you all day. This 18ml (0.6oz) face paint comes in a resealable package.
SKIN SAFE - Snazaroo face paints are specially formulated to be friendly to the most delicate skin and are fragrance free. All Snazaroo face paints have been reviewed by an independent professor of dermatology and professional toxicologists. All Snazaroo face paints are manufactured using only ingredients fully compliant with EU & FDA toy and cosmetic regulations and are non-toxic, paraben-free, and fragrance-free.
EASY ON/OFF - Snazaroo face paints are all water-based. Add a few drops of water to the desired color then use a brush or sponge to apply it smoothly on the skin. When you're done, simply remove with soap and warm water; there is no need for scrubbing or harsh removers.
Snazaroo Classic face paint is fantastic as body paint since the 18ml resealable bottles are durable. The high-quality paints are designed for the skin because they are cosmetic grade. It's also highly efficient, so it meets FDA standards and rules for safety.
The greatest thing about Snazaroo is that the bright hues are suitable for all skin types. They're safe for the entire body, including the most sensitive part, the face.
The colors are not only beautiful, but they're also safe for everyone, including those with sensitive skin. You can create gorgeous effects without worrying about irritation with this body paint.
Mehron Paradise Makeup AQ Face and Body Paint
Mehron Makeup Paradise Makeup AQ 8 Color Basic Palette |...
PROFESSIONAL: Mehron's Paradise Makeup AQ is a water-activated face & body paint with intense color payoff and available in a vast variety of shades. Perfect for pro body paint, Halloween, cosplay, SFX makeup, theatre, and more. True professional grade makeup, trusted by Hollywood and Broadway pros since 1927.
VEGAN: Made in the USA with high-quality ingredients, Paradise Makeup AQ is vegan, cruelty-free, paraben-free, gluten-free, and suitable for sensitive skin. It is infused with skin-soothing ingredients like Aloe, Avocado Oil, Cucumber, Lemongrass, and Cocoa Seed Butter.
MAGNETIC: The 8-color magnetic palettes are customizable, featuring 8 pans that can easily be refilled or rearranged, making it perfect for makeup artists on-the-go. The magnetic palette allows you to refill, rearrange, and customize colors to create the perfect palette for your needs. This makes it the perfect customizable professional palette for your face painting kit.
Mehron Paradise Makeup AQ Face and body paints are water-based and have high pigment content. It's perfect for face and body art because it dries quickly and doesn't smudge.
Paradise comes in many super bright colors. They're perfect for face and body art, but the disadvantage is, they don't mix well together.
It has a creamy texture that's easy to apply and blend. However, the acrylic paint dries quickly on the skin, so you'll need to work fast.
Neon Glow Blacklight Body Paint
Sale
Neon Nights UV Body Paint Set | Blacklight Glow Makeup Kit |...
HALLOWEEN MAKEUP ESSENTIAL - Made with love in Germany, our glow in the dark paint is completely safe to use on skin, easy to put on, and perfect for any Halloween costume or party.
EASILY REMOVABLE - No mess, no stress. This glow in the dark face paint is easy to get off from skin and fabric - all you need is soap and water!
WORKS UNDER UV LIGHT - The ultimate glow up is here. Watch as your glow body paint gives off a vibrant, neon luminosity under UV light for a look that truly turns heads.
Neon glow blacklight body paint is perfect for glow-in-the-dark events and blacklight parties. It's activated by UV light and glows brightly under backlights.
The paint is non-toxic, water-based, and made from FDA-approved ingredients. It comes in various colors that make you look like a glowing alien.
The paint is easy to apply and dries quickly. It can be removed with soap and water.
FAQs
Is acrylic paint toxic?
Yes, acrylic paint is toxic, but the toxicity is extremely low. Unlike oil paint, acrylic paints are water-based and solvent-borne (they contain solvents for their easy-to-use texture) and, as such, don't require the use of mineral spirits or turpentine to thin them out.
Is acrylic paint permanent?
Acrylic paint has a shorter life span than other paints, but advances in production have made it nearly as durable. Acrylic paint isn't permanent in a sense latex paint or oil-based painting is, but advances in acrylic technology mean its strength and durability are comparable to these paints.
Can you paint on a face mask?
No, you cannot use acrylic paint on a face mask. Most face masks are designed to be stubborn enough that they won't come off by rolling around on your face so that the paint will stay put. Also, consider how much moisture is in your paint- it's not going to work well if it's oil-based or Water-thinned paint since it will wash away within minutes.
Is acrylic paint rainproof?
No, acrylic paint isn't rainproof, but it usually protects artwork from moisture. It usually takes some time before it starts to fade under the rain.
So, Can You Put Acrylic Paint On Your Face?
No, do not put acrylic paint on your face. Use FDA skin-approved paint for your face and avoid acrylic paints. If you must use acrylic paint on your skin, mix a moisturizer or lotion into the acrylic paint to help neutralize the toxicity of the paint.
This doesn't mean you won't experience redness after peeling away the paint.
If you enjoyed this article, share it with your loved ones, and don't forget to comment.
Read more about our guide on how to get paint out of hair, so you can make sure to avoid the same mistake next time.