A question we get asked often is—can you use latex paint over oil based primer?
There's also confusion about whether or not to use oil-based paints on other paint types—and whether you can use latex paint over oil-based primer.
In this post, I'll try to break down the facts for you so that nothing gets you confused anymore. In a nutshell, I'll walk you through the following:
Can you paint latex over oil based primer
What is latex paint
What are shellac primers?
What is an oil based primer?
Why do oil based paints don't mix?
Why should you use latex paint over oil primer?
How to determine whether your walls have oil based paint
Tip on placing latex over oil primer
And a couple of related questions
So if you want to get your facts right before trying out anything, this brief guide will be pretty helpful.
Can You Use Latex Paint Over Oil Based Primer?
Yes, you can use latex paint over oil-based primer. But first, you need to prepare your wood surface. Paint it with quality bonding primer and let it dry well. Now proceed and apply double coats of latex paint. Still, you can apply a clear coat over latex paint to provide an added layer of protection and enhance the finish.
What Is Latex Paint?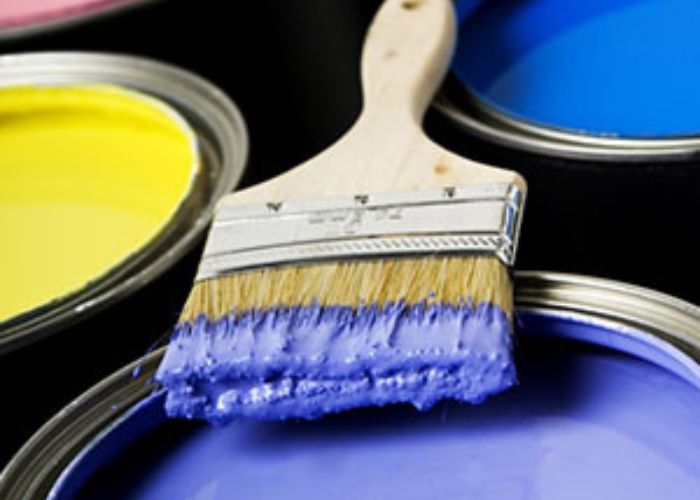 Latex is a water-based paint made from acrylic resin. Unlike acrylic paint, latex paint is recommended when painting large surfaces—not because of its fast drying time but because most people purchase it in large quantities.
Latex is suited for painting ceilings and walls. Besides, it comes in various finishes—from flat to high glosses. If you have a coat of paint on your surfaces and want to change the color or refresh the look, you can paint over latex paint.
What are Shellac Primers?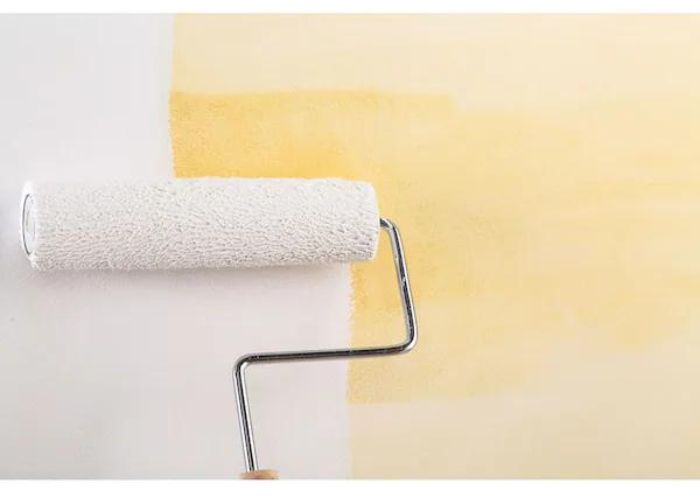 Shellac based primers are excellent wood sealants that can prevent tannins from bleeding through the oil paint. And because of their elasticity, shellac primers are also best for plastic, plaster, and even galvanized metals.
Shellac is known as a fast-drying primer—drying in under an hour. They can help you prime your surfaces faster than latex primers. The only downside is that you'll have to use denatured alcohol to thin the primer and clean the tools.
If you have a sensitive sensory smell, you'll not love the fumes produced by the denatuthreered alcohol. However, you can still wear your protective gear to avoid the smell because shellac primers are the best for trimming or sealing wood.
What is an Oil Based Primer?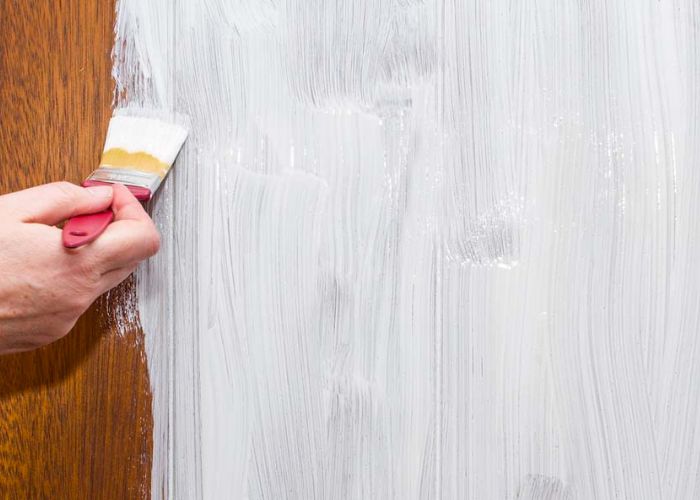 Oil-based primers work with latex primers and oil paints, making them applicable and very flexible to various surfaces. The advantage of oil-based primers is that they are good stain killers—meaning that they can prevent stains from showing on new coats of oil paints.
This primer is usually the best outdoor primer for bare wood as it can seal the porous wood surfaces, making the new paint coat cover almost the entire surface.
Besides, oil-based primers prevent harmful tannins, such as redwood, from bleeding through the wood surface.
Why Should I Use Latex Paint Over Oil Primer?
If you've chosen to use latex paint over an oil-based primer, please note that the latex paint will crack or not stick properly if you didn't take your time to prepare the surface properly.
So the best way to go about this is to prepare the surface before using latex paint on an oil-based primer if you want the best results—a strong, lasting painted surface.
Lightly sand your oil primer using fine grit sandpaper to make the surface smooth to enable both paints to blend. That said, below are some reasons why using latex paint over an oil primer is a brilliant idea:
Oil-based primers are excellent for proper sealing to allow for the entire surface covering of the latex paint layer, primarily when you use them on unfinished surfaces.
Besides, oil-based primers stop wood from releasing tannins while also preventing bleeding through your latex primer coat surface.
The only downside of using latex paints is that they can swell your wood grains. However, using it over an oil-based primer will prevent ruining the surface as long as you have sanded it properly.
Just to recap, always remember to prepare the surface you want to work on properly before using latex over an oil based primer. This is to ensure that you achieve the smooth and lasting finish you've always wished for.
How Do I Determine If My Surface Has an Oil-Based Paint?
It's critical to test if the surfaces you want to work on have oil-based paint. To do this, you'll need to follow the procedure below:
The first test is to feel the surface—oil is usually smooth and glossy, while latex possesses a rubbery finish.
You'll need to dip a piece of cotton wool into acetone to check the status of the painted surface—oil usually remains unaffected while latex will slightly dissolve.
If you've determined that the surface is oil-based paint, use sandpaper to rough the surface until the gloss has disappeared—wash and give it some time to dry.
How to Paint Latex Over Oil Based Paint
Step 1: Get Your Workspace Ready
You can't start priming surfaces without first preparing your workspace. If you want your surface to be primed successfully, you'll need:
A well-ventilated work area—protect yourself from fumes and open the windows and doors for cross-flow of air.
Your protective gear (mask, gloves, coveralls) to prevent inhaling the fumes or getting exposed to hazardous materials.
A large, flat surface on which you'll prime your surface—this should be a spare section of the wall or ceiling that isn't in use or can be covered up with plastic sheeting to trap dust and prevent it from damaging the primed surfaces below.
Step 2: Clean the Surface
It's critical to clean the surface before painting. Cleaning will remove all dirt, grease, contaminants, and grime so the primer will adhere to the painted surfaces properly.
Soak the sticky surface in soapy water for at least 30 minutes. If your painting process requires deep cleaning, use a high-quality degreasing pre-paint cleanser instead.
For faster cleaning, you may use a pressure washer on large pieces of furniture or the outside of your property. Allow the surface to dry completely before proceeding.
Step 3: Remove Any Old Gloss Paint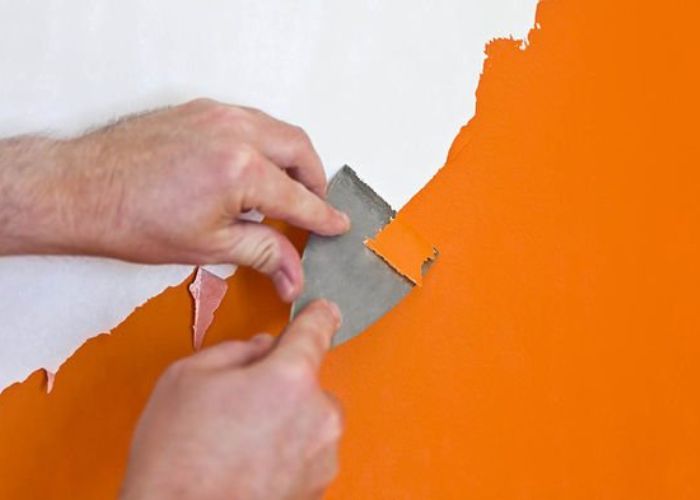 You'll need to remove the old oil based paint coat on the surface. Make sure you use a wire brush attachment for your electric drill to remove any loose paint particles, dust, dirt, and grime.
Don't forget to wear protective gear, so you don't inhale dust or get exposed to hazardous chemicals.
Step 4: Sand the Top Layer
Once you have removed all loose paint particles using a putty knife, it's time to sand the top latex paint layer using sandpaper to remove brush marks. Use the sandpaper by rubbing it in circular motions over the entire surface.
You don't need to apply much pressure, just enough for the sandpaper to get into the grooves of the wood. Make sure you also test the surface to assess how it's doing.
If you notice that there are still some glossy spots stuck in the wood, continue until they are all removed. Wash away any dust left on the surface using a damp tack cloth, and give it time to dry.
Once dry, sand the surface again with sandpaper or use a finer grit—this will make the coat easier to paint over.
Step 5: Apply Primer
After that, apply the primer in the same manner as indicated on the bottle. The primer layer allows the latex to stick to the oil.
It's best to use primer in the color of your choice and apply two coats in quick succession—apply a thin coat and leave it to dry before applying the second coat.
Step 6: Sand Again
You'll need to sand over the primer to make it even with the surface of the wood. Use 100-grit sandpaper to get rid of any lumps, bumps, and uneven wood surfaces. This will help the latex bond well with the primer.
Step 7: Paint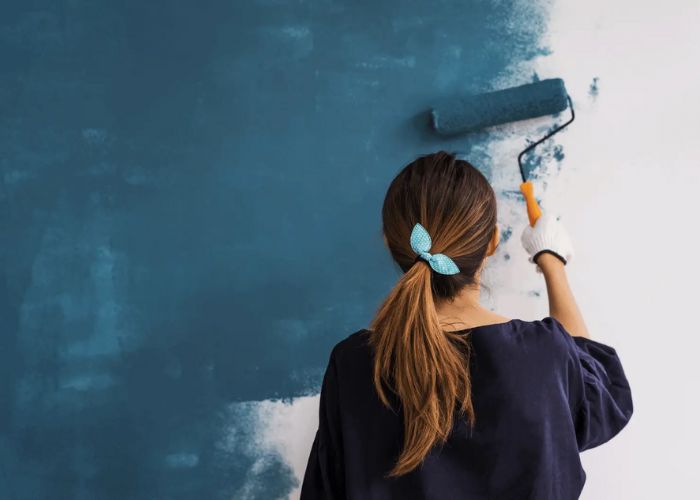 After that, apply a single coat of high quality latex paint using your roller, brush, or airless sprayer of your favorite latex topcoat. Make sure you don't skimp on the number of coats—the more layers, the better!
You may need to apply anywhere between three to five thin coats to achieve full density.
Step 8: Seal
Finally, to make your paint job last even longer, seal porous surfaces with a quality clear coat. Use a brush or roller and apply the sealer over the latex once it has completely dried.
Again, don't skimp on coats—the more layers you apply, the longer your painting projects will last!
Step 9: Dry Time
You cannot apply another layer of latex paint for four hours, even if the first coat dries to the touch in an hour. Allow at least 48 hours of dry time before handling or your completed work.
You might reduce the dry time by using light layers of oil paint. Thinner paint dries faster. Using a hairdryer, fan, or space heater can also speed up the process.
Tip On Placing Latex Over Oil Primer
It is important to note that oil-based primers can take up to eight hours to dry. This is why you may want to sand the primer slightly to provide a better bonding primer surface.
It's also critical to wash any dust particles that may have been caused by the sanding process, allowing it to dry before you paint the surface.
As a general rule of thumb, it's best to apply two latex paint layers over your primer and allow between two to four hours for each of the oil primer latex paint to dry.
The Best Latex Paint
There are various oil and latex paints in the market, but you have to note that different brands have better qualities than others.
I recommend the following:
Rust-Oleum Painter's Touch Latex Paint
Rust-Oleum 1990502 Painter's Touch Latex Paint, Quart, Flat...
Use for a variety of indoor and outdoor project surfaces including wood, metal, plaster, masonry or unglazed ceramic
Water-based acrylic formula is low odor, resist chips and provides long-lasting protection
Covers up to 120 sq ft and dries to touch in 30 minutes for quick project completion
Rust-Oleum Painters Touch Latex Paint is a semi-gloss acrylic paint. It's great for both indoor and outdoor uses, including wood, plaster, metal, and masonry.
The low-odor paint is durable and will keep its shine for a long time since it gives exceptional protection against chipping. The paint dries quickly and hides imperfections.
KILZ Interior/Exterior Enamel Paint
Sale
KILZ Low-Lustre Enamel Porch & Patio Latex Floor Paint,...
PORCH & PATIO PAINT: KILZ Porch and Patio Floor Paint is a 100% acrylic latex product providing a durable, long-lasting finish that is ideal for both interior and exterior applications.
ADVANCED FORMULA: This Acrylic paint offers a low-lustre enamel surface that is formulated to endure on deck, porch, and patio siding and floors through variable weather conditions. This product will create a moisture resistant finish that resists scuffing, fading, cracking and peeling.
MULTIPLE USES: Ideal for porches, floors, decks, basements, patios, siding, trim, furniture and trellises. May be applied over properly prepared, previously-painted or primed surfaces. Not for use on areas subject to automotive tires. For residential applications only. CAUTION! Sealed surfaces may become slippery when wet. Use caution when walking on surface when moisture is present.
KILZ is a popular brand for items that assist with outdoor tasks, such as staining wood or painting fences.
KILZ porch and patio paint is long-lasting and simple to maintain. Known as one of the best floor and porch paint, it withstands paint cracking, fading, peeling, water damage, and scuffing. The acrylic paint has a low-luster enamel surface, making it tough against weather conditions.
The Best Oil-Based Primer
KILZ Stain Blocking Oil-Based Primer
If you're searching for the best oil-based primer to cover ugly stains, KILZ is a fantastic option. It's less harmful than other oil-based primers because it has a low volatile organic compounds content.
Furthermore, KILZ removes a wide range of stains from a variety of exposed porous surfaces, like masonry and metal. The primer is odorless, so it's perfect for places with poor ventilation, such as a basement.
FAQs
What Kind of Paint Can I Use On an Oil-Based Primer?
The best paint you can use on an oil-based primer is latex paint. And if you'll be using latex paint over an oil-based primer, it's best to prepare the surface you'll work on properly. To do this, use bonding latex primers, allow it to dry, then use two coats of latex paint.
Can You Use Water-Based Paint Over Oil-based Primer?
Yes, you can use water-based paint over an oil-based primer. You can always use oil-based primer over any type of top coat—and water-based paints is that top coat.
Can I Use Latex Paint Over Kilz Oil-based Primer?
Yes, you can use latex paint over Kilz oil-based primer. Kilz is an oil-based primer, stain blocker, and sealer best for interior and exterior wooden surfaces. If you compare it to other primers, for instance, Kilz primer vs Zinsser, the advantage of Kilz is that it dries faster and offers a resistant coating.
What Happens If You Paint Over Oil-based Paint?
When you paint over oil-based paint, you'll most likely notice peeling or chipping. This is because the formulas have been known not to bond well with any oil-based paint's natural glossy surfaces.
Which Is Better Oil-Based Primer or Water-Based Primer?
Oil-based primers have a nasty smell but come in handy when you need to block water-based odors. On the other hand, water-based primers are oil-free and easy to work with. It all depends on the purpose you want to use each of them for.
Acrylic Paint over oil based primer?
Yes, you can use acrylic paint over oil based primer. You can paint over oil-based primer with latex or acrylic paints, although the latter is a better choice. Just make sure to apply a bonding primer before you apply latex paint base coat.
Oil based primer over latex paint?
Yes, you can use oil based primer over latex paint. Ensure you sand and clean any exterior surfaces before applying the oil-based primer.
While oil-based primers were formerly required to be applied over oil-based paints and latex primers were required to be used over latex paints, you can now switch between them as long as the surface is well prepared.
So, Can You Paint Latex Over Oil-Based Primer?
Yes, you can use latex paint over oil primer, but ensure that you have prepared the surface properly before using the latex over your oil-based primer.
Make sure to use a quality oil-based primer and then apply at least two coats of latex paint. The first coat should be thinned slightly with water to improve adhesion, then the second coat can be applied full strength.
If you want your paint job to last longer and look better, consider using a topcoat over the latex.
You can also check our article on the best way to remove latex paint from wood.