Kids are some of the most amazing beings to have around. Still, they can be nagging and even annoying sometimes.
School and daycare often help keep them occupied. However, during vacation or summertime, when they are free all day, you must find a way to make your time with them fun and enjoyable.
Easy wood projects for kids are one of the best pastimes you can choose. And children's woodworking projects provide a fascinating way for kids to explore their creative energy and create projects that you both love.
If you want something engaging and entertaining for you and your kids, try these DIY woodworking projects for kids. Some of these are the best selling wood projects to build as a beginner woodworker.
Easy woodworking projects for kids?
DIY candy dispenser
Wooden toy camera
Homemade crayon holder
Wooden catapult – woodwork projects for kids
Homemade wood robot toy
DIY camping tent for kids
DIY bookshelf
DIY rocket shelf – beginner woodworking projects for kids
Kids' balance board
Homemade board game storage
DIY birdhouse – small woodworking projects for kids
DIY kids' workbench – woodshop projects for kids
Kids picnic table
Toothbrush holder
Simple Wood Projects for Kids
Check out these easy DIY wood projects for kids! They are perfect for beginners and can be completed in just a few hours. Plus, your child will love seeing their finished project adorning their room or workspace.
So get started today and help your child learn the basics with these simple wood kits for kids!
1. DIY candy dispenser
Nearly all kids love candy, so a candy dispenser can be a godsend to your bundle of joy. The thought of creating this great woodworking project with you will fascinate your baby.
The anticipation should be highly engaging to them, just as the finished project will be rewarding. These aspects will make the slightly complex parts of the project appear less so.
2. Wooden toy camera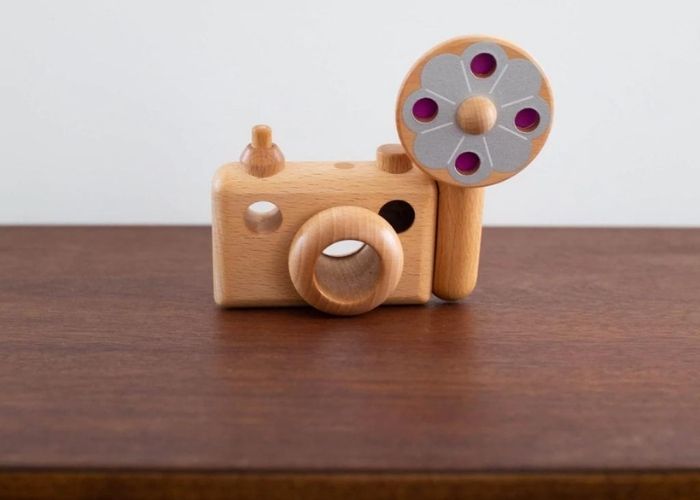 If you have a camera at home, your child will love the idea of getting one of his own. Even though this will not be an actual camera, the fact that he will take part in creating it should get him excited.
Even better, the DIY wooden toy camera is easy to make—you simply need to stick and glue a few parts together. This is an excellent chance for the young one to put his creative capabilities to use.
Perhaps the most amazing part for the kid will be choosing the color they want for the camera.
3. Homemade crayon holder
Art is an ideal way for kids to express their creativity, and most children enjoy it. If your child is a fan of drawing, he probably has a ton of crayons lying around his room and backpack.
A DIY crayon holder can be a great tool for decluttering the kid's space and incidentally teaching him something about being organized.
Just one crayon holder can carry all the crayons in your little artist's possession.
4. Wooden catapult
Creating a wooden catapult for kids is easy and fun. Your child will likely have several roles to play in the process, making him feel fully engaged.
There is no limit to the objects they can fire with this catapult. And since children tend to enjoy such things, having a small and nicely sophisticated tool for firing tennis balls and lots of other tiny objects will make their day.
5. Homemade wood robot toy
There is hardly any child who doesn't like toys. And your boy or girl is likely no exception. You follow a couple of straightforward steps to create a nice little robot toy for them.
All you need for this project are a few wooden blocks, wood glue, drill, polyurethane glue, and a few other items depending on how you wish to accessorize it.
The toy will do an excellent job of keeping your little one occupied and busy.
6. DIY camping tent for kids
The actual idea of camping often excites most kids. So what can be better than giving your kids their own camping experience at home?
A 1×2 wood piece and dowels measuring ¾ of an inch in diameter should get you started on the right foot. You will also need a drill, fabric, and ribbon to get started with this woodworking project for your little campers.
If you are looking for a way to make your kids spend more valuable time on their own in the backyard, this DIY camping tent should do the trick.
7. DIY bookshelf
Are your kids' books all over the place in their bedroom?
A DIY bookshelf can be the perfect solution. It can transform your children's space from an unorganized mess to a neat, elegant room.
And the beautiful part is that you can work on it with the kids.
It should be amazing for them to take part in building something that eventually transforms their own space. They will definitely love the work and the shelf.
8. DIY rocket shelf
One way to take the idea of a bookshelf to a whole new level is to create a rocket shelf instead of a standard shelf. This will be perfect, especially if your kid loves rockets and space science.
Ideally, any art and science lover should find the rocket shelf fascinating. Since most kids love art and aspects of science, the rocket shelf will certainly carry the magic for them.
9. Kids' balance board – simple woodworking projects for kids
Balance boards are not only nice for kids to have but also beneficial. The boards do an excellent job of strengthening the kid's leg muscles.
They help your kid improve his balance and become more stable. This can be a great way to hone a child's sportsmanship without applying any form of persuasion.
10. Homemade board game storage – children's wood projects
Most of us loved board games while growing up. We can only expect our kids to have the same partiality toward these pastimes.
Whether they have shown it or not, your kids are likely to enjoy spending time on a board game or two.
Unfortunately, they can easily lose parts or pieces that complete their games. As you may understand, missing parts can break the experience in these realms, making it impossible to play properly or enjoy the experience.
A homemade board game storage can go a long way in keeping the various pieces and parts together in one convenient place and keeping them from getting lost.
11. DIY birdhouse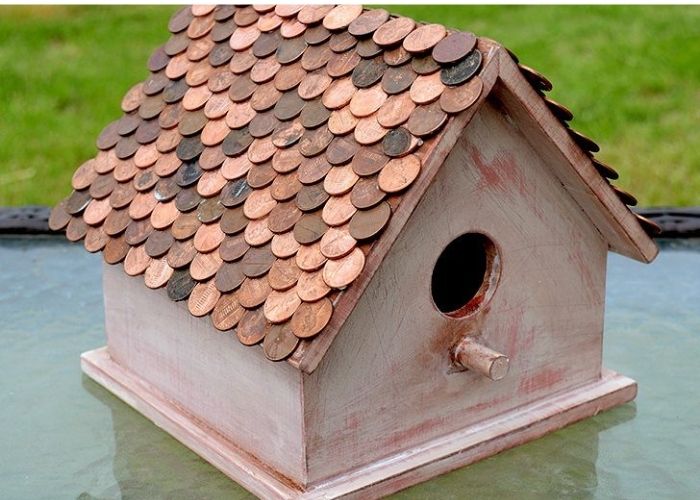 Many kids like to play with birds. Some also enjoy the idea of nurturing a bird and watching her spread her wings and fly.
If you have such a kid, a DIY birdhouse would be an invaluable gift to them. They will cherish it, keep their bird in it, and enjoy being able to tend to the bird at will.
Even better, you can add your own creative tokens to make the birdhouse as fascinating as your creative mind can gather.
To start with, here's the best wood to build a birdhouse.
12. Balsa wooden wind chimes
Remember how you used to love playing with jingles as a child? If you can, you should understand how wind chimes can be exciting to your little ones.
The fun part of this project is it does not require any special tools or skills. That means the kids can actively participate in the project throughout its lifecycle.
All you need for this project is balsa wood, even though other wood types can work. And you can coat the wood pieces with various bright colors that your children find thrilling.
Let them help with choosing the colors to make this great project a nice success.
13. DIY kids' workbench – carpentry projects for kids
One way to encourage your kids to use hand tools is to give them something to work from. For example, a workbench can be an excellent way to encourage your child to take his woodworking more seriously.
Do you want to groom a woodworker from a young age? Then a DIY kids' workbench is a must-have.
The bench will help your upcoming woodworker organize his woodworking tools better and get to love his work.
Encourage them to be creative both while creating the workbench by involving them in the process and after.
Always make sure that you are protecting your lungs against sawdust, use protective equipment when needed, double-check the measurements and ensure whatever you're creating fits the standard work table height– that's what counts in the end!
14. Kids' picnic table
Picnic tables are next on our list of kids' wood projects.
We all love picnics. They are fun moments that help us dial back and unwind. And that is where picnic tables come in. For kids, these are perfect spots for all kinds of things, from enjoying snacks to playing board games.
The list of things your children can do on picnic tables is limitless. Your kids will appreciate a nice little picnic table themed specifically for them.
15. Toothbrush holder- fun woodworking projects for kids
Everyone owns a toothbrush or two; how better to make your child feel important than to involve him in creating a beautiful toothbrush holder.
You can create one from a small block of scrap wood. To involve your kid, you can let them draw any shape they want—which you will them carve into the toothbrush holder. They will love this chance to contribute.
Even better, they will be excited to see how their little shape evolves from a mere drawing into a beautiful handy tool for keeping something as essential as toothbrushes.
16. DIY piggy bank for kids
Few things will be more exciting to your kids than to see a little piggy come to life from a scrap piece of a wooden block. It is something that lets you kill two birds with one stone.
You give the kids practical woodwork skills while also giving them financial education. To create this project, you will need to start by drawing and cutting out shapes onto a scrap piece of wood. (See: Where can i get wood cut)
This is a perfect moment to let your child draw out the shapes with you. They will enjoy getting creative with the drawing.
You can then cut out the shapes and correct any angles that might be off. Just make sure you leave enough room in the center of the shape where the money will go.
17. DIY wooden arrows- wood projects for boys
Wooden arrows can be great for decorating your kids' rooms. Since they are so easy to make, your kids can make them on their own. You just need to walk them through the process. They will be delighted.
You will need to cut out the shapes with a saw, though, but your young woodworker should be able to handle everything else.
This incredibly simple project can be a great way to work together with your kid and make time fly by unnoticed.
18. DIY toolbox for kids- cool wood projects for kids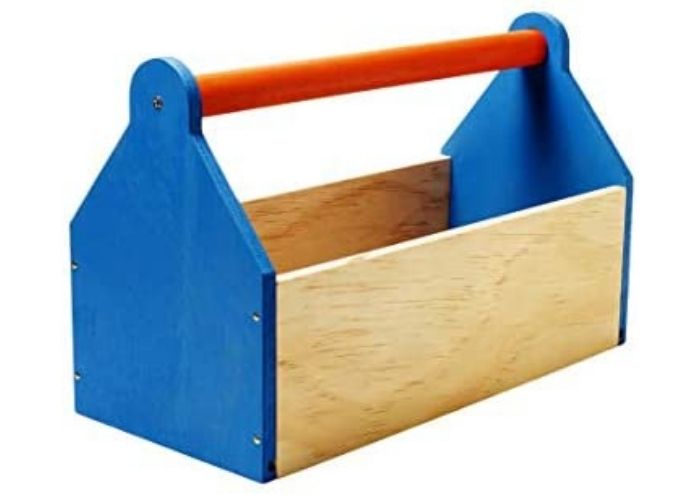 One way to groom a woodworker is to provide them with the tools they need for the job. How better to do this than by providing them with a place to keep the tools?
A DIY toolbox for kids will go a long way in keeping your child's tools in one convenient location. This will also be a great way to teach them to be organized.
Such a lesson goes a long way in building a capable and efficient woodworker. Don't feel confined to a single style; you can be creative with it.
Just make sure it is cute and befitting to your little one.
Also Read: Things to Make on a Wood Lathe and Sell
19. Kids reading bench
Reading is an essential part of a kid's life, making a reading bench such an excellent idea. You want to give your kid something comfortable and ergonomic to read from.
It does not also cost much time to complete this project. Because it will be used for reading, consider including storage containers where the kid can keep all their books.
Then, make sure the bench has a lace that is as ergonomic as possible for sitting.
20. Wooden toy grill for kids
If you are into barbeque, you will notice your kid hanging around the backyard a lot when you are using the grill. Trying to keep them away may be futile because these young folks are curious and always want to do what you do.
So, the best solution is to get him his own grill to practice whatever he sees you do on your grill. This is where the wooden toy gill comes in.
You can keep this toy in your backyard, where the barbeques happen. That way, your little one can stay nearby without interrupting your grill job—a great way to keep everyone included and happy.
21. Tree swing for kids
I don't know a kid who doesn't love a swing. Sometimes you don't stop loving swings even as an adult because they are fun.
As such, you can be sure that your kid will love a tree swing if you make him one. Keep him around through the project to build anticipation to make it even better. You will both love the experience.
22. Kids' treasure chest box
Anything about a treasure tends to excite children. So with that idea in mind, you can build your kid a treasure chest to give her a fantastic experience.
She can always hide stuff in there and enjoy having other kids search for the hidden treasure. Whichever way you look at it, a treasure chest can be an amazing asset for your young adventurer.
With a table saw, miter saw, and a handful of other tools, you can help your kid send her friends on a treasure hunt and feel in charge.
23. Wooden airplane – fun wood projects for kids
Kids find airplanes fascinating due to how they fly high in the sky. A wooden airplane toy can make your child feel like flying an actual plane, which is such a fantastic feeling.
If your kid loves planes, nothing can beat creating a wooden airplane for him to fly. Make sure you keep him with you during the project and give him simple roles to play in the process. He will love it.
Taking part in this kind of fun project is a great way for your child to explore his creative abilities.
24. DIY dollhouse – small wood projects for kids
A dollhouse project is one of the easiest, so you can have your child take an active part in the project. If you have a little girl that loves woodwork, this may be an excellent project to undertake with her.
Girls love dolls, and you will be giving them a chance to create their own. Things couldn't get any better than that.
25. DIY walking blocks for kids – woodwork projects for 5-year-olds
Like balance blocks, walking blocks can help develop your child's leg muscles, making them stronger and your child more athletic.
Walking blocks are a great form of adventure for kids, and yours will absolutely love them. You will also love how easy they are to make. As long as you have a couple of scrap wood blocks and a drilling tool, you should be good to go.
Additionally, here are some easy wood carving for beginners that kids can try.
26. Pallet Art
You may be wondering what pallet art is! Well, this is a project where you can use an old pallet and turn it into a piece of art for your home. This is a great project for kids because it is easy and requires no special tools.
Your kids can use it as a canvas to paint or draw on. They can also use it to write a message or quote.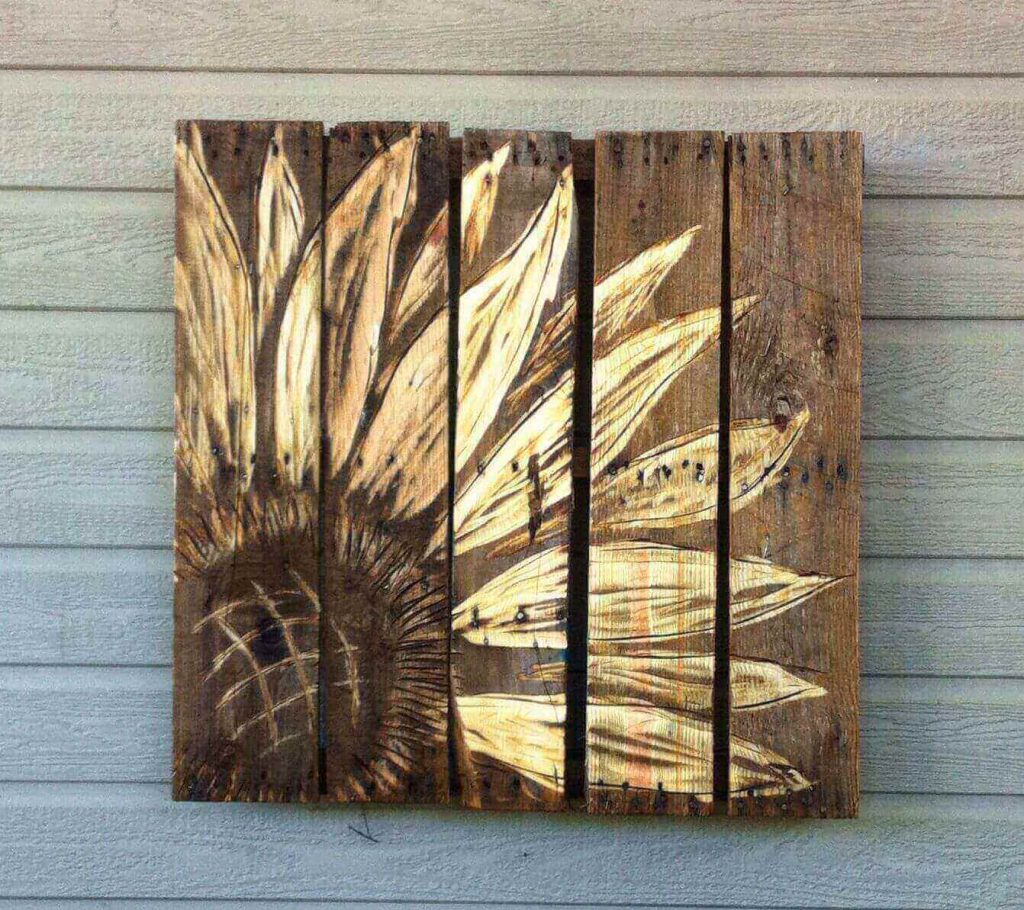 27. Wooden Photo Frames – woodworking ideas for kids
This is a great project for kids who are interested in photography. They can make wooden photo frames and display their photos.
It's amazing because they can use any wood they want and be as creative as they want with the design. They can also write their initials on the frame or add other decorations.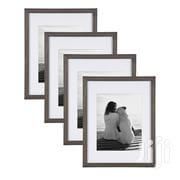 28. Adirondack Chairs
Adirondack chairs are a classic piece of furniture. They can be used outdoors or indoors. Your kids can make Adirondack chairs with wood and a few tools.
They will need to measure and cut the wood, but other than that, it's a pretty easy project. The beauty of these chairs is that they can be stained or painted any color your kids want.
29. Wooden Signs- simple woodworking projects for preschoolers
This is a great project for kids who want to get creative with their woodworking. All you need to make these signs is some scrap wood, paint, and stencils.
Let your kids choose their favorite phrases or quotes, and then help them paint and attach the stencils. These signs make great gifts or bedroom décor items.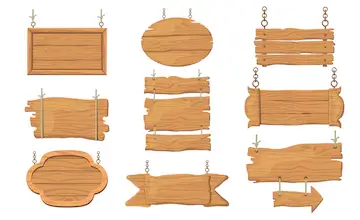 30. Wooden ABC Blocks- wood craft ideas for kids
This is a great project for kids who love to play with blocks. They can make their ABC blocks out of wood.
All you need for this project is some scrap wood, a saw, and some paint. You can let your kids paint the blocks themselves or buy ready-made wooden ones.
Either way, your kids will love playing with the ABC blocks they made.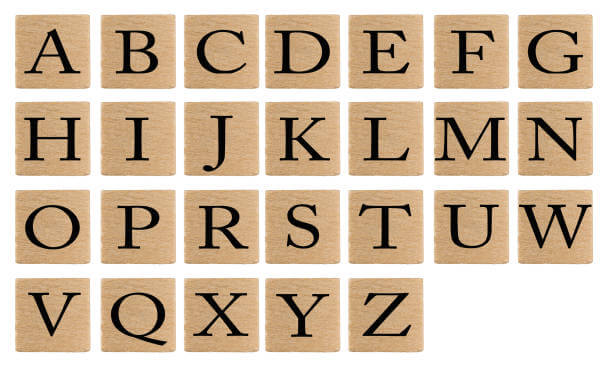 31. Wooden Cars- simple woodworking projects for students
Do your kids love cars? If so, they'll love this project! They can make wooden cars with scrap wood and a few simple tools.
Your kids can paint the cars any color they want and add any decorations they like. This is also a great project for kids interested in carpentry and design.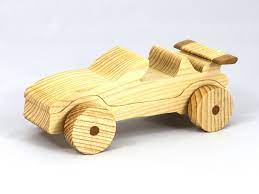 32. Wooden Train Set
A wooden train set would be an amazing project for kids who love trains and wooden toys. This project requires some more advanced carpentry skills, but it is still possible for kids to do with some help from an adult.
Your kids can paint and decorate the train set however they like. They'll have so much fun playing with the trains they made themselves!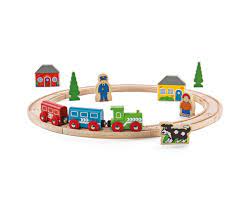 33. Wooden Shoe Rack- easy carpentry projects for children
A wooden shoe rack is a great way to keep your child's shoes organized and out of the way. With the help of an adult, your child can measure, cut, and sand the wood to create this useful piece of furniture.
Add some paint or varnish to protect the wood, and voila! Your child will have a stylish and functional shoe rack that will last for years.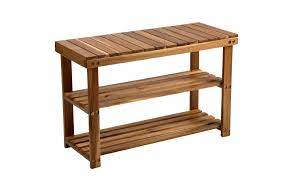 Interested in nurturing your child's passion for woodworking and helping them become a professional woodworker? Consider enrolling them in one of these fine woodworking schools.
Final Thoughts on Kid's Wood Projects
Wood crafts ideas for kids can be limitless if you are creative enough. This write-up provides you with a few easy things to make out of wood for kids.
If you have a vacation coming up, we hope these woodworking crafts for kids will help solve the puzzle regarding what to do with your little ones all that while, so they do not get on your nerves.
The beauty of these DIY wood projects is you can undertake them with your kids, and once complete, they can serve as nice presents for wood carving wedding gifts.
Leave a comment to let us know your thoughts on the topic.
Do you want to venture into woodworking? Here is a guide on making money woodworking to help out.