Oil-based and water-based wood finishes that come in direct and indirect contact with food or kitchen utensils must be safe for food. That's the law, and it applies to paints too.
Therefore, most woodworkers turn to natural oils to finish wood items, including mineral oil, walnut oil, and linseed oil. They are food-safe finishes, made of 100% natural ingredients and free of solvents.
However, you'll be excited to learn that natural oils aren't your only option. Read on to discover other food-safe paints for wood and how to choose the right one.
Best Food Safe Paint for Wood
Pure tung oil is the best food-safe paint for wood. Also known as China wood oil, it dries to a lustrous matte finish. Another excellent option is the FDA-approved sealer from Real Milk Paint. It comprises 100% pure natural ingredients and is free of volatile organic compounds (VOCs).
Best 7 Food Safe Wood Paints Reviews
The following are seven of the best food-safe paints for wood, most of them FDA-compliant and a few FDA-certified.
1. Marker's Studio Angel Wings Enamel Paint
A MAKER'S STUDIO Ceramic Paint - Angel Wings, 1.69 oz Water...
No Bake Craft Paint - You'll enjoy creating unique and personalized ceramic pieces with A Makers' Studio No Bake Ceramic Paint; this water-based paint lays rich color on ceramics and glass surfaces without baking, and it's food safe for use on dishes and tableware
Pairs Perfectly with Mesh Stencils - Cut out your mesh stencils and apply glass paint over them to create a delicate flower pattern. You can leave it to dry or bake it at 350 degrees for 25 minutes to speed up the curing process
Fast Curing Time - Whether you're painting mugs, plates, or other ceramic surfaces, our enamel paints will provide a smooth, glossy texture and lasting, vibrant finish that won't chip or fade over time
Marker's Studio ceramic paint is a water-based enamel paint formulated using a no-bake approach for a bright permanent color on wood, ceramic, and glass surfaces. It is safe for food items and perfect for DIYs.
Using it is easy. First, apply the paint to the desired surface using a stencil, artist brush, or paint spreader. Then remove the stencil and allow the paint to dry for 12-24 hours. It offers vibrant colors for permanent designs. Moreover, we love the easy application process.
Angel Wings is the best food and dishwasher-safe paint. Unfortunately, it comes in small 50ml (1.69 Fl Oz) tubes. So, you must purchase several tubes to complete a standard project.
Pros
No need to bake
Fully cures in 12-14 hours
It's food and microwave safe
Applicable in ceramic and glass projects
Con
---
2. The Real Milk Store's Half and Half Pure Tung Oil + Lemon Peel Paint
Real Milk Paint, Half and Half, Pure Tung Oil and Orange...
HALF & HALF - Pre-mixed Pure Tung Oil and Orange Peel Oil for wood finishing. We've done the mixing so you don't have to! A thinner formula which allows the oil to penetrate deeper into the wood.
MULTIPLE USES - Use the wood oil and Orange Peel Oil formula for finishing countertops, bowls, butcher blocks, cutting boards, chopping blocks, concrete, terra cotta clay pots, stone, and slate.
FOOD GRADE - Safe for food contact. A great penetrating oil for use on wooden kitchen items such as chopping boards.
The Real Milk Paint Company is the go-to store for DIYers and professional woodworkers seeking food-safe wood finishes. However, we recommend Half-and-Half Pure Tung Oil + Orange Peel paint.
The pre-mixed tung oil + orange peel oil is a thin formula that allows the natural tung oil to penetrate the wood surface deeply for maximum protection. More importantly, it's a food-grade paint that poses no safety or health issues when it comes in contact with food.
You can use The Real Milk Paint Store's half-and-half paint for various projects, from finishing countertops to bowls, pinewood cutting boards, and butcher blocks. In addition, it works for terra cotta clay pots, slate, and stone surfaces. The all-natural finish takes 7-10 days to become completely water resistant and 30 days to fully dry.
Pros
It's pre-mixed for greater convenience
Applicable in a wide range of projects
It's usable as a waterproof wood sealer
Dries to a natural light "honey" color
Cons
Its slightly expensive
It takes 30 days to dry completely
---
3. PEBEO Porcelain 150 Ceramic Paint
PEBEO Porcelaine 150 Ceramic Paint - Water-Based High-Gloss...
PROFESSIONAL QUALITY PAINTS: Our premium, water-based paints come in rich transparent and opaque shades with either glossy, shimmery, pastel or chalkboard finishes for decorating porcelain; Lasting quality with a distinct creamy, enameled look
SUPERIOR FORMULATIONS: Heat-resistant, food, and dishwasher-safe and can be used on porcelain, ceramic, china, glazed earthenware, tile, terracotta, metal, enameled sheet steel, copper and glass; Bake for dishwasher, UV, and microwave resistance
CREATE & CUSTOMIZE: These ceramic paints are designed to mimic the appearance of true glazed ceramics and they are intermixable and blendable to achieve a wide variety of unique tones; Colors are removable until they are baked in a kitchen oven
PEBEO is a premium water-based paint sold in rich transparent and opaque shades to fit every project. In addition, you can choose from glossy, shimmery, chalkboard, or pastel finishes.
This finish stands out for many other reasons. For instance, it's heat-resistant and dishwasher-safe. Therefore, you don't have to worry about peeling when you wash painted items in the dishwasher or warm some food in the oven. Besides wood, you can use it on porcelain, china, glazed, tile, terracotta, metal, and glass items.
You must bake the painted items to make them dishwasher, microwave, and UV-safe. However, the good news is that the colors are removable until you bake the painted item. This gives you a brief window to change the colors. The paint dries in 24 hours. After that, bake in the oven at 300 degrees for 35 minutes.
Pros
Wide range of applications
Dishwasher and microwave safe
Available in many colors and tones
Long-lasting paint colors
Con
The paint may come off when frozen
---
4. Rust-Oleum V8400 Food & Beverage Alkyd Enamel Paint
Rust-Oleum v8400 is an interior enamel paint suited for food and beverage applications. The alkyd paint is more durable than latex and complies with USDA's FSIS regulatory sanitation standard for eateries, restaurants, and other food establishments.
However, be warned that USDA's FSIS regulatory standards differ from the FDA's Title 21 schedule. While the FDA is concerned with specific paint ingredients, the USDA standard only concerns the paint's cleanability. Also, note that it's a solvent-based paint. However, the fact it's USDA-approved brings peace of mind.
Nevertheless, we only recommend it for incidental food contact applications such as food trays and cake stands. Besides wood, Rust-Oleum V8400 is suitable for metal working projects, like cabinets and lockers.
Pros
It's USDA approved
Works on wood and metals
More durable than latex paint
Con
It smells at first (before drying)
---
5. Sprayon LU211 Food-Grade Dry Silicone Spray Paint
Sprayon LU211 is a dry silicone food-grade spray paint compatible with many surfaces, including wood. It forms an ultra-thin film that resists dust and dirt. In addition, the film forms a rust and corrosion-resistant barrier.
The extra-dry formula is the perfect choice for wood surfaces that require no transfer. It's also excellent for low-pressure applications. In addition, we love that it enhances the performance of sliding surfaces while meeting FDA CFR 21 criteria.
It's a colorless spray that dries into a durable film. However, beware that it's flammable. Also, it has a mild scent that disappears with time. Sprayon LU211 contains no additives and is VOC-compliant in more than 50 states. However, only use it in temperatures between -40 and 450 degrees.
Pros
Works on wood, plastic, and fiberglass
H1 Food Grade rated
It's dirt and dust resistant
Its rust and corrosion resistant
Con
---
6. AFM Safecoat Semi Gloss Pastel Base Zero VOC
AFM Safecoat's semi-pastel is a popular food-grade paint for wood applications. Unfortunately, it's not officially FDA-approved. However, all the ingredients are food safe provided you allow the paint to dry fully and don't wash the item in the dishwasher.
The low-VOC paint is highly abrasion-resistant, making it perfect for tables. Always use AFM's Transitional Primer when painting over oil-based paint. The premium-quality, fast-curing enamel paint is designed for interior surfaces, forming a durable semi-gloss finish. We recommend it for homes, hospitals, offices, and other applications where protection from toxic chemicals is paramount.
Besides the semi-gloss option, Safecoat has flat, pearl, eggshell, and EcoLacq gloss. In addition, the four options are available in white, tint, deep base, and accent colors.
Pros
Available in different colors and sheets
It's a high-quality, fast-curing paint
All its ingredients are food safe
Con
It's not officially FDA approved
---
7. Rust-Oleum Painter's choice (Brush On)
Rust-Oleum Painter's Choice is a water-based paint for interior and exterior applications. The brush-on paint is certified toy-safe (EN71-3: 2019). However, a few colors are not toy-certified. These include gold, bronze, antique, and old penny bronze. Metallic paints are solvent-based oil paints.
Beware that the paint is called Painter's Touch Ultra Cover in the US. Meanwhile, it's called Painter's Touch Multipurpose Paint in the UK. Also, it's surprisingly high in VOCs, containing at least 250g/liter for water-based versions. As a result, you may notice a slight odor. However, it's completely safe for food once it dries fully.
It covers 12 square inches per can and dries to the touch in 20 minutes, forming a flat finish that hides surface imperfections. In addition, the low-odor paint resists chipping and provides long-lasting protection.
Pros
Dries to the touch in as little as 20 minutes
Hides surface imperfections
Offers long-lasting protection
Cons
The UK and US names can be confusing
A few colors are not food-certified
---
Food Safe Heat Resistant Paint Buying Guide
Now we know some of the best food-safe wood paints. So, let's discuss picking the right one for your woodworking project.
Is There a Food-Safe Paint for Wood?
Yes, there are a few food-safe paints for wood. However, it's a very short list. In the US, this list is limited to the FDA's Title 21 Section 157.300 and Title 21 Section 174. Title 21 Section 175.300 lists all the ingredients cleared for resinous and polymeric coatings.
Meanwhile, Title 21 Section 174 lists "generally recognized as safe (GRAS)" ingredients. So, focus on Title 21 Section 175.300 paints.
Common applications of food-safe finishes are;
What Type of Wood Paint is Food Safe?
Any wood paint containing food-safe resins and coatings per the (FDA's) Code of Federal Regulations Title 21 is food-safe.
Unfortunately, this means paints said to be safe "once dried" may not necessarily be food-safe. For instance, many acrylic paints are advertised as "safe" when completely dried but easily melt when they come in contact with warm or hot foods.
Read also: Is acrylic paint for face painting safe?
Can You Find Food-Safe Paint Off the Shelf?
Yes, you can find a few food-safe paints off the shelf. However, you must be extremely cautious.
The first option is to locate popular paints advertised as food-safe and cross-check the ingredients (one by one) against the FDA's food-safe resins list. Any inclusion outside the FDA list renders the paint non-food-safe. Alternatively, buy real Milk Paint.
Why is Milk Paint Food Safe?
Milk paint is the best food-safe finish, comprising 100% natural ingredients while avoiding toxic chemicals and volatile organic compounds found in nearly all other paints. Instead, milk paints are composed of milk proteins, calcium carbonate, and natural pigments (that add color to the paint).
Fortunately, using milk paint is easy. First, mix the powder (milk paints are only sold in dry powder form) with water. Then use within 24 hours. It dries within 30 minutes and stays on the surface permanently – even without priming.
Unfortunately, it goes bad within 24 hours. Moreover, milk paint coats are thinner than other paint coats, so you need multiple coats for a durable coating. Above all, you only get a matte finish: no gloss, semi-gloss, or satin.
Is Acrylic Paint Food Safe?
Unfortunately, no. Acrylic paints contain substantial microplastics and chemical pigments, making them unsafe for food items. So, avoid acrylic on plastic, wooden spoons, bowls, etc. Similarly, there are better choices than acrylic paint for kids' toys. Even acrylic paints labeled "non-toxic" are unsafe for food items and kids' toys.
Are acrylic sealant sprays food safe?
No. Acrylic sealant paints are not food safe. Again, a few manufacturers advertise their acrylic sealant sprays as "non-toxic." It's important to understand that "non-toxic" paint is not equivalent to "food-safe" paint.
Food-safe paint only contains ingredients contained on the FDA's safe list. Meanwhile, "non-toxic" paints may contain ingredients outside the list provided the said ingredients haven't been proven to harm humans when accidentally ingested. Therefore, all food-safe paints are non-toxic, but not all non-toxic paints are food-safe.
Are Enamel Paints Food Safe?
Enamel paints are not food-safe. Both oil-based and water-based enamel paints contain toxic ingredients, including white lead and methyl alcohol, which are not safe for humans. Of course, oil-based enamel paints are worse. However, water-based alternatives are no better.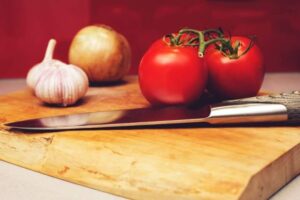 Best Food-Grade Paints for Wooden Items
Wondering which food-grade paints to consider for various woodworking projects? The following are general guidelines to consider.
Food Safe Paint for Plates
Non-toxic ceramic paint is the best food-safe paint for plates. Make sure it says "non-toxic" on the label and cross-check the ingredients with the FDA's Title 21 list for peace of mind. Also, the paints must be water-based.
Food-safe paint for cutting boards
Milk paint is the best choice for acacia wooden cutting boards. It's made of all natural ingredients with no harsh chemicals or VOCs. Mix the powder paint with water and use it to paint your cutting boards. Then wait 12-14 hours for the paint to dry.
Food-safe paint for metal
Steel-It Food Safe Approved Paint for Metal is the number one choice for most metalworkers when painting food containers. It maximizes the item's life under harsh conditions, is corrosion-resistant, and lasts 5+ years in most environments.
Food-safe paint for ceramic
Non-toxic ceramic paint is the best choice for ceramic items for direct contact with food. It's a water-based enamel paint designed using a special no-bake formula for rich, permanent colors on glass surfaces and ceramics. Ceramic paint is also considered food-safe porcelain paint.
Best food-safe paint for printed food packaging
FAKOLITH's food-grade paint products are the most popular choice for printed food packaging. These include VARNIPACK FoodGrade and VARNIPACK FoodGrade Bio-Hybrid. Alternatively, consider Fakolith FoodGrade paints. Rawlins Paints also carries a few food-grade paints usable for printed food packaging.
Food-safe paint for plastic
Milk paint is the best food-safe paint for plastic surfaces. It's made from all-natural ingredients and is free from VOCs. Alternatively, consider natural linseed oil paint. A few ceramic paints work for plastics too. However, check the labels for details.
Food-safe grill paint
The best food-grade paints for grill grates are Rutland 7778830 BBQ Spray Paint, Rutland 80 High-Temp Paint, and Majic 8-2020-8 Barbeque Enamel Paint. The three are safe from contact with food. More importantly, they can withstand very high temperatures.
What's the Best Food Safe Spray Paint for Wood?
Unfortunately, it isn't easy to find FDA-approved spray paint. However, manufacturers are responsible for testing their products against FDA standards for food safety. So, a couple of brands have several "FDA-compliant" products to consider. These include Rust-Oleum V2190838 and Rust-Oleum V8400.
FAQs
How do you paint wood and make it food safe?
The easiest way to make wood food-safe is by coating the surface with food-grade sealer or primer before painting. This creates a barrier between the food and the wood's chemicals. Alternatively, coat the wood surface with food-grade paint.
Read also: Food safe wood glue for cutting board.
How can I make a painted cutting board food safe?
You can make a painted cutting board food-safe by sealing the wood with food-safe mineral oil. Alternatively, seal it with finishing oils like Pure Tung Oil or hemp oil from the Real Milk Store. An epoxy coating or clear synthetic sealer are other finishes you can apply over a painted surface to make it food safe.
Is there a food-safe clear coat paint?
Yes, there are several clear-coat food-safe paints. For instance, Klarlack from Rayher is a transparent food-safe varnish ideal for all surfaces that come in contact with food. A double coating of the clear varnish dries to a durable, waterproof, and protective surface. FAKOLITH also makes several clear food-grade paints you can try, including VARNIPACK, which is FDA-certified.
Food-safe clear coat for countertops
The best food-safe clear coat finish for countertops is food-grade Polyurethane. Specifically, we recommend water-based polyurethane. It dries fast, forming a beautiful transparent coating. Moreover, polyurethane is easy to clean and doesn't smell. However, natural oils such as coconut and mineral oil are excellent alternatives. Now, find out whether Minwax polycrylic is food safe.
Food Safe Heat Resistant Paint Summary
Milk paints are the best food-safe paints, comprising 100% natural ingredients. However, you can find a few other paints considered food safe if you look hard enough. It's best to abide by the FDA's Title 21 Section 157.300 rather than ASDA or Title 21 Section 74 guidelines.