Cedar wood is tough and resilient; thus, it's a popular fencing material. In addition, Cedar's natural features make it exceptionally suited for fence posts and other outdoor projects.
While the question of how long does a cedar fence last is commonplace, cedar lumber is generally strong and lasts longer than most wood species.
As one of the most durable and sought-after wood fencing options, it might be a good idea to consider cedar fencing if you have plans to build a solid fence.
A well-maintained cedar fence can last for decades to come. However, the real cedar fence lifespan can be difficult to determine due to different factors.
Keep reading to learn more about how long does cedar fence last.
How Long Does Cedar Fence Last?
Treated cedar fences can last up to 40 years, while untreated cedar only lasts between 15 and 30 years. However, the lifespan of a cedar fence highly depends on different factors, including exposure to the sun, local weather, the type of wood used, and your ability to maintain it regularly.
Why Cedar Lasts So Long
Cedar has natural oils that make it a beautiful fencing material and naturally resistant to weather elements and insect damage. Generally, its natural properties allow it to withstand elements and consistently last longer than other wood species.
Cedar wood is also distinct because it doesn't have to undergo chemical treatments to endure the weather. While other wood species demand UV protection and pressure treatment against rain, rot, and insects like termites, Cedar stands tall and sturdy.
You can now see why Cedar is expensive but among the most reliable wood fencing options, resulting in a great, long-lasting fence with guaranteed structural integrity. If you factor in the fence's longevity, a pine or spruce fence doesn't come close.
How long the cedar fence will last depends on how moist the soil around them is and the level of thawing and freezing the boards can withstand over their life span.
Maintenance Tips To Make Cedar Last Longer
Any exposed wooden fence needs to be protected against damage. And now that you know that your cedar fence can last longer when treated, you can always use simple methods to maintain and extend its lifetime.
As one of the most durable and sought-after wood fencing options, it might be a good idea to consider cedar fencing if you have plans to build a solid fence.
The most effective way to maintain your cedar fence is to apply a protective coating which will help to preserve the original color and its aesthetic appeal. Also, the fence will not fade and turn gray over time.
Here are two ways you can maintain your cedar fences:
i. Using a Water Resistant Sealer
Using a water-resistant sealer is one of the best ways to protect your cedar fence. This method protects your fence against elements of weather as well as moisture.
Failure to use a quality water-resistant sealer causes your cedar fencing to soak up moisture, causing damage in the long run.
A good water-resistant sealant will offer your cedar fence a high level of wood sun protection. This will ensure the fence is protected against the sun's rays and also improve the overall appearance of the cedar fencing.
Keep in mind that cedar fences demand a high level of proper maintenance, and since it forms a silvery patina with time, you will likely have to reapply the protective sealant, paint or stain every one or two years based on the wood type and your local weather.
Thankfully, applying a protective sealer is simple and quite straightforward; you don't have to be a pro.
ii. Staining
Staining a cedar fence makes it last longer. If you've already applied a sealer to your cedar fencing, there's no need to stain it. If you choose to stain after applying a sealant, it should be for aesthetic purposes.
For best results when staining your cedar fences, apply two coats. Before installing your fencing planks, try and dip the bottom of the cedar fence panels in stain or add to the post holes as a more convenient way to seal the bottom of the panels.
And oh, it's incredibly important to ensure that the wooden fence is no closer to the soil, grass, mulch, or gravel than 2 inches to be on the safe side. But 4 inches is perfect.
For optimal protection and enhanced charm, reapply the stain every three or five years, depending on the sun's exposure and desired tinge.
But can you paint cedar fence? Yes, latex paints or oil-based stains can work magic in sealing out moisture, preventing rot, reducing weathering, and extending Cedar's lifespan.
Always choose a sealer or stain with a UV inhibitor to prevent your Cedar from turning gray. The wood should dry completely for about a week before you can apply the stain.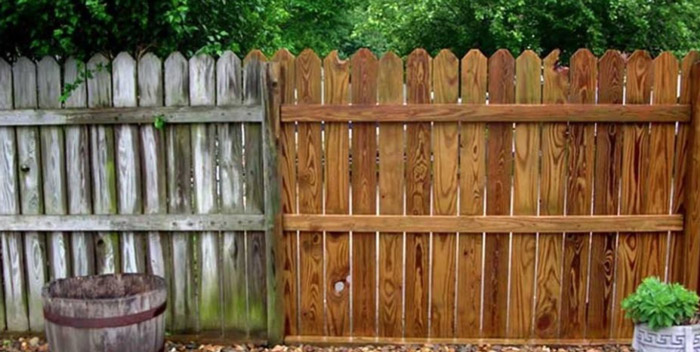 So, what are the best stains for your cedar fence? I researched, and the five below made it to my list of top stains for cedar fencing:
Does Cedar Wood Have to be Treated to Last Longer?
Yes. When left untreated, cedar wood shakes, softens, and eventually discolors. Depending on the climate, it may also rot. All these can be prevented by treating your cedar wood using stain, paint, or chemical treatments.
Cedar Fence Vs Other Wood Species
Cedar fences are superior to most wood types in terms of construction materials. Cedar is quite expensive to purchase but again, when you consider the longevity of cedar fences, Cedar gives value for your money.
When you install a pine or spruce fence, you must replace it after about 15 years. A cedar fence lasts twice as long. On the other hand, other wood species closely compete with Cedar.
These are pine and spruce. I bet you've heard about spruce fencing and pine fencing, right? These are just the two types of woods that can give Cedar a run for its money. Any other wood can't match up with Cedar, particularly regarding longevity.
Ideally, pine fencing is quite an appealing option though it only lasts between 5 to 12 years. Spruce fencing is also appealing but isn't as durable and can only last from 4 to 7 years. Notably, the two types of fencing require much less maintenance.
So why do some folks prefer spruce fencing and pine fencing to cedar fencing? Well, it trickles down to matters of pricing. Installing a cedar fence is more expensive than installing a spruce or pine fence, and not everyone can afford it.
They say cheap is expensive in the long term, and yes, you might not get value for it. However, if cedar fences last more than twice the wooden fences designed using other wood species, then it's only logical to use Cedar.
Which One Lasts Longer, Pressure Treated Lumber or Cedar?
Cedar is naturally resistant to rot, perfectly soaks the stain, and is aesthetically appealing when it weathers.
Pressure-treated lumber is recommended in wet regions for the better part of the year and those susceptible to termites. Moreover, treated wood usually warps and cracks during drying compared to Cedar.
Cedar and pressure treated wood are two popular fencing options, but which one is right for you?
When it comes to boards installed in concrete within the soil, pressure-treated pine is much better than untreated Cedar. Without treating outdoor pine, Cedar becomes superior to it.
When Should You Replace Your Cedar Fence?
As a property owner, it's paramount that you figure out well in advance how and when to replace your wooden fences.
Whether you have installed the long cedar fences, vinyl fences, or other wood fences, regular maintenance is necessary before you can replace them. And this includes metal fences and chain link fences.
You need to watch out for signs that will help determine if your fence needs to be replaced or repaired. A well-maintained fence can last between 15 and 25 years.
Still, with the many weather elements—rain, windstorms, moisture from the ground and atmosphere, replacing your wooden fence is a good idea when you want to enhance your property's security, safety and aesthetics.
Here are the signs to look for:
A broken or leaning fence—check for loose or missing nails, screws or boards.
The softness of the wood—Use a sharp object to poke areas with signs of rot or discoloration.
Rotting bottom—shake the posts to confirm whether moisture (the worst enemy of a wooden fence) has caused decay.
Next read: How long does cedar siding last?
Conclusion
So, how long does cedar fence last? Cedar softwood is a sturdy and durable fence material; they always last longer than other wood species.
How long? Honestly, it depends on your desired fence details, location, weather and the wood preservative you choose. And finally, avoid having poor communication with your neighbor.
If you feel cedar fencing is the way to go, great benefits await you. To get you started, you can count on us to help you every step of the way. Contact us for a free quote and consultation.