Learning how to paint cardboard can be challenging. Cardboard is a porous material made from delicate kraft paper, and paint doesn't adhere readily to it.
Fortunately, there're several easy ways to paint cardboard successfully. How you choose to do so will depend on the desired outcome. You have to be patient to achieve the best results.
The following steps will help you in your quest to paint cardboard successfully.
How to Paint Cardboard
Paint doesn't adhere to cardboard easily because of its porous surface. When using acrylic and spray paint which are some of the best paints for cardboard, be sure to use gesso to prime your surface. Doing so prevents warping.
Tools You Need to Paint Cardboard
Flat paintbrush or sponge
Spraypaint
500 grit sandpaper
Gloves
Face mask
Spray bottle
Water
Acrylic Paint on Cardboard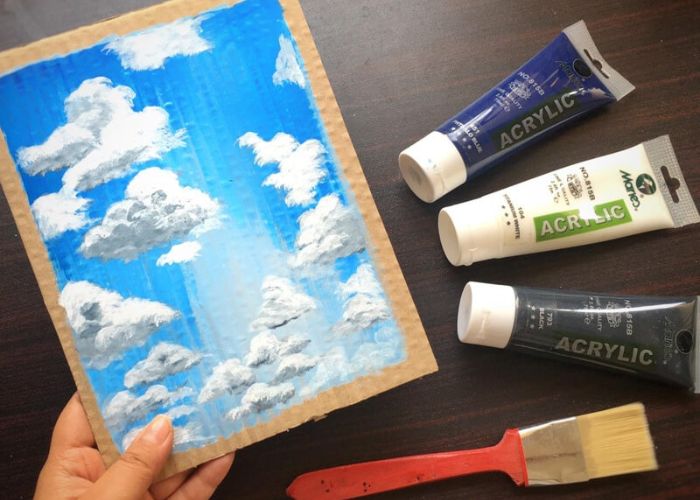 You can use water-based paints like acrylics on cardboard because they don't dry like oil-based paints. They are easy to clean up with water, so if you spill some paint anywhere, it won't leave a stain.
Use a sponge or dry brush for painting to avoid warping. Follow these simple steps for your application process.
Step 1: Prime the cardboard with gesso
Using a flat brush, paint a thin coat of gesso on your cardboard in long, vertical strokes. Like any paint applied over an existing finish, Gesso will brighten the colors of your artwork because it contains a substance known as glue.
Apply a second coat of gesso in the opposite direction of the first coat. Allow the gesso to dry for 24 hours. Then, if you can see the cardboard, give it a third coat.
Lightly sand your surface if the roughness caused by the gesso will distract your painting. Using smooth back-and-forth motions, sand until all of the bumps and protrusions have been smoothed.
See: How to finish cornhole boards
Step 2: Apply Paint to Brush
Ensure your foam brush is completely dry before you start painting cardboard. Then, squeeze paint onto your sponge or dry brush directly from the tube or mixing bowl. How much you use will depend on how large an area you are painting.
To avoid curling, don't apply the paint straight onto the cardboard. Applying paint directly to your brush will help you control the amount of paint you use. Remember, too much paint distorts the cardboard.
Step 3: Paint Thin Coats
Using smooth, continuous strokes, apply thin coats of paint cardboard. How many coats you need will depend on how opaque your color is and how light the surface of your cardboard is.
You can use a dry brush or sponge for this step as well. It doesn't matter which; switch to the other if either one starts to curl. Or switch to a new flat brush. How many times you need to change your applicators will depend on the stiffness of the cardboard.
Keep in mind that water-soluble paints can be removed with water, so touch up any areas where paint may have dried before it has had time to dry completely.
Step 4: Apply a Second Coat
After your first thin coat has dried completely, apply another one. How many coats you need will depend on the opacity of your color- so consider making a test strip to experiment with different numbers of coats.
If the paint starts curling before it fully dries, wait for it to dry and then sand lightly using light pressure until the surface is smooth.
How to Spray Paint Cardboard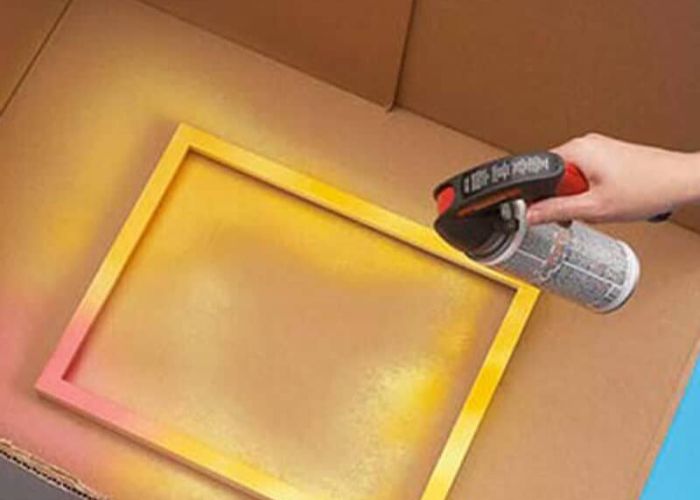 Spray painting cardboard is a quick and easy way to add color. How many coats you need will depend on how opaque your color is. How much paint you use will also depend on how large the area is and whether it's covered in a primer coat.
To get the best results, be sure to follow these steps.
Step 1: Prepare your work area
Spray painting should be done outside or in a well ventilated area because the fumes from spray paint can be toxic. Ensure there's no wind and the surface you are spray painting is warm and dry.
If the temperature isn't favorable for painting cardboard, wait for a finer day. Protect your working area using old newspapers or sheets. Put on protective gear like a face mask and gloves.
Step 2: Shake the spray paint
Shake your spray paint can for a minimum of one minute. Some chemicals make paint adhere to its surface, so you need to shake it, so it doesn't form bubbles as you spray.
Shaking also helps the pigments blend properly, giving the paint an even gradient. Be sure to reshake your paint if you leave it for a few minutes and after every one hour during usage.
Step 3: Lightly spray the paint
Hold the can 6-12 inches from the cardboard and spray from side to side, creating long strokes. Your arm should form a 90-degree angle with your elbow.
Putting the can too close to the cardboard will cause it to run. Put the spray can parallel to the surface and start spraying from one end to the other.
Be as creative and as playful as possible with your paint. Try swirls, polka dots, and zigzags. Spray paint only the first layer of cardboard at a time to avoid oversaturating the material and causing it to warp.
Step 4: Apply a second coat of paint
Wait for two hours for the paint to dry, and then apply a second layer. Failure to do so could cause warping. If the cardboard curls, wait until the paint dries, and then try respraying it.
Use a different color for the second coat for better contrast, spray painting lightly, as you did previously. If you want a more solid hue, finish the job with multiple thin coats. At this point, you may also perform any necessary touch-ups.
Best Paint for Cardboard
Acrylic paint and spray paints are the best for painting cardboard because they cover well and dry quickly.
Acrylic paints never soak into the material, allowing them to act as both primer and topcoat, that's why most woodworkers use acrylic paint on wooden furniture.
Spray paint is also suitable for this purpose but only use it outdoors or in a well ventilated area like your garage.
Acrylic Paint
Acrylics are perfect for outdoor projects because the elements don't affect them. They dry quickly and come in a wide range of colors, qualities, forms, and finishes to suit every style and budget.
Here's what I recommend for you:
Mont Mamont Marte Acrylic Paint Set
Acrylic Paint Set for Adults and Kids - 24 Pack of 12mL...
VIVID COLORS - Our paint set for adults and kids is uniquely crafted to bring out maximum brilliance and color clarity. The rich viscosity also makes mixing easy. Great acrylic paint for canvas painting, halloween decorations, pumpkin painting.
NON-TOXIC ART SUPPLIES - Formulated with a non-toxic composition, these acrylic paint sets for adults and children are safe for the whole family to use.
A COMPLETE PAINTING SET - Our acrylic paints have a premium consistency, perfect for blending, layering, and creating texture. Along with your 24-pack of paints, you'll also receive 3 professional brushes.
For a skilled painter, Montmartre Marte will be the most dependable painting collaborator. This is a fun set to use in canvas!
What We Liked Most
The effort of color selection is reduced by the wide color palette.
You can keep the color in the provided plastic trays.
The smooth consistency aids in the expansion of the coverage area.
With the excellent color mixing, your artwork appears strong.
What Could Be Improved
No multiple hues in the colors.
Arteza Acrylic Paint
Arteza Acrylic Paint, Set of 12 Colors/Tubes (0.74 oz, 22...
Exciting Selection of Artist-Quality Colors: Whether you're new to acrylic painting or a seasoned artist, colors like Lemon Yellow, Phthalo Blue & Crimson Red will set fire to your imagination.
Rich, Vivid Pigments: Your premium acrylic paint kit features smooth, highly pigmented color to produce true, consistent shades. Ideal for canvas painting, these colors won't fade over time.
Certified Safe & Non-Toxic: No need to worry about toxicity with our acrylic paints. They're ACMI-certified safe for your complete peace of mind.
It's the best option for hobby painters, elegant adults, or curious children since it is non-toxic. These paints will be your best guide to appreciate the new realm of art!
What We Liked Most
The box is portable and durable, allowing you to bring the color with you anywhere.
The color imparts a non-fading texture to work.
The color of the light may be altered if it isn't to your liking.
What Could Be Improved
Not suitable for all types of surfaces.
No duplicate colors in the palette.
Spray Paint
Want to add a metallic sheen? Use spray paint! It can work on a wide range of surfaces – even on shoes. They come in a variety of finishes, so you have a lot of room for creativity.
Here are my favorite spray paints:
Krylon Fusion
Krylon K02730007 Fusion All-In-One Spray Paint for...
ALL-IN-ONE SPRAY PAINT – Krylon white spray paint delivers best in class adhesion, durability and rust protection. This all purpose spray paint bonds to difficult surfaces without sanding or priming, including plastic, wood, metal, PVC, tile and more.
INDOOR/OUTDOOR SPRAY PAINT - Whether your project is inside or out, this flat white spray paint offers maximum rust protection. Color changes everything – from DIY projects to giving metal furniture a quick refresh.
FLAT WHITE COLOR – White flat spray paint offers a sleek, modern finish to any project. White is a classic color that should be kept on hand with DIY supplies and in a craft or tool kit. Flat finish color spray paint offers a unique, chic feel.
Krylon is the most dependable and the most durable spray paint for wood. It's great for professional painters who want to make a big impact on their space. It'll be the greatest option when you've got a unique style and want to make a statement piece with big and long-lasting paint.
What We Liked Most
It adds a shiny texture to your painting.
Suitable for both hard and soft surfaces.
It gives the best possible rust protection while painting.
The color will provide uniform coverage of 25 up to square feet.
What Could Be Improved
It's impossible for spray paint to produce different tones.
Rust-oleum Spray Paint
Rust-Oleum 249131-2PK Universal All Surface Metallic Spray...
Works on virtually any surface including wood, plastic, metal, fiberglass, concrete, wicker, vinyl and more
Oil-based formula with excellent adhesion prevents rust, resists fading and chipping for a long lasting finish
Fast drying formula dries to the touch in 30 minutes and covers up to 15 sq ft per can
Rust-oleum 331181 is the most suitable paint for the student to do all colorful projects. It contains all sorts of benefits that will make a painter step forward.
What We Liked Most
It's ideal for craft paint. You can find the best wood paint for crafts here.
If the paints don't work, they'll return your money
There's a variety to choose from.
What Could Be Improved
Easy to remove with water and soap.
How to Paint Cardboard without Warping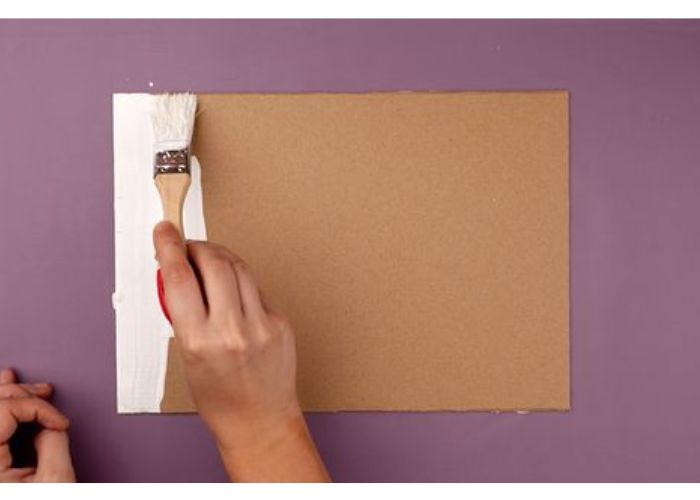 For best results, here's what you need to do.
Prime Cardboard using gesso
Most acrylic paints require the surface to be primed. This ensures it will hold up to the strength of the paint.
Gesso is an excellent product for preparing all sorts of surfaces, including cardboard. It's also inexpensive, making it an excellent choice for hobby painters on a budget.
Most of the time, gesso is white, but if you want the cardboard color to show through, there's also a transparent version available.
When painting on canvas, transparency is generally preferred since it makes the surface appear smoother; however, it may also be used for a smooth surface when spray painting wood.
(You can learn more about the best paint to use in a spray gun).
How to Prevent Curling and Warping
You can always prevent warping using simple tips. These tips will make your painting process smooth and reduce the risk of paint peeling.
Paint in a cool environment
Working in a dry environment will help the paint stay longer. You don't want to expose your painting in humid locations, so avoid painting late nights or early mornings. The heat of the sun will warp it before you get a chance to use it!
Keep the material dry
Wet cardboard will warp easily. Even if it's a little bit moist, the paint won't stick to it well. You can avoid this problem by letting your work dry for at least 48 hours before you start painting them.
Avoid humidity
Humidity makes water vaporize, and this will damage the paint. The color becomes thin and can peel off if you keep your painting in a moist environment. You need to protect the work before humidity gets into it.
Prime before painting
You should apply gesso before painting to avoid future warping. Gesso is a water-based primer that'll create an even-textured surface for your painting. It'll prevent the paint from peeling off and keep your work crisp despite the humidity in the surrounding atmosphere.
White acrylic paint is also a good primer. It serves the same purpose as gesso, but you'll need to use two coats for complete protection.
Allow layers of paint to dry before adding more
The paint takes longer to dry as you add more layers. Therefore, you should let the paint dry between coats before adding another layer of paint on top of it.
Use enough paint
You should never over-saturate your work with paint. This will not only make the color more intense, but it'll also create a wet surface that'll peel off if exposed to humidity for too long. You need to make sure all layers are dry before painting on top of them!
Use two or three thick corrugated cardboard walls
Using corrugated cardboard will make your painting more stable and less prone to warping. You need to paint the top and bottom of each wall.
How to Remove Curls from Cardboard
If your painted cardboard is warped because you either used a lot of paint or missed a step, you can always fix it. You need to follow these steps:
Step 1: Dry the Cardboard
Leave your warped cardboard outside in direct sunlight for a few hours until it's dry, then sand off any large bumps on the surface.
Step 2: Spritz using water
Fill the spray bottle with water and thoroughly wet the surface. Ensure you don't over soak your cardboard.
Step 3: Load the cardboard
Place your warped piece on a sturdy and flat surface, such as a tabletop or countertop, and weigh it down using heavy objects to prevent curling up during drying. After three days, your painted cardboard should be free from curls. If not, repeat steps 1, 2, and 3.
Using Cardboard for Painting
Why would you use cardboard to paint? Materials for creating art can quickly mount up. Many individuals appreciate repurposing old cardboard since it's both cost-effective and lightweight.
It does, however, provide an excellent foundation for painting. It's also a wonderful low-budget canvas. Cardboard is a fun and easy-to-use art painting material or for creative DIY projects.
You may destroy the artwork without spending a lot of money after it's completed or if it doesn't appear as expected. It's tough enough to paint on, with the ability to start over or make mistakes available if you want to do so.
Cardboard may help you play and feed your creativity. Because the medium is different from cartridge paper, experimenting with a new material might be an exciting adventure.
You may also use cut-outs to add height or more darkness and depth to the composition by gluing them to a cardboard box painting.
Read: Best black paint for wooden furniture.
FAQs
Can you use cardboard as a paint palette?
Yes, you can use cardboard as a paint palette. If it's for a small project and you're in a pinch, cardboard is as good as anything else I've tried. You might need to use thinner than normal or scrub your paints off the cardboard more thoroughly when you're done because it's not porous like hardwood is, but if you need something cheap and durable anyway, it works well enough.
What kind of paint do you use on cardboard?
Acrylic and spray paint are two of the greatest acrylics for cardboard. However, use gesso to prime the surface first, followed by several paint layers for optimum results. This helps to avoid warping.
Read also: How to paint knotty pine.
Can you paint cardboard with chalk paint?
Yes, you can use chalk paint on cardboard, but it's not recommended. Painting anything with chalk is a poor idea for the same reasons that painting anything without primer is. It won't look good with too much moisture exposure, it is prone to scratch. If you must use it, ensure you equip yourself with tips to avoid chalk paint from scratching.
Find out more if chalk paint is waterproof.
Can I paint cardboard with wall paint?
No, you can't paint with wall paint on cardboard because it's not meant for your cardboard surface. It might peel off the next day or look icky.
Related Post: Can I use wall paint on furniture?
Can I spray paint a cardboard box?
Yes, you can spray paint a cardboard box, but you need a cardboard box made of the finest quality raw materials. These boxes are not meant to be painted with wall paint, so it's better to use spray paint.
Do I need to prime cardboard before painting?
Yes, you need to prime cardboard surfaces before painting because it's a porous and absorbent material. Priming with gesso will help your paint stay on for long, so your artwork won't fade easily.
Can acrylic paint be used on cardboard?
Yes. As long as you seal the cardboard beforehand, then acrylic can be used on it. However, if you're looking for oil paint for your acrylic, don't do that. It doesn't look good on cardboard, and it will give off an unpleasant odor.
Conclusion
Cardboard is a cheap, easy, and lightweight material that can be used for many projects. How to paint cardboard varies from project to project, depending on the type of painting you're doing.
With these tips and tricks, your next project will turn out perfectly.
Have fun while at it!
What to Do Next?
If you're looking to add a touch of luxury to wood surfaces, here's the best gold spray paint for wood that I recommend. It can be used on furniture, floors, walls and even ceilings. Gold paint can be tricky to work with, but it can create a stunning look when done correctly.