Wood has many applications in vegetable gardening. For example, we use it to create raised beds and form the edges of paths throughout the garden. Additionally, most garden benches are wooden, and we use wood frames to create the networks for protective netting.
Unfortunately, we need to stain the wood to protect it from extreme weather, pests, and agents of rot and decay.
So, that leaves us with a big question – is wood stain safe for vegetable garden and soil? Is it safe for us? Let's find out.
Is Wood Stain Safe for Vegetable Garden?
No, wood stain is not safe for vegetable garden. They can cause many health issues, from breathing to heart issues. Nevertheless, some wood stains are food-safe and not harmful to your vegetable garden. These stains are usually labeled "non-toxic."
Advantages of Staining a Raised Garden Bed
Although stains can be harmful, staining the wood you wish to use to build raised garden beds is important for several reasons;
Aesthetic reasons: Wood stains improve the wood's aesthetic appeal, resulting in a more attractive garden. This is critical as our gardens are both functional structures and home-beautifiers.
Wood protection: Stains protect the wood from external elements, including weather (sunlight, rain, UV, etc.) and insect and pest attacks. Stains also protect the wood from rot and decay-causing microorganisms.
Extended life: By protecting the wood from exterior agents, stains prolong the wood's lifespan, thus the garden's life.
How Long Does Untreated Wood Last in Raised Garden Beds?
The longevity of an untreated wooden garden bed depends on the type of wood. Naturally, rot-resistant woods, such as cedar, can last 20 years without treatment as their natural oils enable them to withstand pests, decay, rot, and weather elements.
Meanwhile, woods that aren't naturally resistant to external elements can only live five years on a raised garden bed.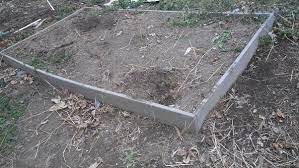 How Long Does a Treated Wooden Garden Bed Last?
Depending on the wood type and treatment frequency, a treated garden bed can last 20+ years. Generally, frequently treated woods last the longest. For instance, a wooden garden bed treated every two years easily lasts 20+ years.
Here is a detailed guide on how long is stain good for to assist you in making informed decisions about using and storing wood stain effectively while ensuring the best results for your projects.
What Type of Wood is Safe for Vegetable Gardens?
Cedarwood beds, especially beds made from western red cedar, are the best wood for raised garden beds. It's a naturally strong wood that's often used in construction projects. So, it's naturally durable.
But more importantly, a cedar raised bed contains natural oil that repels pests and insects and shields the wood from rot and decay-causing microorganisms.
Best Natural Oils for Garden Beds
Natural oils are your best choice when shopping for a wood stain for planter beds. Some of the best products here include;
Pure tung oil
Dark tung oil
Pure linseed oil
Hemp Oil
Hardwax Oil
Walnut oil
Safecoat Naturals Clear Penetrating Oil
Best Eco-Friendly Stain for Garden Beds
Besides natural oils, you can safely use some bioengineered wood stains on a raised bed garden without adverse effects. The best food-safe stain for planter boxes are;
1. Vermont Natural Coatings Exterior Penetrating Wood Stain
Vermont Natural Coatings PolyWhey Exterior Penetrating Stain...
RICH COLOR: PolyWhey Exterior Penetrating Stain delivers color & waterproofer deep into wood for increased protection and durability.
PROTECTS WOOD: Protects wood projects against moisture and harmful UV rays to prevent rot and decay by creating a non-toxic, waterproof barrier.
BIO-BASED: By using whey protein as a co-binder, PolyWhey leverages a renewable resource to deliver the safest and most durable paints, stains and finishes on the market.
The exterior penetrating wood stain from Vermont Natural Coatings is a water and heat-resistant formula made from natural ingredients for beautiful exteriors and long-lasting durability.
Moreover, it's a low-VOC product that only requires two coats for maximum surface protection. However, you must apply the second coat while the first one is still damp, as the second coat may not properly penetrate a fully dried first coat. Also, remember to sand the surface for maximum adhesion.
The stain applies easily with a brush, paint, or foam pad. You can also spray it if you wish. Make sure to apply with the wood grain – without thinning.
2. Ecoprocote Eco-Poly Finish and Sealer
Eco-Poly Polyurethane Sealer, Floor Finish, Wood Floor...
HIGH QUALITY SURFACE FINISH: Our polyurethane sealer for wood, floor, and concrete surfaces provides scratch, crack, moisture, UV and chemical resistance, ensuring a long-lasting sheen for your indoor and outdoor projects.
WATER-BASED, LOW ODOR: Made with water-based polyurethane, this gloss finish sealer is virtually odorless and dries faster than oil-based counterparts.
MULTI-LAYER PROTECTION: The Eco-Poly sealer is formulated to be highly durable. For best results and optimum sealing, apply a minimum of two coats on the surface for an elegant gloss finish.
Eco-Poly is a polyurethane sealer that provides scratch, moisture, and UV resistance. It's also resistant to chemicals and can be used for indoor and outdoor projects.
The water-based formula is a low-odor solution that provides a fast-drying gloss finish. We also love that it's made from advanced sustainable materials for a bio-renewable product, free of toxic gassing, VOCs, and Red List chemicals.
Use a quality brush, pad applicator, microfiber mop, or lambswool applicator for a high-quality finish. You need two coats spaced 15-60 minutes apart. The final coat takes 24 hours to cure fully.
3. Hope's 100% Pure Tung Oil
Sale
HOPE'S 100% Pure Tung Oil, Food Safe, Premium Waterproof...
Easy to Use - Tung oil is a natural oil recognized by craftsmen to offer the ultimate hand-rubbed finish for all fine woods; just wipe on and allow the oil to cure at room temperature
Permeates - Unlike other finishes that form a film on the wood's surface, tung oil penetrates deep into the wood fibers, cures to a flexible non-oily solid, and becomes part of the wood itself
Protects - Resistant to moisture, alcohol, oil, and everyday wear for lasting beauty and protection; lasts many times longer than mineral oil and wax based products
Hope's 100% Pure Tung Oil is an all-natural penetrating oil that permeates deep into the wood fibers to nourish the grains and become a part of the wood.
The non-toxic finish is resistant to moisture, alcohol, oil, and daily wear.
Feel free to use the leftover oil on unfinished wood, countertops, concrete, brick, stone, and more.
4. Dark Tung Oil from the Real Milk Paint Store
Real Milk Paint, Dark Tung Oil for Wood Finishing, Cutting...
100% PURE - Dark Tung Oil for wood finishing. Dark Tung Oil provides a dark matte, and waterproof protective finish. Achieve an aged look on a variety of wooden surfaces
MULTIPLE USES - Use the wood oil for finishing countertops, bowls, butcher blocks, cutting boards, chopping blocks, unfinished wood furniture, decks, wood siding, wood flooring, concrete, and brick
FOOD GRADE - Safe for food contact. A great penetrating oil for use on wooden kitchen items such as chopping boards
Dark Tung Oil is a versatile oil that provides an aged dark matte protective finish on wood surfaces. So, it's the perfect choice if you wish to make your cedar beds a little darker.
It's also a waterproof food-grade penetrating finish for kitchen countertops and utensils.
The finish contains zero VOCs, heavy metals, additives, or distillates.
5. Linsheen Raw Linseed Oil
LinSheen Raw Linseed Oil – Flaxseed Wood Treatment...
NATURAL WOOD FINISH - Raw Linseed wood refinishing oil absorbs into the wood's grain, enhancing the natural color and the texture of the grain
PRESERVE & Treat - Raw Linseed wood oil penetrates deep into the grain to help ensure its longevity
HAND-RUBBED OIL POLISH - A craftsman's favorite wood treatment; safe for use on furniture, floors and even your favorite boards
Linsheen's raw linseed wood refinishing oil absorbs into the wood, enhancing the color and improving surface texture.
The penetrating oil also nourishes wood grains for maximum longevity.
Gently hand-rub the oil onto your planter bed to protect it from elements without inherent safety concerns.
6. Natural Hemp Oil from the Real Milk Paint Store
Real Milk Paint, Hemp Oil for Wood Finishing, Cutting...
MATTE - Our Hemp Seed Oil is squeezed from industrial hemp plants with a light nutty aroma. The Hemp Oil wood conditioner provides a non-glossy matte finish
MULTIPLE USES - Use the wood oil for reviving old wood finishes, finishing countertops, wooden utensils, butcher blocks, cutting boards, unfinished wood furniture, over milk paint, and chalk paint
FOOD GRADE - Safe for food contact. A great penetrating oil for use on wooden kitchen items such as chopping boards and wooden utensils
Hemp seed oil is extracted from industrial hemp plants and professionally prepared for a durable, non-glossy matte finish.
It's a water-resistant product that partially dries in 7-10 days and cures fully in 15 to 30 days.
The all-natural, food-grade penetrating finish is VOC and solvent-free.
7. Seal It Green Garden Box Sealer
Garden Box Sealer | FDA Food Contact Safe Plant-Based Wood...
GARDEN BED WOOD SEALER - For Use On Cedar And All Wood Types Used In Raised Bed Gardens. Deep Penetrating, Natural Oils, Bond With Wood Fibers To Protect Wood For A Decade Or More.
NON-TOXIC - Plant Based With No Toxic Chemicals That Can Leach Into Your Garden's Soil
FOOD, PLANT, PEOPLE, PET SAFE - FDA Food Contact Safe Ingredients. No Toxic Chemicals To Harm Your Plants, Vegetables, You Or Your Pets. Ingredients You Can Cnderstand (Plant based curing oil, plant based carrier oil plant based penetrant, plant based surfactants). ALSO GREAT FOR PET PROJECTS. Seal Your Chicken Coop, Dog House, Bird House Or Bird Feeders
Finally, you want to take a look at this garden bed wood sealer from Seal it Green too.
It's a deep-penetrating natural oil that bonds with wood fibers to protect the wood for 10+ years.
In addition, it's a non-toxic finish that won't harm your vegetables, pets, or you. Use the remaining stain to protect bird feeders, dog houses, and chicken coops.
Toxic Wood Treatments To Avoid for Raised Beds
We've identified a few toxic treatments you want to avoid, as they're considered unsafe for humans.
Pressure-treated wood: Never use pressure-treated wood for vegetable gardens, no matter the wood species. The chemical treatments contain unsafe products, including arsenic and xylene, that can leech into the soil, causing untold health consequences.
Creosote-treated wood: Creosote is an old-age preservative used by our ancestors to preserve wood and food. Unfortunately, it's been withdrawn from sale in the domestic EU market due to cancer links.
Woods treated with oil-based preservatives: Oil-based preservatives penetrate wood excellently, providing deeper protection than traditional paint-on preservatives. Indeed, they're the basis of many wood stains. Unfortunately, the manufacturers rarely list the full list of ingredients, making it impossible to know whether their products are safe for humans.
Wood treated some with water-based preservatives: Finally, some water-based boron preservatives are widely considered safe for humans and come in paints and gels. However, these products are highly water-soluble and easily leech into the soil.
Other Ways to Stop Wooden Beds from Rotting
Choose naturally rot-resistant wood species: Cedar, redwood, mahogany, and bald cypress are excellent choices.
Reduce contact with garden soil: Ground contact increases the risk of rot, decay, and pest attacks.
Promote good drainage: A few tips include fluffy, moist, well-draining soils and draining holes. Additionally, never seal the bottom of the bed.
FAQs
Is wood stain toxic to plants?
Yes, wood stain is toxic to plants. The preservative chemicals in wood stains can damage plants. In addition, wood stains can block the plant's leaves and stems from soaking up the sunshine or the plant's roots from absorbing water and nutrients.
What kind of stain is safe for garden beds?
Pure raw linseed oil is the safest stain for garden beds. It's completely free of additives and, therefore, 100% safe for your garden plants. Pure tung oil extracted from the tung tree is another excellent option. Fortunately, you can find raw linseed and tung oils in many formulations to suit your needs.
Is MINWAX wood finish food safe?
Not necessarily. While some MINWAX finishes are food safe, most aren't. Even worse, most MINWAX wood finishes aren't tested for food safety. Therefore, it isn't easy to know which is safe and which isn't. For this reason, only treat MINWAX finishes as food safe if the label says it's "food-safe." (Here's a more detailed guide on food safe finishes on wood).
Do I need to stain my raised garden bed?
No, you don't need to stain your raised garden bed. However, staining is beneficial if you wish to make the wooden bed last longer without using a liner. Additionally, staining subtly alters the wood's natural appearance, increasing its beauty.
Can staining a raised cedar bed affect the plants?
Unfortunately, yes. Staining raised cedar wood for planters can affect the plants. First, you'll notice brown spots on the leaves and fruits if the stain touches the plants. Additionally, the chemical reaction between the soil and the stain can produce devastating consequences, such as altered soil pH.
Can you stain the outside of a raised garden bed?
Yes. You can stain the outside of a raised garden bed if you pick your stains carefully. First, get a wood stain designed specifically for garden use. These stains add excitement to the garden without introducing harmful chemicals. Secondly, be careful when staining. You don't want to spill the stain everywhere.
What next? Read our comprehensive guide on polycrylic and food safety to find out more about this wood finish.
So, Is Wood Stain Safe for Vegetable Garden?
Staining wooden garden beds are beneficial for many reasons. For instance, it beautifies the garden beds, shields the bed from pests and insects, and keeps rot and decay agents at bay.
However, prioritizing non-toxic stains for wood staining is even more crucial to ensure the safety of the environment and the plants.
Now check out our guide on food-safe polyurethane spray and don't forget to leave a comment to share your thoughts or ask any questions you may have.