The thought of priming a surface before getting to the painting part seems unnecessary for many people.
This is why so many individuals feel overjoyed over the prospect of a paint and primer, all in one go. Since they no longer have to use a primer, they would cut their work in half.
But what exactly do you know about the best paint and primer in one combo? Well, as a fellow paint enthusiast, I have some info for you – so, keep reading.
In a hurry, here are our top three primer paint recommendations.
Best Paint and Primer in One
What Is a Paint and Primer in One?
A paint and primer in one combines both products, eliminating the need to wait for the primer to cure separately. In short, it is a paint that has primer in it.
It should save you the time you spend priming the surface and spare the time you have to wait afterward.
It's thicker and builds higher in comparison to regular paint. When you are painting all the walls, you won't need the first coat of primer anymore. All you will need is 2-in-1 paint and primer.
What's the Work of a Primer?
Now, before we get into what a primer in one paint is, you must understand what the standard primer is. A primer is a component that comes before the top coats of paint, and serve the following purposes;
Cover imperfections such as water stains on the wood cabinets, cigarette smoke, or irregularities that would show through the new color. Of course, for great results, you must consider the best cabinet wood for painting.
Acts as a layer between the surface and the actual color.
Acts as a gratification for the painting – a process that will encourage paint adhesion. The primer is not the final color of the surfaces you have to paint. As surprising as it might seem, it is not a protective layer either.
Preps the surfaces that can't handle new paint well. When you try to apply new paint directly on some surfaces, it may start to bleed or creep into the porous crevices. Such surfaces include:

Bare wood and walls of a porous nature
Metals with no coating
Masonry
Raw wood
Drywall
In the end, the purpose of the primer is to even up that surface so that you no longer see these imperfections after painting. When you use a paint color after the primer, the result will look smooth, without the bumps that appear on the raw material.
How does all in one paint and primer work?
Paint and primer in one is a product that merges two DIY processes in one. It takes away the two-part procedure of;
Self priming and waiting for the primer to dry.
Painting once the primer is dry
The best part? You can paint on the colored formula directly.
A paint and primer in one gives you a thicker paint to work with, offering you stain blocking properties with a higher build.
When a paint and primer in one product dries, the final two coats will be thicker than standard paint. Because of this, it seems like it covers similarly to regular paint.
Is paint and primer in one good?
Yes, paint and primer in one can be a good option for interior walls that are clean and well-maintained. This type of product can provide you with better coverage and adhesion than traditional paint, and it can also help you save time on your painting project.
Paint and primer in one is considered to be a time saver. Still, whether it is considered "good" or not will depend on:
The results you wish to achieve
The state of the surface you're painting over.
Here is the caveat;
When you use a primer, you are basically flattening a surface. As a result, you'll no longer have the pores that will create indentations on the surface when it dries.
The application of paint is also smooth because you are working with thin layers. This will reduce the chance of the paint bleeding.
In a nutshell;
Does Paint and Primer in one Work?
Paint and primer in one do work with much thicker coats. Even so, as the paint and primer product dry, they don't have a base to follow. So unless you have a particularly thick and quality paint formula, you might still see the indentations in the paint. Therefore, for a professional paint job, apply a primer before painting.
Moreover, the thicker the self priming paint, the higher the chances of bleeding will be. So if you don't paint the right paint primer in thinner coats, you might end up with some ugly bleeding points.
This could be especially the case for walls, where thicker paint tends to drip (or "bleed").
When Would You Need a Paint and Primer Combo?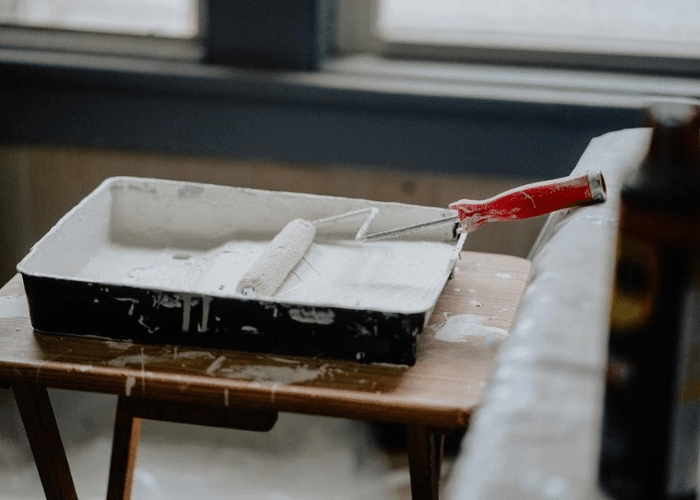 In certain circumstances, you might not even need a primer at all. You require one or two coats of paint to refresh the dark colors and make the surface look nice and even. This is the case with kitchen renovations when refreshing the paint color of the cabinets.
Usually, you would have to patch up every surface, use a primer for its stain blocking properties, and then apply a self priming paint mix after the primer is dry. With that in mind, a primer and paint in one can sometimes be enough.
Therefore, you need a paint and primer in one;
When repainting a room such as a dining room in the same light colors. In that case, matching paint and primer in one should be enough.
If you're painting on bare drywall.
If the surface you're painting already has a layer that is not chipping.
When you want to prevent bleed from occurring.
Will It Save You Money If You Use Primer Paint?
Some people might want to skip primer and use paint and primer in one instead or use a cheap paint. This option seems less expensive when they have a paint job. However, what you need to keep in mind is that primer paint is usually more expensive.
Even if you work by the gallon, primer and paint in one might not save you money in the long run. Paint and primer in one product will add more in other areas.
A typical gallon of self-priming paint costs around $25. Add a second coat (which you will certainly need), and the price will go up to $50 or more, depending on the paint weight per gallon.
Many painting tips from professionals suggest that primer and paint in one will save you a lot of time. However, this self-priming paint option might not be the easiest thing for your budget, even if you skip the self-priming stage.
On the other hand, a gallon of primer costs around $12, whereas a gallon of simple latex paint is about $17.
Even if you add two coats of separate primer and two layers of paint, you'll still get about the same price. All it will save you is time.
Which is the Best Paint and Primer in One
We've spent hours researching customer reviews, expert advice as well as these self priming paint themselves. With this information, we bring the list of the three best primer paint in one.
1.
Best paint with primer for walls

– Prestige Paints Interior paint primer in one
PRESTIGE Paints Interior Paint and Primer In One, 1-Gallon,...
Prestige Paints has created a comparable Color based on Color specifications of the original Color using industry leading technology
This Benjamin Moore paint Color Name is a trademark of Benjamin Moore. Prestige Paints is not associated or affiliated with Benjamin Moore in any way
Smooth application ideal for living rooms, family rooms, media rooms, bedrooms, dining rooms, kitchens and hallways
If you are looking for a self priming paint color similar to the Benjamin Moore paint manufacturer, then you might want to consider this paint and primer from Prestige.
You may use this premium paint over wood, metal, or any other porous surface you might have in your house.
If you have wood cabinets or some other project that needs a re-touch, then this paint and primer in one will cover any stain. Its thick consistency will provide coverage even with porous surfaces and tougher stains.
Since this benjamin moore regal select paint and primer in one is quite thick, you can only use it with a brush, as paint sprayers might get clogged. The self priming paint should stick without any issues, taking the need to prime away.
PROS
Thick paint consistency that encourages adhesion
Works as both interior and exterior paint
Smooths down the surface even without a primer
Perfect for wood, metal, walls, bare drywall, and other surfaces
CONS
Painting with a sprayer cannot be done
Might require more than one coat
---
2.
Best primer and paint in one for wood

– THE ONE paint & primer in one

Sale
THE ONE Paint & Primer: Most Durable Furniture Paint,...
A LITTLE GOES A LONG WAY: Great coverage saving you time and money. Long-lasting durability, little-to-no prep work required for wood (just clean first). Suitable for interior and exterior painting projects.
PAINT AND PRIME: A Strong durable 2-in-1 means less work, save time and money, thanks to the paint's thick, luxurious formula
MULTIPLE SURFACES: For furniture, wood and laminate cabinets, crown molding and trim, wood, metal, plastic, brick, stone, concrete and more
Whether you need a semi-gloss paint and primer in one with a light or dark color, this option should offer you multiple possibilities. The pigments of the self-priming paint are rich, which means you will get a smooth color once it dries.
The formula for this paint and primer combo is quite thick. This means you need only one coat of paint, no matter if you are painting walls, wood, bare drywall, glass, or glossy surfaces.
Specialists providing painting tips suggest that you leave the formula to dry for about an hour. This drywall primer is still a self-priming paint that dries quite easily. You will need one hour to apply two extra coats of primer and paint in one.
PROS
The paint is easy to apply
Very small chance of bleed
Multiple rich color choices
CON
It might require multiple layers even for dark colors
---
3.
Best interior paint and primer in one

– Glidden Interior primer and paint in one
Glidden Interior Paint + Primer: Gray/Phoenix Fossil, One...
One Coat Coverage - Glidden One Coat Interior Paint & Primer has exceptional hide and stain block which means you need fewer coats to hide your common stains and make your walls beautiful.
Makes Walls Washable - Exceptional scrubbability and washability make sure that if anything does get on your finish, it can handle the scrubs to get it off.
Colors Chosen By Experts - These hand-selected beautiful Gray and Black Paint Colors make Glidden One Coat Interior Paint perfect for use in every room of your home.
If you are looking for a good paint and primer option that works on both interior and exterior, you might want to consider this bonding primer paint. This inexpensive primer can cover any stain and its latex consistency will offer easy coverage with a brush.
This exterior primer paint can be used on any surface, from wood to fresh drywall and any other material. It is the perfect self priming paint to use if you wish to paint your cabinets or change the color of the new drywall.
This paint with built-in primer is thick enough that you will only need one coat. You may require energy applying multiple coats if you are self priming and painting over a different color.
Unlike many other paint and primers combo options, this drywall primer and paint one does not smell too bad. This makes the paint primer perfect for any room, whether it is the kitchen or the living room.
PROS
The paint and primer in one has excellent adhesion
Perfect for painting surfaces such as wood or drywall
The color varieties allow for a paint job on both light and dark surfaces
Professional quality paint and primer that covers areas stained by smoke
CON
The color can be off for certain primer paint options
---
FAQs
Can I skip priming if I use paint and primer in one?
As long as you are painting over a surface that has already been primed and painted before, you may skip self priming. However, you will have to use quality paint and primer in one, preferably oil based primer.
If you have tougher smoke stains or other visible stained surfaces, the advice is that you use a separate primer as well.
Can't I Just Use Regular White Latex Paint as Primer?
No, because white latex paint does not encourage the same adhesion and stain-blocking properties as a primer.
The primer is more concentrated in solids, has bonding properties, and also works to seal the surface. Unlike regular premium paint, bonding primer helps provide a smooth finish for your project.
Recommend Reading: Can You Paint Furniture With Wall Paint?
Does Paint and Primer in One include Actual Paint in the Formula?
While paint and primer mixed in one does merge two different processes, it does not mean that it mixes the same two formulas. Paint manufacturers actually have acrylic resin included in their formula.
This acrylic paint will increase the consistency of the self priming paint, promote good adhesion, and eliminate the need to prime the interior walls or other porous surfaces.
Read More: Can You Use Concrete Paint on Wood?
What paint to use on Woodcrafts?
There are a few different types of paint that can be used on wood crafts. Some people prefer to use oil-based paints, while others prefer water-based paints. It really depends on your personal preference and the type of woodcraft you're working on. If you're not sure which type of paint to use, you can check our review of the best paint for wood crafts.
Can I use primer as paint?
No, you should not use primer as paint. Primer is particularly meant to bond with paint and not permanently expose it to the environment. If you use it as paint it's likely to get damaged very fast by weather elements, human and animal activities.
Read: Oil based primer vs water based primer
If paint has primer do I still need to prime?
Absolutely. It is advisable to apply primer first to prepare the surface and seal it well for paint to adhere well. It does not matter if the paint has primer or not, make sure to use a primer first. Otherwise, your efforts and time will go to waste if you skip using a primer-sealer.
Can you prime over paint?
Yes, you can prime over paint for your paint to bond to the new layer. In case you're planning to use oil-based paint, it will not adhere well to your existing paint layer unless you prime your surface. This will seal any stains and give you a smooth and clean finish.
Does Behr paint and primer work?
Yes, Behr is a self-priming paint that works pretty well. However, it's perfect for interior walls that are well maintained, clean, and have been sealed in the past. Plus, it's better if you are painting a dark color over a light one. For major changes, it's better to stick to applying normal coat of primer first as it is cost-effective.
Does paint have primer in it?
No, paints do not contain primer in them. Modern manufacturers, however, produce self-priming paint, also known as paint and primer in one, for instance, BEHR. While this product has proven to work, it's recommended to use paint and primer in one mostly on interior walls.
What is the best oil-based paint and primer in one?
The best and most commonly known oil-based paint and primer in one is Kilz Tribute Paint and Primer. This product offers a subtle, flat finish and resists dirt with a scrubbable film for easy cleaning. It's also known for exceptional durability and exists in a variety of colors.
Paint and primer vs primer
The difference between paint and primers is, primer's basic function is sealing and stabilizing the surface before paint application, yet paint and primer in one builds up to prepare the surface for the final coat to look like a bright smooth finish. Overall, paint and primer doesn't seal fresh wood and drywalls like primer.
Can you prime and paint on the same day?
Primers that take less than 24 hours to dry, so you can proceed and paint on the same day. Examples are latex primers which are okay to paint within the same day as they dry to touch between 30-60 mins. However, you should wait at least three hours, so that the primer dries thoroughly before applying paint.
Can you use paint as a primer?
Yes, you can use paint as a primer in two distinct ways. First is thinning the paint you will be using as a top coat. This is a cost-saving method if you are painting wood or dry surface. Alternatively, you use self-priming paint, normally thicker than regular paint. All in all, it's preferable to use primer and paint separately.
Paint with primer in it Summary
Paint and primer in one may eliminate the need to prime, but you must also make sure you use it on the correct surface. While it can be used on painted materials that haven't peeled or chipped, you might want to refrain from using it on damaged surfaces.
Prep the surface well before you use primer in one paint. Even if you are not using the actual primer, you still need a clean surface for proper adhesion.
If can't get the paint and primer in one, find out whether you can mix paint and primer.