Is it the right choice to use pressure-treated wood for outdoor furniture? At first glance, it is. Pressure-treated wood or pt wood/pt lumber has injected preservatives.
These make the wood reliable, moisture, fungi, decay, and insect-resistant. Hence, it makes sense to have treated wood outdoor furniture.
The question remains, is pressure-treated wood safe for outdoor furniture?
This post will answer this; discuss applications where treated wood is suitable, and look at alternatives to treated lumber for outdoor furniture.
Is Pressure Treated Wood Good for Outdoors?
Yes, it's good to use pt lumber outdoors, including outside wood shutters and outdoor furniture.; most especially ACQ or alkaline copper quaternary treated wood, which is the safest among preservatives.
ACQ is non-toxic by normal, dermal, and oral exposures.
But is it safe to use pressure treated wood inside the house? Find out.
Is Pressure Treated Wood safe for Picnic Tables?
Yes, it's safe to use treated wood for a picnic table. New wood preservatives such as ACQ are non-toxic. The only question now is, how can you tell if wood is treated?
What is Pressure Treated Wood?
Ordinary wood is placed in a pressure chamber full of liquid chemicals to make pressure-treated lumber. The result is greenish or dark brownish wood; it has half-inch long splits on surfaces. This is where chemicals had been injected.
When to use Pressure Treated Wood
Pressure-treated wood is ideal in places that have a lot of moisture. These include buried underground and fence posts, retaining walls, and pressure treated lumber on concrete and masonry.
There're two main types of treated wood: above-ground and ground-contact.
Above ground use
Above ground, lumber is placed at least six inches above the ground. It's ideal as fence pickets, porch flooring, joists, beams, and deck railings, but not in tropical areas.
Yet the distinction between above-ground use and ground contact wood has gradually been disappearing.
The American Wood Protection Association (AWPA) recently stated that above-ground applications must now adhere to (UC4A) ground contact requirements when the wood is used in the following situations:
Difficult to maintain, repair or replace and are critical to the safety of the entire system/construction
At risk for poor air circulation
Likely to have prolonged contact with vegetation or damp leaves
Frequently exposed to moisture
Used in tropical climate
The AWPA classifies above-ground use in UC1, UC2, and UC3. UC1 and UC2 are for interior uses (UC1 is interior-dry, UC2 is interior-damp).
UC3A, on the other hand, is for protected materials, and UC3B is for exposed materials. An example of UC3A is the coated exterior millwork and trim, while UC3B is for decking materials.
Ground contact wood
These are designed to be in contact or buried in the ground. The wood has a higher concentration of chemicals, making it ideal for places that frequently get wet and have little time to dry, places with poor air circulation, and when building in tropical climate areas.
These can be used as fence and structural posts, wood foundations, and landscape walls.
Which Pressure Treated Lumber has low Toxicity?
Here's a look at wood preservatives that have low toxins:
Alkaline Copper Quat
For example, alkaline copper quat or ACQ – contains copper and a quaternary ammonium compound. Even though small amounts of copper and quat will eventually leach, the Environmental Protection Agency says the wood does not contain any carcinogen or anything hazardous.
ACQ wood is rot and insect-resistant. It's great for outdoor furniture, fence posts, gazebos, and picnic tables.
Some advantages of ACQ treated wood:
Water-based
Both an insecticide and fungicide
Has a dry, paintable surface
Copper Azole (CA)
It is ideal as material for a deck, playgrounds, railings, gazebos, landscaping, boardwalks, fences, and access ramps. Less toxic but potent against fungi, decay, moisture, and termites. The preservative in the wood is stable, regardless of the sun's heat;
Easy to maintain, best to apply water repellant to keep moisture protection properties
A pressure washer or deck cleaner can make the wood look new again
Over time, wood only turns to honey brown or gray
Pressure Treated Wood Safety
Newer preservatives may be safe, but other treated wood has nasty stuff, such as chromate copper arsenate or CCA.
Chromated copper arsenate (CCA)- made up of chromium, copper, and arsenic. CCA treated wood was the old school go-to wood for residential use in the 1970s, with its anti-insect and microbial properties.
Moreover, the Journal of American Medical Association report told a family's experience after using CCA-treated lumber in a wood stove.
Their hair fell out, and they had severe, recurring nosebleeds, extreme fatigue, and headaches. The parents complained about having blackouts, followed by long periods of disorientation. Children, on the other hand, suffered frequent seizures. That's why CCA wood has been banned for residential use and sale in home centers since 2003.
Also, be wary of ncyclohexyldiazeniumdioxy copper or Cu-HDO. This is poisonous to sea creatures; thus not allowed in marine areas and not for food packaging and making beehives.
Twelve levels of Pressure Treatment
The American Wood-Preserver's Association (AWPA) has identified twelve levels of lumber pressure treatment. These are based on the intended use of the product. For reference, here is a chart stating the categories and a description of where to use the different woods.
| | |
| --- | --- |
| Use Category | Brief Description |
| UC1 | Interior Dry |
| UC2 | Interior Damp |
| UC3A | Exterior Above Ground, Coated with Rapid Water Runoff |
| UC3B | Exterior Above Ground, Uncoated or Poor Water Runoff |
| UC4A | Ground Contact, General Use |
| UC4B | Ground Contact, Heavy Duty |
| UC4C | Ground Contact, Extreme Duty |
| UC5A | Marine Use, Northern Waters (Salt or Brackish Water) |
| UC5B | Marine Use, Central Waters (Salt or Brackish Water) |
| UC5C | Marine Use, Central Waters (Salt or Brackish Water) |
| UCFA | Interior Above Ground Fire Protection |
| UCFB | Exterior Above Ground Fire Protection |
Remember that the chemicals used in treating woods are fungicides, insecticides, and mildewcides. Here are some reminders when using treated lumber for outdoor furniture.
Proper Handling of Pressure Treated Wood
Here are our DIY tips on how to safely handle pressure-treated lumber. But, first, put on safety gear.
Safety gear
Tips for proper handling
Wear a dust mask, goggles and gloves when cutting or sanding.
Wash hands thoroughly using mild soap and water after handling the wood.
Separate the clothes you wore when working with the lumber from regular laundry;
Don't use treated lumber where these may touch fresh or drinking water.
Do not use treated lumber for mulch.
Do not use treated lumber in areas that come in contact with food, animal feeds or beehives.
Never burn pressure treated lumber. Sawdust and debris are equally toxic. Turn over excess treated lumber to landfill that can dispose it properly.
Make sure wood is clean and without residue before installing in patios, decks and walkways.
Wash exposed areas thoroughly after working.
Why Lumber should be Pressure Treated when used for Outdoor Projects
For an outdoor project, you should pressure treat the wood or buy pt wood that has been infused with wood preservative. These make it resistant to insects, water, other weather-related wear and tear, rot, and decay.
Moreover, we need to consider preserving forests when choosing a material for furniture. Tropical hardwoods such as mahogany, for instance, come from trees that are at least 200 years old.
Other advantages of using pt lumber include:
Strength – can withstand scratches and dents better.
Fire resistance- fire retardant chemicals in the lumber make it suitable for places near a fire (i.e., fireplaces).
Comes in various sizes – this makes it suitable for different applications. It comes in standard dimensional lumber sizes, such as two by fours, two by sixes, or tens. It can also be used for building decks, docks, and utility posts.
Easy to use – lightweight and can be easily handled. It can be manipulated using ordinary drills, saw, and fasteners.
Gives value for money – more expensive upfront but the protection infused in the wood gives you more value. For instance, Pitted against steel needs proper coating to avoid corrosion in certain places (in a place where moisture and water are abundant). But pt wood will not develop fungus and decay in the same location.
Easy to maintain – because of its durability.
Proper Maintenance of Pressure Treated Outdoor Furniture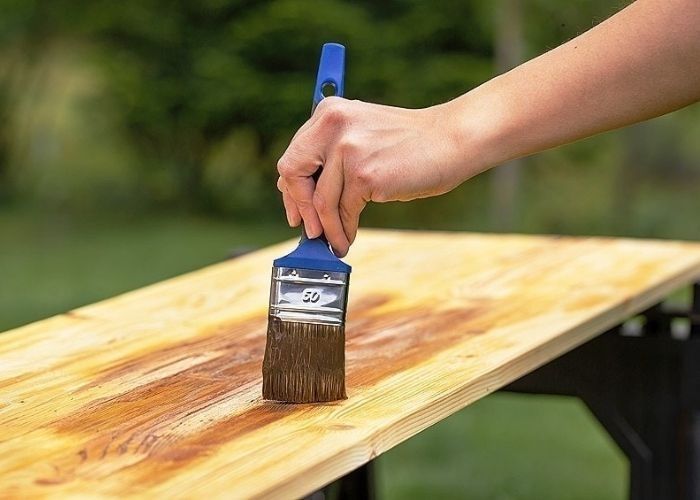 Given its durability and resistance to the elements and insects, it's easier to maintain treated woods than other woods. In addition, warm soapy water can clean the wood.
A soft brush and water mixed with dishwashing liquid or oxygen bleach for more stubborn dirt should do the trick.
To prolong your furniture's life, we suggest the following:
Sealing
Store in shade
Furniture covers
a) Sealing
Despite being treated, you'll need to apply sealants to keep moisture out. Plus, with the best sealant for outdoor furniture, you're sure chemicals will not leech.
Tips in sealing
Apply several coats of stain as soon as possible. Pay special attention to the end grain. Make sure the stain penetrates this for better protection of the treated wood.
Do this every year.
A clear or semi-transparent oil-based sealant highlights the wood's natural color. But if you want to change the shade, opt for a combination stain and sealant. A spar varnish is also a great choice.
Don't seal pressure-treated lumber that's already been stained.
b) Store in the shade during winter.
c) Furniture covers – to prevent exposure to excessive rain or sunlight.
What Wood to Use for Outdoor Furniture – PT Alternatives
If you're still worried about chemicals in pt wood, here is a list of outdoor woods that are fantastic alternatives. This non-treated lumber is a great substitute for pt wood — safe, durable, and have great finishes.
These other wood types offer a cozy vibe for your outdoor space. A great example is a black locust. It is rot and water-resistant; plus has anti-fungal properties, without needing any or more chemicals.
Black locust also looks good over time, changing from greenish-yellow to dark brown. These qualities are exactly what makes black locusts popular for use in parks and streetscapes.
Teak is also a great choice. It is also a pest and water-repellant and can last for decades. Teak is also low maintenance and has a beautiful finish.
Yet, teak is not readily available and is more expensive. In addition, the density of teak makes it difficult to drill, and because the wood has an oily surface, hard to glue.
Best wood for outdoor tabletop

– Cypress

Cypress is a softwood with natural designs. Plus, it repels water naturally, making it best for serving coffee or juices during casual meetings with friends.
Best lumber for outdoor furniture

– Redwood

Although pricey, redwood ricks all the boxes: moisture and rot resistance, resilience and toughness, insect resistance, and attractive, smooth grain. Redwood will also not warp nor shrink.

Plus, redwood keeps its appearance for a long time. Redwood is elegant and timeless, so you're sure your redwood project will never go out of style.

The drawback is that redwood is prone to bleeding into topcoats, so best to apply an oil-based primer to your redwood before painting and regularly put a sealer to maintain your redwood's finish.
Best wood for picnic table

– Western Cedar

Western cedar or western red cedar is tough and naturally rot-resistant wood. It's also weather and insect-resistant. These qualities make a cedar fence popular. In addition, it's the most preferred wood for outdoor projects, including picnic tables.

At the same time, cedar is resistant to mold, mildew, and decay for a long time. Cedar is also easy to work on. Cedar also glues easily. Further, cedar is fire-resistant. As a result, red cedar meets minimum fire safety requirements.

In addition to its good looks, it doesn't have too much heat. Cedar is also not prone to warping and sagging. That's why a cedar fence and picnic table can last for around 30 years.

These qualities make cedar the standard for picnic tables. Plus, it's easy to maintain. Regular cleaning and applying a sealant every two years will keep your cedar picnic tables in good condition for three decades.
Best wood for outdoor chairs

– White oak

Moisture, rot-resistant, and easy-to-work-on properties make white oak wood great for outdoor furniture, including Adirondack chairs. Make sure you regularly apply stains, and your lawn chairs for elderly will last for decades.

White oak is best known for being waterproof, owing to tyloses that fill the wood's pores. Thus, this is often used as a material for whisky barrels. This attribute sets it apart from red oak, which soaks up water.

Moreover, it's lightweight and durable. Plus, its attractive finish is perfect whether you plan to make Adirondack chairs or any other lounge chair.
Reclaimed wood
Besides the woods mentioned above, you can consider using reclaimed wood. First, this is chemical-free. It has become weather-resistant after being exposed to the elements.
Plus, the wood's history is a good conversation starter.
Douglas fir
Another good wood is douglas fir. This variety is not affected by changing temperatures and moisture. It doesn't dry, warp, or split when the weather becomes damp. Its disadvantage is its vulnerability to insects.
How to Choose Lumber for Outdoor Projects
Longevity
Choose woods that can withstand varying people's weights, moving around, and the elements. Besides these, watch out for termites, fungi, UV rays, water, and moisture.
You may elect to use treated lumber or preserved wood. Treated lumber for its anti-rot, UV, and insect resistance. On the other hand, preserved wood is inexpensive and comes with a long-term warranty.
Appearance
The right wood should look amazing and add coziness and value to your home. Further, it can be a good conversation starter for guests.
For this, note that treated lumber comes in different lumber grades. You have knot-free, close-grained grades on the high end, which we recommend.
Lower grades have more splits, knots, and wane. You can find these grades stamped on the wood, with the higher grade fetching a higher price.
To work around your budget, use high-grade wood for highly noticeable areas, such as railings and platforms on deck, your armrests, and a seat on outdoor chairs.
Preservative Treatments
Safety is the foremost consideration in using pt wood. For this, we recommend ACQ wood. ACQ is safest, is a water-based chemical preservative, bonds well with wood fibers.
Plus, the quat fights fungi, rot, and insects. Quat is a safe wood preservative, as it's used in household cleaners and disinfectants.
Protection
To know which suits your project, the industry established standard levels of protection. These standards tell us the amount of chemicals that the lumber absorbed after treatment.
The amount is measured in pounds of preservative per cubic foot of wood. Alternatively, you can check the wood tags that state its intended use (i.e., decking, above ground, ground contact).
Confidence
With treated lumber, you're sure your furniture will last. To be certain your pressure-treated lumber is authentic:
Purchase from a known brand
Check the warranty
The lumber should be certified by an independent inspection agency
Maintenance
As mentioned, it's easy to maintain furniture made of pressure-treated lumber. Clean with soap and water, apply sealant periodically, store in the shade and cover the furniture when not in use.
Environmental benefits
Using treated lumber lengthens the time before you need new furniture. Also, please take note that wood grows and replenishes itself every year. Moreover, by-products are produced during the wood manufacturing process.
Wood also scores high on the Life Cycle Assessment. LCA refers to a "holistic, scientific approach that considers the resources consumed and the emissions released during a product's manufacture, use, and disposal."
The only possible drawback is when you don't properly dispose of treated lumber with chemical preservatives. To dispose of properly, look for a local landfill or transfer station which will dispose of the lumber properly.
Related Post: What Do You Seal Cut Pressure Treated Wood With?
FAQs
Can you use pressure treated wood for dining table?
Absolutely! You should, however, put a table cloth, so the food doesn't directly touch the table. But, again, this is to avoid contamination.
Is pine good for outdoor furniture?
Using pine for outdoor furniture is good. One such example is the Southern Yellow Pine, known for its strength, density, and attractive finish. Plus, Southern Yellow Pine can withstand a lot of moisture. Keep away from low-grade pine typically found in big box stores. The qualities mentioned above are retained on treated pine. Pressure-treated pine or pt pine is easy to use termite-resistant. Pressure-treated pine lasts around 15 to 25 years and is versatile.
How long will pressure treated wood furniture last outside?
Furniture made out of pressure-treated lumber will last about 20 years. Depending on the weather conditions, you can add or take away five years. This will last longer if you store the furniture during the winter months.
Is pressure treated wood bench safe?
Yes, pressure-treated wood is safe as a material for a bench. However, don't let it touch ingredients when you prepare food.
Is new pressure treated wood safe?
Yes, new pressure-treated lumber is considered safe. New preservatives such as borate (made up of water-based mineral salt solutions) and ACQ have environmentally friendly chemicals. You only need to avoid animal feed and food to have direct contact with cutting boards to avoid contamination.
Can you use non-pressure treated wood for outdoor furniture?
Yes, you can use non-pressure treated lumber for outdoor furniture. However, if you choose these, best to apply protection such as sealers, stains, and paints to last the furniture.
Is pressure treated wood waterproof?
No, pressure-treated wood isn't waterproof. Moisture can still seep in. For this, you can apply a waterproof sealant or a combination of stain and sealant or polyurethane resins that will protect the wood from water damage. For more information, read our article "Is treated wood waterproof?"
Is Pressure-treated wood safe?
Yes, pressure-treated lumber is safe, especially for outdoor use. However, remember that wood preservatives are one form of pesticide, so treat it as such. Avoid using these as cutting boards and prevent food from directly contacting the treated wood to avoid contamination.
Can You Paint Pressure-Treated Wood?
Yes, you can paint pressure-treated wood, like other wood. But before you paint, ensure you dry pressure treated wood on the outside and inside. If painted wet, the primer and paint will bleed. It is best to stack the lumber in a cool, dry place in a crisscross pattern to dry properly.
Can You Stain Pressure-Treated Wood?
 Yes, you can stain pressure-treated wood. Kiln-dried wood will be dry at purchase and can be stained immediately. Staining helps preserve the treated wood's color and prevents warping and splitting.  
Does all pressure treated wood have arsenic?
Most pressure-treated wood doesn't contain arsenic. There're three varieties: CCA (chromated copper arsenate), the pesticide ACA (ammoniacal copper arsenate), and ACZA (ammoniacal copper zinc arsenate) that contain arsenic. But because arsenic is harmful to people, plants, and animals, these can only be utilized for industrial purposes.
Read also: Marine plywood vs treated plywood
Conclusion
It is safe to use pressure-treated wood for outdoor furniture. Most of the chemicals are safe for people, plants, and animals.
With treated lumber, your furniture will last longer, is protected against the elements, and is easy to maintain. Don't forget to apply a waterproof sealant or a combination of stain and sealant to keep moisture away and prevent warping and seeping.
These advantages tell us that treated lumber is better than untreated lumber. Happy woodworking and good luck.