Whether it's a DIY almirah or you require wood for construction purposes, pressure treatment is necessary.
You toughened your logs with preservatives and compression, so a pressure-treated wood sealer for cut ends seems redundant, doesn't it?
With pressure treatment being one of the most robust procedures to secure lumber exteriors, you might not feel the need to use post-compression protection.
But, what about the freshly exposed timber surfaces with recent cuts? As you trim a wooden piece, the central portion faces moisture damage and UV exposure despite the previous treatment.
Keep reading to ensure maximum protection for your wooden end-cuts!
Is There a Real Need for a Pressure-Treated Wood Sealer for Cut Ends?
Yes! While the aestheticism and functionality are preserved in pressure-treated lumber, it's still essential for protecting the surfaces. You will increase its durability with a sealer treatment and provide a better user experience in underground construction projects with preserved foundations. After all, it safeguards against humidity and UV rays.
What is Pressure Treated Lumber?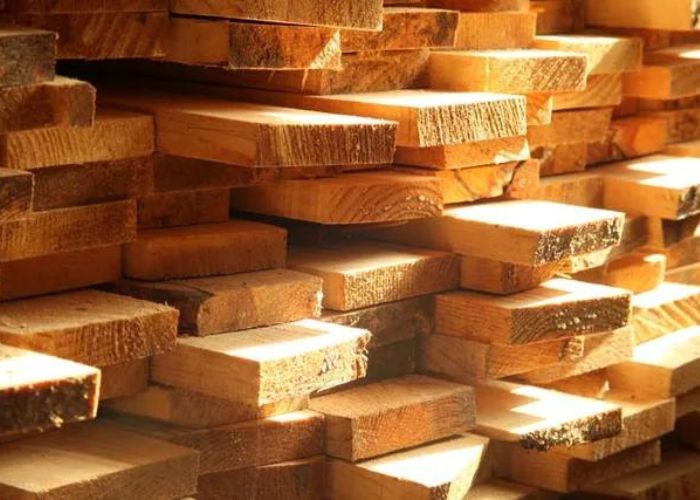 Pressure-treated lumber is wood that undergoes the process of wood preservation by injection of a chemical inside the timber and sealed using pressure.
The process of seal cut treatment involves rolling the wood boards into giant pressure tanks where the moisture-repellent chemicals are forced deep into them.
This procedure ensures the longevity and higher protection of the construction material through chemical treatment.
Moreover, the chemicals used for such treatment include copper green type C coating to preserve wood surfaces even underwater.
Why Should It Be Sealed?
Pressure treated wood for exterior use is essential in construction projects, not only to prevent decay and deterioration over time but also for various other reasons, particularly when treating wood with end cuts. Take a look!
The chemical sealant on lumber keeps insects, fungal decay, and micro-organisms infestation at bay.
The pressure-treated lumber keeps the moisture-induced rotting away and offers longevity in ground contact applications.
It prevents rain-water seepings and eventually stops cracks and warp formation due to swelling as seen in untreated wood.
Sealing the lumber adds to the protection and quality of the wood by deterring color fading. But first, find out what is the best primer for pressure treated wood.
What Do You Seal Cut Pressure Treated Wood With?
The mechanism of sealing with the chemical coat involves prepping the timbers by getting rid of debris. Additionally, you need to make sure that the previously injected preservatives are completely dry as well.
Now, depending on the final appearance of your wood boards, you can choose the sealant type and the number of coatings. Take a look at the tools and materials used for sealing as follows.
End Cut Sealant: Copper naphthenate is the most commonly used material for sealing timbers. Most chemical-based sealants carry 1% copper. Additionally, Oxine based products are also used to preserve the open ends of timber logs.
Brush: A generous swipe of the preferred chemical using a brush is what you need to coat your logs with. With that being said, it's essential to keep the manufacturers' instructions in mind before applying.
Abrasing Scrub: Before proceeding with the chemical treatment, ensure no debris hinders the sealing between the preservative layer and deck surface. Rubbing the cut end with a scrub works the best.
Note: If you want to check the rot resistance of your lumber, see the block's label. The pound of preservative per cubic foot of wood is a measure of the amount of chemical used, which directly translates into the strength of the wood.
Steps to Seal the Wooden Deck Boards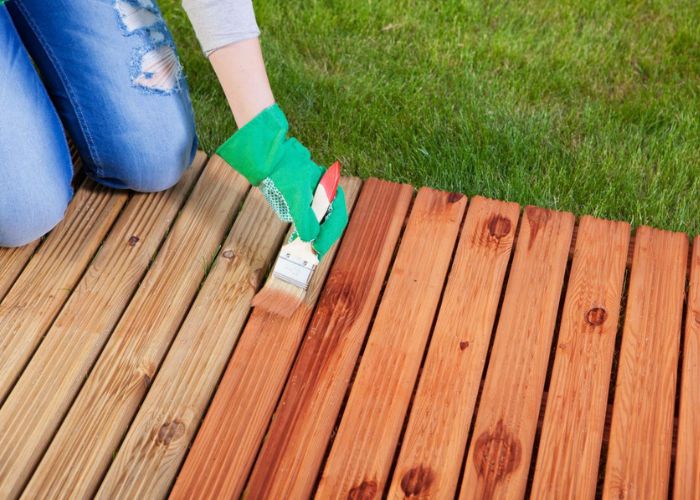 If you're wondering how to protect treated lumber, here's how you must proceed.
Step 1: Pick the right time for the end cut treatment
Knowing the right time to apply the sealing agent on your deck boards is as vital as preserving it. People often make haste while using the chemical for the decks' protection.
Essentially, the material used in the pressure treatment may take a long to dry up. Post which, only you're supposed to apply the preservative on the cut ends.
You can check your timber by pouring a water droplet on the surface. If a bead forms, your deck is ready to get coated.
Step 2: Select an appropriate board sealant
Depending on how you desire your decks to look, you should choose a particle board sealant. For a glossy appearance, you require an oil-based preservative, while to enhance the color, a combination coating of stain and sealant is a must for treating cut ends.
Read also: Best outdoor wood furniture protection.
Step 3: Clean your deck
Any debris or dust will act as a barrier to the complete absorption of preservative chemicals on your deck board. Additionally, any drilled holes can also contain junk which must be removed before the treatment.
Step 4: Apply your sealing agent
Take a brush or paint pad applicator and coat the surface with your chosen wood preservative. You must ensure to do a sample block testing before covering your favorite articles with the application.
Step 5: Dry it up
Leave your PT lumber alone for 24-48 hours. You might want to get instant access to your finished deck, but hurrying will ruin your hours of application.
Also read: Prime sealer for cedar wood.
Why Can't You Cut Pressure Treated Wood?
The simple answer is – It will make way for germs to get inside, making the treated wood rot from within. Basically, the treated lumber carries with it a huge amount of moisture.
The composition of the chemical forced into the wood holds water which needs to dry out before you can conduct any other process on the deck.
For example, when Douglas fir timber is pressure treated, the preservative forms a long-lasting bond with the wood to resist decay and moisture damage.
Immediate cutting of the treated lumber makes the process futile and prone to quicker deterioration. On top of this, the humidity will cause the splintering blade to slip and make haphazard cuts instead of a clean ones.
What is the Best ​Pressure Treated Wood Sealer for Cut Ends?
Pressure-treated lumber has been in use for a long time. However, the chemicals used nowadays offer a higher retention rate and enhanced protection to the end cut wood.
Here are three products to protect your decks!
1. Rust-Oleum 1904A Wolman
Sale
Rust-Oleum 1904A Wolman (Woodlife) CopperCoat Green Wood...
EPA-registered, insecticidal exterior wood preservative prevents attacks from termites and other wood boring insects while protecting against rot and decay
Transparent, natural green color
Designed to protect exterior untreated or pressure-treated wood in below ground, ground contact, fresh water contact, or above ground installations
If you're tired of the nasty stuff that termites do to your below-ground exterior wood, this one must be on top of your wishlist.
This 2.2 pounds weighing, the copper-based preservative is customers' first choice for both the pressure treated and non-pressure treated lumber. The product offers complete safety against fungal organisms' growth and the damage they impart.
Additionally, it also provides the stainable green coating feature, which lets you coat your preferred paint on top of this.
---
2. Ready Seal 512
Sale
Ready Seal 512 5-Gallon Pail Natural Cedar Exterior Stain...
Requires no primer. Ready Seal is darkest when first applied. It reaches its true color in approximately 14 days. Do not apply Ready Seal over painted or newly stained surfaces. Sealed surfaces inhibit penetration.
May be applied using sprayer, roller or brush onto the woods surface.
Requires no back brushing and will nerver leave runs, laps, or streaks.
Need a sealant, stainer, and sprayer all in the same purchase? The Ready seal offers you the convenience of the quick preservative application using a sprayer on the top of the basic functions other sealants have.
With the availability of 8 shades and 2 kinds of containers, you can pick any stain version to add to the aesthetics of your deck boards while securing the end cuts.
Moreover, the best part is – it is biodegradable. So, you can use it in any ground contact projects without any guilt of damaging the soil health.
---
3. Thompsons Waterseal
One of the most versatile stains and sealants available in the market is from Thompsons. You can utilize the Waterseal for an underground project and your regular wood safety.
With the waterproof semitransparent coating, it is sure to enhance the visual appeal of your Douglas fir while offering a robust protective covering. If you experience any Thompson Water seal's drying troubles, check out our guide.
Best of all, you can choose from a range of colors to coat your exterior wood furniture as well.
---
FAQs
How to cut pressure-treated wood?
Pressure-treated wood requires adequate precautions to be taken before beginning the sawing process. Other than letting the lumber dry out completely after applying the sealant, you must also wear protective wear. Now after marking the timber, start cutting the area while enabling full access to the blade.
Should I seal cut ends of pressure-treated wood?
Yes! Sealing the cut ends of pressure-treated wood stops any fungus or moisture from reaching the depths of the deck. Doing so prevents decay and damage to the lumber.
What to treat cut ends of decking with?
You can use various sealants available in the market to treat the cut ends of your decks. However, you need to pick one considering the application of your treated timber. The underground projects will require higher resistance from moisture than the above-ground ones.
How do you seal the ends of deck boards?
To protect your deck woods, it's crucial to have a water-resistant sealant. Usually, people prefer to purchase a wax-based stain to safeguard their timber from humidity and decay. If you're considering enhancing this protection further, the application of Thompson's Water Seal on stained wood might be worth exploring.
Can you put a sealer on pressure-treated wood?
Yes, you can. In fact, putting a sealer on pressure-treated wood further enhances the life of the timber. Additionally, the glossy finish adds to the charm of the wooden exterior.
Read also: What is the best sealer for pressure-treated wood?
Conclusion
Whether you want to add a colorful finish or provide a safety layer, using a pressure-treated wood sealer for cut ends is an excellent decision.
Besides aesthetics, the preservative coats ensure high moisture resistance. The rate of rot resistance is proportionate to the type and amount of chemicals used during the procedure.
That being said, keep in mind that a protective layering doesn't replace pressure treatment but supplements it. This layer secures wood areas from cracks and weathering.
So, if you want a lasting deck that your future generation will cherish, the added layer of safety coating is a must.
Now check out our other article on "How to seal shou sugi ban" for tips and guidance on preserving burnt wood.