If you've been working on wood and looking for options to give it an exquisite finish, you must have come across the concept of adding tint to polyurethane.
Tinting polyurethane is a process for creating a semitransparent or tinted top coat for floors, furniture, and woods.
Apart from adding a perfect finish to your product, it also adds ultraviolet protection (UV) and a protective layer to the furniture or floor without coloring it. You can even create different shades of colors!
Here's everything you need to know about tinted polyurethane and whether you can tint it.
Can You Tint Polyurethane?
Yes, you can tint polyurethane. You can add tint to the polyurethane to make customized colors for your wood furniture, woods, and floors. But, here's the catch — there is no step-by-step guide to get the exact color you want. You will have to go the trial-and-error way to get the perfect finish.
How to Tint Polyurethane
Tinting polyurethane is not a very complicated process. Before we go through the step-by-step process, here are few materials and tools you will need;
Tools
Sanding Block
Shop Vacuum
Materials
Automotive polishing compound
Automotive rubbing compound
Sandpaper
Tack cloth
Eyedropper
Wooden stir stick
Scrap wood
5-Step Polyurethane Tinting Process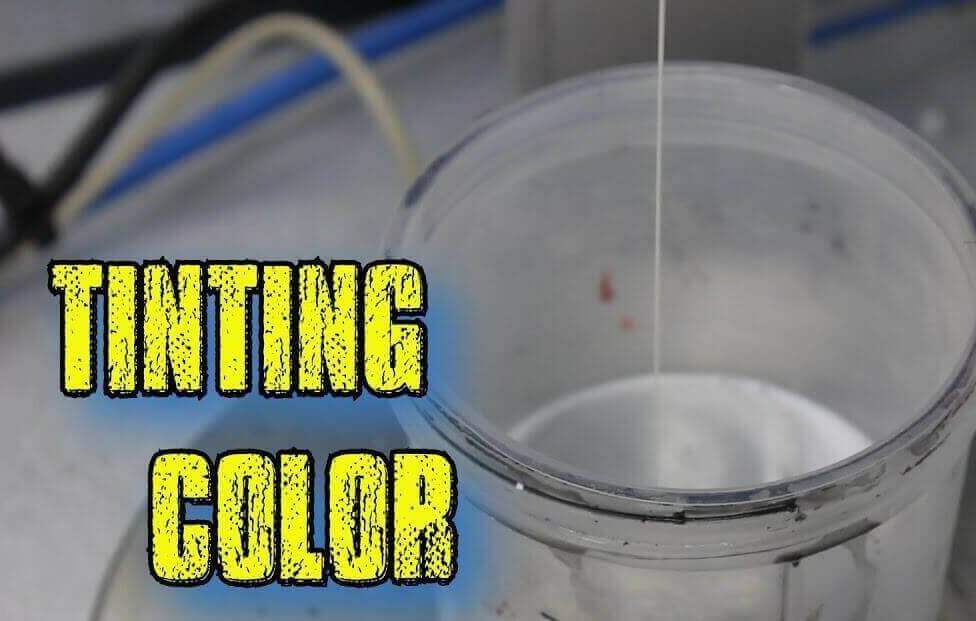 Step 1: Pour the clear polyurethane into a mixing bowl and stir
First, you need to thoroughly stir the clear polyurethane with a flat stir stick before pouring it, whether oil-based or water-based. The universal color pigments can be used to tint both types of polyurethane.
Step 2: Start with batch test
This step will help you finalize the pigment color you'll use to tint clear polyurethane. Always perform a batch test before to make sure you have the custom color you want and get the perfect finish.
Use a measuring cup, and pour only a little bit of polyurethane into it. Then, pour the liquid into a different container. For example, if you want to color a quarter of polyurethane, you'd pour off roughly three ounces, or about one-tenth of a quart.
Step 3: Add pigment drops to polyurethane
Add a few drops of the pigment to the polyurethane with paint test batch. Make sure you count them as you pour them in. Using a stir stick, mix the pigment until it is uniformly dispersed. This method will allow you to blend as many colors as you want.
Step 4: Check the polyurethane tint color
Once you feel like you have got the color you want, take a piece of cheaper wood and paint it with the tinted polyurethane you just made. You can add more color if you think it's needed while stirring continuously.
Don't worry if you're not getting the right blend or desired color; throw out the test batch and apply polyurethane with paint again from scratch.
Step 5: Start tinting the polyurethane color
You can begin making large quantities when you have the shade of tint you desire by multiplying the number of drops you added in the test batch by the appropriate factor.
In the example above, you used one-tenth of a quarter for the test batch, so nine-tenth will remain in the container. This means you have to multiply the number of drops by nine to obtain the same color in a large quantity.
Can You Tint Oil-based Polyurethane?
Yes! Tinting oil-based polyurethane will prevent it from turning into a yellowish-colored layer or amber tone over time.
Not only does oil-based poly provides excellent abrasion, durable finish and scratch resistance, but its 45 to 50 percent solid content also makes it ideal for use on wood floors.
Oil-based paint also produces an amber glow and requires fewer coatings. You should also know that oil-based stain tends to discolor over time, especially in lighter hues. So, tinting it is a good solution if you don't like the yellow or amber hue.
However, note that when using oil-based poly, you need to wait about 12 hours between each thin tinted polyurethane coat, which means it will take you days to finish the project, whereas water-based polyurethane finishes can be applied in one day.
Can You Tint Water-Based Polyurethane?
Yes, you can tint water-based polyurethane. Water-based polyurethane has evolved with time and provides a clean finish with a low odor.
Tinted water-based polyurethane dries quickly, usually within two hours, which allows you to apply several coats in one day. After tinting water based polyurethne, it is recommended to apply only four tinted topcoats per day.
Most professionals, however, will recommend using oil-based polyurethane because water-based polyurethane coating contains only 30 to 35 percent solids as opposed to 40 to 45 percent solids in an oil-based polyurethane coating.
As a result, you need to apply 4 coats when using water-based polyurethane instead of 2 or 3 coats when using oil-based polyurethane.
Which Tinted Polyurethane Is Better? Oil-Based or Water-Based?
There is quite a bit of debate about which finish is harder, although some experts contend that hardness isn't always a good thing on a floor surface.
You'll need a finish that flexes with the floor. Moreover, the difference in durability between coatings can be indistinguishable if they are applied properly with quality products.
Take a look at the 5 main factors that will make your choice easier in choosing between oil-based poly vs water-based poly:
Cost: Water-based polyurethane is more expensive than oil-based polyurethane.
Feel: The professional consensus is that you should get oil-based polyurethane if you want a smooth surface.
Smell: Oil-based polyurethane will give a pungent smell and a strong chemical odor while drying, so it is recommended that you use a respirator while applying it. On the other hand, water-based polyurethane has almost no smell.
Drying Time: One coat of oil-based polyurethane will take nearly 24 hours to dry, while water-based polyurethane will take only 4 to 6 hours.
Color: Water-based polyurethane is clear, while oil-based polyurethane has an amber hue.
Read also: What does polyurethane smell like?
Can You Tint Polyurethane With Acrylic Paint?
Yes, you can. Acrylic paint is non-oily, biodegradable, and offers a variety of benefits. Think of it as polyurethane but with no oil.
If you are tinting polyurethane with paint, use acrylic paint to overcome its greasy texture. To tint polyurethane, you must first determine the type of polyurethane you are using.
If it's oil-based polyurethane, you won't be able to color it with acrylic paint. Instead, universal color pigments are available in an oil-based form that you can use.
On the other hand, water-based polyurethane has similar properties to acrylic polyurethane, which makes it easy to tint. Just make sure you batch test to confirm you have the right shade.
Read also: What paint will stick to polyurethane?
Can You Tint Polyurethane With Latex Paint?
Yes, polyurethane can be tinted with plain latex paint to create a long-lasting and strong surface finish. Unlike regular latex paint, tinted polyurethane will also ensure that the surface doesn't get sticky and greasy in humid summers.
However, latex paints must be sanded gently before oil-based polyurethane is applied. A professional will also advise you to use an oil-based primer once you've sanded the latex finish.
This is because they both have different bases and features that can cause them to react differently. Therefore, use it on a smaller amount of polyurethane and then make your final decisions only after seeing the desired results.
Once you're certain, you can tint the polyurethane in its entirety.
FAQs
Can I mix the color into polyurethane?
Yes, you can mix the color into polyurethane to get clear finishes. However, making the polyurethane opaque paint rather than transparent would require the use of opaque color. So depending on the effect you want, you can add color accordingly.
Can you tint polyurethane with wood stain?
Yes, you can tint polyurethane with wood stain to deepen the color. Tinting polyurethane with stain is one of the common practices that highlights natural wood grain patterns. Before applying the polyurethane, clean the wood surface, then mix the gel stain with the polyurethane. Mixing polyurethane with stain is a straightforward process. For more details, check out a comparison guide between wood tint vs stain.
Can I mix paint with polyurethane?
You can mix the paint into polyurethane, but it is not considered the best option. If you want to try it, you should apply the paint first, and then follow it up with the polyurethane after it has dried. But be cautious because even a small mistake can ruin the final result.
How do you darken polyurethane finish?
This color mix of the original stain and tinted polyurethane produces a deeper, more distinct shade. Combine a light, warm maple with a darker oak to neutralize orange tones and intensify the furniture's color.
Can you dye polyurethane?
Yes, you can dye polyurethane using all-purpose dyes such as Rit and Tintex. In addition, a soluble dye can be mixed with polyurethane to create infinite colors. For oil-based poly, use an oil-soluble dye, while water-based would work well with an alcohol-soluble dye.
What is the best polyurethane for cornhole board
The best polyurethane for cornhole boards is typically a high-quality, water-based polyurethane. It provides durability, moisture protection, and a clear, glossy finish. Look for one designed for outdoor use for optimal performance.
Can Polyurethane Be Tinted – Summary
It is important to be cautious while tinting polyurethane. It is best to start small and contact a professional if you have any doubts.
With the trial and error method, this process can be accomplished by first creating the tint in small quantities, testing it out, and then creating it in large quantities.
It will help you save time and resources while also getting the perfect product you were looking for.
Please share your feedback after applying tinted polyurethane to your piece of furniture in the comment section.
What next? Read our article "Can polyurethane be sprayed?"