Will acrylic paint stick to plastic? Will it peel off later? Will it be durable? Will painting with acrylics on plastic produce satisfactory work?
Will there be any problems because you're not using "real" canvas and instead of painting on plastic? Will the painting be durable and last a long time?
I have tested acrylic on plastic, and it sticks well. So let's take an in-depth look at how to make your acrylic paint stick to your plastic.
Does Acrylic Paint Stick to Plastic?
Yes! Acrylic paint sticks to plastic, but that depends on how you apply it. You need to sand the plastic with fine-grit sandpaper, prime, and seal it after painting. Plastic is hard to paint because acrylic paint hardens and becomes plastic as it dries, making it impossible to adhere to a plastic surface. Many other factors can either promote or inhibit how acrylics adhere to solid plastic.
What is an Acrylic Paint?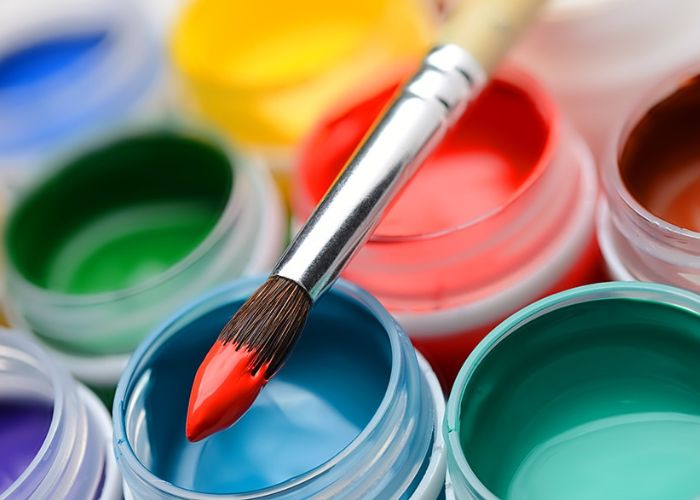 Acrylic paint is a fast-drying paint that uses water as the solvent instead of oil. It's one of the most durable paints because it completely hardens when dry, making it ideal for outdoor projects.
Acrylic paint typically comes in cans, jars, or tubes. It can be thinned with water or an acrylic thinner as a wash or applied directly from the tube, jar, or can.
Uses of Acrylic Paint
Acrylic paint is great for a variety of crafts, including woodworking. It has a fast-drying time, and it's available in a variety of colors. Plus, it's relatively affordable compared to other types of paint.
If you're looking for the best acrylic paint for wood crafts, I recommend choosing a paint specifically designed for wood use. This will ensure that your project looks great and lasts long!
How to Paint Plastic With Acrylic Paint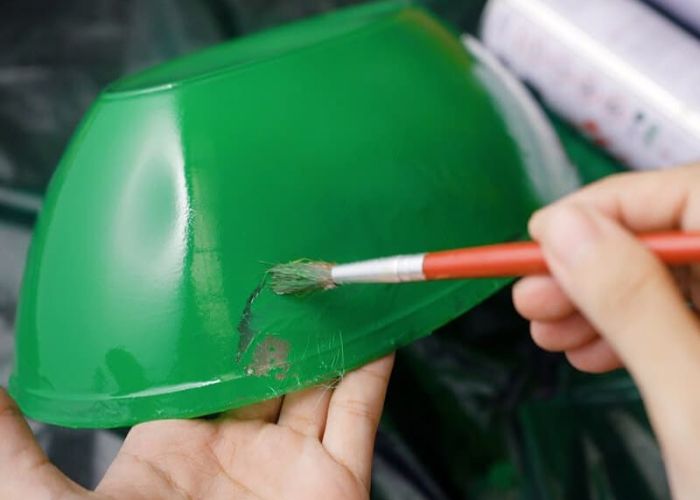 Painting on plastic is difficult because it's nonporous, so the paint has little adhesion. However, you can paint plastic successfully if you put in the necessary effort.
However, remember paint may flake off depending on the type of paint and plastic you are working with, especially if used often or heavily.
Materials you'll need
Plastic item
Primer
Masking tape
Painter's rags
Fine-grit sandpaper
Mild dish soap and water
Rubbing alcohol
Spray paint, acrylic paint, or enamel paint
Paintbrushes (if using acrylic or enamel paints)
Scrubbing brush
Tack cloth
Newspaper
The steps
Step 1: Preparation
Ensure you have the appropriate protective gear and clothing before getting started since you'll be painting over everything. A tack cloth or old newspaper can help protect your workspace from paint spills.
Head to a well ventilated area or open a window, and do the same. Some solvent-based acrylics contain hazardous components that must not be breathed in, such as toluene, xylene, turpentine, and methyl ethyl ketone. If necessary, use a fan or protective face mask.
Take your fine-grit sandpaper. Gently sand all glossy surfaces of your item. Never press too hard, or you'll scratch the surface. Plastic is a nonporous surface; removing the glistening parts should improve the paint's adhesion.
After sanding, brush the surface of the object once again with a clean, soft cloth. Again, any dust should be eliminated. You may also use soap and water to clean the surface again if you opt for a cleaner or solvent.
Wipe the surface with rubbing alcohol or mineral spirits to remove oil, fingerprints, grease, or dirt that might prevent the paint from adhering to the plastic.
Tape off any sections of the item that you don't want to be painted. This is beneficial even if you will be painting the item with a brush. The masking tape will assist you in drawing a clean, precise line between the painted and unpainted portions of your project.
Read more: Denatured alcohol versus mineral spirits.
Step 2: Add Primer
If the plastic has a glossy sheen, apply a clear, gloss acrylic sealer first. The primer will give your paint something to grip onto. For the best results, use a plastic-friendly primer. Spray cans, however, are a few of the most popular options.
There're also liquid versions available in cans or bottles for particular models and other requirements.
Make sure to coat the entire surface in thin, uniform layers when applying the primer. Allow the primer to dry completely before proceeding to the next step.
Step 3: Painting Plastic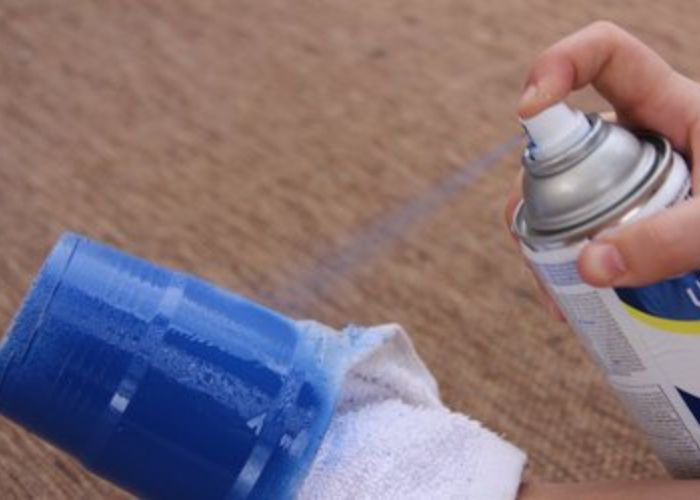 Place masking tape about five inches from the edge of where you want to begin the paint job. Choose an appropriate paint for plastic. To be sure, check for the "plastic" label on your paint.
If required, prepare the paint. Some paints are ready to use straight out of the container, while others need minor preparation. Before you begin, check the label on your paint for any necessary information.
Use paint thinner or enough water to thin your acrylic paint for a creamier consistency. This will help you achieve a more polished look and minimize brush strokes.
Apply one light coat of solid brush-on acrylic paint using a bristle brush, roller, or spray paint. Allow at least two hours for your first coat to dry before you go on to the next.
If you use spray paint, hold the nozzle about an inch from the surface and apply several light coats until fully covered. Spray in a side-to-side motion to avoid runs.
Ensure you don't touch your plastic item for four hours if your paint requires post-drying time before handling.
Add layers of paint until you are satisfied with how your plastic looks. Ensure each layer is completely dry before adding the next, or else the colors will mix and look uneven. In most cases, a second coat or a third coat will be enough.
Step 4: Sealing the surface
The next step is to seal acrylic paint on the painted surface. Acrylic paints are known for their durability, but like all paint, they can be scratched or chipped over time with frequent use.
Glazing or varnishing your piece will help protect it from damage and extend its life.
You can either use a brush or spray-on sealer. First, choose a sealer based on your preference: satin, matte, or glossy. Begin by applying one light coat and let it dry for around 30 minutes.
Remember, a few thin coats of sealer are preferable to one thick coat. It may become sticky if you apply the sealer too thickly.
Step 5: Leave it to dry completely
Before the painting dries, you may decide to add details, character, and life to your painting, especially if it's an artwork or a prop. You can do this using a paint marker or acrylic paints.
You may even opt to use sandpaper instead if you want to achieve a rougher look.
Remember, there's no wrong way to paint your plastic item as long as it looks delectable on your end. Have fun!
After applying several coats of clear acrylic sealer, follow the instructions on the bottle for drying time. Don't handle your plastic item until it's completely dry. Then, you're done!
Acrylic Paint on Plastic
The procedure for covering the plastic with acrylic paint and the supplies required varies depending on your project. Consider how many materials you'll need, the size of your plastic item and how much time you'll have to complete the work.
The finest paint for plastic is one that's tailored to the surface. Acrylic paints aren't meant to adhere to plastic, so they strip and chip off over time. However, the paint you select is determined by your project.
Acrylic spray paint is the most suitable for big surface areas because it is made of plastic. Unfortunately, paint that comes in bottles and tubes doesn't adhere well.
Bottled acrylic paints are perfect for adding delicate color accents to small plastic objects or details onto the polystyrene.
If you're painting smaller items or adding little features to the plastic, using bottled acrylics with a paintbrush is easier. This paint is also ideal for recycled jars and plastic bottles, as well as other small plastic projects.
Acrylic paints may be supplied with a primer or sealer already included. Most spray paints for plastic, like those available at paint stores, offer different choices.
Some instructions ask you to prepare the surface and seal acrylic paint for optimum results.
How to Make Acrylic Paint Stay on Plastic
For acrylic paint to stick to plastic, you need to prepare the surface. First, clean, sand, and prime your plastic. You will also need to apply paint sealer after painting to waterproof the surface and make it last longer.
Most of the time, acrylic paint peels from plastic surfaces because of contamination. Ensure you clean the plastic object with warm water and dish soap. Use a degreaser or recommended cleaner on a super dirty or greasy object.
Many choices range from low volatile organic compounds products to pure solvents.
When it comes to painting plastics, roughing up the surface can make them easier. Sanding the plastic is a simple and effective technique to ensure the paint adheres properly.
Further abrasion aids in the removal of films and oxides present on the surface, making adhesion more probable. Before you paint, check for any loose particles and remove them using fine-grain sandpaper.
The primer may be applied to plastics with a brush or a sprayer. Look for a primer that is designed specifically for the surface. The length of time required for the primer to dry properly and the number of coats you'll need depend on the type of primer.
To keep paint on a slick surface, most primers are used in thin applications.
How to Seal Acrylic Paint on Plastic
After you paint your plastic surface with acrylics, immediately seal it. Acrylic is water-soluble; the colors will run if they are not protected from moisture after application.
Because plastics may be handled more often, you need to keep the paint in place for longevity. Sealing also makes the plastic waterproof.
There're several methods of sealing acrylic on plastic. Here are the five methods I have tested and would greatly recommend for anybody any day.
Polyurethane for longevity
Polyurethane lasts longer than polycrylic. The water-based polyurethane, on the other hand, gives a yellowish hue after drying. It has the potential to alter the color you want from your project. You may apply it exactly as you would a polycrylic roll-on.
Polyurethane is self-leveling, ideal for large tasks like figurines, toy cars, flowerpots, outdoor furniture, and numerous other projects.
You may be interested in our guide on weatherproof paint for outdoor furniture and other outdoor projects.
Polycrylic for a clear finish
The primary function of polycrylic is to seal the painted surface of your plastic. Therefore, it's mainly suitable for indoor projects. The topcoat comes in various matte, semi-gloss, high gloss finish, and ultra-flat sheens.
Even though it's less durable than polyurethane, it doesn't yellow with time and fast drying.
The polycrylic spray solution is applied evenly to the plastic surface. You may apply more thin layers of the finish and allow it to dry for 2 hours at a time. To complete the project, apply either two or three coats.
Acrylic polymer for outdoor paintings and furniture
Acrylic polymer varnishes come in a variety of finishes, including satin, gloss, and mate. Choose carefully because satin is a hybrid of gloss and matte. Use satin if you are an experienced painter, crafter, artist, or DIYer.
The varnish protects plastic furniture and surfaces from discoloring because of its formulation with UV.
Acrylic resin for detailed art and crafts
Acrylic resin varnish is a strong and long-lasting coating. It's used in tiny jobs, such as costars and jewelry beads, that need strong and sturdy surface protection. After a thick layer, the finish is glossy and bright, with no tint.
Mod Podge for a glossy finish
Mod podge is a medium-tough, diluted permanent white glue that may be used as a topcoat on acrylic paints. You can also use glue as a top coat on plastic surfaces. Decide on the finish you want to use on your project. For a glossy finish, mod podge is the best option.
Related: Can you put vinyl on wood?
Painting Plastic Tips
These few tips will make your project turn out beautiful.
Use painter's tape for clean lines
Plastic surfaces are often intricate or have sharp internal angles that are difficult to paint cleanly. Mixing paint over the lines is a major NO-NO. To get super clean lines, use masking tape before you begin painting.
Mask the surrounding area, so you don't have to do touchups after painting.
Remove the tape immediately after use
After painting your plastic surface, remove the tape immediately after applying the final coat of paint. Be cautious when removing the tape, especially if the paint is still wet.
Use sandpaper alternatives
There're times when you want a plastic nozzle to be smooth, but sandpaper is too coarse for the job. Don't worry because there're other tools that you can use instead of sandpaper. You can also use a file or emery paper to give your nozzles an ultra-smooth finish.
A liquid sander is another alternative. Its quality finish is comparable to that of sandpaper. The liquid also makes the job easier by reducing the clogging inside your nozzle tip.
Use primer alternatives
Primer is ideal for plastic surfaces because it enhances the surface by increasing the bond of the paint. It also makes cleanup easier in case you make a mistake while painting.
Use an oil based or water based primer. The two coats will create a strong foundation for your paint or finish, promoting better adhesion and coverage.
Acrylic Paint Primer for Plastic
If you're looking for the best primer to use on your plastic, aim to purchase a primer that promises high durability like Vallejo and rust oleum.
Vallejo Grey Acrylic Spray Primer
Sale
Vallejo Grey Primer Acrylic Polyurethane, 200ml
Surface Primer can be cleaned easily using water
It is recommended to avoid mixing Surface Primer with alcohol and/or solvents Apply with airbrush or brush
Packaging: In bottle sizes of 17, 60 and 200 ml
Vallejo Grey Primer is a high-quality primer for small plastics and metal surfaces. Apply the primer in a fairly thin coat for a clean finish that's less likely to chip or peel off.
It's simple to clean the primer with water. However, this primer cannot be mixed with rubbing alcohol or solvents. So don't clean the plastic surface using either of these ingredients before priming.
Rust-Oleum Plastic Spray
Sale
Rust-Oleum 245197 Universal All Surface Spray Paint, 12 oz,...
Works on virtually any surface including wood, plastic, metal, fiberglass, concrete, wicker, vinyl and more
Oil-based formula with excellent adhesion prevents rust, resists fading and chipping for a long lasting finish
Fast drying formula dries to the touch in 30 minutes and covers up to 15 sq ft per can
This primer is best for acrylic paints. It has an ultra-fine mist that doesn't clog the nozzle tip of your spray paint gun.
The Rust-Oleum plastic primer spray covers well, giving a smooth finish. You can use it with other types of paints too. After applying this primer, allow 24 hours to dry before using your plastic surface.
Acrylic Paint Sealer
After priming the surface, your next step should be to apply an acrylic paint sealer. This will ensure your acrylic paint doesn't chip or peel off the plastics.
Here are some of the sealers I recommend:
Sargent Art Acrylic sealer
Sale
Sargent art sealer is a clear and non-toxic acrylic sealer for lightweight materials. It dries fast, and you can use it on almost any type of paint. Apply it as the last topcoat, so you don't have to worry about marring your painting or craft project.
Aleene's Spray Acrylic sealer
Sale
Aleene's acrylic sealer spray dries quickly into gloss and protects the surface. This product is suitable for projects that won't be frequently handled or cleaned.
It can also protect your plastic surfaces from harsh weather conditions. It's also excellent for both indoor and outdoor protection.
Best Paint for Plastic
Painting your plastic with thin acrylic paint is a good option. However, make sure you purchase a quick-drying version for use on plastics.
Some of the best types of acrylic paint for painting plastic are:
Individual Acrylic Paint Set
Sale
Bulk Acrylic Paint Sets For Kids, 24 Individual Sets of 12...
EFFICIENT: Buying paint that is already poured into individual small paint pots helps keep the mess down to a minimum, saves time, reduces waste, and is overall a smarter and more efficient way for your children to paint
COMPLETE SET: Each of the 24 sets comes with 6 primary paint colors, 6 bright and exciting colors, 1 silver glitter paint, a flat brush for large surfaces, and a pointed for details. Each paint pot is 5 ml, for a total of about 65 ml of paint per set!
ESSENTIAL CRAFT SUPPLIES: Every school, camp, and craft club will find that these quality paint sets are not only useful, but essential for all craft projects. Our high quality acrylic paint works on a variety of surfaces such as rocks, wood, mirrors, canvas, paper, plastic, and metal
Suppose you prefer to use individual paint bottles, the best paints for plastic promise a smooth surface finish and strong adhesion. These paints dry faster and don't require any primer for small surfaces like plastic toys.
However, these paints may still need an acrylic sealer if you want them to last longer.
Many hobbyists also recommend acrylic paints with high pigment levels because these colors are less likely to fade when exposed to sunlight.
FolkArt Multi-Surface Acrylic Craft Paint
FolkArt PROMO830 Multi Satin Finish Acrylic Craft Paint Set...
PERFECT SIZE & BRILLIANT COLORS - This vibrant, multi-surface acrylic paint set includes 12 - 2 oz bottles of craft paint. The colors in this kit include: Lime Green, Classic Green, Look At Me Blue, Aqua, Perfect Purple, Licorice, Wicker White, Bright Pink, Cardinal Red, Pure Orange, Real Brown, and Daffodil Yellow
SATIN FINISH - When dry, FolkArt Multi-Surface Acrylic Paint has a beautiful satin finish
EASY & SMOOTH APPLICATION - Use this acrylic paint on a variety of surfaces such as wood, terra cotta, canvas, glass, fabric, ceramics and more
FolkArt Multi-Surface is ideal for plastic surfaces that aren't complex. FolkArt Multi-surface paint will stick to all types of surfaces, especially plastics.
It's also great for any craft project that requires a variety of colors, textures, and finishes. It's non -toxic, fade-resistant, and resists chipping.
Acrylic Spray Paint on Plastic
Another option is to use acrylic spray paint. If you choose this option, remember it's not the paint that matters but the type of surface underneath it.
If the surface isn't properly primed or smooth, you need to work on your acrylic painting skills. The finish may look dull when dry and require another thin layer of paint for a nice and smooth finish.
Here are some of the best spray paints you can use on your plastic.
Krylon Fusion Spray Paint
Krylon Fusion sprays are the best paints for plastic. These paints dry fast, stick to most surfaces, including metal and plastic, and provide a smooth finish once they dry.
You can even use this paint on fabric because it dries quickly without any tackiness or stickiness.
Rust-Oleum Spray Paint for Plastic
Sale
Rust-Oleum 245197 Universal All Surface Spray Paint, 12 oz,...
Works on virtually any surface including wood, plastic, metal, fiberglass, concrete, wicker, vinyl and more
Oil-based formula with excellent adhesion prevents rust, resists fading and chipping for a long lasting finish
Fast drying formula dries to the touch in 30 minutes and covers up to 15 sq ft per can
Rust-Oleum spray paint is another good choice because you can use it for various surfaces, not only plastic. It sprays well and dries in minutes to offer a smooth finish. It's also perfect for outdoor surfaces.
Though Rust-Oleum paint isn't as good as Krylon, it's still a decent alternative that you can try if your local store doesn't have any supply of the latter product.
Plastic Materials I can Paint Using Acrylic
Storage boxes
Cutting boards
Shower curtains
Garbage cans
Flower Pots
Bottles and Jars
Storage containers
Baskets
Light Switch Covers
Closet Organizers
Home Decor
Easter Eggs
Toys
FAQs
How do you get acrylic paint to stick to plastic?
For acrylic paint to stick, you need to prime the plastic with a base coat that dries quickly. This will help the paint adhere to the plastic and give you a smooth finish. The primer must be specifically made for plastic surfaces.
Can you use acrylic paint on plastic?
Yes, you can use acrylic paint on plastic. Use paints that are designed to adhere to polymers. This, however, needs a more porous surface. You'll need to prime your surface before acrylic painting for better adhesion.
What kind of paint can be used on plastic?
Acrylic paint is the best paint to use on plastic. It's easy to apply and dries quickly. It will adhere even better if applied to paper strips then attached by sticky tape rather than taped directly on the surface – but if using acrylic paint, this may not be necessary.
How long does it take for acrylic paint to dry on plastic?
It takes approximately 72 hours for acrylic paint to dry on plastic. Acrylic paints are water-based, dry more quickly than oil-based paintings, which take days to weeks to dry fully. While 72 hours might sound like a long time, it's not bad when you consider that the longer the wait, the better the quality of your project will be in terms of durability and finish.
Why is my acrylic paint not sticking to plastic?
If you have paint that's not sticking to the plastic, it's probably due to a chemical imbalance. Acrylic paint can be applied successfully because it contains plasticizers and other additives to keep the material from cracking as soon as it dries. For some reason, chemicals in your acrylic paint are mixing differently than they should; or worse – there's not enough at all!
Can acrylic paint be used as glue?
Yes, acrylic paint can be used as glue. It bonds well on paper and textiles. However, the bond is less robust than with some glues. The length of time before acrylic dries can also vary drastically depending on the type of paint and environmental conditions. For those reasons, it should only be used as an expedient adhesive in situations where there're no better alternatives or when you have more time to let the glue dry before putting two objects together.
What happens when you add glue to paint?
Adding glue to paint is possible but can cause some problems. If you add too much of either component, the resulting adhesive won't dry properly – it may still be tacky or even wet after days or weeks!
Does Elmer's glue work on plastic?
No, Elmer's glue doesn't work well on plastic. It's not meant for gluing plastics, and even though it may be possible to glue some plastics with Elmer's glue, the bond won't be strong.
So, Will Acrylic Paint Stick to Plastic?
Yes, acrylic paint sticks to plastic. It's the perfect choice for almost any project where you need to paint on polymer surfaces.
The adhesion is reliable provided your surface has been primed and your acrylic painting sealed. The type of acrylic paint you use, the surface you paint it on, and how you paint it may affect how well it sticks.
Knowing the cause of any problems will help you avoid them and give you a strong bond every time.
Also, find out whether acrylic sticks on wood.