A wedding is a day of celebration, joy, and love. So, it makes perfect sense that a gift will make the day more memorable for the couple.
Whether your friend is finally getting married, or you and your fiancé are tying the knot soon, any wooden wedding gift will last long enough to keep all the good memories from that special day.
Not sure what the best gift to a newly married couple is? Here's a list of woodworking wedding gift ideas for them!
Wooden Family Tree Frame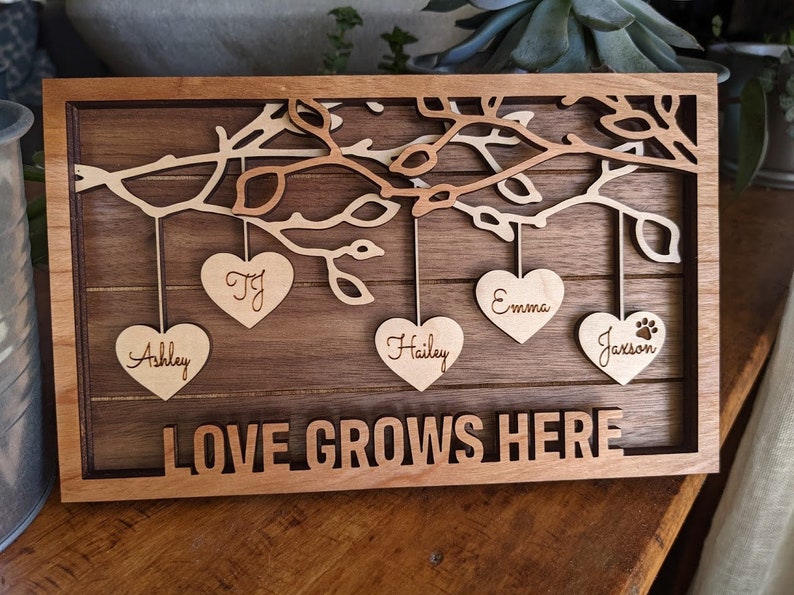 For a newly-wedded couple who's starting their own family already, a family tree frame sculpted on wood would make a sentimental gift! It's also a great gift idea for old couples who renewed their vows, like your parents or grandparents.
Include all the family members' names plus their dogs. Then, add a memorable statement at the bottom, such as "love grows here" or the family surname. This wooden family tree frame is made of cherry wood, walnut wood, or maple wood, and layered with shellac for durability.
It's a customized gift that will look beautiful hanging on the wall for the couple to remember the family that grew out of their love for each other. The family tree will also give them a sense of identity and belongingness as they walk through their journey.
Customized Piggy Bank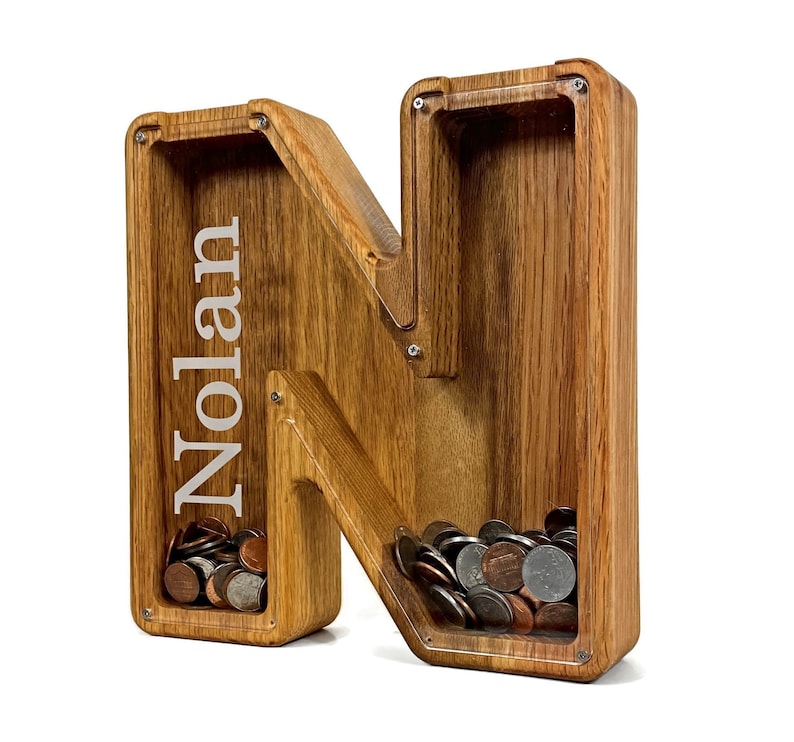 This handcrafted wooden piggy bank is shaped like a letter and includes a printed name on the acrylic cover. Ask the seller to put the names of the newlyweds on it so that the couple knows that you put a lot of thought into the gift!
This piggy bank will also reinforce their "always save money" attitude. Even though they are more likely to open a joint bank account, your gift will help them organize their loose change and see the bigger picture when it comes to their finances and other shared responsibilities.
Because the front part is made of acrylic, the partners will be able to track how much they have saved. Once it's time to open the piggy bank, they just have to unscrew the cover.
Personalized Engraved Cutting Board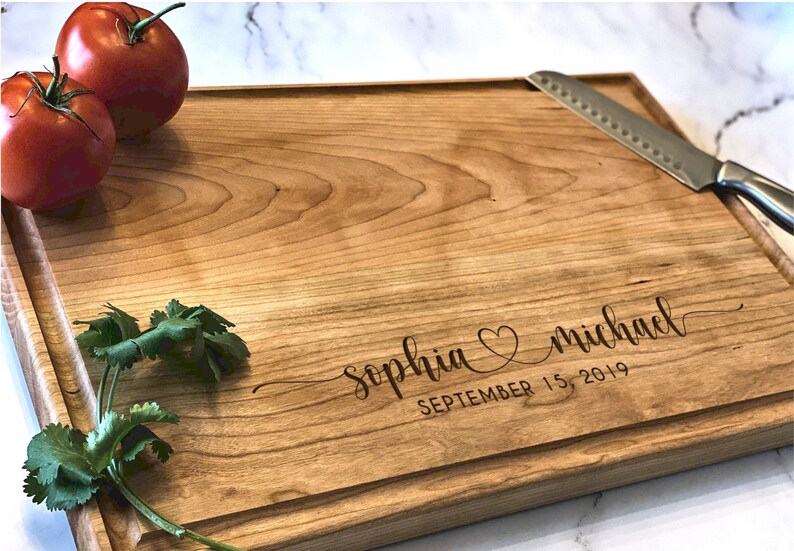 Know a couple who enjoys cooking? This chopping board makes a great wedding gift for all types of newlyweds. It's also an amazing housewarming gift idea for couples who just moved to their first home. It's not just home decoration because it is highly functional in the kitchen.
Have their names engraved in script on the chopping board, along with their wedding date for a sentimental touch.
The chopping board is guaranteed to be sturdier than the traditional wooden board. So, it will last as long as their marriage. The chopping board is coated with carnauba wax, beeswax, and food-safe mineral oil for durability.
Wooden Necklace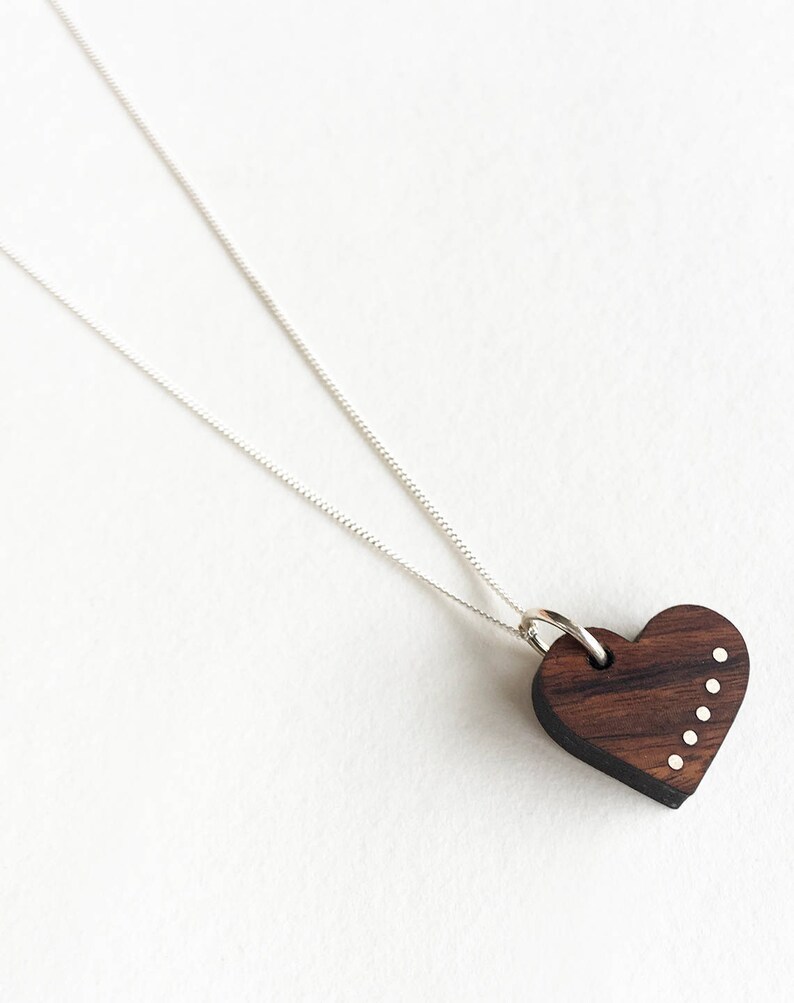 A necklace is less likely to be part of a couple's registry, but it's a great gift if you're a friend of the bride! Give her this accessory to remind her to love her husband through good and bad.
The necklace is specifically marketed for couples celebrating their 5th anniversary since wood is the traditional gift to represent half a decade of marriage. So, if you're looking for a gift for your spouse, this is a more casual (but still romantic) version of your wedding band!
The wooden necklace has a .925 silver chain and five .925 silver dots on the wooden heart. It looks simple but it's sophisticated and stylish! It's also encased in a Liel and Lentz box with a black satin ribbon.
Laser-Cut Wooden Coasters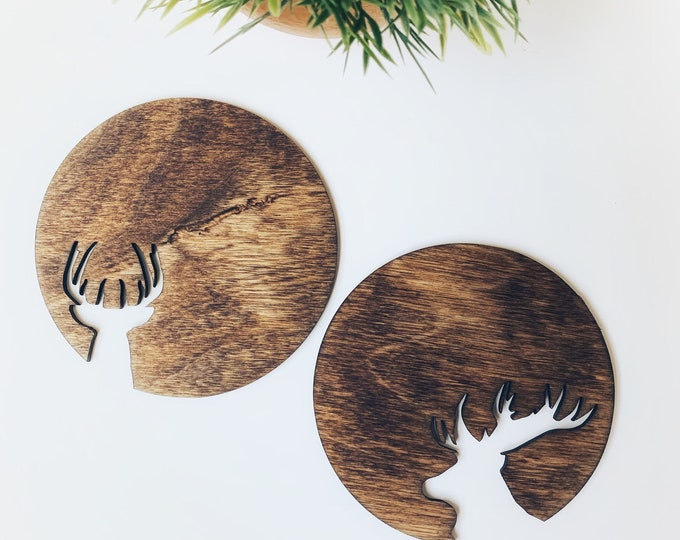 A simple but useful wedding gift that will make the couple remember you every time they have their favorite drink is a wooden coaster. You can also give this laser-cut beermat as an anniversary, shower, birthday, or housewarming present.
Whether they use a coffee mug, tumbler, wine glass, or a beer stein, the coaster perfectly fits all drink containers because it has a diameter of 4 inches.
The wooden coaster is precisely cut with a laser for that wildlife-themed home decoration. But you can also contact the seller if you prefer a personalized set for the newlyweds.
This coaster is made of Canadian Birch Wood with woodgrain and coated with a matte finish. This final coating is waterproof so that the wood maintains its appearance for a long time.
Couple Wooden Bracelet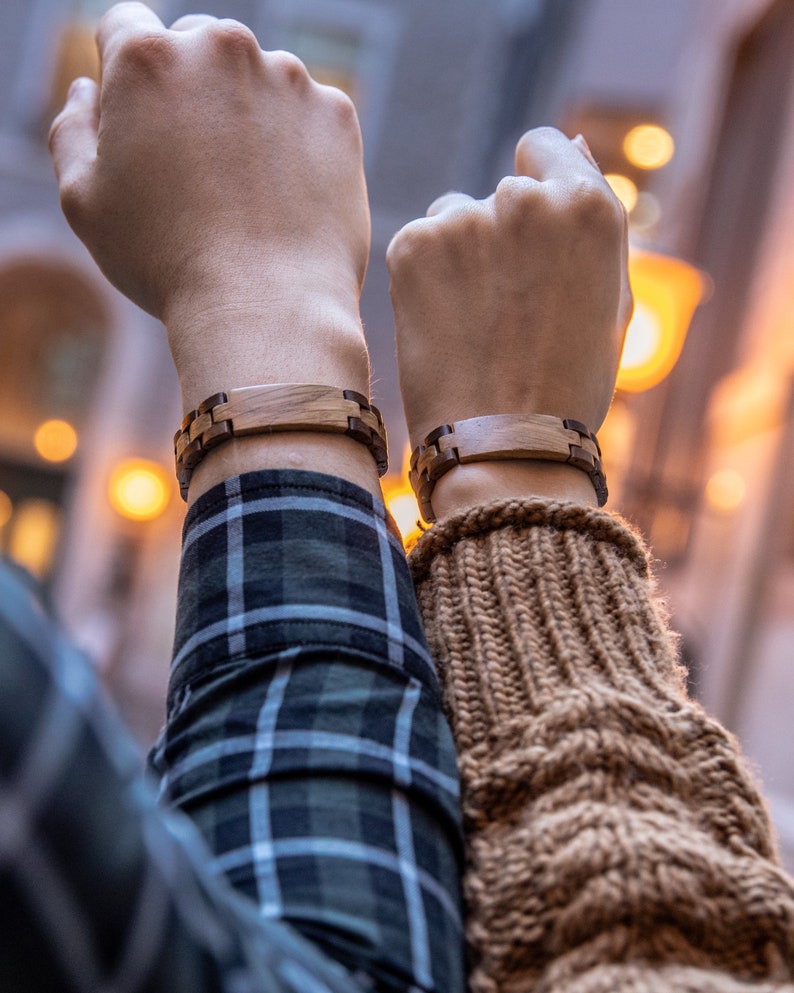 If you can't wait to tie the knot with your significant other, this unisex bracelet is a great way to express how excited you are to spend the rest of your life with them! If it's a gift for newlyweds, you can get a pair for the two of them.
Available in four shades of woods, this bracelet has a beautiful band designed like the strap of a watch. It's also adjustable to become smaller. If their wrist is too big, you can purchase extra wooden links.
You can get the couple's names engraved in front of the wood for free! This will make the couple bracelets more valuable and nostalgic.
Custom Cheese Board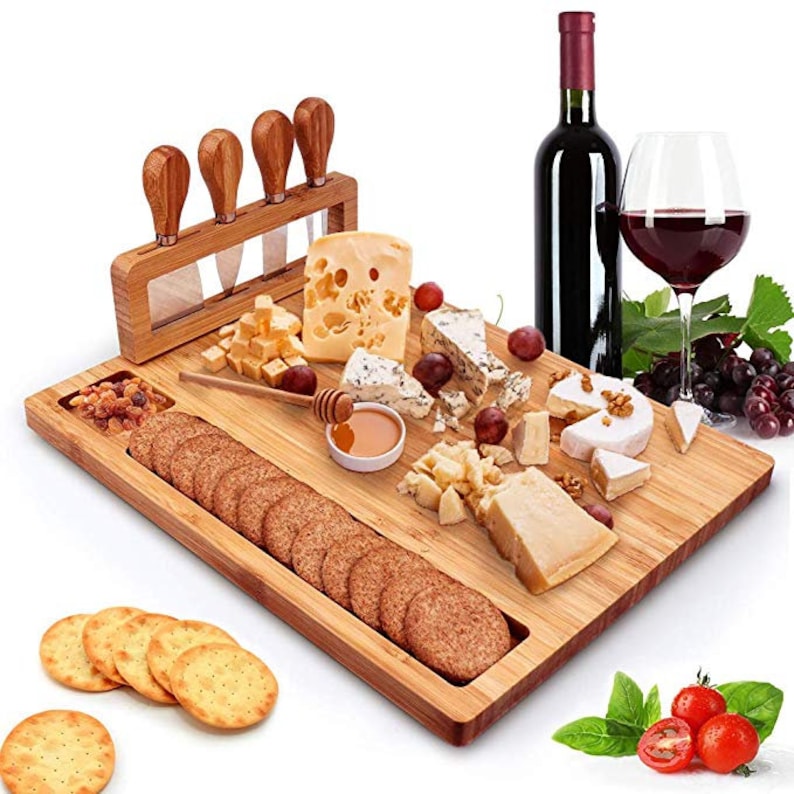 Preparing a charcuterie board is one of the most romantic date night ideas for a couple who just got married! So, give them a customized cheese board with their names engraved on it. You can also add their wedding date, family name, or a heartfelt quote to inspire them.
Then they can place some gouda, apple, and honey on the board and pair these foods with their favorite wine. Putting together a charcuterie is also ideal for when they invite guests over for parties and other holidays.
This cheese board is made of antibacterial and moisture-proof bamboo to keep the biscuits, toasts, and jams safe to consume. It also includes tools and a tool holder to keep the knives organized.
Vintage Wooden Perpetual Desk Calendar
A calendar will remind a couple to make the most out of every day they spend together! Make the calendar more aesthetically pleasing and they will enjoy looking at it and planning their future together. It's also rustic-themed to fit any decoration of the house.
What makes this wooden calendar special is how they do not have to buy a new one every year because the months and date arrangements are adjustable! They just have to reset it every month.
This wooden calendar is also perfect for a partner who likes to work on his desk all day. It will help them keep track of their work while making sure to have time for their significant other.
Wooden Phone Docking Station
Some households, mostly husbands, want to keep it classic despite being techie and innovative. If you know one, then this wooden phone docking station would be the perfect present for them. Aside from powering up the phone, it also helps organize other stuff like keys, watches, glasses, and wallets.
This sleek organizer is made of eco-friendly ash tree wood, suitable for the man cave, office, or bedside table. Aside from its appearance, the wooden docking station also offers structural integrity. The handcrafted material is treated with a special kind of oil to protect it from damage and moisture.
It's super easy to assemble, and the cut-outs on the side allow you to hang just about any object in the house! The perfect gift for a Taurus man, too, if the happy couple are into astrology.
Wooden Jewelry Box
Aside from being a practical storage device, a jewelry box also makes a beautiful room decoration for newly married couples who are getting started with building a home. The intricacy of the carvings and the rich color of the wood make the box stand out in the bedroom.
The wooden, vintage-like treasure chest is made of sustainable Mango wood that is sturdy enough to keep all their precious jewelry. It can also house their past love letters, dried flowers, and other memorable stuff!
You can also get this as a post-wedding gift for couples with all the printed photographs you took during their wedding. This will surely touch their heart and create long-lasting memories.
Wooden Spoons
Kitchen wedding gifts will be functional in the generations to come, especially if you're giving them to a culinarily-minded couple. These wooden spoons with decorative texts engraved on them will help make
The creative decoration on this five-piece set is autumn-themed, so expect them to use it when cooking root veggie pies, pumpkin muffins, and one-pot sausage casseroles.
The practical kitchenware is made of durable and non-stick bamboo with smooth handles to make cooking more enjoyable for them! It includes a slotted spoon, solid spoon, single-hole mixing spoon, and a rounded fork.
Wooden Wedding Gifts Work!
Wood makes a significant symbol in a marriage in that nothing can tear it apart. Give a set of spoons for the couple who likes trying new recipes, or a piggy bank for the newlyweds saving up for travel.
What kind of wooden gift would you like to receive on your wedding day? Share your insights with us! You can also share your questions in the comments section.
Because wood is a symbol of strength, any wedding gift made out of it makes a lasting keepsake!