Gray wood stains not only give a classic weathered look to a new piece of wood but also add a tinge of modern flair to an old block of wood.
That's why it has become a popular option for its quality, rich color, and stunning results, especially when the best gray wood stain is applied.
Gray is a hot color, and staining wood with it has never been easier and quicker. With gray wood stain accents, your décor—whether for a farmhouse, contemporary, coastal, or modern design style, can only spell a new look and feel of perfection.
So, should you consider using a gray wood stain to warm up your space? Here's everything you need to know about the stain.
Gray Wood Stain Colors
Gray wood stain colors come in a variety of shades but there are three main colors that this post will focus on. These include:
1. Weathered Gray
This is typically a darker shade compared to other gray colors though other shades like carbon gray are darker than weathered gray.
When you combine weathered gray with carbon gray, the result is a navy shade. You can also use this color to get dark blue undertones.
2. Carbon Gray
Carbon gray is the darkest gray color tone and the best gray wood stain color. It also gives tints of blue undertones and a darker navy gray stain.
3. Aged Barrel
The aged barrel resembles carbon gray though it gives darker tinges and a final black shade.
What is the Best Wood to Stain Gray?
No particular wood is best to stain gray. You can use gray wood stains on any type of wood since it has a neutral tone. However, the most challenging part of the process is finding the best color tone or shade in gray wood stain.
I made the process easier for you with these 9 best gray wood stains with excellent outcomes.
9 Best Gray Wood Stains Options
The nine gray wood stains include: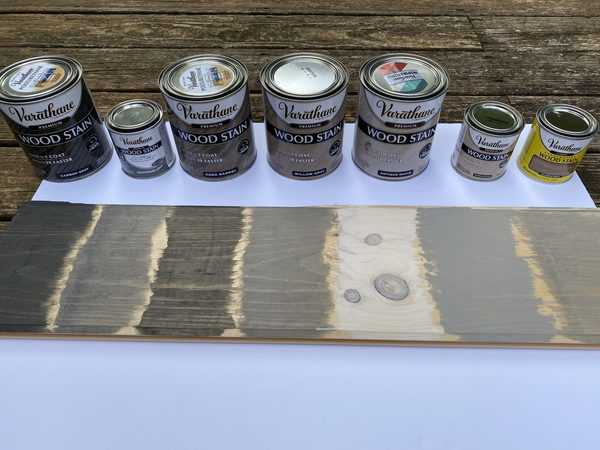 Carbon Gray
Carbon gray is the truest and richest gray stain that scoops the top spot on our list. This beautiful stain features hues of blue undertones. It's the go-to color if you need a very dark navy gray wood stain color.
Pros
Con
Minwax Classic Gray Wood Stain
Minwax Classic Gray is certainly your gray wood stain to a beautiful, rich color finish. Its oil-based, and fast-drying special formulation enhances natural wood grain for a beautiful modern charm.
I love it, particularly for its beautifully rich gray color and how it soaks deeply for a fresh look. The stain is perfect for interior wood projects like doors, cabinets, floors, molding, trim, and unfinished wood furniture.
You can reapply coats if you need that deeper tint. The longer you wait, the darker or richer the color.
Pros
Easy to apply
Rich even color
Quick drying
Cons
Requires multiple coats for a deeper grey shade.
Minwax Color Wash Weathered Gray – best weathered gray stain
Minwax Color Wash Weathered gray is actually a water-based color wash designed to be super light and faint in color. At a glance, this cool-toned gray will look like it didn't do much.
It typically produces slightly purple or blue undertones. Minwax Color Wash weathered gray stain is best if you want a slight gray tint on your project.
It works fantastic if paired with other oil- or water-based colors for extra depth and a touch of age and character on both bare and stained wood.
Pro
Ideal for small projects, furniture, cabinets, doors, and trim
Cons
Too light for a single coat
Require multiple layers for depth and interest
Minwax Silvered Gray
Miniwax Silvered Gray is one of the most versatile shades of gray wood stain. This feature makes it a favorite stain color for many DIYers.
Thanks to its high quality and ability to blend perfectly with other shades, Miniwax Silvered Gray does a fantastic job of bringing a sophisticated look in unfinished wood furniture, doors, cabinets, molding and floors, making your space look amazing.
It's formulated to blend in easily, penetrating deeply to enhance your wooden surfaces. You can also use it to add a tinge of excellence to those bare and stripped wood surfaces.
Pros
Dries quickly
Resists lapping for even colors
Con
Needs multiple coats to achieve darker shades
Minwax Slate
Minwax Slate stain is one shade that surprised us. While you would expect it to be a dark gray color based off the name slate, I found it pretty light and fairly faint.
Generally, it works best on plywood and turns it into something great. The oil-based polish is available in more than 35 vibrant colors and produces some spectacular 3-dimensional effects when paired with other shades. You'll love the finish!
Pros
Easy to apply and dries fast
Rich color with 35+ shades
Resists lapping for even color
Con
Multiple coats must be applied for best results
Sherwin-Williams Rustic Gray Wood Stain
The Sherwin-Williams Rustic Gray Wood stain can be the best choice if you're looking for a cool, semi-transparent stain for your interior. The stain blends well with birch, maple, poplar, pine, and oak.
Pro
Con
Varathane Gray Stone
This water-based high-quality wood stain is formulated with pigments that give it workability similar to that of oil-based stains.
It's suited for indoor use only as its pigments allow controlled penetration which reduces blotching. A near-black charcoal gray is what to expect.
Varathane Gray Stone boasts rich, dark colors that can be sprayed or hand-applied. The stain also has low odor and meshes effortlessly with other colors. You can use it to spruce up the vibrancy of your space with a modern looking finish.
Pros
Con
Restricted to indoor use only
Varathane Weathered Gray
Looking for that rustic look with light grey colors and a cool undertone for your DIY interior décor? Ha! This stain will give your interior wood projects an aged look to make your space warmer, more beautiful, and more welcoming.
The Varathane Weathered Gray stain does an excellent job of bringing that effect with cool tones. This gray stain completely transforms wood with brilliant clarity and exceptional wood grain highlighting that looks incredibly antique and vintage.
Pros
Ultimate durability
Affordable
Fast-drying oil-based formula
High-performance stain with nano pigment particles
Con
Color in images can be misleading. So, test before applying.
Varathane Smoke Gray
Lastly, I tested the Varathane smoke gray stain—the richest gray stain I found. It is a hit for me.
This wood stain is a chameleon of a shade and a 2-in-1 stain and applicator product that gives off hints of smoky gray undertones on a wood surface. This makes it stand out.
If you want your wooden DIY projects to wear the farmhouse charm and make your space pop with cool tones, a Varathane smoke gray stain may be the best option for you.
Pros
Water-based, low odor
Less messy
Easy to use
Con
Other Grey Wood Stain Colors
1. Aged Barrel
Just like Carbon gray, Aged Barrel is a darker grey wood stain. However, it features darker undertones (make it a little black) that are absent in Carbon grey.
2. Sun Bleached Wood stain
Sun-bleached is more baby blue than true gray. This color revealed less of the wood species underneath all the stain options sampled.
3. Willow Grey
Willow Gray is perhaps your best option if you're looking for a true grey wood stain. Not too light, not too dark; this shade of gray is just right.
Gray Stains on Each Type of Wood
1. Gray wood stain on pine
Yes. Pine wood can be stained with gray colors. While there are lots of shades of gray to choose from, I recommend weather oak, classic gray, sun-bleached, carbon gray, and weathered gray as the best color to achieve excellent accents.
2. Oak-stained grey
When you need to create magical results with the best charm of gray stains, oak wood is the most recommended. For perfect results on red oak wood, darker gray stains are ideal.
But since these woods have closed porous, the outcome may be blotchy, and stains may find it difficult to settle in. A pre-stained conditioner can come in handy in fixing this issue.
3. Gray wood stain on plywood
Staining plywood is similar to staining any other wood and applying gray wood stain on plywood is like applying any other stain.
However, you must take extra precautions to avoid sanding away the top layer and ensure that the edges of the plywood are stained correctly. Since you may want to rectify the holes and other broken parts, use the best wood filler for plywood edge to achieve a seamless and robust repair.
How Do You Get a Gray Effect on Wood?
Assemble your hardware—paintbrush, steel wool, mason jar, and white vinegar.
Cut a small portion of steel wool and put it in the mason jar. Add one and a half cups of white vinegar to the mixture.
Tightly seal the jar.
The mixture can be used to brush on wood to give a grey shade.
Give the mixture two to three days if you want a weathered grey color, a 30-minute wait gives you a lighter grey, and a few more hours will get you the darker one.
Can You Dye Wood Gray?
Yes. And the process is simple. Have ¼ of water, ¼ of white vinegar, and steel wool. Put the mixture in a sealed mason jar. Wait for the stipulated time to get your desired grey shade. With it, dye the wood to get a grey color.
DIY Grey Wood Stain: How Do You Naturally Stain Wood Grey?
Instead of spending too much money on a grey wood stain, you can use home remedies to stain your wood gray. Get a paintbrush (the one used for staining) and a mason jar with a lid. Add some white vinegar, water, and steel wool to the jar.
Give the mixture time before removing the steel wool for an instant lighter color. You can allow the mixture to stay for a few days to get the desired silver-grey tinge. You can now apply your natural stain gray to your wood.
Can You Gray Wash Wood?
Yes. You can gray-wash wood to give it an old, weathered look. This simple process only requires some working space and hardware supplies.
Five Easy Steps to Gray Wash Wood are:
Preparing the workspace: Ensure the space is well-ventilated with a laydown oilcloth to safeguard the floor.
Sanding the wood: Sanding removes any dirt or blemishes on the block of wood. Use coarse sandpaper to do the job.
Apply wood stain: You can use a brush to put the stain and follow the grain's direction. Ensure the surface is completely covered before turning the wood to apply on the other side.
Remove excess stain: After drying for at least five minutes, wipe the excess surface stain using some pieces of lint-free clothing.
Mix and apply your gray stain: Mix 1 part of the water-based gray-hued finish in 4 parts water. Using a foam brush, apply the mixture across the wood. Once it's dried, repeat for the other side.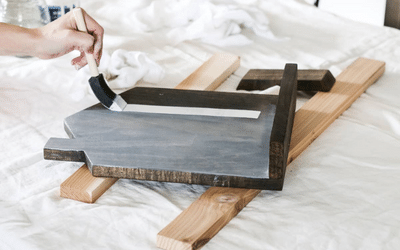 How to Gray Stain Wood
To create a gray stain wood, you will need some hardware supplies as listed below:
Sandpaper
Dark wood stain
Wood conditioner
Staining cloths
White or white-gray paint
Water
Armed with all the relevant supplies, begin to gray stain your wood with these four simple steps:
Apply a conditioner. Use a pre-stain conditioner on the wood and let it dry.
Stain the wood: apply a coat of dark wood stain and allow it to dry.
Apply the 'white wash' and let it soak for about five seconds.
Rub a lint-free cloth over the wood. Use the staining cloth to rub it gently into the wood. Allow it to dry.
FAQs
Can you stain brown wood gray?
Yes, you can stain brown wood gray. Professionals advise gray wood stain is one of the color options to apply on a brown-stained surface. The best way to achieve a successful gray stain is to sand first. Start with light coats of the stain, and then build up the color for a darker stain. Here is how to darken wood stain.
What is the best light grey stain for wood?
The best light grey stain for wood is Minwax Weathered Gray. It's a great color that can be used on a variety of different types of wood. , and it produces a beautiful light gray finish. I love Minwax Weathered Gray for its light gray hue; not too white, black, or brown.
What is the best dark gray wood stain?
Carbon gray is the best dark gray wood stain. It has a deep, rich color that can complement any decor. It is a fantastic gray wood stain with a charcoal gray shade that is almost black. You can always find the best dark gray wood stain on Amazon.
Can you stain wood grey?
Yes, you can stain wood grey. All you need is a dark grey wood stain and a cloth to apply it with. Make sure the surface of the wood is clean and dry before you start staining, then follow the instructions on the bottle of stain to apply it evenly.
Can you put grey stain over white paint?
Yes, you can put grey stain over white paint and you will still achieve a good finish. The trick is to use a high-quality primer and to make sure the surfaces are prepared properly before you start staining. The end result will be a light grey color that will complement most decors.
Can you use a grey stain on cherry wood?
Yes, you can use grey stain wood on cherry wood. Grey color has a neutral tone which is a great match for cherry wood. Cherry wood can vary in color from light pink to reddish-brown, so you may need to adjust the shade of gray accordingly to get a perfect finish
Conclusion
So, which of these gray stains is your favorite? Sampling through all these gray wood stains was pretty easy to do and removes the guesswork from the staining equation.
There's nothing worse than having to stain over or sand down the stain you chose and starting all over again. So what's my verdict?
I stand by the declaration that General Finishes is the best gray wood stain. Regardless of the type of wood you're using, a beautiful black-charcoal gray finish is assured. Unbeatable!