After spending hundreds of dollars on wood, you wouldn't want them to warp when stored. So, you'll want to use the best lumber storage racks to keep your lumber dry, straight, and out of the way.
Moreover, your lumber rack should be durable enough to support heavy loads without resulting in a safety hazard.
In this post, I focus on the best lumber racks. I'll also offer a buyer's guide to help you make informed purchasing decisions.
Our Top Picks
Best Lumber Storage Racks
Why Wood Storage Racks for Workshop and Garage
First, although wood has always been costly, woodworkers don't expect the prices to drop as its demand increases. So, after investing in high-quality wood, you'll want to store them in the best and most sturdy ways.
Secondly, while piling the wood in some corners may work for a while, you'll need a reliable option to maintain the wood's quality for longer.
Here's why having a lumber rack is essential;
Prevents wood from warping
You definitely have had to deal with wood warping at some point. Needless to say, if you store your lumber poorly, expect your wood to warp.
Warping occurs due to sudden variations in humidity or moisture content. Similarly, storing wood before it dries completely may result in warping. Also, covering stored wood could protect it.
Since your workshop's floor is more prone to humidity changes, storing your lumber above the ground using a storage rack will help prevent wood warping.
Besides acting as humidity control, elevating the pieces will prevent the wood from absorbing moisture. If one side of the wood is in contact with the floor, it'll forever remain moist while the top side dries out. This will shrink or warp the wood.
Additionally, the elevation delivered by lumber storage racks helps to keep wood off moisture-wicking concrete.
Keeps the workshop organized
Lumber storage racks help to maintain a neat workspace. Littering the ground with wood pieces consumes not only a lot of floor space but also limits access to the lumber.
Storing lumber can be an eyesore, especially if you aren't a neat freak. Fortunately, a lumber rack can keep all your materials and tools in a single place, enhancing accessibility. This way, you won't have to waste valuable time looking for them.
Best Shop Lumber Racks Reviews
1.
Best Overall Lumber Racks For Woodshop

– Bora Wood Organizer And Lumber Storage Metal Rack

Sale
Bora Wood Organizer and Lumber Storage Metal Rack with...
PERFECT FOR STORAGE: Store all your building supplies without taking up too much space in your garage, basement, shed or outdoor workspace. This is a very strong storage solution for lumber, firewood, gutters, sheet metal, PVC, pipes, ladders, skis, snowboards, golf clubs, construction tools, old rugs and more!
WALL MOUNTED: Our storage saver is easy to install on the walls of your garage or workshop to increase your storage space. Keep your workbench area well organized with this great space-saver for your home or business. Dimensions are 41" height x (up to) 72" wide x 12 ½" shelf depth.
WEIGHT CAPACITY OF 600 LBS: Quality industrial storage equipment holds a significant amount of weight, which is why each shelf holds up to 110 lbs – that's a 600-pound weight capacity for all six shelves! Store all those heavy boards or logs with the assurance that your organizer can handle the weight.
This wood organizer and lumber storage rack by Bora is top-rated for a reason. The metal rack provides the perfect storage solution for your building supplies in the garage, shed, or workshop.
Besides lumber, use it to store firewood, gutters, PVC, skis, golf clubs, sheet metal, and pipes, among other construction tools.
Additionally, this wall-mounted lumber rack is easy to install without occupying floor space. Moreover, it offers six levels of storage. Thus, you could use the top tiers as a wood rack and add wooden boards to the others to increase shelf space.
With this unit, you can store up to 600 lbs. of wood, with each shelf holding up to 110 lbs. With this industrial storage equipment, you can store all the heavy logs and boards without worrying about the weight.
Lastly, this heavy-duty construction comprises powder-coated steel tubes that make it sturdy and durable. You can count on this lumber shelving to offer years of storage use.
What I Liked Most
It's easy to install
It's versatile
Sturdy enough to hold up to 600lbs of wood
Includes a wall-mounted design
Doesn't occupy too much space
What Could Be Improved
Suitable for flat wooden boards and long wood pieces only
---
2.
Best Affordable Lumber Storage Rack

– KASTFORCE KF1004 Lumber Storage Rack
Luckily, I don't have to spend a fortune to find a reliable solution for my lumber storage needs. This storage solution by Kastforce allows you to maintain the quality of your wood even when running on a budget.
Besides sporting a smaller profile, you can mount this unit on the garage wall, saving floor space. I recommend this product to those working in a smaller workshop or garage.
This 3-level rack system offers up to 330 pounds of support, allowing you to store your lumber off the wood. This protects the wood against moisture damage and will enable you to keep wood straight.
Lastly, unlike other options, this unit allows you to customize the installation size. It also consists of powder-coated steel alloy that can resist wear.
What I Liked Most
It's affordable.
It's suitable for shops with limited space.
It includes a wall-mount option.
Consists of durable material.
It's easy to install.
What Could Be Improved
It doesn't have lag screws.
It may not include the mounting hardware.
---
3.
Best Plywood Rack For Shop

– West Horizontal Storage Rack
I was looking for a versatile and multi-purpose lumber rack, and this product by West Horizontal was my best option. Despite its pocket-friendly price, I used it to store different shapes of lumber, including plywood and boards.
Moreover, it can hold rods, pipes, and PVC. It also includes seven adjustable arms that can clock in or out depending on your needs. Even better, this industrial storage solution offers up to 2000 pounds of wood support, one of the highest weight capacities.
The entire lumber storage rack comprises 14-gauge galvanized steel that delivers maximum support and durability. The material also resists corrosion.
I recommend this option only for more extensive and prolonged storage. Still, you can include your DIY lumber shelves if you wish to store smaller wood pieces. Another major downside is that it doesn't have a wall-mount option.
What I Liked Most
Highly durable and versatile storage rack.
Can store more than just wood.
It includes adjustable vertical bars.
It supports a high-weight capacity.
You can use multiple units together.
What Could Be Improved
Doesn't include a wall-mount option.
It doesn't include wheels, hence limiting portability.
---
4.
Best Wall Mount Lumber rack

– Dewalt 3-Piece Wall Mount
DEWALT 3-Piece Wall Mount Cantilever Wood and Lumber Storage...
Multiple depth storage - set includes 6-inch, 10-inch, and 12-inch cantilever arm lengths for easy-access storage
High capacity - 50 lbs. per short arm, 25 lbs. per medium arm, and 16 lbs. per long arm for a total of 273 lbs. of storage
Durable - steel arms and rails feature an industrial-grade powder coating that won't chip or fade
I recommend DeWalt for high-quality power tools and accessories. As such, it comes as no shock to find this product among the best lumber storage racks.
This 3-piece lumber wall rack features a customizable depth and includes adjustable 6″, 10″, and 12″ cantilever arms, allowing for enhanced accessibility of stored items.
I also appreciate its high capacity, which varies with the arm length. For instance, the short arm can support 50 lbs. While the medium and long arm supports 25lbs and 16lbs, respectively. This lumber wall rack can support up to 273 lbs. of storage weight.
The unit also offers maximum durability with the steel arms featuring an industrial-scale powder coating that doesn't chip or fade.
Also, this storage rack includes arm end stops- a 2.5″ flat tab on each support arm that prevents boards and pipes from rolling off.
I vouch for this as the best option for storing wood since it includes 36″ tall rails for easy mounting. You can mount the unit on bare or finished walls. This allows you to save on floor space.
What I Liked Most
Includes a wall-mount option.
It includes arm stops that prevent objects from rolling off.
It features a customizable depth and adjustable arms.
The powder-coated finish delivers additional protection
What Could Be Improved
It can't be ceiling mounted.
Doesn't suit heavy boards.
---
5.
Best Versatile Lumber Storage Rack

– 7blacksmiths Six-Level 600lb Capacity Lumber Storage Rack
Six-Level 600 lb Capacity Lumber Storage Rack Wall-Mounted...
Wall-mounted Wood Lumber storage rack both Indoor and Outdoor Use
Powder coating, steel construction, each layer provides 100 pounds of capacity, six levels, a total of 600 pounds of capacity
Easy-to-install storage rack, you can put it inside, outside, in the garage, wherever you need it, make full use of your space to store things
If you need more shelves on your lumber rack, this 6-level storage solution by 7Blacksmith should fascinate you. Besides suiting outdoor and indoor use, this wall-mounted storage includes six levels, each offering up to 100 pounds of support.
This totals a weight capacity of 600 pounds. Unlike your typical plywood storage cart, the storage capabilities of this unit are versatile.
You can use these wood storage brackets for skateboards, rods, and broomsticks. You could also modify the unit, with only your imagination limiting you, to use it as a clothes rack.
Also, this easy-to-install storage rack features a powder-coated steel construction that resists rust and corrosion. While its use is extensive, the unit features a simple structure for seamless assembly.
What I Liked Most
It supports long items.
Includes six levels of support shelves.
It features a durable powder-coated construction.
It supports up to 600 pounds of weight.
Easy installation.
Suitable for outdoor and indoor use.
What Could Be Improved
It doesn't include arm stops.
It can't be ceiling mounted.
---
6.
Best Durable Lumber Storage Rack

– Clear Style Lumber Rack

This lumber storage solution by Clear styles includes dual style choices with 2 or 4 units. The product consists of high-quality steel with a galvanized coating and two additional black color layers for enhanced durability.

Use it to organize your garage and store your building supplies, including lumber, pipes, and gutters. Since it comes with a wall-mount option, this unit can help save floor space in your shop or garage.

Moreover, it features an easy installation that requires only four screws. Similarly, it comes with a step-by-step installation guide to guarantee the best solution for your shop's organization.

Unlike other products, this durable lumber storage rack also supports long and short tabs. Lastly, the company claims to offer a 100% money-back guarantee if you're unsatisfied with the unit's performance.

What I Liked Most
Strong and durable construction.
Wall-mounted option.
It includes a 100% satisfaction refund.
Features a simple installation.
What Could Be Improved
It isn't suitable for large plywood boards.
Doesn't suit ceiling installation.
---
7.
Best Free-Standing Lumber Rack

– Global Industrial Rack
This steel lumber rack by Global sports an easy assembly, suitable for storing wood, pipes, and other long supplies. Besides being durable, this free-standing storage rack offers up to 3000lbs of support, allowing for industrial-scale use.
To store long pieces, stack them vertically in one of the three storage bays. For shorter pieces, use the three integrated pan shelves included.
This wood rack measures 39″ x 24″ x 84″, thus requiring ample floor space. The bottom pan measures 6 inches and includes a 1½-inch flange.
I recommend this steel floating lumber rack for larger shops and garages. Fortunately, you needn't worry about your stock with the unit since it features a safety chain that retains the lumber.
Moreover, its simple, yet reliable construction allows easy access to lumber when placed strategically by your miter saw, or table saw.
This wood storage solution is unlike wall-mounted options- which are often limited to support a few hundred pounds.
What I Liked Most
High weight capacity.
Offers a large storage space.
Suitable for long and short pieces of lumber.
Durable construction.
What Could Be Improved
Isn't wall-mountable.
Occupies a large floor space.
---
Best Heavy-Duty Lumber Racks

– Heavy Duty Wood and Lumber Storage Rack
Heavy Duty Wood and Lumber Storage Rack, Holds Up To 800 lbs...
Free Up Valuable Floor Space: Delta's Wall Storage Rack will help you make the most of unused wall space in your garage, basement, shed and more. This durable, 5-tier shelving unit will safely store items horizontally for versatile storage solutions. Wall-mounted storage allows you to create custom solutions and provides extra space storage, even in the smallest space.
Heavy Duty Lumber Storage Rack: Our wall mounted rack is crafted from premium steel with a hammered powdercoat finish. The shelving hardware includes lag bolts and locking pins that bare up to 800 lbs of weight, or 160 lbs per individual shelf
Wood Rack Dimensions & Specifications: Package includes 4 upright wall racks, 10 arm brackets, 2 rack adapters (utilize to join multiple uprights vertically to create a system), and all necessary lag bolts and locking pins. When fully installed, the measurements are 41 inches H x 16 inches D x 32 inches W. Wood not included
Introducing the Heavy Duty Wood and Lumber Storage Rack by Delta Cycle – the ultimate storage solution for all your wood and lumber needs.
Designed to hold up to an impressive 800 lbs, this mounted rack is perfect for indoor and outdoor use, making it an ideal addition to your garage, basement, or pantry.
Crafted with durable steel construction, this storage rack ensures long-lasting performance and stability. Its easy-to-install design means you can effortlessly set it up quickly, while the included mounting hardware guarantees secure attachment to your wall.
The Heavy Duty Wood and Lumber Storage Rack offers an efficient way to organize your wood and lumber and helps maximize your storage space.
The robust design allows you to store a large number of materials without compromising on floor space, making it perfect for those with limited storage areas.
Whether you're a professional woodworker or a DIY enthusiast, the Delta Cycle Heavy Duty Wood and Lumber Storage Rack is an essential addition to your workspace.
Experience unparalleled organization, accessibility, and durability with this top-quality storage solution.
Lumber Rack for Garage and Shop Comparison Table
Buyer's Guide: How to Pick a Lumber Storage Rack
With many lumber storage solutions saturating the market, finding a suitable option for your needs can be a pain. Luckily, with the buyer's guide below, you no longer need to worry.
Quality of the Material
The material's quality is essential to guarantee a reliable storage rack that can last longer. You can opt for steel units or those that combine wood and steel. I recommend metal storage racks since they resist damage and wear more readily.
Moreover, ensure that the product includes a powder-coated finish to prevent fading, rusting, or chipping of the metal surface.
Ease of Installation
Besides offering a sturdy storage solution, your lumber rack should also be easy to install. Before settling on a product, check whether it includes mounting hardware. It will save you a lot of time.
You could also settle for wheeled carts type of lumber storage racks or wall-mount options. Some wall-mounting options feature minimal installation needs.
Similarly, go for brands that boast of quick and easy installation requirements. For instance, with a lumber storage solution from Clear Style, you only need four screws for mounting.
Also, ensure the mounting kit is compatible with hardwood, brick, or studded walls, depending on your wall type.
Size and Fit
Also, consider where you want to install the storage solution. Is it in your home, shop, or garage? Considering the available space, you can pick a unit that doesn't limit the room's functionality.
Next, you'll want to consider the type of wood stored on the rack. Do you wish to place large sheets of plywood or pile thin lumber? Either way, ensure that the storage rack can accommodate all your requirements.
Lucky for you, there are wall-mountable units as well as wheeled carts that enhance mobility. Choose the one that matches your preference.
Choosing a Wall-mounted Wood Rack
Material: Opt for materials like steel or wrought iron for durability or wood for a more traditional look.
Capacity: Consider the amount of firewood you need to store and select a rack size accordingly.
Design: Choose a design that suits your taste, whether it's minimalist, rustic, or decorative.
Installation: Ensure the rack has the necessary hardware and instructions for easy installation.
Budget: Set a budget and find a wood rack that offers the best balance of quality and affordability.
Why Wood Warps
Regardless of your woodworking experience, you must've dealt with warped lumber at some point. First, to find a solution to this challenge, you'll need to understand why wood warps in the first place. The two main reasons include the following;
Variation in humidity – Typically, storing non-kiln dried wood in a low-humidity environment will result in a loss in moisture content. When moisture is lost unevenly, the wood may shrink, resulting in warping.
Uncovered wood – When storing non-kiln-dried lumber, you'll want to cover the top row. Failure to protect the lumber pieces will result in warping overnight.
Unfortunately, even a higher-grade kiln-dried wood will wrap with continuous exposure to significant variations in ambient air temperature. So, proper storage is the only fool-proof way to prevent wood warping.
Preventing Wood from Warping
You can easily prevent the wood from warping if you adhere to the steps below;
Store it flat with support – While it seems obvious, storing wood without support will make it bow or wrap.
Even exposure to air – If you store moist wood with one side in contact with the ground, it'll result in uneven drying. Typically, the top side will dry out first. This causes the wood to shrink and even bow.
Humidity control – Much like straw, wood absorbs moisture from the air. You can prevent this by storing your lumber in a humidity-controlled environment.
Tips for small shop lumber storage
Like with any natural product, wood reacts to the surrounding environment. Hence, you'll want to be super fussy when storing it. Here are three must-know wood storage tips for woodworkers to get the most out of your lumber.
Keep it Flat
The best way to maintain your wood is by laying it straight and flat. I recommend piling up the lumber instead of storing them individually.
Since wood reacts to the environment, it's vital to maintain equal temperature, humidity, and airflow on both sides of a board. When you expose wood to varying conditions, one side will likely shrink or swell more than the other.
As a result, you'll have to deal with bowing, twisting, and cupping. The same can happen if you lean a board against a wall or lay it flat on the floor.
Keep it Dry
The damage that water presents to wood can't be overstated. Don't store wet wood. Instead, dry your lumber thoroughly before turning it into a finished product.
Most importantly, don't expose dry wood to water. To ensure this, consider storing wood away from wet surfaces. Additionally, avoid storing your lumber outdoors.
This exposes it to the elements, including moisture and drastic temperature variation. Instead, hold the wood on shelves or lumber racks.
Keep it Organized
Keeping wood organized allows seamless accessibility whenever you need it. I prefer organizing my lumber based on length, species, and thickness.
By incorporating an organization strategy, you not only save yourself valuable time but will maintain the wood's quality in the long stretch.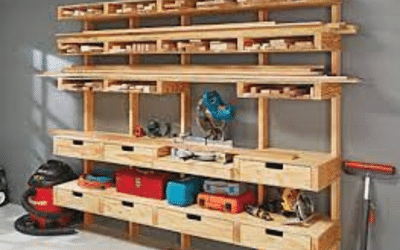 What To Consider When Building A DIY Lumber Storage Rack
Sometimes, you may build a custom lumber storage rack from scrap wood instead of purchasing one. In this case, you'll want to consider the following factors;
Size of available space for storage.
Your budget for building the DIY projects.
The function of the storage solution, including the type and size of lumber.
Portable lumber rack or wall mounted
Wood storage brackets FAQs
What is the best way to store lumber?
The best way to keep lumber straight is by laying it flat. Additionally, I recommend storing lumber in piles as opposed to individual boards. Also, since wood reacts to its environment, ensure that you maintain equal temperature, airflow, and humidity on both sides of the wood.
How do you store lumber upright?
To store lumber upright, raise it off the ground to prevent water damage. Moreover, you'll want to support the top and bottom ends to prevent bowing. Store smaller wood pieces in a lumber cart, which makes it convenient to move the wood around.
How do I store wood in my garage?
Tips for storing wood in your garage;
Inspect the wood before storing it.
Take caution when using pesticides.
Ensure that the wood is fully dry before storing.
Stack the lumber in rows.
Store the lumber away from potential fire hazards.
How do you store lumber horizontally?
Store wood horizontally in rows until the moisture content drops to an ideal percentage. While storing lumber vertically saves floor space, I only recommend it if the wood is fully dry. Otherwise, keep it horizontal.
Can you store 2×4 standing up?
No, avoid storing 2×4 standing up. Doing so will result in bowed boards. However, it is okay to store them upright for a short term. For long-term storage, stack them up on the best lumber rack. This way, the wood can last up to 10 years.
Shop wood rack summary
Hopefully, this guide will help you pick the best lumber storage racks. I recommend using Bora Wood Organizer and Lumber Storage Metal Rack since it features easy installation and is sturdy enough.
If you wish for a more budget-friendly option, settle for the KASTFORCE KF1004 Lumber Storage Rack.