When it comes to remodeling and redecorating your wood floors or furniture, the preparation and condition of the surface always determine the quality of the finish.
That's why you need to remove all the flaking, crackling, and chalking layers of paint before applying a new finish.
In great delight, we bring you the best paint strippers for wood that works in no time using minimal effort. When putting together these strippers, our major focus was the products' effectiveness.
In a hurry, here's the list;
Best Paint Stripper for Wood
Best Rated Paint Strippers for Wood Reviews (Updated List)
Our list of the eight best paint strippers for wood reviews reflects hours of research into real customer reviews, expert woodworking advice, and products descriptions. That said, we know our comprehensive guide will help you find the best paint stripper for your wood furniture or floors.
1.
Best Overall Wood Stripper

– Safe 'n' Easy Citrus Paint & Varnish
Smart 'n Easy Citrus Paint & Varnish Remover Gel - Strips Up...
REMOVES MULTIPLE LAYERS - Strips acrylic, latex, oil, and water-based paints, varnishes, stains, and coatings, usually in one application! Always perform a small compatibility test before full use.
COMPATIBLE WITH MOST SURFACES - Wood, brick, stone, metal, marble, terracotta, granite, terrazzo, concrete, plaster, cement, copper, tin, enamel, slate, cast iron, and many more!
NO CAUSTIC CHEMICALS! - This water-based paint remover was made WITHOUT harmful caustic chemicals like methylene chloride or NMP commonly found in other paint removers.
To top our list is Safe 'n' Easy citrus paint stripper. It's a unique product that gets rid of more than 15 layers of latex and oil paints in a single application.
Aside from removing paint flickers on wood, you can use the Citrus stripper on other surfaces as well. These include brick, tiles, metal, porcelain, masonry, concrete, brick, stone, plaster, fiberglass, bathtub, moldings, cinder blocks, glass, and deckings.
Many woodworkers love this wood stripper because it's eco-friendly and has no harmful chemicals or smells. This creates a safe working environment even when stripping post-1980 paints and varnishes.
Made for DIYers, this paint remover is super easy to apply. Safe 'n' Easy recommends you spray or brush the painted surface. The paint will bubble after sitting for a few minutes, allowing you to scrape it off pretty easily. Wipe the area clean and you're left with a new surface ready for refinishing.
PROS
Non-drip water-based gel.
100% biodegradable  
Fume free.
Non- flammable and non-carcinogenic. 
Pleasant orange citrus scent.
CON
---
2.
Fastest Working Paint Stripper

-Sunnyside Corporation Ready Strip Paint
Our second on the line is Hi-speed ready-strip spray, a Sunnyside Corporation product since 1893. The wood stripper offers a faster, suitable, and easy way of stripping up to 3 layers of oil or water-based paint from wood in a single application.
The best part? It works super fast – within 2 minutes. So if you're looking for the quickest and fastest way to remove paint from wood, this powerful wood stripper will get the job done.
This paint remover has a low odor and is non-flammable and environmentally friendly. Why? Because it contains no methylene chloride, caustic, or any other harsh chemicals.
Its ability to stay wet for long is great for vertical surfaces and filling detailed areas.
In addition to using it on wood, it's also ideal for plaster, concrete, metal, stone, brick, veneers, marble, and masonry.
Before using the formula, mist your surface with water for easy lifting of the layers. Then, pour the stripper and allow it to infiltrate the paint layers. Each gallon covers up to 25 square feet. And for hard-to-reach areas, use a sprayer.
PROS
Fit for exterior and interior finishes.
Spray application.
Non-flammable.
No methylene chloride.
Easy clean up with water.
Fast paint stripping makes it the best exterior paint remover.
CON
Most reviewers complained the wood stripper was too thick to spray.
---
3.
Best Family Friendly Spraying Gel

– MAX Strip All Purpose Remover

Sale
MAX Strip All Purpose Remover - 22 oz - Removes Paint...
FAST ACTING SPRAY GEL STRIPPER - Does the work of several products in one removing Paint Spills and Over Spray, Graffiti, Markers and Gum, Glues, Adhesives and Tape Residue, Decals, Sap and More!
NO HARSH FUMES OR UNPLEASANT ODOR - Ideal for use in confined or small spaces.
EASY TO USE WITHOUT CAUSTIC CHEMICALS - Contains NO Methylene Chloride or NMP. Apply to the surface and check every 15 minutes till it's ready. Remove with scraper. No fuss, no muss!
This paint and varnish remover helps you end sticky messes like spills, paint drips, grime, and grease, tree saps, all kinds of stickers, glues, and graffiti from any surface.
You can clean up tough old paints from glass, fiberglass, laminate, metal, furniture, windows, wood, porcelain, flooring, brick, granite, countertops, ceramic, tile, marble, granite, carpet, concrete, stone, clothing, rugs, among others.
Another great feature that you would appreciate is that it's a fast-acting spraying gel stripper. And because it's non-caustic and has low volatile organic compounds, this is the best furniture paint remover to use indoors.
As a water-based formula, it provides a safer wood paint removal option that's easy to clean with water only.
PROS
Skin-safe paint stripper
Fast-acting.
Fume free making it the best furniture stripper.
No unpleasant odor.
Multipurpose.
CON
Cannot get rid of automotive or factory-finished paints.
---
4.
Best Paint Remover for Thick Multiple Layers

– Citristrip Paint and Varnish
Citristrip® Paint & Varnish Stripping Gel, 1 Quart
CITRISTRIP Safer Paint & Varnish Stripping Gel is easy to use.
Stays wet and active for up to 24 hours allowing stripping of multiple layers in one step.
Removes dried latex and oil-based paint, varnish, lacquer, polyurethane and shellac.
Citristrip removes up to 5 layers of dried latex paint, oil-based paints, varnish, lacquer, polyurethane, and shellac from metal, wood, and masonry surfaces.
This paint or varnish stripper removes paint within 30 minutes. It stays wet and active for 24 hours to allow stripping off many layers in one single step. For best results, we recommend waiting for a few hours after application.
Citristrip is easy to use and safe, as it does not contain toxic chemicals like methylene chloride or NMP. Yet, it uses Benzyl alcohol as its active ingredient.
We highly recommend you wear a respirator, gloves, and protective glasses when using Citrristrip. It can cause lung irritation and burns. Always keep this paint remover out of reach of children.
The varnish remover has a fresh and appealing citrus scent, a feature that makes it suitable for indoor use.
To work effectively on your wood surface, apply a thick coat and cover with plastic (optional). Let it sit, then scrape it off and clean it up.
We highly recommend that you test this Citrus paint remover before use on any synthetic surface in an inconspicuous area as strippers can damage these surfaces.
PROS
 No harsh fumes.
Strong paint remover for wood that strips many layers.
Best varnish stripper
Appealing citrus scent
CON
---
5.
Best Eco Friendly Paint Remover

– Dumond Chemicals Smart Strip

Sale
Dumond 027691033322 Smart Strip by Peel Away One Sample...
REMOVES UP TO 15 LAYERS OF PAINTS & COATINGS - Strips Acrylic, Latex, Oil, and Water-Based Paints, Varnishes, Stains, and Coatings in usually a Single Application!
EFFECTIVE ON ALMOST EVERY SURFACE - Wood, Brick, Stone, Metal, Marble, Terra Cotta, Granite, Terrazzo, Concrete, Plaster, Cement, Copper, Tin, Enamel, Slate, Cast Iron, and More!
EASY TO USE WITHOUT CAUSTIC CHEMICALS - Contains NO Methylene Chloride or NMP. Apply to surface and check every 90 minutes for up to 24 hrs. Remove with scrapper or pressure washer. No fuss, no muss!
We are back with a revolutionary paint remover from Dumond chemicals. Smart strip advanced paint remover is a product designed to remove up to 15 layers of paint.
It strips paint on various substrates, including exterior or interior surfaces of woods, metal, stone, brick, glass, fiberglass, decking, tiles, concrete, plaster and so much more!
This remover is best suited for stripping post-1980 coating systems that are oil-based, water-based, latex, acrylic-based, stains, urethanes, and old lead paints and varnishes.
Smart Strip is a water-based, non-toxic paint stripper that is user and environmentally friendly. You can apply it with a brush, roller, or airless spray applicator.
The good thing is that it's formulated to remain wet and effective over a long period of time. So no peel-away papers are required.
The paste should dwell on the coating for 3 to 24 hours or 48 hours for better results. This depends on the number and the type of coatings being removed. Rem
ove the paste and the softened paint using a scraper after an appropriate dwell time.
Use a sponge and water or power washer to remove any old paint residue. No neutralization is needed after stripping.
PROS
PH neutral
100% biodegradable
Zero VOC – non toxic paint stripper
Odor-free
Best non methylene chloride paint remover
CON
---
6.
Best for Tough Stripping & Dust Free

– Max Strip Paint & Varnish Remover

Sale
MAX Strip Professional Strength Paint and Varnish Stripper 1...
DESIGNED TO REMOVE PAINT AND VARNISH FROM MULTIPLE SURFACES - Remove Paint, Latex, Polyurethane, Shellac, Varish, Acrylic, Oil Based Coatings and More in usually a Single Application!
EASY TO USE WITHOUT CAUSTIC CHEMICALS - Contains NO Methylene Chloride or NMP. Apply to the surface and check every 15 minutes till it's ready. Remove with scraper. No fuss, no muss!
THE "DO-IT-YOURSELF" CHOICE - Powerful enough for painting contractors and restorers, but user-friendly enough for all your DIY home projects.
Next on the line is Max Strip Paint and Varnish stripper, a powerful, easy-to-use, and convenient no-drip gel. This product removes exterior and interior paints and varnishes without damaging the surface that is being stripped.
If you are looking for a tough stripper to handle your paint stripping tasks, max strip stripper is here to save your day.
It is water-based with an impressive wet work system for safe and dust-free paint removal options.
This paint remover works on all types of paint and varnishes from a variety of surfaces. Max strip has a professional strength to strip off paint, latex, shellac, acrylic, polyurethane finishes.
Being eco-friendly, this remover doesn't contain any harsh fumes or chemicals like methylene chloride or NMP. In addition, it is skin safe and requires no ventilation for safe use when indoors throughout the year.
It is perfect for use by professionals, consumers, and DIYers.
PROS
No NMP formula
No methylene chloride
Water cleanup
No harsh fumes or unpleasant odor.
Non-caustic
CONS
Cannot remove automotive or baked-on paints.
May etch plastics
---
7.
Best for Rust and Corrosion Removal-

3M Paint and Rust Stripper

Sale
3M 7771 Stripper Brush, 4" Diameter
Cleans rusty surfaces and has a double-thick edge to strip quicker
Features Scotch-Brite abrasive web that will not rust or splinter
Conforms to contours and leaves a smooth paintable surface
This wood paint remover works quicker, lasts longer, and cuts faster than ordinary sandpaper to strip off scales, old paint finishes, and corrosion.
Made from durable, non-woven synthetic material, it cleans up the surface corrosion to reveal the surface below. This makes the otherwise tough job faster and much easier.
It attaches easily with a standard electric drill with a quarter-inch mandrel. When applied directly to collision or old paint, the drill does much of the work faster and efficiently, saving effort.
Compared to sanding by hand, the power of the electric drill saves a lot of time and effort. This paint stripping solution works best on wood, plastic, fiberboard, fiberglass, metal, clear coat, filler, putty, and paint.
Our 3M paint and rust stripper is popular for automotive restoration works. It uses the science behind synthetic materials to remove stubborn rust and old paints from any surface with ease, bringing them back to life.
It is an excellent tool for automotive repair and restoration. It makes quick work removing paint and rust, leaving a good surface for filler or repainting.
PROS
Multi-usage.
Saves on time
Easy to use
CON
Gouges wood. Not a wood-sanding product.
---
8.
Best Heavy Duty Paint Remover

– Dumond chemicals, Inc.

Sale
Smart Strip Advanced Paint Remover - Strips Up to 15 Layers...
Removes 15+ Layers of Paint/Coatings - Works on Wood, Brick, Metal, Concrete, Stone, Plaster, Fiberglass, Masonry, Porcelain, Bathtubs, Moldings, Tile, Glass, Decking, and Cinder Blocks.
Safe Water-Based Formula – 100% biodegradable. No Harmful Smells. Fume Free. No dangerous chemicals or caustics, such as Methylene Chloride or NMP. Trusted by Painting Professionals.
Works Best on Post 1980 Paints – Professional Strength - Effective inside and out. Simply apply, let set, and rinse off. No neutralization required. No fuss, no muss. Leaves no mess.
It is a water-based paint remover that is odorless and non-flammable. This wood stripper helps you remove many layers of architectural, industrial, and most lead-based paints in a single application.
You can strip up to 15 coats of almost every coating on any surface. It works well in wood, brick, metal, stone, concrete, plaster, fiberglass, and plastic surfaces.
It works best for both interior and exterior surfaces. This organic paint remover has zero VOC and does not contain methylene chloride or caustic. It is 100% biodegradable, user-friendly, and safe for the environment.
It is available in 1 gallon, which equals 3.8 liters. This single aspect differentiates it from smart Dumond chemicals, Inc. 3332, which is available in 1 Quart which equals 946 ml.
You can apply this product with ease using a brush, trowel, or a roller
Smart strip paint removers do not need neutralization after application.
PROS
Eco friendly paint remover
Effective and safe paint stripper
100% biodegradable.
Odor-free.
Zero VOC.
CON
---
9.
Best Paint Stripper for All Hardwood Types

– Goof Off FG900 Splatter Hardwoods Dried Paint Remover
Goof Off FG900 Splatter Hardwoods Dried Paint Remover, –...
Goof Off Paint Splatter Remover for Hardwoods removes dried paint splatter from all types of hardwood floors
Safely removes dried paint spots and drips without damaging floors.
Immediately begins to remove both new and old dried paint spots upon contact.
Professional woodworkers and DIY-ers can attest that Goof off Paint splatter remover rises to the occasion when it comes to removing dried paint splatter from all hardwood types. In addition, this paint remover is easy to apply on horizontal surfaces such as floors.
Besides being a safe option for all hardwoods, this product removes dried paint drips and spots without damaging the floor. It also features a fast-acting formula that seamlessly removes several layers of paint.
Upon coming into contact with the surface, the paint stripper effectively removes the toughest oil and latex-based stains. To achieve effective results, use the paint splatter remover correctly by applying it directly to the dried paint.
You can apply the paint remover using a brush, roller, or putty knife. Next, wipe the area using a dry cloth and watch it start to work immediately. Within no time, you'll be left with a new surface to work with.
So, you needn't have to fret the next time stray paint lands on your valued hardwood surfaces and floors. Instead, use this paint stripper to end paint spills, drips, grease, and grime on your floor surface. But, first, ensure to read and follow the label directions.
I don't recommend using this product on a horizontal surface since I didn't find it tacky enough. Also, keep the product out of children's reach.
PROS
Works on all types of hardwoods
It doesn't emit fumes
It features easy cleanup
Strips paint within no time
CONS
Suitable for small projects only
The stripper doesn't work effectively on horizontal surfaces.
---
Paint Stripper for Wood Comparison Table
When shopping for the best paint strippers, there are major factors you should keep in mind. For instance, the type of paint stripper, materials it works best with, safety, and the important characteristics of the stripper.
Types of Paint Strippers
Types of strippers fall into four major categories: solvent, caustic, biochemical, and VOC.
Solvent Paint Stripper
Solvent strippers use toxic chemicals to remove paint by softening the bond between paint and surface. This causes the coating to bubble up. Most solvents have methylene chloride, which has high VOC content.
Other solvent products contain alcohol, methanol, and acetone. This combo works fast, it's effective, and removes many layers of paint in a single application.
However, they have smellier fumes and are more of a health hazard than other strippers like caustic.
Solvent Paint Strippers are very flammable and inhaling them may cause serious brain damage. Neutralization is not needed after stripping the paint as they have high pH.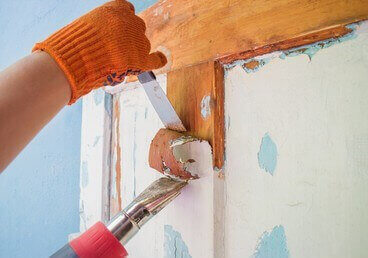 Caustic Paint Strippers
Caustic paint strippers are water-based solutions that are alkaline (high pH). Lye is their active ingredient which may contain sodium hydroxide or potassium hydroxide. The lye converts dried paint (oily part of the paint film) into soap, causing it to loosen up from the surface.
On the downside, caustic strippers cause lung irritation and skin burns. You can wipe down the striped surface with water or vinegar solution to neutralize its pH.
Biochemical Paint Stripper
Next is biochemical-based stripping products, a combination of plant-based solvents like terpenes (derived from pine and citrus) and organic compound, NMP. They are a safer alternative to solvent and caustic strippers.
Though they are lower on VOCs and harsh fumes, NMP is unsafe to inhale, can cause skin irritation, and affect respiratory and reproductive systems.
You can use biochemical strippers on various surfaces, including wood, metal, and concrete—sand after treatment for wood projects.
Biochemical strippers take time to strip paint and varnish.
Zero -VOC Paint Strippers
VOC-free strippers do not contain NMP, lye, or methylene chloride. As a result, they have no harmful chemicals, no volatile organic compounds, and are odor-free.
They work on wood, concrete, metal, carpet, and other surfaces. However, zero-VOC strippers are less effective and take a long time. Sometimes up to 3-4 days to work as compared to other noncaustic options.
You should cover the treated area with plastic to maintain moisture.
Factors to Consider When Choosing the Best Paint Remover for Wood
What is the best wood stripping product? The answer would depend on your own specific needs, your project, and the following factors;
1. Surface Material
Different types of paint strippers perform better on certain surfaces. Choose the best paint and varnish remover that's meant for the intended surface application
For guidance, use the list below.
Solvent– wood, masonry, and metal surfaces
Caustic– masonry surfaces (concrete floors and brick fireplace surrounds)
Biochemical– masonry, metal, and wood surfaces
Zero- Voc -metal, masonry, and, to an extent, wood surfaces
2. Safety
When it comes to paint stripping, some products are harmful while others are not. Therefore, you must use appropriate protective equipment for whichever type of stripper you choose for your project.
Solvent– Cause brain damage and failure of reproductive organs
Caustic– Irritate the eyes, skin, and lungs
Biochemical– Cause chemical burns (slight) and breathing difficulties
Zero- Voc – May irritate the lungs or redden the skin despite being a zero VOC paint stripper
3. Method of Application
The type of stripper you choose for your surface determines the method of application to use. You should always follow the manufacturer's instructions and directions given in the package.
This includes recommendations on how thick or thin your layer should be, whether to cover with plastic or adhesive paper if need be and even the square feet coverage per gallon.
Here's a summary of different kinds of strippers;
Solvent– Apply in a thin layer that is less than 1/8-inch
Caustic– Apply in a 1/8-inch to 1/4-inch layer and let the stripper settle for least 30 minutes before scraping off the paint.
Biochemical– Apply in a thick 1/8-inch to 1/4-inch layer and leave on the surface for 3-4 hours before scraping off the paint
Zero-VOC– Apply in 1/8-inch to 1/4-inch and give the stripper 3- 24 hours before removing the paint.
4. VOC.
VOCs contain harsh chemicals in their formula, like methylene chloride and NMP. These chemicals are harmful when inhaled and cause skin, throat, eye and nose irritation.
We recommend that you look for alternative ways to strip furniture without chemicals to avoid any VOCs.
Solvent– High VOC products
Caustic– Low VOC products
Biochemical– Low VOC products
Zero-Voc– No VOC paint stripper
How to Use the Best Paint and Varnish Remover
At this point, you have already chosen an ideal stripper for your project. Next, we will guide you on the tools to use and the steps to follow to get your work done.
Tools and Materials
Paintbrush or roller
Putty knife
Paint scraper
Electric drill
Spray applicator
Water.
You will also need the following safety tools when using a paint stripper:
Chemical-resistant gloves – especially when using the best chemical paint stripper
Protective glasses
Respirator
Clothes (to cover your skin entirely)
Step 1: Preparation
Stripping paint is quite a messy job. Cover your floor with plastic, rosin, or kraft paper. Wear your full protective gear and ensure your workplace is well-ventilated, especially when working indoors.
Next, clean your surface to remove debris and dust.
Step 2: Apply the paint stripper
Shake your stripper well before application. Then, use a disposable brush, roller, or spray applicator to apply your stripper on your surface. The type of stripper and the surface determines the tool for use.
Follow the manufacturer's instructions carefully for the application process. Leave the paint for the recommended dwell time for best results.
Step 3: Use a Scraper to Remove the Paint
Once the paint has softened and bubbled up, scrape it off with the appropriate tool depending on the paint stripper you are using.
If the stripper doesn't work the first time, apply the stripper once more.
Step 4: Clean Up and Neutralize
You must clean up the residue of the old paint thoroughly before applying the new paint.
Follow the specific requirements given to neutralize your surface depending on the type of stripper you used.
For best results, follow the guidelines given on cleaning and neutralization by the manufacturer.
Allow your project to dry.
Safety Tips When Using Paint Strippers
Several techniques have been invented, including chemical-free methods to remove wood paint. Still, paint strippers are one of the best and effective ways to remove paint from any surface.
Yet, most paint strippers contain chemicals that can harm your health if not handled appropriately.
Methylene chloride is a common chemical in paint strippers that's harmful to human health. Prolonged exposure to this chemical may cause cancer. It also causes skin irritation, nausea, and headaches.
For safe and effective use of any paint stripper, you must follow these safety tips and practices.
1. Protect yourself
Carefully read the label. Follow all the safety instructions, especially when working with chemical paint strippers. Always wear proper protective gear when you are working with any kind of paint stripper.
This includes goggles, breathing masks, gloves, and protective clothing.
2. Ventilate
You should ensure there is more ventilation in your workspace. For example, open windows and place an electric fan by the window to blow out the fumes while working indoors.
3. Work outdoors
If possible, move the objects you are stripping outside to avoid contaminating the air indoors, risking other people.
4. Protect your floor
You should lay a chemical-resistant tarp on the floor and any other furniture or project that you can't move outside.
Related: How to Get Paint off Hardwood Floors without Damaging the Finish
5. Do not eat or drink
You should keep food and drinks away from your working area. Wash off: If you get a paint stripper in your eyes or skin, wash it off immediately with running water.
6. Take a break
If you develop nausea, dizziness, headaches, or breathing problems when working with a paint stripper, get some fresh air right away. You should consider working at a 10 minutes interval and getting a fresh air break.
7. Fire caution
Most strippers are highly flammable. So keep off anything that might cause a spark out of your working area. Cigarettes included.
8. Get help
You should consider getting help by hiring a professional to avoid getting exposed to any hazards caused by paint strippers.
9. Be patient
Safer paint strippers work more slowly and take a long time to work. They do not strip paint in a single application.
You should be patient enough and let it work to achieve the best results.
11. Protect your surrounding
Paint strippers that are not harmful to human health may still affect the surroundings, including your flowers and shrubs. You should therefore protect your surrounding areas when working outdoors.
12. Disposal
Discard your waste paint bag at a local hazardous disposal site.
FAQs About Paint Strippers
What is the strongest paint stripper?
Citristrip paint & varnish stripping gel is the strongest paint remover. This no VOC paint stripper works well on different types of paints and varnishes. You can use the wood stripper on several types of surfaces and it comes with a citrus scent. It's touted as the best chemical paint remover for wood.
Does paint stripper destroy fabric clothes?
No, paint strippers do not destroy fabric clothes. As a matter of fact, most paint strippers work effectively to remove paint stains from fabrics and clothes. However, as a precaution, it often leaves an unpleasant smell/odor on the fabric.
Can paint strippers go bad?
Yes, even the best furniture paint stripper has a shelf life, especially after you open them for use. Even though a paint stripper may not have an expiry date, you should seal it well when not in use to avoid any form of contamination.
How do I dispose off paint strippers?
Don't throw away paint stripper waste in a regular trash can. Most paint strippers contain harmful chemicals to human health or the environment. Instead, wrap the waste material and put it in a heavy-duty contractor bag. Then, dispose at a hazardous disposal site.
What are the best alternative method of removing paint from wood
More natural ways of removing paint from wood include using a heat gun and sanding.
Read: Deck paint for old decks
What is the best varnish remover?
The best varnish remover is Citristrip paint varnish stripping gel. This varnish stripper is effective at removing several types of varnish, including shellac and polyurethane. It's a fast-acting varnish remover that strips varnishes in minutes.
What is the Best Paint Stripping Product for Wood?
The best paint stripper for wood is the Safe 'n' easy citrus paint and varnish remover gel. It is a first-class and biodegradable paint remover that can cover up to 25 square feet per gallon.
This top-rated paint stripper is eco-friendly, easy to use, safe for humans. Not only that, but it also leaves a pleasant citrus scent, making it suitable for use on both interior and exterior surfaces.