You can never go wrong with a fresh coat of paint on wood pieces. It's the first thing we think about whether we're looking to breathe new life into an old cabinet or finishing a new bed for easy maintenance.
However, every woodworker also understands that a quality paint job starts with selecting the right brush. Otherwise, you may end up with unsightly brush marks, poor drying, and a poor paint job overall.
Moreover, poor paintbrushes are hardly durable and make painting a chore. Today, we want to review some of the best paint brushes for chalk paint. Never heard about chalk paint?
Don't worry. We'll also cover what it is and why it might be just what you need for your next painting project.
Our Top Picks
The best paint brushes for chalk paint
Best Brush for Chalk Paint Reviews
Let's begin with the reviews, so you don't have to go through the rest of the guide if you already know enough about chalk paint and paintbrushes.
1.
Best Overall

– Chalk & Wax Paint Brush Set by Modern Art Supplies
Chalk and Wax Paint Brush Furniture Set- Painting or Waxing...
Our large Chalk Paint brush & small round paint brush are Natural Bristles paint brush, With Nickel Plated Ferrule head & Birch Wood Handle is a perfect furniture paint brush
Premium Quality chalk paint wax brush with Natural Bristles and Easily gripped Wooden Handle, Delivers Quality Result on all Surfaces of furniture.
Our wax brush chalk paint has Highest Paint Pick and Release,Paint brushes for furniture painting are Long Lasting on Rough Surfaces, Achieve Quality Result.
Our top pick is the Chalk & Wax Paint Brush Set by Modern Art Supplies. It comes in a set of two paint brushes, each for a unique purpose. The first is a 2.5-inch oval brush for painting furniture and other large surfaces.
Meanwhile, the second is a smaller round chalk brush for painting hard-to-reach areas. The smaller brush is also perfect for stenciling projects. Both brushes have synthetic-natural bristle blends.
They mix natural and synthetic nylon bristles for the highest paint pick and release and few drip problems. Nickel-plated ferrules help keep the bristles in place and prevent shedding.
Both brushes have wooden handles made from birchwood. So, the handles are both durable and beautiful. You can use these brushes for various applications and with many different paint brands.
For instance, the brush set is recommended for Annie Sloan chalk paints, DIY paints, traditional heirloom paints, Amy Howard chalk paints, Fusion Mineral Paint Chalk Wax, dark wax for chalk paint, and grey and white chalk paints. It costs around $15.
What We Liked Most
You get two brushes in the set
The natural/synthetic bristle blend is valuable
Nickel-plated ferrules protect the bristles
Ergonomic handles made from birchwood
What Could Be Improved
There's no mention of the type of hairs used in the brushes
---
2.
Best Budget Option

– Tatler & Tatum Chalk Painting & Wax Brush
Chalk & Wax Paint Brush for Furniture - Painting or Waxing -...
(2-in-1) CHALK OR WAX BRUSH - Works with all colors of Chalk Paint (R), Milk Paint & Finishing Wax. Our Chalk Wax Brush for furniture is compatible with Annie Sloan (R) Chalk Paint (R), Rustoleum (R) Chalked Paint, Milk Paint Finish and all other Chalk Painting, Milk Paint and Finishing Wax brands. 100% Natural bristles (NOT synthetic)
LOW SHEDDING DESIGN - Densely packed and held together with our own specially formulated high strength epoxy adhesive to maintain bristle integrity
AFFORDABLE ALTERNATIVE - Half the price of expensive chalk painting brushes for furniture without compromising on quality
You should consider the Tatler & Tatum Chalk Painting and Wax Brush if you're on a budget. We love it because Tatler & Tatum is one of the most reliable brands for painting brushes.
They use high-quality raw materials, and their attention to detail is second to none. Above all, the brand is very DIY-friendly. Anyway, the natural-bristled Chalk and Wax brush is a low-shedding brush design with a round bristle shape.
However, it's not like regular round-bristled brushes. For one, unlike regular round brushes that lack bristles in some areas, this one is packed with bristles throughout.
Secondly, a unique high-strength epoxy adhesive holds the bristles in place to minimize shedding. The comfortable handles are another easily noticeable feature.
Made from hard-wearing and impact-resistant beech wood, you don't have to worry about chipping if you drop the brush. A highly corrosion-resistant nickel-plated ferrule connects the handle to the brush head and keeps the bristles in place.
You can use the Tatler and Tatum brushes with a wide range of paints and waxes, including chalk paint, chalk-based paint, milk paint, and finishing wax.
What We Liked Most
100% natural bristles
An ergonomic beech handle
Extremely low-shedding bristles
You get a 30-day guarantee
What Could Be Improved
The brushes have a lingering smell  
---
3.
Best Chalk Brush Set

– Professional Chalk & Wax Paint Brush 5-Piece Master Set

Sale
Professional Chalk and Wax Paint Brush 5PC Master Set!!!!...
All-Purpose Chalk Painting – These chalk paint brushes work with paint or wax and brush on smoothly on a variety of wood and furniture surfaces with natural bristles.
Premium Natural Bristles – Superior to synthetic bristles, our 100% natural brush bristles create a more traditional look for all your DIY painting projects.
Larger, Round Head – The round chalk paint brush tip lets you paint faster and more efficiently, helping to reduce the time and effort it takes to complete a project.
Many people prefer to purchase brushes in sets for greater value. Additionally, a brush set gives you a unique brush for every unique painting job.
If you're shopping for the best chalk paint brush set, our recommendation is the Professional Chalk & Wax Paint Brush 5-Piece Master Set by Infinity Elements.
It's one of the pricier options on this list at around $30, which is understandable considering you get five paint brushes in total. However, the value goes well beyond the quantity.
For one, these are 100% natural-bristled brushes. As you'll find out shortly, natural bristles are superior to synthetic alternatives as they create a higher quality look.
Secondly, all five are all-purpose chalk brushes that work with paint or wax. So, you don't have to purchase a new brush or brush set next time you want to wax over chalk paint.
The brushes are also excellent over a wide variety of surfaces. The larger round head brushes are perfect for large projects.
They allow you to paint faster and more efficiently. You'll also love the wooden handles, which are lightweight and ergonomic to reduce strain on your hand.
What We Liked Most
You get a set of five brushes
Premium natural bristles
Durable, ergonomic handles
Perfect for big painting projects
What Could Be Improved
---
4.
Best All Surfaces Brush

– Maxman Chalk & Wax Paint Brush Set for Furniture
Chalk & Wax Paint Brush Set for Furniture,DIY Painting and...
Package Contents two Brushes: One 2.5" Large Round Brush and One 2.5" Large Oval Shape Brush. Large chalk & wax paint Brush is for all normal surfaces painting & waxing, the Oval Shape brush is for those side areas of the furniture or stencils, it is great for getting into nicks and crannies with paint or wax.
Premium Natural Bristles –2 in 1 Round & oval chalk paint Brushes made of 100% natural bristles, compatible with all paint and waxes brands such as annie sloan chalk paint, folkart chalk paint,rust-oleum chalk paint,diy paint,dark wax for chalk paint, Clear Soft Wax,heirloom traditions paint ,annie sloan clear wax , etc.
Larger, Round and Oval Head –Excellent Paint Pick and Release lets you paint faster and more efficiently to save time, Long Lasting on a variety of wood and furniture surfaces, Stencil Brushes for Chairs, Dressers, Cabinets and Other Wood furniture
Maxman chalk paint brushes are perfect for producing a textured, vintage finish. The bristles are blended, i.e., comprise natural hairs and synthetic fibers.
However, natural bristles with split ends dominate the brush head, allowing you to pick up plenty of paint in one dip for faster painting.
The brushes are available in small (22cm x 4.5cm), medium (25cm x 5cm), and large (26.5cm x 6.5cm) options. However, you're not obligated to buy the three as a set.
Instead, you can buy just one if you wish, or two if you like. However, having all three may be advantageous as it allows you to tackle projects with increased precision and efficiency.
Maxman chalk paint brushes can be especially valuable when painting with Annie Sloan chalk paints. They are very economical. Moreover, you don't need much surface prepping (paint strippers) or priming. However, you can also use them to apply wax.
The only downside of Maxman chalk paintbrushes is that they are a little expensive. Otherwise, they're excellent brushes with a good reputation.
What We Liked Most
Holds a large amount of paint
Split bristle ends ensure glamorous finishes
Available in three sizes, depending on your needs
No need for paint strippers or surface priming
What Could Be Improved
The brushes are a little expensive
---
5.
Best Large Chalk Paint Brush

– Brossum Large 2-in-1 Round Chalk and Wax Brush

You need larger brush heads for bigger painting projects, and Brussum has two of the best large brushes for painting with chalk paint. The brush has natural bristles to give your painting projects that rustic, chic look.

The brush head holds thousands of natural boar bristles and uses a special high-grade epoxy glue for maximum bristle retention. The ergonomic handles make using the brush a breeze.

All handles are made from wood and come in the perfect size to fit into your hand. This way, every brushstroke feels natural. There's a lot more to love about the Brossum chalk paintbrushes.

For instance, the brushes are made with DIYers in mind. So, you don't have to wonder whether it's a professionals-only tool. Additionally, it's very cost-effective.

In fact, the company says that price was one of the main drivers when they came up with their new range of brushes. The large one costs around $12, while the extra-large brush costs around $13.

Finally, you may want to know that Brossum chalk paint brushes were made with two things in mind: paint and waxing.

They hold plenty of paint in the bristles so you can paint faster, and the round shape allows you to wax a wide range of items with minimal effort.

What We Liked Most
The brushes are handmade
They are low shedding
Brossum brushes are inexpensive
Rounded bristles allow quick painting/waxing
What Could Be Improved
The brushes tend to shed in heavy applications
---
6.
Best Wax Brush for Chalk Paint

– Chalk and wax Paint Brush Set of Six by Diyartz
Chalk & Wax Paint Brush (Set of 6) for Waxing & Painting...
PROFESSIONAL GRADE RESULTS: 100% Natural pure bore bristles create a more traditional, textured look and hand painted charm for your DIY paint projects. Oval shaped head of chalk paint brush fits easily into contoured and profiled surfaces and distributes paint evenly.
MINIMAL SHEDDING: No more bristle loss with our wax paint brush! Densely packed boar bristles are firmly glued on a rust-resistant ferrule. Large adhesive surface area and industrial grade, high strength epoxy maximize bristle retention.
SET OF 6: Our folkart brush set comes in a set of 6 paint brushes of different sizes. Chalk paint round brush is suitable to use with all the brands and color of chalked paint, milk paint and wax and brushes on smoothly over a variety of surfaces including wood, furniture and fabric.
We already mentioned the set-of-five brushes by Infinity Elements. However, if you're a fan of owning multiple brushes in different sizes and would like an even bigger set, you should consider the chalk and wax set of six brushes by Diyartz.
All six brushes in the set are made from 100% natural bore bristles to create a traditional textured look and hand-painted charm for DIY painting projects.
The chalk brushes adopt a different brush head style to other popular branded brushes. Instead of square or round, they come with oval heads that easily fit contoured and profiled surfaces and distribute the paint evenly.
Another key feature of this set of brushes is low shedding. You don't have to worry about bristle loss as each bristle is firmly glued to a rust-resistant ferrule with industrial-grade high-strength epoxy for maximum bristle retention.
Each of the six brushes is a different size and has a unique handle, so you can pick the perfect brush size for each painting project. The ergonomic handles are lightweight but heavy-duty for a long life or reliable use.
What We Liked Most
It comes in a pack of six brushes
Premium-quality natural bore bristles
Ergonomic handles make painting painless
Minimal shedding for increased product value
What Could Be Improved
The set is the most expensive on this list
---
7.
Best Brush for Chalk Paint Furniture

– Processional Chalk Painting and Wax Brush by New Renaissance

This next one is a two-in-one bush that's perfect for chalk paint and wax paint applications. This means you don't need two different brushes when finishing your furniture.

Instead, you can use the brush to apply chalk paint, wash it as the chalk paint dries, then use the same brush to wax over the paint.

The head is small enough (9x2x3 inches) to fit all the nooks and crannies, though large enough to quickly paint large projects. More importantly, the bristles are 100% natural for a more authentic and chalky texture.

They are also durable and lightweight. If you're wondering about the source of the bristles, New Renaissance bristles are bore hair. The manufacturer boils the hair twice for premium performance.

It's also worth mentioning that the brush is very affordable (compared to competing options). The only downside to this brush is that it's not the best choice for painting flat surfaces.

Instead, it works best for delicate projects requiring more precision than speed.

What We Liked Most
It has 100% natural bristles
It's excellent for precision-painting
It's the perfect choice for furniture painting
It's very affordable
What Could Be Improved
You get only one brush
It's not ideal for large projects
---
8.
Best Natural Bristle Brush

– Professional Chalk and Wax Paint Brush Set by Infiniti Elementz

Infinity Elements is the only brand with two products on this list, the previous set of five and this set of two brushes. So, that alone tells you something about the brand – it's a very popular brand and one of the most reliable.

The company is also very customer-friendly. Anyway, the set has two small brushes, one being extra small. The slightly larger one is the perfect choice for larger surfaces.

The smaller one allows you to reach difficult spots while speeding up the painting process. Both brushes have rounded heads with natural bristles for an authentic finish.

The rounded bristle tips ensure faster painting, ultimately reducing the time and effort to complete the painting project. Unfortunately, the manufacturer doesn't mention the source of the bristle hairs.

Finally, we also love the ergonomic handles on the two brushes. You also always go for comfortable handles as painting can be quite tiring. Both brushes are easy to hold and let you work for long periods without sore fingers.

What We Liked Most
It comes in a multi-pack of two brushes
Ergonomic handles make painting easy
100% natural bristles mean quality results
Low-shedding brushes boost product value
What Could Be Improved
No mention of the source of bristle hairs
---
9.
Best Round Chalk Paint Brush

– 1st Place Chalk and Wax Natural Bristle Brush Set
1st Place Chalk & Wax Natural Bristle Brush Set - Round...
1.5 Inch Round Brush - Very versatitle - Works Great with all you favorite Paints & Waxes
Wide 4 Inch Extra Thick Brush - Great for larger areas - Reduces Application Time
Round, Pointed & Flat 1 Inch Brush Heads - The round, pointed and flat brush ends are perfect for small and detailed surface applications.
Finally, the professional pure bristle brush set from 1st Place would be another wise acquisition if shopping for a chalk paintbrush. It's perfect for wax and paint jobs because of the variety of brushes.
The set has four brushes, each designed in a unique style for waxing, painting, and other craft projects. The largest of the brushes is a 4-inch extra thick flat brush, ideal for large applications.
It picks up plenty of paint for reduced application time. Meanwhile, the second is a 1.5-inch round brush with a flat tip. It's another excellent choice for large areas, though it also affords you greater control and flexibility.
Finally, the last two are 1-inch round brushes with different tip shapes. One has a flat tip, while the other has a pointed tip for maximum accuracy where precision is paramount.
All four brushes are made with 100% natural boar bristles and work great with paints and waxes. They are also low-shedding brushes that last a long time.
Stainless steel ferrules maintain the shape of the brush head while keeping the bristles in place.
What We Liked Most
You get a set of four brushes
Different brush sizes and shapes mean you're prepared for any painting job
The brushes are dual-purpose paint and wax brushes
100% natural boar bristles for quality finishes
What Could Be Improved
You've to be wary about shedding
---
Best Brush for Chalk Paint Comparison Table
Education
Let's now discuss how to choose the right paint brush for a chalk paint painting project. With so many options available, how do you pick the best one? Read on to find out.
What is Chalk Paint?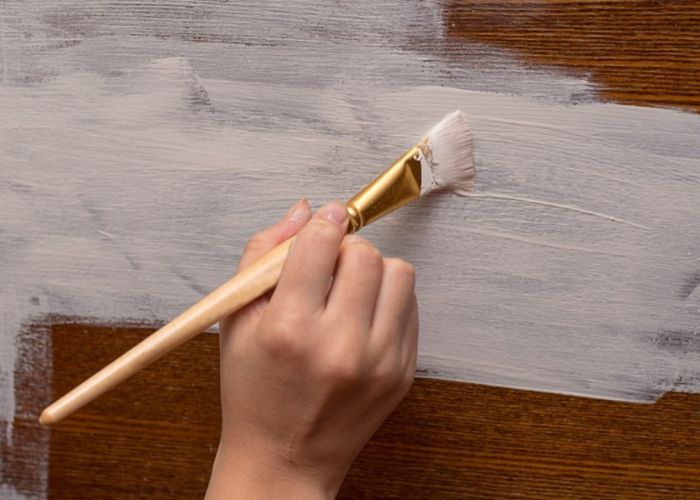 Chalk paint is a newish type of paint developed by the paint brand Annie Sloan. It is a water-based decorative paint similar to chalkboard chalk. In fact, it's made from chalk and water plus pigment and several additives.
The paint dries to a beautiful matte finish with a natural and unique chalky texture that shows off the natural brush strokes. The paint is often used alongside wax to seal in the paint. It also gives the finish a more satin look once dried.
Chalk paint is incredibly versatile. Although primarily developed for canvas, it works excellently on glass, wood, metal, laminate, and concrete and is a great pick for both indoor and outdoor projects.
For instance, it's perfect for certain types of outdoor furniture. Many paint brands have adopted chalk paint since its discovery in 1990, though. So, it's no longer just Annie Sloan.
Advantages of Chalk Paint
Chalk paint comes with many unique qualities that make it the perfect pick for certain painting projects. The following are some of the pros and cons;
Chalk paint pros
Chalk paint doesn't drip
Requires very little surface preparation
It doesn't require sanding or primer
It has a unique natural texture
Chalk wax is highly versatile
It covers a large area; one liter covers 13 square-meters
Chalk paint cons
A few brands produce poor (sticky, bulky) chalk paint
You need to shake it before use; what if you forget?
Chalk paint isn't weather-proof (it fades in the sun)
Benefits of Specialized Chalk Brush for Chalk Painting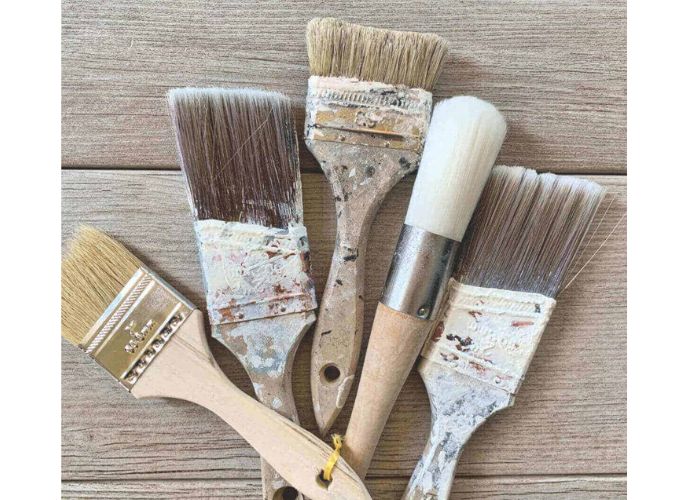 A common question we usually get from painters and woodworkers using chalk paint for the first time is why you need a specialized chalk paintbrush for painting with chalk paint. Why can't you use regular paint brushes? Here's what you need to know;
Can you use a standard brush for painting with chalk paint?
Yes, you can. But no, you shouldn't. Why? Because while no rule says you cannot use a certain paint brush for a particular job, choosing the wrong tools for any project can cause disastrous results.
Chalk paint comprises natural bristles, unlike standard paint brushes that are made from artificial bristles. Natural bristles are longer and more flexible than artificial alternatives.
This is very important as it allows the paint to flow easily without appearing "scratchy." However, be warned that an extremely flexible paint brush is also not ideal for painting with chalk paint as it makes it difficult to spread the paint effectively.
This is why it's better to purchase a specialized chalk paintbrush instead of using a regular brush. However, you can also use a regular brush as long as you keep the flexibility requirements in mind.
Indeed, you can even use a roller to apply chalk paint. The only downside is that roller fibers absorb a lot of paint, which ultimately goes to waste.
However, if you decide to use regular brushes for painting with chalk paint, make sure the brush has a high load capacity. Also, make sure it is durable while remaining pliable.
Round or flat-shaped brushes also work better for painting with chalk paint as they give you more control during painting and paint blending.
What are the differences between a chalk paint brush and a wax brush?
The main difference between chalk paint brushes and wax brushes is that chalk paint brushes are designed to paint with chalk paint, while wax brushes are designed to apply wax on finished chalk-painted surfaces.
However, you may also notice the following distinctions;
Universal vs. specialized: Chalk paint brushes are universal. You can use them for paint and wax. On the other hand, wax brushes are highly specialized. Often, you'll get poor results if you use a wax brush to paint.
Round vs. tapered tips: Chalk paint brushes are characterized by mostly round. On the other hand, wax brushes feature tapered tips to reach corners and hard-to-reach areas better.
Are foam brushes good for painting with chalk paint?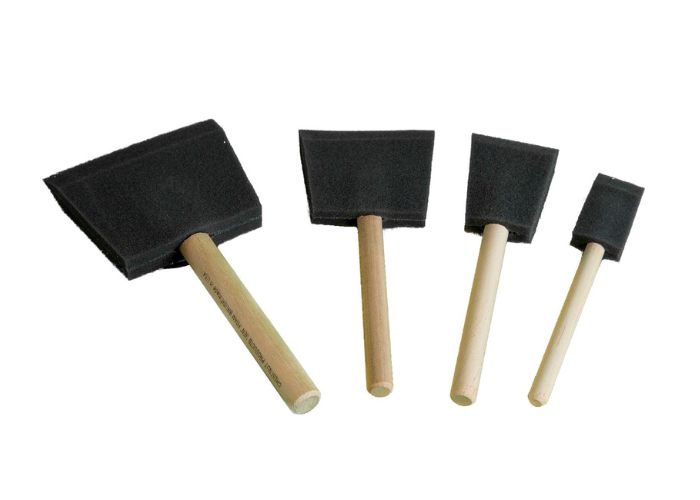 Yes, you can use foam brushes to paint with chalk. Foam brushes are designed to absorb and hold most types of paints, stains, and urethanes.
They have exceptional load capacity, i.e., hold a lot of paint, and are common in furniture, cabinetry, and trim painting jobs. This makes them practical for chalk paint applications too.
However, don't forget to regulate the amount of paint the brush carries, as you don't want a thick layer of chalk paint. A good idea is to test the brush before using it on furniture or canvas.
Once you find a good foam brush, only apply two to three thin layers of chalk paint, at least 30 minutes apart. Note that you need to throw away the brush after the painting work is done as reusing foam paint brushes gives unsightly finishes.
Recommended Reading: Best brush to paint trim.
Chalk Paint Brush Types: Natural vs Synthetic
Chalk paint brushes come in two main categories – natural-bristled and synthetic-bristled brushes. Though both are good options, they are different in a few ways, thus suited to different projects.
Natural bristle brushes
Natural bristle brushes are made from animal hair, typically hog bristles, ox hairs, goat hairs, and sable hairs. So, they are very soft.
Advantages
The main advantage of natural-bristled chalk brushes when painting with chalk paint is that they give an even coat with less streaking than synthetic brushes. It gives a beautiful rustic look.
Secondly, the paint goes further without topping up more paint on the brush. This is important if you're looking to keep costs down.
Finally, natural bristles allow you to apply paint faster, which is very important when painting with chalk paint as chalk paint dries fast. Typically, you can apply the second coat within 30 minutes of the first. Natural bristles are a better tool to meet these demands.
Cons
The main downside of natural-bristled chalk paintbrushes is that they're expensive. So, you must be prepared to pay more. Fortunately, they also last longer than standard brushes, meaning you ultimately get value for your money.
Secondly, natural bristles tend to shed bristles, which can tamper with your project. So, you need to be extra careful during painting. Fortunately, chalk paint is very forgiving. If you spot bristles on the finished/dried paint job, lightly sand the surface to remove the bristles and apply more paint to the area for uniformity. Also, note that the shedding stops after 2-3 applications.
Synthetic bristle brushes
Synthetic bristles are artificial. They are made from polyester or nylon or a combination of the two materials. So, what makes them special?
Pros
The main advantage of synthetic bristle brushes for chalk painting projects is that they are more affordable than natural brushes. Many of them cost a third of comparable natural-bristled paintbrushes.
Secondly, you don't have to worry about shedding. Although one or two bristles may come off during painting, the best synthetic chalk paintbrushes don't shed as much as natural-bristle alternatives.
Cons
The primary downside of synthetic brushes is that the thicker bristles hold very little paint. Therefore, you need to reload the brush with paint very often. This is not ideal for fast0drying paint such as chalk paint.
Because of the bigger bristles, synthetic bristles also cause more brush marks than natural-bristled brushes.
Related: Best paint brush for oil based paint
Factors to Consider When Choosing a Brush for Chalk Paint
Besides natural vs. synthetic bristle comparisons, you need to consider a few other factors when choosing a chalk paint brush.
Bristle shedding
Both natural and synthetic brushes shed bristles, though natural brushes tend to shed more bristles because they are softer.
However, keep in mind that two synthetic or natural brushes may not shed bristles at the same rate. Since shedding is often worse in heavy paints like chalk paint, you must pick a brush that sheds very little.
Bristle shape
Most paint brushes come in a standard square-cut shape that allows the brush to hold maximum paint. It also improves paint application efficiency.
Unfortunately, square-cut bristles offer very little precision and control during paint application. They also don't get into corners well. So, we recommend sash brushes if your painting project involves getting into many nooks and crannies,
Bristle width
Paint brush bristles come in various sizes, typically from one inch to five inches. You want to keep two things in mind when choosing a brush size.
First, remember that the wider the brush, the more surface you can cover in one sweep. Secondly, it's always best to paint with a brush narrower than the surface you're painting for increased control.
Bristle tips
Different paint brushes have different types of bristle tips. However, the best bristle tips have flagged or split ends. Flagged tips lap up plenty of paint in each dip, allowing you to paint faster.
They also guarantee a smooth finish. However, you can also opt for tipped bristles. The difference between tipped and flagged bristles is that tipped bristle ends come to a point, whereas flagged ends cut straight across.
Price
Finally, don't forget to consider the price. For instance, just because you want an animal hair bristle doesn't mean you have to pay over the top.
We always recommend comparison shopping to learn product price ranges before making an order. At the same time, avoid cheap chalk brushes such as "chip" brushes. It's not worth it in the end.
Top Tips When Using Chalk Paint
As you'd expect, picking the right paint brush is only the first step in a successful painting project. Here's what else you need to keep in mind;
How to avoid brush marks with chalk paint
Follow the manufacturer's instructions: For instance, if the instructions say "shake before use," make sure to shake the paint before application. If it says that you add water, do exactly that.
Always sand the surface before painting: A smooth surface with no bumps is easier to paint and consumes less paint.
Use soft, pliable brushes: To avoid disappointment, try out several brushes before picking one. You also want to look at actual photos of craft projects painted with the selected brush.
Learn how to remove brush strokes/marks: If you notice brush marks, wait for the coat to dry. Don't bother removing the chalkboard paint entirely- sand the area gently and apply another coat of paint.
How to clean brushes after painting
You should always clean your paint brushes after painting before you store them. Otherwise, you may never use that brush again. The following is a step-by-step guide to cleaning chalk paint brushes.
Squeeze the brush as much as possible as soon as you're done painting to remove excess paint.
Wash the brush with paintbrush soap and warm water. Then repeat again and again until the water is clear.
Use a paper towel to squeeze excess water from the brush. Squeeze in gentle swirling movements to avoid breaking the bristles. Then hang it upside down (indoors) for the night to dry completely.
How to condition chalk paint brushes
Conditioning your paint brushes helps the brushes last longer as it keeps the bristles soft and healthy. The following is a step-by-step guide to conditioning your brushes;
Run your fingers through the brush hairs to remove all shed bristles.
Gently wash the brush with clean water, then remove excess water.
Soak the brush in a solution of paintbrush conditioner or a fabric softer such as downy. Let it settle for ten minutes.
Rinse the brush with clean running water, then shake the brush to remove excess water.
Dry it with a towel, then hang it upside down to dry.
How to store chalk paint brushes
Finally, you must store your chalk paint brushes properly until the next painting project to protect them from damage.
The simplest way to store your brushes is by hanging them upside down in a cool, dry environment indoors. Fortunately, the best furniture paint brushes have a hole or strap for this purpose.
Other related products: Best Staining Wood Brush
FAQs
Do you have to use a special type of brush to paint with chalk paint?
No, there's no rule that compels you to use a special type of brush when applying chalk paint. However, a specialized chalk paint brush guarantees better results.
How do you get the smoothest finish with a chalk brush?
First, apply two to four coats of the paint, then let the paint dry for at least 30 minutes. Once the surface is completely dried, wet-sand it, wipe off the residue and apply a top coat.
How do you prevent brush strokes when using a chalk brush?
The most important tip is to thin your paint by adding enough water and paint in thin coats. Additionally, only paint when the furniture is completely dry and spritz the furniture with water before painting.
Can you use a roller brush with chalk paint?
Yes, you can use a roller with chalk paint. The only downside is that rollers absorb huge amounts of paint, meaning you waste tons of paint. So, it's not a good choice when pursuing value.
Why does my chalk paint scratch off?
The most common reason chalk paint scratches off is low-quality paint. Additionally, chalk paint can also easily peel off if you don't use a wax sealant or apply the paint on an unstable surface. (We have a few tips for you on how to avoid chalk paint from scratching off).
How many coats of chalk paint do you need?
You only need two coats of chalk paint for most painting projects, as chalk paint easily adheres to almost any surface without sanding or priming. However, you can have as many as four coats if you wish.
How long do you wait between coats of chalk paint?
Chalk paint dries very fast so that you can apply the second coat within 30 minutes in most cases. However, Annie Sloan recommends waiting at least 24 hours for the best outcome.
The best brushes for chalk paint summary
Chalk paint is an excellent alternative to traditional paints for selected projects, such as when you're not prepared for extensive surface prepping.
However, you're only going to get the best finish with chalk paint if you use a quality chalk paint brush. Fortunately, you now know the best brushes for chalk paint painting.