Deep pouring resin guarantees a smooth application, whether you need to perfect a handmade river table or cast creative epoxy pieces.
A thick pour adds a custom look to your epoxy projects and enhances the quality and longevity of your resin art by ensuring it retains its shine. So, if you're looking for the best epoxy resin for thick pours, I have you covered.
After decades of testing and learning more about epoxy resin for deep pours, I have compiled a list of the best epoxy resins to help you pick a thick pour suitable for your unique project.
Before I give you the list, let's first learn what a deep pour epoxy resin is.
Our Top Picks
What is Deep Pour Epoxy Resin?
It is a slow-cure epoxy resin that cures in twenty-four to thirty-six hours at 70 degrees F, resulting in a super clear liquid, glass-like finish that prevents scratching and yellowing.
It gives you a prolonged gel time to mitigate exotherm and enhance air release. And the good news is that you can add powders, resin dyes, and pigments for terrific results.
Best Epoxy Resin for Thick Pours
Best Epoxy Resin for Thick Pours Reviews
1.
Best Pour Epoxy Resin Kit

– Deep Pour Epoxy Resin Kit Crystal Clear Liquid Glass
Superclear Deep Pour Epoxy Resin Kit, Premium Commercial...
Premium and Professional Grade: Superclear's 2:1 ratio Liquid Glass Deep Pour casting epoxy offers unparalleled clarity. It's designed and formulated for Medium to Extra Large Casting and perfected for a 3 day cure time and with our bubble release technology, negates bubbles for a liquid glass clear finish!
Ideal Usage: Deep Pour is a food-safe epoxy resin for wood filler, charcuterie boards, small casting, and other DIY epoxy table ideas. Specially formulated for deeper and larger pours of 2"-4" depth.
Color Compatibility: This epoxy resin works amazingly well with metallic color pigments and mica powders. It pours and cures clear, letting the color shine through. You can mix nearly all alcohol dyes, mica powders, and liquid pigments with Deep Pour, not to exceed 12%. However, it's not recommended to use acrylic-based colorants as they can negatively react with this epoxy.
I confidently recommend this amazing thick epoxy resin if you want a perfect solution for your deep pour projects. Its self-leveling formula makes it perfect for creating river tables, resin dye, deep resin molds, alcohol ink, and pigment powder.
I love that this pourable epoxy resin offers excellent UV protection and is highly resistant to yellowing. It's my go-to choice for table tops, wood, and other deep pour projects.
It is also great for filling large voids and works incredibly well with metallic epoxy pigment. Blending with mica pigments and powders creates a beautifully colored deep pour epoxy resin for wood.
This epoxy resin helps to reduce the number of bubbles. This makes it perfect for filling in small spaces and shapes that are difficult to work with.
However, it's essential to stir for a few minutes even after the fluid appears clear to avoid streaks in your cured epoxy surface.
This epoxy resin kit works with silicone molds. When you are done, it will look like glass. It's important to note that it takes about two days to cure fully and should not be used at temperatures below 72 degrees. Otherwise, you may have to wait several days before removing it from the mold.
What I Liked Most
It's the best epoxy resin for molds
It's a low-odor formula
No bubbling
What Could Be Improved
It's pricey if you're on a budget
---
2.
Best For Resin Art

– Epoxy-Resin-Crystal-Clear-Art 1 Gallon Kit for Resin Art

As an artist, I highly recommend this epoxy resin for coating, casting, or resin art projects. It is incredibly user-friendly, making it suitable for novice and expert artists.

One of the standout features of this resin is that it has zero VOCs and no odors, which ensures better and cleaner air while working.
With an impressive forty-minute runtime, this machine enables you to craft a perfect project with plenty of time for creativity.

This high gloss coat is perfect for any surface. It looks like glass, feels hard like a rock, and is strong and sturdy. Moreover, it's straightforward to use, even for those without experience.

Mix one part resin and one part hardener. Work with the mixture for 45 minutes at a normal temperature to do your best project. The finished product dries to a crystal clear finish.

This epoxy resin can be used for many art projects. You can use it to make jewelry, pictures, Geode paintings, and Live Edge River Tables.

It also works for making coasters, table tops, river tables, and bar tops. You can even use it to cut boards or make wood blocks.

This resin has excellent color stability, which preserves the vibrant colors of your artwork. Its great chemical resistance also makes it ideal for outdoor epoxy projects.

The pigments with this epoxy resin are incredibly vibrant, and the color combinations are limitless. This slow-cure epoxy resin has a deeper color and does not separate in the bottle. You'll love using this product for your next artistic project.

What I Liked Most About This Thick Epoxy Resin
Easy to work with
Works as advertised
perfect for resin pours, jewelry making, and resin molds
What Could Be Improved
---
3.
Best Resin For Wooden Furniture

– TotalBoat ThickSet Deep Pour Epoxy Resin Kit
Ecopoxy FlowCast 1.5L Kit Epoxy Resin for Large Casting -...
Ideal for Thick Pours: Create stunning river tables, ocean tables, and encapsulated art pieces with ease, thanks to its ½" to 1 ½" thick pour capacity per layer.
Bubble-Free Resin: FlowCast's low viscosity allows trapped air to easily escape to the surface, leading to a notable reduction in the number of bubbles in the final cured casting.
Versatile Applications: Use FlowCast Epoxy Resin for river tables, ocean tables, encapsulated objects, decorative art pieces, and custom furniture, making it an ideal choice for various projects.
TotalBoat's deep pour epoxy resin is used on tables, chairs, and other wooden furniture items. You can use it on concrete tables, bar tops, metal, stone, countertops, and ceramics.
It's one of the best-quality epoxy resins I would recommend. It is UV resistant, scratches, and has other forms of Abrasions. Although it works best as a coating resin, you can also use the formula as a casting resin to create resin art, embed objects, and other epoxy projects.
It's a no-VOC, BPA-free formula that cures a smooth, glossy, completely waterproof finish; hence ideal for safeguarding sensitive wooden surfaces.
I like it because I do not have to worry about the safety of my pets or kids when using this pourable epoxy resin since it is food-safe. However, I have to wear appropriate gloves and have proper ventilation.
Full curing generally lasts three days, but a second coat can be applied four to eight hours after the first thick pour. It is one of the great solutions for river tables and tabletops.
This epoxy resin cures beautifully, and it is simple to remove air bubbles using a heat gun once leveled. It blends well and has a long working time.
What I Liked Most
Food-safe and BPA-free
odorless and VOC-free
After fully curing, it is 100% waterproof on concrete,  wood, metal, stone, and ceramic.
What Could Be Improved
It has bubble-releasing attributes
For the desired results, you must apply it at a stipulated temperature
---
4.
Cheapest Deep Pour Epoxy

– 16oz Crystal Clear Epoxy Resin Kit Casting
16oz Premium Clear Epoxy Resin Kit Casting and Coating for...
💎Self-Leveling and No Bubbles - JANCHUN epoxy resin is self-leveling and self-degassing, which allows you to create a perfectly transparent finish. Say goodbye to unsightly bubbles - our water-like quality minimizes them, leaving you with a solid glass-like finish that's second to none.
💎Crystal Clear High Gloss Finish - Mix 1:1 ratio by volume (not by weight) easily and smoothly, cures crystal clear and set hard as a rock, Perfectly formulated to be mixed with the color of your choice for vivid, stunning results. You can also create a unique Christmas gift for your beloved ones or make some beautiful Christmas decorations!
💎Fast Curing and Safe to Use- 30-40 minutes of work time at room temperature 70-80°F to produce your finest work within 8 hours! Specifically formulated for artists with low odor, non-toxic, resistant to yellowing from UV exposure, keeps your beautiful artwork and color stable and long lasting. Very user friendly for both beginners and pros.
If you are an artist looking for a coating epoxy resin, your search could end with this resin for thick pours specially formulated for artists. It's a low-odor formula, is non-poisonous, and emits low fumes.
I chose this pourable epoxy resin for all artistic projects. It is incredibly resistant to yellowing due to UV exposure, ensuring the artwork remains gorgeous and durable for years.
It is best for countertops, resin art, silicone molds, acrylic paintings, and coasters.
Using this deep pour epoxy resin is effortless. All you have to do is mix the hardener and the resin in a 1:1 ratio. It cures crystal clear and sets rock solid. The resin is specially formulated to blend with your favorite color for vibrant and fantastic results.
This deep pour epoxy resin is also relatively cheap and has a thinner viscosity with fewer bubble-releasing attributes than most epoxy resins.
It is incredibly user-friendly, with clear and straightforward instructions for beginners. It cures quickly and won't yellow over time.
Another benefit of this epoxy resin is its food-safe material, making it perfect for making trays, glassware, tumblers, and other kitchen items. It is also suitable for casting jewelry, figurines, rings, earrings, and pendants.
I love using this epoxy resin to make beautiful gifts for my friends and loved ones. The results always turn out so lovely.
What I Liked Most
It contains UV inhibitors to help prevent yellowing
It's versatile, simple to mix and apply
Non-toxic
Highly affordable
It's crystal clear and VOC-free, with no unpleasant odors or dangerous reactions.
Low-odor formula and food-safe
What Could Be Improved
It takes a day or more to cure fully
---
5.
Best Bubbles Epoxy Resin

– Upstart Epoxy 2″ Deep Pour Epoxy Resin Kit DIY
Upstart Epoxy 2" Deep Pour Epoxy Resin Kit DIY - Made in USA...
2" DEEP POUR: Pour up to 2" thick at any given time because our resin has a very low chemical heat reaction during the curing process. Enjoy a longer working time to make the perfect swirls and design patterns.
RESISTS SCRATCHES, STAINS & YELLOWING: Our high-grade prepolymer additives ensure long lasting and durable protection. Formulated to allow you to cure at room temperature for a 100% waterproof finish.
EASY 2:1 MIXING RATIO: Self-leveling resin system is easy to pour! Easy to tint with mica powder, alcohol ink, and liquid pigments. Mix and match colors for multiple accents to create the perfect DIY project.
This is the perfect choice for anyone looking to do deep pours on various surfaces like Wood, Ceramic, Stone, Concrete, and Metal. It has a 2:1 mixing ratio which makes it easy for anyone to mix it without any difficulties.
Additionally, it's simple to tint with liquid pigments, mica powder, and alcohol ink, allowing for endless creativity.
One of the unique features of this pour-on epoxy is its bubble-releasing formula. The thinner viscosity ensures that the cured epoxy surface is free of bubbles and has excellent clarity and depth.
This pour-on epoxy is suitable for professionals and DIYers due to its high quality and ease of use. It is perfect for river tables, live edge tables, and any other deep pour project you have in mind.
It is ideal for resin art, embedding objects, decoupaging, casting, and other crafts. The product works exactly as described and is odorless, making the workspace more pleasant.
Although it takes a little longer to cure than most epoxy resins, it is well worth the wait. The thin consistency makes mixing easy and produces very few air bubbles.
The finish is crystal clear when cured. This is impressive! However, when building your forms, consider the thin consistency of the resin.
What I Liked Most
Easy to use
It's bubble-less
Easy to mix
What Could Be Improved
---
6.
Best Beginner Friendly Deep Pour Epoxy

– Pourable Plastic Deep Pour USA Manufactured
Deep Pour Epoxy Resin Promise - 3 Gallon Kit for River...
💙FORMERLY INCREDIBLE SOLUTIONS - Two of the most popular epoxy brands in the U.S. are joining forces to become one superpower, Promise Epoxy. ProMarine Supplies and Incredible Solutions are merging their best-performing and meticulously mastered formulas in order to become the new epoxy leader in the home decor and art industries. The same formulas you love, with a brand new look!
📏DEEP POUR 2" THICK - For River Tables, Live Edges, Casting & Embedding Applications. Promise Epoxy's Custom formulated Epoxy dries rock solid, is consistent and never leaves you disappointed…Also, Newbie and Pro friendly. Our custom Epoxy formulation allows for minimal bubbles, goes on smooth, helps eliminate fish eyes, craters and various other imperfections. We only offer what we use, so you'll love this!
🌎 USA FACTORY- We proudly manufacture here so you can rest assured our Epoxy when used and cured correctly it is safe with a Low odor. It Mixes Well with Mica Pigment Powders & Cures Crystal Clear allowing your added colors to shimmer and shine in clarity.
This pourable resin is made in the United States, worth mentioning. UV stabilizers keep the casting resin from turning yellow after prolonged exposure to the sun.
Pourable Plastic is my ideal choice for semi-outdoor applications such as shaded patio tables and bars. It has been specially designed with a low exothermic heat buildup, making it perfect for warmer environments.
Whether you are a professional or a DIY enthusiast, you can trust Pourable Plastic to work with it without worrying about the Heat causing any damage or deformation to your project.
Furthermore, it has no discernible odor. It also doesn't contain any volatile organic compounds (VOCs). Whether you are a beginner or an expert, it is simple to work with.
It is a low-cure epoxy resin, so you can easily pop bubbles before your mold sets. It is a superb pour epoxy resin ideal for encapsulation tasks.
Since it is a thick pour epoxy resin, it takes a long time to cure. Cure times can range from 36 to 48 hours based on temperature. Also, the project you are working on will determine the time it takes to cure fully.
I highly recommend this Pourable Plastic as an Incredible Solutions product for beginners. One of its best features is the extended curing time, allowing greater control over the final results.
The deep pouring capabilities also make it versatile for various creative projects. You can use it for river tables, encapsulation tabletops, and jewelry making.
What I Liked Most
It's beginner-friendly
Works as described
It's one of the most affordable pourable resins for maximum casting thickness.
Easy to use
What Could Be Improved
Failure to follow instructions leads to bubble problems
---
7.
Best Clear Casting Resin

– Epoxy Resin Art Resin Crystal Clear Formula

Sale
NAKED FUSION Epoxy Resin Art Resin Crystal Clear Formula-...
💎 NAKED FUSION-The ARTIST'S RESIN – Art Resin Epoxy Kit is specially formulated for ARTISTS! CRYSTAL CLEAR & NON-TOXIC- It's NAKED – ZERO VOCS and odor free for better air quality while you work - breathe easy while working with Naked Fusion.
💎WHAT IS IMPROVED IN THE NEW FORMULA? Improved 4X UV Resistance and Non Yellowing - Improved Heat Resistance 230 F - Improved Advanced Bubble Release Technology - Improved Packaging with High Quality Box - PLUS Bonus Items - 2 250ml Silicone Cups , 4 Vinyl Gloves and 2 Spreaders Experience the difference!
💎 It's UV RESISTANT, SELF LEVELING and cures ROCK SOLID with a HIGH GLOSS mirror shine. Add a beautiful GLASS like coating to any surface. Enjoy the LONGER 45 minute working time that gives more time for the creative process. It is BPA FREE and FOOD SAFE for use on counter tops, cutting boards and other items in the kitchen.
I highly recommend this thick pour epoxy if you want a UV-resistant and glossy resin. It sets up extremely hard, and you can use it to create a stunning glass-like finish on almost any surface.
Take advantage of the longer forty-five working time, allowing more time for the creative process. This epoxy resin is BPA-free and food-safe on kitchen counters, cutting boards, and other pieces. It resists stress cracking like no other thick pour epoxy on the market.
Fantastic for all art casting such as Resin Art, Resin Jewelry, Acrylic Pour Paintings, Geode Paintings, silicone Molds, Coasters, Tabletops, and Bartop. Countertop, Live Edge River Tables, Tumblers, Wood Blocks, Cutting Boards, and much more!
It has excellent color stability, preserving the vibrant colors of your art. It's one of the best deep pour epoxy resins that are non-toxic and odor-free for excellent air quality while working on your masterpiece.
If you're doing larger mixes, put Part A in warm water to loosen it up, or you'll give yourself an extreme workout. It'll also be an absolute pleasure to work with this pour-on epoxy.
The extended work time ensures that your castings are bubble-free. It accepts alcohol inks gracefully and produces amazing vibrant effects! Be sure to follow the directions. In short, mix by volume and not by weight.
What I Liked Most
It's odor-free
Very user-friendly
Simple to use
What Could Be Improved
It's not ideal for something crystal clear
---
Best Epoxy Resin for Thick Pours Comparison Table
Education: How to Choose the Best Deep Pour Epoxy Resin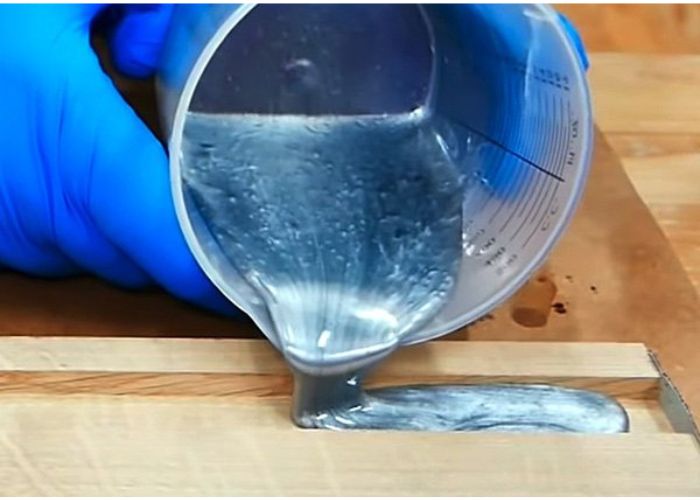 Epoxy resins are used for different purposes. When buying epoxy resins, it's critical to understand the material and compatibility of your epoxy project.
When buying epoxy resin, consider mix ratio, viscosity, hardness, and curing time to help you pick the best resin for wood.
Here are other factors to consider when buying the best epoxy resin.
1. Bubbling
Even skilled craftspeople can experience bubbling from time to time. These obnoxious air pockets can wreck the appearance of your cured epoxy surface.
Select a formula that enables bubbles to float to the surface. Be keen to work only in a temperature and humidity-controlled environment.
If everything else fails, use a heat gun or torch to remove bubbles from the surface of your cured epoxy resin coating.
If you pick the best epoxy resin, you won't struggle with bubbles that much. To avoid frustrations by the bubbles, use a slow-cure epoxy resin. Slow-cure epoxy resins allow bubbles to escape because they take longer to cure.
2. Durability
You want your deep-pour resin to last long before showing any deterioration. The key specifications you should consider when buying epoxy resin to ensure durability are:
3. Scratching $ Abrasion
Hard-wearing surfaces should be able to withstand the majority of abrasions. Although we would never recommend using an epoxy resin-coated surface as a cutting board, we searched for pourable resins that can work with items without leaving visible incisions.
4. UV Damage
Unfortunately, the majority of epoxy resins are incredibly vulnerable to UV damage. Non-yellowing formulas are ideal for long-lasting outdoor table coating.
In addition to your preferred finish, consider purchasing a UV-resistant topcoat. Even UV-blocking epoxy resins are prone to damage after continuous exposure to UV rays.
5. Water
Coating epoxy resin is a conventional finish used on outdoor wooden surfaces, bars, and tabletops. These surfaces are exposed to water and humidity damage.
An utterly waterproof coating helps to keep them free of ugly watermarks and prolongs their lifespan.
6. Mixing Ratio
Epoxy resin is composed of two components: a resin and a hardener. When the resin and hardeners are mixed, they undergo a chemical reaction that converts them from a liquid to a solid.
Measuring accurately is critical to ensure that your epoxy resin for thick cures properly. Always follow the manufacturer's instructions to get professional results.
Know that high-viscosity epoxy resin is more likely to produce bubbles than low-viscosity epoxy resin. Although your specific project will determine this, choose a low-viscosity epoxy resin if you have the option of viscosity.
7. Food Safe and Application Method
Most epoxy resins are used on surfaces that indirectly contact food. To coat a tabletop, ensure your resin meets all FDA requirements. Check to see if the formula is non-toxic and free of harmful VOCs.
Even so, non-toxic formulations should only be used in well-ventilated areas. A safety mask, glasses, and gloves may be necessary.
8. Self-leveling
The use of self-leveling epoxy makes your job such a breeze. This epoxy type can fill voids, seal cracks, inlays, and deformations on the wood surface.
You won't worry about streaks or other surface flaws because there's no requirement for a paintbrush or roller.
Cleaning self-leveling epoxy with soap and water is all you need unless compliance regulations mandate buffing and polishing.
Since the surface is one seamless sheet, it inhibits microbial life, such as mold and mildew, by providing them with no place to live. An epoxy containing powerful antibacterial agents is a superb option if you require a cleanroom setup.
9. Working and Curing Times
Cure time specifies how long you should wait before removing clamps, sanding, or proceeding to the next step in your epoxy project.
The hardener cure speed and epoxy temperature determine each mixture's available and general cure times.
Each hardener has a unique temperature cure range ideal for it. Each resin/hardener combination passes through similar cure stages at different rates, at any temperature above minimum-use temperature.
Choose a hardener that will give you enough working time for your project at the temperature and conditions you'll be working in.
Extended curing times mean more time to work on your project, allow bubbles to escape, and won't ruin your project. Quick curing time means you have to work fast.
10. Application And How Much Resin You Need
Carefully think about the method you will use to apply the resin and determine what quantity is necessary for your undertaking.
Depending on the epoxy, one may need to brush or roll it onto a surface for proper application. Meanwhile, others allow you to pour them directly.
Tips for Using Epoxy Resin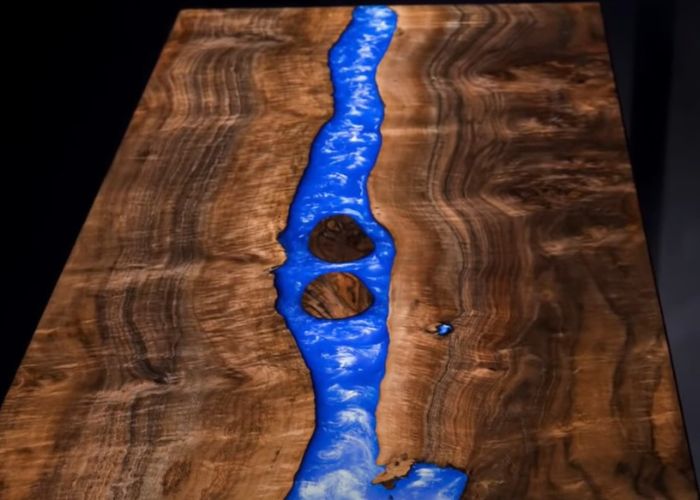 Have a work plan. Before you begin, consider the whole procedure.
Ensure that your substrate is ready. Only start blending your epoxy resin after keenly reading the instructions and having all of the necessary tools in front of you.
If you are trying a new mix, prepare a few sample mixes to determine the curing time. This also helps you understand the properties of the compound. After thoroughly mixing your product, you can apply it to your substrate.
Sand the surface with 150-grit sandpaper on high gloss areas for maximum adhesion. After all, you do not want any dust or other particles on your cured epoxy surface.
Use a new brush and clean it with your site's sticky side before mixing the epoxy. This helps to lose fibers that could ruin your final product's appearance. Use a chip brush, bristle brush, or a nap roller for pro results.
Store Your epoxy in a room-temperature place. That's so because Heat speeds up the curing process, while cold temperatures can interfere with epoxy adhesion.
For epoxies with a quick cure time, allow the epoxy resin to sit for a few minutes before pouring it. Keep in mind that high temperatures can shorten curing times. If the warm temperature is challenging, place ice packs in a zip-lock bag to cool the bucket or bottle you're mixing in. You can also use a slow-down procedure by adding paint thinner, extending pot life.
Deep Pour Resin Vs. Tabletop Resin
Deep pour and tabletop resin are two types of epoxies that differ in their properties and applications. Deep pour resin is designed for thicker applications, up to 2-4 inches per layer.
Working with deep pour resin requires more patience as the curing process may take 24 to 48 hours. With its low viscosity, Deep pour can be effortlessly poured and simultaneously remove any air bubbles.
Crafting stunning river tables, intricate, deep resin molds, and other epoxy projects that require a large amount of poured resin? The deep pour is the answer!
This type of resin offers an easy solution to these otherwise complex projects. On the contrary, the tabletop resin is ideal for projects that require a delicate and consistent coating, such as river tables, countertops, and bar tops.
This resin stands out with a quick cure of 24 hours or less and a higher viscosity than its competitors. Its superior thickness prevents it from running over the edges, so you can rest assured that your project will stay in place without any mess!
Other Resin Types
Coating Resin
This solution is both stylish and useful. It gives you a smooth finish that helps protect your belongings and keep them hidden.
Applying epoxy resin can protect the item you cover with it, helping to prevent scratches and other forms of damage. You can make your concrete floors look shiny and special by coating them.
UV Resin
This material only needs one part, and using a special UV light will become hard. When the light shines on this material, it will dry quickly.
This gives you time to work with it. But be careful! It only lasts six months, so you must use it immediately.
Alkyl Resins
Polyhydric alcohols and polybasic acids are needed to make these materials.
These materials stay cool and help electricity travel quickly. So they are great for insulating things, making electronics, and making paint.
Acrylic Resins
These items are made with strong acrylic acid. They are very tough and can protect against the sun's rays.
Silicone Resins
These materials keep water away and stay the same even when it gets hot or cold. People use them to make things that don't let water in, like laminations, rubber, coatings, paints, etc.
Polycarbonate Resins
With a high refractive index, these materials come in handy when manufacturing various items, such as lenses and helmets. They are also incredibly useful for creating photographic films with quality results.
Polyester Resin
These materials can be changed easily and are very good in hot temperatures. They are not expensive and can be used for lots of things. You can use them to laminate, build stuff, make fishing rods, decorations, coatings, or even bottles!
Polyurethane Resin
Polyurethane resin technology safeguards electronics and is a popular feature in automobiles. It can withstand extreme temperatures. When you heat it, the material becomes incredibly resilient and durable.
This material is great for mold making because it sets fast, sticks well, and moves easily.
Interesting read: Difference between epoxy and polyurethane.
Epoxy Resin Vs. Casting Resin
One should never mistake "casting epoxy" and "epoxy resin" as they are not interchangeable terms. They serve different purposes and thus have distinct definitions.
Epoxy resin is a strong adhesive, coating, and sealant for surfaces while casting. Epoxy has been specifically designed with low-viscosity properties to accommodate deep pours – making it perfect for crafting river jewelry or tables and encapsulating items in molds.
FAQs
Why is Epoxy Resin the best for thick pours?
Epoxy resin is ideal for thick pours due to the following reasons.
It has a simple 1: 1 mix ratio by volume, so anyone can mix and use it hassle-free.
It's self-leveling. So you do not need to buy expensive brushes or rollers.
It's odor-free. It won't produce any upsetting smell when using it.
It's simple to clean with water and is UV resistant as it contains potent UV inhibitors. This saves your project from fading.
The instructions are clear and straightforward, and following them is simple.
Resin for thick pours complies with stipulated FDA regulations to ensure your safety.
Resins for thick pours are compatible with concentrated liquid pigments, resin dyes, mica powder pigments, and acrylic paints.
It has an excellent working time of forty-five minutes, so you have time to exercise your creativity muscle.
It also has a sufficient cure time of two to three days, so you do not have to wait an eternity to complete your project.
How thick can you pour Epoxy Resin?
When using epoxy resins, knowing when the two parts of resin (Part A) and hardener (Part B) are combined is critical. A chemical reaction occurs that generates Heat during the curing process. As a result, regardless of the epoxy you use, it is crucial to control the temperature and keenly follow the instructions on the label.
If your epoxy pour is thick, the reaction can generate too much heat, resulting in a product with unsightly cracks or excessive bubbles that won't cure properly. If you leave a thumbprint with your fingernail in it, you can pour fresh epoxy over the epoxy, which will chemically bond to the preceding layer.
Regarding the maximum thickness of epoxy resin, you can go as thick as you want if you pour in 1/8″ layers. We highly recommend this thickness for two reasons: first, it enables the bubbles to escape ideally, and second, it prevents the resin from overheating.
Pour in a 1/8″ layer for optimal results. Remember that the 72-hour cure time is for resin art, so it'll take longer to cure if you pour it a bit thick fully.
What epoxy is best for deep pours?
Casting epoxy resin is the best resin for thick pours. Because it will be thicker, only one or two pours will suffice. So you may not need multiple layers to be happy with the results. It is Heat resistant. As a result, there will be no issues while curing it. It is also clear and lovely. It's simple to use and doesn't change its structure once you've created something with it.
What is the best resin for deep casting?
Epoxy resin is the best resin for deep casting. The resin can be poured in thick layers (up to two inches based on the formula), and it cures hard and is very stable. Epoxy cures crystal clear, but you can tint it with resin dyes to create the color of your dreams.
Is epoxy resin safe to use indoors?
Although epoxy resin products are safe, fumes can be inhaled while mixing and prepping them for application, causing inflammation and irritation in the nose and throat. Use epoxy resin outside or in well-ventilated areas while wearing gloves, safety glasses, and masks.
What is an epoxy resin used for?
One of the most common applications of epoxy resin is as an adhesive. This is due to the epoxy's solid properties, which allow for systemic and engineering adhesives. Epoxy resin is usually used in the vehicle construction and manufacture of snowboards, aircraft, and bicycles.
Deep Pour Resin Summary
Casting resins are, also known as epoxy resins used for thick pours. They are pretty thick, providing a thickness of about two inches each time.
Epoxy resins are helpful in manufacturing as they are used to create various products. Also, they are less expensive and simpler to use.
Our top pick is Deep Pour Epoxy Resin Kit Crystal Clear Liquid Glass. It's simple to use and offers adequate UV protection. It works excellently with liquid pigments and creates a beautiful colored epoxy for many deep pour projects.