Wood decks are exposed to extreme weather conditions, given their location outdoors, away from shelter.
But that is where deck sealers come in, to protect the wood from the elements and prolong its service life. Two of the leading product brands for deck sealing are Olympic Waterguard and Thompson's Water Seal.
However, the two products are not the same, despite playing the same roles. So, let's look at Olympic Waterguard Vs Thompson Water Seal to determine which option might be more suitable for your deck.
What is Olympic Waterguard?
Olympic Waterguard is an exterior-grade sealant for decking boards. The product is manufactured by Olympic, a company specializing in manufacturing outdoor wood stains.
The manufacturer claims the product protects the wood from water damage, molds, and damage from the sun's ultraviolet rays.
Olympic Waterguard is clear-colored, so its impact on the wood color is minimal. It works by forming a thin film on the wood surface, leaving a hint of sheen to the strained wooden deck.
Because of the film that it forms on the wood surface, the product does an excellent job repelling water from rain, precipitation, and spills.
Multiple tests indicate that Olympic Waterguard works best and is ideal for pressure-treated wood decks.
Olympic Waterguard pros and cons
Pros
The product offers lasting protection of up to 6 years.
The deck sealant is highly versatile. You can apply it to your deck in cold temperatures as chilly as 35 degrees Fahrenheit, which makes it more versatile.
Its water-based formula makes it low in volatile organic compounds (VOCs) and odor.
The product is weather-resistant.
It protects against molds and mildew.
Con
The film is not resistant to scratches.
What is Thompson Water Seal?
Thompson's Water Seal is a water-based deck stain that protects the decking boards from water, moisture, mold, and UV damage.
The manufacturer recommends applying 2 coats of Thompson's water seal with a sprayer for adequate protection.
Since the deck sealant is not entirely clear-colored, it leaves a hint of tint on the wood. However, despite the tint, this deck stain is still transparent enough to allow the wood's surface character and texture to show through the finish.
It does not mask the wood grain. Instead, it accentuates it with a touch of color. Thompson's Water Seal manufacturer says it is UV resistant and protects the wood from sun damage. The stain also resists water and mold.
The company also says this product penetrates the wood. So it protects the wood from the inside out. A few independent tests have indicated that the stain absorbs into the wood, corroborating the company's claim.
If you're wondering whether you can put Thompson water seal over stain, consider reading our article.
Thompson Water Seal pros and cons
Pros
The product penetrates the wood, protecting it from the inside out.
It adds some tint to the wood, accentuating its color and making the wood grain pop.
It is water and UV-resistant.
Thompson's Water Seal is resistant to molds and related discoloration.
Con
Some users claim that Thompson's Water Seal leaves a sticky, waxy film on the wood if applied thickly. This stickiness attracts dirt, which can be a petri dish for molds.
Olympic Waterguard Vs Thompson Water Seal Detailed Comparison
Olympic Waterguard and Thompson Water Seal perform similar roles and share many similarities. However, they are not identical and have some crucial differences that may determine your final best choice between them.
Other than being wood finishes with the ability to protect exterior wood, what other qualities may be relevant to your project?
This section compares the products side-by-side to help you choose.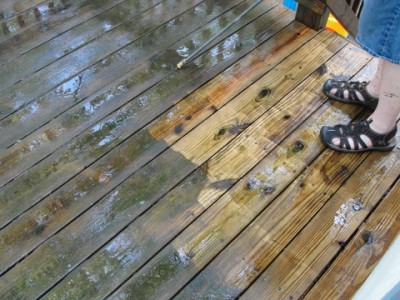 1. Ease of application
Thompson's Water Seal has a thin, watery consistency that makes it slightly challenging to apply with a brush. Brushing it onto the wood is one of the application methods the manufacturer recommends.
However, it can be messy to apply this way. Our tests revealed that the stain goes onto the wood better when we use an airless spray rig to apply it. If you have no such rig at home, you may have difficulty getting a perfect finish on your deck.
In contrast, Olympic Waterguard is less messy, even though both products ideally share the same base.
It goes on pretty well with brushing, even though you need to back-brush it or do multiple passes of the brush to work it properly onto the wood. You can also apply Olympic Waterguard sealer with a paint roller.
Whether you apply the product with a roller or brush, multiple passes or back-brushing are recommended for the desired results.
Additionally, you can apply Olympic Waterguard at incredibly low temperatures of 35 degrees Fahrenheit, despite its recommended temperature range for application being between 50 and 90 degrees Fahrenheit.
2. Environmental impact (level of VOCs and odor)
Both Thompson's Water Seal wood sealer and Olympic Waterguard are water-based sealers, so they are low in volatile organic compounds. This quality makes both products safe for the environment, people, and pets.
Unlike oil-based sealers, the two products are also low in odor, even though Thompson's Water Seal tends to emit mild fumes with a relatively stronger smell than Olympic Waterguard, which has almost no odor.
3. Number of coats
Thompson's WaterSeal stain and sealant is a two-coat product. The manufacturer recommends applying two coats of sealant for adequate coverage and protection.
Once you apply the first coat, it starts soaking into the wood immediately, allowing you to recoat soon after. According to the company, you should let the first coat dry for an hour before adding the second coat.
In normal temperatures, this one hour is typically plenty. One gallon of Thompson's Water Seal will be adequate for covering a deck space of about 200 square feet.
On the other hand, Olympic Waterguard is a one-coat sealant. The product is formulated for high coverage and requires only a single coat to offer the desired protection for your wooden decking.
A gallon of Olympic Waterguard sealant will adequately cover approximately 250 to 350 square feet of wooden decking. The surface texture or type of wood used should influence this coverage.
You should expect highly porous woods like ash, cedar, and chestnut to absorb more sealant than less porous ones. The same rule goes for open-grain woods like oak and elm compared to closed-grain options such as rosewood, birch, maple, and cherry.
The one-coat application of Olympic Waterguard means you will spend less time applying it than you would when using Thompson's WaterSeal deck stain.
Whichever product you choose, we recommend testing it first on an inconspicuous area before going all-in on your entire deck.
4. Color and sheen
Thompson's Water Seal leaves no apparent sheen on the wood surface. It is a transparent stain that allows the wood grain and surface texture to show without any noticeable shine.
However, this product from Thompson's marque adds color to the wood, accentuating its grain.
The Olympic Stain and Sealant combo, on the other hand, leaves a thin film on the decking board's surface. Wood stained with the Olympic Waterguard sealant looks slightly glossy when dry.
Olympic Waterguard is, however, clear-colored. This means it does not add any tint to the wood. Instead, it allows the deck boards to retain their natural shade, albeit with a bit of shine.
5. Durability
The Olympic stain company says their product will protect your deck for up to 6 years. However, some users claim to recoat only after a few years.
With appropriate care, the sealed deck can remain sound for between 4 to 6 years when treated with Olympic Waterguard. This makes the product suitable for long-term deck protection.
Thompson's WaterSeal offers equally long-term protection. From our experience, the product can keep your deck water-resistant for about 4 to 6 years before requiring reapplication.
6. UV Protection
Both Olympic Waterguard and Thompson's WaterSeal manufacturers claim that their products have UV blockers and, therefore, offer protection against UV damage.
However, we believe that your deck may experience some fading over time, even when sealed with either of the sealants. So, it may be difficult to tell the level of UV blockers in each product.
7. Water and Mildew Resistance
The manufacturers of these two sealants advertise that their products protect wood from molds and water.
These claims notwithstanding, we found that water will bead on the wooden deck after applying either Olympic Waterguard or Thompson's Water Seal. This test confirms that the products indeed protect the wood against moisture and related damage.
The products also do a passable job preventing the onset of molds and mildew. However, some users have found that when you apply a thick layer of Thompson's WaterSeal, it tends to attract dirt over time. This dirt can eventually cause a mold problem.
8. Drying Time
Both sealants have different drying times, as the manufacturer indicates. When you use Thompson's WaterSeal, it will remain tacky for some time. If it doesn't dry as expected, find out the possible reasons in our article "Why Thompson water seal does not dry."
The same applies to Olympic Waterguard. Even though the latter requires only one coat for the desired coverage and protection, it tends to be dry to the touch within just an hour.
Nonetheless, ensure you allow a full 24 hours for either product to completely cure before using the deck.
9. Clean Up
Both Olympic Water guard and Thompson's WaterSeal clean up from brushes, paint rollers, or other surfaces easily with soap and water.
You can use a mild laundry detergent or dishwashing soap, whichever you prefer, or have at home. Either of these deck treatments should do the trick, cleaning the product from your used brushes and rollers.
10. Warranty
Your Olympic Water guard purchase comes with the protection of a customer satisfaction guarantee.
In contrast, the company selling Thompson's Water Seal does not provide such guarantees or protection. So, if you consider a warranty to be essential, you may want to go for Olympic Waterguard.
How to Select the Right Deck Sealer
Your choice of deck sealer can mean the difference between enjoying six years of protection and having to recoat after two or fewer years. The secret starts with knowing how to select the right product for your wood deck.
Buy a product with UV blockers. Wooden decks live outside the house, so the wood is exposed to the sun throughout. Prolonged sun exposure can cause fading and discoloration and affect the integrity of the wood. So a product that protects against sun damage is essential.
Consider the number of coats the manufacturer recommends. Buying a product that requires only one coat to provide adequate coverage can be an excellent way to save time. Even though such high-coverage products may be expensive upfront, they may save you money since you will use less to complete a large project.
Buy a fast-drying product whenever possible. If you live in a place that experiences inclement weather, your deck or outdoor furniture can be rained on before it dries, damaging it. A fast-drying stain can help you avoid such an outcome by drying within a tight window.
Go for a durable product. Deck sealers can last anywhere between 2 to 6 years before it requires recoating. It is best to go for a durable product that will provide your deck with long-term protection, saving you time and money. You should find this information on the product label and in customer reviews.
Ensure the product you buy is mold resistant. While water resistance will go a long way in preventing the onset of molds, it is best to have a product specifically formulated to prevent mold growth.
Go for a product within your budget. Not all deck sealers cost the same price. When deciding which product to buy between closely related options, the cost of each product may be the final determining factor for your final pick.
Related read: Best redwood sealer for deck and fence.
FAQs
Is Thompson Water Seal better than Olympic Waterguard?
No, Thompson Water Seal is not better than Olympic Waterguard. Both products have their pros and cons, so your specific project needs will determine which product is more suitable for you than the other.
However, the Consumer Reports test of multiple clear decking finishes places Thompson's WaterSeal clear coat above Olympic Waterguard in terms of performance scores. If you judge the two products based on this Consumer Reports parameter, you can expect Thompson's WaterSeal to perform slightly better than Olympic Waterguard, making it the superior product.
Is Olympic Waterguard clear?
Yes. Olympic Waterguard is clear colored and will not impact the wood's color. However, it leaves a sheen on the deck wood surface, which can enhance its look without necessarily masking the board's surface character or the grain.
Read also: Best sealant for outdoor wood furniture.
Final thoughts on Olympic Waterguard Vs Thompson Water Seal
Thompson's WaterSeal and Olympic Waterguard have competing strengths and limitations that may make one product the better option for your deck.
While Thompson's WaterSeal requires two coats to provide the desired coverage, Olympic Waterguard requires only one coat for the desired coverage and protection. This makes the latter more time-saving than Thompson's Water seal.
So, use Thompson's Water Seal when you have enough application time on your hands and want to add some color to your wood. Thompson's Water Seal is slightly tinted and will transfer that tint to your decking boards.
On the other hand, use Olympic Waterguard when you are pressed for time and want to maintain the natural color of the wood you are sealing. You can also go for this product when you wish to give your wood some sheen.