Redwood is a high-quality building material. It contains natural chemicals that make it naturally resistant to weather, insects, and rot. You can use it for decks, wood fences, and other outdoor projects.
However, no matter how weather or insect-resistant redwood is, you must seal it to fortify it against elements and enhance its durability. If you are looking for the best redwood sealer for the deck & fence, you are at the right place.
Our Top Picks
Best Redwood Deck Sealer Reviews
To develop this redwood deck stain and sealer review, we considered types of deck stains, coverage, climates, budget, opacity, and redwood types.
You'll also find exterior wood sealers made of all-natural ingredients.
1.
Best Redwood Stain and Sealer

– Ready Seal 520 Exterior Stain and Sealer

Sale
Ready Seal 520 Exterior Stain and Sealer for Wood, 5 Gallon,...
Requires no primer. Ready Seal is darkest when first applied. It reaches its true color in approximately 14 days. Do not apply Ready Seal over painted or newly stained surfaces. Sealed surfaces inhibit penetration.
May be applied using sprayer, roller or brush onto the woods surface.
Requires no back brushing and will never leave runs, laps, or streaks.
I recently got my hands on Ready Seal's new sealer. It is a leading manufacturer of exterior stains and sealers for wood.
Ready Seal enhances the natural beauty of wood and makes the grain more conspicuous. This oil-based stain is distinguished because it does not require any primer.
It will be dark when applied initially but lightens to its actual color after about fourteen days. I've used it on pressure-treated lumber and redwood color restoration projects, and it's been great.
The ready seal 520 is one of the best semi-transparent oil-based stains that doubles as a stain and sealer, so I don't have to buy two separate products. It applies easily with a sprayer, roller, or brush without needing back brushing, which makes the job much easier.
This product does not require back brushing and does not leave runs, imperfections, or laps. The formulation works for all exterior wood projects, even on dry wood, and will protect it from UV rays, mold, and mildew.
Ready Seal is a great stain that I would recommend to anyone.
What I Liked Most
It's a ready-to-use formula- no diluting or thinning is needed
You can apply it at any temperature range and get pro results
The drying time is only 2 to 3 days
What Could Be Improved
You can't use it on newly painted surfaces
---
2.
Best Redwood Deck Stain & Sealer

– Roxil Wood Protection Cream
Roxil Wood Waterproofing Cream: 10-Year Outdoor Clear Sealer...
✅ Weatherproofs wood for 10 years - Shower-proof application - Instantly Waterproofs
✅ Reduces water uptake for improved resistance to warping and cracking
✅ Breathable, Colourless Protection - Creates an invisible waterproof barrier that protects the wood.
I applied Roxil Wood Protection Cream on my redwood fence and gate and was pleased with the results. It is an excellent silicone cream emulsion that will protect the wood for ten years or more with only one coat application.
It shields the wood from the damaging effects of water, which can cause deterioration, warping, and moss growth.
Roxil Wood Protection Cream has super water-resistant qualities. This reduces moisture infiltration and the expansion that causes wood to warp. The enhanced structural stability can extend the wood's life.
The application was quick and easy. It had no spatter or runoff on vertical or horizontal wood surfaces. I used a special cleaner to clean the wood and put a special treatment on the exposed wood parts. When it rains, the water beads off instead of soaking in.
I'm happy it protects my outdoor furniture and other structures without altering their appearance.
I recommend this product to anyone who wants a reliable sealer for their outdoor spaces.
What I Liked Most
It's durable
It waterproofs the wood to protect it from water and sun, therefore, prolonging its life of the wood.
It's mildew resistant
It doesn't change the color of the wood
It's easy to apply
What Could Be Improved
It won't dry with a shine to it
---
3.
Best Redwood Fence Sealer

– Hope's Pure Tung Oil Sealer

Sale
HOPE'S 100% Pure Tung Oil, Food Safe, Premium Waterproof...
Easy to Use - Tung oil is a natural oil recognized by craftsmen to offer the ultimate hand-rubbed finish for all fine woods; just wipe on and allow the oil to cure at room temperature
Permeates - Unlike other finishes that form a film on the wood's surface, tung oil penetrates deep into the wood fibers, cures to a flexible non-oily solid, and becomes part of the wood itself
Protects - Resistant to moisture, alcohol, oil, and everyday wear for lasting beauty and protection; lasts many times longer than mineral oil and wax based products
Hope's Tung Oil is an easy-to-apply natural wood finish and sealer that woodworkers acknowledge. It provides the ultimate hand-rubbed finish for smooth woods.
I love using Hope's Tung Oil to protect my redwood fence from moisture damage. It's an easy-to-apply natural wood finish and sealer that provides the ultimate hand-rubbed finish for smooth woods.
The non-oily solid it creates cures at room temperature. It soaks into the wood fibers and becomes part of the wood for lasting beauty and superb mildew protection.
I don't need to sand the surface before applying this product, and I won't struggle with ugly brush marks, runs, or flaws either. Plus, it dries hard to form an excellent varnish.
It also works wonders on concrete floors, weathered wood, stripped wood, stone, brick, countertops, cast iron, and unfinished wood.
Hope's Tung Oil is safe to use when it is dry.
It works well on cutting boards, countertops, wooden bowls, spoons, and other things you might use for food. I can apply this with a brush, roller, cloth, or sprayer without splatter or runoff.
Best of all, it lasts a couple of years longer than other wax-based and mineral oil products available in the market. I'm happy with this product for protecting my outdoor structures without altering their appearance.
It gives the perfect finish with minimal effort. I highly recommend it to anyone looking for an easy way to protect their fence from moisture damage. Thanks, Hope's Tung Oil.
What I Liked Most
You can use it on several surfaces
It's non-toxic when dry so that it won't pose any danger to the environment, pets, and humans
It's durable
What Could Be Improved
You can only use it on bare wood or in areas where the previous stain has been removed
---
4.
Best Wood Stain for Redwood

– TotalBoat Clear Penetrating Epoxy Wood
TotalBoat Clear Penetrating Epoxy Wood Sealer Stabilizer for...
WOOD HARDENER FOR ROTTED WOOD: two-part epoxy system seals, hardens, preserves, and protects all types of wood by stopping rot. Makes finishes like paint and varnish stick better and last longer. Easy to use treatment has no VOCs or harsh fumes
PENETRATING WOOD SEALER: An ideal dry rot treatment; this marine-grade epoxy resin is perfect for wooden boat restoration, wood repairs, and woodworking projects. Seal bare or new wood to protect against damage
CLEAR LOW VISCOSITY RESIN WITH MANY USES: Use on all softwoods, including cedar, cypress, fir, pine and redwood. Use on all hardwoods, including ipe, mahogany, maple, oak, and teak. Use on butcher block, live edge slabs, particle board, plywood, and OSB
When dealing with signs of wood rot on a boat, home, or RV, you know that it's not always practical or even possible to remove and replace the rotted wood.
That's why I rely on TotalBoat clear penetrating epoxy wood sealer. It protects my wood from mold, mildew, and salt damage.
This is a special mixture that can stop wood from rotting. It works in two steps and is very thin. It goes deep into the wood and connects rotten parts with healthy ones, making it stronger.
This epoxy sealer also seals, preserves, and protects wood without the overpowering odor or fumes of other sealers. It has a slower cure rate, allowing me to saturate the wood with this penetrating sealer thoroughly.
I can choose between two different formulations based on the weather conditions I'm dealing with. The traditional formula works best in temperatures between 65 and 90 degrees Fahrenheit. The cold weather formula can handle temperatures as low as 40 degrees Fahrenheit.
The handy kits come in four sizes, so I always get what I need without wasting money or product. This sealer can protect my wood from unpredictable elements and keep it looking great for years.
What I Liked Most
You can buy the appropriate size for your project to avoid wastage
It's 100 percent waterproof when cured
You can use it on both hardwood and softwood
You can use it with bare and new wood
What Could Be Improved
Some people feel that it's pricey
---
5.
Best Redwood Fence Stain Sealer

– Rain Guard Water Sealers SP-8002

Sale
Rain Guard Water Sealers - Wood Sealer - Penetrating Water...
PREMIUM WOOD SEALER: Protect, restore, and extend the life of your home with Rainguard Water Sealers Wood Sealer! Formulated to penetrate deep into the surface, Wood Sealer is a water-based silane/siloxane water repellent that helps inhibit moisture damage. This premium-grade water sealer for wood is safe to use indoors or outdoors. It dries to an invisible stain resistant finish that won't yellow or alter surface texture or appearance.
LONG LASTING PROTECTION: Engineered with Micro-Lok! This proprietary ingredient ensures sealer absorption and creates a long-lasting filmless hydrophobic barrier against weathering, salt, dirt, freezing temperatures, UV light, wind-driven rain, and other damaging elements. Rainguard Wood Sealer is the ideal weatherproof sealant for all non-treated and unpainted wood surfaces including, wooden floors, decks, walkways, outdoor furniture, and fences.
CONCENTRATED FORMULATION: Cost-effective, concentrated sealing solutions! Rainguard Water Sealers Wood Sealer Concentrate offers the best value and simple mixing. Pour the quart of concentrate into a 5-gallon pail and add clean water to the 2-gallon mark. Mix lightly to disperse the material. Two gallons of this impregnating wood waterproofer coats, seals, and protects up to 400 square feet. Try Rainguard Water Sealers' ready-to-use formulations for ease and convenience.
This product does not change the appearance of the surface, does not leave a surface film, and aids in preventing efflorescence. It contains sophisticated UV stabilizers to ensure durable, non-yellowing performance.
I choose Rain Guard Water Sealers SP-8002 because it is easy to mix, offers great value for money, and are environmentally friendly. It protects, restores, and extends the life of wood without needing any maintenance.
This deck sealer does not leave a residue. It dries clear with an unnoticed natural finish when applied, making it safe for pets, people, and crops.
It has a primary ingredient, MICRO-LOK, which forms a mechanical bond. These bonds offer a hydrophobic barrier that does not give in to weathering, salt, dirt, ice temperatures, or UV rays. Cleanup is simple with just soap and water.
So why go anywhere else for a sealer when I can get all these benefits from Rain Guard Water Sealers SP-8002?
What I Liked Most
It is a tough, long-lasting finish that will not turn yellow
It will help to stop thaw damage
It Safeguards against wind-driven rain
It aids in preventing efflorescence, mold, and mildew
What Could Be Improved
You may use several coats, but you'll be satisfied with the results
---
6.
Best Redwood Sealer for UV Protection

– KILZ L832111 Exterior Waterproofing
KILZ Waterproofing Wood Stain, Exterior, Semi-Transparent,...
WATERPROOFING WOOD STAIN: KILZ Waterproofing Wood Stain is a semi-transparent exterior stain that offers long-lasting UV protection and waterproofing that helps maintain the integrity and beauty of wood in variable outdoor conditions.
ADVANCED FORMULA: Our 100% Acrylic formula protects wood from rain, snow and sun damage. This stain is warrantied up to 3 years on decks and up to 5 years on fences and siding
MULTIPLE USES: Use on properly prepared new to moderately weathered and unsealed exterior wood surfaces (0-10 years exposure) including decks, shingles, wood patio furniture, railings, siding, shakes and fences.
KILZ L832211 Exterior Waterproofing Wood Stain is the best solution to improve the appearance of my home. This product will protect your redwood materials from water and keep them looking nice, even in bad weather.
It is also mildew-resistant. The application necessitates two coatings for best results. One gallon covers up to 250 square feet for the first coat and about 500 square feet for the second.
I can use it on decks, siding, and other surfaces. Before applying it, I should use a wood brightener for the best results. The penetrating stain is an acrylic formula that protects my wood from extreme weather and UV damage.
I should ensure the surface is dry for two days before applying a topcoat to ensure wood longevity. The product is best suited for use on freshly prepared mildly weathered surfaces and unsealed exterior wood surfaces.
I can apply it using a top-quality paint pad, sprayer, or brush. The product also has a valid warranty of three years on decks and five years on my fences and redwood siding.
What I Liked Most
You can use it on multiple surfaces
It's simple to clean with soap and water
It's easy to apply
It has exceptional coverage
What Could Be Improved
---
7.
Best redwood deck sealer

– THOMPSONS WATERSEAL TH.041821-16
THOMPSONS WATERSEAL TH.041821-16 Transparent Waterproofing...
Maple Brown Durable Protection from Water & Sun Damage Our fast-drying protector penetrates wood below the surface, coating the wood fibers at the cellular level, which creates a long-lasting, flexible,
Transparent Year-Round Protection in Just One Coat The wood used on boat docks, decks, and retaining walls near rivers, lakes, oceans, and ponds is subjected to constant moisture. We crafted a sealer,
Wood sealer and stain, all in one Guaranteed 4 Years on Decks, 5 Years on Fences and Siding great for enhancing the extended life of your flooring, siding, and porch. The paint forms a water-resistant
I've tried Thompson's WaterSeal TH.041821-16, and it's the best deck stain I've ever used. It works on almost all wood species, restoring their natural beauty.
The unique formulation allows it to remain waterproof after the initial water beading. With a selection of colors – woodland cedar, acorn brown, harvest gold, maple brown, and sequoia red – I can choose the perfect hue for my outdoor project.
The advanced polymers in Thompson's WaterSeal offer fade-resistant color that lasts years. It also resists mildew and UV damage, so it looks great even after years of harsh weather.
The Thompson's sealer is easy to apply, even on damp wood that's been freshly cleaned; no need for a pressure washer. I applied it on my outdoor picnic table, and the results were amazing.
I only need one coat because if I put more coats, it will turn too reddish. Thompson's WaterSeal surpasses the ASTM D-4446 industrial standard for waterproofing wood. It will last because the water beads when it rains, which helps the sealer stay in good condition for a long time.
I highly recommend Thompson's WaterSeal. To apply, use a Thompson's water seal sprayer for perfect results.
What I Liked Most
It protects against water damage
The sealer is available in various colors
It dries in and out in record time
What Could Be Improved
The sealer completely waterproofs after the initial water beading has disappeared
---
8.
Best Semi-Transparent Stain for Redwood

– SEAL-ONCE MARINE – 1
Seal-Once Marine Premium Wood Sealer - Waterproof Sealant -...
MARINE SEALANT: Our liquid formula creates a UV-stable coating for protection against the elements, saltwater spray, and water damage. Marine is a great protector for outdoor furniture, thermally modified wood, and boat docks. Marine is safe for use over open water and is non-hazardous to aquatic life.
DECK STAIN: It's water-based, ultra-low VOC, great for enhancing the extended life of your flooring, siding, and porch. The paint forms a water-resistant shield around wood fibers at the cellular level to help preserve the natural color.
WATERPROOF WOOD SEALER: The wood used on boat docks, decks, and retaining walls near rivers, lakes, oceans, and ponds is subjected to constant moisture. We crafted a sealer, remove stain, and finish all in one, specifically for these installations.
I can use SEAL-ONCE Marine Deck Stain in temperatures as low as 45 degrees Fahrenheit. This marine-type deck stain protects against water damage. It is safe for pets, humans, and plants due to its low volatile organic compounds (VOCs).
I can apply it with a brush, roller, or sprayer to form a non-poisonous defensive coating. A gallon of this acrylic-based stain will cover 350 square feet and is available in various appealing wood tones.
This product provides excellent, long-lasting protection against water damage and decay. Thus it extends the life of boat docks, piers, retaining walls, decks, and other outdoor furniture.
By using SEAL-ONCE Marine Deck Stain, I can improve the appearance of wood and protect it from damage at the same time. It is ideal for areas with high humidity levels near fresh or saltwater.
I am confident that SEAL-ONCE Marine Deck Stain is perfect for my outdoor surfaces. It will surely provide outstanding, long-lasting protection against water damage and decay.
Thank you for choosing SEAL-ONCE Marine Deck Stain. You won't regret it. Your outdoor surfaces will look better and last longer with this superior stain.
Protect your investments today with SEAL-ONCE Marine Deck Stain!
What I Liked Most
It's a non-toxic formula. So, it's friendly to pets, the environment, and humans
It comes in various hues, so you can easily find the one ideal for your project
You can use it on different surfaces
It's easy to apply even if you are not a pro
What Could Be Improved
You can't use it under direct sunlight
---
9.
Best clear sealer for redwood Fence & deck

– 100% Pure Tung Oil Finish Wood Stain
100% Pure Tung Oil Finish Wood Stain & Natural Sealer for...
GET A WARM, RICH FINISH. 100% Pure Tung Oil Finisher adds depth for an antique-style finish. Creates a hand-rubbed look on wood surfaces.
NO ADDITIVES, SOLVENTS OR VARNISHES. Pure tung oil adds depth without using solvents or additives. Gives the surface a rich, almost wet look.
DRIES FASTER THAN OTHER OILS. Compared to linseed, soy, and walnut oils, tung oil finish dries fast for remarkable turn-around time.
If you're looking for a sealer to protect your redwood or create an amazing, natural finish on intricate surfaces, then Pure Tung Oil Finish is a perfect choice.
This waterproofing stain does not need a second coat of protection, unlike other sealants. It makes your redwood sparkle and feels natural. It also comes in convenient packaging.
Not only does the sealant give your redwood decks an appealing and glossy look, but it also offers great grip and moisture resistance. Applying it is super easy.
Use a high-quality brush for fast and straightforward application. Additionally, you don't need any special skills to use this product, so even if you're a beginner, you can apply it without hassle.
Pure Tung Oil Finish won't leave any white residue like some other stains that rely on additives to speed up the drying time. It also contains no harsh chemicals such as silicone, paraffin, or petroleum distillates.
In just one application, you get all the benefits; a shining surface that's also waterproof. So when it rains or snows, the droplets will just roll off your wood. All in all, Pure Tung Oil Finish is a great choice for protecting your redwood. Give it a try – you won't regret it.
What I Liked Most
It is available in four different colors
When applied, it emits a faint odor
It is effective on softwoods
It dries uniformly and without running when applied using a small spray tip
It is simple to use even if you have no prior experience
Because of its high waterproofing abilities, it is excellent for use in the outdoors
What Could Be Improved
Imperfections in the wood surface may show through the sealer; thoroughly clean the wood
---
10.
Best All-Weather Exterior Stain and Sealer

– Olympic Stain
Olympic Maximum Wood Sealer For Decks, Fences, Siding, and...
Weather-ready application allows you to clean and stain on the same day in temperatures down to 35 degrees fahrenheight, deck is ready for rain in 8 hours
Penetrating formula delivers enhanced protection; clear waterproofing deck and fence sealant
Easily clean up with soap and water
I can give my new wood the protection it deserves with Olympic's stain sealers. This wood stain and waterproofing sealer will make my wood strong and beautiful for years to come.
With its weather-ready application, I don't have to worry about relying on the weather conditions when staining my deck. The penetrating stain is absorbed deeper into my wood fibers, protecting them from harsh elements.
One gallon covers 250-350 sq ft – which means this wood stain is adequate for a small or a medium wood deck. Plus, it's the best stain for redwood furniture, so I can use it to stain and protect my outdoor furniture as well.
Now, that's what I call a win-win!
What We Liked Most About This Wood sealer and stain
Penetrating sealer
Pretty fast drying time
Works on any wood surface
---
Best Sealer for Redwood Comparison Table
Education: Factors to Consider When Buying Redwood Sealer
You do not hop in your local hardware and grab any sealer for your wood decks and fences. You've to consider a few essential factors before settling on any product.
You can only stain or paint your deck or fence. Painting vs. staining is a fine line to tread. Though these products appear similar, they've minor differences.
Stain can be a solid stain, transparent or semi-transparent. Transparent and semi-transparent seals the wood while letting the wood grain shine through.
Paint, on the other hand, waterproofs the wood but conceals the natural beauty of wood. Both products repel water and, depending on the manufacturer, frequently incorporate UV blockers and mildewcide to safeguard mold and mildew growth.
Consider the factors below to help you pick the best sealer for a redwood fence and deck.
Is the Product ideal for Indoor or Outdoor Use
When buying a redwood sealer, consider whether to use it indoors or outdoors. If you want to use the sealer indoors, buy the one that'll dry fast to cut drying time and get better results.
Get an eco-friendly one to ensure the safety of pets and kids. If you want to buy a sealer for outdoor use, go for the one that waterproofs the wood and protects against mildew and mold growth.
Keep an eye out for the VOC levels to ensure the safety of the environment.
Type of Redwood
There are three types of redwood, namely;
Giant Redwood is tall, with a ruffled trunk, red and porous bark, and scale leaves on sticking shoots and tiny cones. Though it is closely linked to the Coast Redwood, it differs because it has just one leaf type.
Coast Redwood– It is the world's tallest tree species. Its normal height ranges from 280 to 325 feet but could be as high as 360 feet. Their trunks range in size from eight to fifteen feet in diameter.
Dawn Redwood is a coniferous conifer with small, round cones ranging in size from 1/2″ to 1″. In its youth, it has a neat pyramidal shape that matures into a rounded crown. In the fall, the bright green, fluffy leaves turn reddish-brown.
Consider the Main Ingredient or types of Redwood Finishes.
Formulation
Wood sealer configuration is crucial. It is responsible for longevity and resistance to Mother Nature. A sealer with a 100 percent acrylic formula, for example, protects the wood from rain, snow, and Uv damage.
Other types of stains, such as oil-based and water-based stains, exist. Water-based stains are durable, eco-friendly, and easier to clean up.
Water-based stains take longer to dry but are durable.
Opacity
Opacity refers to the amount of wood grain you want to see after your deck has been stained, which is determined by transparency.
A stain can either be Transparent, semi-transparent stain, solid, or semi-solid
Use clear, semi-transparent, or transparent stains on newer wood to allow some grain to show through. For decks that have seen a lot of grilling, semi-solid colors are preferable because they completely cover the wood with imperfections.
Semi-solid stains are similar to semi-transparent stains in appearance, but they have a deeper color and reveal less of the natural wood grain. They offer more protection and can be darkened in almost any color. It can be a challenge to differentiate solid stains from paint.
Read also: Can you apply Thompson water seal over stained wood?
Ease of Use
Go for a sealer you can efficiently work with and apply on different surfaces. Consider the application method and buy the one that can work with affordable application tools, such as a paintbrush or an easy-to-use sprayer.
Also, buy the work you can use regardless of the prevailing weather conditions to avoid rescheduling your paint job due to weather changes.
Opt for one that's compatible with multiple stains to cut down on expenditure. Go for a ready-to-use formula to escape thinning stress.
Related read: What is the best poly for table top?
Health Hazard/ Safety Precautions
Opt for a sealer with low Voc levels to ensure the safety of pets, kids, and the environment. Note. As a sealer dries and its solvents melt away, it emits volatile organic compounds (VOCs), leading to air pollution and harmful to your health.
That's why you should wear protective clothing such as gloves and goggles to protect yourself. Before buying a sealer, ensure it is EPA approved.
Application Method and Procedure
Buy a sealer you can easily apply using a brush, paint sprayer, or brush. Always work in a well-ventilated environment and follow the manufacturer's safety instructions.
For a professional finish, use a sanding sealer before applying the finish. It helps to fill the pores in the wood and penetrates the wood to form a barrier that protects the final finish from darkening the natural wood color.
Mix one part of the lacquer thinner with one part of the sanding sealer. Sand your project with 400 grit or higher.
Wipe off the surface with a lint-free cloth to remove dust before applying the sanding sealer. Brush a generous amount of sealer on the project.
Wipe off the excess sealer and allow it to sit for a while. Using 0000 steel wool, sand away the sealer until none of it is visible. Apply your preferred finish and get a long-lasting pro look.
Types of Sealers for Redwood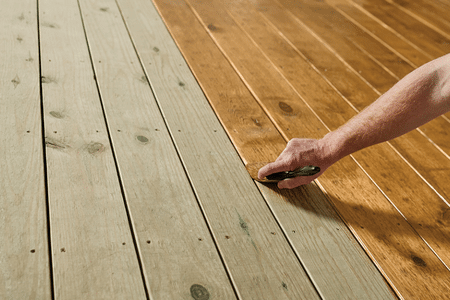 When it comes to sealing a redwood deck, there are numerous options available. An oil-based or alkyd-based colored penetrating sealer is one of the best options for a new redwood deck.
Most penetrating sealers guard the wood better than film finishes such as paint. This is so because they wear out naturally rather than cracking. Nonetheless, it comes down to your unique project and preference.
You can opt for latex, water-based, or acrylic sealer for your project and still get a professional look. Just buy a sealer that fits your budget and is suitable for you. 
Note: Here's an article on Olympic vs Thompson water seal that you may like.
Do I Need to Seal Redwood?
Yes. You have to seal your redwood to enhance its durability and keep its fantastic color.
You can keep your redwood from cracking and rotting with appropriate staining and care, particularly if it is exposed to water.
Here are more Benefits of using sealer and deck stain for redwood.
Sealers and deck stains keep mold and mildew at bay.
Deck stains enhance the wood's surface appearance
Sealing and staining redwood helps to keep mold and mildew at bay.
Also, protect it from snow, rain, water, and excessive UV rays.
Overall, staining and sealing redwood decks makes them more durable.
Why is Sealing New Redwood Deck Better than Painting?
Most people prefer sealing redwood to staining for a good reason.
The wood's beauty, such as cedar and redwood, lies in its natural looks. Most people prefer staining overpainting as the stain will let the natural grain shine through. Paint, on the other hand, will hide the wood's natural grain.
Stain is available in various colors and tints. You can customize the colors to get the one you like most and opt for a colorless stain to enhance the wood's natural aesthetics.
Contrary to paint, a high-quality stain with sealer will deeply penetrate and seal the wood grain, enabling moisture to escape hence prolonging the life of the wood.
Additionally, painting coats the surface of the wood, whereas stain penetrates the wood.
Paint covers and hides the natural beauty of wood. Stain safeguards and preserves it.
The stain progressively wears away, necessitating re-coating regularly. So you do not have to work for hours on end trying to get it off the surface. Paint peeling requires a lot of scraping to remove it hence time-consuming.
Paint is not durable in high-traffic areas as it'll crack and peel off, ruining the looks and exposing the wood to the elements. On the other hand, a sealant is less expensive, easier to apply, and lasts longer before requiring maintenance.
The Best Time To Seal the Redwood Deck
If you want to seal freshly installed redwood, wait three or four weeks to give the wood time to adjust to the surroundings.
If you seal it before the stipulated time, you'll trap the moisture inside, and it'll give you problems in the future. Use penetrating redwood sealants to protect the wood from unwanted moisture and other elements.
Clean the wood exhaustively before putting on the sealer for excellent results. If you want your wood to keep its natural color, use oxalic acid to clean it before sealing it.
How to Seal Redwood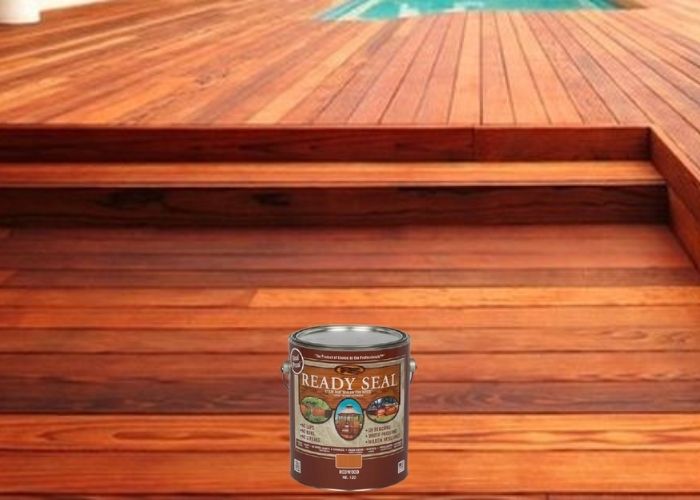 Before sealing your new redwood deck, understand that high-quality products with mildewcide, water-repellent, and UV rays protection properties are the best for waterproofing wood. Keenly follow the manufacturer's instructions on application and coverage.
Pro tip- Apply the sealer on a windless day. The temperature range should be between 50- 70 degrees Fahrenheit.
Materials Needed
Brush/ roller
Sealer
Gloves
Knee pads
Wood brightener
Procedure
Clean the deck thoroughly. If it gets wet, wait for it to dry completely.
Step 1: Sand the Wood Surface
For new wood, sand down the wood surface (with 120-220 grit sandpaper )to open the wood pores to prep it for sealer. Make sure to sand along the wood grain.
If you are refinishing an old deck, pressure washing or using a deck stripper to remove the old finish is mandatory.
Step 2: Pick your Wood Sealant
Note- penetrating oil-based finishes formulated for the outdoor deck are suitable if you are looking for a natural finish. For a more uniform finish, opt for a semi-transparent stain.
Step 3: Apply the Wood sealer
Use a 4" natural bristle brush to put on the wood sealer. Seal one board at a time at full length to avoid overruns. Give it forty-eight.
FAQs
What is the best stain for redwood?
Use a redwood-specific deck stain. I recommend semi-transparent penetrating deck stains because they amplify the natural beauty of the redwood while also preventing weathering. When staining your redwood, only use as much wood stain as the wood can withstand.
What should I seal my redwood fence with?
Use a high-quality oil-based sealant with water repellent, UV protection, and mildewicide for superb results. Use a high-quality paintbrush or a roller to put on the sealant.
Can you use linseed oil on Redwood?
Linseed oil is not recommended for exterior redwood because it promotes mildew growth. Instead, use high-quality oil-based semi-transparent if you are looking for a more traditional appearance on your exterior redwood.
Does the redwood fence need to be sealed?
Yes. Redwood fences will remain sturdy for several years if you care for them properly. Apply a waterproofing sealer to the redwood fence after three to six years to prevent splintering, cracking, and warping caused by the elements.
Also See: Best sealer for cedar wood deck
Does the redwood deck need to be sealed?
Yes. If your redwood deck receives a lot of sunlight, you should clean and reseal it every year. You can get away with doing it every three years if it's mostly shaded and it hasn't developed mildew yet. Sealers protect the wood from harmful elements such as moisture and insect infestation.
What is the best exterior finish for redwood?
There are no complex fast rules. It depends on your project and your preferences. However, the rule is to go for high-quality finishes with superb UV protection, mildewcide, and water repellent, as they will give you professional results.
What are the best redwood preservatives?
Generally, stains and sealers are the best redwood preservatives. Nowadays, most modern-day formulas double up as two-in-one, which means you seal and stain the wood using one product, saving you time and money and fortifying the wood against the elements. Stains permeate the wood to offer phenomenal waterproofing benefits, whereas sealers work from the surface.
Related read: Best sealer for pressure-treated wood deck
Can you use danish oil on redwood?
Our recommended finish for redwood mantels and shelves is Danish Oil. Our tung oil/varnish blend gives mantels a light satin sheen that emphasizes the natural hues and characteristics of the wood. Unlike wood stain, danish oil is also easy to maintain and reapply.
What is the Best Sealer for Redwood
Using wood sealers on redwood has many advantages over some finishing options, such as paint. The best finish for a redwood deck and fence improves the natural beauty of your wood rather than changing its original appearance.
Our Overall best Redwood sealer for deck and fence is Ready Seal 520 Exterior Stain and Sealer for Wood, 5-Gallon. It's easy to apply, completely safeguards the wood from elements, and you can use it on multiple surfaces.
It's also less expensive and much easier to use and prolongs the life of the wood.
What next? Check out our article "Outdoor Sealer for Painted Wood" to select the right sealer to ensure the longevity and beauty of your outdoor painted wood surfaces.