Looking for the best deck sealer for pressure-treated wood? Look no further!
Pressure-treated wood is a popular choice for outdoor projects because it's resistant to rot and decay. However, if you don't protect it with a sealant, the moisture in the air will cause it to turn gray and lose its color.
Sealing can actually increase the lifespan of your pressure-treated wood by protecting your deck from harsh elements such as rain, sun, and mold
Luckily, we have tested a number of deck sealers for pressure-treated lumber. These sealants are designed specifically for pressure-treated wood. They will keep your deck looking beautiful for years to come.
Our Top Picks
Best Sealant for Pressure-treated Wood
How We Picked the Best Sealer for Pressure-treated Wood
Our top consideration in our search for the best sealer for decks is how the product answers these concerns:
Reliability – how well can the deck sealer protect against harsh, unwanted elements. These include moisture, ultraviolet rays, water and snow.
Durability – taking into account the above elements, how long will the protection from the deck sealer last, and how long can it keep the deck looking like new?
Value – Considering every sealant claims outstanding protection, why should buyers prefer this product? Does it have attributes that make it stand out from the competition?
Appearance – Semi-transparent promises to bring out the wood's natural beauty. Is the product able to do that? In the same way, other products pledge to bring new tones and refresh your deck. How well do they improve the deck's appearance?
We used these concerns as criteria in our search and in testing the best deck sealant.
Best Pressure-treated Wood Sealer Reviews (Updated List)
Here is our list of the best deck sealers for pressure treated wood:
1.
Best Stain and Sealer in one

– Thompson TH.042841-16 Waterseal Waterproof
Thompson's brings out the natural beauty of deck wood, making wood surfaces pop. Its advanced polymers also protect the wood from fading.
It makes the pressure treated wood more durable, protecting your deck against water, mold growth and mildew development, and UV rays.
Its water-proofing capability even exceeds the industry standard ASTM D-446. Thus, you can be sure your deck is more than sealed against the elements.
Moreover, it gives good value for money as it is both a sealant and a deck stain. Applying it is also convenient, as you don't need any preparation for the wood; just make sure it's dry. If the Thompson water sealer won't dry, refer to our article.
It's also versatile as it looks good in a number of wood species. It's also made to stick well to your deck and dry in just two hours after application, saving you time. And for its quality and color retention ability, it will not soil your clothes.
Thompson's is among the best deck stain and sealer for pressure treated wood decks given the above properties. I also love the fact that I can use Thompson's water sealer over stain.
One disadvantage is that the coat doesn't last long. Some users say the color will only last a year before you need to reapply the deck sealant.
The outdoor furniture sealant is also for outdoor projects only. If not in use, keep it out of children's reach, as it's poisonous.
Plus, some complain the sealant's packaging gets banged up in shipping.
What We Liked Most
Shows wood's natural beauty
Protects from fading
Shields from water, mold, mildew, and UV rays
Exceeds water-proofing standard ASTM D-446
Dries quickly
Stain and sealant in one
What Could Be Improved
The coat lasts one year
For outdoor projects only
Inferior packaging
---
2.
Best Eco-friendly sealer for pressure treated wood deck

– Eco Advance
Eco Advance Exterior Wood Siloxane Odorless Spray-On...
Ready to use commercial grade formula can be applied using a standard garden pump sprayer
Ideal for use on wood decking, wood fences, plywood, wood shingles, wood siding and much more
Protects against water damage, oil, stains, mold, mildew, de-icing salts, and pool/spa chemicals
Eco Advance is odorless, non-flammable, and water-based, making it non-toxic to animals and plants. That's why, even after applying it, some users can't tell the sealant is on the dry wood.
Despite this, Eco Advance remains effective against damage to water, oil, and salts, making it one of the best deck sealers.
It also allows the pressure-treated wood to breathe, letting moisture evaporate. Thus, you don't need to worry about mold and mildew. Convenience is also a big selling point. Simply mix the concentrate with a gallon of water in a deck sprayer; you're good to go.
The sealer comes out colored milky white on the wood surface, making it easy to see if you missed a spot. Plus, it dries after only two hours. The coat will not leave a sheen on wood surfaces.
Another stand-out feature the wood sealer offers is that it's vapor permeable, meaning its water repellent properties work on new wood, too.
We will, however, deduct a point in terms of longevity. It can only hold up after two years. After that, protection fades because of frequent rains. It's also not suitable for indoor use.
What We Liked Most
Water-based, odorless, and non-flammable
Non-toxic
Protects against water, oil, and salts
Moisture, mold, and mildew resistant
Easy to apply
Quick-drying
What Could Be Improved
Lasts two years
Outdoor use only
---
3.
Best wood deck sealer with UV protection

– DEFY Extreme
DEFY Extreme 1 Gallon Semi-Transparent Exterior Wood Stain,...
Water-Based Semi-Transparent Wood Stain – This water-based deck stain allows the wood grain to show through with a beautiful semi-transparent, natural matte finish. It's great for staining wood decks, fences, siding, playsets, outdoor patio furniture, and more.
Fortified With Zinc Nano-Particle Technology – It's like sunscreen for your wood. Tiny zinc particles dispersed throughout the stain reflect damaging UV rays, preventing premature graying and color loss.
Durable Quality That Lasts – DEFY Extreme wood stains are made with the highest quality resins available that have better resistance to fading and darkening.
DEFY Extreme Semi-Transparent leads in ultraviolet rays protection, boasting millions of UV-resistant zinc nanoparticles.
Note that the sun's heat makes outdoor wood projects vulnerable to rotting. This property alone makes it among the best deck sealers and deck stains today.
In addition, it also protects against moisture, mildew mold, and other zinc particles and can withstand damp conditions.
Being both a deck stain and sealer, DEFY Extreme Semi-Transparent comes in a variety of wood tones (among them Natural Pine, Cedar Tone, Light Walnut), producing a beautiful, natural-looking finish. Expect the color quality to last up to two years.
This pinewood stain is also easy to maintain, as you only need soap and water for cleaning. You also have the option of using a sprayer, your paintbrush, or roller.
You, however, have to be a little OC and follow the manufacturer's instructions to get the best results. But if you like following guides, the procedure will be a breeze.
Plus, some users say you need to reapply the deck stain after one year.
What We Liked Most
Superior UV protection
Protects against moisture, mold, mildew, and zinc particles
Can withstand damp conditions
Both stain and sealer
It comes in a variety of wood colors
Easy to clean
What Could Be Improved
Needs strict adherence to manufacturer instructions when applying
Lasts for one year only
---
4.
Best treatment for pressure treated wood against moisture

– Seal Once
Seal-Once Marine Premium Wood Sealer - Waterproof Sealant -...
MARINE SEALANT: Our liquid formula creates a UV-stable coating for protection against the elements, saltwater spray, and water damage. Marine is a great protector for outdoor furniture, thermally modified wood, and boat docks. Marine is safe for use over open water and is non-hazardous to aquatic life.
DECK STAIN: It's water-based, ultra-low VOC, great for enhancing the extended life of your flooring, siding, and porch. The paint forms a water-resistant shield around wood fibers at the cellular level to help preserve the natural color.
WATERPROOF WOOD SEALER: The wood used on boat docks, decks, and retaining walls near rivers, lakes, oceans, and ponds is subjected to constant moisture. We crafted a sealer, remove stain, and finish all in one, specifically for these installations.
Seal Once does its primary job – protect your deck from moisture. Note that moisture facilitates mold and mildew growth and contributes to wood rotting.
Its owners are so confident that it's among the best deck sealers for pressure-treated and untreated wood that it comes with a 10-year warranty.
The secret is in its formulation. Seal-Once applies nanotechnology that penetrates deep into the wood grain. This produces a protective layer within the wood grain.
This layer also adjusts to environmental conditions outside so that the wood would not crack or peel.
SEAL-ONCE Marine Wood Sealer also has an anti-graffiti formula, which protects the surface from scratching. This works on natural wood and synthetic materials such as PVC decking boards and composite panels made.
Plus, it's non-toxic and safe for people, plants, and animals. And it's easy to clean, with just soap and water. Thus, it's easy to understand why it's among the best deck sealers.
A disadvantage is that you have to follow the instructions when applying pressure-treated wood strictly. And once applied, some users find it difficult to remove dirt from the wood.
It also comes at a premium price. Some users also observed sealant only lasts for a year.
What We Liked Most
Protects from moisture, wood cracking, and peeling
Scratch-resistant
Non-toxic, safe for people, plants, and animals
Easy to clean
What Could Be Improved
Needs strict adherence to manufacturer instructions when applying
Lasts for one year
---
5.
Most versatile pressure treated wood deck sealer

– Olympic

Sale
Olympic Stain Smartguard Concentrated Multi-Surface Sealant,...
Stain Your Deck Quickly And Easily - Olympic Smart guard is a patent-pending deck stain product that allows you to simply spray on the sealant eliminating the need for back-brushing your deck.
Simple Stain Process - To apply Olympic SmartGuard Deck Sealant simply pour the pouch into a deck sprayer, add 2 gallons of water, and then spray over your deck - it works on traditional wood decks, concrete, and even composite decking!
Quick Dry - Dries in 1 hour so you can entertain or spend time outdoors with less hassle and less disruption. Apply this deck sealant quickly and get back to enjoying your day.
You'd be hard-pressed to find another sealer that works on wood and other surfaces. Not just great on wood decks, Olympic Multi-Surface also works well on concrete patios, masonry, and even weathered composite wood.
Being a water-based deck stain, it is quickly absorbed by the wood and other surfaces. As a result, it forms a coat inside the wood, keeping water on the surface. That's why your deck won't develop wood rot, split or warp.
This coat also protects against UV rays, keeping colors bright. It's also easy to apply and dries after one hour. You also don't need back brushing before applying the sealant.
The Olympic Stain Concentrated Multi-Surface Sealant won't break the bank, giving you good value for all these positive attributes.
Some users, however, doubt its water-proofing properties. You'll also need to reapply the sealant every year.
What We Liked Most
Works on wood and other surfaces
Quickly absorbed by the wood
Keeps water on the surface
Protects from UV rays, rot, splitting, and warping
Value for money
Keeps color bright
Dries quickly
No back bushing before application
What Could Be Improved
Some users doubt water-proofing properties
Lasts one year
---
6.
Best waterproofing for pressure treated wood

– Ready Seal 515

Sale
Ready Seal 515 5-Gallon Pail Pecan Exterior Wood Stain and...
Requires no primer. Ready Seal is darkest when first applied. It reaches its true color in approximately 14 days. Do not apply Ready Seal over painted or newly stained surfaces. Sealed surfaces inhibit penetration.
May be applied using sprayer, roller or brush onto the woods surface.
Requires no back brushing and will never leave runs, laps, or streaks.
Unlike other deck sealers, you don't need primers for treated wood on unsealed exterior wood surfaces to use the Ready Seal 515 Exterior Wood ST wood stain and sealer combo.
Before application, you just need to clean your deck. And make sure the wood is dry, then you're good to go.
This good exterior wood stain can also be used regardless of the climate. You can use a sprayer, roller, or paintbrush on wooden surfaces.
Plus, Ready Seal doesn't need a wet-line application, and it even blends itself. You also get a two-in-one, as it's both a deck stain and a sealer.
It protects your deck from water damage, mildew, and UV rays. Thus, it's easy to see why Ready Seal is considered a great cedar sealer and among the best deck sealers.
On the downside, you'll need two coats and use mineral spirits to get the best results. Also, the color will fade within the first two weeks.
Although Ready Seal brings a beautiful finish, some observed that the color faded after six months.
It's also priced higher than most sealers.
What We Liked Most
No primer or thinner is needed
Blends by itself making it the best sealer for treated lumber
Stain and sealer
Easy to apply
Can be applied regardless of climate
Doesn't need a wet-line application
Protects against water, mildew, and UV rays
What Could Be Improved
---
7.
Best water sealer for decks

– #1 Deck Premium Semi-Transparent Deck Stain
Get vibrant, natural wood tones from #1 Deck Premium Deck Stain after only one day of application. It's also a two-in-one product – a deck stain and sealer at the same time.
Aside from the good looks, it protects your deck from moisture, mold, mildew, and ultraviolet rays. It also shields from peeling and fading.
Yet, the solution is water-based, making it a non-toxic-safe to use, even on outdoor furniture or children's playsets. And it can be maintained easily; just have detergent and water ready for cleaning.
One disadvantage is that it turns gray quickly. Thus, you need to reapply after a few years. Some users also observed that the wood still gets soaked after a downpour.
And others point out that the warranty being offered is not good enough. Still, these are not enough to have this product knocked off the best deck sealers.
Being a semi-transparent deck stain, its color may also be affected by the wood's hues.
What We Liked Most About this Pressure Treated Wood Sealer
Water-based, non-toxic
Vibrant wood tones
Quick-drying
Stain and sealer
Protects against moisture, mold, mildew, and UV rays
Shields against peeling and fading
Easy to clean
What Could Be Improved
Turns to gray quickly
Color may be affected by wood's color
Reapply after two years
---
8.
Best clear deck sealer for pressure treated wood

– Minwax 630510444

Sale
Minwax Water Based Helmsman Spar Urethane, Quart, Semi-Gloss
PROTECTIVE CLEAR FINISH – Minwax Helmsman Water Based Spar Urethane is a crystal clear wood finish that is specially formulated to protect against nature's toughest conditions.
EFFECTIVE YEAR ROUND – This wood varnish forms a protective barrier against rain and moisture to protect your projects and keep them looking their best. Special oils allow the finish to expand & contract with the wood as seasons and temperatures change.
VERSATILE – Ideal for use on doors, windows, trim, bathroom cabinets, bar tops, kitchen countertops, outdoor furniture and more. It's a versatile water-based spar urethane that dries quickly and cleans up easily with warm water.
You'll get the best finish that can withstand the elements and weather with Minwax Spar Urethane.
Why is it among the best deck sealers? The secret is in its UV blockers that give superior protection from color fading. You can read the full review here on helmsman spar urethane vs. polyurethane.
It also has oils that allow the wood to expand and contract, ensuring that your deck will not split or warp. It also has low VOC, making it safe on the eyes and throat when in use.
It spreads evenly on the wooden surface. No more lumps and uneven surfaces after application, making it ideal for DIY enthusiasts.
And being water-based, you can just clean your deck with soap and warm water. The primary drawback is that it doesn't last on wet wood.
Plus, you need to apply several coats to get that even finish and superior water-proofing properties. Other users also don't prefer the milky white and that it dries too fast when being applied.
Moreover, some users noticed a yellowish tint after drying. This is especially noticeable in dark-colored wood.
What We Liked Most About this Pressure Treated Wood Sealer
Best finish
UV protection keeps color from fading
Oils keep wood from splitting and warping
Low VOC
Spreads evenly
Easy to clean
What Could Be Improved
Doesn't last on wet wood
Need several coats to ensure wood protection
Dries quickly when being applied
Gives a yellowish tint when it dries
---
9.
Best oil sealer for treated wood deck

– Cabot 140.0017437.007 Semi-Solid Deck & Siding Low
Sure, there are a number of sealers that give a great finish and superior protection. But chances are, you need to apply two coats on the wood surface to get the best results. In this way, Cabot is a game-changer as you only need to apply a single coat.
With that single coat, you'll get a vibrant cordovan brown on your deck. No worries about its longevity as it's scuff and fade resistant. Thus, you're sure it will last years before you need to reapply it.
It penetrates deep into the pressure treated wood, giving superior protection against harmful UV rays, unwanted moisture, water, and even snow. It's also non-toxic, having low VOC levels and works well with stain protector.
It may cost you a pretty penny but still gives great value as you still save not just money but effort, just needing to apply a single coat.
There have been mixed reactions on Cabot. Most users rave that it's the best stain they have used, while others question its durability, especially after going through the winter.
They point out that the quality and appearance of the deck only lasted six months before they needed to reapply again.
What We Liked Most About this Pressure Treated Wood Sealer
No need for a second coat;
Scuff and fade resistant;
Protects against UV rays, moisture, water, snow;
Low VOC
What Could Be Improved
Expensive;
Lasts six months only
---
Deck Sealers for Pressure Treated Wood Comparison Table
Why Seal Pressure Treated Wood?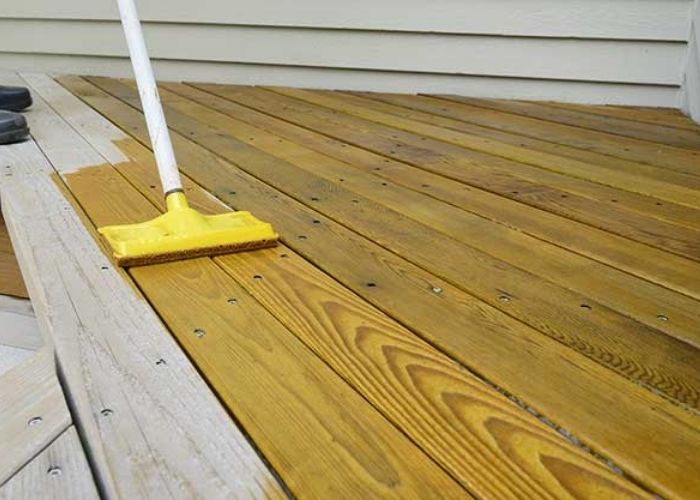 After staining wood do you have to seal it?
Well, pressure-treated wood had undergone pressure treatment in order to be resistant to rot and insect attacks. But this proves insufficient as a pressure-treated wooden deck is still vulnerable; that's why we apply deck sealers.
Deck Sealing protects wooden decks from moisture and water. Water and moisture pose a danger, as these are catalysts for expanding and shrinking of wood, making it prone to warping, cracking, and splitting.
Deck Sealers for pressure-treated wood also shield against scratches from daily usage. However, foot traffic can unwittingly cause scratches. The same is true with the movement of outdoor furniture.
Offers protection from UV rays. UV rays cause wood to dry and rot and make colors fade.
Types of Deck Sealers and Deck Stains
Deck stain and deck sealer are two different products. A deck stain changes the wood's color but is not a wood substrate protector.
Thus, against a storm wood stain protector will be useless. A sealer, on the other hand, protects but does not change the color.
Given this, you do not need to put a wood stain on your pressure-treated deck unless you want to change the color. Opt for a semi-transparent or transparent sealer instead.
There are, however, products that act as wood stains and sealers. A two-in-one wood stain and sealer give your deck color and protection.
Recommended read: Thompson's Water Seal vs Olympic Waterguard.
Deck Stains Types
Here are the types of deck stains so that you can pick the one that's perfect for your needs!
1. Oil-based stain
Oil-based stains penetrate the wood grains. They form a protective layer to make wood water-resistant. Since it seeps into the wood, it's easier to apply.
Plus, an oil-based stain is more likely to fade than peel and is easier to maintain. They usually contain natural and synthetic oils, including linseed oil.
On the downside, they take longer to dry (some take 48 hours). An oil-based deck stain is also more toxic and does not last longer than a water-based deck stain. Oil also attracts mold and mildew, as it's a source of food for fungi.
2. Water-based
Water-based dries quickly, around one to two hours, the deck is ready; it won't easily fade because of better UV resistance.; non-flammable and easy on the nose. It also won't trap moisture in the dry wood.
Plus, you can easily reapply when the color fades. Usually, you'll just need to wash off the wood's surface with soap and water, with no need for extra chemicals to loosen the coat.
A disadvantage is you need to strictly follow the manufacturer's instructions to get the best results. In addition, you need to thoroughly apply it, as these don't penetrate wood grains on their own.
Unfortunately, it's also possible to over-apply it, which makes the wood vulnerable to peeling.
Deck Treatment Options: The Best Wood Deck Sealer Types
Oil-based sealers and water-based sealers are also available. Besides this classification, here are the types of sealers for pressure-treated wood are:
Solid
These wood sealers have more pigment, thus may alter the initial color of the wood. Ideal for vertical projects such as fences and siding and other wood substrates because foot traffic will wear off the finish.
Semi-transparent
Are suitable for deck boards and other foot traffic intense areas.
Clear
Offers protection from the elements but doesn't prevent the wood color from fading. Warning: Wood with a clear deck sealer will eventually turn gray.
Clear or color finishes
The choice between clear and color finishes still boils down to personal preference and your willingness to clean and maintain your deck.
Clear finishes bring out the natural beauty of the new wood and can easily be cleaned and refurbished. The downside is that the wood is vulnerable to color fading and will eventually turn gray.
Color finishes have more pigment and offer better ultraviolet protection. Although you have a variety of wood tones to choose from, it's best to choose light hues, as once you apply a dark stain, you can never walk it back.
Light finishes are also ideal for decks that are subject to foot traffic. Again, this is because they show the least contrast as wear and tear occurs.
How to Choose the Best Deck Sealer for Pressure Treated Wood?
Here we take a look at the different factors that contribute to choosing the perfect sealer for your pressure-treated wood deck.
You have to consider its compatibility with pressure-treated wood, water resistance level, VOC level, degree of ultraviolet protection, toxin content, color, and drying time.
This seems daunting. With lumber coming from different wood species, you can also ask, is there a mahogany sealer? A cedar fence sealer?
How about a sealer or wood stain for pressure-treated pine? Or a storm protector penetrating sealer?
Yet, it should be easy if you know what you are looking for in deck sealers for pressure-treated wood. Here are our tips to guide you in making the right choice:
An effective sealer and deck and wood fence protector give wood protection from moisture. Thus, put a premium on water-proofing properties.
It should also keep away mold and mildew. Damp wood facilitates mold and mildew development. Look for finishes that include mildewcide.
The more non-transparent the sealer, the greater weather protection it offers.
Better to choose the ones with UV protection. Typically, it's stains that protect from the sun's rays. But better sealers will also do the job, saving you money and effort.
Sealers for pressure-treated lumber should enhance the natural appearance of wood surfaces. This doesn't mean you should stick to clear or semi transparent ones for your finish. You can still opt for natural wood tones that will complement the natural color of the wooden deck.
With these in mind, let's take a look at the factors mentioned above to help you choose the best sealer for your pressure-treated wood deck.
Compatibility of sealers for pressure treated wood
Best to note that not all sealers for pressure treated wood and untreated wood will work with all types of wood. Some will only work for hardwood or just softwood. Check manufacturer specifications.
For new decks, it is best to use clear sealers. They are ideal for accentuating the beauty of natural wood grain. In addition, we recommend a semi-transparent or transparent stain.
We urge you to pressure wash your deck before applying a sealer if it's an old deck. Just be careful not to cause splinters and allow the wood to dry. Sealers typically don't get absorbed by damp wood.
Level of water resistance
This is the primary use of sealers on wood decks – keep water out as this is the primary contributor to damage. With shifts in temperature and weather, the pressure treated wood expands and shrinks, making it vulnerable to warping, cracking, and splitting.
So what should you look for to ensure superior water-proofing? Ideal to choose a water-based sealer that seeps into the wood fibers.
And to be sure it's doing its job, perform a water bead test. Sprinkle water on the wood. if beads form on the wooden surface, then the water protection is effective.
It is suggested to seal the pressure-treated wood of your deck once a year to keep water resistance.
VOC level
Volatile organic chemicals (VOCs) are solvents that keep sealer chemicals together. You may notice their presence during and after application.
But, unfortunately, they are the ones that cause your eyes to burn, headaches, and nose irritation.
It's important to note that the government has not set a limit on the amount of VOCs for the best wood deck sealer. Manufacturers, therefore, practice self-regulation.
As a result, today, we have deck sealers that are classified as either low VOC or no VOC.
Low-VOC
These contain less than 50 grams per liter (g/L) of VOCs. Compare that to some high-VOC sealers that may contain as much as 300 g/L.
No-VOC
Sometimes labeled "zero-VOC," these deck sealers contain very few or no VOCs. No-VOC products contain less than 5 g/L.
With low VOCs in paint and sealers, we see improved durability that yields more seldom reapplications, better protection around edges, thicker coating, easier application, and better air quality after the sealer has been applied.
Plus, it's best to opt for low VOCs as this reduces the chances of inhaling toxic fumes from your deck.
Degree of UV protection
Besides the promise of UV protection on the label, you can check the list of ingredients in the sealer. If your sealer has zinc particles, you're good to go. Zinc particles are the ones that protect against UV rays.
Having UV protection is important because excessive exposure to the sun causes fading and damage to the wood's fibers.
Also, remember that UV protection doesn't last more than a year, especially when your deck is constantly exposed to the sun. So reapply a water-based sealer before every summer to be sure your deck is protected.
Color
People often get a color that matches the wood or complements their home, or altogether get a semi-transparent sealer.
It is better to get a light color and apply it to a portion of the pressure-treated wood deck first. Or better yet, get a sample of your wood deck and have the hardware store assist you in choosing which type and color of a sealer will be the best fit.
We recommend applying a light tone, as this is easier to remove if you change your mind. Plus, if your deck usually gets leaves or other foliage regularly, the stain these cause will not be as noticeable.
Also, darker tones absorb more heat, raising the temperature on your deck that you may not get to use it except during early mornings or late afternoons.
Drying time
This is a consideration because deck sealers have different drying times. It's a wide range, as some take one hour and others five hours before being dry to the touch. During is also affected by humidity and temperature.
Water-based sealers usually take one to three hours to dry on the first coat. This is as long as the temperature is between 60 and 90 degrees Fahrenheit and you have 50 percent or lower humidity.
Still, you have to wait a few hours before applying a second coat. Cure time can reach 24 hours.
On the other hand, oil-based stains and sealers take between 4 to 12 hours for the first coat. But then you have to wait at least 24 hours before applying the second coat.
Cure time can be up to 72 hours.
See Also: Best redwood sealer
FAQs
Should I choose an oil-based or water-based sealer?
Both have their advantages and disadvantages. It's up to you to choose which will suit your deck, or if one's advantages outweigh its drawbacks.
Water-based deck sealants are safer for people plans and animals around the deck; It's also more eco-friendly as they don't contain toxic substances.
Plus, you don't have to endure a long wait, as these dry much quicker. They are also easier to clean, often detergent and water are enough.
The main disadvantage is that they are less durable than their oil-based counterparts. Oil-based sealers last longer and offer greater protection against the elements.
Another disadvantage is that they contain toxic chemicals. They're also challenging to apply, as you need to follow the manufacturer's instructions to get the best results.
Finally, get ready for a longer drying period and shell out more cash as these are priced greater than their water-based competitors.
How often should I seal my deck?
Best to apply deck sealer every year to ensure optimum protection. Clean it regularly to ensure no moisture build-up can lead to fungi growth and rot.
Can you paint treated wood?
Yes, pressure-treated wood can be painted. However, if it has been chemically treated with chromate copper arsenate (CCA), treat the surface before painting treated wood.
Because the chemicals in treated wood are sensitive to water-based paints, use oil-based acrylic instead of water-based paints or stains.
Do I need a stain and sealer?
For protection, you'll need just a sealer. Stain changes the wood's color but does not give protection. But whichever you choose, best to dry the pressure-treated wood first. It's difficult for sealers and stains to stick to damp wood.
What is the best temperature for applying sealer to my deck?
The best time to apply a sealer is in the morning on a moderately windy day, between 50 to 90 degrees Fahrenheit. Avoid working in the afternoons, as the sun's heat will make the deck sealant evaporate quickly, faster than the exterior wood is absorbing it.
Should I seal cut ends of pressure treated wood?
Yes, it is recommended to seal cut ends of pressure treated wood with a wood preservative containing copper or other suitable chemicals. This helps prevent moisture from penetrating the exposed areas and prolongs the life of the wood.
Final Thoughts on the Best Wood Sealer for Decks
After going through the pros and cons of each deck sealer, our choice of the best deck sealer for pressure-treated wood is Thompson TH.042841-16 Waterseal Waterproof.
It ticks all the boxes — superior water-proofing properties, protects well against the elements, beautiful finish, and it's easy to apply. Plus, we're sure it will last.
DEFY Extreme wood stains and Seal-Once are worthy competitors, with their superior protection against UV rays and moisture, respectively.
They, however, fell short, as you need to follow instructions to apply them properly strictly.
I hope we've given you a useful guide to help improve your deck.