Though you can waltz into any hardware store and pick some random screw gun for your deck installation, the process's ease and perfection will be as good as the screwdriver you are using.
Undoubtedly, using the best deck screw guns for your projects is a surefire way to ensure you finish your projects as fast as possible, with an extended degree of comfort and ease.
After putting several leading options to the test, I've found the Muro Auto Feed Screw Gun to be the unsung hero of deck construction.
It moves your task from a very stressful one you want to get over to a straightforward one. Some brands and models are the best screw guns for deck installation within this category.
Short on time? Here are my top best deck screw guns:
Our Top Picks
BEST OVERALL DECK SCREW GUN
Best Deck Screw Guns- Updated List
I have spent a good time researching a plethora of decking screw guns you can trust in your project. Here is my take on the 11 best deck screw gun reviews.
1.
Best Overall Deck Screw Gun

-Muro Pro Auto-feed Screw Gun

The MURO Pro Auto-Feed Deck Screw Gun earns its title as the best overall deck screw gun, and here's why. During my experience, it became clear that this tool was made with a focus on efficiency and productivity.

Not only is it perfect for deck applications, but it also excels in other tasks that need screwing or framing.

Its astounding 2900 RPM speed, paired with the remarkable auto-feed feature, makes deck installation a breeze. What sets the MURO Pro apart is the seamless transition it offers from dense hardwoods to softwoods.

In comparison to other similar products I've used, the MURO Pro stands out as an absolute workhorse. The design choices for this screw gun demonstrate meticulous attention to detail.

The ergonomic grip ensures comfortable use even during extended projects. The adjustable depth control mechanism ensures that screws are flush every time.

While the MURO Pro Auto-Feed Deck Screw Gun is priced at a premium, it's worth every penny. The time and effort saved, not to mention the impeccable results it delivers, are unmatched by any competing product.

There's no room for compromise when it comes to a critical task like deck construction. So, if you are in search of the best in the realm of deck screw guns, the MURO Pro is the unequivocal choice that delivers outstanding results.

PROS
Extensive versatility
Reversible technology
Best auto feed deck screw gun
Compatible with a wide range of screws
Ergonomic design
CON
The power cord is not long enough
---
2.
Best Bang for the Buck

– VEVOR Cordless Screwdriver
VEVOR Cordless Screwdriver,8V 7Nm Electric Screwdriver...
【Powerful 8V Motor & Max 7Nm Torque】VEVOR cordless screwdriver equipped with higher performance 8V motor, delivers improved 62 in.lbs(7Nm) max torque for a wide range of drilling and fastening applications. Manual mode torque 7Nm max.
【Stylish & Modern Gift】 Electric screwdriver is the top choice for home improvement and outdoor repair, it's exquisite packaging and modern design is a great gift for a housewarming, Father's Day, Christmas, birthday, or any other occasion.
【20+1 Torque Setting & 210 RPM Speed】20 clutch + 1 drill setting for precision and control based on the application. No load speed 210 RPM for fastening/drilling into wood, plastic & light-gauge metal.
While the MURO Pro Auto-Feed Deck Screw Gun stands as a champion among its peers, there's always a place for a more budget-friendly alternative.
Introducing the VEVOR Cordless Screwdriver – a stellar performer in its own right. In a direct comparison with our top pick, the VEVOR may have a more modest price tag, but it certainly doesn't cut corners in performance.
The VEVOR Cordless Screwdriver is ideal for a wide range of drilling and fastening applications. It has a powerful 8V motor and max torque of 7Nm. Its 20+1 torque settings offer precision and control, adapting to various tasks with ease.
Not only does it handle tasks with competence, but it also arrives in stylish and modern packaging.
The Screwdriver's 1/4″ hex chuck allows quick bit changes, enhancing your efficiency. A 2000mAh built-in lithium-ion battery ensures long-lasting use, enabling you to complete around 300 screws.
Moreover, its two-position handle design provides versatility for different work scenarios. The flexible extension shaft ensures access to those hard-to-reach corners.
What makes this screwdriver remarkable is the inclusion of 82 pieces of accessories and a built-in LED light. This package covers an extensive range of tasks.
If you're on a budget and still seek a high-quality, go for this screw gun. It fills a gap if you're looking for a cost-effective alternative without compromising performance.
PROS
Budget-friendly
Versatile torque settings
High battery capacity
Extensive accessories
CONS
Not suitable for heavy-duty tasks
Limited warranty
---
3.
Best Cordless Screw Gun

-Dewalt DW268 6.5 Amp Screw Gun

Sale
DEWALT Drywall Screw Gun, 6.5-Amp (DW268) , 0.25
Helical-cut steel and heat-treated gears for long life and durability of the screw gun
DEWALT screw gun has high power motor for metal fastening applications
Versa-Clutch torque adjustment system of the drywall screw gun dials in the proper torque needed to efficiently drive fasteners without stripping or breaking
As a user of Dewalt screw guns, I have been impressed by their wide range of offerings. However, the DW268 stands out in their collection as an exceptional screw gun for decking projects.
Its lightweight design and ergonomic features make it a pleasure to work with for extended periods of time.
One of the standout features of the DW268 is its high-power motor, which provides torque and speed of up to 2500 RPM. This is particularly advantageous when working on metal decks, where a higher speed is often required.
Additionally, the versa-clutch torque adjustment system allows for easy speed adjustments, enabling me to achieve the desired screw depth for optimal outcomes.
Durability is also a key factor with the DW268. The heat-treated gears, metal nose, and helical cast steel are notable features that ensure its long-lasting performance.
I can trust that this screw gun will withstand heavy use and continue to deliver reliable results on my decking projects.
Overall, the DW268 is a top-performing screw gun from Dewalt that excels in durability, versatility, and ease of use. It has made its mark in the industry and has become my go-to choice for decking projects.
PROS
Corded and with a high-power motor, making it reliable for long-term tasks
Versa-clutch torque adjustment
Highly durable
Ergonomic design
Suitable for a wide range of decking materials, including metal deck applications.
CON
The clutch is not rust proof
---
4.
Best Collated Screw Gun for Decking

-Metabo HPT Superdrive
Metabo HPT SuperDrive Collated Screwdriver | 20" Extension |...
Includes: W6VB3SD2 Collated Screwdriver, #2 Phillips Bit, #2 Square Bit, #2 LOX Bit, Decking Nose Piece
POWER: Maximum speed of 2,600 RPM and an awesome torque rating of 139.6 in-lbs
FASTENERS: Fastens screws from 5/8 In. to 3 In. and screw diameters from #6-#12
Metabo HPT SuperDrive is a top choice if you think of functionality. Screw guns with additional features tend to perform below expectations, which is not so.
The 20" extension shaft allows for more comfort while working, a useful extension for those who want to get a lot of screw-driving done but without the backaches.
I love this tool; It spots a maximum speed of 2,600 RPM in its SuperDrive system, enabling me to easily complete tasks in the shortest time possible. It also boasts an all-in-one technology, enabling me to clip any screw size ranging from 5/8" to 3" screws.
It also allows me to move around with minimal restraint with a 24.6 ft. power cord. Additionally, Metabo HPT is designed to be friendly on materials, as the tool-free depth feature ensures you can maintain the depth of the screw while tightening, thus saving your wall/deck boards from tears.
PROS
SuperDrive technology
Versatile application (for decks and drywall)
Multiple attachments
Best collated deck screw gun
Tool-free adjustments
CON
Doesn't spot an ergonomic design
---
5.
Best Stand up Deck Screw Gun

– Senco DS332-AC Screwdriver
Senco DS332-AC 3" Corded 2500 RPM Auto-feed Screwdriver
2, 500 RPM high-torque motor and patent pending corner-fit feed system
Tool-free screw length adjustment and belt hook-right or left handed adjustable
Quick Slide button bit change and variable speed trigger with lock and reverse
Using the Senco DS332-AC before, I can confidently say that it has just the right features and components to make it my tool for professional and home use.
Not only is it easy to use, but it is also incredibly handy, reducing the chances of fatigue even during time-consuming tasks.
One of the standout features of the DS332-AC is its unique corner-fit auto-feed system, which sets it apart from most other auto-feed screw guns in the market.
The tool-free screw length adjustment is designed for easy access with either the left or right hand, allowing me to change bits and adjust the screw length effortlessly. The convenient belt hook also adds to its ease of use.
While the cord may make maneuverability a bit of a challenge, it is compensated by the high-power motor with a speed of up to 2500 RPM.
This combination ensures that the tool provides reliable and consistent power throughout the task execution, allowing me to work with confidence.
Overall, the Senco DS332-AC is a reliable and efficient screw gun suitable for professional and home use. Its unique features, ease of use, and consistent performance make it a top choice for me regarding auto-feed screw guns.
PROS
Easy speed, screw length, and belt hook adjustment
Reliable and consistent power supply
Holds and auto-feeds up to 30 screws per setting
Features a lightweight, ergonomic design
Quick slide option for locking and unlocking device within seconds
CONS
Prone to chucks
Not ideal for tight corners
---
6.
Best Multipurpose Stand up Screw Gun

-Makita XSF03Z LXT

Sale
Makita XSF03Z 18V LXT Lithium-Ion Brushless Cordless Drywall...
BL Motor delivers 0-4,000 RPM to handle a variety of drywall and framing applications
Push Drive Technology - in lock-on mode the motor starts only when the fastener is engaged for a quieter work environment and to save battery power
The BL Brushless Motor eliminates carbon brushes, enabling the BL Motor to run cooler and more efficiently for longer life
I can attest that Makita screw guns have a wide range of offerings, making it sometimes challenging to choose between them.
However, the XSF03Z LXT has made my decision-making process less stressful, especially when meeting my drywall and decking demands.
One of the standout features of this model is its long-lasting lithium-ion battery that charges quickly, minimizing downtime between work schedules.
This allows me to work efficiently without worrying about frequent battery replacements or lengthy charging times.
Additionally, the XSF03Z LXT features a brushless motor optimized for energy efficiency. It also has a lock-on mode that only turns the device on when the screws are properly fitted, saving energy and reducing noise.
With torque and speed of up to 4000 RPM, this screw gun delivers high performance on soft and hard materials, making it versatile for various tasks.
Moreover, its ergonomic design ensures smooth usability, reducing user fatigue and making it comfortable to use for extended periods of time.
The Makita XSF03Z LXT is a top-performing screw gun that meets drywall and decking demands. Its long-lasting battery, energy-efficient motor, and high-performance capabilities make it a reliable choice for my screw gun needs.
PROS
Energy-saving, brushless motor
High rotation speed
Energy-saving push drive technology
Indicates when the battery is due for a charge
Lightweight, ergonomic design
Versatile – for both drywall and decking
CONS
Questionable durability
Not so compatible with large screws
Though rarely, drill chuck could be unstable sometimes
---
7.
Best for High-Speed Applications

-Senco DS440AC
I must say that Senco screw guns are truly designed with the needs of professionals in mind.
Unlike the DS332-AC, which features a speed of 2500 RPM, the DS440AC boasts a high-power motor that delivers an even higher speed of up to 4000 RPM. This makes it a perfect tool for my collection, especially for decking projects.
The DS440AC is a versatile auto-feed deck screw gun compatible with a wide range of screws ranging from 1″ to 3″, and it can drive them effortlessly at 4000 RPM.
This makes it suitable for various decking applications. It also comes with industrial-grade attachments, including an extension pole with a secondary handle, making it even more convenient.
This powerful and versatile screw gun in my arsenal gives me confidence and excitement for every decking project I undertake.
The high-speed and industrial-grade attachments make it a reliable choice for professional use, and it is evident that Senco has truly considered the needs of professionals in its design.
PROS
Incredibly fast
Reliable and consistent power supply
Suitable for applying a large number of screws
Impressive autoloader
Ergonomic design 
CONS
The reverse/forward button is not placed with convenience in mind
Requires specific angle adjustment for application of screws
---
8.
Best for Depth Control

–Ridgid R6791 Collated Screwdriver
As someone who has handled this device, one of the first things I noticed is how lightweight it is, despite its impressive array of features.
With a powerful 6.5 amp motor delivering 3,700 RPM, it is perfect for professionals and DIYers handling medium to large-scale decking projects.
The hex grip on this screw gun is made of an innovative micro texture, allowing for a firm and secure grip, even when operating on hard surfaces or at the highest torque.
The durable power cord supplies the motor with consistent 120 volts throughout the project, ensuring reliable performance. This screw gun should be at the top of your list if you are looking for a handy collated screw gun for your decking projects.
The depth adjustment wheel makes countersinking and depth control a breeze, while the tool-free nose piece allows quick switching between 1″ to 3″ screw sizes. Additionally, it is reasonably priced and offers excellent value for money.
As a professional or DIYer, this deck screw gun, with its lightweight design, powerful motor, innovative grip, and convenient features, is a top choice for decking projects.
It is reliable, easy to use, and offers great value, making it a worthwhile investment for any decking project.
PROS
Versatile – suitable for a wide range of materials
Compact, lightweight design
Suitable for both left and right-hand users
Steady and reliable power supply
Effortless depth control
CON
Mostly available as factory reconditioned – might show some wear.
---
9.
Quietest Screw Gun

– Milwaukee 2866-20 M18 FUEL Drywall Screw Gun
Milwaukee 2866-20 M18 FUEL Drywall Screw Gun (Bare Tool...
POWERSTATE Brushless Motor: Delivers 4,500 RPM's to provide faster than corded productivity
Auto Start Mode: The tool trigger can stay locked on without the motor running. Once the screw comes in contact with the drywall, the motor automatically starts, resulting in less noise between screws and 3x longer run time.
M18 REDLITHIUM XC5.0 battery pack: Delivers 64 sheets per charge and the CP2.0 delivers 27 sheets per charge
If you value both performance and peace in a busy work environment, the Milwaukee Drywall Screw Gun should be your companion. This is the quietest screw gun I've ever used, and among the many I've tested.
Its standout feature is its remarkable POWERSTATE Brushless Motor. It delivers 4,500 RPMs, providing a productivity level that rivals corded screw guns.
However, what sets this tool apart is the Auto Start Mode. This ingenious innovation allows the trigger to stay locked on without the motor running.
It's only when the screw makes contact with the drywall that the motor automatically starts. This not only provides a more peaceful work environment but also extends the run time to an impressive 3x longer.
The efficiency doesn't end there. With the M18 REDLITHIUM XC5.0 battery pack, this screw gun delivers an exceptional 64 sheets per charge. Furthermore, its ergonomically designed, lightweight, balanced construction ensures comfort during continuous use.
Notably, the Milwaukee 2866-20 is compatible with all M18 batteries, adding to its versatility and convenience. It even features an LED at the foot of the tool for improved lighting in dark spaces.
While it may come at a slightly higher price point, the reduced noise, and extended run time, justify the price.
PROS
Whisper-quiet operation
Auto start mode
Impressive battery life
Ergonomic design
CONS
Premium price
Limited chuck size
---
10.
Most Durable Screw Gun

– Tiger Claw Pneumatic Installation Gun for Grooved Decking
The Tiger Claw Pneumatic Installation Gun for Grooved Decking is a true workhorse when it comes to durability and efficiency. Designed to work with TC-G and Azek/TimberTech CONCEALoc fasteners, this gun is the epitome of durability.
One of its most impressive features is the speed at which it operates. This powerhouse can install a remarkable six hidden deck fasteners in 26 seconds.
Such rapid operation not only saves valuable time but also ensures a high-quality and precise installation. The Tiger Installation Gun is a testament to the marriage of speed and precision.
One key highlight is the ability to drive screws into your decking material at a 35-degree angle. This specific angle enhances the structural integrity of your deck. You can have peace of mind knowing your deck is built to withstand the test of time.
So, if you're looking for a screw gun that embodies durability and efficiency, the Tiger Claw Gun is a worthy choice. Its compatibility with specific fasteners, incredible speed, and the ability to create a robust deck structure make it an invaluable tool.
PROS
Exceptional speed
Durable construction
Precise 35-degree angle
Quality installation
CONS
Specific fastener requirement
---
11.
Fastest Screwdriver

– Simpson Strong-Tie PRO300SD25K Collated Corded Decking System
After putting this powerhouse to the test, it's clear that speed is its middle name. This decking system is all about one thing: rapid performance.
With expanded depth settings, it powers through the toughest surfaces. Whether you're working with wood or other materials, the Simpson screw gun doesn't flinch.
It even offers uniform toenailing and countersinking on slick surfaces. The reversible and replaceable non-skid teeth ensure that your grip remains strong. This allows you to maintain control during high-speed operation.
The only minor drawback with the Simpson Strong-Tie PRO300SD25K is that it's corded. Its mobility is therefore limited compared to the cordless models.
While this unit is not the quietest option on the market, its speed and efficiency compensate for the noise. It's the go-to tool if you prioritize speed and precision.
If you're searching for the fastest screwdriver, look no further than this screw gun. It may come at a higher price point, but the value it brings is immeasurable.
PROS
Lightning-fast speed
Versatile performance
Sturdy grip
CONS
---
Factors to Consider When Buying the Best Deck Screw Gun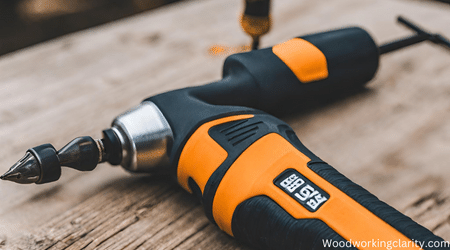 Avoid the stress of a trial-and-error approach when buying a screw gun; the factors discussed below can help you make an informed choice.
1. Frequency of use/Multipurpose
If your jobs require the frequent or daily use of screw guns, then highly durable screw guns are a worthy investment.
Durable screw guns help save costs and prevent unnecessary downtimes, which might ensue due to money and time spent repairing screw guns that get faulty every other day.
In a different scenario, say you are running on a budget, multipurpose screw guns might be an appealing choice. These screw guns also double as a drill, thus saving you the cost of buying an additional drill.
Irrespective of their dual use, it is important to ensure that the drill functions don't impede the efficiency or effectiveness of the machine's screw-driving functions.
2. Type of Deck
It is easy to overlook this factor when purchasing a screw gun for deck installation. Always consider the size and type of deck and deck boards to determine the type of screws and screw guns to complete your tasks.
With this information in mind, you might find that your best choice for the job is a collated screw gun, which is compatible with a broad range of screws and allows for depth adjustment.
The deck type also determines whether you should go for a screw gun with an extension or telescopic handle. If your deck is made of pressure-treated wood, you may want to check the best deck screws for treated lumber review.
3. Rotation Speed
It is important to know that with screw guns, the speed rule is very simple; The Faster, The Better. This aspect is mostly under the control of your budget, as screw guns with high optimum speed tend to be a bit more expensive than their counterparts.
However, it is always best to opt for models with high rotation speed. In so doing, you would, to a reasonable extent, be assured that your tasks would be completed faster, thus saving yourself some valuable time.
Related Article: Best sealer for treated wood deck.
4. Corded or Cordless
For a variety of reasons, you might prefer one over the other. Whichever you are going for, your focus should be on the availability of power supply and the nature of your tasks.
Generally, corded screw guns tend to transmit more power than cordless models. However, some come with very long wires that some persons might perceive as a source of discomfort while working in an enclosed space, and others might perceive it as an advantage while covering distances.
Lithium-ion batteries power corded screw guns; hence, you don't have to plug them into utility power while working. If you work for long hours at a time, you might find corded screw guns a more reliable option.
On the other hand, cordless models are also very useful for working in areas without a stable power supply. Furthermore, they make it possible to work in spaces that are off the reach of a power source without the stress of dragging wires over distances or opting for outdoor generators.
5. Collated or Single
Screw guns with a single screwdriver bit can only drive in a single screw at a time, while collated screw guns are compatible with a wide range of screw sizes and feature an auto-feed function, which allows for easy and quick driving of collated screws.
Collated screw guns are ideal for repetitive screw-driving tasks like deck building, while single screwdrivers might be suitable for simple repairs.
6. Motor
Given the new crop of screw guns hitting the market, you must consider this factor. A screw gun's motor is responsible for the rotating segment of the tool. Consequently, this determines the efficiency of a screw gun.
Newer models of screw guns feature a brushless motor, arguably more efficient than older models that feature a brush. Also, with brushless motors, you don't have to change brushes after prolonged use.
7. Battery
For heavy-duty tasks, screw guns with 18V – 20V capacity; for light-duty tasks, screw guns with a 3.6V battery capacity.
Also, if you are adding to your screw guns collection, it might be a good move to opt for a model compatible with your older tools' batteries. Having a spare battery can go a long way in saving you from downtime.
Whichever choice you make, always opt for screw guns with strong, long-lasting batteries. A screw gun lasting up to 8 hours is a good start. You may also want to buy a spare to keep charged while working with the other.
Benefits of Using Screw Gun for Decking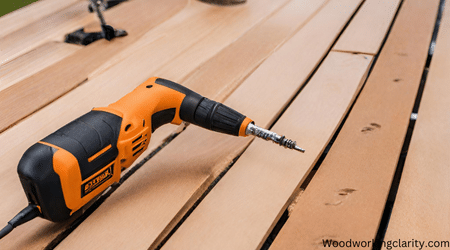 High accuracy
Multifunctional
Easy to use
Higher productivity
Types of Screw Guns for Decks
Cordless – runs on battery power.
Autofeed – with a strip for attaching and feeding screws automatically.
Collated – Specially made for depth.
Drywall – specially designed for hanging drywall.
Screw Gun vs Drill
Despite looking so much alike from afar, functionalities set the difference between a screw gun and a drill.
Among other distinctions, drills have drill bits that could be attached to carry out several tasks, including drilling all kinds of materials, grinding, and even mixing.
At the same time, screw guns are specially designed for fastening screws. Also, a screw gun is a little more efficient as it runs faster, and its depth is adjustable, unlike a drill where you have to know how far to drill without damaging materials.
It's also important to mention that some drills can double up as screw guns because they come with nose bits for driving screws.
Find out: How to make a pilot hole without a drill
Dos and Don'ts When Using Stand-up Screw Guns for Decking
If you intend to own a screw gun, there are a few rules you should abide by if you wish to utilize the maximum value out of your tool. Let's take a look at some of these hardly spoken rules below.
The Don'ts
Don't allow your battery to get completely drained. They are more durable if recharged when they show weakness while in use.
Don't expose or work with your tools excessively under hot temperatures. Allow some time to cool off if the device becomes hot.
When purchasing screw guns with LED lights, ensure their positioning doesn't cast shadows on your work area.
The Dos
Adjust your tool to the appropriate low, medium, or high intensity according to the material being worked on.
Only make use of screws that are compatible with your screw gun.
Do routine checks, maintain, and store properly to avoid the build-up of rust or other conditions that might affect your tool's performance.
Read: How to Remove Sunken Nails from Wood
Best Screw Gun for Decking FAQs
Can you use normal screws for decking?
No. It is best always to use recommended decking screws for decking. While you might be able to use normal screws on your deck, the aftermath won't give the desired results, and the durability of the decking would be questionable.
Should I pre-drill holes for deck screws?
If you are unfamiliar with screw guns or deck installations, it might be a good idea to always pre-drill before driving in screws to avoid splitting the material. However, whether you are a hobby builder or a professional, it is necessary to always drill holes before applying screws to a deck board's edge.
What is special about decking screws?
They are mostly designed with smooth upper shanks to allow for countersinking. Also, the composition materials are resistant to rust and corrosion.
Do you screw decking at every joist?
What's the Best Screw Gun for Deck
With the insights provided, the criteria for choosing the above screw guns are mostly based on their suitability as the best screw guns for deck applications.
Note that this list is not intended to cover the best screw guns in the market. Nonetheless, MURO Pro Auto-Feed Deck Screw Gun is inarguably the best deck screw and a serious contender if we look for the overall best screw guns.
It has the highest torque, is compatible with a wide range of screws, and envelopes many other impressive capabilities and functionalities.